Tricky Foxes bamboozle dominant Blues
By Michael Kenrick
19/12/2015

0 Comment [Jump to last]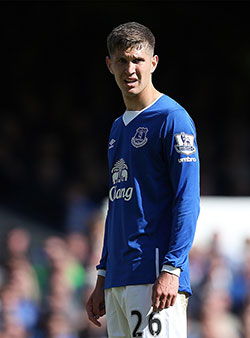 John Stones was declared to be in "perfect condition" by Roberto Martinez despite the knocks he sustained at Norwich
Everton 2 - 3 Leicester City
The Blues dominated play but Funes Mori got caught out by Okazaki and Mahrez converted from the spot. Everton replied with a fine goal for Lukaku after Barkley's shot was cleared off the line. But another penalty came for the Foxes in the second half, despite Everton dominance, and a third goal by Okazaki sealed it, despite Mirallas's late consolation.
Everton were unchanged as they took on Premier League leaders Leicester City at Goodison Park this afternoon. Mo Besic returned to the bench for the first time in a month, at the expense of the restless Naismith.
The Foxes kicked off in the driving rain and immediately showed close pressing as they sought to harry Everton players into making mistakes. Barkley's first pass was a nice one out to Deulofeu, and Everton started to probe forward.
Barkley put in an amazing tackle to win the ball back but his pass was off. However, Everton were trying to play their normal game, building from the back, Deulofeu eying an early cross, Wasilewski getting the interception to deny Kone at the price of a corner that was delivered well by Baines. A second corner followed, stupidly played short and wasted.
Funes Mori was in the right place to halt Leicester's first attack and then deal with a difficult cross on the follow-up, heading behind for a corner that was delivered well and Barkley headed it away but Okazaki almost got in.
Everton were playing rather too many high balls down the middle to either Kone or Lukaku, more it seemed as a softening-up strategy as Deulofeu was being closely marked and not getting the space he wanted, and starting to throw tantrums. When he did cross, it was too random, and the Foxes were putting up some feisty resistance to prevent Everton getting a clean sight of goal.
Coleman battled Albrighton for another corner, swung in by Barry but cleared at the near post and Leicester broke, then winning a free-kick that was driven over everyone.
Foxes were too alert for the Blues in too many instances, and a ball falling perfectly for Kone demonstrated the contrast as, with a rare chance to shoot, he completely failed to pull the trigger before being closed out.
Vardy tackled Coleman poorly and drew plenty of derision from the Everton crowd, who were expecting a lot more goalmouth action. It came when Lukaku crossed to Barkley who made a terrible hash of his first-time volley.
Everton were clearly being harried out of their slick passing game in the final third, but worse was to come at the other end, Okasaki and Funes Mori tangling for a soft penalty that Howard almost got his hand to but Mahrez's spot-kick was too good.
But a little more determination, Deulofeu crossing to Lukaku and opportunities for Cleverly then Barkley whose shot beat Schmeichel at the second attempt but was headed off the line, straight to Lukaku who smashed it in with power to put Everton level.
Kone won another corner that Baines delivered very well, but it came off Lukaku's head with far too strong a contact. Everton looked to build again with some good passing but Schmeichel was off his line fast to punch away Cleverly's dangerous cross.
The bouncing ball was too much for Lukaku on a couple of occasions as he failed to impose himself on it, not mastering the ball in any way. At the other end, Funes Mori took the ball off Vardy's feet fro a corner that ALbrighton seemed to glance but it went over everyone in the end.
Stones was well positioned as Leicester came through the middle, denying a rare and well constructed attack from the visitors but at the other other end Kone hesitated again and another possible chance was gone.
It had not been an easy half for Everton, who had struggled for space against the close attention of the visitors, while crucially failing to create or follow through on a couple of developing opportunities.
Everton resumed proceedings, still swinging long balls forward, but not catching out the visitors, and a lovely ball to Deulofeu, he allowed it to run under his foot and out of play.
A sudden movement form Barkley and The Blues were attacking at pace, Coleman swinging in a cross to the far post that needed Schmeichel's touch to keep it out for a corner. Barkley was showing some excellent desire but the intricate passing into the Foxes box was not working today.
Deulofeu put in a piece of magic that won another corner, Baines putting this one deep and fans calling for handball but the second corner was taken short and again led to a Leicester break but Everton played their way out of it well ad Deulofeu again had a chance to run at the Foxes defence.
With a good Everton attack building, a poor pass by Cleverly saw Foxes break and Vardy drove his shot wide of Howard's left post as the tight game showed signs of opening up. Funes Mori was booked for fouling Vardy as Leicester broke and it needed a perfect interception from Baines to stop Okasaki from shooting.
Barry played a lovely forward pass to Lukaku who controlled it superbly but he was offside and the Foxes broke, Mahrez playing in Vardy; he appeared to be tripped by Howard as he tried to go around the Everton keeper, who was booked and sent the wrong way on Mahrez's second penalty.
Everton responded, Baines with a superb cross for Lukaku but too high. Well past the hour mark, and of course no sign of Mirallas to show something different as it looked like the game would go away form Everton, a chance coming from nothing for a massive third goal powered in by Okazaki as Everton stopped for a handball claim.
Lukaku got behind the defence on a superb ball but on his right side and he blazed it over. Finally, far too late, Kone was replaced by Mirallas. Lennon also replaced Deulofeu but the task looked impossible. Barkley did well to force a shot but it was deflected over the bar. Baines's corner was too close to Schmeichel at the near post.
Mirallas's first corner was far too high and strong: wasted. Barkley was fouled by their big Polish defender but Lukaku welled the spot-kick high and wide. Good work by Coleman and a nice cross for Lukaku but headed behind by a defender and Baines's corner collected again by Schmeichel.
The Blues were trying everything and eventually it paid off, a tremendous drive from Mirallasto pull one back after a fantastic instinctive first-time backheeled layoff by Barkley when Lukaku's strike was blocked.
Mirallas was lucky to win a free-kick on the corner of the box into 4 mins of added time, Baines playing across to Barry, his shot blocked to Barkley whose shot didn't quite come off as Ulloa had a crazy chance for a fourth that Howard saved well with his outstretched leg. It was a crazy final few minutes but all the points went to League leaders Leicester in the end, plundering their first win at Goodison Park in 30 years, and putting another massive dent in Everton's hopes for the season.
Scorers: Lukaku (32'), Mirallas (89'); Mahrez (pen:27', pen:65'), Okasaki (69')
Everton:
Howard, Coleman, Stones, Funes Mori, Baines, Barry, Cleverley, Barkley, Deulofeu (74' Lennon), Kone (74' Mirallas), Lukaku.
Subs not Used:
Robles, Gibson, Besic, Osman, Galloway.
Leicester City:
Schmeichel, Simpson, Morgan (c), Wasilewski [Y:82'], Fuchs, Mahrez (83' De Laet), Kanté, King, Albrighton (71' Dyer), Okazaki, Vardy (87' Ulloa).
Subs not Used:
Kramarić, Benalouane, Schwarzer, Inler.
Referee: Jonathan Moss

Attendance: 39,570
---
---
© ToffeeWeb