Lennon screamer against his old club!
By Michael Kenrick
03/01/2016

0 Comment [Jump to last]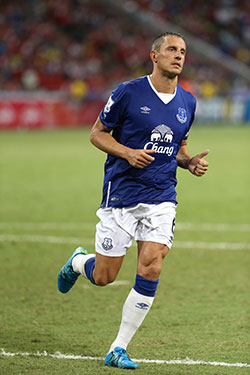 The captain is finally fit again and starts on the bench.
Everton 1 - 1 Tottenham Hotspur
The Everton line-up included Baines, Cleverley and Lennon for the visit of Tottenham Hotspur in this afternoon's televised live game at Goodison Park. Martinez stuck with his first choices in Howard and Kone despite massive criticisms from many fans, while Phil Jagielka returned to the bench after a long absence through injury. Deulofeu was also on the bench and, with McCarthy injured, Lennon and Cleverly started.
Everton's early ball work was not up to snuff, the visitors taking command of possession and putting together a terrifying attack with an excellent cross from Kyle Walker, Coleman in the right position to defend well and deny Alli an open goal. Spurs attacked again, with Everton looking flat and bedazzled by the fulsome praise their manager had showered on their illustrious opponents before kick-off.
It was 6 mins before Everton had some worthwhile possession but the turnover came before it went anywhere and another Spurs attack, Kane fired a long-distance shot onto the inside of the post and along the goalline behind a flummoxed Tim Howard. So close to the opening goal, with Alli lying injured.
Everton had more possession but it broke down again before it got anywhere near the Spurs penalty area, as the Blues really struggled to get a grip on their task, while Spurs took control with some excellent one-touch passing, denying the Blues a sniff.
Everton looked to break with Barry playing out to Coleman but hesitation, backward passing, Lukaku's poor first touch, a turnover, and Spurs were attacking again.
Spurs won a dangerous free-kick off Barry's high foot, and Lamela from the set-piece smacked it off the wall, Kone getting his head to save the fierce shot on Howard's goal. But still Everton could not get out, Lukaku unable to control it again.
Everton finally got the ball forward, a route one ball from Cleverly up to Lukaku who nodded down for Lennon and an absolutely superb half-volley from the former Tottenham player gave Lloris not a chance of saving it. Perfect execution that finally settled down an increasingly agitated Goodison crowd.
Everton attacked again, with much better impetus, but Kone did not step back for Baines's cross and Spurs forced the pace again, winning a corner and pinning the Blues in their own area until Cleverley was fouled. Yet again, the forward ball to the Spurs area was lost and the visitors were surging forward again.
Another promising start, Lukaku playing Cleverley's good ball back to Kone, as he turned to run forward but Kone crucially failed to give him the return ball to run onto, and it was a corner for Spurs in no time, that Davies smashed past a flailing Howard but into the underside of the bar and out... another incredible let-off for the beleaguered Blues.
Spurs were hunting in packs the second they lost the ball, Barry with FOUR white shirts around him as he tried to clear the ball from the edge of the Everton area. Lukaku did better despite Spurs pressure, but could not play in Barkley and Spurs attacked again. But it was cleared by Coleman and Barkley finally got the ball but ran straight into Walker. Coleman was bizarrely carded for an accidental handball, after the Spurs player stopped the move with his hand!
Everton finally got out down the right, and Coleman was allowed to cross but the ball bounced off Kone's head and behind, the goal-kick leading to another frightening Spurs attack down the right and panic defending by Everton. Their next attack saw another lethal cross that somehow was not converted.
Lukaku picked out Kone's run but he had broken too early and was flagged offside. Everton's much-maligned defence, however, had held out through a remarkable onslaught, more perhaps by good luck and solid woodwork. A great ball by Barkley looked to release Coleman but he too had stepped up too early, and was called offside.
From the free-kick, a tremendous long ball by Alderweireld was controlled brilliantly by Alli and smashed past Howard for a superb finish to level the score in added time before the break. A tremendous game for the neutral, but frustrating for Everton fans to see their side so comprehensively out played... yet at half-time they were still somehow in the game.
Second half, and perhaps the time to bring on Deulofeu or Mirallas to provide more of a forward challenge? But Cleverley and Lennon had done well and could not be replaced, and Kone had been okay.
Everton put in a couple of decent attacks to start the half, after a poor touch by Kone, Barkley just nudged as he fired wide after a great run. Then Baines wasted a free-kick with a weak chip that saw the Blues pushed back. Lennon did well to cut a ball back from the byeline but Vertonghen stopped it becoing a real chance.
Spurs put together another lethal move, and Kane seemed set to score but Stones was in to put him off. The game became pretty even for a while as both sides looked more equal to each other. Two changes before the hour: Besic and Deulofeu on for Kone and Lennon replaced, with booing apparently for the decision to take off Lennon.
Lamela bamboozled Coleman but the ball was cleared as Everton perhaps now had an incentive to play up, if they could get Deulofeu into the game. Besic showed signs of rustiness as he tried too hard to get into the swing of things... Stones did well in defence and Everton should have built an attack but it was snuffed out again.
Barkley delivered a fantastic cross-ball to Deulofeu whose cross was blocked for Everton's first? corner, taken by Baines resulting in a great glancing header. Then Deulofeu with a fantastic cross to the far post but Lukaku could not reach it. Everton were now really playing well but as soon as they lost the ball, Spurs surged forward. However, a long pass just ran out from Dier, as Son replaced Eriksen.
Lamela was finally booked after smacking Coleman in the face. Besic did well to hassle Lamela then Carrol fouled Barkley for a yellow. Deulofeu got the ball again and tried to beat his man but another corner. Baines's delivery was okay but it was headed away. At the other end, Alli fired a hard shot straight at Howard.
Barry gave away a soft free-kick and Howard came out but made a poor punch, Funes Mori rescuing him with a better header. Deulofeu was forced to play the ball around in defence, and Everton were soon attacking, Besic firing in a lovely first-time volley, that Lloris tipped over well. From and excellent corner, Lukaku and Funes Mori challenged for the ball, the header dropping inches wide of the far post as Everton sensed they could certainly win this absorbing contest with a little more application.
Deulofeu was pumping balls into the danger area but the anticipation was lacking. Spurs saw a little more of the ball, Chadli replacing Alli. Everton looked to advance again but Spurs blocked all the channels and the long ball to Lukaku was collected by Lloris.
Besic tried to play to Lukaku's feet but the ball was just a fraction too strong for the big man. Deulofeu played another perfect ball straight to Lukaku's feet but his horrendous first touch gave the ball away. Cleverley played a great ball to Barkley's feet but his cross was straight at Vertonghen rather than Lukaku. The corner caused some panic with another near-post flick-on by Barry but the follow-up behind him was not there.
Stones was forced to play the ball around with some brilliant controlled dribbling in some style, forcing Son into a foul, all inside the Everton penalty area. Everton looked to build something down the left in the final minute. But each ball in met a white shirt, including a tremendous strike from Stones. Besic with some fantastic ball play near the Everton corner flag to clear, and the match culminated in a tremendous atmosphere as a goal from Everton seemed inevitable, Lukaku lashing one over.
But it was end-to-end, with one final attack from Spurs, then Everton got the ball and Lukaku's shot was blocked, then Barkley's attempted saved by Lloris.... a breathless finish to a tremendous if ultimately frustrating game of football.
Scorers: Lennon (22'); Alli (45+1')
Everton: Howard; Coleman [Y:35'], Stones, Funes Mori, Baines; Cleverley, Barry; Lennon (58' Besic), Kone (58' Deulofeu), Barkley; Lukaku.
Subs: Robles, Jagielka, Mirallas, Osman, Galloway.
Tottenham Hotspur: Lloris, Walker, Alderweireld, Vertonghen, Davies; Carroll [Y:73'], Dier; Eriksen (69' Son), Alli (83' Chadli), Lamela [Y:68']; Kane.
Subs: Vorm, Rose, Trippier, Bentaleb, Onomah.
Referee: Michael Oliver
Attendance: 38,482
---
---
© ToffeeWeb