Another shocking home result
By Michael Kenrick
24/01/2016

0 Comment [Jump to last]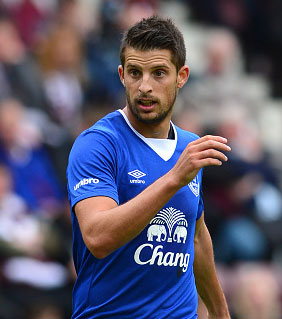 Kevin Mirallas earned a second successive start with his impressive performance against Chelsea, but did not last beyond the half-hour.
Everton 1 - 2 Swansea City
Roberto Martinez chose a well-balanced side with his two best wingers in Mirallas and Deulofeu flanking Romelu Lukaku, but Jagielka was rested and Oviedo started at right back. The gameplan was in tatters after both Besic and Mirallas went off injured while Stones and Howard combined to let in two goals in a dismal first half-hour.
It was pedestrian stuff as Everton made a sleepy start to the lunchtime fixture until Besic went on a nice forward run thanks to an excellent pass from Lukaku, the Bosnian's drive smacking the outside of the post. But inside 10 minutes he was limping forlornly off the pitch, with a hamstring injury, to be replaced by Tom Cleverley.
Everton struggled to exert any degree of control on proceedings as they tried to make space against aggressive pressing from the visitors, Britton going in sharply on Barkley for Everton's first free-kick. From that, Deulofeu was next to fire in on Fabianski from outside the area.
But a ridiculous back-pass from Stones put Howard under massive pressure and he was deemed to have fouled Ayew running in as he attempted to clear the ball late, Sigurdsson, smashing in an unstoppable spot-kick.
Lukaku turned well to beat a defender but dragged his shot wide when something on target would have been more appropriate.
If the start had been poor, the Blues were well out of sorts as their play failed to get going until Baines finally swung in a great cross that bounced nicely for Deulofeu but his accurate drive was blocked out for a corner. Barry was the most alert, nipping in to glance a nice shot that was deflected in at the far post by Cork to level matters.
But Mirallas had been struggling, and he finally went off, with Pienaar coming on in his place. Deulofeu delivering a fine cross for Lukaku to attack but under some pressure. The Blues were still struggling for any continuity and another Swansea attack saw Ayew fire in a shot that deflected horribly off Stones's attempted block and past Howard at the near post.
Barkley made a good run, and his shot was blocked for a corner but it came to nothing and Funes Mori had to time his covering challenge well to stop the break forward by a very tricky Swans side.
A poor challenge by Rangel on Cleverley saw him carded but Cleverley's free-kick from deep was too strong for Lukaku, and Swansea were soon pressing the Blues back again. The visitors were simply playing far better than the home side, sharper, more committed, quicker to the ball, more accurate with their passing... Hopefully this was Everton's poor half; it needed to be followed by something far far better.
After the restart, Oviedo won a corner that was taken rather hurriedly by Deulofeu and defended away. On the other side, the linkage between Baines and Pienaar was not really clicking, and limited Everton possession was squandered too easily, allowing Swansea to press and Routledge to fire in on Howard, whose leg this time was in the right place.
The best move so far saw a nice interchange with and Lukaku and Baines, his cross to Barkley should have been buried but Baines was deemed offside. Everton were finally trying to get the ball into the area better, as Fabianski was booked for time-wasting.
Better play saw an brilliant cross in from Deulofeu but Lukaku was three feet behind it and Pienaar well beyond the far post could not control it. Another absolutely fantastic cross from Deulofeu, but again, Lukaku 5 feet further back, and not showing any challenge for the ball. But Everton were pushing forward better, Deulofeu firing in another great corner, but no Everton head on the receiving end.
Barkley was doing better, trying to take more control as a Number 10, but despite some intricate passing, he could not dig out a shot. Deulofeu fed Lukaku to feet but the big man tried and failed to curl in his shot, it drifting wide.
With Everton still unable to carve out a direct strike on goal, Martinez used his last sub as a like-for-like swap: Coleman for Oviedo, as time ticked away and Swansea came back into it a little, having resisted the second-half efforts from the Blues.
A better move saw a corner from Baines delivered in well, and a deep cross in from Deulofeu that was punched out by Fabianski, then a loud appeal for handball but it was a natural position of the arm: unintentional. Baines delivered another looping corner but Barkley could not get a clean strike on it.
Another absolutely brilliant cross from Deulofeu and this time Lukaka was perfectly placed but utterly unconvinced as he wafted lamely at it as it flew by him. A shockingly pathetic lack of commitment and determination from the big man.
Cleverley picked out Lukaku with an excellent forward ball to his feet but the big man yet again made a horrible mess of it and the defender won the ball. Everton's next attack lacked inventiveness and was eventually stalled by Fabianski.
Another brilliant Deulofeu cross but this one deemed to have curled out before reaching Baines well beyond the far post. Baines lashed a free-kick far too deep and well beyond Lukaku whose tumble was ignored by Ref Taylor. Into the last 10 minutes and it looked like Everton had exhausted all attacking possibilities, unable to penetrate the determined Swans defence.
Determined work from Barkley, with some great close control, finally saw a nice cross right onto Lukaku's head but his delivery was weak and easily saved by Fabianski.
Coleman worked his way in brilliantly after a fantastic ball from Stones but he scuffed his shot with only Fabianski to beat. As late subs by the new Italian manager broke up the tempo, another cross from Deulofeu, this time behind Lukaku whose header looped over the bar.
There was nothing wrong with Deulofeu's late delivery of a free-kick except that it was met by two Swansea defenders rather than a blue shirt, as time finally ran out for the beleaguered Blues.
The last play was a great corner, headed brilliantly in by Stones to Coleman who clipped over the bar from point blank range. It was simply not to be...
Another shockingly poor home result... but at least it wasn't another draw.
Scorers: Cork (og:26'); Sigurdsson (pen:17'), Ayew (34').
Everton: Everton: Howard, Oviedo (67' Coleman), Stones, Funes Mori, Baines, Barry, Besic (10' Cleverley), Deulofeu, Barkley, Mirallas (29' Pienaar), Lukaku.
Subs not Used: Robles, Kone, Lennon, Osman.
Swansea: Fabianski [Y:52'], Rangel (91' Naughton) [Y:35'], Fernandez, Williams, Taylor, Cork, Britton, Ki, Sigurdsson [Y:64'], Routledge (77' Amat), Ayew (89' Eder).
Subs not Used: Emnes, Nordfeldt, Montero, Barrow.
Referee: Anthony Taylor

Attendance:
36,908
---
---
© ToffeeWeb