Cannon fodder for the new Champions
By Michael Kenrick
07/05/2016

0 Comment [Jump to last]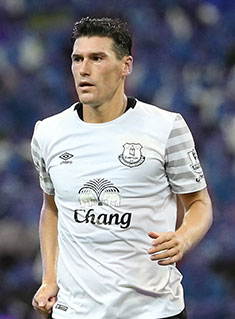 Gareth Barry failed a late fitness test to see if he could play following a groin injury
Leicester City 3 - 1 Everton
The new Premier League Champions were crowned at the King Power Stadium, with Everton somewhat reluctant guests at the big party.
Pennington and Niasse started again with Oviedo coming in while Besic dropped to the bench where Hibbert failed to appear. Connolly and Dowell had to await more opportunities from the bench.
For the new Champions, Jamie Vardy returned after his 3-match ban to join in the celebrations, with Ranieri having used just 18 players in his victorious storming of the Premier League.
The razzmatazz included Andrea Bocelli belting out Nesum Dorma, and the Everton players trouping out first to form a guard of honour for the Leicester City team, the King Power awash in alternating sections of blue and white flags to welcome their Champions.
Everton kicked off amidst continuous Foxes chanting that made the game secondary. Lukaku tried to dribble through and ended up tacking Okazaki. Baines was upended on he sideline but recovered well enough. But some poor passing out of the back gave the ball away cheaply to the home side.
Out of nothing, 5 minutes in, Vardy danced through to convert an easy undefended cross and add to the embarrassment Everton were clearly feeling as party interloppers.
Everton tried to respond with Niasse beating his man but crossing well beyond Lukaku and Baines did no better, finding a defender with his cross. Likewise Lennon from the other side. Everton resorted to strolling about and Niasse poking one through but Lukaku lazily offside. That led to a free header for King, straight at Robles, off a superb cross by Mahrez.
Niasse was not impressive, passing straight to his marker as the Interloper struggled to string much together against a relaxed home side who were just playing for fun. Lennon did well to block Foulkes from a clear strike on the Everton goal.
A half-decent move down the right saw Oviedo play in a superb cross for Lukaku to convert at the near post... except that he was hopelessly lacking in conviction and completely missed the ball.
The party atmosphere continued unabated with Everton seeming finally resorting to a long ball that won a corner which Stones might have converted close in.
Another great cross, this time from Baines seemed laid on a plated for a determined centre-forward but Lukaku just watched it sail past him and into Schmeichel's arms. Leicester were given a soft free-kick that Mahrez curled wide.
Mahrez was next to dance through the static Everton defence and lay back a simple conversion for Andy King, Easy peasy.
After that, it was Barkley with a lazy, horrible pass straight to Vardy, and almost another given away. Stones was then poor trying to block an attacker and King almost curled one in from the corner.
Everton were summed up by a nice ball from Barkley that smacked off Niasse's heel instead of initiating a break. It was lamentable stuff all round as Everton looked a shapeless and dispirited sight in the pouring rain.
Everton strung a few passes together around the Foxes area until Lukaku decided to pass the ball straight to Mahrez and they were away, Pennington forced to foul for a yellow card. Mahrez fired the free-kick wide with a deflections and the corner was headed over by Morgan.
A particularly dismal and inept half from Everton, the like of which we have become only too familiar with under Roberto Martinez, who must his role at this party is that of chief clown, such was the paucity of his gameplan, fitness, training, preparation, etc, as manifested by his charges. The only stat that matters to Martinez was well in his favour, however: 64% Possession.
From the second-half kick-off, Everton got behind the Foxes and it looked like Niasse had the easiest of chances to lob Schmichel but it the ball straight at the keeper's head! Lukaku then tied himself in knots at the far post, trying in vain to backheel the ball into the Leicester net. Cleverley was booked for a heavy challenge, and he then gave away a dangerous free-kick with another poor challenge, Foulkes firing well over from long distance.
After at least showing some intent, if not delivering, Everton then descended back into their meaningless possession game, Oviedo getting forward only to lose the ball. Cleverley did better, winning a corner, that Oviedo played deep, headed in by McCarthy and then headed on by Lukaku, but from very close range, palmed away by Schmichel. Another pathetic cameo, Niasse recovering the ball on the touchline and letting it hit his legs and go out of play.
Vardy, offside, made one of his trademark dives under the slightest of touches and he made it three from the spot. Gibson then made a rash lunge to stop Mahrez, and a clear second penalty in as many minutes, but Vardy skied it horribly over the bar.
Ulloa almost scored with a glancing header off a corner after Oviedo had fired in well enough from the edge of the area, pushed away by Schmeichel.
Osman replaced Barkley with 10 minutes left. Mirallas played in Lukaku but the Big Man was far too slow to get his foot on the ball and it was whipped away from him. At the other end, Ulloa came close a couple of times. Pennington made a few key interceptions.
Mirallas finally produced an end product with a couple of fortuitous bounces on the way from the half-way line to the back of Schemichel's net. A consolation.
Everton under Martinez had no answer to the football The Champions had used to good effect all season, and slunk off at the end as Leicester City were presented with the coveted Premier League Champions trophy.
---
---
© ToffeeWeb