Club unveils 2015-16 away kit
by

61 Comments [Jump to last]
| 14/07/2015
Everton have revealed the new away kit for the 2015/16 season which will get its debut in the team's second Barclays Asia Trophy fixture on Saturday in Singapore.
Designed by Umbro the change strip is predominantly white with a crew neck, grey hoops on the arms, black shorts and white socks.
Like the home shirt, the 'NSNO' insignia is featured on the back of the neck area.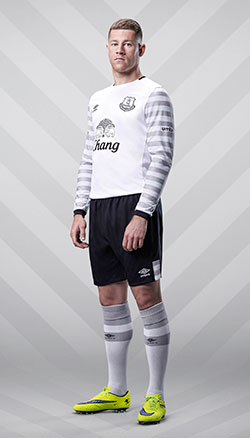 It is constructed using highly technical performance materials, including a lightweight textured mesh on the back of the shirt for maximum ventilation. Shaped mesh underarm panels offer maximum fit and movement.
The new away kit is available to pre-order from evertondirect.com and Everton One and Everton Two from today, July 14, and will go on sale on Wednesday, July 29, both in-store and online. The kit is available in the full range of sizes for men, women, juniors, infants and babies.
Speaking about the new change strip away kit, Romelu Lukaku said: "The new away kit looks great. It's fresh and smart and we are looking forward to wearing it in Singapore for the Barclays Asia Cup, as well as in the upcoming season.
This season Everton and retail partner Kitbag have rolled out a new Click and Collect service that offers a more convenient collection method for supporters who order merchandise online.
As well as still being able to collect their purchases from either of the two Everton stores, supporters are now able to pick up their parcels from any of the 5,000 Hermes Click and Collection partner sites throughout the UK. For more information about the Click and Collect service, visit evertondirect.com.
More information on the 2015/16 kit is available at www.evertonfc.com/born. To pre-order the new kit visit evertondirect.com, Everton One or Everton Two.

---
Reader Comments (61)
Note: the following content is not moderated or vetted by the site owners at the time of submission. Comments are the responsibility of the poster. Disclaimer
Duncan McDine
1
Posted 14/07/2015 at 18:09:31
Looks like a white tank top over pyjamas
Terry Downes
2
Posted 14/07/2015 at 18:14:52
Looks frigging awful to me
Karl Masters
3
Posted 14/07/2015 at 18:24:08
One of the worst kits of any club I have ever seen! I'm almost speechless! No wonder Bill has been looking ill lately. He must have been vomming up all night after seeing that.
Jamie Barlow
4
Posted 14/07/2015 at 18:26:58
Nasty.
Lyndon Lloyd
6
Posted 14/07/2015 at 18:31:19
The long-sleeve version does look a little like pyjamas, I have to say. It might have been better had they faded the hoops off halfway down. [Not sure it warrants the over-the-top reactions on here so far, though.]
But I really like the short-sleeved version that Lukaku is sporting there. But then I was a big fan of the white/grey striped number from the late '80s which his harks back to.
Colin Grierson
7
Posted 14/07/2015 at 18:29:40
Is it just me or is there a hint of 'the boy in the striped pyjamas' about this kit. There seems to be a distinct lack of aesthetic nouse about our great club.
Paul Ellam
8
Posted 14/07/2015 at 18:29:04
Hmm...well obviously I am in the minority but I quite like it.
I like us to stay fairly rigid with our home kit but the away and 3rd kits I like us to go a little different.
That way, the traditionalists and the radicals all get a choice!
James Ridley
9
Posted 14/07/2015 at 18:53:57
It looks good to me. A bit different from the norm. Damned if you do and damned if you don't at the mo. Keep it the same as previous years everyone says 'boring' change it everyone says 'rubbish'.
Lets start by being positive and maybe the team will smash those first 10 games and we are off and running for a cracking season!!
Jim Bennings
11
Posted 14/07/2015 at 19:05:31
Looks quite extravagant to me but it's quite nice, I like it.
I won't really be arsed what it looks like if it's the kit we finally win at Chelsea wearing, it's the team not the kit that's important.
My personal favorite away strip was the old school classic cream classic of 2010-11, the one we won at Chelsea in, the FA Cup penalty shootout.
Frank Crewe
12
Posted 14/07/2015 at 19:30:35
At least it's not pink.
Colin Glassar
14
Posted 14/07/2015 at 19:39:42
Bloody awful. Where's the silver/grey come from? Does it have any historical reference?
Tamhas Woods
15
Posted 14/07/2015 at 19:40:29
Pathetic. Is this a nod to the 1994-96 away kits?
Hateful garbage.... at least terrible away kits were fashionable back then. Today there's just no excuse.
2003-04 Plain Amber, 2009-10 Black and Purple, 2010-11 Vanilla Kit..... THAT'S how you do away kits!
Peter McHugh
16
Posted 14/07/2015 at 19:52:47
Always liked the yellow away kit from years ago!
Plato Stavrinos
17
Posted 14/07/2015 at 19:54:43
I like it...
Patrick Murphy
18
Posted 14/07/2015 at 19:55:46
Colin - It is an effort to please all of us who have been demanding Silver Wear...
But seriously, we had grey / silver kits in 1984-85 if I remember rightly.
Tim Locke
19
Posted 14/07/2015 at 19:58:46
At least the boys look happy in it!
Lewis Barclay
20
Posted 14/07/2015 at 19:59:54
If we win a trophy when the boys are playing in, it I'll flippin' love it.
Brian Cleveland
21
Posted 14/07/2015 at 20:00:14
To all those who say pyjamas, I say pants... yes we're missing the pyjama pants!
Great, last year's shirt got lost in the post (which I quite liked the look of) and neither home nor away this year inspire me to order it. Sigh, back to my old old old shirt.
Mark Robson
22
Posted 14/07/2015 at 19:58:04
Personally, it is growing on me already. I like how clean and plain a white kit looks.
Patrick @18, you're correct Le Coq Sportif mid eighties all silver/grey outfit. My fave is still the cream 2010-11 one with the navy shorts and hooped socks. There's still the 3rd kit to come so some of the moaners may be appeased.
Davie Turner
24
Posted 14/07/2015 at 20:11:39
I really like the short-sleeved one, now to consider whether I can justify the price... almost!
Denis Richardson
25
Posted 14/07/2015 at 20:11:19
That is pretty bad... what's with the grey stripes on the side? The long-sleeved version is really shit.
Who actually designs this stuff?
Scott Bosworth
26
Posted 14/07/2015 at 20:14:58
I think it's 100% badassery. LOVE it.
Graham Mockford
27
Posted 14/07/2015 at 20:07:25
Colin #14
Here you go, quite traditional really. White with black shorts was mostly are change kit for about 60 years. And the last times we have won anything silver / grey was our colour.
http://www.historicalkits.co.uk/Everton/Everton-change-kits.html
Geoffrey Risebrow
28
Posted 14/07/2015 at 20:22:15
What a miserable bunch on here today; there's just no pleasing some people!
I love it and hopefully our boys will win some football matches in it!
COYB
Colin Gee
29
Posted 14/07/2015 at 20:36:17
It looks like you've got a white shirt on and lent on some railings that's just been painted grey and the paint is still wet.
Possibly the worst umbro kit since that one they did in the mid 1990s that was also white, but looked like you'd been run over by a tractor.
Eric Myles
31
Posted 14/07/2015 at 20:35:28
I like the short-sleeved shirt; the long-sleeved one looks silly.
Jamie Crowley
32
Posted 14/07/2015 at 21:17:12
Ace. Love it. Trendy, sleek... I think it's a winner.
Jamie Crowley
33
Posted 14/07/2015 at 21:22:46
Just texted screen shot to:
14-year-old boy -- "I think it's awesome." and "The arms are so cool with the stripes."
16-year-old boy -- "They're sweet!"
17-year-old boy -- "I like it"
Clearly, Everton have actually gotten something right by targeting youth with the away jersey design... unlike the over-40 crowd of grumpy old men on TW....
Mike Keating
34
Posted 14/07/2015 at 21:31:33
Go on, you mugs, buy another gobshite creation. The sooner this Kitbag merry-go-round is seen for what it is and dumped in the garbage, the better.
The so-called 'top clubs' promised to stop fleecing the fans with this annual rebranding years ago and have done nothing to halt the rip off since... If yer know yer 'istory etc...
Chris Williamson
35
Posted 14/07/2015 at 21:36:46
Jamie (33) - those that young don't necessarily have familiarity with black and white pictures, and can't envisage a photo of a B&W Ronald McDonald.
Eugene Ruane
36
Posted 14/07/2015 at 21:37:56
Tut!
You don't know where you are - I thought the Fisher-Price badge committee had been disbanded.
- Cough FUCKIN' AMBER!!!! -
Actually you might be right Jamie, re TWs over 40s.
For instance, I'd stick the 14-year-old on a training ship for six months, just for using the word 'awesome' to describe a shirt. Sure, that might seem harsh, but he would thank me in later years.
I mean I genuinely feel for today's teenagers who use the word 'awesome' to describe a McFlurry or a 50 cent (now 50 drachma?) track.
Should they ever encounter the Pyramids or Everest or Niagara Falls, they are going to be fucking goosed for an adjective.
John Gee
37
Posted 14/07/2015 at 21:50:51
So do I wash it with my white string vests? Or do I stick it in with my grey budgie smugglers? Does Persil have a help line number?
All my clothes are monochromatic but I think this looks ok. Gear! As Ringo would say.
Steven Jones
38
Posted 14/07/2015 at 22:25:17
Love it - vibrant - classy and very different - distinctive - we will stand out and the players will play great in it!
COYBB's!!!
Harold Matthews
40
Posted 14/07/2015 at 22:30:28
Short-sleeved, not too bad. Long-sleeved, prison gear.
Jamie Crowley
41
Posted 14/07/2015 at 22:41:46
Awesome post, Eugene.
;0)
I do like the idea of a training ship for 6 months!
Minik Hansen
42
Posted 14/07/2015 at 22:45:09
Standing out brilliantly, most definetely. This is Everton, COYBB.
Jamie Sweet
43
Posted 14/07/2015 at 22:26:12
Do the Pyramids, Everest or Niagra Falls have stripy pyjama sleeves Eugene?
No. No they do not.
Colin Glassar
44
Posted 14/07/2015 at 23:57:30
Why can't we just go back to the amber and blue that Bally wore so gracefully?
Ant Dwyer
45
Posted 15/07/2015 at 01:09:56
I'm most definitely in the minority here but I think the kit is boss. Light top with stand out logos and badges plus dark shorts.
Also to those who are asking if the colours are new, they are not. We wore these colours previously when Umbro made our kits, once with NEC and another time with Danka on.
Brian Wilkinson
46
Posted 15/07/2015 at 02:56:50
I think this could work in our favour, the opposing team will be pissing themselves when we run out in that shirt.
Think this may have been designed by the guy in the bedsit, who put in a bid to buy Everton a few years back.
Hugh Jenkins
47
Posted 15/07/2015 at 05:02:29
In my view, a joint design effort by Mothercare and the US Penitentiary system.
Stuart Mitchell
48
Posted 15/07/2015 at 07:51:56
White Shirt with Black Shorts would have looked good. Those stripey arms are awful.
Jim Bennings
49
Posted 15/07/2015 at 07:49:17
I haven't put one negative post on this thread....yet, but Christ the amount of moaning here about a bloody kit, and people say I'm a moaner!!! Haha.
It's just a kit, it's hardly worn part from maybe at Chelsea and maybe Villa.
I wasn't too keen on the home kit to start with but you just get familiar with it, at the end of the day, as long as we sign quality players and start winning matches, does it matter??
I had this argument when we had the badge change two seasons ago, different badge but we finished 5th and did anybody take any notice of the badge when we won at Old Trafford or tonked Arsenal 3-0???
No, no and no...
Keith Knowles
50
Posted 15/07/2015 at 08:04:26
Shocking design; its about time the club runs design ideas by supporters before going head first and potentially losing out on millions in lost kit sales!

Sam Morrison
51
Posted 15/07/2015 at 09:22:46
Ross doesn't look too happy. But that may be because he has life-preservers on his feet.
Tony Marsh
52
Posted 15/07/2015 at 09:49:53
Not bad; a little bit different from most others, quite a modern twist --stripes are in, ye know. Better than last season's kit with the massive epaulets around the sleeves.
Tony J Williams
55
Posted 15/07/2015 at 12:48:27
As most others have said, short-sleeved one looks quite good. Long-sleeved one is absolutely shocking.
Keith Meakin
56
Posted 15/07/2015 at 15:17:10
Reminds me of the Old Chain Gang outfits.
Not for me.
Tim Greeley
57
Posted 15/07/2015 at 15:41:22
Tony J nailed it. Short sleeves look pretty rad but the long sleeves are reprehensible. Big swing for a couple inches of fabric!
Richard Reeves
58
Posted 15/07/2015 at 17:22:22
I could create a better design than this.
I quite like the idea of an all-black away kit with a blue sash running vertically (not diagonally) down one side of the front of the shirt with the badge incorporated into it and a return to the blue-and-black hooped socks. That would look like we meant business even if we didn't.
Obviously I wasn't expecting that as it's in my head but this season I was hoping for amber and blue.

Andy Bulmer
60
Posted 16/07/2015 at 00:17:33
Can everyone please stop referring to the sleeves as striped? They're hooped, stripes go vertically down the body (Newcastle, Sunderland etc) whereas hoops go horizontally across the body like Celtic etc.
Sorry to be pedantic but my OCD is kicking in again!...
Paul Kelly
61
Posted 16/07/2015 at 07:25:49
Marketed at the younger generation I take it, but fear not my older brethren, the hoops would take the attention of the protruding midriff we call "bellies".
Nicky Styles
62
Posted 16/07/2015 at 08:38:28
Jokeshop.
So uninspired. Downright ugly actually.
Away kit should be yellow shirt, blue shorts end of!
Nicky Styles
63
Posted 16/07/2015 at 08:42:23
Jim Bennings – on the subject of the badge, I quite miss the previous Nike-enforced one. I liked its simplicity and I think the current one needs a bit of yellow.
Further, the fact that the kits now have NSNO on the back suggest it wasn't necessary to put it on the badge in the end.
Timothy Blanshard
64
Posted 16/07/2015 at 13:34:10
Eugene Ruane, You read my mind, sick to the back fucking teeth of people saying 'awesome' because they've just bought a Kit-Kat or something just as inane.
David Chait
65
Posted 16/07/2015 at 14:10:38
On the face of it, I hate the sleeves... but then I thought I didn't like the inside collar on the home strip but I thought it looked good on the pitch... so I'm open to see it live first.
Mike Hughes
66
Posted 16/07/2015 at 16:33:43
Both tops are crap. The short-sleeve one is like a tank-top over a tee-shirt. The long-sleeve one looks like part of a kiddie's romper suit.
If it's negative – that's how I feel. It's more Matalan rather than Nike, Reebok or Umbro.
If it didn't have an Everton badge on it, would anyone buy anything like that and venture out during daylight hours?
John Daley
67
Posted 16/07/2015 at 16:57:33
The grey and white hoops on the arms, and the 'seriously pissed off' modelling stares sported by the players, made this spring to mind:
It would look much better just plain white, without the superfluous hoops, in my opinion, but I guess the club/kit manufacturers have made a rod for their own back by making it compulsory to bring out three new strips every single season. They always have to try and find some (forced) new element to distinguish it from previous efforts.
Jermaine Jennings
69
Posted 16/07/2015 at 17:49:54
I like the away kit. It's different which is why I like it and will be buying that for sure.
Eugene Ruane
70
Posted 16/07/2015 at 17:59:19
Maybe they should have gone
100%
for the chain-gang look (if a job's worth doing...).
I'm picturing a night game at Goodison against a nervous looking Liverpool - a nice loud/bevvied/nasty/intimidating atmosphere and Everton walk out in the full Paul Muni.
We could then do a theatrical unlocking of a big chain before games - 'let the dogs loose' type stuff.
And there's no law that says shorts cant be dead long...is there?
I'm actually starting to like it - be dead newsworthy.
"Everton players celebrate their winner against distracted reds"
Andy Osborne
72
Posted 17/07/2015 at 02:39:30
Richard (58), I agree. An all-black kit would definitely look the part. Then all we would need is better football to go with it.
Some of the recent away/third kits have been truly laughable, but this one doesn't look that bad. I do, however, agree the long-sleeved version is pants.
Add Your Comments
In order to post a comment, you need to be logged in as a registered user of the site.
Or Sign up as a ToffeeWeb Member — it's free, takes just a few minutes and will allow you to post your comments on articles and Talking Points submissions across the site.
© ToffeeWeb