No looking back for Cleverley
by

17 Comments [Jump to last]
| 14/07/2015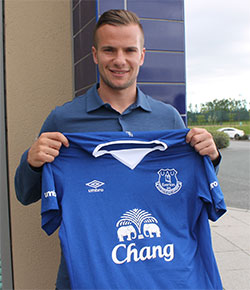 Tom Cleverley admits that the 13 years he spent at Manchester United will always be a big part of his life but he says he has no regrets about joining Everton.
The 25-year-old, who will wear the No.15 jersey vacated by Sylvain Distin next season, arrived at Goodison Park this summer on a free transfer after being told he was surplus to requirements at Old Trafford.
Aston Villa were keen to keep hold of him after seeing that impact he had during a season-long loan with the Midlanders last season but Cleverley was excited to link up with Roberto Martinez again, five years after playing for him on loan at Wigan Athletic.
"I've got no regrets whatsoever (about leaving United)," Cleverley told ESPN FC. "Louis van Gaal was always very honest with me which is the most that you can ask as a player.
"I spent 13 years there and it's been a massive part of my life. There were plenty of ups and downs and winning trophies, which I will never forget. They were some of the best days of my life and I will always look back with fond memories."
"It's exciting times for their club and I wish them all the best, but I'm concentrating on Everton now.
"I've worked with Roberto Martinez before and was excited to get back with him," Cleverley continued.
"Everton have got a great squad with great fans and a lot of history so it was a decision that was easy to make to come here."
The midfielder also reveals that Martinez feels he can contribute on the goals front this coming season even if he isn't yet clear on the exact role he will be asked to fill initially.
"I think he knows that I am versatile," Cleverley says in the Liverpool Echo. "I've played centre-mid, I played out wide and I played in a diamond for Villa and I played central midfield at Swindon on Saturday and I enjoyed it but we've not talked too tactically yet.
"But I know he thinks I can score five to 10 goals a season and I need to show everyone that again."
"I got my confidence back in front of goal towards the end of the season and hopefully I can get into those forward positions more and more and get back scoring five to 10 games a season."
---
Reader Comments (17)
Note: the following content is not moderated or vetted by the site owners at the time of submission. Comments are the responsibility of the poster. Disclaimer
James Stewart
1
Posted 14/07/2015 at 20:05:30
Can't help but think Villa got the better deal. They sign another top class box-to-box midfielder and we got their cast off.
James Ridley
2
Posted 14/07/2015 at 20:06:49
My starting 11 at the mo - unless we sign a number 10 of exceptional class then it would change:
Howard (last chance for a consistent season)
Coleman Jagielka Stones Baines
McCarthy
Deulofeu Cleverley Pienaar
Barkley
Lukaku
Cleverley can sit back when he needs to and push on when he can. Baines and Pienaaar on their day are awesome. Barkley is going to have an awesome season but as Number 10 he has a bit of freedom to make the odd mistake. Delboy hopefully matured and got a little more discipline to help out Coleman. Subs: the rest!!!
We obviously need a back up CB and Striker
Dave Abrahams
3
Posted 14/07/2015 at 20:13:38
Cleverley has taken a lot of stick in his relatively short career, from his own fans at Manchester United, and plenty on here from Everton fans, before and since he signed, so he has a lot to prove to a lot of people.
I'd say give him a break and let's see what he can do, a bit of fair play wouldn't go a miss for once.
Geoffrey Risebrow
4
Posted 14/07/2015 at 20:13:40
How can he be their cast-off, James? He was Man Utd's player. You seem to forget he won a league title with Man Utd? Who's the other top class box-to-box midfielder then? I can't wait for this!
I openly admit that I didn't want Tom but your assessment is totally wrong and unfair in my opinion.
Good luck Tom Cleverley at the People's Club!
James Stewart
5
Posted 14/07/2015 at 20:24:56
Villa signed Idrissa Gueye from Lille for ٧M! Sherwood has already been raving about him being like another Delph.
Time will tell with Cleverley but I'd check your medication if you think he will be winning us any league titles!
Stephen Brown
6
Posted 14/07/2015 at 20:34:58
James
I'd have to say that Mirallas should be any starting line up!
Geoffrey Risebrow
8
Posted 14/07/2015 at 20:39:37
No need to be offensive, James. I never mentioned he would win us any league titles.
Oh yes... the famous Idrissa Gueye, who everybody has heard of! I forgot, Sherwood must be right!
James Ridley
9
Posted 14/07/2015 at 20:41:37
Stephen Brown,
It was a tough call but Pienaar on his day creates so much more and gets us lots of deadball situations plus he works well with Baines. Mirallas is quality but not a team player at times. Loses the ball too much; on his day, he is brilliant; not on his day... a passenger!!
Why are we writing a player off and he hasn't even kicked a ball for us? We have had a good few players sign for us who we all questioned but turned out to be quality buys in terms of their contribution..... and he was free.
We would all love a Cazorla or Silva type player but it ain't gonna happen unless Martinez unearths a gem from somewhere .... they are either 㿀 million plus or wanted by clubs that are better than us across Europe.
Pete Edwards
10
Posted 14/07/2015 at 20:54:17
James S, I doubt Idrissa Gueye will be winning Villa the title any time soon either! I'm also pretty sure they wanted to keep Cleverley so, even if he was a Villa player, he would hardly be classed as a cast-off!!
This having a pop at players before they have even kicked a ball in anger for us is starting to get very tiresome.
Brian Garside
11
Posted 14/07/2015 at 21:06:58
Ha Ha Dave @3. Fair Play! Here! This is ToffeeWeb!!!!
However, for what its worth, I agree with you.
Many say we need defenders. I say give Browning, Galloway and Garbutt (if not loaned out), their heads and play them. Develop now so they can replace comfortably when Jags and Baines have done their bit. We always have Hibbo and Oviedo so why buy?
Teddy Bertin
12
Posted 14/07/2015 at 22:40:55
James Stewart: cast off? Cast off would suggest that they didn't want him. Villa were desperate for him to stay.
He was terrible for them for most of last season because he was in a dreadful team and made it clear he actually wanted to play for our football team. Tim Sherwood came in, played to his strengths and made him an integral part of their survival push. In fact, he was one if their best players, scoring 3 goals in 3 games if I remember right. They would have loved to have kept him.
Are you surprised that young men, earning tens of thousands a week, can sometimes lose perspective when they're sent out on loan to a terrible team after specifying who they wanted to move to? Do you think these guys are robots? Cleverley has expressed a desire to play for Roberto Martinez, who despite this forum is the manager of Everton FC.
He was good enough for Alex Ferguson, he looked the part under Tim Sherwood and he wants to play for our club. Get behind your team and the players or sod off with your negativity! It's getting extremely boring.
Good luck to you, Tom, and I hope you see your best years at our wonderful football club.
Christopher Wallace
13
Posted 14/07/2015 at 22:43:48
James
Only time will tell if Idrissa is the "class box-to-box midfielder" you claim him to be. One thing for sure -- Cleverley is not a Villa cast-off, as he was never their player to begin with.
Tom played his best football under Martinez, good enough for Fergie to give him a pivotal role at Man Utd.
I'm not overwhelmed by this signing, but I'm very happy to get him on a free -- especially considering the going rate for young(ish) English internationals these days.
How's about getting behind the lad and giving him the chance. We go on about saving money by taking a gamble on one of our young lads in the hope that they prove themselves. Cleverley is already at a decent level, with plenty of experience, and potential to push on (and cost next to nothing).
Everton could be the perfect match for him to excel, and vice-versa.
Christopher Wallace
14
Posted 14/07/2015 at 22:56:57
Side note on Idrissa Gueye - give an example of an expensive successful player signed from Ligue 1, and I'll give you 10 duffers in return... or just point you to Le Frog on le Tyne!!
Colin Williams
16
Posted 15/07/2015 at 01:15:48
This lad is a top signing.... Great passer, good balance; super fit, loves playing the game the proper way; leads by example, can see a pass; creative in the final third and can score goals!! (And people still don't rate him!)
Victor Yu
17
Posted 15/07/2015 at 02:53:44
Villa wanted to sign Cleverly but he chose to join us instead. He is far from being a cast-off (and we get him on a free).
Harold Matthews
18
Posted 15/07/2015 at 04:39:28
Interesting signing. Well acquainted with Martinez and numerous members of the squad. Like all Man Utd players, he will pass and move at speed, get himself into the box and try to get on the end of things. Above all, he will have the Fergie-instilled winning mentality.
Also, note his clever movement off the ball. Dragging people away to make room for team-mates. I hope we can use him in the Lampard position.
Paul Cherrington
19
Posted 15/07/2015 at 10:16:56
I admit I was underwhelmed on first instinct when we signed him but now I have thought more, I think he is a good signing who will do well. You can't ignore his previous successful link up with RM at the dreaded Wigan as I think that will help him really settle in with us. Seems to be more forward thinking in his play than feared too and I think he has that bit of guile we lack at the minute.
Add Your Comments
In order to post a comment, you need to be logged in as a registered user of the site.
Or Sign up as a ToffeeWeb Member — it's free, takes just a few minutes and will allow you to post your comments on articles and Talking Points submissions across the site.
© ToffeeWeb