Boss bullish on Everton's prospects
by

53 Comments [Jump to last]
| 17/07/2015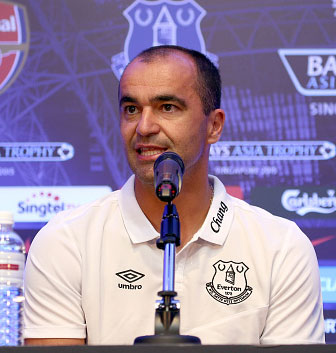 (Stanley Chou/Getty Images)
Roberto Martinez was in optimistic mood in his press conference ahead of tomorrow's Asia Trophy final against Arsenal, saying that the quality of his squad excites him.
The Toffees are preparing for their second and final exhibition game in Singapore which will provide them with an opportunity to spar with a team almost certain to be challenging in the top four again this coming season.
The Gunners have already added goalkeeper Petr Cech to their squad this summer, a key addition that many feel could be the vital ingredient to elevate them to a position of being genuine Premier League title contenders.
Martinez was happy talk up his own players, however, as he looks to improve on last season's poor showing that saw Everton drop from a fifth-place finish in 2013-14 to a lowly 11th last time out.
He reserved special praise for James McCarthy, a rumoured target for deposed champions Manchester City and Champions League-chasing Tottenham this summer, while Seamus Coleman shared his excitement at the prospect of linking up with new signing Gerard Deulofeu again.
"You look at the talent in our squad and you think 'why can we not challenge with whoever is in front of us?'" Martinez told the media in Singapore. "It's exciting.
"James McCarthy is a phenomenal prospect and we're going to build a team around him."
Coleman, sharing the podium with his boss for the press conference, said: "Gerard excites us and he excites the fans. I'm looking forward to playing with him."
The Irishman is expected to play against Arsenal tomorrow having sat out of Wednesday's opener against Stoke City which the Blues won in a penalty shootout after the match had ended goalless.
Martinez explained that all of the senior players are likely to play a part, while some of the younger members of the party will get their chance later in the pre-season programme.
"We've got a large squad and it will be pretty much every first-team player having some action in this game," the manager said.
"The Asia Trophy has been great opportunity for likes of Ryan Ledson to be part of the first-team. We'll see them later in pre-season."
"James McCarthy took a knock on his ankle (against Stoke). It should be okay, but he'll be assessed today."
The final kicks off at 1.30pm BST on Saturday, with live coverage on Sky Sports.
---
Reader Comments (53)
Note: the following content is not moderated or vetted by the site owners at the time of submission. Comments are the responsibility of the poster. Disclaimer
Paul Kelly
1
Posted 17/07/2015 at 07:01:05
"You look at the talent in our squad and you think 'why can we not challenge with whoever is in front of us?"
That's the attitude Robby son. Fear no one. Bring them all on.
James Morgan
2
Posted 17/07/2015 at 07:08:38
It wasn't very exciting last year, the addition of Deulofeu makes it more so but we need another two or three players more yet before I'll get excited for this season.
Thomas Surgenor
3
Posted 17/07/2015 at 07:09:47
I like the idea of building our team around McCarthy. He is a real talent with a real engine and desire to succeed.
I just wish he had the freedom to roam forward a little more. If he could add 8 or 9 goals a season to his game then he would be the "complete" centre mid. (Possibly the best pound for pound in the league.)

Ajay Gopal
4
Posted 17/07/2015 at 07:25:30
This could be the 'coming of age' season for a number of our key prospects - Lukaku, Barkley, Deulofeu, McCarthy, Besic, Stones, Cleverly. Imagine if 3-4 of this bunch had a real break-through season - Everton could easily be challenging for some honours this year. Exciting thought and I am really looking forward to this season (as I always do!) and hopefully will not be disappointed.
Harold Matthews
6
Posted 17/07/2015 at 07:31:05
Thomas. Unfortunately, if he added 8 or 9 goals a season to his game the money clubs would be all over him like a rash.
James Richard
7
Posted 17/07/2015 at 07:45:28
If you want to build a team around McCarthy, give the lad improved terms on his contract!
The lad doesn't want to leave as all his close mates are scousers and blues and have been since his Wigan days. But Spurs have offered to treble his wages so it's only natural his head will be turned. Make him one of our top earners he's future captain material!
Paul Smith
8
Posted 17/07/2015 at 08:01:00
Until McCarthy can start attacking the goal, I fear he will be forever known as a hard working DMF and not the player we should build the team around in fact does that even happen anymore?

Adam Luszniak
9
Posted 17/07/2015 at 08:12:25
James. out of interest. what are his wages and what are Spurs offering?
Bill Farmer
10
Posted 17/07/2015 at 08:17:06
Without wishing to be negative in any way, talk is cheap whether it be from the manager or the like of what appears on ToffeeWeb.
I would have preferred Roberto to have said 'We are quietly confident of improving considerably on last season's disappointing position and we have players of the right quality to do just that. But we have much work to do.'
Instead, he favours a style which seems to assume that we have only to turn up to get the job done. I'm sure I'm not alone in finding his statements unsettling.
Colin Glassar
11
Posted 17/07/2015 at 08:36:06
Roberto seems to reigning in the hyperbole a bit which is a good sign. He seemed very stressed last season and the amount of verbal diarrhoea that he spouted became a worry.
The idea of building a team around Macca is encouraging (the rags will be furious) and the interviews with Seamus and Stonesy were music to my ears.
So, we have a manager who's recovered his mojo, a happy, tight knit squad, and a few additions who've settled in brilliantly. It's all shaping up well isn't it?
Mads Kamp
12
Posted 17/07/2015 at 08:46:45
I´m totally confident its gonna be an awesome season! Last season was practise, now we know what not to do...
An intact squad plus exciting new ones (Evans also coming in) is simply great, great news! Bobby will surely prove his worth this season.
COYB! Go for the big one. Its reachable.
Roy Cook
13
Posted 17/07/2015 at 08:55:46
I'm not with you on that, Bill, as I think he's right to be optimistic about his squad. The issue I think he has is whether he can get the most out of that squad.
I was seriously impressed first season and at times bemused and horrified last season. I think the quality of Roberto's reflection on mistakes made may be the biggest factor going forward.
The logic he applies to players learning from mistakes and this being integral to their growth and development seems to me to the biggie for Bobby also. I fear he is stubborn but hope for humility and pragmatism.
Chris Gould
14
Posted 17/07/2015 at 09:04:49
I agree that it's all sounding a lot more positive, and clearly the players are all behind RM. A couple more players in, coupled with a decent pre-season, and who knows? The unpredictability is intriguing. Maybe we can challenge for the top 6? I think there will be the top 6 of last year plus 2-3 other teams who will all be very competitive. Hopefully we will be in the mix.
Some tenuous reports suggest that Remy is going to Crystal Palace.
They are a team full of pace, with Cabaye and possibly Remy joining, they could be a team to watch this season.
Sam Hoare
16
Posted 17/07/2015 at 09:22:47
Yes, Chris. Palace will pushing us this season for those 5th-8th spots Writing that sentence was a bit depressing). Cabaye is a real game changer who has proved his class in the PL. Wish we had got him.
I'm slowly feeling more optimistic about this season though i'm also anticipating alot of frustration based mainly around Lukaku and Barkley. If these two players can reach the heights of their potential then it will be a stellar year but I fear that consistency is something that will continue to elude them both...
Steve Guy
17
Posted 17/07/2015 at 09:44:47
This all sounds more like the RM of his first season. We need to get back to Sin Miedo. Expectations were understandably high last season but the players and manager seemed to freeze in the face of emulating the previous season's performances.
Hopefully lessons have been learnt. I'm not expecting us go beat Arsenal tomorrow necessarily (I think conditions out there will suit their game) but I do want to see us go toe to toe with them and continue that mentality into our testing opening set of games.
Aidy Dews
18
Posted 17/07/2015 at 09:44:21
Couldn't agree more Colin! Martinez, the coaching staff and players seem to be taking pre-season very seriously this time round, just look at the work put in at FF to generate similar conditions to Singapore in first week back! Their clearly looking to get things right and be ready for firing for start of the new season.
Martinez is sounding more bullish instead of bullshit and the players sound focused and happy to be here and kick on and hopefully it all bodes well for a better season!
We've got a nice mix in the squad at the minute but we do still need to add here and there but if we can get the right players in of the right kind of quality, who knows what we can achieve next season?
I'd like to see us challenge for top 5 or 6 and seriously look to win the League Cup and be the first team in our history to do so, I think we're more than capable of that!
Jim Lloyd
19
Posted 17/07/2015 at 09:50:27
I hope so. I think in the first season under Roberto, we played with no fear.
Last season, we seemed to be frozen with fear on many occasions. As though the way we played the season before was just some sort of lucky formula, that we then lost.
We've got some really good young lads and I agree with Sam, that it is a defining season for Ross and Rom. But If Miralles stays and is up for it, and if Gerry plays anything like his first season, what contribution they both can make.
Tom Cleverley looks a really good player and if Pienaar is fit and can stay so, then we have the makings of a good attacking side again.

James Richard
20
Posted 17/07/2015 at 10:18:36
90k supposedly, Adam.
James Stewart
21
Posted 17/07/2015 at 10:54:55
I actually quite like this rhetoric. More like the first season Martinez and there is nothing wrong with talking up our team and giving them confidence. I think this is a far more productive method than claiming individual youngsters as the best in Europe.
Mike Childs
23
Posted 17/07/2015 at 10:57:17
A few things I would like to see this season are our manager giving our younger players some game time and changing the formation to suit the opponents. We must not get stuck in game-in and game-out with 4-2-3-1. Other teams have sorted this out by simply parking and waiting to counter.
In the search for that elusive #10, I would love to see Ledson get a chance to win the job but I feel RM will hold his age and experience against him.
Andy Crooks
24
Posted 17/07/2015 at 11:12:56
If Roberto can get the absolute maximum from this squad then we are entitled to dream. I expect being without Eto'o will improve the atmosphere quite a bit. Three players in and I will be optimistic again.
Trevor Lynes
25
Posted 17/07/2015 at 11:58:17
Teams should not be built around a defensive midfielder. That is the problem with our squad IMO. We should be building teams around play makers who can control the ball, beat their man and pass forwards accurately. Chelsea certainly did not build their side around Makekele!
This game of ours is all about preventing goals at our end and scoring goals at the other end. We badly need a youngish player who has the ability to create and lift the fans and the rest of the team. We had Collins in the early 60's and Ball later to score a few and have the nous to pass accurately. That is the type of player our team is absolutely crying out for.All the best teams have these players and until we unearth or buy a player of this ilk we will continue to struggle. Defenders are important but scoring goals is the priority.
Ryan Rosenberg
27
Posted 17/07/2015 at 13:01:41
Barcelona president Josep Maria Bartomeu said re: Arda Turan
"[Loaning him out] is a possibility, but the final decision must be made by coach Luis Enrique and it must be a purely technical decision. It must be a team not playing in the Champions League."
Surely this is worth an enquiry?
Joe Foster
28
Posted 17/07/2015 at 13:06:16
The team as it stands now with the young ones included makes me think we could be dark horses for Europa. If we can fill them few holes in the team who knows? Watching the Asia Trophy game, they looked like they where enjoying it and RM looked to have his game face on, unlike Hughes.
All-in-all, I am feeling unusually optimistic. By the way is our new catch phrase "I don't mean to be negative but..."
Jim Knightley
29
Posted 17/07/2015 at 13:07:59
I'd find that idea wonderful, if ultimately incredibly depressing Ryan. We'd have a world class player on the books for six months, who we could never hope for enticing to the club on a full time basis. He would be the creative type we are desperate for.... for six months.
I wonder if he might end up sitting on his thumbs till January. However, given our apparent recent relationship with Barca (in view of Deulofeu and other links), it is not an impossible idea.
Also - we should be hopeful going into the season if 1) we buy a CB and creative mid 2) keep Stones and McCarthy. Last season was an anomaly, not the rule - we've been a consistent top seven side for a decade. Martinez needs to have us play more quickly and more directly, and we need fit players starting the season (pre-season already looks healthier than last year). If we do, then we should be aiming for top 6 and a trophy. We have a great first eleven - Howard may be weak, but I don't think last season was representative of his ability either. Coleman is the second best right back in the country, and Baines is an incredible footballer. Stones and Jags are very good defenders, McCarthy is a superb DM, and Mirallas, Deulofeu and Lukaku are brilliant if frustrating attacking players. A lot of our squad is young and can kick on. We need to find a tactic to get them playing well together, and find a creative player to help knit the attacking players together. Several of those players could be at Champions League clubs, and we need to prove them that we can meet their ambitions, and they need to prove to themselves and the fans that they can help us meet theirs.
I hope we take the Capital One Cup (is it still called that?) seriously this season as well. I know it's important to give our squad players playing time, but I hope we don't make eleven changes and go out to a poorer side.
Jim Knightley
30
Posted 17/07/2015 at 13:17:50
I don't think 'dark horses' is fair Joe - I don't see any reason why we can't finish above Spurs and Southampton, and challenge Liverpool. The top 4 are a cut above, but we should be looking to return to the normality of the previous seasons now. We also notably won't have European football as a distraction, unlike Spurs, Southampton, Liverpool and West Ham.
Joe Foster
31
Posted 17/07/2015 at 13:20:51
I feel the same, Jim, and would love it if we could get Capitol One Cup. I just like to edge my bets; if the team do better than my expectations, it's a win-win for me.
Joe Foster
32
Posted 17/07/2015 at 13:24:31
I kind of meant under the radar more than dark horses. Wrong cliche.
Denis Richardson
33
Posted 17/07/2015 at 14:10:02
'You look at the talent in our squad and you think 'why can we not challenge with whoever is in front of us''
mmm.....someone maybe needs a mirror?
'James McCarthy is a phenomenal prospect and we're going to build a team around him'
Not even close to the start of the season and already the 'P' word has come out. Another thing, James McCarthy cost us 13m, is approaching 25 and has 6 years experience in the top league, two of which with us......I really don't expect a player like this to still be classed as a 'prospect'.
I know we shouldnt take everything said seriously, especially from Martinez but I find it hard not to get annoyed with the constand upbeat bollocks when there's been little to show on the pitch to back it up.
The squad has added cleverly and deleufeo so in my eyes has improved a bit from last season. Hardly anything to get 'excited' about.
Raymond Fox
34
Posted 17/07/2015 at 13:53:19
Positivity is Martinez's way, he obviously hates to say anything negative. The trouble is that he's always setting himself to be shot at because of the positive statements he does make. Having said that, I'd much sooner have a brave positive manager than one that's always playing the optimism down.
When you look at our team on paper it looks pretty strong does it not, more so if we could get a class playmaker in midfield. The acid test though is how many of our team would be 1st choice in a top 4 side, not many I would suggest! Coleman, Baines, McCarthy, maybe's.
I think we'll probably finish 7th to 10th but play much better than we did last season, if we can miss serious injuries for a change we might creep into the top 6.
Maybe I could use some of Roberto's optimism!
David Chait
35
Posted 17/07/2015 at 14:23:34
I thought we were going to build a team around Barkley...
Denis Richardson
36
Posted 17/07/2015 at 14:22:25
Ray 34 - I'd also rather have a brave positive manager too, unfortunately last season we didn't have the 'brave' bit so the optimism bit grated after a while.
Tbh, we've had a decent first XI for the last few years, stenghthened a bit by Martinez' signings. However, whatever players we have come August will be irrelevant if the style and tactics remain the same as last season. I hope that the youth and lack of fear will get the likes of delboy tearing at the oppo at every opportunity and not turning back and passing the ball sideways/backwards. I also expect/hope Cleverly will bring more foward passing into the side than that from McCarthy and Barry last year.
First few games of the season will tell, until then I'll remain hopeful. Newly promoted they may be but I fully expect 3 points against Watford plus a decent performance. GP will be packed and rocking in anticipation and expectation - up to the manager and players to deliver.
Until then it really is all just cheap talk (which we've heard many times...)
Jay Harris
37
Posted 17/07/2015 at 14:51:20
I wont get excited until we get a goalscoring MF player and an additional CF and we don't play that tippy tappy stuff at the back.
Change of tactics, couple of quality additions and then I might get more positive about the future under this manager.
Until we start to see the walk instead of the talk the jury is still out IMO.
Daniel Lawrence
38
Posted 17/07/2015 at 15:19:22
Martinez has confirmed today he's not after another forward, Jay, so cross your fingers we can get 45 full games out of Lukaku.....
Denis Richardson
39
Posted 17/07/2015 at 15:38:16
And 3 games out of Kone, Lawrence... btw, 45 games for Rom would imply we make it past the first couple of rounds in the cup competitions -- I like the optimism...
Raymond Fox
41
Posted 17/07/2015 at 16:47:11
Denis, I think (as you say) Cleverley will help us to get the ball forward this season; we will soon find out.
It's the biggest factor that separates us from the top 4 sides, and for me the midfield playmaker is the most important position in any side. I'd like us to sign one maybe a little better than Cleverley though if we can find the cash!
Tony Sullivan
42
Posted 17/07/2015 at 17:25:58
Perhaps when people constantly harp on about the words Martinez uses at interviews and press conferences, they might stop to consider that he is not using his native tongue.
It is always difficult to be as fluent as native speakers in a second language, no matter how long you have lived in a country. I think this may go some way to explain his over-use of certain adjectives.
I think it is time people cut him some slack on the issue.
Clive Rogers
43
Posted 17/07/2015 at 17:27:06
With the current squad, such a lot will depend on Lukaku delivering as virtually all the goalscoring will be down to him, especially if Mirallas is not being picked regularly. Cleverley, Pienaar and Deulofeu are historically not goal scorers and we have not signed the striker which we really should have.
The worry is that, last season, Lukaku's goals dried up after November. Not signing a striker and/or goalscoring midfielder may cost RM his job.
Tony Draper
44
Posted 17/07/2015 at 17:45:11
Tony @42
"People
constantly
harp on about the words' Martinez uses"
Fair comment Tony, though I did think that perhaps you were about to go on to say that these people are displaying tiresome hypocrisy.
After all, if they find RM's repetition irritating (or worse), then surely continually polluting TW's threads with the same criticism following each and every press release is also bloody irritating?
How many blows of a hammer does it take these "cunning linguists" to drive a nail home?
Steve Cotton
45
Posted 17/07/2015 at 18:27:59
Clive Rogers, spot on, mate...
If the big lad doesn't score then we are in the shit, we need a quality second striker fast. This time Monday morning, the RS will have 8 main strikers
Call me old-fashioned but our back up strikers are Naismith and Kone.
James Flynn
47
Posted 17/07/2015 at 21:37:12
I'm bullish on our talent. But, if we don't tighten up the backline defending, we'll have the same problems as last season.
Clive Rogers
49
Posted 17/07/2015 at 21:50:45
Steve,
The squad doesn't look balanced at all to me, and I don't think the current signings have helped that much. When the season is under way, we may well find that Deulofeu is not ready, and Cleverley is not the goal scoring attacking mid we all wanted.
Cleverley will probably have to replace Barry who looks to have completely gone, as has Hibbert. Other players who were ageing last season are a year older and will not perform to the same level.
RM has not addressed those areas in this window as yet. IMO the current squad may well struggle badly.
Barry Jones
50
Posted 17/07/2015 at 23:52:26
I think we should revisit this conversation 10 games into the season. Hopefully, we will all be happy.
Denis Richardson
51
Posted 18/07/2015 at 00:03:27
Tony 42 - see what you're saying but the guy has lived and worked in the UK for the last 22 years, coming to the UK when he was 20. His wife also happens to be Scottish - I'm pretty sure RMs English is probably better than a few people who post on this site and that he knows exactly what he is saying.
The 'P' word is not the only thing we've heard over the years, there have also been entire sentences stating such things like;
- Ross Barkley will be the best ever player in an Everton shirt
- John Stones is the best ball playing CB in Europe
Just a couple off the top of my head....now both of the above may be true one day but I'm pretty sure they're far from it now.
Yes we may go on about his over hyped bollocks but it's nothing to do with him not supposedly being fluent in English. The guy would make a great salesman.
(I'm also still waiting for Atsu to 'explode' btw...)
Jack Cross
53
Posted 18/07/2015 at 00:45:34
Mike Childs (#23). I agree with everything you say. Yes, give the youngsters a chance. I'd Iike to see Ledson also. Throw them in at the deep end... If they're good enough, they will shine; if not then loan them out.
RM, always goes for experience, the sure thing, the no risk taker.
As for how he talks, I couldn't give a shit. He can talk double dutch every week, so long as he puts a winning, entertaining team out.
Jim Hardin
54
Posted 18/07/2015 at 02:39:13
Denis 51. What a phenomenal post. If you keep it up you might be the "best" poster to ever post on the TW site.
p.s. Roberto agrees with me. How phenomenal is that?
Darren Hind
55
Posted 18/07/2015 at 06:47:19
Tony (#44),
Anyone reading your post would think this has been a negative thread, Fact is, it has been overwhelming positive.
Lyndon recently opened the floor for everyone to have their say and you had yours. I think everyone got his point about repetition grating. You'll notice he was smart enough not to labour it.
Time to move on. Let's concentrate on Arsenal today.
Tony Draper
56
Posted 18/07/2015 at 08:19:33
Darren (#55),
For the record, the above is the first time that I have ever posted in response to somebody wittering on about RM's repetitive vocabulary. Hopefully you will be magnanimous enough to concede that.
And as for today's game? I'll be concentrating on Everton, but thanks for the reminder.
Murdo Laing
57
Posted 18/07/2015 at 12:01:00
Jack #53, I agree Mike makes a good point there, both on the issue of opportunities for the academy graduates and team formations. This business of bringing young players through only for them to end up in a vortex of constant loan deals to Championship clubs is not really inspiring much confidence in the academy system?
I'd think we would all have to accept that out star pupil Wayne Rooney was very much an anomaly, given his prodigious talent at such a young age, but we now have a situation where we have lads like Conor McAleny at, what 23, still hardly seen in a blue shirt, having done the rounds of loans in the lower divisions.
I also agree with Mike on the issue of our team set up. The biggest problems last season, apart from players being out of form, unfit and out of position, were our tendency to give away cheap goals and our inability to counter-attack at pace and use Lukaku's strengths.
Clive Rogers
58
Posted 18/07/2015 at 15:53:33
I wonder if Martinez is still bullish after that inept display.
Very worrying.
Bill Farmer
60
Posted 19/07/2015 at 12:05:30
Just read Roberto's verdict on yesterday's performance on the Official site. He's disappointed at the way we conceded and also failed to take our chances. Otherwise, it was a good work out.
No bullshit, thank the Lord. Perhaps someone has had a word!
Oliver Molloy
61
Posted 19/07/2015 at 12:23:34
James,
There is no way that Spurs or any other club would offer McCarthy 90 grand.

Steavey Buckley
62
Posted 19/07/2015 at 12:43:33
Everton, yesterday, against Arsenal in the first half, were reminiscent of Everton last season: playing far too deep in their own half, with a McCarthy and Barry not moving the ball quickly and accurately enough forward to an ineffective Naismith and Kone, while Coleman looks on disinterested with one eye on a move to another club.
---
Add Your Comments
In order to post a comment, you need to be logged in as a registered user of the site.
Or Sign up as a ToffeeWeb Member — it's free, takes just a few minutes and will allow you to post your comments on articles and Talking Points submissions across the site.
© ToffeeWeb