Long moves on to Burnley
28/07/2015

52 Comments [Jump to last]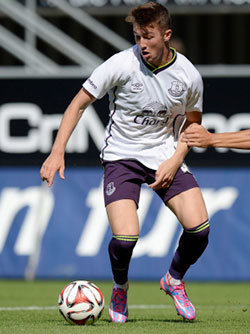 (Sascha Steinbach/Bongarts/Getty Images)
Chris Long, a promising graduate of the Everton Academy, has joined Burnley the club have confirmed.
The 20-year-old's was out of contract this summer but he had been expected to sign a new deal after featuring in the first-team a year ago during pre-season and furthering his development with a spell on loan and Brentford last season.
The local-born striker also made his full senior debut in the Europa League match against Krasnodar in December.
Unlike his U21s teammate Luke Garbutt, Long has opted not to sign the contract on offer from Everton and appears instead to have chosen the immediate prospects of first-team football with Burnley who dropped back into the Championship following their relegation from the Premier League in May.
He moves to Turf Moor in a deal reportedly worth £500,000, with another ½m due dependent on appearances, and signs a three-year deal to play under Sean Dyche, confirming speculation earlier this month that he was in talks over a move to Turf Moor.
"I'm absolutely buzzing to have officially signed and I can't wait to get started," he said after the move was confirmed.
"I can't thank Everton enough for what they did for me, but I think it's time to start a new chapter in my life and I can't wait to get started with Burnley.
"I've proved that I can score goals in the Championship and I only had two starts. I would have started more without injuries and I'm looking forward to scoring goals for Burnley.
"I'm fresh, young and eager to succeed to be honest and I just want to show the Burnley fans what I can do."
Though Long was out of contract, Everton were due a development fee given his age and the two clubs appear to have come to an agreement without the need to involve a third-party tribunal.
---
Reader Comments (52)
Note: the following content is not moderated or vetted by the site owners at the time of submission. Comments are the responsibility of the poster. Disclaimer
Sam Hoare
2
Posted 28/07/2015 at 12:13:04
Chris Long has just left the club so obviously he's one of our talented youngsters who didn't quite buy into the development plan. Unless the club didn't think he was good enough which seems unlikely given our dearth of strikers.....
Alex Naylor
3
Posted 28/07/2015 at 13:46:59
We should have inserted a buy back clause at a pre-agreed amount for the first 2-3 seasons.
Liu Weixian
4
Posted 28/07/2015 at 13:49:53
Can't fault him for his decision. When a young player sees old, guaranteed players starting regardless of form, it is natural that he will want to move on.
Sean Patton
5
Posted 28/07/2015 at 14:06:06
I would love to know what the fee is but we will never find out. From what I saw of Long in pre-season last year and U21 highlights, plus the odd Championship game, he makes good runs and can finish but he will never be able to play upfront on his own as he is too slight.
On that basis, it is best for him if he moves on. Good luck to the lad and hopefully he will be more fitter than Vaughan.
Lewis Barclay
6
Posted 28/07/2015 at 14:06:43
With clubs like Man City and Chelsea buying up all the youth and U21 talent, through their own team or feeder teams, only for them to be sold on for a tidy profit when they don't meet expectations (anyone remember the name Lukaku) how are we supposed to compete?
The players who don't get the chance to play in our 1st team go to the Championship -- or lower leagues, whereas Chelsea, Man City etc have the luxury of an academy and U21 team full of potential Premier League players that they can swap out or loan to othe EPL clubs. Garbutt is at Fulham on loan for example, surely he must have known this before signing his contract, couldn't he have gone to one of the newly promoted clubs? If not, why are we holding onto him when other clubs wouldn't?
In my opinion, this is where the EPL really sucks. I imagine that Chris Long didn't see where he could get noticed quick enough at Everton and felt that he'd be better off moving to a club, permanently, where he would have a better chance of getting noticed while maintaining some stability.
I can't say I'd blame him!

Mark Tanton
7
Posted 28/07/2015 at 14:11:21
When you're that age you want to be playing. He will be excited about hopefully getting thirty starts next season and scoring some goals. He'll learn much more from that than a development plan.
Bill Gall
8
Posted 28/07/2015 at 14:13:19
Good luck to the young man, as he said he will get an opportunity to start a new chapter in his life.
My problem with the move is, we seem to getting more players leaving the club than we have coming in.
Duncan McDine
10
Posted 28/07/2015 at 14:15:50
We offered him a contract... he turned it down to join a Championship side.
I don't really think there's any need to complain about our club. If he turns out to be a great player one day, then I'll eat my words, but I'm 99.9% sure that won't happen. Good luck to the lad.
Eddie Dunn
12
Posted 28/07/2015 at 14:21:34
For all of the talk of youngsters getting a chance, the reality is that lads like Long have been overlooked. Even when Lukaku was injured and Kone not fully fit, the kid didn't get a run-out.
Martinez rarely even gives Naismith a go in his best position, so Long has made the correct decision.
Good luck to you Chris.
Hugh Jenkins
13
Posted 28/07/2015 at 14:22:44
For any player to get picked up by a Premier League academy at the age of 5, survive all the culls year on year and stage by stage, to reach the U21's and then, at the age of 20 decide to leave to play at a lower level i.e. not being "released" by the club, makes little sense to me.
If that is where he feels comfortable, then good luck to him, but to have come so far and not believe that you can make it at the top level must be soul destroying for the player and for the training staff who believe he is good enough to go on.
I hope that this is a decision neither he, nor Everton live to regret.
Kieran Kinsella
14
Posted 28/07/2015 at 14:29:00
What's the primary purpose of our academy? Is it to improve Everton or is it some kind of youth jobs scheme.
A few years ago I heard Sheedy say that his job was to try and ensure as many kids as possible could forge professional careers at Everton or elsewhere. That being said. Good job Mr Sheedy.
Second point is RM's development plan which sees players being kept in the wings until they're 22 or 23. Problem with that is they are all only one bad tackle away from retirement.
Is relatively low pay and obscurity something you'd accept for the possibility of eventual first team football if you can make money now?
Michael Kenrick
17
Posted 28/07/2015 at 14:33:47
It's sad but this signals he's reached his level. So very very few come back to bite us, as it were...
Daniel Fox? A couple of years with Southampton before slipping back to Nottingham Forest.
John Ruddy? Made it with Norwich City.
Eric Dier? Seemed set to show us a thing or two at Spurs...
Jose Baxter? Doing okay with Sheffield Utd... until he failed a drugs test.
Roger Helm
18
Posted 28/07/2015 at 14:38:31
Interesting contrast with Spurs where Harry Kane was given a chance which he grabbed with both hands. Would Long have succeeded? We will never know now. I think he would have been worth trying rather than playing Kone.
Phil Davies
20
Posted 28/07/2015 at 14:40:47
Surely a full season loan would have suited the club better than allowing him to leave? He is only 20, McAleny is nearly 23 and doesn't seem any better.
I feel we've lost a player with a lot of potential because Martinez is desperate for Kone to be a hit.
Dave Abrahams
21
Posted 28/07/2015 at 14:40:47
Hope he fulfills all his ambitions at Burnley and elsewhere
He never got to show what he could do at first team level, one pre season game in Germany then a few minutes in a dead rubber game in Europe, he deserved better than that.
I would love to know what sort of offer the club made him, I'd bet he got a better one off Burnley plus the chance of more first-team football; sorry to see him go.
Dave Abrahams
22
Posted 28/07/2015 at 14:45:58
Michael (12) I think Jose Baxter is still at Sheffield United, not absolutely sure, but read a couple of weeks ago he was back training with them, I think the drugs affair was sorted out.
Michael Kenrick
23
Posted 28/07/2015 at 14:51:50
Thanks, Dave. He's been putting away a few goals as well these last couple of seasons.
Jay Harris
25
Posted 28/07/2015 at 14:54:00
Michael,
I have a view on that. I think to break through in the Premier League requires a real mental toughness and determination.
The lads that don't have this will usually opt for an easier chance with lower league clubs who in turn generally don't have the facilities or people to help these players develop, so in most cases they never fully realise their potential.
The top clubs will usually identify who is destined for the top table and do their best to hold onto said players, eg, Garbutt.
I think if Everton really felt Long was a good prospect they would have done more to hold onto him.
The real problem is the way the game is structured now. The gap between youth and Premier League is now a chasm.
Bill Farmer
26
Posted 28/07/2015 at 14:56:32
Well done to the kid for having the confidence to stand on his own two feet and get 'a proper job' rather than hanging around Everton in the hope of further 'work experience'.
I'm amazed that Garbutt didn't make the same decision but maybe Everton's offer was the best he got. What's the betting he'll never play here again?
Paul Ellam
27
Posted 28/07/2015 at 15:15:06
Good luck to him.
Hopefully we have put a sell-on clause in the contract like we did with Forshaw.
IDon't actually see him doing much better than Championship level to be honest but, even if he doesn't, that is still a very profitable way to make a living. I would swap with him instantly!

Dave Abrahams
28
Posted 28/07/2015 at 15:23:56
Long and players in his situation are much much better off playing in the Championship rather than the sterile non-contact of reserve-team football (aka Under-21s).
I'm glad Jonjoe Kenny has gone on loan to Wigan, he'll learn more there and hopefully improve rather than playing with the reserves.
Bill Farmer
29
Posted 28/07/2015 at 15:39:48
A quick look through the record books threw up only half-a-dozen junior/ academy players who have made it through to establishing anything like a career in the Premier.
Unsworth, Grant (prematurely retired), Jeffers, Rooney, Rodwell and Barkley. And that's out of hundreds who have gone through the mill.
I suspect that few clubs can boast even that many as so few slots are available to our 'own grown produce'!
Ian Doyle
30
Posted 28/07/2015 at 15:57:15
I haven't seen the lad play so it's hard to really comment but, if I'd seen "1-goal" Kone getting a game before me, I would be off as well.
Brian Porter
31
Posted 28/07/2015 at 16:02:46
I'd have tried to keep Long and got rid of Kone!
Bill Farmer
32
Posted 28/07/2015 at 16:03:57
Make that seven. I forgot Anichebe. (Eminently forgettable, wouldn't you say?)
Dave Abrahams
33
Posted 28/07/2015 at 16:07:45
Maybe Bill but not the £6M slackers we got for him, which helps to pay for the next lot of youngsters coming in.
Chris Thornton
34
Posted 28/07/2015 at 16:12:38
Bill, what about Hibbert, Osman, Richard Dunne, Michael Ball, to name but four from the top of my head?
Michael Kenrick
35
Posted 28/07/2015 at 16:29:11
Just found this gem among the comments on the day Chris Long signed professional for us, 16 July 2013, with respect to Long not making the England U20 team:
What does worry me is that useless Kane from Spurs was picked ahead of him. He is utter garbage.
Such is the painful life of a prophet!
Chris Gould
36
Posted 28/07/2015 at 16:37:29
Michael, that has made me chuckle. Fair enough you didn't humiliate said prophet, but I wonder if he's a current contributor?
Tony Marsh
37
Posted 28/07/2015 at 16:42:22
I have never seen Long play and know very little about the lad but I know one thing for sure: he is better than Kone.
Kieran Kinsella
38
Posted 28/07/2015 at 17:01:36
Bill Farmer "Anything like a career" in the Premier League doesn't set the bar very high but I would list:
Gavin McGann
Richard Dunne
Wayne Rooney
Francis Jeffers
Michael Ball
Tony Hibbert
Leon Osman
Victor Anichebe
John Ruddy (although we nicked him from Cambridge)
David Unsworth
Tony Grant
John Ebbrell
Ross Barkley
Jack Rodwell
Daniel Fox (like a career)
Lucas Jutkiewicz (ANYTHING like a career)
Then we have a whole lot more who had creditable careers at lower levels like Baxter, Clarke, Barlow, Branch, Forshaw, Cadamarteri, Boyle, Jevons, Paul Gascoigne ...

Bill Farmer
39
Posted 28/07/2015 at 17:17:12
Haven't we done well. Perhaps the club could franchise the complete development programme and re-engage Gazza as an examplar!
James Marshall
40
Posted 28/07/2015 at 17:25:09
There's no use anyone complaining about this now, he's Long gone.
Sorry, I'll get me coat.
Dominic Tonge
41
Posted 28/07/2015 at 17:33:49
Kieran, not sure gazza was one who came through our reserves mate. Cadamarteri was bought in too.
Paul Kossoff
42
Posted 28/07/2015 at 17:35:01
I wonder if Henen will get a chance this season? Surely he is better than Kone?
Harold Matthews
43
Posted 28/07/2015 at 17:53:18
Still resembles A slightly built boy but a real natural. Wants to be on the ball and knows what to do with it. Obviously didn't fancy the bench after sampling the tremendous Championship atmosphere with play-off contenders Brentford.
These kids see mates come and go. They know the time of day where the Premier League is concerned. Ready made youngsters like Stones, Besic, Henen, Deulofeu and Galloway brought in and placed ahead of them.
After years of academy games they all want the real thing. Ledson can't wait to go out on loan, especially after chatting to his pal Gethin Jones who said it was fantastic.
Joining Burnley with a realistic chance of first team football must be a tremendous thrill for Long. I'll enjoy watching out for him and wish him well.
John Raftery
44
Posted 28/07/2015 at 18:33:05
I remember seeing Chris Long versus Norwich in the Youth Cup back in 2013. He stood out as our best player. On the way out of the ground I saw Sean Dyche who obviously now feels the player has a chance at Championship level. I would like to have seen him at least given a chance in the Premier League towards the end of last season once we had achieved survival. I am sure he will score goals for Burnley and with his pace he will keep defenders on the back foot. It will be interesting to see how he fares.
Richard Reeves
45
Posted 28/07/2015 at 18:41:38
He should of had game time last season when Lukaku wasn't on form.
There's no way I would play Kone before him so I understand him wanting to take care of his own career, as Harold says, especially after experiencing playing in front of crowds in the Championship.
I think the club will regret letting him go; he looked like a natural striker to me.
Chad Schofield
46
Posted 28/07/2015 at 18:46:12
Alex Naylor #02, sadly we only get a "development fee"... he was out of contract.
Hope he does well and good luck to him. Always a shame to see the back of a promising player, and disappointing if he felt he couldn't fulfil his potential by signing and going out on loan.
Sam Hoare
47
Posted 28/07/2015 at 18:47:37
Reckon this lad will be a good striker in 5 years time. Maybe not top class but a solid ٤m Championship striker at worst. Wish we'd Garbutted him.
Phil O connor
49
Posted 28/07/2015 at 19:42:32
Some great views on here re Chris Long. The truth is he was a true blue Evertonian, played for the club for 15 years. He wasn't given any opportunity to prove himself which is disappointing so moved for regular football at a level he's already proved himself at.
Very quick striker with goals in him. I'm dumbfounded why our management team didn't make more of an effort to keep him with a better offer and promise of an opportunity. Surely he was worth a chance ahead of Kone who has had too many chances already.

I'm sure he'll do well score lots of goals and whose to say where he'll end up maybe back at Goodison probably for lots more than we got for him.
Jon Cox
50
Posted 28/07/2015 at 19:45:53
Harold, what a lovely thing to say.
Totaly agree sir.
Dave Abrahams
51
Posted 28/07/2015 at 20:00:05
John Rafferty, was at that game, long was very good, the goalkeeper let us down that night, we'd payed a good fee to get him from Scunthorpe, I think, the best player that night for me was the captain Tom Molineux, he was released at he end of that season.
Norwich won the cup that season beating Chelsea in the final, I wouldn't put a great deal of trust into a lot of the coaches who train and rate these young players, some excellent coaches, quite a lot of jobsworth who haven't got a clue.
Paul Jeronovich
52
Posted 28/07/2015 at 20:56:40
We brought in a 30-year-old journeyman striker and unfortunately Martinez is showing too much loyalty by sticking by him. That in itself was blocking Long's development so good luck to the lad.
Jim Jennings
53
Posted 28/07/2015 at 22:40:34
Great post, Harold, I echo your sentiments completely. It's always sad to see one of "our own" not quite make the cut but great he's got a good deal at a good club.
Harold, you make a very pertinent point about lads who just want to play first team football in this day and age where it's popular to knock footballers as arrogant, money motivated and lazy. Best of luck to Long.
Jamie Sweet
54
Posted 29/07/2015 at 04:55:35
Good luck to the lad, but personally I'd rather sit on a rusty nail on our bench than go to Burnley. What a shit hole!
Ant Dwyer
55
Posted 29/07/2015 at 11:07:42
Can't help but feel, if we offered Long a contract and he chose to go down to the Championship, he must know he's not good enough to play as the main man at Everton.
There's no shame in that, every player makes these decisions, he chose to play more minutes at Burnley, you have to respect that.
Helen Mallon
56
Posted 29/07/2015 at 16:38:31
Chris long wanted to leave. Maybe Roberto had him down to play instead of Kone but he wanted out. Good luck Chris.
Alan Thompson
58
Posted 30/07/2015 at 14:19:46
Someone correct me if I'm wrong but weren't Jagielka (٢M from Shett Utd) and Baines (٤M from Wigan) both released Everton juniors?
Peter Fearon
59
Posted 30/07/2015 at 21:28:56
I don't know much about Chris Long but I do know that when you see Arouna Kone given opportunity after opportunity, and doing precisely nothing, you have to say, my fate cries out elsewhere.
It will be a crime if Long develops into a serious striker but, that having been said, there are very few examples of young players leaving Everton having not had the chance to shine in the first team and then making it big elsewhere.
Developing players like Jack Rodwell, John Stones, Ross Barkley and others forced their way into first-team contention by working hard in training and giving the manager no excuse NOT to pick them. Luke Garbutt, Brendan Galloway and Tyias Browning are busy doing that now.
Michael Kenrick
60
Posted 30/07/2015 at 21:35:37
Alan, We've tried to include the relevant facts in both their ToffeeWeb Player Profiles...
Baines: As a youngster, Baines played Sunday league for a team called Key Ways alongside future professionals Ryan Taylor (who ended up at Newcastle) and David Nugent (Portsmouth and Leicester, among others) and appears to have had two different trials with Everton without being accepted into the Academy.
Jagielka: The Manchester-born player... started out as a 14-year-old Everton trainee in the old YTS. But Everton ditched almost their entire Under-15 team back in the later 90s and Jagielka went on to learn his trade elsewhere.
So yes and no is the answer. Seems Baines never got past the trial stage...
Alan Thompson
61
Posted 31/07/2015 at 11:48:43
Michael, thanks for that added info. I did think that there was an occasion, possibly under Wally Smith, when an opinion was that there was an attitude problem with some youngsters and Smith decided that all that years intake, which I think also included Joey Barton, would be released. Again, will bow to any superior knowledge but would like to know if anyone else of note was in that year; nothing like the hard questions.
Also, was it not under Kendall, at the Boards insistence, that Everton abandoned the Academy as a cost cutting measure that saw all those Evertonians emerge as Red Scavengers across the park and Joe Royle insist it was recommenced during his term?
Add Your Comments
In order to post a comment, you need to be logged in as a registered user of the site.
Or Sign up as a ToffeeWeb Member — it's free, takes just a few minutes and will allow you to post your comments on articles and Talking Points submissions across the site.
© ToffeeWeb