Martinez still looking for 'the right fit' before the deadline
by

169 Comments [Jump to last]
| 11/08/2015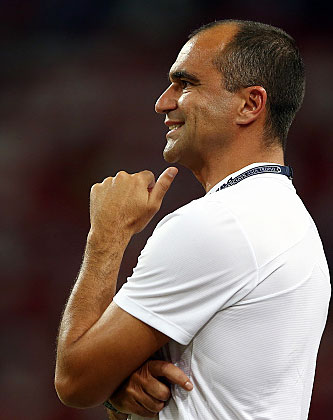 (Stanley Chou/Getty Images)
Roberto Martinez remains adamant that he won't make signings this month "just for the sake of it" and has reiterated his desire to only bring in players who can fit in with the current personnel.
The manager's quotes in the Liverpool Echo coincide with increasing anxiety among many Evertonians over the Catalan's lack of transfer activity this summer and the fact that clubs who finished around the Blues in the table last season have been busily strengthening their squads.
The likes of Southampton, Swansea City, West Ham and Newcastle have been leveraging the increased television revenue to make targeted acquisitions this summer, and Stoke added reported Everton target Xherdan Shaqiri to their ranks today when he completed a £12m move from Internazionale.
Martinez, meanwhile, has stayed true to his assertion back in May that he would be aiming to complete a couple of early signings and then adding a few more later in the transfer window.
Gerard Deulofeu and Tom Cleverley arrived last month for a total outlay of just £4.25m and long-term prospect David Henen was picked up for £200,000 from Olympiacos but Finch Farm has been otherwise quiet on the transfer front.
Having identified that he still needs another striker, a creative "no.10" and a centre-half, Martinez is still working on targets between now and the end of the transfer deadline, which expires at 6pm on 1st September this year, but remains cautious over the types of character he wants to bring in.
"It is not just a case of bringing in names and players for the sake of it," the Catalan said. "That is something that sounds great for 24 hours but it doesn't help in the next 10 months."
"We are very clear on that. We know we need to bring a couple of new faces in but I am very much aware that they need to be players who improve or help the players we already have at the club."
Despite his team's struggles last season and a disappointing 2-2 draw with Watford last Saturday that offered little evidence that things had improved, Martinez retains his faith that a team boasting few changes from the one that recorded the club's record Premier League points haul two seasons ago, can come together and produce in similar fashion this time around.
"To play for Everton they have to come and fit in well with what we want to do and the football club they have to represent and making sure we add to our squad which is getting stronger," he continued.
"The core of our squad finished fifth the season before last and then experienced tough lessons last season but also had fantastic experiences in Europe as well."
---
Reader Comments (169)
Note: the following content is not moderated or vetted by the site owners at the time of submission. Comments are the responsibility of the poster. Disclaimer
Shaun Murphy
1
Posted 11/08/2015 at 19:25:04
Still looking because no one wants to sign for us? Can't blame Martinez, he's just the fall guy.
Mark Tanton
3
Posted 11/08/2015 at 19:28:18
Ominous. Very ominous.
Kelvin Thomas
4
Posted 11/08/2015 at 19:30:34
His comments here indicates why we didnt go all out for Shaqiri. He wanted a loan because of his temperament. I for one agree with Martinez.
If we would have gone all out I have every faith he would have chosen us over Stoke.
All will be forgotten when we bring in a quality no 10 that fits in with the Everton way. Whoever he is!
Helen Mallon
5
Posted 11/08/2015 at 19:30:53
This sounds like Mr Martinez has been told there is not much money to spend. I think its time for Everton fans to really kick up a fuss and protest at every opportunity. Bill Kenwright may be a true blue fan but so am I and I would have sold years ago. He needs to go and sooner the better.
Helen Mallon
6
Posted 11/08/2015 at 19:32:43
I'm also not advocating Getting rid of Martinez I think he will come good.
Stephen O'Donnell
8
Posted 11/08/2015 at 19:41:18
Don't forget to buy a new keeper Roberto. We desperately need one also..
Marco Fiorentino
9
Posted 11/08/2015 at 19:41:42
First post on here but have been reading in earnest for a while!

I think RM's comments reflect that he is acutely aware of fans' disappointment over Shaqiri and is trying to manage the rage.

Reading between the lines it seems as though Shaqiri's personality may have not matched up when (and if) talks ever took place.
Phil Davies
10
Posted 11/08/2015 at 19:42:19
I'm starting to really struggle now with both the board and Martinez, his "desire to only bring in players who can fit in with the current personnel" is a joke, we need players, 3 central defenders and 4 central mid fielders started against Watford. Distin and Alacaraz have pretty much been gone since January but he's not found a suitable replacement in seven months? he needs new scouts if that's the case.
This idea that we like to Sign players cheaper later in the window doesn't work if you need players before the season starts. Now having current players talking about our transfer business, how they'd like signings and how we as supporters should be patient is even more annoying than not having anyone come in.
Anthony Fielding
12
Posted 11/08/2015 at 19:47:35
I'm sorry but why haven't targets been identified before the transfer window opens? Why does it take until the last minute to identify the right player(s) and actually pull your finger out and try sign them?

Why when you're not a big fan of the transfer window being open once the season kicks off have you not signed the players we need before the season has kicked off?! Either Roberto can't make any signings because the money isn't available, or he just doesn't know what he's doing.
Phil Malone jnr
13
Posted 11/08/2015 at 19:48:21
There's a possibility we'll all look back on deadline day and be happy with the business we've made.
My main concern is we now have our hardest run of fixtures without these players bedded into our squad. That's simply not good enough.

Gavin O'Leary
15
Posted 11/08/2015 at 19:56:54
Van Djik, Dragovic, Yarmolenko, Eremenko, all big improvements, hard working. The players are out there, something is not right.
Kristian Boyce
16
Posted 11/08/2015 at 20:00:43
In other words, just be happy with Del-Boy and Cleverly!
Phil Davies
17
Posted 11/08/2015 at 20:06:36
I've just been on to the NewsNow Everton site to find the newest article titled "Three signings that could boost Everton's top ten chances." that's how far we've fallen in 1 year.
Jon Withey
18
Posted 11/08/2015 at 20:08:21
Still wonder how much he was stung by Eto'o last season.
Paul Jeronovich
19
Posted 11/08/2015 at 20:16:48
Not sure some of his Wigan mates meet the 'strengthen the squad' remit: Kone, Alcaraz and Robles. (Shite)
Stop the bullshit and pull your finger out please.
Drew Shortis
21
Posted 11/08/2015 at 20:27:19
Who last summer predicted the £28m arrival of Lukaku or his loan the season before? Very few! I certainly didn't. I have said it in other threads, I'm willing to withhold judgement until the window closes.
Was Shaqiri the right fit for Martinez's team? It sounds like there was a big question mark in Roberto's mind and I think he was right not to gamble £12m and £70k a week on a player he had doubts about. If the choice is to hold on to his funds until the right player becomes available and get a loan in for now to tide us over then that might be the right thing to do.
One thing that does worry me about the 'right mentality / fit' line of thinking is the type of player Roberto thinks fits. Is he avoiding potentially troublesome but talented players in favour of yes men? It has been suggested that we need a Joey Barton type character to add some passion and bite to the team. Does Martinez shy away from these kind players in favour of team harmony. Perhaps someone with a bit of the devil in them is just what we need?
Chris Owens
22
Posted 11/08/2015 at 20:27:43
New signings "just for the sake of it"?
When two centre halves capable of stepping into the first team leave, we need at least one replacement. Is that too difficult to understand?
New signings give the supporters hope, creating a more vibrant atmosphere in the stadium, and lifting the team.
Now we're fearful of losing our best players to teams who show some ambition. Why would John Stones really want to stay? What can he look forward to here, apart from being guaranteed a game every week, because there is nobody to take his place?
Yet again, we'll be looking for bargains on the last day of the sales, by which time we'll have dropped too many points to have any chance of achieving something in the league.
Sam Hoare
23
Posted 11/08/2015 at 20:30:40
Does anyone seriously think we won't be signing anyone else?!
We will. Probably on deadline day. As we have done for the last few years and even before then. The obvious reason for this is that this is when clubs with players who they want off their wage bill or who want to move are forced to drop their prices. You either pay £12m for x in July or £9.5m for him on deadline day. As we are skint this when we tend to do alot of our business.
The question is WHO? There are still good players out there and if we end up with Van Dijk/Evans, Yarmolenko, Sergi Roberto and Lennon then all will be forgiven!
Neil Gribbin
24
Posted 11/08/2015 at 20:32:07
I think that is talk for be happy what you have.
Shocking
Jay Harris
25
Posted 11/08/2015 at 20:34:41
Who is Martinez to judge the right players.
He hasnt bought a top class player since he's been here.
Seems to me like Bill's illness is putting the brakes on.
Joe Foster
26
Posted 11/08/2015 at 20:35:53
Joey Barton going to WH apparently
Joe Foster
27
Posted 11/08/2015 at 20:38:28
Pedro has put in a transfer request....could it be?
Joe Foster
28
Posted 11/08/2015 at 20:41:10
Only 30 mill and come TDD that will drop
Frank Crewe
30
Posted 11/08/2015 at 20:43:57
Remember how it was all doom and gloom a couple of seasons ago and then Del boy and Lukaku showed up and all was sweetness and light. We just have to hope for the best.
Gavin Johnson
31
Posted 11/08/2015 at 20:44:50
Yes Jay - Deulofeu, Cleverley, Rom, McCarthy, Besic and Galloway are absolute shite, aren't they?! WTF ;-D
Danny Broderick
32
Posted 11/08/2015 at 20:45:36
I predict we will end up signing a few players, but only once the sky money is in. We will get players who are out of favour at their clubs, like Lennon, towards the end of the window. So they will have missed a month of the season, and will then need month until they are up to speed. So 2 months into the season, we will have the squad the manager wants.
If this is the case, the board should be left in no doubt that they are fully responsible. We have been in the Prem for 23 years, earning the big money. We have sold off the training ground and mortgaged out the stadium. We have sold off Rooney, Arteta, Fellaini, Rodwell, Lescott etc. we are perennially among the lowest spenders in the league, who have to scavenge for loans. And yet again, we are the lowest spenders!!
It stinks.
By the way, yet again, there has been no coverage in the Echo about last night's special on Talksport.
Jay Harris
33
Posted 11/08/2015 at 20:46:36
Which one of them would get in any top six side Gavin?
Dave Hall
34
Posted 11/08/2015 at 20:48:38
Kelvin #3, agreed that it sounds like the due diligence on Shaqiri was pretty negative-- we'd all wonder about someone who turned up at our jobs who'd gone through 3 otherwise respectable employers in 3 years. So, I'm willing to give the benefit of the doubt on that, we already have more than a few egos on a squad without the club showing the ambition to match...
Ross Edwards
35
Posted 11/08/2015 at 20:49:35
He should have got his targets in by now. He's right about not wanting to panic buy but he's had two months to do business.
We could have got Ayew and Richards in on frees the minute the window opened if we acted. I'm not saying that they would have come here but had they done so it would have been a start at least.
Obviously this isn't all his fault. Either there isn't any money to spend or the board aren't backing him but either way, the other clubs around us are strengthening while we wre standing still with the same squad as last season essentially, a squad that is threadbare and needs overhauling.
Colin Glassar
36
Posted 11/08/2015 at 20:51:12
I thought we might've gotten Carra to come out of retirement and play for his boyhood club but after last night I'm not sure if he has the right character to suit Roberto.
Christopher Marston
38
Posted 11/08/2015 at 20:52:56
Bloody hell! Bristol City have bid £10m for a Palace player. Now this is getting absurd!
James Thornhill
39
Posted 11/08/2015 at 21:01:08
Sort of feel sorry for Bobby, In my delusional pessimistic wheres the Arteta money mind there are only 3 possible reasons for not making signings yet?
1) There is some how no money & the Board are waiting to sell Stones, But Roberto does not want to.
2) The Board don't trust Roberto with the money, & can't afford to sack him & his staff if he spends a fortune & it all goes wrong.
3)The money is there & we have a clueless Manager & Board who have not got a clue who to buy & are now starting to panic.
I do not buy that we are waiting for the right fit, There are countless players like James Chester who could have improved our squad & have gone for buttons, & by the time deadline day comes about we could have lost 10pts

Paddy Howlin
40
Posted 11/08/2015 at 21:07:01
The more Martinez speaks the more convinced I am that he has no plan or targets. His transfer record at Wigan was as erratic and poor as it has been at Goodison. I previously gave him the benefit of the doubt at Wigan, but after 2 full seasons at Everton it's becoming more clear he's weak in the transfer market. Possibly the board also agree, hence the lack of backing this summer? Or a convenient excuse not to release funds, who knows.
The club has no vision or strategy at Board level and they have now managed to get a manager who operates on the same basis. We can't even compete with mid-table Premier League sides anymore so have now adopted a scatter gun at best approach to transfers (on the rare occasion the purse strings are released). We have gone back about 15 years in the 3 summers Martinez has been in charge.
I will be absolutely amazed if we sign anyone who will improve the current starting XI never mind the squad before 6pm on 2nd September. And given what has been served up for the past 12 months that is a truly frightening prospect.
Peter McHugh
41
Posted 11/08/2015 at 21:11:46
Jay 27# good riposte. Possibly McCarthy, Rom and Delefou in my opinion. I think Barry interested Arsenal the year before. Martinez has only had 2 seasons Jay so give him a chance with his signings.
The reality is that the gulf is bigger every year with top 5. Sixth position is a bit of a lottery. I guess you would just about put Spurs as favourites each year.
Leaving big 4 aside how many of Liverpool's or Spurs signings in last 2 years would you put in a top 5 or 6 side. Not many in my view. In respect of other clubs it's not just the transfer fees but they're paying huge bucks in wages.
Martinez is correct to plan for the long term. There is no other choice. Whether he's the correct man to do this and be in charge of us is a different matter. Personally I'm not sure but I continue to back him for as long as possible as I think long term is the way and bringing in young players on transfers and through academy is correct and only bringing in experienced older players cheaply to supplement the rest.
Gavin Johnson
42
Posted 11/08/2015 at 21:11:58
Jay - Rom, Deulofeu and McCarthy got into the Everton team that got our record points haul. Are you saying that none of the three had a big part to play in that?
Also if they couldn't get near a top 6 team. Why were the likes of United and Spurs sniffing around McCarthy. United also being linked with Rom for that matter. Its certainly not because they are average players.
I think there are a lot of envious fans over our signing of Deulofeu. Spurs and Stoke as well as several European clubs wanted him.
So why did he sign?! He's said it himself.. it was his relationship with Martinez that sealed his decision.
As for Cleverley. He's a Premier League champion, and was a regular in the United team for a couple of seasons before he became the scapegoat for the Moyessiahs ineptitude of not being able to manage at the highest level. I think a free transfer for a player who is an England international and was wanted by Wenger earlier in the summer is a pretty astute signing myself.
Galloway was also a brilliant signing looks comfortable in our side at relatively young age, and I'm sure there's plenty of other managers (in the top 6) who wish they'd have spotted him.
No, Martinez can spot a player. Whether he can motivate them or get them to play how he wants is the issue here.
Frank Wade
43
Posted 11/08/2015 at 21:12:33
I see Sergi Roberto just subbed in for Iniesta v Sevilla, so unlikely to be our no 10, via loan or otherwise.
Kase Chow
44
Posted 11/08/2015 at 21:16:19
It's all well and good saying we won't sign players for the sake of it BUT we only have 1 proven striker, 1 senior centre back (Stones is 21 and still a kid) and no number 10.
So what doesn't Roberto mean? That he may Not buy anyone if they don't 'fit'?
Hence no defensive back up, striking back up etc???
Season has started and he's already behind the curve.
Thanks Roberto
John Malone
45
Posted 11/08/2015 at 21:17:45
Anyone else notice how much shite Martinez babbled when Carragher analysed Watford's first goal against us on Saturday!
He couldn't give a definitive answer! Also when he asked why the two holding midfielders who neither are known for their great range of passing drop into the fullbacks position when we have the ball, he said we were looking for different lines through the pitch!
What a load of tosh the guy talks, he is a total fraud! He can't set a team up to defend well and he cant set them up to attack well!
The quicker he's out the door the better I can't stand listening to his tripe anymore!
Brian Wilkinson
46
Posted 11/08/2015 at 21:19:49
Jesus, how many times have we heard this before from ofm, window opens, will not sign players for sake of it, fast forward to January, January is not the time to sign players.
This must be part of the Managers contract, its word for word what Moyes used to say.
Harold Matthews
47
Posted 11/08/2015 at 21:20:12
I'll be pleased when Barry and McCarthy are fit enough to get themselves out of a steady trot. Cleverley must have covered more ground than both of them added together. He also had better ideas than the rest of the usual gang before Kone joined the party.
As for the signings. "Some early, some very late" appears to have been a truthful promise. Targets selected and boxed off months ago. Lennon plus safe others.I don't think he dare bring in Moses but Evans with his PL experience would fit the bill at the back. With so many midfielders, a new number 10 is unlikely but an experienced, mobile right-footed striker would be welcome.
Personally, I would like a top class keeper and a new Moyes / Pulis type defensive coach. We are disorganised, we don't close down and we ball-watch. We watch everything bar the opposition and no-one seems to mind. Where are big Joe Royle, Unsworth and Howard Kendall? They must hate this stuff. Has BK lost his marbles? The guy with the least knowledge and experience is steering the ship.
Frank Wade
50
Posted 11/08/2015 at 21:29:07
Maybe Martinez is a bit wary of bringing in 'players for the sake of it' after his experiences with E'too last season. After seeing Yarmolenko play for Kiev last sesson, he is the guy I would go for.
Sevilla back to 4-4 in Supercup v Barca, from 4-1 down, so maybe Sergi Roberto no what we should be looking for !
Jamie Barlow
52
Posted 11/08/2015 at 21:37:01
Absolutely spot on Roberto. Probably why we only offered Shaqiri a loan deal.
Christy Ring
53
Posted 11/08/2015 at 21:39:38
We need a striker who will score more than 1 goal in 2 years (Kone).

We need a no.10 who has a better first touch than Naismith.

Philip Bunting
54
Posted 11/08/2015 at 21:41:58
When all's said and done, regardless of how much we spend, to make a real difference in this league now requires spending 30mill per player and paying 100k plus on average per week in wages.

Realistically, the only teams that will keep pace with that are City and Chelsea and for a while Man U and Arsenal. Even Liverpool have fallen behind.

I'm afraid we are only playing for Europa League and cups and would be better off pocketing our Sky money and rebuilding stadium and clearing dept until something changes. At least that's a plan.
Jay Harris
55
Posted 11/08/2015 at 21:46:00
Gavin,
we will have to agree to disagree.
I watched City last night whose two defensive mids are Fernandino and Toure who both consistently got up to support the attack and score goals.
This is my problem with McCarthy who does have a very good engine but to my mind is very one dimensional and not top class.
Delofeu at this point in time only has unfulfilled potential and could not get in the Seville side let alone Barca's subs bench.
Lukaku, I actually rate as the worst piece of business I have ever witnessed. He cant head a ball, hold up play, dribble or pass accurately and his league goals have dried up.Give me Bony or Benteke over him anytime.
Now Galloway I believe does have enormous potential but was it Martinez who spotted him?
As regards, Kone, Robles, Alcatraz, Atsu, Eto etc like throwing money into the waste bin IMO. And who in their right mind would give Hibbo a 3 year contract when it was obvious he was no longer up to the rigours of the Prem.
Kunal Desai
56
Posted 11/08/2015 at 21:47:27
I'd take not signing any players providing it meant crusty the clown given the boot on September 1st
Colin Glassar
57
Posted 11/08/2015 at 21:48:15
Frank Wade, unfortunately (for us) Sergi Roberto has forced himself back into the reckoning at Barca. If we had moved earlier for him, who knows? But that ship has set sail.
Andrew Clare
58
Posted 11/08/2015 at 21:48:42
Watching Barcelona and Seville. I wonder how much the Seville team cost. I bet they didn't cost as much as Everton. Yet they would wipe the floor with us and most of the prima donna's of the Epl.
Meanwhile we will sign Lennon, Evans and some other no mark.
Jackie Barry
59
Posted 11/08/2015 at 21:56:54
Not many of us like where Martinez is taking us, myself included, however it's a little delusional to blame the manager for the lack of transfers. We all now who controls that side of things and its obvious he isn't releasing the cash. For what reason who knows but we can't blame Martinez for it no matter how much we dislike what is going on on the the pitch.
Andy Walker
60
Posted 11/08/2015 at 21:56:55
John 37, absolutely mate, I was posting about this last night. I thought Carragher ran rings round him with his concise and thoughtful insight. Martinez simply couldn't give a straight answer to a question and relied on deflection and babbling on and on in the hope we forget the question.
He simply couldn't answer Cara's question as to why we split the CBs and let a defensive midfielder drop back, as opposed to playing a simple forward pass from the back to a midfielder a bit further up the field.
Jackie Barry
61
Posted 11/08/2015 at 21:59:57
I was more interested in the questioning why Barry went out wide during attacks, his answer was bewildering.
Colin Glassar
62
Posted 11/08/2015 at 22:00:26
You've got a point Andrew. These teams scour the world for the best young talent (we no longer appear to have a scouting system apart from FM and Opta) they also have no problem with 3rd party ownership which allows them to get players who we are unable to.
Chris Kelly
63
Posted 11/08/2015 at 22:08:49
As we all know, cash at efc is limited. Interesting debate on whether we should go for a big name signing that can possibly lift the club and fans. Alternatively do we do what Swansea, Southampton and others do in discovering those gems that are good players but not well known enough to be bought by the rich guys? Some of our most consistent, hard working Everton type players such as Cahill, jags, Donovan, Coleman have been such players. Mentality is important as well as fit, but they also need to be good at something special. Too many of the current team don't seem natural scorers, we also seem to let too many goals in. Now in my experience, these are the two areas that make you win games as well as play well, good possession and all the other metrics that rm seems to use? Thoughts on a postcard...
Andy Crooks
64
Posted 11/08/2015 at 22:11:47
Jon Withey, # 14, I think that is a very interesting point.
Chris Kelly
65
Posted 11/08/2015 at 22:13:00
As an aside, I'm sat in Croatia watching Barcelona vs Sevilla wandering what might have been,,,,
Jackie Barry
66
Posted 11/08/2015 at 22:13:33
While I understand our funds are low even the most avid of blue bill supporters must admit something is amiss.
Colin Glassar
67
Posted 11/08/2015 at 22:16:56
Even NewsNow seem to have given up on us. Even the rumour mill has grinded to a halt. Oh well, at least they seem to have dropped the Stones nonsense.
Guy Hastings
68
Posted 11/08/2015 at 22:17:06
Chris 30 - Gayle is a steal at £10m. As I've noted before he's got a great eye for goal when played in his right position and with a bright spark beside him. He cost Palace £6m; in this climate £10m for someone who knows where the goal is a steal. We should snap him up.
Dave Ganley
69
Posted 11/08/2015 at 22:24:52
Yeah I agree with Jackie #47. The board are deliberately withholding the cash and for once, I think Martinez is taking the flak for it. They did the same for Moyes, although I had more faith that we would be competetive under Moyes than we will be with Martinez regardless of the players we had.
I also agree with Helen #4 that we need to start letting the board know our feelings. As fans we have been too compliant as to how things are being run and I feel that we need to start protesting at the shoddy way our once great club is being run into the ground.
Keith Crawford
71
Posted 11/08/2015 at 22:26:46
Don't worry fellow Evertonians! After years of careful studying of the space time continuum, relentless hours spent devising some sort of God-damn way for man...or woman to time travel, I have actually achieved it!

I've had a brief glimpse of our new signings and it's absolutely amaz.......err , I don't understand!? Something must be wrong! All I can see is a glum looking Aaron Lennon with scarf above his head!! Sod this I'm going to travel back to the 80s !
Jim Knightley
72
Posted 11/08/2015 at 22:36:12
If Gayle constitutes a steal at £10mil, then God help us all.
Jay - your posts on here are consistently ill thought and exaggerated. Are you actually suggesting that all teams DMs should get forward to support the attacks, even though the lack of a DM was clearly one of City's primary weaknesses last season, and the reason they lost games and the title? Did you see what Coquelin did for Arsenal last season? What Makelele did for Chelsea? What Mascherano did for Argentina and for various club teams when played at DM?
And Deulofeu didnt have a great time at Seville, but still made a shit load of assists in little playing time. Players don't have a great time at certain clubs sometimes - it's the way it goes. Does that mean he is a bad player? De Bruyne must be bad then, because he didn't get in Chelsea's team? And Mata? etc etc.
And yeah, Lukaku is a pile of shit. He scored loads of goals when playing styles which suited his play, because of...luck? Fuck an incredible scoring record at such a young age. Benteke is twice the player isn't he Jay? Unless of course you are watching him during one of his barren runs, when he can't control a ball, hold up a ball, and looks like he would miss a barn door. And don't get me started on his movement.
But that's right - do the typical. Watch Everton week in week out, and then exaggerate the players you watch on MOTD or odd games. The city comment is absolutely typical of that, and ignores a major weakness which derailed their season in various competitions. A holding DM is an important part of the game, and would work fine for us if Martinez put the right player next to McCarthy, and played in a way that suited the team.
And I don't care about these comments - they are the typical sort, and I would prefer that we didnt rush the wrong signing. That said, I can't help looking enviously at Wijnaldum and Payet who I believe would have sold creative issues in our team. Martinez has had along time, and going into the season without a third choice senior CB is unforgivable imo. I cant help but thinking our business is being delayed by Bill's apparent ill health, or more likely the potential Stones deal. The 3 players Martinez wants will be very different different if Stones goes, and we get the best part of £30mil to spend.
Mike Hughes
74
Posted 11/08/2015 at 23:08:39
Why does:
"Martinez still looking for 'the right fit' before the deadline"
sound so much like code for:
I'm stuck / skint / trying to spin this out as long as I can before I get sussed.
?
I hate to be downbeat, like, after that barn-storming season opener but that is just how it comes across to me.
And before anyone accuses me of being 'glass half empty', I confess that with respect to the Mighty Blues, I'm simply drinking straight out of the bottle now.
I hope he genuinely does have some rabbits ready to pull out of how many hats Bill has given him. I really do wish he proves me wrong and turns this situation around.
But can anyone honestly say that what we've added so far to a disappointing last season appears to underpin the Champions League 'promise'?
I hope he's got it in him for all our sakes.
But (final whine and a perennial one) - the season's already sodding started. Why do we still - as usual - appear to be planning for it and / or discounting the first (think of a number) matches as 'early days' (a phrase I loathe in football terms)?
Bill Gall
75
Posted 11/08/2015 at 23:12:17
What exactly is the "right fit " is this a backup center half who can play defensive midfield, or is it a striker who can play right wing, or is it just a player who agrees with everything he is told, and keeps his mouth closed unless he is accused of disrupting the dressing room.
The thing about human beings is that we are all different and that is what makes us so interesting. Some players may fit perfectly in the team and be a player who wins us games on the pitch, but off the pitch he may not be sociable, so don't we want him.
With no distraction of the world cup surely the manager should have had his scouts out looking for the players he wants, and not with 3 weeks to go start looking for players, who he may not be aware of their characteristics. I am not sure if we have an effective scouting system any more ,or if we have to rely on the manager knowing the players previously. Besic is not an exception, for as far as I am concerned he was signed because Martinez watched him play one good game against Messi.
Jackie Barry
76
Posted 11/08/2015 at 23:17:11
Or if we have any cash?
Chris Gould
77
Posted 11/08/2015 at 23:26:49
Sergi Darder is the latest to be tenuously linked with us. It goes without saying that it's from an uncorroborated source. Anyone know who he is?! Anyone care?
Jay Harris
78
Posted 11/08/2015 at 23:26:56
Jim,
let me correct you.
i don't think my post is ill thought at all.
I didnt say any of the players were bad.
I said they were NOT top class.
And I also said Lukaku was not worth 28m.
Your comparisons are ill conceived.
In case you havent noticed we havent got a Machelele, Mascherano or Coquelin and I would certainly swap Barry and McCarthy for Toure and Fernandino.
My comment and comparisons are in respect of Martinez ability to spot a top class player.
If you think my post is poor name a top 6 side that would have any of Martinez signings as first choice.
Trevor Peers
79
Posted 11/08/2015 at 23:31:04
Miss- read the headline.......... I thought it said " Martinez looking like a right tit before the deadline." But seriously Lennon and Evans will be the only two additions, better than nothing yeah.
Jay Harris
80
Posted 11/08/2015 at 23:31:27
JIm,
let me correct you on another ill conceived point you made.
I do not watch MOTD.
I have the privilege of watching the majority of EPL games every weekend and have been watching and playing football since 1960 so I think I have the right to express an opinion on players and teams without you coming on like the internet police.
By all means disagree with my post but do not treat it with contempt.
Patrick Murphy
82
Posted 11/08/2015 at 23:47:41
Chris (63) I don't know anything about Darder but perhaps RM is more a follower of Dada as its advocates expressed their rejection of reason and logic of bourgeoisie capitalist society in artistic expression and appeared to embrace chaos and irrationality.
Jim Knightley
84
Posted 11/08/2015 at 00:21:52
Jay- you didnt just say that Lukaku wasn't worth 28million (or 23 minus the supposedly £5mil CL clause), you said he was the worse piece of business you've ever witnessed. You think he is a worse piece of business than Torres or Carroll? Or for us, Kroldrup or Beattie? Lukaku has scored 36 goals for us in two seasons in all competitions, and he has only just turned 22. Last season he was isolated by the nature of the attacking midfielders behind, who have an incredible ability to play with their heads down.
If you've been watching football for so long, how on earth can you not notice that City lack a DM? Why are you saying 'I would certainly swap Barry and McCarthy for Toure and Fernandino.' What has that got to do with the point in hand? Did I say I wouldn't want Toure in Everton's side. Surely you can see that McCarthy is a different player to those City players mentioned?
I'll answer your question about top six sides with McCarthy. He would get in above Fernandinho or Fernando, who have both piss poor for City. Talk to some City fans, or simply watch some City games. I think he'd have a great short of getting in above Coquelin too, who has only shone for six months so far after a pretty anonymous career. He interestingly offers nothing going forward but changed Arsenal's season because of his willingness to sit and allow others to attack. McCarthy could do this job effectively for us, if only Martinez had the balls to install a passing midfielder next to him, and control the forward runs of our defensive players a little more. Liverpool also lack a DM, and I'd personally take McCarthy above Lucas, Allen or Can. And Spurs...please answer me this- Do you think McCarthy wouldnt get in above Bentaleb or Mason in Spurs' midfield. I'd also argue that Deulofeu is a better player than anyone Spurs can muster on the right hand side of midfield, with incredible potential to improve. Dembele, a CM, played on the right hand side of midfield during the last match, in front of a real failure - Lamela (a far worse buy than Lukaku). Townsend does not get in the team with any regularity, because Townsend creates very little and shoots far too much without offering much in the way of a scoring record for Spurs.
I literally cannot believe you think that McCarthy is a worse player than Bentaleb or Mason. I actually find it bewildering. It's incredible that we even managed to finish with a record points the total in the year previous, given that the core part of our success that year (Lukaku, Barry, Deulofeu and McCarthy) would not get in any of the top six sides!
For the record, I'm not a fan of Martinez, and I do not think he will take us forward (if youve read my posts over the last year you will know that). But I think that the extent of your exaggeration is absurd, and representative of a peculiar need to denigrate in the extreme. I do not understand why there can't be a little more restraint and objectivity shown in some posts. I await your response, and for you to tell me that Bentaleb and Mason are better players than McCarthy.
Fraser Auld
85
Posted 12/08/2015 at 00:22:12
Lets see now:
not just a case of bringing names for the sake of it.....
We need to bring in a couple of new faces....
They need to improve or help the team....
pffffft, outrageous comments. I demand this idiot is sacked immediately. In fact bring back capital punishment, sacking is too for for him!
Shaun Murphy
86
Posted 12/08/2015 at 00:38:11
Jim, McCarthy's decent with a great engine no question. I think Jay is frustrated like many of us who want better leadership at the top of the club while the league is awash with millions to invest in a ground or players.

I agree though if we play to Lukaku's strengths he'll score plenty.
John Aldridge
87
Posted 12/08/2015 at 01:29:09
I don't blame the board for the lack of signings - they'd be wasted anyway. I do blame the board for having that charlatan still in charge of the club however.
Minik Hansen
88
Posted 12/08/2015 at 03:19:14
Kelvin #3 Thanks for sharing these thoughts, patience is key, I believe we will do good this window. COYB.
Jay Harris
90
Posted 12/08/2015 at 04:26:39
Jim,
its too late for me to start debating the ins and out of a duck's arse.
If you cant see the point I was making without resorting to abuse and point scoring then I give up.
If you are happy with Martinez signings then I am happy for you.
I am not happy as you can plainly see.
Donald Neville
91
Posted 12/08/2015 at 06:44:56
What I don't understand is Roberto has spent more time complaining about the length of the transfer window, being open when the season starts, yet he doesn't make any damn moves until the final day. How can you complain about the window still being open and then wait until the last day to sign players? Pretty fn stupid IMO.
Also spend the damn TV money like everyone else. People are blaming BK, but I fee the blame should be spread around but mostly on Roberto. Why? Moyes got players in at the start of the window, but RM wants to wait and use the loan market to buy. That's why Wigan got relegated jacka$$. I mean for real, why would a player wanna come on loan of someone else is willing to sign them?
Last year he sat at every World Cup game yet only came back with Besic, an overrated McGeady, and a few ex Wigan players. I like McCarthy and hope he stays, but what and who else did RM go out and get.
I say get the kid from Celtic, name escapes me ATM. Also bring back Fellani, he should be cheap enough. To maybe offset the cost of Fellani agree to a loan deal for the young Belgium winger at United, God why can't I think of names. Now you have your CB, your big Midfield target and a good young winger. And he'll bring in Lennon.
GK: Howard
LB: Galloway/Oviedo
CB: Van Dyck, Stones
RB: Coleman
DM: McCarthy, Fellani
AM: Barkley
RW: Lennon
LW: Miralles
ST: Lukaku
Barkley will be fine at AM, it's Lukaku up front hat scars me. His first touch is horrible. Now I haven't been a football fan long, but it's one of the worst first touches I've seen.
Christopher Dover
93
Posted 12/08/2015 at 08:55:38
Fantastic experience in Europe? - Go to Disney Paris.
Wants three in but says bring in a couple of new faces: to me a couple is two not three.
I have read and many times thought many posters on hear are very harsh, but I am now tending to agree with the main theme.
We started poor (at best) grabbed a draw and with injuries who knows his next side away a Southampton.
Been an Everton fan all my life and this season, could, for first time buy a season ticket, already fed up with the "have you bought it to see them relegated" comment.
I agree the money players get is obscene, but that is the game as it is.
Join in (sensibly) or get relegated the choice is the managements.
Neil Wood
94
Posted 12/08/2015 at 09:03:53
All I see on this post is people moaning! Now, whilst I would prefer to have the players in place now or indeed before the season started. We don't know what "plans" are in place and what has already been agreed.
Two scenarios here
1/ on TDD we end up with Evans and Lennon. If this happens I will then proceed to moan and whinge with the best of them and complain we have no desire to actually try and crack that glass ceiling etc etc...
2/ We sign Dragovic, Yarmolenko, Sergi Roberto and Charlie Austin.
I think most would agree that signings if this ilk would please most and put us in a much better position.
However, I inderstand how likely we all feel this is but until we know, why moan. Sometimes good times are just around the corner!
Dave Abrahams
95
Posted 12/08/2015 at 09:10:15
I understand the anger, frustration and even the despair, I'll be saving mine until September the first, hopefully I'll have not too much to moan about.
Alex Walsh
96
Posted 12/08/2015 at 09:22:00
Has anybody else seen the rumour that van Dijk to Southampton is nearly done? This club Is a complete joke if so... Every team I strengthening whilst we stand still or worse go backwards!

Has anybody heard Roberto saying se need a couple of signings? This has gone down from 3 last week and we've signed nobody. I seem to remember this happening last summer after early promises on numbers.
Jamie Barlow
97
Posted 12/08/2015 at 09:36:09
Its getting a bit desperate when you have to use Carraghers genius to slate Martinez.
"I thought Carragher ran rings around him with his concise and thoughtful insight"
Give me a fuckin break!!!!
Ernie Baywood
98
Posted 12/08/2015 at 09:45:13
There's an accepted wisdom that we have to wait for the TV cash. Does anyone know when that payment is actually made? Google isn't being too friendly to me.
Matt Traynor
99
Posted 12/08/2015 at 09:51:44
Ernie #81. Domestic broadcast money is paid in 2 tranches - mid August, and mid January. Final merit payment (league placing, any residual TV appearance money) is paid at season end. So basically it's due at the end of this week / start of next.
International is paid monthly, in equal installments, and all clubs receive the same amount irrespective of final league placement.
Ian Jones
100
Posted 12/08/2015 at 10:04:09
Hi Chris @ 77
The wanting 3 but bringing in a couple of new faces does make sense.
Lennon is an old face + 2 new faces = 3
The maths works for me
:)
Phil Walling
101
Posted 12/08/2015 at 10:14:00
I suspect he speaks knowing that the business is done. When the money comes in, he can complete the deals for Lennon and Evans and then get his No.10 on loan. The later the better for the beancounters. Purely a matter of cashflow.
Turn off the angst !
Steve Cotton
102
Posted 12/08/2015 at 10:15:52
What about this Janek Vestergaar from Werder Bremen? Proven Danish centre back, available for 7m and stands at 6'7". Should more than help out from dead ball situations.

Harold Matthews
103
Posted 12/08/2015 at 10:35:30
Cheers Chris. So, according to the latest Sky rumour mill, that's Lennon, Evans and Austin with Van Dijk a possibility.
David McKitt
104
Posted 12/08/2015 at 10:52:35
Just reading this article this morning.. maybe someone should forward the bit about possession on to Roberto!
Denis Richardson
105
Posted 12/08/2015 at 10:59:17
He's known for at least 6 months the types of players he needs, if he hasnt signed them now then we either don't get them or we're going to get panic buys or loans in the next 2 weeks.
Jim Knightley
106
Posted 12/08/2015 at 11:20:12
Jay - why ask me to answer questions, and then don't give those questions a response? Do you think McCarthy wouldn't get in any top 6 team as you claim?
I'm happy with Deulofeu, Lukaku and McCarthy as signings. I would have been happy with Barry for a year, because he had a great previous season I was really not happy about Kone or Alcaraz. I was not initially happy about Eto'o but came round because of generally positive comments on here, because he could have been a good back up. But then he was absurdly played out of position. Atsu and Traore were shoots in the dark. They could have worked well. I was not for the signing of Atsu personally, as I felt that he was too one dimensional and not the kind of player we required. As for Robles and Besic - we will see. I think both have room to improve and become decent players. I don't think Cleverley is a bad signing or a good signing, but again, he should be placed next to McCarthy and not in wide midfield. If Martinez wants a wide player, then he shouldn't have signed Cleverley.
My concern about Martinez's signings relates to the players he has not signed and the way he has used those signings. Primarily, we need a top creative player because our system absolutely necessitates it. I think the failure to bring in that creative player across multiple windows is almost unforgivable, even if the injuries to Pienaar and Osman have robbed us of two players who would help the Martinez system (Although they are both old and should have been replaced). I also cannot believe Martinez has not signed a CB. I really find it baffling. To go into the season with only 2 senior CBs, one of whom is 21 and subject to daily speculation about a move to the champions, is both bizzare and unique. I cant think of another team who has done it.
What I don't understand Jay, is why you can't just make an argument without resorting to absurd exaggeration. This is suppose to be a place for debate, not for Talksport trolling. McCarthy clearly is good enough for some top 6 clubs. So why claim that he isn't? Why can't you criticise a part, without going for the whole? If you read a post that you enjoy on here - is it a reasoned reply or comment article, or is it one which serves to exaggerate everything in the act of making a point? Especially when that point is made time and time again. Why criticise players left right or centre - do you not think that has the capacity to frustrate some of those reading? Describing Lukaku as the worst signing you've witnessed is wholly unnecessary. It is patently wrong, given the string of piss-poor Everton players who have represented us at different times, and the string of horrifically bad Premier League signings. Torres. Balotelli. Soldado. Carroll. Lovren. Lamela. Paulinho. Jovetic etc etc.
I actually don't think the players are the problem. I think that the 3 rumoured signings could give us our best squad of the Premier League era if they were the right signings. I think we have many exciting young players, and many very positive attacking players. I think it is realistic to claim that Stones, Deulofeu, Lukaku and perhaps even Barkley could all become top top players. I think Coleman and Baines are the second best full back pairing in the league. I think that McCarthy is a brilliant holding DM who could grace most sides in the division. Mirallas is an exciting attacking midfield with a brilliant efficient strike and assist rate given the money paid. I'm also excited about the potential of Galloway, Browning and Garbutt, who could all become regular starters in this league I think, for us or lesser teams. If we were able to bring in the right selection of players (for example - Van Djik, Kagawa and Hendandez), I think we would be sitting pretty. Of we would be if not for Martinez. I strongly believe that his tactics are strangling the potential of our side. I think any critique of Lukaku which ignores that is wholly insufficient. Lukaku needs the ball played to him quickly, so that he can isolate men one on one. How often does that happen? He thrives on pull backs, but how often is that happening? He also demonstrated a great ability to score headers off runs in between the CBs and Fbs for West Broms. How often does he get a dinked ball to the back post in this set up?
The problem from an attacking point of view? We have a mix of midfielders whose primary ability is tackling, and a mix who play with their head down and who shoot and pass backwards too often because the space disappears in their hesitation. They do not pass the ball on quickly. Watch Swansea and us - it is night and day, even if we have some really top attacking midfielders. To function effectively, they must be allowed to play quickly and more directly, but Martinez wants a slower possession heavy style. If he wants that style, we need to drop one of an attacking trio of Barkley, Mirallas and Deulofeu each match for a creative midfielder who can play between the lines and control the tempo. We then need another, quite probably Cleverley, playing next to McCarthy, so that we can move the ball on quickly from deep. Our defensive problems are not because of the insufficiency of our defensive players. Consistent clean sheet records across several seasons illustrated that these players can defend. Stones can too, even if he has mistakes in him, as demonstrated by the big bids coming from Chelsea. The problem is our tactics. Our CBs move forward absurdly, and then are left in horrible positions with no one to pass to. There was a moment where Jags did it on Saturday, and as he started to panic so did I. Our full backs do the same, playing as wingers as points. Doing so then forces our wide players inside, and our central midfielders often have to drop back into wide defensive areas. It's a mess at points, and the wrong players and playing in the wrong positions in a mistaken search for a 'fluidity' which is easier to defend against, and makes us more vulnerable at the back.
I honestly believe that the right manager and the 3 players would turn us back into immediate top six challenges. I think we are better than Spurs and every team in the division bar the top 4, and Liverpool, who we still would have a good shot of finishing above if we played to potential. Southampton also have a very good side, or will at least if they add another CB and if Soares works out for them. But we have some really good players at this club. Lukaku has not become a terrible player over night. This is a guy who scored 32 Premier goals in 49 starts for WBA and Everton before he had turned 21. We have a superb defensive unit (McCarthy, Stones, Jags, Baines and Coleman) even if we need depth and if Howard is on the way down. We have some very good attacking young players. We need to fill the gaps in with the right players, and play them in the right way. This is in the main a team who challenged for top 4 a little over a season ago - we have it in us (will finishing in the top six anyway), but we need to play to our potential to find it. We are miles away from that a present, because of a stubborn manager playing failing tactics with the wrong players. I hope Martinez proves me wrong, but I'm of the opinion that we wont see better days until we see a better manager. Unless of course he changes, and sees the problems. Many managers have, and that mutability, the adaptability he demands of the players, could save his job.
Paul Cherrington
107
Posted 12/08/2015 at 11:45:22
I think the lack of activity at the minute is, as in previous years, down to the board not wanting to spend until the last minute. What does concern me is that the players we look like eventually signing are not good enough -- Evans for example. Why sign him when we should be getting someone better like Van Dijk in? I don't trust the current manager to spot and bring in decent players consistently.
Phil Walling
108
Posted 12/08/2015 at 11:49:47
Jim, your keyboard tenacity amazes me and I don't find too much to disagree with in your latest tome. However, I think there's a difference in saying words to the effect that 'we have a good team' rather than 'we have some good players'.
All in all, I believe the latter statement to be much nearer to the truth and I don't think it would take a genius of a manager to maximise their effectiveness. At the same time, the deficiency in the present incumbent's tactical approach and his ongoing conviction that this is the only way the game should be played has been well chronicled and presented to the nation in recent days but I firmly believe that even with 'the three new faces' signed and sealed things would still not change. We should still line up with two DMs, one winger, Ross, Cleverley and Lukaku with the back four doing all those silly tricks you mention above.
Personally, I'm not too exercised by the lack of signings but more by the failure to utilise properly the players we already have.
Winston Williamson
109
Posted 12/08/2015 at 12:02:50
Regarding RM and the transfer window ending before the start of the new season:
If the money continues to be paid in mid-August and the transfer window closed before it, we'd definately have no new signings as we hardly spend any money before that initial August payment is received.
We need players now.
Guy Hastings
110
Posted 12/08/2015 at 12:12:18
A very good piece (I would say that, my lad wrote it) on why Dwight Gayle should leave Palace and, in my opinion, why we should snap him up. One-in-three goal ratio is not bad going.
Link
Dave Ganley
111
Posted 12/08/2015 at 12:16:49
Jim #88 like Phil, I find myself agreeing with your epic post. We do have good players but we need a manager who can do just that, manage the players into a team. Do that and happy days. Alas I can't see Martinez turning this around and doing just that.
Totally disagree with 2 DMs I'm afraid Phil, imo not necessary, even Moyes didn't do that. Utilise the wings with, whisper it quietly, proper wingers, McCarthy can prowl in front of the back 4 on his own like Carsley used to do. Have Mirallas just behind Lukaku (Barkley blatantly not ready for that role yet) organise the defence and we shall be competetive again
Colin Malone
112
Posted 12/08/2015 at 12:19:01
James McCarthy is a Roy Keane in the making. He has got to learn or told to collect the ball off others instead of putting he hand up, saying don't pass it to me. I have seen it so many times, he just does not want the ball.

When he receives the ball, its like a hot potato, Why?? This lad has got so much potential, is he under orders not to receive the ball? Come on James, be our playmaker.
Phil Walling
113
Posted 12/08/2015 at 12:21:02
Dave, I'm no advocate of 2 DM either but meant to imply that's what we are stuck with !
Ian Cowhig
114
Posted 12/08/2015 at 12:22:35
Not sure the waiting till payment of the Sky money is a valid reason for the club's speed in the market. As surely we would know how much we get, and subsequently can afford to spend, before it goes in to the club coffers.

Unless we can't even find one of our rich directors to put up the money short term. If so, then none of them are helping the team, and they should step as custodians of our great club.

Also does anyone know why the payment date is so close to the end of the tranfer window. Surely this is detrimental to the Sky news tranfer pantomime.
Tom Bowers
115
Posted 12/08/2015 at 12:26:17
Looking for the right fit?
What about some of the ''wrong fits'' he has brought in already ?
Can we really feel confident about this manager and his choices?
We will have a better idea after 10/12 games if not already.
Jim Knightley
116
Posted 12/08/2015 at 12:36:56
It's amazing how so many of us dislike the 2 DMs (I'd like to see a poll), but how Martinez will continue to persevere irrespective. I'm hoping that the purchase of a creative player who can also play wide might sort out Martinez's penchant for playing central players wide. This would leave Cleverley ready to challenge Barry (Cleverley may not be an overly optimistic option, but at least he can move the ball on well), and allow Martinez, Barkley and Deulofeu to compete for spots suited to their abilities and positions.
I think 2 DMs can work - Southampton have played that style admirably, and it's really improved their defence. But it only works in a style concentrated on defensive solidarity, which ours clearly isn't. They also have a manager who supplements their attacking players with a genuinely creative presence (Tadic), and have the option of bringing in a passing mid to freshen the DM roles up (Ward Prowse), whilst Schneiderlin was more technically gifted than our respective tacklers. I really like what Koeman has done, and Pochettino did there too, and would love a manager who organised our team in a balanced and sensible way.
The overly long posts are a product of Everton irritation and procrastination. I'm very close to finishing a project, and the nearer I get, the more I procrastinate. My work life would be a lot more productive if Martinez was a better manager.
luke welch
117
Posted 12/08/2015 at 13:00:14
It is depressing and puzzling. I would love to know what makes Martines think that his signings have to be dove tailed to fit the team, as if its a humming machine! From what I have seen from last season, and the start of this one, its as pedestrian and bland as anything Moyes served up.
Ian Cowhig
119
Posted 12/08/2015 at 13:57:20
Not that I should have to say this. But Martinez should watch back the Everton games during his tenure. First thing he will note is that the personnel have not really changed. So he should be able to see when a player has played well and what circumstances made that happen.

So Ross Barkley's best 45 minutes in an Everton shirt (Arsenal away 13/14 1st. half). Ross was getting the ball between the midfield and back four. Turning and running at them. Now he seems to get the ball in front of their midfield, and ends up running sideways.

Best team performances. Arsenal home 13/14, Manure 14/15 & Newcastle away 13/14. The whole team hunted the ball back in packs. Didn't allow time on the ball for the opposition, and attacked at pace when we had the ball ourselves. And most importantly they looked comfortable doing so.

They do not look comfortable with the tippy tappy stuff in my view. The space gets shut down quickly meaning every pass has to be eye of the needle to create a chance. And I don't believe this No. 10, we are after,vwill fair any better when teams have 8 players in front of him when he gets the ball.
James Marshall
120
Posted 12/08/2015 at 14:03:27
Harold #40. Barry actually covered more ground than any other Everton player vs Watford. It's odd how our perception clouds our judgement!
I agree with RM on the transfer issue. I also think he had identified targets that all fell through for one reason or another.
We have spent less than everyone else but Cleverly was free and probably worth about £10m in truth so it's a misleading stat IMO.
I also think we will sign players before the deadline, and again we'll all choke down a little slice of humble pie. Silently of course.
Denis Richardson
121
Posted 12/08/2015 at 14:08:02
Jim 2 CDMs can work and obviously does at other clubs, although I hate when we play it at home, especially against a non top side - just smacks of negativity and caution.
The key question is who you play there. For the set up to work you have to have at least 1 of the two being a very good passer who can move the ball forward with pace. Also at least one of the two needs to be a more box to box MF who can support attacks as well as cover back. Problem is McCarthy/Barry doesn't work, especially if our FBs are stifled.
a) the passing is far too slow and more often than not in any direction apart for the opponents goal,
b) neither of the two seems to be willing or is instructed to push forward more and be a more box to box player,
c) we get very little creativitiy and goals from either
d) Barry is simply too slow in that position. Against any team that has pace, he has to sit deep so as not to get caught out, which leaves us even more disadvantaged in the MF. When he doesn't sit back he ends up getting yellows as he has to resort to fouls when the oppo break.
I personally thought Cleverly was bought in to play next to McCarthy and Barry would be a sub/cover for CB or LB. It's very disappointing to see Cleverly (who himself is not even an AM) playing in one of the three AM positions and Barry is still in the starting line up - the guy seems to be undroppable (like Howard).
Cleverly looks as if he has the engine to get up and down and also looks a better passer than either McCarthy or Barry. With him next to McCarthy we'd be better set up for 4231 and it would allow us to play a proper extra AM in the '3'. If fit, Mirallas, Barkley/Osman, Deulofeu as the 3 AMs would have more creativity and goals. Would require a lot of discipline from the 2 CDMs, meaning you need stamina and pace to cover - which rules Barry out again.
Obvioulsy the above still leaves us with the elephant in the room, which is that Lukaku plays much better with a partner. Which the manager himself admitted in the past.....work that one out.
4411 would be much better, Mirralas, Kone or Naismith partnering Lukaku.
Derek Thomas
122
Posted 12/08/2015 at 14:08:31
Jim #88 you've nailed it. The short version is ( as it always was ) The game is won and lost in the mid field.
Back in the day of OFM, we used to get told that we had the best squad for 20 yrs. I used to bemoan the fact that Moyes wouldn't let them play.
Now we have a manager who is getting them to play too much...most of it the wrong way.
We need a whip round to send Bill on a road trip to Damascus right away.

Neil Thomas
123
Posted 12/08/2015 at 14:10:21
I think the right fit comment meant BKs pocket size, which is extra tight.
Paul Andrews
124
Posted 12/08/2015 at 14:13:34
James 98,
I don't doubt that Barry covered more ground than any other player v Watford.
The problem is how slowly he covers that ground
Vinny Garstrokes
125
Posted 12/08/2015 at 14:45:39
And to think I was frightened of the possibility of Sparky Hughes becoming our manager when Moyes left !!

You can almost write the script - Club in bottom three at the beginning of December, Allardyce appointed and given some money from the Stones sale to spend in the Jan transfer window - narrowly avoid relegation and then all back to Bills for Tea and sticky buns!!
James Stewart
126
Posted 12/08/2015 at 14:48:07
I don't have any problem with 2 defensive mids as long as they can pick a pass.
My constant source of frustration is our lack of width. Time and time again we see Coleman, Baines or whoever is playing fullback isolated out wide with no one overlapping or to play a one - two with. Worryingly it is also usually 2 against one fullback when we are defending but thats a difference story. The best football we have ever played in my lifetime was under Moyes when Baines and Pienaar were the best left side in the league. If Martinez wants a quick fix to putting some entertainment back into our play then play 2 WINGERS and get them to work with their fullback. A simple tactic that has been successful since time began! Coleman against Watford had no option but to cut inside, hit an early cross or beat 2 players every time he got forward.
The buck stops with Martinez we have some fine players who would be performing a damn sight better under someone else.
Harold Matthews
127
Posted 12/08/2015 at 15:01:59
Paul. Cheers. You beat me to it. Barry trotted and walked all afternoon. He admits that he always needs several; matches to get fit after a break and McCarthy always needs a few games to run off the Guiness and pork pies. The stats would seem to suggest that none of our lads put themselves around much. No-one got anywhere near the PL top ten.
Matthew Williams
128
Posted 12/08/2015 at 15:22:50
Lennon, Evans and maybe Austin will come in and we lose Stones to the Mancs?
Harold Matthews
129
Posted 12/08/2015 at 15:40:37
James. Big Dunc and Cahill would have loved those early Coleman crosses. Always hate the slowing down to do a dribble though. Even stopping. Makes me scream.
Gary Edwards
130
Posted 12/08/2015 at 15:45:28
I'm calling bullshit on the supposed "looking for right fit" nonsense. One report he supposedly knows who he wants, deals will be done early and the pre-season / start of the season will be smoother and more professional than it usually is. Typically this doesn't happen, it hasn't happened again and we're comparitively quiet during the t/f window. Why do we bother getting stressed out over this when we all know it will be the usual i.e. hand-me-downs and the 11th. hour begging bowl ... and we should expect nothing more with Kenwright at the helm.
Besides Bill's got his latest extravaganza to fund .. Tommy Steele FFS.
Chris Gould
132
Posted 12/08/2015 at 15:50:37
2 DMs is not the problem. Chelsea play the exact same 4 2 3 1 that we do. The difference is that Fabregas passes incisively and Costa works his arse off, controls the ball, and gives the oppostion defenders a torrid time for every minute that he's on the pitch. Mourinho makes sure everyone works their arse off which is why he got rid of Lukaku. He knew that he couldn't be employed as a lone striker. Shame Roberto didn't.
James Stewart
133
Posted 12/08/2015 at 16:04:13
I don't doubt that Harold. To his credit Coleman did fire some decent crosses in but every time there was no one in the box attacking anything so it was utterly pointless. It is like we have a war on attempts at goal. Watford had more shots with 400 less passes so what exactly are we trying to achieve?
Gavin Johnson
134
Posted 12/08/2015 at 16:15:16
Some great posts there Jim. Enjoyable to read and informative in giving a comprehensive analysis of the DM conundrum. I too, would have hoped to see Cleverley play alongside McCarthy. He has a good engine, isn't bad defensively and while not the most creative he has all round skills and could be what you'd call a box-to-box old fashioned No.8.
You also expanded on my original post that Martinez's signings have been good on the whole, and are not the problem, rather it is the way the team is being set up which is the real problem.
I really hope we have a big deadline day that gives the fans and players a lift, giving us all the some impetus to kick-on.
I think that's possible in terms of the who we might bring in, but I am starting to have serious misgivings whether we've got the right man to get the most out of these incoming players.
John Jones
135
Posted 12/08/2015 at 16:18:10
There is a hint of hypocrisy here, On Monday night Bobby was doing a John Aldridge and whinging about the transfer window not being fair, Now all of a sudden its "Don't Panic Mr Manning"
Which is it ?
You either know who are going to buy and if there is an offer to good to turn down for one of your players have at least 3 players on a list ready to buy in.
I think that part of the deal last season with Lukaku was a right to buy on Stones. But we keep missing out on replacements. I think that Stones will go on deadline day and we will bring in 4 panic buys who have the right mentally because that will suit Bobby.
Why did Barry pipe up a couple of days ago? I tell you why so Martinez didn't look like a complete idiot after what he said on MNF.
He could not well come out and "the transfer window lasts until 1st September so we will go right to the wire"
After saying that the transfer window should close before the season starts!!
Mark Tanton
136
Posted 12/08/2015 at 16:25:51
Interesting that Spurs are reportedly getting more advanced with Barahino, and they have had an offer accepted for a Lyon forward too. Where does that leave Charlie Austin? Do Everton really have the gumption to pull off an Austin deal? Where else would be go? West Ham want a striker, and that wouldn't involve moving house, even.
Patrick Murphy
137
Posted 12/08/2015 at 16:37:22
I get that some people have a deep dislike for Roberto Martinez, however, in what way is he being a hypocrite? How many players have Everton purchased in the last five or so years that arrived well before deadline day? Who decides when to do the deal? Who signs the cheques? Roberto said he didn't like the season starting before the window closed last season and for all I know he may well have been saying it for all of his professional career.
Lay off the guy, at the moment he is the manager of our club, some may not like it, but until he leaves, he should have our support. We can all criticise him for what he does with the team out on the pitch and that would be fair, but to keep harping on about what he does on TV or says in the papers doesn't help Everton FC to win football matches and that is all I'm interested in, the rest of it is just fluff and nonsense.

Christy Ring
138
Posted 12/08/2015 at 16:44:04
Jim # 99, like your comments. I'd play Cleverly ahead of McCarthy and Barry on bench.
Roberto would you stay out of the media, and concentrate on signing 3 Premier League quality players.
Sam Hoare
139
Posted 12/08/2015 at 16:57:13
A lot of good points above. In summary, there is something inherently wrong with the tactics and system Martinez is implementing, or in the players' execution of it. Not enough movement, use of space, tempo when attacking and a rigidness in defense that seems to make us nervous and results in errors or ball watching or large gaps or all 3.
I think confidence would help a lot and it seems to me that the players are very much playing within themselves. Where the turnaround comes from, I don't know. New players? New tactics? New manager? Something's gotta give...
Trevor Peers
140
Posted 12/08/2015 at 17:02:11
I imagine it's our win ratio, that is the most important factor when we decide if we favour our manager. Roberto has to win games, if he can't he won't be liked, winning games would cover up a multitude of flaky press comments.

Whilst he's looking for the right fit, and that is always a dilemma for any manager, the clock is ticking on his time at Everton if he can't put together a run of winning games. All managers live under that pressure time will tell if he's up to the job.

Steve Brown
141
Posted 12/08/2015 at 17:02:13
From what Matt @83 says, it appears that our bank will not allow us us to borrow or extend the overdraft against the next tranche of domestic broadcast money is paid, hence why we will have to leave it late again.
Pretty damning if our bankers won't extend our credit whilst all of our opponents have that facility.
Matt Traynor
142
Posted 12/08/2015 at 17:15:39
Steve #122, my understanding is the broadcast revenue has always been used as collateral for the Vibrac loan facility, which we don't need anymore but seem to keep extending - hence the speculation of involvement of Bill's "Friends of Everton" and this being a way of them making money out of it.
If someone with the time and search skills went through the accounts, every year since Bill & Friends took control and totted up how much we've shelled out in finance charges and interest, it would be a truly scary amount. Would've paid for a new stadium, and not a cowshed in Kirkby either.
James Hughes
143
Posted 12/08/2015 at 17:22:14
The total outlay on transfers is 𧻵M so far and we have spent ٢M, one of whom if he plays well they can buy back.
The way our club is run at present, well if you presented it as a business plan, you wouldn't get very far.
I just want the club to demonstrate some intent and ambition; not much to ask, is it?
Phil Walling
144
Posted 12/08/2015 at 17:44:51
However agitated we get about the lack of transfer activity, we must accept that is far too early to be finite in our judgement.
In general terms both Moyes and Martinez have always kept us waiting to the last minute for players to arrive -- remember how Davey managed to sign up Fellaini in the hours AFTER the deadline. (Would'nt mind him coming back in similar circumstances, eh?)
As mentioned on other threads, my view is that we will have to settle for Lennon and Evans. Fair enough if the Catalan can 'fit them into' a winning team. That, to my mind has always been more important than who they are and how much they cost.
James Stewart
145
Posted 12/08/2015 at 17:54:18
There won't be anyone left to move for at this rate. Saints are moving on Van Dijk...
Phil Walling
146
Posted 12/08/2015 at 18:03:06
There's always SOMEBODY, James!
Jim Jennings
147
Posted 12/08/2015 at 18:08:05
Harold #109
It doesn't surprise me that none of our lads were near the top ten in PL for distance covered last week because we had about 66% possession (open to correction on that one).
Which to me touches on a more pertinent issue that our movement ahead of the man in possession is lacking.
Throw in the fact that we have (IMO) too many British style players and not enough flair, it makes for a pretty static and often ineffective attack. Hence Lukaku being isolated with his back to goal, teams setting up a defensive wall to allow us try (without much success) to play through them.
Which all leads back to Jim Knightley's point that we badly need a playmaker or two.
Nick Entwistle
148
Posted 12/08/2015 at 18:09:07
TalkSport talking about Everton now and the first caller is calling out the club brilliantly.
Ian McDowell
149
Posted 12/08/2015 at 18:13:35
Great call from the first caller.
Mark Tanton
150
Posted 12/08/2015 at 18:16:46
Can you summarise for us please? I can't get to a wireless.
Nick Entwistle
151
Posted 12/08/2015 at 18:21:23
He laid out all the problems that the club goes through, including the lack of interest from the Echo to look into the club's failings.
He's listed the long list of Kenwright failing that though not new to this site will be news to Talk Sport and as Adrian Durum says it places a great platform for other callers to come through and also that they hope to get an official from the club in the next week to address the issues the caller spoke very eloquently about. Fortress, Kings Dock, selling the club, wanting a 900% mark up with zero investment, lack of transfer funds etc.
Ian McDowell
152
Posted 12/08/2015 at 18:25:26
In summary
Wanting to know why the current board haven't invested a penny in the club since 1999.
Why despite no investment the asking price is 900 percent more than what they paid for it. With the club of striped of assets such as training ground, stadium mortgaged to the hilt.
Why the local press haven't raised the issue.
Why has every other premier league club either re-devloped there existing ground to moved and we have done neither.
Kings dock, Rooney for £50 million, Fortress sports fund all the lies etc.
Paul Andrews
153
Posted 12/08/2015 at 18:57:48
Jim Jennings, take a bow young man.

Perfect summation.
Jon Cox
154
Posted 12/08/2015 at 19:01:21
Barton it is then. Oh and while you're at it make him bloody captain. We could sure use a guy on the pitch with balls of steel instead of some of the current powder puffs employed.
Get him now I say. What have we got to lose.
The meeja had a right wankfest over him last night when they thought he was signing for WHU.
Wouldn't it make a refreshing change to have a least one "bad boy" on the books?
James Stewart
155
Posted 12/08/2015 at 19:13:49
Barton? Christ... desperation really is taking hold!
Harold Matthews
156
Posted 12/08/2015 at 19:36:12
James #114, Sam, Jim J. Some nice points lads. Things certainly need to be sorted. Hope Martinez is up to it.
Richard Farrington
157
Posted 12/08/2015 at 20:29:19
If we get beat this weekend, the angst against everything EVERTON will be huge.
If we win, it will buy RM and the board a bit of time and maybe that will be enough to carry them through to the transfer deadline after the Man City and Spurs games.
The City game could indeed be a very toxic afternoon indeed the way things are shaping up.
I'll be at St Marys, going in hope - zero expectation. Please surprise me RM and Everton.
Joe McMahon
158
Posted 12/08/2015 at 20:31:13
Guys, this may have already been mentioned on another thread but it looks like Van Djik is going to Southampton
Ian Smitham
159
Posted 12/08/2015 at 20:42:02
Matt, #123, appreciating I could be wrong but my understanding is that the "Securitised" loans are against the Season ticket sales proceeds. I had an exchange with Patrick Murphy on this subject a couple of weeks ago when I queried why the cheques for Season Tickets are not payable to Everton. In round figures I got the impression it is accounted for and only once the Vibrac payments are secured, is any left over money available to the Company.
Phil #125, I am sure we all share the frustration, however, I am convinced that it is nothing to do with the Manager, more the people in charge of finance at the Company.
Ian#97, regards the Directors loaning money to the club, I get the impression, one way or another that is what the Vibrac loan is, and look at the stick that subject attracts.
Matt, to end up, my understanding is that a few years ago regular Bank finance was simply not an option for the Company, hence they ended up at Vibrac, who also lend money to other clubs on the Securitised front, and the rates are higher than Bank rates reflecting the higher risk. Obviously, I do not know the details, though a copy of the Mortgage deed was on here some while ago, I get the impression that there are penalties for redemption of the facility.
If all this does not add up or is nonesense, someone let me know please
Nick Page
160
Posted 12/08/2015 at 20:47:33
Shoot me down in flames but I have a feeling something is afoot at our beloved club. Bill said he would sell up on or before his 70th birthday (September), and apparently the poor fella isn't well (get well soon, Bill).

There was a rumour yesterday (Tony Abraham, I think) on one of these boards that some Walmart Yanks were looking at the club (Walton family) -- believe what you will about that one. But why would Mirallas, often castigated as a pariah and McCarthy sign new contracts when they could (according to the media) easily jump ship and leave for the bright lights of Soho etc etc. I can't believe they are so convinced by Martinez to partly risk their careers to stay at a club going nowhere.

And then Gary Barry says they might have something up their sleeve. All a bit curious or it could just be my current state of angst getting the better of me in the vain hope that something has to happen? Anyway good luck, blues.
Ian McDowell
161
Posted 12/08/2015 at 20:56:54
Nick, you have me thinking. I was at Formby Hall golf resort yesterday to celebrate my birthday. Sharpy, Snods, Stuart where sat at a table behind me with 2 American business men discussing all things Everton. Now there was an Everton in the Community golf day taking place so that maybe why.
One thing I noticed: Sharpy on City FM was critical of the Everton fans for booing the team off at half-time. Yet I heard him say to the American businessmen we where very poor particularly in the first half.
Patrick Murphy
162
Posted 12/08/2015 at 20:57:38
Ian this may or may not help you but the notes to the last published accounts included the following:
Other loans include £22,127,000 of loan notes (2013: £23,095,000) which are repayable in annual instalments over a 25 year period at a fixed interest rate of 7.79%. The first payment under the agreement was made on 30th September 2002 amounting to £1,588,000 with subsequent annual payments of £2,767,000 (including interest) starting on 30th September 2003.
The notes will be repaid in a securitisation agreement serviced by future season ticket sales. The costs incurred in raising the finance, amounting to £710,000, have been offset against the original £30,000,000 loan, and are contained within prepaid finance costs and charged to the profit and loss in line with the interest charge over a period of 25 years.
Other loans also include £20,924,000 (2013: £12,868,000) secured by legal charges over the Company's guaranteed Premier League broadcast revenues. This loan incurs interest at a rate of 8.8% and was repaid in August 2014. The Group has obtained further funding post year end as described in note 1.

Dave Abrahams
163
Posted 12/08/2015 at 21:08:38
Ian (141), take with a piece of salt what Sharp says on the radio, he's got his Everton hat on when he talks to the media.
I'll guarantee he'll have a completely different point of view when he talks privately and that last point of view will be more honest.
He values his job with Everton so will always have that in mind doing his media work.
Dave Ganley
164
Posted 12/08/2015 at 21:20:07
Oh dear, Joey Barton... I was going to say there were some very interesting posts on here till I read that one. While I agree we need somebody with a mean streak, the last thing we need is a lunatic who is liable to lose his head at some point and headbutt someone. We have enough issues with 11 men on the field without having the weekly possibility of having one sent off.
Patrick (#118), the problem with not commenting on Martinez's ramblings is that half the time they make no sense and or treat the fans like idiots. The amount of times he came out last season and tried to put a positive spin on an awful performance was embarrassing to say the least. When you watch your team get a good hammering then you want to know what the manager is going to do about it, not how we ran to great purpose or it was phenomenal that we managed a single shot on target in the 89th minute. Sorry mate, if we were winning matches and we showed great purpose then he could spout all the nonsense under the sun and I wouldn't care. As it is, we don't and I do.
James (#108), you are quite right. Under Moyes we did play some great football and I really do think that people forget that due to his reluctance to let the players off the leash for the big games against the top 4/5. Without going through a list, standout games like Sunderland (7-0) and Fiorentina at home were amazing games. Oh how we could do with some of that now. We will never do anything like that now due to Martinez insisting on this negative sideways style of football.
If we didn't have players capable of playing exciting football then it wouldn't be so frustrating but imo we do. Cleverley didn't particularly excite me when he came but he at least can be the link up between defence and attack. Instead he was stuck on the left-hand side of midfield. More square pegs in round holes. As others have alluded to, it's not rocket science: play with 2 wingers like we have in the past so the full backs are not isolated and have team mates to play off instead of looking stupid when they have no support as all the attack players are stuck in the middle of the pitch. When you're Chelsea, its easy to say you play with 2 DMs if Fabregas is one of them. There's a reason why he is regarded as a great player because he can do everything. Most players in his position can't.
I also take issue with TWers praising Martinez with Barkley's progression. The guy has destroyed Barkley's confidence by continually playing him out of position and also playing him when he desperately needed a break. It also doesn't help when Martinez keeps saying publicly what a world beater he is. I have no problem saying what he wants behind closed doors but by publicly putting that kind of pressure on him you can see Barkley constantly trying to be the world beater that Martinez keeps insisting he is.
The most intelligent midfielders in his position know when to run and when to pass. Ross doesn't appear to know either. I like Ross and really hopes he succeeds but I am fearful that Martinez is going to permanently damage him by playing him out of position and evidently not coaching him on when to pass or not.
Martinez needs to go back to basics with the defence also. Its amazing/embarrassing to see how such experienced defenders don't seem to be able to defend anymore. We used to have a mean mean defence, now its more porous than a sieve and its only good fortune we don't leak anymore goals than we actually do. To be fair, Jags, as captain should be insisting on proper defensive drills and if that conflicts with the managers philosophy then maybe they need to have a row about it. Maybe they have but there is no evidence anything like that has happened on the pitch.
Aside from that then we are well set for the forthcoming campaign. (We shall ignore the fitness levels, soft tissue injuries, lack of transfer activity as it is just perceived as negative thinking... and that, my friends, is just not constructive!)
Up the blues
Ian Smitham
165
Posted 12/08/2015 at 21:27:01
Patrick, #142, thanks, that is what I like, facts. So the big loans are at 7.79% and 8.8%. I know good quality borrowers are borrowing at around 3%, now, but bearing in mind the Companies' relatively recent poor track record, do you recon those terms are reasonable. Matt Traynor and Eric Myles, have you got any opinions please? Or indeed anyone else?
Additionally,do you recon they are looking to refinance with regular Banks or if not, why not?
Patrick, we exchanged a few on here a couple of week ago,
Really appreciate the discussions. Cheers, Ian

Andy Walker
166
Posted 12/08/2015 at 21:36:12
I don't for one minute want Joey Barton at our club, however if it was a choice between Barry and Barton I'd have to go with Joey. How fucking sad is that?
Jon Cox
167
Posted 12/08/2015 at 21:46:06
Dave 144,
"While I agree we need somebody with a mean streak, the last thing we need is a lunatic who is liable to lose his head at some point and headbut someone."
But we all love big Dunc don't we.
I wonder how that works?
You couldn't make it up..

Dave Ganley
168
Posted 12/08/2015 at 21:52:47
ha yeah Jon we all love big Dunc who did indeed have a very mean streak but to compare Dunc with Barton........really???
Jon Cox
169
Posted 12/08/2015 at 21:55:29
Andy, sad?
No mate it's reality,
and, as they say, reality is a bitch!
Jon Cox
170
Posted 12/08/2015 at 21:59:26
Ok Dave answer this,
Against Southampton this weekend you have a choice. Barry or Joey.
Who do you pick?
Gavin Johnson
171
Posted 12/08/2015 at 22:01:42
I'd welcome Joey Barton back on a rolling 12 month contract, if we could get an MLS club to pick up Barry's contract.
Craig Mills
172
Posted 12/08/2015 at 22:04:34
I'm really worried when I think what players are likely to be available at this stage of the transfer window. Your basically gonna get a player who is either not wanted by his current club (Aaron Lennon / Jonny Evans) or you have to place an offer that a club cannot turn down for a player they don't really want to lose (not really the Everton way).

There have been some excellent players available, who were exactly what we needed and should have been with our price range, Ayew, Cabaye, Shaqiri, van Dyke, Payet yet we have missed the boat with them all.......
Where does this leave us????

Dave Ganley
173
Posted 12/08/2015 at 22:07:44
Well Jon in an ideal world neither. However we are far from an ideal world. I see your point about Barton as occasionally he can be a good player and if that one turned up then obviously him as if it was up to me I wouldn't have Barry anywhere near the starting 11. Barton just loses it too often though for me. The outburst when he played for QPR against City was just unbelievable, far worse than anything big Dunc had ever done. He just never seems to learn as he gets older
Ben Dyke
174
Posted 12/08/2015 at 22:08:50
I watched a lot of qpr games last season as I have an English mate here in Sweden who supports them, and I have to say Barton was generally man of the match in my opinion. I'd have him in a flash because at the very least he'll fire up the troops by what he says and does on the pitch.
Colin Glassar
175
Posted 12/08/2015 at 22:11:07
That was two years ago Dave, since then he's been a model citizen.
Jon Cox
176
Posted 12/08/2015 at 22:22:26
Dave, so Joey B has been to jail then, really?
Now, as far as the City game is concerned, I remember the incident well.
It was nothing to do with that little shit Nasri but he piled in anyway knowing that Barton's fuse had already been lit and boy did he make political capital out of the situation.
In the end he got what he deserved.
And just as a teaser who said "I never fucked anyone who didn't have it coming to them"
Answers on the back of a nanobot.
Seriously, we are mega screwed here. We need something different and we need it now.
And as for Joey I think he has learned as he's got older,
being a Dad and all.
Jackie Barry
177
Posted 12/08/2015 at 22:44:59
I don't want Barton anywhere near the club, can't stand the cretin.
Ant Dwyer
178
Posted 12/08/2015 at 23:14:21
Colin, I agree with some of what you usually post but although Joey Barton is a true blue, he is an absolute head case. He talks far too much shite for his own good on Twitter and if he signed for us he would most probably batter a red shite within a month.

As well as that he is too old and plays where we already have ageing players and too many similar players.
Jon Cox
179
Posted 12/08/2015 at 23:22:29
Fair enough Jackie, well I'm sick to death of the shite I've had to put up with for the last twenty odd years of the SKY four league.
I'm sick to death of the mediocre crap thats been served up to me by Bill bloody hotpot Kenwright. I'm sick to death of the vast wealth seemingly pouring down a bottomless pit that probably ends up in the Cayman Islands.
And do you know what I'm most pissed right off about, like about now.
It's the fact that my kids will more than likely never get to see the club that their dad told them, was the best club on the planet WIN ANYTHING.
I'm pissed right off about the turgid hyped up garbage that is being falsely served up from Goodison Park called "ENTERTAINMENT"
Talk about bollox week in week out. We are no further now than the Walter Smith days.
And everybody says, well, it'll be ok if we sign him and him and him. WE'Ve bloody well signed him and him and him over the years and THEY have done NOTHING on the pitch.
Lakaku, what... a.... joke...
I saw guys at my secondary school that couldn't get into the team with more ball control than that guy. Compared to the Yak, not in the same universe.
"we're not playing to his strengths" Why do I want a fiver for everytime I hear that crap. Either you're a good footballer or your not.
Scenario. Ball gets played wide to wingers. Wingers beat their man and cross it. The ball gets headed from say an Everton player across the box were Rom is positioned. He scores.
Or some amazing pass goes through eight opposition players and lands on Roms feet. he then scores.
Could anyone add to these simple scenarios in connection with "playing to his strengths" cos I've heard it ad-nauseum on this site but no-one seems to ever explain it.
The simple truth is, is that we have all been fed a narrative that Rom is shite because of everybody else in the team.
Well not me. I think compared to the Yak or even Joe Royal and say, Sharpy, this guys a con merchant and is, at this point in time not doing the business for Everton Football Club.
So to conclude, yep Joey Barton tomorrow please because in this particular football media driven world we live in he's about one of the only honest people that inhabit it.
And finaly,
For all the people who think all players are amazing for two minutes here's one for you.
And just prior to the Z cars theme this is what should be played as the players are getting their tutu's ready.
https://www.youtube.com/watch?v=Dsd34urGtCw&spfreload=10
Weapons grade rant now over.

Jon Cox
180
Posted 12/08/2015 at 23:35:21
Ant,
"He talks far too much shite for his own good on Twitter and if he signed for us he would most probably batter a red shite within a month."
Totaly agree mate, I mean that wouldn't go down to well with Alan Brazil and Talksport would it.
(the rs propaganda dept)
Steve Barr
181
Posted 12/08/2015 at 23:39:25
Jon @ 160.
Can't argue with anything you said matey. I'm in the same boat re guiding my lads to supporting Everton. Feeling pretty bad about that at the moment.
More bilge emanating from Bobby today along the lines that we have the squad and talent to win the League Cup this season.
Oh dear, here we go again!
Feeling a bit negative already after our tepid pre-season and first outing.
Jon Cox
182
Posted 12/08/2015 at 23:45:43
Thanks Steve,
But at the end of the day just say to yourself, "If this carries on I'm never gonna support Everton not no more nor ever again"
Do you see the oxymoron, the paradox the complete futility in that statement?
What a week to give up crystal meth!!
Harold Matthews
183
Posted 12/08/2015 at 00:00:50
Gavin. The MLS is too quick for Barry. Lampard is struggling to go the pace and Pirlo keeps getting caught in possession and looks like he needs a wheelchair.
Nicholas Ryan
184
Posted 13/08/2015 at 00:19:32
If the window CLOSES without us having made any more signings, will Roberto please publish a list of those who we were pursuing when the window OPENED.
Andy Crooks
185
Posted 13/08/2015 at 00:36:03
Jim Knightley that was a good post# 90. I really believe we aren't far away. I fear that this opportunity will pass for reasons that aren't to do with the quality of the squad.

Paul Cherrington
186
Posted 13/08/2015 at 14:04:00
Someone with a bit of passion and balls like Joey Barton is exactly what we need. Can you imagine any of the players being allowed to drift through games like they do now with him on the pitch? The manager clearly can't fire them up so we need someone else to do it.
As for playing two DMs, people are correct -- it can work if you really want to play that way but you need one of them to be a creative, a playmaker to get the ball off the other one & start moves off. I still would only play one DM myself, though...
Phil Wood
188
Posted 15/08/2015 at 01:54:24
Barton is a Marmite player that splits opinion?
My view is that he is a prickly individual who could add a bit of backbone to a passionless outfit that need some leadership on the field. He is competitive with good vision and is on a free, something that should appeal to a spendthrift club that lacks a sense of urgency.
We have a stubborn Manager who has a view on football that is not to be turned despite the sterility it has spawned in our playing ranks. Barton would not be a risk and may be able to put some fire in the bellies of our underperforming players and add leadership so lacking on and off the pitch.
Add Your Comments
In order to post a comment, you need to be logged in as a registered user of the site.
Or Sign up as a ToffeeWeb Member — it's free, takes just a few minutes and will allow you to post your comments on articles and Talking Points submissions across the site.
© ToffeeWeb