Quartet hand Martinez injury boost
by

24 Comments [Jump to last]
| 13/08/2015
Everton have been buoyed by the news that Muhamed Besic, Aiden McGeady, Kevin Mirallas and Gerard Deulofeu will all be back in training by today.
Roberto Martinez told the media earlier today that he expects Mirallas, who has recovered from an ankle knock sustained against Watford last Saturday, to join in with the squad at Finch Farm today along with McGeady.
The Irishman has been sidelined throughout pre-season by a hamstring injury dating back to last season which was also affected for him personally by a back complaint.
Besic and Deulofeu, meanwhile – both coming back from hamstring strains – resumed full training on Tuesday and Wednesday respectively.
While it's unlikely that all four players will be involved in Saturday's game against Southampton at the St Mary's Stadium, Martinez is pleased that all four will be in contention and he mentioned that things were looking good for Mirallas just days after he suffered a badly bruised ankle from a poor challenge by the Hornets' Valon Behrami.
"Kevin has reacted really, really well," the manager said this morning. "He was very fortunate because it was a very bad challenge that in any other situation, if Kevin was a little bit unfit or catching up a little bit in terms of his fitness, he would have ended up with a broken leg.
"But he's reacted really well, I expect him to train today and we're quite positive with Kevin about the weekend.
"Gerard Deulofeu trained really well yesterday and I expect him to join the group as well, I expect Aiden McGeady to join the group today and Muhamed Besic trained really well on Tuesday."
Deulofeu raring to go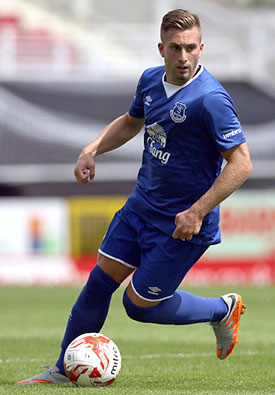 Deulofeu, himself, says he can't wait to get onto the pitch in an Everton jersey again after being made to wait to make his much-anticipated return for the Blues since signing on a permanent basis last month.
The Spaniard suffered a minor hamstring injury in the Asia Trophy match against Arsenal but could see action against the Saints as Everton go in search of a morale-boosting first win of the new season.
"Wednesday was my first full training session and the idea is I will train again on Thursday and Friday, hopefully for selection on Saturday," Deulofeu said.
"It was bad news, the injury, but it was better to happen in pre-season rather than in the full season.
"I might only miss one match, where if it had happened in mid-season I would have missed a lot of football. I can't wait to get out there now."
Baines to undergo further assessment
Meanwhile, the club's medical staff will further assess Leighton Baines's ankle today with further scans that will hopefully allow them to make a full diagnosis of the problem and decide whether or not the fullback will require further surgery.
The England international underwent an operation in May in an attempt to rectify a long-standing complaint but while he returned to action in pre-season, he broke down in training last week, just two days before the start of the new Premier League campaign.
---
Reader Comments (24)
Note: the following content is not moderated or vetted by the site owners at the time of submission. Comments are the responsibility of the poster. Disclaimer
Sam Hoare
1
Posted 13/08/2015 at 16:05:50
With Pienaar, Mcgeady, Deulofeu and Mirallas down we are really short on widemen!!
Pity as I think soaking up pressure and counterattacking is our best shot against Southampton.
Victor Jones
2
Posted 13/08/2015 at 16:08:33
No odds on what McGeady does. Besic won't feature much. And it will be interesting to see how Martinez accommodates Deulofeu, Mirallas, Naismith, Barkley and possibly Lennon.
I'd like to see Gibson get fit. And stay fit. He is no world beater, but Everton seem to play better when he is in the team. And as Martinez has not targeted a midfield general, Gibson is the best we have.
Oh the joys of being a blue.
Ajay Gopal
3
Posted 13/08/2015 at 16:18:51
Sam, also remembering that Baines is out, I don't expect a lot of attacks coming in from the left. I think Martinez will be well served by going for a good old fashioned 4-4-2:
Lukaku Kone
Barkley Barry McCarthy Cleverley
Galloway Stones Jagielka Coleman
Howard
Keep Mirallas, Deulofeu, Oviedo etc to come in for the last 10-15 minutes to give Southampton something else to think about.
Victor Jones
5
Posted 13/08/2015 at 16:33:54
Sorry Ajay, but bringing Mirallas. Oviedo and Deulofeu on for the last few minutes could be a mistake. We could be a few goals behind by then. I would start with Oviedo and Mirallas. Del to come on in the second half. Or maybe Martinez might do nothing. Remember last season...
Tim Greeley
6
Posted 13/08/2015 at 16:37:00
I'm on board with Ajay's 4-42- but I think away at Southampton is a bit much for Galloway right now so I would start Oviedo. I'd also love to move Barkley into Barry's spot and put in Kev on the left but we know BARRY MUST PLAY! Hmmmm... Ajay's team essentially has four center mids... Robertos dream come true!
Duncan McDine
8
Posted 13/08/2015 at 17:17:23
A real shame if neither Kev or Gerard make the squad, but good news that KM's injury wasn't a serious one. Not looking forward to the early start on Saturday!
Tony Draper
9
Posted 13/08/2015 at 17:48:12
Of all these injuries, I'm more concerned about Bainsey than all the others.
He's no malingerer and has had a remarkable record of games played throughout his senior career. Maybe it's just "superstition" on my part (even though I'm not superstitious at all) but when a senior member of our squad picks up a "time out" injury and then it quickly returns, well I just get a very uncomfortable feeling.
Let's hope that I'm entirely wrong.
Tom Martin
10
Posted 13/08/2015 at 17:49:20
Am I the only one that thinks McGeady is worth a try in the No 10 role? he has good feet, has an eye for a pass just lacks pace to be a Premier League winger.
Steven Higgott
11
Posted 13/08/2015 at 17:49:44
An ugly 1-0 away from home would do me I think we will need one wide man just so we can get out of our half and help Romelu.
Possibly lose Barry for this one and have younger legs out there then use Barry later on when we need a good head of experience.
Danny James
12
Posted 13/08/2015 at 17:54:50
I actually thought that about McGeady but not at the expense of getting a No 10

Ray Roche
13
Posted 13/08/2015 at 17:57:45
Tony, I'm not convinced McGeady can control his bowels, never mind the ball sufficiently well enough to play the Number 10 role. He loses possession far to easily for my liking.
Jon Cox
14
Posted 13/08/2015 at 18:01:31
I'd go with that Tom. Sounds good to me. I like unpredictability.
Tony Draper
15
Posted 13/08/2015 at 18:07:43
Tom @4.
Mate, I sincerely hope that you are " the only one that thinks McGeady is worth a try in the no 10 role". Unless of course those with such beliefs have a strong intention to purchase him for their club.
I wasn't a fan of his long long before we secured him, and my opinion has been powerfully reinforced since he joined us.
Clive Rogers
16
Posted 13/08/2015 at 20:19:34
Tom #5,
He crosses the ball ok, but his passing is poor. He's not a number 10 I'm afraid. IMO of course.
Tommy Webber
17
Posted 13/08/2015 at 20:28:18
Hey, you had me at McGeady!
Darryl Ritchie
18
Posted 13/08/2015 at 21:10:17
Hopefully, Bainsey can make it all the way back from this latest nick. Seems to be taking an awfully long time to get sorted out.
I would love to see Seamus and Kevin in one side, and
Bainsey and Gerry on the other. It would scare opposition fullbacks shitless.
Raymond Fox
19
Posted 13/08/2015 at 21:17:41
On Baines injury, I'm with Tony in fearing the worst about him.
He's a big miss for us, and it feels like a long term injury to me!
Lev Vellene
20
Posted 13/08/2015 at 21:25:35
We can only hope that whoever steps in for Baines while he's away will grab his chance and keep Baines fighting to get back in! Not very sentimental, no, but that is how the torch is usually passed on!
John Tyrrell
21
Posted 13/08/2015 at 21:27:39
My son may only be 8 but his team for Saturday:
4-1-3-2:
Howard
Coleman, Stones, Jagielka, Galloway
Besic
Mirallas, Barkley, Deulofeu
Lukaku.

Mark Tanton
22
Posted 13/08/2015 at 22:01:51
Bluntly, at his age, Baines is on the downward trajectory of his career now. And what a fabulous player he is. I don't think he's been at his best, and I think this injury will stay with him.
Paul Whittaker
23
Posted 13/08/2015 at 22:19:02
Hindsight is a wonderful thing but Everton should have sold Baines when they had the chance with Man Utd. Sadly his form and his fitness have both deserted him these past 2 years and Garbutt would have been 2 years further on in his development.
Bobby Thomas
24
Posted 13/08/2015 at 22:37:33
4-year deals for 29-year-old attacking full backs are a bad idea.
Paul Avery
25
Posted 13/08/2015 at 22:57:35
When is Gibson back ?

Michael Winstanley
28
Posted 14/08/2015 at 02:41:27
For those who think Baines is past it, which Premier League player would you pick ahead of him?
Add Your Comments
In order to post a comment, you need to be logged in as a registered user of the site.
Or Sign up as a ToffeeWeb Member — it's free, takes just a few minutes and will allow you to post your comments on articles and Talking Points submissions across the site.
© ToffeeWeb