Martinez admits Blues are deflated after Swansea draw
by

48 Comments [Jump to last]
| 20/09/2015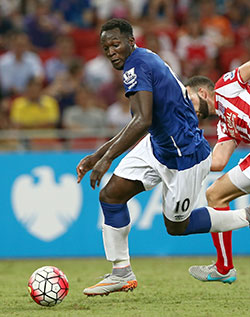 Romelu Lukaku had an off-day in front of goal, passing up some great chances to win the game
Roberto Martinez has hailed a satisfying performance at Swansea but was also ruing the fact that a number of good chances went begging in the second half.
Everton's mixture of experience and blossoming youth across the back four turned in an impressive display to limit the Welsh side to just three genuine chances for Bafetimbi Gomis while the team as a whole stepped up their performance in the second half looking for a vital winner.
Unfortunately, Romelu Lukaku was denied by Lukas Fabianski and Ashley Williams in the first half and then spurned a trio of excellent opportunities in the second.
His strike partner, Arouna Kone, also failed to convert a tempting chance served up by Ross Barkley, while Brendan Galloway also popped up on the edge of the six-yard box but couldn't steer his shot inside the far post.
"It's not normal to create that number of chances and not score a goal, so we are feeling deflated," the Catalan said after the match. "The performances against Southampton and Chelsea have set the standard.
"The first half was very level. We had a clear way in which we wanted to defend. We needed to be more aggressive going forward with intent and that's why I'm pleased with the second half. We created good chances and they should have won us the game. That's why I'm disappointed. But the overall performance was satisfying."
Despite the disappointment at letting two winnable points slip away, Martinez was pleased to see his team extend their run away from home to three consecutive clean sheets, something he openly admits is a rarity for his side.
"The clean sheet is important," he continued. "It is not easy to have three games away from home without conceding and we are not a team 'built' to keep a clean sheet – we are a team built to win football matches and to open teams up and create chances. It shows the balance of the side."
Meanwhile, the manager said that he will review video of the incident that led to Kevin Mirallas being shown an automatic red card less than two minutes after he had entered the game as an injury-time substitute.
The Belgian received his marching orders for going over the ball and into Modou Barrow's ankle but Martinez doubts it would have been malicious.
"I haven't seen it again but we'll look to see if we have grounds to appeal," he said. "I always tell my subs to come on and give a real intensity. I thought he was more of a striker trying to defend. He didn't have intention to hurt."
---
Reader Comments (48)
Note: the following content is not moderated or vetted by the site owners at the time of submission. Comments are the responsibility of the poster. Disclaimer
Anthony Dwyer
1
Posted 20/09/2015 at 00:19:52
I think we played very well again today but Lukaku has to look at himself. He again was disappointing, something he has been in almost every game this season apart from the Southampton game. Every other player though was quite decent.
One other disappointing aspect was Martinez's subs, he had to give Mirallas at least 10 minutes or he would have been wiser to leave him on the bench.
I can't help but feel the situation with him is personal, as it was with Distin. I'm a fan of Mirallas and he is always a threat, he needs treating with more respect.
Martinez has to decide if he wants him or not as Mirallas is clearly frustrated at being the last attacking option to be fielded.
James Stewart
2
Posted 20/09/2015 at 00:53:01
I agree it isn't normal to be so wasteful in front of goal. Lukaku the biggest culprit. Awful performance from him; Kone and Naismith weren't much better. I don't like those two in the same team and hope it isn't repeated.
Lukaku should have been hauled off; we do look light up top still. I really like the work and pace on the counter Lennon brings to the table; he should be one of the first names on the team sheet for me.
That said, it wasn't all bad. Plenty of positives in our display. Browning did well against a really tricky opponent and Galloway had his best game in a blue shirt. Barkley was the best midfielder on the pitch and Stones was simply imperial. He is the best centre back in the league on current form and we are lucky to have him.
Win the next 2 games and the feeling of 2 points being dropped here will be long gone.
Tony Farrell
3
Posted 20/09/2015 at 01:30:29
After the hype from last Saturday's victory over Chelski, I hope the moaners and doubters don't have a pop at the display against The Swans A very difficult fixture for any Premier League side,
Swansea are a very organised and well-drilled outfit, and considering we had two kids at full backs, I thought we did very well defensively. Stones is worth 㿞 mill all day; he was outstanding. A pity the same can't be said about the strikers, a game we should have been out of sight with the chances created. At least we are creating chances; on another day, Lukaku would and should have had a hat-trick.
I thought the Mirallas dismissal was a bit harsh, the liners opinion was final. A point at Swansea and having most of the possession isn't a bad day's work.... Barkley had a solid game, let's hope he can continue this right through the campaign. It could be a good season for the Blues.
Gordon Crawford
4
Posted 20/09/2015 at 01:35:13
Lukaku has everything in his locker to be a great striker, so I can't for the life of me understand why he plays the way he did today. Very much two points dropped.
Peter Bell
5
Posted 20/09/2015 at 01:46:46
Gordon,
"Lukaku has everything in his locker"
He has the first touch of a donkey,
Kp Li
6
Posted 20/09/2015 at 01:49:29
Was it me or did anyone else think Mirallas didn't seem happy and wasn't bothered about being sent off?
Gordon Crawford
7
Posted 20/09/2015 at 02:11:13
Peter, we have all seen what Lukaku can do when his head is in the game, but most times he just doesn't look interested.
I do not believe for a second that he has a bad touch, he is a professional footballer, it's more concentration than anything else.
It's like people used to say that Paul Scholes couldn't tackle, which wasn't true; he was just cynical and that's why he was late so many times.
Jay Harris
8
Posted 20/09/2015 at 03:25:14
Gordon
Have to disagree with you there.
The only thing Lukaku has in his locker is the knack of scoring goals and when that dries up he looks a very poor player.
His touch and ball control is really poor and his work rate is abysmal.
He is never on his toes and very rarely wins a one on one.
In addition his heading ability for a big guy is really poor. Naismith puts him to shame.
Mark Andersson
9
Posted 20/09/2015 at 05:44:28
Gordon, you have a point about Lukaku's lack of concentration; the young man has an attitude problem, he thinks he is better than he really is.
He was easily our worst player today. Martinez needs a top striker and Lukaku is not a top striker.
Stones was brilliant today his value is going up a million every game.
Martinez almost seems disappointed that we have clean sheet. It was a good team performance and if we keep playing like that we will win more than we lose.
Charles Simpkins
10
Posted 20/09/2015 at 07:14:00
Y'all are wylin. Lukaku had an off day. Hasn't been consistently top notch. Fair enough. But c'mon -- #9 Mark -- he's not a top striker? GTFOH. He's what, 22 or something? Y'all see how much Ross has improved since we got off his back. Maybe the same would work for Rom. We definitely could use a back-up striker beyond Kone. But Rom scored 15 his first season and 10 last season in the league. Let's give him some time.
He's the best striker we've had since the Yak (and will be much better in time) and some of y'all are ready to sell him off the basis of a game with some pretty poor finishing. Let's be honest -- nobody was finishing today. Naisy should've scored one had he not tripped over his own feet when it came time to pull the trigger.
As for Mirallas, yes, it would've been nice to see him on sooner than injury time. But let's not forget: this is the same petulant and pissy little punk who shanked a penalty that he snatched off the rightful taker last season and I'm entirely with RM if the manager feels that Kev has to earn his place back in the side.
The starters have performed, Kev is definitely inconsistent and has a penchant for disappearing, and you'd be hard pressed to find a Blue who would die defending Kev's status as a true team player. Kev will have to earn his time like Kone, Naisy, and Deulofeu. A straight red in injury time won't cut it.
Anish Dosani
11
Posted 20/09/2015 at 08:30:25
Why not use the option of playing Mirallas up front and subbing him for Lukaku? He's got an eye for goal, quick and has played the striker role successfully in Greece.
Wasted out on the wing. No wonder he's frustrated; I would be, watching Lukaku missing the target on so many occasions.
Eddie Dunn
12
Posted 20/09/2015 at 08:54:05
When we were on the attack in the second half, both Barkley and Naismith looked up to see no movement in the box and so passed-up the chance to cross or shoot, and thus over-played, and the opportunity was gone. Ross does have a habit of trying to do it all himself, and then only passes when the move is over-cooked and the defence is reset.
We have looked at our most threatening when we have had quick movement off the ball and the pass is played first time. Lukaku was too static at times, but still had enough good service to have put the game to bed. He does seem too laconic, and really needs to sharpen up.
Late on, he found himself miss-kicking to the side of the goal, and Kone was stood 3 yards away waiting for a tap-in, but Rom opted for another wayward thrash which sent the ball bouncing wide. Kone, in the same situation would have squared it to Rom for the good of the team, but Rom wanted (like many strikers) to have a go despite the angle being so acute. I am afraid his selfish streak cost us.
As for his compatriot, Kevin has an anger problem. His frustration gets the better of him, and his reward is 3 games out. Regardless of whether the boss should give him more time on the park, he has let all of his team mates down again... more selfishness.
Generally, we are looking very composed, and that was a good result against a good team.

Patrick Murphy
13
Posted 20/09/2015 at 11:32:52
Mark, I don't think any manager is disappointed with a clean sheet at any level of the game. My interpretation of RM's remark that the team is built to win games, is his polite way of telling his strikers that they didn't do the business for him yesterday and that they have to pull their fingers out.
Last season, it was all about how badly the team were defending, particularly in the early part of the season. This season, the defence has looked better organised but the attacking side of the game remains impotent at times and there is no other reason than a lack of hunger and desire to score a goal or a number of goals. It's more about mentality than ability, as was shown at Southampton and at home to Chelsea last week.
It might be time for RM to blood a younger inexperienced striker on the bench as, who knows... one of them may rise to the occasion and turn those frustrating goalless games into single-goal victories. After all, a single victory and two defeats is the equivalent of three goalless draws.
Colin Glassar
15
Posted 20/09/2015 at 11:41:05
It's either a case of good defending or good attacking with us. Once we combine the two consistently, we will be a force to be reckoned with.
The "we are not a team built to keep clean sheets" is another strange statement to make but I put that down to Robertospeak. The defence has improved tenfold compared to last season. A bit more ruthlessness up front is now required. Good performance yesterday.
Ian Jones
16
Posted 20/09/2015 at 11:56:53
I have said this before about the clean sheets in terms of entertainment. Hard as it may seem to believe after some of last season's performances and with some of the timing of subs, both last season and this, but I get the impression Roberto, in his mind at least, and from what he has said in the past, would prefer his teams to go all out for victory at the risk of a loss. Not sure if he is too interested in draws. As long as the team is entertaining, or trying to be...
Of course, in reality, life doesn't work out like that. Bit like Keegan's approach at Newcastle.
Also needs a potent attack to score more than team concedes.

John Roach
17
Posted 20/09/2015 at 12:02:51
Lukaku is becoming a millstone around Roberto's neck. He does not fire on all cylinders from the off... 㿈 million for what appears to be one step up from Anichebe. I can understand why Jose got rid.
Pace up front and natural goalscoring is what we need to get us in the Champions League, and this season could be our best opportunity.
Chris Corn
18
Posted 20/09/2015 at 13:09:12
I felt that yesterday the general performance could not really be faulted, certainly in the second half. We created enough chances to win two games and the blame for not winning lies squarely at Lukaku's feet. He should have had a hat-trick.
As for Mirallas, he only has himself to blame. If he'd have been more professional dealing with the ball deep in his own half right at the end of the game, he wouldn't have to have tried to get a ball back he should never have lost.
No criticism for Martinez from me, his strikers let him down.
Andrew Laird
19
Posted 20/09/2015 at 15:44:26
No blame for the manager, the team was set up perfectly and created far more guilt edged chances against a very capable Swansea than both Chelsea and Man United combined. If we had a striker who was in charge of his brain, eyes and both legs at the same time then we would have won easily.
Duncan McDine
20
Posted 20/09/2015 at 15:57:02
Lukaku will be hurting after yesterday. Its not like he needs anyone to tell him he had a poor game — he knows it.
It'll be interesting to see if he starts the Reading game.
One massive positive for the team is Barkley's form... Let's hope he keeps performing this way! Great to watch.
Brian Porter
21
Posted 20/09/2015 at 15:58:45
Chris Corn, you may have inadvertently stumbled on the problem behind Lukaku's problem. He's got SQUARE FEET!
Seriously though the guy really does resemble a carthorse running through clinging mud at times. His heading is useless compared with Naismith, who he actually towers over. There's just no spring in his step. Naisy would have scored if Rom hadn't stuck a square foot in the way and diverted a goalbound shot to go right into their keeper's arms. He should have left the ball alone and we'd have been in front, but he tried to grab the glory for himself and totally screwed it up.
I haven't been impressed with him at all this season. The same goes for Kone. The only striker who's shown any hunger for the ball so far is Naisy.
Mark Andersson
22
Posted 20/09/2015 at 17:11:29
Duncan McDine, I have to disagree with your comments that Rom will be hurting; he is a self-centred egotistical overrated player like his fellow countryman Mirallas.
Both Belgians let the team down and will blame everyone else; the sooner we get shut, the better. If they can't perform consistently then they cannot be considered world class... only in their deluded heads.
Martinez should have off-loaded Mirallas if he is not going to play him. How embarrassing to be red-carded after 2 minutes, totally unprofessional.
Mike Allison
23
Posted 20/09/2015 at 17:53:11
Lukaku is top quality, big, fast, strong, uses the ball well in build up play and his back to goal work is getting better.
Still, still young and needs to improve, especially his consistency but I can't believe the stick he gets on here at times.
Jim Bennings
24
Posted 20/09/2015 at 17:53:18
Let's just make sure we win at Reading on Tuesday and then follow it up with a solid three points at West Brom next Monday. If we create even half the amount if chances that we did yesterday then we simply cannot keep squandering them.
A draw yesterday was not a bad result, I'm satisfied with it but, after the amount of misses, you think that's what will stop us from seriously challenging the top 5 again.
If you want to be over-critical then we have failed to score in three matches already this season and failed to score in our final two home games at Goodison last season, so perhaps that's something we need to do better.
Lukaku? We just have to tolerate the man because we have few other options, apart from what you would generally look at as squad members like Kone, Rodriguez etc.
I personally think we need far more consistency from Lukaku, we only see him have one good game in ten really and, at £28 million, it's not nearly enough. His touch is too often mediocre, his reading of the game is poor, and his finishing too often wayward.
The challenge is there for Lukaku this season: do better than last, score more league goals, help fire us back up the table, but is he really up to it?
Robin Cannon
25
Posted 20/09/2015 at 18:04:49
@Ian (15) - "Roberto, in his mind at least, and from what he has said in the past, would prefer his teams to go all out for victory at the risk of a loss."
I really really hope so.
Chris Leyland
26
Posted 20/09/2015 at 18:26:02
Jim Bennings #22 - if Lukaku only has 'one good game in ten' how has he managed to score 40 goals in 86 games for us?
Colin Glassar
27
Posted 20/09/2015 at 18:34:20
Jim, a real acid test will be the WBA game. Pulis will try his usual spoiler tactics putting everyone behind the ball. If we can break down a team like his then this could be a really good season.
Jim Bennings
28
Posted 20/09/2015 at 19:35:10
Colin,
I agree, mate! I do despise playing Pulis's teams, the game in January was a truly horrible affair ending 0-0 against his Albion side and I'm not so sure we will have the space or freedom which we got yesterday; West Brom will try to close us out.
I am actually amazed Sky have gone for our match against them for a live screening after the last meeting, also on a Monday night in the mentioned 0-0 draw; there was also the 0-0 in Martinez's first ever league home match against West Brom so I don't know if they are expecting a classic or merely just being funny hoping for an open game.
Chris,
It's just opinions, mate, he's got goals in him, Lukaku... but, hand on heart, does he really do enough on a regular basis or put himself about enough like he did so well at Southampton?
Its okay people saying he's young but John Stones is younger and he's almost phenomenal every week in an area where you must be faultless.
Lukaku doesn't seem to have moved on from the early months of his loan spell with us when he was two year's younger, he should be further down the line as a player now. Do you think he is??
It's all about opinions and personal views.

Chris Corn
29
Posted 20/09/2015 at 19:35:25
I'm not saying Lukaku is no good, I'm just saying that he could and should have won us the game yesterday.
Tony Draper
30
Posted 20/09/2015 at 19:44:56
The result at Swansea was frustrating because we did well in all departments except the "Stuff it in the Onion Bag" department. We could have suffered a scruffy undeserved 1-0 defeat. We were the better side for 50% of the first half and all of the second half.
This time last season we would have bored everyone senseless and got beaten one-nil. Possibly having missed a penalty.
Kone, Lukaku and Naismith all should have hit the net with gifts of chances that they won't be presented with by gritty "parkbus" sides every week.
Barkley played with freedom and made more good decisions, created opportunities and most importantly he looked like HE knew what he was doing and enjoyed it. Happy players play well.
Mirallas looked unhappy.
Jim Bennings
31
Posted 20/09/2015 at 19:46:54
Chris Leyland
There's also another major worrying concern that Lukaku going back to last season has scored just 6 Premier League goals in his last 29 league outings, so are we really correct to think we have a potential 20-22 goals a season striker?
Or are we merely judging him on being a good Cup goalscorer?
Certainly his goals in the league have dried up over the last 9 months or so with the Southampton brace being more exception than the rule.
This is not being negative or pessimistic and I'm desperate to see him do better but it's plain fact in front of us.
Patrick Murphy
32
Posted 20/09/2015 at 20:26:25
Just one Premier League goal at Goodison Park in the whole of 2015 Jim and that was from the penalty spot against Newcastle in March. His last Premier League goal at Goodison Park from open play came against Hull City last December.
Make of those stats what you will, but it ain't good enough for our main striker whatever way you care to look at it.

Chris Leyland
34
Posted 20/09/2015 at 20:36:11
Jim Bennings,
I agree with you that his Premier League record has not been as good of late but he clearly has the ability to score goals as his 40 in 86 for us and his season at West Brom demonstrate. His problem is that he has to be more consistent and show more desire and effort in all games — not just when he feels like it.
Jim Bennings
35
Posted 20/09/2015 at 20:38:58
It's true Patrick.
It may look like we are singling out Lukaku for specific criticism but facts are facts and last season he got the plaudits for 20 goals but only 10 were in the league and that for me was why we had a relatively poor season.
Every club needs a capable striker who, if they are to challenge the top sides, needs goals on a fairly consistent basis.
It's not Romelu Lukaku's fault that we didn't sign a more proven striker in the summer, but it's certainly now all on him to produce the goods mostly with probably limited help only from Naismith and Kone. We don't know if Rodriguez will seriously feature much and you can't expect miracles from him.
We need more consistent performance levels from Lukaku. He's 22 now, he's more or less as skillful or powerful as he's ever going to be, he needs to start learning the other sides as quickly as possibly such as reading the game and putting more of a shift in.
Dave Ganley
36
Posted 20/09/2015 at 20:40:12
After a reasonably positive game in which we created enough chances to win the game, it is slightly disconcerting to hear Martinez say "we are not built to keep clean sheets". Why not?
To be fair, the team has defended a lot better recently than it has done for probably 18 months but c'mon Roberto, no team ever worth its salt did anything of any note without having a solid defence built to keep clean sheets. Look at the Mancs in the late 90s, extremely entertaining, but they never had to rely on winning games 5-4 to win cups and titles. Whisper it quietly but you can actually win a lot by nilling the opposition and entertain to boot!!
All the great managers built great teams from the back and just because we are in the era of "the Premier League" whereby, according to the media, anything that happened before 1992 isn't worth mentioning, it still holds true that a clean sheet will give you a far better chance than conceding 4 and having to score 5.
If Roberto is really interested in our history then look back to the '80s and that grand team we had then and see how many we conceded in the pursuit of glory... not too many, I think you'll find.
Jim Bennings
37
Posted 20/09/2015 at 20:44:27
Yes, Chris, the problem I'd say though, and it's not his fault because nobody can help their personality, Rom just isn't that type of "in ya face, rough ya up" kind of guy, is he?
This for me is why, in my opinion, we will never quite see the striker we think is there and what he's capable of. I get the feeling with Lukaku it will always be a "what could have been"...
He could be a regular 25-goal-a-season striker but he provably won't be due to that lack of devil in him.
Chris Gould
38
Posted 20/09/2015 at 20:49:08
Jim is spot on about Lukaku. We all know that he can score goals, but he doesn't do it regularly enough for us to ignore his obvious faults. It really does seem to be an attitude problem. He can't seem to get himself motivated, week-in & week-out. Mistakes can be forgiven if you work your arse off.
There's a certain Championship player who's banging them in for fun. Why no Premier League club took a punt on him is beyond me. I hope we give some serious consideration to buying him in January.
Brent Stephens
39
Posted 20/09/2015 at 20:50:35
I watched the game yesterday on a stuttering stream. Just rewatched the whole game on a good recording. Very impressive.
Lukaku was poor but every other man I'd rate at least as good (including Naismith and Kone), some very good... and Stones; well, what do you say?
I noticed how little we faffed around with passing at the back and how much a defensive player in possession stepped forward just a yard or two before giving a forward pass, instead of turning back and passing across the line.
And really impressed with how far advanced Galloway was in 2nd half, often in their penalty area.

Andy Crooks
40
Posted 20/09/2015 at 20:56:51
Mike Allison (#21), I agree. On another day, those chances will be taken. Every striker for every team has a day like that.
I believe that he will become more consistent, confident and aggressive; when he does, we will have a top player.
Also, he makes space for others and is much more than an old-fashioned goal hanger. Finally, I think we will see more from him with Deulofeu in the side.
Ian Riley
41
Posted 20/09/2015 at 20:59:10
I would have taken four points from the past two games!
Playing well... move on... next game!
Jim Bennings
42
Posted 20/09/2015 at 21:01:23
Lukaku is a player that can't motivate himself, he's not like a Wayne Rooney, a Steven Gerrard or even to a lesser extent a Jamie Vardy who plays the game like an over enthusiastic man on a Sunday league pitch getting the stresses of a week's work out of his system.
Rom is in many ways a take it or leave it kind of striker, he comes across as half arsed at times, it's just his personality not his fault but it shows up bad at times when the goals aren't flowing, and they haven't really flowed for a while in all truth.
Anichebe was the same, built like a small tank but he just didn't have that hunger about him that could have made him a better (not good) but better player, that could have then utilized his physical attributes.
He just didn't have that nature about him though.
Jim Hardin
43
Posted 20/09/2015 at 21:02:55
Mark,
Don't let facts gert in the way of your anti-Belgian rants please. What has Rom done or said to indicate he is any of the things you have claimed? Similarly what has Mirallas done or said, and mind you, not things attributed to him?
Gerard Carey
44
Posted 20/09/2015 at 21:54:00
Please RM put out our best eleven against Reading. Nearly a full week before the WBA game so no excuses. Let Rom score a hat-trick and get the lead out of his boots!!!!
Tony Abrahams
45
Posted 20/09/2015 at 22:09:18
He's twenty one, looks like he isn't improving, should have scored at least one goal yesterday, but got into some great positions, despite being our worst player.
Lukaku is constantly marked tightly by two defenders, and should use his weight more, which would improve his touch (back in, lad, instead of coming towards the ball at 100 mph) but this kid will get you goals.
The biggest weakness in his game is a lack of anticipation. He's also that desperate to score at the minute, that he's snatching at chances, instead of remaining composed in front of goal.
He's got loads to learn, but needs time to develop his all round game. Wouldn't mind playing Kone up front for a hour and giving Lukaku the last 30 for a few games. He might learn more getting tutored from the bench, and he will probably score more goals at the minute, if he was used as an impact player. Young players thrive on confidence, so if this happens, it might actually improve him as a player.
Anthony Dwyer
46
Posted 21/09/2015 at 00:59:51
I started off the comments @1 by having a go at Lukaku for a poor display, and moved on to state he had been poor most of the games so far this season.
This though does not mean I do not rate him. That could not be further from the truth. Rom is often guilty of looking disinterested, but it's rare he is wasteful with goal scoring opportunities, and I feel if he has a few more chances like he had against Swansea he will ultimately score goals.
He is only 22 and needs to be cut a little bit of slack, but at the same time he considers himself a big player for us so he has to step up to the plate and score in games when most others are failing.
Ross Barkley took the game to Swansea all day, plus Gerry had ago at them too when he came on, putting some wicked balls across the face of the goal.
Rom, being the main man, will know he should have scored. Naisy and Kone also missed some big opportunities but I can't help but feel the two of them are clearly a million miles away from Lukaku's level so often their missed opportunities are over looked unlike their much younger counterparts.
Rom is still young and needs backing, I for one still think he is our best bet to hit 20 goals plus since Yakubu and is a top and proven goalscorer.
I think he is his own biggest critic and will know he should be doing better with the chances he's had up to now this season.

Darryl Ritchie
47
Posted 21/09/2015 at 01:08:14
Lukaku needs to go on a goal-a-game run, and then maybe, he will convince me, and a lot of you, that he is a first class striker.
While true, he is still young, I've seen enough of him to see that he's not getting any better in the areas he really, really needs to.
Paul Cherrington
48
Posted 21/09/2015 at 10:50:57
I have to agree with what people are saying about Rom after yesterday; he needs to up his game and also start being a team player. The amount of times he messes things up by going for personal glory is shocking, as is the oft seen look of absolute disgust on his face when a teammate scores rather than himself.
Jim Bennings
50
Posted 21/09/2015 at 17:54:22
At 22, he's young, yes... but, at the end of the day, 22 is not 18; he's still old enough to do better on a more consistent basis.
Sam Hoare
51
Posted 21/09/2015 at 18:10:08
Trouble is that it doesn't matter how young you are if you are not improving. Personally I don't see much upward curve in Rom's development since he began his first season on loan with us.
He's great on his day but lacking a rounded game and not terribly consistent.
Not a bad player by any means but the price tag doesn't help and nor does the fact that we have few juicy alternatives.
Hopefully he's a late developer but for the last year or so I've been unconvinced and I think at least we need a better alternative for days like last Saturday when he's not on top. Perhaps Kone could have a resurgence or maybe Rodriguez will step up but otherwise an Austin type consistent finisher is needed to at least put pressure on Romelu if not replace him when it's not happening.
Add Your Comments
In order to post a comment, you need to be logged in as a registered user of the site.
Or Sign up as a ToffeeWeb Member — it's free, takes just a few minutes and will allow you to post your comments on articles and Talking Points submissions across the site.
© ToffeeWeb