More mature Deulofeu feels at home back at Everton
21/09/2015

23 Comments [Jump to last]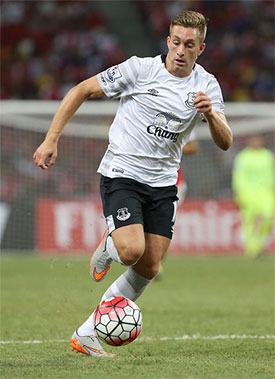 Gerard Deulofeu has been reflecting on his return to Everton where he hopes he can get his head down and let his football – and not his reputation – do the talking.
The Spaniard is back at Goodison Park on a permanent basis now following his initial year-long loan two seasons ago, a somewhat frustrating spell with Sevilla last term and a £4.25m transfer to the Blues in July.
Settled now in Altrincham among a community of English-based compatriots playing in the Premier League, the 21-year-old tells Marca that, contrary to the persona that has been built up over the years by the press in Spain particularly, he is just a normal guy who now leads a quiet, professional life back at the club whose fans took him to their hearts in 2013-14.
Billed at one stage as La Liga's next Cristiano Ronaldo as he rose through Barca's youth ranks and turned heads at the U20 World Cup two years ago with performances that seemed to put him head and shoulders above many of his peers, Deulofeu has never been a stranger to hype. He says, however, that he never let any of the excitement around his prospects go to his head and, in the same way, he isn't interested in changing his game for anyone, despite criticism in his homeland.
"Everything that has been said about me since I was a child didn't go to my head. I've always been very quiet and from the first moment I've known it was up to me to work hard and train hard. I have kept my head but it's not ideal to be in the newspapers every day and everyone is talking about you.
"I was at Barcelona from the age of nine and my football has always been the same: "chutzpah", dribbling, speed, and I sincerely believe that I will never change. I know I have to improve many things to become a top player, but my [footballing] principles will never change."
In the Marca article, Jose Felix Diaz notes that the word "confidence" was a running theme in his interview with the winger, a quality he exhibits on the pitch with the ball at his feet and shares mutually with Roberto Martinez. Deulofeu speaks of disappointment rather than bitterness with regard to his time under Unes Emery at Sevilla but is grateful that the Everton boss seems to understand him more and allows him to be himself.
"Football is ninety percent confidence," the Spain U21 captain continues. "If you go anywhere and they give you the confidence [to play] you can become unstoppable. If they don't let you prove yourself ... everything is much more complicated."

Acknowledging that his return to the Blues offers something of a fresh start, a more mature Deulofeu says he is completely focused on working towards winning a place in the first team now that his pre-season hamstring troubles are behind him.
"My life here is very simple, very easy and professional. I come to the training ground at nine-thirty and I leave for home at three, rest, have dinner and little else.
"Bojan lives around here, Muniesa, De Gea, Ander ... Joel lives in Liverpool. Here I live with my partner and lead a very quiet life. Sometimes we have dinner, but in football you have to be very professional. Rest and recovery are key.
"The goal [of playing regularly in the first team] will come. I am more professional. I've always been, but now I feel more responsible, more mature. I live football and that is what I will give everything to."
Full Article [in Spanish] Marca.com
---
Reader Comments (23)
Note: the following content is not moderated or vetted by the site owners at the time of submission. Comments are the responsibility of the poster. Disclaimer
Nick Entwistle
1
Posted 21/09/2015 at 19:16:02
What was Barca's buy-back in the end?
Kevin Elliott
2
Posted 21/09/2015 at 19:17:46
Great attitude from a great player.
Mirallas could learn a lot from this guy.
Reg Gates
3
Posted 21/09/2015 at 19:28:55
I cannot wait for him to be more involved; he will create more chances for Lukaku to miss.
Paul Jeronovich
4
Posted 21/09/2015 at 19:34:51
Good to hear that he has settled down and understands that he has to keep working hard to earn his place in the team. Good on you lad!!
Tony Abrahams
5
Posted 21/09/2015 at 20:11:39
There was only one thing wrong with his cameo appearance on Saturday. We never got the ball to him enough. He was quick and direct from the right side, and any centre-forward worth their salt will get goals off service like that.
Glen Garrett
6
Posted 21/09/2015 at 20:54:26
Deulofeu should have his place in the 1st team.

I agree with Tony – trouble is Everton do need a top striker and I don't mean Lukaku.
Bill Griffiths
7
Posted 21/09/2015 at 20:57:44
Hope he starts against Reading tomorrow.
Dave Southword
8
Posted 21/09/2015 at 21:23:56
So excited about this lad. Once he's established on the right wing and builds understanding with Coleman, Barkley and Lukaku then he'll be a valuable source of points.
His attitude was the only question mark, but I suppose you have to take this interview and his cameos at face value and that would mean there is nothing to stop him becoming whatever he wants.
Peter Murray
9
Posted 21/09/2015 at 21:56:51
Fascinating insight into his attitude, lifestyle and the Spanish community of Altrincham!

He has all the attributes. If he maintains this approach he will become, within the next 4/5 years, one of the most sought-after players in Europe.
Trevor Peers
10
Posted 21/09/2015 at 23:00:36
He has to keep putting in the hard work to finally realise his potential, either with adding goals or assists.
Then we can truly say he's an excellent player. I wish him all the luck in the world.
Peter Gorman
11
Posted 22/09/2015 at 00:10:34
The most confident player rooted on our bench.
Anthony Dwyer
12
Posted 22/09/2015 at 01:22:58
I've heard a few grumbles at Deulofeu being on the bench but, in all fairness, he was injured at the start of the season so missed some of pre-season training.
Also, words in an interview are easy, look at Lukaku, he is constantly telling us he wants to be the best, but clearly he is not.
I rate both of the above-mentioned players and like their confidence but, if you look at the likes of John Stones, he is very quiet yet plays at the top of his game on a weekly basis.
There are 38 league games and we've played 6, I believe this season will be a good one for Deulofeu but he may have to bide his time a little as we are playing a lot of young lads who have to play and somewhere in the 11 you need experience.
Also Kone and Naisy have grabbed their chance with both hands along with the outstanding Ross Barkley, so I feel it's only right that Deulofeu is patient.
Robin Cannon
13
Posted 22/09/2015 at 03:48:09
He'd probably feel even more at home if we ever happened to play wide players.
Steve Jenkins
14
Posted 22/09/2015 at 05:36:04
Some player, potential to be World Class if he fulfils it.
Should begin to pick up more game time, hopefully he starts tonight.
Jason Davenport
15
Posted 22/09/2015 at 06:17:56
Yes, he could become a star... then Barcelona will buy him back for buttons.
Michael Penley
16
Posted 22/09/2015 at 10:35:59
9:30 to 3 followed by a siesta and dinner? Who'd want to be a professional footballer?
Alexander O'Brien
17
Posted 22/09/2015 at 11:16:38
Looks like the anti lukaku clan are back at it. Quite how people can criticise off the back of an article from another player is uncalled for. Maybe get behind the lad instead of slating him at every opportunity? You were all jumping through hoops when we signed him and panicking at the thought of him going elsewhere. I for one thinks he's quality forward who's dangerous and will score goals.
Paul Cherrington
18
Posted 22/09/2015 at 11:21:47
Reg @ 3... very funny, ha ha, I like that. I also like this interview and this lad in general. Nothing wrong with being confident and he seems to be a good guy who just wants to play.
I would have him in the starting eleven every week but I can see how he may have to wait his chance as we have started well so can't really drop anyone.
Eddie Dunn
19
Posted 22/09/2015 at 11:46:39
"Rest and recovery are key, especially when the boss gives me 25 minutes, to be honest I was bushed, absolutely shattered, so I spent Sunday eating Ferrero Rocher and relaxing at home, and then all of my Spanish friends came 'round and we all put our pyjamas on and had a sleep over".
Ciaran Duff
20
Posted 22/09/2015 at 12:40:00
I have noticed a difference in Deulofeu's game this time around. He seems far less selfish and always looking for the assist which is fantastic in my book.
Also notable how was getting back to help Browning on Saturday. He also seems more patient and I am sure RM will gradually build up his game time. Great piece of business imho.
Aidy Dews
21
Posted 22/09/2015 at 15:53:20
We need to get him fit and on the pitch as soon as as he can make things happen in the final third!
He seems to've grown up a bit and matured and wants to get his head down and work hard. In the games he's been involved in so far, he seems to be working a lot harder for the team, tracking back and helping out; good on him.
I can see Gerri eventually coming into the side on the left with Lennon down the right to give us that pace, threat and balance in the side.
Tony Marsh
22
Posted 22/09/2015 at 17:50:47
Stop slagging off Lukaku. So he had a bad game on Saturday, who doesn't have a bad game?
Look at Rom's goal record since he came here and no-one else comes close. Add his spell at West Brom to that and his goals tally in the EPL is top draw given his age.
Give the lad a break, when he is on fire he is unplayable.
Bob Parrington
23
Posted 23/09/2015 at 04:05:15
Tony #6 Ref. Del boy: "We never got the ball to him enough". Agreed, Agreed, Agreed. There were so many times he was completely free on the right and our midfield players, Ross in particular, would be faced to pass right, turn to the left and play to one of the players who was marked or dither then pass backwards.
Hopefully, they will learn to make the incisive pass more often and we will see more chances and, we hope, more goals as a result.
Add Your Comments
In order to post a comment, you need to be logged in as a registered user of the site.
Or Sign up as a ToffeeWeb Member — it's free, takes just a few minutes and will allow you to post your comments on articles and Talking Points submissions across the site.
© ToffeeWeb