West Bromwich Albion vs Everton
by

78 Comments [Jump to last]
| 27/09/2015
Match Preview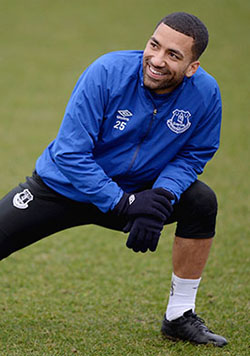 Aaron Lennon is likely vying with Gerard Deulofeu for a starting role on the right wing
Everton get their first Monday night date of the season as they travel south for their third successive away game to take on West Bromwich Albion.
The Blues go in search of their third victory of the season in what was regarded as one of the more winnable matches in this tough stretch of 10 fixtures when the schedule was first released. With as many wins as Everton – albeit against Aston Villa and Stoke, both teams that have made poor starts to the new campaign – and Tony Pulis at the helm, the Baggies will be no easy proposition.
They are winless at home, however, having faced last season's top two and Southampton at The Hawthorns so far; Roberto Martinez will be hoping to become the latest manager to leave this part of the Midlands with all three points.
He will likely be forced into some changes from the team that started at Swansea in the Premier League last weekend, however, with a question mark over the availability of John Stones who, like Seamus Coleman, will be given every chance to prove his fitness but might not be risked.
The 21-year-old seemed to aggravate a minor knee injury he sustained at the Liberty Stadium in the midweek win over Reading and was substituted early in the second half. The six days in between may not have given him sufficient time to fully recover and, with one eye on the Merseyside derby next Sunday, his manager may elect to withhold him from the action against West Brom.
Coleman, meanwhile, strained a hamstring against Chelsea a fortnight ago and hasn't played since; Martinez appeared to hint in his pre-match press conference on Friday that he wouldn't be taking any chances with the Irishman either.
That will likely mean a recall to the side for Tyias Browning, who deputised superbly at right back against the Swans, and a possible full League debut for Ramiro Funes Mori at centre-half alongside Phil Jagielka. The Argentine made his first start in the League Cup win last Tuesday, albeit initially at left back where he looked less comfortable than when he moved into the centre later in the game. Brendan Galloway, a second-half substitute at the Madjeski Stadium, is a shoo-in to return at left back.
In midfield, Gareth Barry's impressive performance off the bench on Tuesday will almost certainly see the restoration of his central midfield partnership with James McCarthy and, with Kevin Mirallas suspended, Arouna Kone and Romelu Lukaku could find themselves leading the line again in front of Ross Barkley.
The remaining slot could go to Aaron Lennon, back in a more familiar right-wing role after being deployed in a hybrid fullback-wingback role at Reading, although Gerard Deulofeu also pressed his claims for a second start of the season with another crucial intervention in the same game. Ultimately, Lennon's defensive discipline may get him the nod but Evertonian minds will be preoccupied with the fact that, facing a Pulis team, the need for creativity to break down a well-organised defence is going to be important.
One of the bigger spotlights will be Lukaku, though, and not only because he will be returning to the ground where he first burst onto the scene in England. The Belgian scored 17 goals for the Baggies and followed it up with 16 and then 20 in all competitions for Everton but, since a brilliant two-goal display at Southampton in August, he has struggled to live up to his lofty ambitions and the expectations of him as the Blues' leading man.
He hasn't scored in the league since that win at the St Mary's six weeks ago and his last two outings have been poor, so he will be hoping for a repeat of his last visit to the Hawthorns in Everton colours when he scored in a 2-0 win.
With the teams hoping to be fighting out the top six or seven places in the Premier League continuing to take points off each other, earning maximum points from those expected to finish in the bottom half is going to be imperative. The Blues dropped a couple of places following the results earlier in the weekend but a win in this one could push them into fifth place and underscore their credentials as contenders for the European places this season.
Kick Off: 8pm
Referee: Robert Madley
Predicted line-up: Howard, Browning, Jagielka, Funes Mori, Galloway, Barry, McCarthy, Lennon, Barkley, Kone, Lukaku
---
Reader Comments (78)
Note: the following content is not moderated or vetted by the site owners at the time of submission. Comments are the responsibility of the poster. Disclaimer
Mark Frere
1
Posted 27/09/2015 at 17:20:41
This is a very winnable game. The Baggies aren't the most potent team going forward... but the return of Berahino will add a bigger goal threat.
I hope Deulofeu gets the nod for this game; I think he's earned the right after his displays in the League Cup. He's always a threat going forward and he makes things happen. His work-rate and final ball seems to have improved from couple of years ago.
I don't think there's any need to rush any of the injured players back as we have plenty of options in defence. We have an Argentinian International CB who we paid ٧.5 million for who we are all looking forward to see play.
It's really time for Lukaku to knuckle down and start putting in the performances we all know he's capable of, a la Southampton (a) this season.
I would play (assuming all the injured players aren't fit to return):
Howard
Browning Jagielka Funes Mori Galloway
McCarthy Barry
Deulofeu Barkley Kone
Lukaku
Trevor Peers
2
Posted 27/09/2015 at 17:48:13
Hopefully Stones and Coleman will be fit, or at least one of them. The thought of playing two relatively new players and Galloway all at once in defense could be catastrophic. These players need to be eased in gently, preferably one at a time.
Hopefully Barkley maintains his good start to the season and Deulofeu provides some ammunition for Lukaku. It's a pity we don't have more striking alternatives but there it is... we have to get on with it, we should have enough to win.
Allan Barratt
3
Posted 27/09/2015 at 18:05:44
Hopefully WBA play big Vic in a holding midfield role like last week!! #geniuspulis
Paul Jeronovich
4
Posted 27/09/2015 at 18:06:25
Just go for it, surely teams going up against Pulis will know that he sets his teams up negatively. If Martinez does the same this could be one big bore fest!!!
Mark Frere
5
Posted 27/09/2015 at 18:16:08
Allan (3) - Perhaps Pulis has been reading the Toffeweb archives:
David Hallwood
6
Posted 27/09/2015 at 18:48:31
Well thought-out piece, Lyndon; however, I would prefer Naismith, Barkley, Deulofeu, behind Lukaku. If Coleman doesn't make it, RM will probably give the nod to Lennon over Deulofeu given his work rate.
As stated, a very winnable game so let's have a bit more adventure.
Jim Bennings
7
Posted 27/09/2015 at 19:03:58
Well another away game before the start of a tough looking October fixture list.
Tomorrow is really a game we need to be winning in my opinion if we are to seriously stamp home our intentions of drastically improving on last season's meek efforts.
We got a decent result at Swansea but after the game had finished probably realized we had missed a great opportunity after continuously fluffing our lines in front of goal...ahem, Mr Lukaku!
We are likely to encounter a really well drilled defensive unit as is always the case with Tony Pulis sides so the few chances we do eek out are going to need clinically taking and it's about time the strikers like Lukaku and Kone stepped forward and started putting these chances in the back of the net.
It's a tough game, yes; it will probably be a very close game decided on one goal maybe but it's imperative we start racking up some wins. Despite the great win over Chelsea, we have still only won two matches so failure tomorrow night leaves us with just two victories heading into a difficult month on paper anyway.
Be clinical Blues, performance levels have been decent so far but tomorrow just be clinical and kill them off when the chances arise.
Tony Marsh
8
Posted 27/09/2015 at 19:30:52
Please... no more Kone. He's absolutely useless.
Tony McNulty
9
Posted 27/09/2015 at 20:02:03
Here's to ten points from the next four Premier League games: three wins on the trot (West Brom, RS, Manure) and a draw at the Arse. I would be happy with that as a return.
Clive Rogers
10
Posted 27/09/2015 at 20:35:17
He surely won't play Lennon in front of Browning who is totally a defender. He'll go for Dell. This is a big game, win and a good start continues, lose and it's only 2 wins out of 7 games and the start doesn't look too good.
Harold Matthews
11
Posted 27/09/2015 at 20:44:59
This will probably be a bruising battle with no room for faint hearts. If they score we could have a mountain to climb. Not impossible. We're playing well and creating chances. Time we started putting them away.
Can't say I'm familiar with West Brom this season but Pullis will try to shackle Barkley and we'll need the ref to be strong and fair. Martinez will have a plan. Let's hope it comes off.
Robert Workman
12
Posted 27/09/2015 at 20:50:56
I don't normally concern myself with Lawrenson's predictions - but 2-0 to WBA? Have you seen their goal difference? It is 4-6!

Steven Jones
13
Posted 27/09/2015 at 21:08:30
Naismith will play, Martinez rested/benched him against Reading with a view to playing him at WBA.
It is time that Kone and Rom were used as the rotation strikers to keep Rom and Kone fresh.
John Malone
14
Posted 27/09/2015 at 21:10:43
No way should this be considered an easy game; they've got Rondon, McManaman and Berainho, who are all dangerous, as well as Brunt with his trusty left foot who always seems to do well against us!
I'd like to see the 4-1-4-1 shape against these; the last thing we wan't to do is leave Browning and Galloway exposed. I'd start Lennon and Naismith on either wing and bring Kone and Deulofeu on if and when necessary!
Jay Harris
15
Posted 27/09/2015 at 21:32:59
I believe Lukaku is due a goal or two and will hopefully be up for this one.
If we are to open up West Brom I believe it would have to be with pace and purpose. I would therefore rest Kone for this one and play either Deulofeu or Lennon in that order of preference. Barkley seems to link well with Deulofeu and Lukaku.
The back six seem to pick themselves normally but, with Coleman and Stones in doubt and Bainesy unavailable, we need careful consideration.
The big advantage of Browning and Galloway is that they are both big lads for corners and free kicks which is usually the Pulis main tactic for goals. Funes Mori is a relatively unknown quantity.
However... needs must, and there is no time like the present for proving you are worth ٧.5 million.
So I would go with:
Howard
Browning Jagielka Funes Mori Galloway
McCarthy Barry
Barkley
Deulofeu Lukaku Naismith
Jim Bennings
16
Posted 27/09/2015 at 21:54:29
John
I agree with you, basically there are no easy away games in the Premier League these day's and frankly Everton Football Club have always made difficult work of winning "winnable" away games at the best of times.
We need a win though and I don't care how it comes or what score it is or who scores, we just need to stamp our authority on fixtures like this, it's something we didn't do enough last season and if you want to aspire to be a team that's really going places, no disrespect to West Brom but it's a game we need to take the three points from.
Steven Jones
17
Posted 27/09/2015 at 22:06:01
Jay, I like your selection....
Defence looks good and Naismith and Delboy will give the legs and energy around Rom and Barks.
Ross Edwards
18
Posted 27/09/2015 at 22:30:37
A tight game tomorrow I think. I reckon we'll win 1-0.
Aidy Dews
19
Posted 27/09/2015 at 22:51:54
Personally I wouldn't risk either of Stones or Coleman tomorrow night. Get Mori in along side Jags and he'll be fine. Have Browning at RB but with him & Galloway both at FB, were going to need one or both of Lennon & Deulofeu playing to give us some width.
I'd go 4-3-3 and go with :-
Howard
Browning
Jagielka
Funes Mori
Galloway
McCarthy
Barry
Barkley
Lennon
Lukaku
Deulofeu
4-3-3 is attacking and we'd have pace going forward, but with Lennon in there, he works hard and gets back behind the ball and drops in and gives us 2 banks of 4 when off the ball and defending.
Tbh though, it wouldn't surprise me to see one of either Kone or Naismith come in for possible Deulofeu?! I wouldn't bring either in, Kone as done well in parts but not offering us enough of a goal threat and Naismith got a great hat trick the other week but started at Swansea and wasn't has effective and could be more of a weapon for us from the bench?!
James Stewart
20
Posted 27/09/2015 at 22:53:46
I would go with Jays team with Naismith swapped out for Lennon.
Howard
Browning Jagielka Funes Mori Galloway
McCarthy Barry
Deulofeu Barkley Lennon
Lukaku
Stones in of course if fit. Tired of the Kone experiment like Tony Marsh. He is halfway a decent backup striker if all you want is someone to hold the ball up but anything else he ain't! Shoehorning him into every starting lineup is getting tiresome. Lennon offers more in attack and defence.
Mike Gaynes
21
Posted 28/09/2015 at 00:44:59
I'm with Jay's team, and without the Lennon swap. Naismith's hat trick shows he's in better form, and he brings the same work rate as Lennon with more of a scoring threat. I like Lennon off the bench for this one.
Admittedly Geri is a weak reed to put in front of an inexperienced Browning, but Macca can slide over if the Baggies decide to play Rondon or Berahino out left to try and attack the youngster.
Colin Metcalfe
22
Posted 28/09/2015 at 01:14:51
Although it will never happen I would like to see Lukaku on the bench, he has lost mojo of late and we need firing on all cylinders for a tough run of fixtures in October . He has started nearly all the games this season and he looked a bit off the pace last week against the Swans.
Also, although he been getting a few plaudits on this site I thought Browning looked a bit lost at times last week , I am not totally convinced but if Coleman is out what options do we have in that particular position?
My team:-
Howard
Browning/Coleman - Jagielka - Funes Mori - Galloway
McCarthy - Barry
Kone - Barkley -Deulofeu
Naismith

Eric Myles
23
Posted 28/09/2015 at 01:16:03
Allan #3, they won last week!
Ernie Baywood
24
Posted 28/09/2015 at 04:07:02
Colin, I don't think it's as simple as saying we should drop Lukaku. My view is forget what he cost and use him when it's right.
If WBA are going to drop deep and clog the central area then, no I wouldn't start Lukaku either. Naismith or Kone will offer better movement and slightly better build up play. And our pacy wingers should have better penetration.
Can't claim to know enough about WBA as to how we can expect them to play.
Hugh Jenkins
26
Posted 28/09/2015 at 07:29:09
Steve (#13) - That is probably more a case of wishful thinking on his part, rather than an honest prediction.
Dave Pritchard
28
Posted 28/09/2015 at 07:40:55
Does anybody really care what Lawrenson predicts? Pundits are seen by their employees as doing a good job if the general public talk about what they are saying. If you don't like a pundit then ignore their comments or don't even read/listen to what they say in the first place.
Anthony Flack
29
Posted 28/09/2015 at 07:50:30
Personally I think any talk of not starting with Lukaku is mad. He may frustrate at times but he represents a real handful that makes oppositions plan around him.
And of course his overall goal scoring record is top notch....
1-2 to Everton.....
Brian Porter
30
Posted 28/09/2015 at 07:57:05
Are we on TV tonight?
Trevor Peers
31
Posted 28/09/2015 at 08:12:13
Ernie (#24), West Brom will try to exploit our injury ravaged defense, Pulis isn't a rookie manager, so he will spot any potential weakness a mile off.
They have some decent forwards so expect an open game which may suit us if we can hit them on the counter-attack.
Richard Lyons
32
Posted 28/09/2015 at 08:35:19
It'll be a real test of Martinez's tactics today. If we win, then we prove we can push on for a Euro place. If we draw, it points to mid-table obscurity. If we lose, then I'm afraid it points to a nervy relegation scrap... Surely we're going to win this one!

John Voigt
33
Posted 28/09/2015 at 08:54:43
This Yank realizes this will not be an easy game. Looking at West Brom's Premier League results show 4 clean sheets in 6 games so far this season.
Southampton failed to score against West Brom. Only Man City and Chelsea have scored against them this season.
That said, a win would be huge.
Another thing to note is West Brom has only managed to score 4 goals this Premier League season. They are dead last in goals scored.
I look for a very defensive minded game. I expect Everton to easily win the possession battle, but West Brom will be happy to sit back and wait for counter attacks. The Blues have to be careful not to get caught on the break.
Based on form a draw would be a good result (this is an away game). I'm hoping that the Blues can manage a 1st half goal and open things up some. If the game is scoreless at halftime I look for West Brom to just sit back and wait for opportunities and not commit many men forward.
Cheers (is that a British way to end a posting)?
Andrew Clare
34
Posted 28/09/2015 at 09:06:17
Jon #32, That's it exactly. We must get the early goal to force them to come forward enabling us to get them on the break.
I would definitely play an attack-minded team with Deulofeu and Lennon on the wings.
Reg Gates
35
Posted 28/09/2015 at 09:12:04
Drop Lukaku, he's gash; play Kone with Naismith. Kone is not much better but he can at least trap a ball and lay a pass off.
Chris Gould
36
Posted 28/09/2015 at 09:22:58
Richard 31, I think that's nonsense. It's just one game, and in this league, anyone can beat anyone. A loss tonight would most definitely not suggest that we're in for a relegation scrap. That's ridiculous.
West Brom are a well-drilled side and playing at home. On their day, they're capable of beating anyone.
Aidy Dews
37
Posted 28/09/2015 at 09:26:33
We usually haven't got the greatest of records at WBA but, if we go about the game in the same manner as Southampton away and show the same spirit as we did in both cup ties away from home, then hopefully we can get the win, but it wont be easy.
Even though WBA are at home, they will play a bit like the away team and sit deep and frustrate us so it'll be up to us to get on the ball, get at them and open them up. That's why I think we should at least start with either Deulofeu or Lennon, if not both!
Usually WBA have Brunt or McLean at LB so I'd definitely have either Deulofeu or Lennon up against either of those and target that area to get at them and possibly do damage.
It'll be a close game but I reckon 2-1 and Lukaku will be back on the score sheet tonight.
Laurie Hartley
38
Posted 28/09/2015 at 09:33:01
This could be the game for Lukaku to find his goal scoring touch. I like Jay's team except I would go Lennon, Lukaku, Naismith which would mean we could go 4-5-1 or 4-4-2 if need be.
Brian Harrison
39
Posted 28/09/2015 at 09:45:35
Let's hope that Lukaku is back to his best tonight. They have just compared Lukaku to Barahino on SSN. They are saying in the last 42 league games Lukaku has scored 12 and Barahino 15. Now if they are correct seems a pretty poor return for supposedly 2 of the best young goalscorers around.
John Hughes
40
Posted 28/09/2015 at 09:45:59
Brian (#29)
Yes, we're on Sky.
Ernie Baywood
41
Posted 28/09/2015 at 10:47:18
Aidy, we can't play like we did against Southampton if WBA, as you suggest, sit deep and try to counter.
If that is indeed how they setup then it's a huge test for us and a measure of how we have progressed from last season's struggles when pretty much every average team had that tactic against us.
If that's the case then I would certainly have Del and Lennon in the side. That's exactly what we bought them for isn't it?
Paul Cherrington
42
Posted 28/09/2015 at 10:48:13
I think that Rom is best suited when there is space to run into or onto through balls behind a defence. This will not be the case with WBA tonight as Pulis is bound to have them sitting deep. So I would not start with him either tbh.
We need someone who can hold it up and play that role better. For the same reason, Deulofeu has to start as he could be the one who unlocks them and gets us the win.
Jim Bennings
43
Posted 28/09/2015 at 10:51:50
Brian
I'm not certain of Berahino's full scoring record in they time but I've counted Lukaku's record as 6 goals in the last 30 league appearances with just 4 from open play. The record stretches back to 4 December 2014.
I know people keep harping on about Lukaku's full scoring record in his career but there's no doubt he's been in a very barren run in the Premier League for too long now, there's no European matches this season to boost the tally so the majority will need to be scored in the league.
It's about time Lukaku got himself back to where he was two years ago, he needs to go back to basics because at the moment he's flailing poorly and has done for nearly 12 months give or take the odd good game.
Chris Gould
44
Posted 28/09/2015 at 11:05:28
I think the front 4 will be Naismith, Barkley, Lennon and Lukaku.
I'd love to see Deulofeu live on Monday night football, but I expect him to start on the bench.
Thomas Surgenor
45
Posted 28/09/2015 at 11:08:20
With all the talk that Browning is the best one-v-one defender at the club (a fact I dispute while Tony Hibbert is on our books) - surely Lennon's defensive duties aren't as urgently required and we can be a bit bolder in the deployment of Deulofeu.
Unleash Del and tell Lukaku in no uncertain terms that, when Del gets the ball, he is to be physical and get himself half a yard at the front post area of the 6-yard box.
Jim Bennings
46
Posted 28/09/2015 at 11:17:37
When I say "back to basics" for Lukaku, what I mean is, when he first arrived here on loan two years ago, he was utilizing his strength more, he was willing to run more harder, work defences harder. He was for the first month or so between September-October 2013 simply unplayable.
He showed a glimpse of those performances again at Southampton in August but there's been nowhere near enough of them. He's basically stopped doing the simple things that should come easy to a guy that big and strong.
Someone, either Martinez or Ferguson, needs to sit down with Rom and show him DVD re-runs of those early games when he arrived and loan and say
"Come on Rom, where have these day's gone? You start playing like that again then you can achieve anything you want in this game."
It's up to Lukaku but, beginning tonight and with the month we have coming up, now is a good time to start.
Dave Pritchard
47
Posted 28/09/2015 at 11:39:34
Agree with Chris at 34. It's been said on another thread about these 'must win' and 'season defining' comments. Each game is worth 3 points and a win does not mean we're on our way to top 4, just like a defeat will not mean we're doomed to relegation.
I think this will be a tough game and that they've got better players than last year and their manager is very good tactically. Still very hopeful of a win though.
Peter Bell
48
Posted 28/09/2015 at 12:04:21
Thomas @42 this has got to be the best laugh I have had in a long while:
"Tell Lukaku in no uncertain terms that when Del gets the ball he is to be physical and get himself half a yard at the front post area of the 6-yard box."
Santa Krsh
49
Posted 28/09/2015 at 12:18:55
I always thought this criticism of rom was a bit unfair until I saw Ighalo play yesterday. Oh god... how much he runs, drops deep, helps in link up play, is everywhere... And there also the small matter of his hold up play!!!
Seriously, it's daylight robbery by Chelski to get £28M from us for this guy... I dunno why our scouting team doesn't find the likes of Gomis, Bony, Ighalo, Mane etc.
Dave Abrahams
50
Posted 28/09/2015 at 12:48:59
I'd play Lukaku from the off and tell him stay up front and have a good go.
If he's as poor as he's been versus Spurs, Swansea and Reading, then don't be shy in dragging him off at the hour mark and giving some one else a chance... maybe the young lad from South America. We are playing with ten men at the moment, the way Lukaku has been performing (or not performing).
Harold Matthews
51
Posted 28/09/2015 at 12:56:20
Peter. Thomas didn't make me laugh. Okay, he complicated things but I knew exactly what he meant.
Since he first arrived, Deulofeu must have smacked more than a dozen balls along the goal-line but no-one is ever there to tap them in. I sometimes wonder if Martinez, Lukaku. Naismith and Co are living on another planet with half a brain between them.
Derek Thomas
52
Posted 28/09/2015 at 13:02:03
Peter (#45) if he doesn't know that then the laugh's on us for paying £28M for a striker that doesn't knows the basics of his trade.
There seem to me 3 options re this:
He's been told to not to do this; the mind boggles.
He can't do it - doesn't see the ball / option; again with the boggling.
Won't do it... more than one person needs a severe arse kicking.
That said, I hope the 'Do well versus old club' syndrome kicks in and he bangs in 3, all from Del's hard and low crosses.
Dave Abrahams
53
Posted 28/09/2015 at 13:03:03
Harold (47), it made perfect common sense to me as well. I have this said since Delboy came, he even points to Lukaku to get in the six-yard box.
Kase Chow
54
Posted 28/09/2015 at 13:03:32
Not buying a quality striker to support/put pressure on Rom is exactly why I thought this was a poor transfer window.
In Martinez's first season, had we got a striker in January (like Negredo as was being rumoured at the time), we may well have got 4th that season. We instead loaned an injury prone player and have since failed to adequately reinforce. That's around 4 transfer windows not to get another striker.
We've all seen that Rom, great as he is, blows hot and cold and only responded last season when dropped. Who can we honestly drop him for now? The unproven Rodriguez? The other unproven youngsters? The non-goal scorer Kone (who plays anyway) or the sporadic scoring Naismith?
There's no viable options. So I'm sorry chaps but either Rom hits form again or kiss any chances of top 4 goodbye.
Graham Riches
55
Posted 28/09/2015 at 13:05:38
Tony Marsh,
Kone absolutely useless? This is a bit harsh. Have you been watching the last few games? Kone is player I would pick in the side over Rom at the moment. He can hold up the ball better and links up the play. Considering we are playing a manager who is likely to park the bus, tonight we need him in.
Peter Roberts
56
Posted 28/09/2015 at 13:54:08
This team (striker aside) is set up to have a real go at top 4 — I'm serious. Barkley is on a different level to anyone we have had since an in-form Arteta. Real pace on the wings with Deulofeu, Lennon and Mirallas (when on it), Barry and McCarthy giving us stability... and Stones playing like a young Beckenbauer.
It's the bloke up front doing an impression of someone "trying" to look interested that is a concern.
Aidy Dews
57
Posted 28/09/2015 at 13:56:25
Ernie, I'm talking more in terms of how we used the ball, quick and incisive to get from back to front and open WBA up.
If we're quite pedestrian on the ball, then we'll end up playing a lot of the time in-front of WBA and they'll settle for that all game but we need to be playing players like Lennon who will run beyond Rom and try and stretch teams or Deulofeu who can beat men and get us in behind that way to break these down.
At times, when we play both Kone & Lukaku, neither run in behind enough and give us that out-ball to play so we go square or backwards. At least with both or either of Lennon & Deulofeu, we'll have players willing to run in behind or make things happen in tight games due to coming up to a stubborn and compact team.
But if we have intelligent movement and pace in the final third, and are sharp and incisive with our play as we were at Southampton, then we can easily win this game tonight.
We've just got to go about the game with the same spirit and manner as most of our away games and take our chances this time and we'll get the 3 points.
Pete Edwards
58
Posted 28/09/2015 at 14:07:21
Richard do you really think this "If we lose, then I'm afraid it points to a nervy relegation scrap..."
Really?? It's the 7th game of the season!
David Torpey
59
Posted 28/09/2015 at 14:49:05
My prediction here is that Rom will be a good lad and do his job – as an ex-Baggie servant, he's going to spank them with at least one tonight. Let's have it.
Steve Jenkins
60
Posted 28/09/2015 at 15:06:03
A point wouldn't be a bad result but I think we can and should be winning this game. A victory here I think will show that we're moving forward.
Harold Matthews
61
Posted 28/09/2015 at 15:22:03
Graham. True. Kone has been one of the main reasons we've improved from last season when we couldn't keep possession for more than 6 seconds in the final third. Lost half a yard of pace but has a football brain and understands the movement of his team-mates.
Adam Luszniak
62
Posted 28/09/2015 at 15:38:09
Lukaku is key to our play. He is good striker, albeit one who is not setting the world alight right now. Basically, much like Everton, he needs to be consistent.
Ben Jones
63
Posted 28/09/2015 at 15:46:23
No chance with Lennon and Deulofeu in the wings. You know why Martinez never plays two wingers? We lose the ball far too easily in the final third.
That's why Cleverley will be a shoe in to start there when he's back, why we have missed Pienaar, and why Kone and Naismith have been playing there of late.
Deulofeu has impressed every time he's come on though, and he deserves a chance. For me, he must start. The other side, I'd actually start Naismith, only because he works harder than Kone, and he deserves the chance to rectify his form after Chelsea, although he wasn't great against Swansea. Kone was also awful against Reading, although credit to him for his resurgence. The rest of the team speaks for itself.
I think the team will be Lyndon's prediction though that Martinez will go with. Especially, as previous posters have said, Brunt will probably start left back, and Lennon can track him. But I think Deulofeu looks a more mature player than 2 years ago, give him a run of games, and then along with Barkley, have a really exciting front line.
Brian Harrison
64
Posted 28/09/2015 at 15:59:25
I wonder if people would be as forgiving for Naismith or Kone or McAleny if they had only scored 12 in 42 league games? At some point, RM is going to have to grasp the nettle and leave Lukaku out, not only for his good but also the team's.
I would love us to go for Jamie Vardy in the January window: he works hard, scores goals and runs behind defenders.
James Marshall
65
Posted 28/09/2015 at 16:03:19
Lukaku runs behind defenders and is often widely ignored by his team mates in possession.
Countless games I've watched him make runs and never get the service. I believe it's a myth that he doesn't work hard enough or make enough runs.
The problem is not Lukaku, the problem is the system we play which in and of itself doesn't play to his strengths.
Ste Blundell
66
Posted 28/09/2015 at 16:12:16
Does "underscore" mean "underline" in English?
David Milner
67
Posted 28/09/2015 at 16:51:07
Need to go for the win from the start. Looks unlikely that Coleman and Stones will not be risked, so here goes:
Howard
Browning
Jagielka
Funes Mori
Galloway
Barry
McCarthy
Lennon
Barkley
Deulofeu
Lukaku
Hope we don't see the headless chicken in the team as, apart from his hat-trick, in one match, has offered little else.

Mark Riding
68
Posted 28/09/2015 at 16:52:44
Martin Atkinson the ref on sunday against the shite.
Need to win tonight now !!!!
Colin Glassar
69
Posted 28/09/2015 at 16:58:33
Atkinson? Bloody hell!!
Peter Roberts
70
Posted 28/09/2015 at 17:03:15
James - are you mistaking Lukaku's "man runs in a straight line pointing 20 yards ahead whilst being in an offside position" as a run?
80% off what he does is "going through the motions"; he resembles a kid washing a car as some form of punishment, lazily slapping a wet sponge against the paintwork.
12 goals in 42 isn't because of his team mates, it's because he's bloody bone idle and couldn't trap a bag of cement.
I really do not know what it will take to get him going. He's getting the sort of stick that usually results in a performance... let's see what he decides.
David Keyer
71
Posted 28/09/2015 at 17:19:13
Bold Prediction? If he starts, Kone will score.
Tom Bowers
72
Posted 28/09/2015 at 17:20:26
I hate the tag ''winnable games'' if only because they are all winnable and just as much ''loseable''. We are all cautiously optimistic that the season may produce something much better than last given the somewhat stronger squad and better attacking options.
Defensively they have improved and, like all games, if they can avoid conceding an early goal like at St Mary's, then they should win if they take their chances, unlike the Swansea game. Lukaku may be the key as, when he is at his best, usually Everton get a good result. COYB.
James Hughes
73
Posted 28/09/2015 at 17:20:54
Good shout, Harold (#49). Against Swansea, Deulofeu fizzed one across the box about 2 yards from the goal — missed by both Lukaku and Naismith. Let's not waste these chances and be hungry in the box.
We should taking 3 points home with us tonight. COYB
Ray Roche
74
Posted 28/09/2015 at 17:36:35
James Marshall (#63),
So, what you're saying is that we have a manager who spunks our biggest cheque ever on a player and then doesn't know what to do with him or how to get the best from him? Sounds about right.
James Marshall
75
Posted 28/09/2015 at 17:47:36
Pretty much, Ray, yeah. I've never understood why he's forced to play with his back to goal all the time when everyone can see (inc Peter@68) that the kid couldn't hold the ball up if his life depended on it.
It's no coincidence he scores most of his goals running onto the ball.
I believe he's a good striker who will have a decent career but would score a lot more in the right system. I don't believe he was a waste of money.
Peter Mills
76
Posted 28/09/2015 at 17:58:30
I've talked with quite a few people over the past few days of Bob Latchford events about this business of Deulofeu fizzing the ball across the face of the goal.
Like others above, I get frustrated at the lack of a striker's toe to divert the ball into the net. But when Latchford was scoring he knew where, but more importantly WHEN the ball was going to be delivered by Dave Thomas. A degree of anticipation is needed or the striker is going to be offside, and it is impossible to anticipate at present whether Deulofeu will deliver after his fifth or seventh step over.
This is something which can be coached, or just learnt between good footballers, but they need a bit of playing together on the pitch to understand each other's timing.
Ian Jones
77
Posted 28/09/2015 at 18:31:49
I agree with those that have posted about Dave Thomas and Bob Latchford. For those not familiar with either, please take a look at videos on YouTube.
For the relationship between Gerard and Romelu to be productive, getting them both on the same wavelength takes time and matches.
I remember first time Gerard was with us, because he was unpredictable, the strikers weren't sure when to make a move. Sometimes they would go for a cross that never came. Other times they would hesitate and then Gerard would ping it over and no-one was there to meet it. Frustrating all around. However, own goals are useful.
Hopefully Gerard will play tonight to get beyond the WBA defence.
David Keyer
78
Posted 28/09/2015 at 18:33:02
Bold prediction: Kone will score if he starts.
Ian Jones
80
Posted 28/09/2015 at 18:38:26
David @ 65. Re headless chicken in relation to I assume Naismith. Bit harsh. Great hat-trick though...
Certainly not everyone's favourite including me (from a few years back, but he's a decent squad player).
Laurie Hartley
82
Posted 30/09/2015 at 23:14:04
OK Dave at 76 (and several other posts) your Bol prediction was correct ;)
Add Your Comments
In order to post a comment, you need to be logged in as a registered user of the site.
Or Sign up as a ToffeeWeb Member — it's free, takes just a few minutes and will allow you to post your comments on articles and Talking Points submissions across the site.
© ToffeeWeb