Jagielka makes history against Lithuania
12/10/2015

77 Comments [Jump to last]
Barkley scores opener for England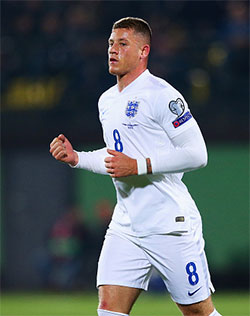 Barkley scored England's first goal with a deflected shot that cannoned in off the post
(Alex Livesey/Getty Images)
Phil Jagielka became the first current Everton player to start an England international as captain when he led his country out ahead of the Three Lions' 3-0 win in Vilnius alongside team-mate Ross Barkley.
Jagielka has taken the captain's armband before for a quarter of an hour of the friendly against Honduras last year but he made history as the first active Everton player to be named England skipper.
England are looking to finish the qualification phase with a 100% record by beating Lithuania having won all of their nine other group games.
"I'm pleased Roy came to find me to break the news that I'll be captain," Jagielka said. "Hopefully we can get the 10th win to finish off in style
"The squad is strong and it's up to us who will be playing tomorrow to go out and put in a performance."
Barkley got a second successive start in Roy Hodgson's team following his man-of-the-match display against Estonia and enhanced his growing stature in the England setup with a cracking shot from 25 yards that took a deflection before flying in off the post.
After an own goal by the goalkeeper off Harry Kane's shot in the fist half, Barkley came close to doubling his tally early in the second with a well-placed downward header but his shot was palmed away one-handed.
Alex Oxlade-Chamberlain did make it 3-0 after an hour with a powerful drive from close range that the goalkeeper couldn't keep out.
Barkley was withdrawn with 17 minutes left as Andros Townsend was given a run-out by Hodgson.
---
Reader Comments (77)
Note: the following content is not moderated or vetted by the site owners at the time of submission. Comments are the responsibility of the poster. Disclaimer
Timothy Sebastian
1
Posted 12/10/2015 at 05:54:25
This took me by surprise. I had thought that Alan Ball had been an England captain. But perhaps it was during his Arsenal days and not with us.
Ciaran Duff
2
Posted 12/10/2015 at 06:27:48
Well done Jags. He's having a great season so far.
Mark Andersson
3
Posted 12/10/2015 at 06:46:02
Well done Jags, is that sticky plastic grass there playing on.
Hope Ross and Jags play a blinder and come back un injured.
Patrick Murphy
4
Posted 12/10/2015 at 07:28:42
It's incredible to think that a football club almost as old as the FA itself has never had a player who has led England out in an International fixture, obviously Jags has taken over as captain during an England game on the odd occasion – but the FA don't count that in their lists of captains.
To be the first player to lead an England team out whilst representing Everton is a real honour for him and a richly deserved one at that.
Phil Sammon
5
Posted 12/10/2015 at 07:32:03
I've seen quite a bit of negative reaction about this decision so far. I wouldn't expect any less from your typical England fan though. He's been in great form for Everton despite an ever-changing back 4. He deserves to be first choice for England.
James Marshall
6
Posted 12/10/2015 at 07:56:17
Given that he IS the best English centre-half in err... England, and the most senior player in many ways, not to mention Captain of the good ship Everton, then of course he should be Captain.
I'm a great believer in having a centre-half as Captain of any side personally, so I don't think it should be Rooney; it should be Jags full-time.
Robin Tricker
7
Posted 12/10/2015 at 08:01:14
Some stupid comments on the Sky Sports page about this. Some saying he shouldn't be anywhere near the England set up.
Always Mr dependable whether he's wearing blue or whether he's wearing white. Well done Phil, you deserve it. Nice to hear someone genuinely grateful for the opportunity too.
Patrick Murphy
8
Posted 12/10/2015 at 08:08:03
As an aside but related to England, this man only represented England 3 times after his 22nd birthday. The FA and Everton FC or its players have very often not seen eye to eye. A good read from the Echo:
Patrick Murphy
9
Posted 12/10/2015 at 08:11:14
Here's that Dixie link again:
http://www.liverpoolecho.co.uk/sport/football/football-news/Everton-how-goal-legend-dixie-10227617
Trevor Lynes
11
Posted 12/10/2015 at 11:01:28
No I was wrong, he is the first in history!
Looks like we have never been held in high esteem even when we were winning things.
Kevin Elliott
12
Posted 12/10/2015 at 13:22:18
Congratulations Jags.
Well deserved.
Anthony Hawkins
13
Posted 12/10/2015 at 13:25:26
Looks like Dave Watson was Everton's last England captain.
Keith Glazzard
14
Posted 12/10/2015 at 13:37:45
And it couldn't have happened to a nicer bloke.
Dennis Stevens
15
Posted 12/10/2015 at 13:47:33
I don't think it's the same Dave Watson, Anthony.
Tony Abrahams
16
Posted 12/10/2015 at 14:08:36
Why are you such a great believer in the centrehalf being captain, James? Is it because you can see everything so it makes this position the best from which to organise the team?
I don't want to take nothing away from Jagielka, because I'm sure he has the respect of everyone he plays with, but I've never really been impressed with him as a captain. If actions speak louder than words, then give him the job, full time, but I don't really see him as a leader.
Say what I want but it's still going to be a very proud moment for a thoroughly decent professional, so I do think congratulations are in order for Phil Jagielka. Let's hope his team wins tonight.
Dave Abrahams
17
Posted 12/10/2015 at 14:15:35
Dennis (#11) yes I think it is the Dave Watson who played for Sunderland and Man City(?) amongst others; same position, centre-half, but a different player... much uglier than our Dave as well!!!
Mike Gaynes
18
Posted 12/10/2015 at 15:09:15
A well-deserved honor for a class act. Congratulations, Phil.
Chris Gould
19
Posted 12/10/2015 at 15:40:49
I would rather have seen him captain at home against Estonia instead of that twat Cahill. But of course Chelsea are far more important than Everton, and their man needs to be sent home to Mourinho, while Jags puts in the air miles before the big match against Man Utd.
Pleased for him, but in reality it's a match I'd rather see him miss.
Ian Robert
20
Posted 12/10/2015 at 16:19:33
I'm chuffed for him... great player... keeps his gob shut and is loyal to a fault. Well done, Jags.
Harold Matthews
21
Posted 12/10/2015 at 17:18:24
Apart from one tired performance at the Hawthorns, Jags has done a tremendous job of looking after the new boys at the back. Captain of England and Everton. I love it.
Tony J Williams
22
Posted 12/10/2015 at 17:26:56
Didn't Dave Watson captain a Chinese allstars team against England?
I think he was the first (only) player to play for AND against England.
I could be completely wrong though, I generally am!
John Hughes
23
Posted 12/10/2015 at 17:57:14
Tony: Dave Watson captained a Hong Kong "golden eleven" against England in May 1996, prior to the Euros. Game was played in Hong Kong as I recall and England won 1-0.
Jon Cox
24
Posted 12/10/2015 at 17:58:42
Well played Jags. I'll bet that's pissed the London chatter-arty off.
Gobshites the lot of them.
Patrick Murphy
25
Posted 12/10/2015 at 18:20:30
John (20) According to the England stats website David Watson of Everton and Norwich City earned his last cap in 1988 at the European Championships and he never captained his country in the 12 games he played for England.
Dave Watson
Obviously Dave may well have played in the fixture you mention but it hasn't entered the record books as an official fixture.
Mike Green
26
Posted 12/10/2015 at 19:32:20
Top achievement - well done Jags, seal it with a goal :)
Colin Glassar
27
Posted 12/10/2015 at 19:35:07
Good luck Jags. I know it must be a proud moment for you but I'd prefer you, and Ross, were rested for the Man Utd game. All the other players from the top teams were sent home except our two lads.
Alex Kociuba
28
Posted 12/10/2015 at 19:40:27
John Hughes, I can't find anything on Watson by Googling but I could of sworn it was a Singapore XI
David Greenwood
29
Posted 12/10/2015 at 19:49:10
Just making the same point Colin @24. Hope Bobby mentions it later in the week.
Eugene Kearney
30
Posted 12/10/2015 at 20:20:57
Ross Barkley's just scored.....
Ian McDowell
31
Posted 12/10/2015 at 20:23:03
Delighted for Jags and delighted Ross scored. Really nice to hear Hoddle talking about Barkley. He really appreciates the things he does well. Unlike a few others I have listened too on TalkSport.
Colin Glassar
32
Posted 12/10/2015 at 20:29:42
The Ox is having a mare.
Graham Mockford
33
Posted 12/10/2015 at 20:40:54
Alex (#27).
It was an unofficial England game into the run up to Euro 96. It was on that trip that the infamous dentist's chair happened that Gazza recreated after scoring vs Scotland.
Dave Watson did play alongside Michael Duxbury. It will be on YouTube no doubt.
Trevor Lynes
34
Posted 12/10/2015 at 20:45:58
Jagielka is the best centre back playing in the premier league.
Someone on here said he was not impressed with him as a captain, well ask all the kids who have played alongside him. Jags and to a lesser extent Distin have been irreplaceable in the development of Stones, Coleman and Galloway. Baines was far happier with Distin behind him and Pienaar in front of him. they allowed Leighton the license to run at the opposition.
What people do not see as important is how few times Jags gets booked or gives away stupid fouls in dangerous areas. Cahill and now Terry do it too often and Shawcross is one of the worst in the league for grabbing at corners. If Jags was like Shawcross we would be conceding penalty's especially against the top four.
Jagielka is a fine player, captain and ambassador for our club.
In fact Labone is the player that Jags reminds me of most. In Labone's days the game was played differently with two full backs and two wing halves. Three of the five forwards did no defensive work and really it was just Collins who covered the ground in the early 60's team. I played semi pro in those days and full backs never crossed the half way line. The centre half marked the centre forward period !!
It is so difficult to compare players of different era's as the game has changed so much tactically. The biggest change to the England game tactically was after the two hidings we got from that fantastic Hungarian side.
Jags stands out for me as he is hardly ever booked and does not give away stupid free kicks in dangerous places. Just compare him with the now OTT Terry, Cahill, Shawcross and Jones of Man Utd. Jags is the best but he is not demonstrative so is mainly unseen. BUT, he marshals the kids he is playing with, positionally he is outstanding and blocks so many shots. I would not swap him just yet for anyone !!
Guy Hastings
35
Posted 12/10/2015 at 20:47:07
Once again a TV pundit (Hoddle this time) talks as though Shaw was England's No 1 pick at left back and this is a chance for Gibbs (15 minutes of PL games this season apparently) to stake a claim.
Hodgson does nothing to suggest Baines is in his plans. If I were Baines I'd be tempted to think, "Fuck it, what's on a Tate Liverpool next summer?"
Brin Williams
36
Posted 12/10/2015 at 20:49:02
The Ox is having a mare - you foal you!
Ian McDowell
37
Posted 12/10/2015 at 20:53:55
Even Lineker is praising Barkley on Twitter:
"Like the way @RBarkley20 is developing as a footballer. Adding maturity and nous to an obvious talent."
Chris James
38
Posted 12/10/2015 at 20:55:36
Barkley done his reputation no harm in the last 2 games. Not exactly world class opposition, but nonetheless he's looked dangerous in both with assist and a goal. Can only be good for his confidence.
Max Fine
39
Posted 12/10/2015 at 21:10:28
Really pleased for Jags but personally I don't really rate him as captain of EFC. He isn't a natural leader - far too meek and mild for me. I'd rather have Naismith or Barry. He's still the most qualified for the role in this England side though.
Colin Glassar
40
Posted 12/10/2015 at 21:18:24
Good game by Ross. He's starting to look comfortable with England now.
John Aldridge
41
Posted 12/10/2015 at 21:32:59
"Where is this number 10 playmaker we were promised?"
I'm thinking Barkley may well fill that role nicely. He's come on leaps and bounds this season. Impressed with his composure during the last two England games - a dead cert for next summer if ever there were one.
Chuffed for Jags too, well deserved I say.
Peter Mills
42
Posted 12/10/2015 at 21:43:49
Good to see players with 4 shadows – brings back memories of my first night match at Goodison, when my dad had to explain it was due to having a floodlight at each corner! (I was very young...)
Si Cooper
43
Posted 12/10/2015 at 22:13:35
Ian (35) - why 'even Lineker'? The fella is on record saying how good the Everton team he played in was and he's always displayed a gentle bias towards us when appropriate. Obviously we are not his own personal favourite club but I don't expect us to be given the rapport he was able to forge elsewhere in his career. Lots of talk about Barkley tonight with no suggestion he needs or should want to look for a move to another club.
Stephen Bird
44
Posted 12/10/2015 at 22:21:53
Was it just me or did that ponce Shelvey look up about half a dozen times, see Barkley in space, then turn and find another option???
Gordon Crawford
45
Posted 12/10/2015 at 22:28:52
Stephen (42) I was thinking the exact same thing. I'm tired of the crap Everton players put up with. Some muppets are posting their team for the Euros and saying that's Baines is so 2010.
Gordon Crawford
46
Posted 12/10/2015 at 22:29:55
Oh and well done to Jags and Ross, they did good tonight.
Si Cooper
47
Posted 12/10/2015 at 22:33:13
Ross Barkley had the pitch sussed better than anyone else, though the ball got away from even him at times. His vision and passing was a notch above any other England player on show tonight, with the likes of Walker, Chamberlain, Gibbs, Vardy and Shelvey not doing their causes any favours.
Si Cooper
48
Posted 12/10/2015 at 22:48:42
Steven (42) - one of the most blatant / embarrassing was after Ross had taken a corner on the right. He was loitering on the right in acres of space and Shelvey just swung away from him to go down some blind alley. That will go as a mark against Shelvey's performance.
I thought Lallana tried to do too much on his own when others were available but everyone else seemed happy to keep Ross involved from what I saw. (Harry Kane wasn't likely to pass to anyone if he had half a chance of an effort on goal.)
Tom Bowers
49
Posted 12/10/2015 at 23:29:30
I have to agree about ''certain players'' being reluctant to give the ball to Ross for whatever reason, maybe to feather their own nest as Ross is competing against them for places, such as shithead Shelvey.
Anyway, despite that, Ross still had another fine game and I am glad he came off before the end without injury.

Eddie Dunn
52
Posted 13/10/2015 at 00:38:49
Well done Jags, a special time and a well deserved honour. Good for Ross too.
As for the talk of Baines, he has always played rather conservatively for the national side, and perhaps, without Pienaar, for us too.
Come on Bainesy, get fit, and show 'em what they are missing.
Andy Crooks
53
Posted 13/10/2015 at 00:47:19
I watched the game and saw for the first time the Ross Barkley who will be the subject of huge speculation next year. He is slowing things down, looking for a pass, developing controlled swagger, in fact looking the player that much better judges than me thought he was. He is, in my view, capable of being something really special.
Anthony Dwyer
54
Posted 13/10/2015 at 00:57:21
Brilliant to see Jags given the credit he deserves, he's been outstanding for us for years, even dating back as far as the days of Lescott. He's been in unbelievable form this season and for me was our most consistent performer last season too.
Since John Terry's recent decline, Jags has proven to be the best English centre-half around by a country mile.
A word on Ross now and I'm starting to worry he will be readily sought-after come January, or July next year depending on what happens. I watched the Rooney documentary the other day; I'd hate to see a repeat of his move now with Ross. I would love for Ross to do what Gerrard did at the RedShite: stay at the Blues and push us onto success.
Here's to hoping.
Harold Matthews
55
Posted 13/10/2015 at 02:33:31
Well done lads. Unfortunately, with everyone fit they'll probably be sitting on the bench in the Euros. Jags might start but Ross will have to make way for Rooney and Sturridge. Much will depend on the games against France and Spain.
England have massive problems in midfield. Carrick is a class DM but Milner may not be as good as the U21 lad Eric Dier who has been outstanding for Spurs. Delph, Henderson and Shelvey are not exactly Scholes, Lampard and Gerrard and even they weren't good enough. Roy has a very difficult task ahead and the lack of high quality experienced players will hinder his chances of success.
Craig Fletcher
56
Posted 13/10/2015 at 03:06:03
The international break has been pretty useful for Everton this time around. Seamus has proven his match fitness, and looked in good form v Poland; McCarthy was his usual dependable self in both of Ireland's games; Naismith would have got a bit of confidence back with his goal; Barkley has been in excellent form and got himself a goal, and Jags got the opportunity to captain his country.
Add that to Stones getting almost two weeks more off to recover from his injury; and hopefully Mirallas will be hungry to prove himself after his suspension / and being given the cold shoulder from Belgium.
Matt Traynor
57
Posted 13/10/2015 at 03:13:42
Anthony (#50),
It's the Catch-22 we're always going to be in. We want our players to hit the heights and propel us forwards, but as they do there will always be richer clubs ready to pounce. Even though our "True Blue" Chairman says we don't need to sell these days (thanks to the sterling efforts of, er, the Premier League in selling the broadcast rights), you just know it's the Everton model under them.
Maybe in a few years when we're sitting in the John Stones stand, or Ross Barkley stand, we'll understand. More than likely though we'll have taken out more expensively financed borrowings. Personally I'd name the toilets after the board....
Ciaran Duff
58
Posted 13/10/2015 at 07:17:32
Yes Craig (#52) - And Gibbo didn't get injured!
Paul Kelly
59
Posted 13/10/2015 at 07:40:40
Don't worry, Ciaran, he will.
Thomas Surgenor
60
Posted 13/10/2015 at 07:45:20
Max (#37), I couldn't disagree more. I think Jags is the perfect man for captain.
Last season, when times were tough, he was the man who went on 40-yard sprints with the ball, trying his best to kick us up a gear. This season, he is guiding a young back 4 through the game.
I know we all long for the loud-mouth, all-action, dirty-tackling captain. But I'm delighted with our considered, pitch-smart, trustworthy, mature and extremely responsible captain.
Everyone sees the game different and I doubt anyone on here knows Jags personally. So it's just my interpretation that he comes across looking like he is all those things I mentioned above.
Eddie Dunn
61
Posted 13/10/2015 at 07:56:38
Harold (#51); The midfielder who has real quality is Wilshere, but for such a young man, he has had huge injury lay-offs. I suppose that Roy would have to look elsewhere for his midfield maestro.
I saw Dier first hand at Spurs v Man City a couple of weeks ago and he impressed. He just did simple things well. I did see him put in another of those scissor tackles though!
James Marshall
62
Posted 13/10/2015 at 08:09:59
Any talk of Barkley leaving and comparisons with Rooney leaving are for me, wide of the mark. We sold Rooney when we needed the cash; with the TV money, now we have no financial pressure to sell Barkley.
You only have to look at the Stones debacle to see the same thing in action. If/when we do sell Barkley (or Stones for that matter), it will be at a time to suit player and club, not just because we need the cash.
Dean Peamum
63
Posted 13/10/2015 at 08:49:13
Tony (#21),
You're right that you're wrong. Bobby Moore played for TeamUSA against England in 1976 in a USA Bicentennial Cup Tournament that included Brazil and Italy.
Ian Cowhig
64
Posted 13/10/2015 at 09:05:06
I don't understand the views of some England, and even Everton, fans to Jagielka.
During last year's World Cup, he had one aberration, and that was being 2 inches too short to cut out what was a fantastic ball from Cavani to Suarez. The rest of the time, he was fire-fighting problems caused by Cahill's poor form. And doing it well. But unfortunately being tarred with the same brush.
I remember at the time, one of the commentators said that John Terry would not have got caught out with the cross. Well, all I can say is that he must have not watched the Helder Postiga goal, and at least one other that I remember that Croatia scored, when John Terry completely missed the flight of a simple cross in to the box.
I don't believe Jags has ever let anyone down in an England shirt. And he continues to be an excellent captain for Everton.

Paul Cherrington
65
Posted 13/10/2015 at 09:10:40
I have to say Jags is a great player and should be a starter but he's not captain material. He's not vocal or forceful enough for me, especially when it's kicking off.
Good points above re the commentators and the usual reluctance by certain Liverpool and ex-Liverpool players to pass to Ross. It makes me laugh how the favourites like 'the Ox' or Lallana or Gibbs can lose the ball or give it away and nothing is mentioned. But, as soon as Jags or Ross make one bad pass (probably the only one in the whole game) they're on it and cutting to the bench to see Woy shouting at them.
Peter Weaver
66
Posted 13/10/2015 at 09:28:19
The trouble is that so many of us have entrenched views that are held onto regardless of circumstances or vagaries in form.
Jagielka has been an excellent player and captain of Everton, albeit that he lacks the charisma of the greats like Labby and Ratcliffe. Osman and Hibbert were held by many to be shite regardless of some splendid performances 'in the Royal Blue' whilst Naismith has replaced them both in some fans' 'affections'.
All but the very best performers have good days and bad and should be judged accordingly. What we should recognise is that all the names mentioned have always given everything in the Everton cause.
Mark Cooper
68
Posted 13/10/2015 at 13:51:22
Alex Kociuba (#27), no, definitely 'Hong Kong Golden'.
Shelvey looked decent against 'San Marino' ffs? He absolutely ignored the Barkley option on a number of occasions last night, a bit like Gerrard used to with Everton players. Shelvey is not real international class, nor is Oxlade-Chamberlain... nor Milner come to that.
Les Martin
69
Posted 13/10/2015 at 13:59:16
Jags deserved to be England captain: solid and dependable as always... I bet Chelsea wished they had him, never mind Stones!
As for Ross, very composed and excellent distribution. The problem I always have is where is his best position... as, to get him involved, I like him with a through-ball at pace rather than from a standing start.
I really hope he gets picked for the tough friendlies coming up as I want to see how he copes with tighter marking and less space and to be under pressure when he has possession, but all the attributes are there and with growing experience we all hope he reaches that true potential.
Martin Mason
70
Posted 13/10/2015 at 14:03:43
Jags is shorter than some so he has a slight weakness in the air and it certainly does catch him out. He more than makes this up though with his fantastic tackling and speed on the ground. The answer is not to dwell only on his weakness but to cover his weakness and work with his massive strengths.
Jags has been one of Everton's best buys ever and has been a loyal employee to the club (servant is an awful word?) despite what I'd see as constant interest in him from other clubs. There are some nonsensical criticisms on here but for me none as crazy as those aimed at Jags. Like the very, very best, he's made his mistakes but, overall, he has been consistently very good.
Matthew Williams
71
Posted 13/10/2015 at 14:43:34
Played Jags...you deserve it!.
Ian Glassey
72
Posted 13/10/2015 at 14:57:56
Well said, Martin (#65).
Jags has been a great centre-back for us, and is very underrated by many fans. I will bet that his team mates love him.
William Cartwright
74
Posted 13/10/2015 at 15:51:18
I have been very vocal on several recent posts regarding the general negativity shown towards Everton by the media. They seem I even think Woy is using a cruel to be kind approach with Ross. I was interested to read the significant number of posts regarding the anti-Everton bias. However, I have not been aware of it in the reporting of the England setup except during the last World Cup. Reason being I just don't like watching the English games. They seem devoid of passion to me.
The question is then: Am I a biased, blinkered dimwit like nearly all Evertonians on ToffeeWeb, or again; is there some almost sinister reason why Everton are so resented by the press?
I've just read the BBC's story on the sportswriters views of who should make the cut for France next summer. Goodness me... some funny views on there!
Baines (who was he!):
Galloway (are they confusing him with Ryan Bertrand perhaps);
Stones (would make a good fill-in at right back perhaps); Jagielka (well forget his speed and character etc, apparently he's too old and too small);
Barkley? Oops I nearly forgot him (as do most of the writers).
I'm seeing a trend here. The reason is, you are not considered England material unless you are already pre-qualified in the big 5 (exception being the Redshites who are considered as top 5 in abstentia). The BBC's Klopp crap is driving me nuts...
So now I realize why I don't like watching England: The FA old-boy network has transmuted itself into the top 5 (plus Redshites) closed shop!. COYB!
Julian Wait
75
Posted 13/10/2015 at 16:24:59
I actually think Jagielka is great material for England captain, given the demands of a tournament and international football in general, and the need for calm and cool heads.
I understand the concerns re. passion for a premiership captain, but I think that argument falls away a bit in international tournament football.
More's the point, I don't think Hart is much different to Jags, and I don't like goalie as captain; Cahill is not fit to lace Jags' boots; Rooney shouldn't be in the side.
I actually think Jags should be first choice CB and captain for Euro 2016, with Stones alongside him as Vice Captain and future captain designate.
But it won't happen.
Mike Oates
76
Posted 13/10/2015 at 17:37:59
Barkley looked very comfortable last night: the weight of his passes were the best on the pitch, he kept possession when required, moved the ball quickly when required, and only lost it on the odd occasion he was put into trouble.
He also got into defensive positions when he had to and, for the first time ever, told players when he moved men on to them; all round, a very mature performance on a tricky pitch.
Jags was just Jags: totally dependable, totally committed and looked assured as I've seen for long time.
But it was only Lithuania; the test is next with Spain, France and Holland... fire-flies coming up.
Peter Weaver
77
Posted 13/10/2015 at 17:59:26
It seems to me that the media circus believes it is impossible to be 'a proper player' unless you play for a Sky Four club or Liverpool.
It is not only 'the Beeb' who subscribe to this view – just watch Sky's Sunday Supplement to have that line reinforced.
They tell me it used to be like this in Scotland until one of the proper clubs fell on hard times. Now they just slag every team off!
Paul Jeronovich
78
Posted 13/10/2015 at 18:28:25
Peter (#70), it is a piss off that you are expected to sell your best players each time a "Champions League" club comes calling. The worst are the Soccer Saturday panel for me, gang of arseholes. How the mighty will fall if the English Premier League is reduced to three Champions League places!
Jim Hardin
79
Posted 13/10/2015 at 18:38:08
Craig (#52),
You forgot to mention that Oviedo played a full 90 minutes for Costa Rica a few days ago and is expected to be in the line-up tonight versus the USA. Good to see him back and getting into game shape.
Garry Corgan
80
Posted 13/10/2015 at 23:00:01
Speaking of big club bias, isn't it nice to see Danny Ings is good enough for England now he's played three times for Liverpool. He clearly wasn't good enough while he was at Burnley.
Craig Fletcher
82
Posted 14/10/2015 at 08:02:07
True, Jim (74).
Great to see Oviedo being given some minutes. It would be good to see him maybe make a start in the League Cup game v Norwich. I can't see Galloway losing his first-team place in the interim, given his form, at least until Baines is match-fit anyways.
Paul Cherrington
83
Posted 14/10/2015 at 09:00:28
Garry@75 – that is true, he never got a look in before his move. same with Clyne – seems to be getting into the team now he's moved. Most journalists now even have him as certain right back for the Euros... ha ha.
I bet you if Jags had gone to Arsenal and Sones had gone Chelsea, they would be 100% nailed on CB combo for the tournament too. It's all so biased towards the favourite teams still as you say. Look at how Gibbs is getting in at LB with the Baines / Shaw injuries – despite being a bit rubbish.
---
Add Your Comments
In order to post a comment, you need to be logged in as a registered user of the site.
Or Sign up as a ToffeeWeb Member — it's free, takes just a few minutes and will allow you to post your comments on articles and Talking Points submissions across the site.
© ToffeeWeb