Martinez: Always a place for outstanding talent
by

55 Comments [Jump to last]
| 15/10/2015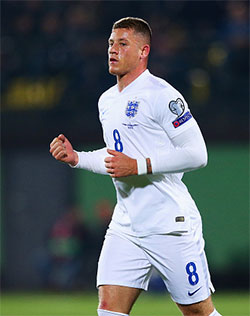 Martinez says that you have outstanding talent like Barkley, he has to be in the team
(Alex Livesey/Getty Images
Speaking in the wake of comments made by former Leeds manager, Neil Warnock, Roberto Martinez says that when you have players with the ability of Ross Barkley, you just have to "fit them into the team".
Everton's 21-year-old star has made an impressive start to the new season for both club and country, eclipsing his tally of goals and assists for all of last season by mid-October for the Blues and scoring twice for England in Euro2016 qualifying.
Those match-winning contributions have been in stark contrast to a difficult 2014-15 in which Barkley's form mirrored that of Everton as he struggled to live up to the promise of his breakthrough campaign under Roberto Martinez the season before.
They have also re-ignited the national debate over where is his best position and whether he should be in the starting line-up for England's two high-profile friendlies against Spain and France next month and then Euro2016 beyond that next summer.
Roy Hodgson has said it is up to the player to maintain his club form over the next month and keep himself at the forefront of his international manager's thinking but the feeling is that he will opt for a more predictable and defensively-minded midfield line-up.
Warnock made waves this week when he weighed in on the debate with talkSPORT, saying that he "fears the worst" for Barkley because the midfielder "can't be given any responsibility" when it comes to the defensive side of his game.
Warnock managed the Wavertree-born star during his brief loan spell at Elland Road in 2012-13 and famously sent Barkley back to Goodison because he couldn't find a place for him in his Leeds team. Martinez, of course, blooded him in his first match in charge of Everton the following August where he scored his first goal and began his initial rise to prominence in the Premier League.
"I think the best position [for Ross] is on the pitch. [W]hen you've got outstanding talent, you just need to fit it into the team.
Roberto Martinez
"I had him on loan and the problems I had then, Roy is going to have," Warnock said. "He has got super talent, but he can't defend, he can't take responsibility in his own half.
"If you play Ross, you have got to let him have his way, you have got to let him have that free role behind a striker, the third midfield man if you have to with two good anchor-men. But you can't give him any responsibility and, if Roy is in doubt, he will go for the defensive type of player. I fear the worst for Ross."
Warnock, who is out of managerial work at the moment after an unsuccessful stint in charge of Crystal Palace, acknowledged Barkley's star qualities but voiced his doubts that Hodgson will be as bold as Martinez has been in making him a focal point of the team.
"If you play to his strengths and let him have that freedom, he could win you games," the 66-year-old continued. "But will Roy let him have that freedom?"
Not surprisingly, Martinez disagreed with the sentiment when probed on the topic and Barkley's best position at his Finch Farm press conference this afternoon ahead of the visit of Manchester United on Saturday.
"I think the best position [for Ross] is on the pitch," Martinez smiled. I think when you've got outstanding talent, you just need to fit it into the team. There is no right answer; it depends on what role you want him to do, what role you want the team to have on the day.
"What is clear is that he's a sensational prospect who is still a very young man. I'm a bit surprised at the hype that has developed just because of the two performances with England [as] we have been seeing Ross hitting those levels since the start of the season... We see it week in, week out from someone who has been so much and it's not so much the sign of a potential player anymore. He's a very strong footballer with incredible quality and as with any player of that class, it depends on who you put around him and how you play the game. Nothing else."
---
Reader Comments (55)
Note: the following content is not moderated or vetted by the site owners at the time of submission. Comments are the responsibility of the poster. Disclaimer
Colin Glassar
1
Posted 15/10/2015 at 18:42:22
Dinosaurs like Roy and Warnock want players to be multi-disciplined like Rooney who can, and would, play anywhere hence his decline since he left Everton.
England has never really learnt to use its really talented players to their full capacity e.g. Hoddle, Bowles, Currie, Hudson, Worthington, Scholes and now Ross. Gazza was an exception as Sir Bobby was more than happy to play Gazza, Waddle, Beardsley, Lineker etc....in the same team and we almost won a World Cup.
Ross can't defend, he can't tackle and he's not a great header of the ball but he's almost unstoppable when in full flight so play to his strength and don't try and make him a jack of all trades like they've done with Rooney.
Joey Brown
2
Posted 15/10/2015 at 18:50:21
I think the only real question is if Ross is better behind the striker or sitting deeper as more of a box to box. He plays both really well in an attacking sense. But he can find the game more sitting deeper.
Mike Allison
3
Posted 15/10/2015 at 18:53:05
It seems to be a classic English thing in all sports. You drop a player because of what he can't do, rather than pick him because of what he can do. It's a major reason why we never win anything.
Talented players seem to make English managers feel inferior, generally because they are, and they want to be 'in control'. Quality, confident managers know to send the players out there and let them play. Brian Clough took Forest to the European Cup twice on this simple idea.
Dave Roberts
5
Posted 15/10/2015 at 18:57:52
I know another fella who can't defend. I think his name is Messi.
Chris Regan
6
Posted 15/10/2015 at 19:03:38
Yeah, Neil's right, I was watching Lionel Messi piss all over Valencia last season and then bladder opponents in the Champions League, the little fucker never tracked back once. Neil would have sorted him out years ago if he was in charge.
We Evertonians appreciate that in a game of skill, skill is the most important attribute a player can posses. So give Roberto his due for letting Ross play his game.
Peter Cummings
7
Posted 15/10/2015 at 19:06:25
Far from being labelled an idiot for voicing an opinion on Barkley's shortcomings I think Warnock makes some valid points.

All Evertonians know the lad still has a long way to go to make it big in the game despite the ability he has. His decision making is poor at times, he tends to over elaborate and hesitate when shooting opportunities arise and tends to hit the deck too easily when tackled.

No doubt about it Ross CAN and will come good it's just a matter of time.
Craig Fletcher
8
Posted 15/10/2015 at 19:12:28
Mike, agreed.
I'm surprised there is even a debate around this. Surely if you have a potential game-changer in your side – Stokes, Botham, Gascoigne, Ross Barkley – why would you think twice about playing them?
None of the above ever did it in every game, but they also have the ability to single-handedly win a match when it matters. That is what gets the fans excited. Hence we still remember Botham in 81, or Gascoigne in 86.
Coming back to Euro '16, there are enough "safe" players in the English midfield already (Henderson, Milner, Carrick). Surely those dinosaurs that Colin referred to can see they need something extra if they're really bothered to try to win that tournament? Otherwise, if they go with the "predictable" lineup next year, Euro 2016 will likely join the football, cricket and rugby World Cup in English sporting failures.
Mark Riding
10
Posted 15/10/2015 at 19:22:56
And Neil... Me Nan wants her bedding back....
James Stewart
11
Posted 15/10/2015 at 19:24:10
I'm all for a healthy debate but anything Warnock says doesn't really merit one. The English game is full of morons like him from root to branch and it's exactly the reason why the national set-up has been a complete train wreck since Hoddle.
David Holroyd
12
Posted 15/10/2015 at 19:29:22
Warnock is right: Barkley cannot do some things... but how many of the current Squad can pass the ball through for Walcott's goal? Certainly not Milner who hardly ever passes forward. So, if we want to eventually win something, don't pick 10 Milners.
England rugby has just found out that 15 players who will run through a brick wall is not going to win you anything.
Anyhow, what do people like Warnock or big Sam at Sunderland ever win?
David Hallwood
13
Posted 15/10/2015 at 19:30:15
I posted in another thread that Ross isn't considered a starter by Woy – and probably not even second-string for the reasons that most of the posters have given. Sadly the Warnocks of the world are and have always been the perceived wisdom in the UK.
I would add Beardsley to the names already mentioned as a player who Howard Kendall stated "didn't score enough goals to be a forward and didn't tackle enough to be a midfielder"
We've always been suspicious of 'luxury' players (whatever that means), so my advice to Ross if he wants 100 caps... Get Shut! Track back! Work! Work!! Work!!!
Brian Williams
14
Posted 15/10/2015 at 19:41:04
The good old English way... hard work, hard tackling, tracking back, clocking up the miles... a complete load of bollocks. England (and probably other British nations) train individuality, skill, and uniqueness out of players from the age of five or six.
None of those fancy Dans for us – just get your head down and run yourself into the ground. That's the reason we're years behind even emerging countries in technical ability and individual skill... pisses me right off!
John Otway
15
Posted 15/10/2015 at 19:48:14
Neil Warnock is an anagram of Colin Wanker. I rest my case!
Brent Stephens
16
Posted 15/10/2015 at 19:50:50
Warnock is full of praise for Ross's skills. Can't argue with that; he's right.
He highlights Ross's defensive limitations. Can't argue with that, he's right. He wouldn't pick him. We would. All that needs to be said.
Barry McNally
17
Posted 15/10/2015 at 19:59:44
Neil Warnock aka Colin Wanker, 11 points on Countdown!
Philip Yensen
18
Posted 15/10/2015 at 20:00:07
Neil Warnock, the sage of English football. The tit needs stuffing. One of the great football coaches... not.
If you took his teeth out and put seats in, then he'd be a great coach.
Barry McNally
19
Posted 15/10/2015 at 20:01:18
John @ 14, sorry you beat me to it! Once A Wanker.....
Gerard Carey
20
Posted 15/10/2015 at 20:04:21
Top marks to RM on this, I am only interested in what Ross does for Everton. Hodgson is a dinosaur, he proved it at the last finals. If Ross played for any of the Sky 4, we would not be getting all this rubbish.
Teddy Bertin
21
Posted 15/10/2015 at 20:06:23
I don't think Neil was having a pop at Ross. It was a pop at Roy's historically conservative nature. There are loads of game changers out there who can't defend but he was saying he fears the worst for Ross because, when England come up against tough opposition, Roy will play it safe.
Ross isn't a player you can trust (or need) when parking the bus. I disagree with him though, I think Roy has shown from his first game in charge that he was willing to pick young players like Sterling and Barkley, throw them into big games and attack teams.
Lewis Barclay
22
Posted 15/10/2015 at 20:43:02
Warnock. Hodgson.
Don't care.
Paul Thompson
25
Posted 15/10/2015 at 21:05:03
Warnock was only saying what many posters have said on this site many times, particularly last season. And for that he's a wanker?
The better response would be to say that he's moved on and up, certainly since his time at Leeds and in his play this season.
John Pickles
26
Posted 15/10/2015 at 21:08:01
Quite right, Colin... er Neil, and while we're at it, get rid of that Stones bloke, 'cos he's never looked like scoring 20 goals a season!
Brent Stephens
27
Posted 15/10/2015 at 21:28:38
Paul #21 - good observation. That probably leaves some ToffeeWebbers calling other ToffeeWebbers wankers.
Ray Roche
28
Posted 15/10/2015 at 21:31:13
I posted on TW some time back how naffed off Leeds fans were over the treatment Barkley received from Warnock. Somehow, I can't get that Was Not Was song out of my head... something about walking the dinosaur.
Thick Yorkshire Twat.
Callum Lapsley
29
Posted 15/10/2015 at 21:36:47
Messi would never get in the England team, he never defends!!!
Tony Abrahams
30
Posted 15/10/2015 at 21:37:28
Everybody has got an opinion, and it's true that Barkley has got loads to learn, but It just depends on the manager really. A good manager will try and integrate, or even build a team around such players, whilst a journeyman manager, will always be worried about what the player can't do.
England have got some very good footballers, but they are never going to move,many levels above average, if they continue to pick good honest players, over raw ability.
Julian Wait
31
Posted 15/10/2015 at 22:14:09
100% agree with Colin "the oracle " Glasser at #1.
Indeed, Scholes couldn't tackle, and we winced when he tried to. For all his work rate Beckham couldn't tackle either. Gascoigne got sent off for at least one horrendously badly timed challenge. Both had long England careers, and Scholes' probably should have been longer.
I think Ross gets stick for not diving around like a Jags or a Stones, or running around like a headless Rooney, but that's not his job. I wish he'd defend more, but not at risk of injury or getting so tired he can't win us a game (slide tackles and up and down off the pitch is very tiring and hard on the body - look at Rooney now ... ).
Kieran Kinsella
32
Posted 15/10/2015 at 22:31:00
Bit of context here but Warnock had him at Leeds – a big club in a bad spot on and off the pitch. Not the environment to blood a rare talent but rather a job where you need blood and thunder work horses.
It was a poor decision by all to send Ross to that team at that time. He'd have fared better in a team like the old Crewe of Dario Gradi.... A team with no expectations that plays nice football so no one gets mad if you mess up but people love you if you do well.
With England, Warnock is merely saying that history suggests Roy would rather field a team of work horses rather than worry about fitting in real talents.
Jeff Armstrong
33
Posted 15/10/2015 at 22:37:34
Thought the comments where more a pop at Hodgson than at Barkley, he was basically saying Hodgson does not want luxury players when playing the likes of Spain, Belgium etc.
He prefers grafters like Milner, Townsend et al. Quarters at best then... who gives a fuck as long as he produces for us.
Danny Broderick
36
Posted 15/10/2015 at 23:25:41
I honestly don't know what to make of Barkley.
On the one hand, he could be a superstar. On YouTube there must be some amazing clips of him. If you watch his highlights, again, he looks fantastic. He has the physique, and maybe an unrivalled talent in the Premier League.
However, he also has a tendency to trot around the pitch. I see some similarities with maybe Le Tissier, Kinkladze, Bilyaletdinov... players like that. On a bad day, having him in the team is like being down to 10 men.
I just hope he has more good days than bad days. If he becomes a Le Tissier, scoring his fair share of goals, I can more than live with that. If he becomes a Bilyaletdinov – playing shite but popping up with a screamer every 10 games or so – then I'm sure we'll all get frustrated that he's not nailing down the number 10 position.
I guess it's all down to Ross. But he's got to be getting into double figures for goals and assists playing as a Number 10. If he can do it – brilliant. I've just got a nagging doubt that he is lacking a bit of drive sometimes.
I have a similar doubt about Lukaku. Can we really afford to have 2 players trotting about on an off day?
Harold Matthews
37
Posted 15/10/2015 at 23:46:33
Ross is a big heavy lad. If he raced around like Naismith, he'd be knackered within 20 minutes.
The same goes for Lukaku. No matter how fit these guys are, they have to carefully pace themselves in order to last 90 minutes. They may have stamina issues but also have the instantaneous explosive power of match winners. Something the water carriers don't have.
I hope Ross doesn't try to change things to please Hodgson. His performances have helped us recover from last season's disaster and his team-mates understand and fit in with his game. Let's hope the upward trend continues.
Tony Hill
38
Posted 15/10/2015 at 00:02:12
Quite right, Harold. Hodgson is a tedious plodder and a menace to someone like Barkley who operates by instinct. As if such a dull manager could comprehend the process which lay behind Ross's pass for Walcott, or the freedom and joy of one of his wonderful runs.
Martinez is saying and doing all the right things. Yes, this young man still frustrates and gets things wrong but he is a unique player, like no other I can recall seeing and when Derek Temple says he reminds him of Duncan Edwards (who he played against) then we have someone very special indeed on our hands.
Anthony Dwyer
39
Posted 16/10/2015 at 00:49:19
I couldn't care about the national side to be honest, but if Barkley is used to the best of his ability then he needs a free role. Most times England only play one striker anyway so it's up to Ross to earn the roll behind the striker or prove useful enough out wide.
In my opinion he is not suited to the wide roll although he had been effective in certain games on the left. He is much better suited to the central rolls either behind the front man or in an out an out centre midfielder position.
He would probably have to oust Rooney to get his preferred roll as I'd guess Sturridge, Walcott or Kane will start as the main striker, but there is a place for both Rooney and Barkley in my opinion.
Sterling, Barkley and Rooney could be the three behind the one striker but again there will be lots of competition.
Mark Riding
40
Posted 16/10/2015 at 00:53:51
ITV marvelling about Ross shooting with either foot. That's cos he had some horrific injuries, and learned that skill.
ITV talking about him having the odd 'dive' out of a tackle? That's cos he had some horrific injuries, and learned to avoid a bad tackle.
No wonder I prefer watching with the sound off.

Jamie Crowley
41
Posted 16/10/2015 at 03:22:13
Forget about England. Ross plays for Everton with McCarthy and Barry behind him (mostly).
Why the hell would you be worried about tracking back with those two pit bulls behind you?
That's one man who is tough as nails and tracks the opposition down like a gnat on cocaine (McCarthy), and another who defensively is as solid as they come, tackles hard, and distributes fantastically (albeit not too glamorously) to get us moving forward (Barry).
If I were Ross's manager, which I am not clearly, I'd tell him to never track back and get in position to receive the ball when we win possession and then run at the opposition and scare the living shit out of them. Especially with our 2 midfielders currently doing one hell of a job, in front of a very solid back four. That's six defenders taking care of the defensive responsibilities (seven with Howard / the keeper for those of you who detest Tim). Why the hell bitch at Ross to drop deep defensively??
As others have said, why (WHY!!!) coach a kid away from his natural attributes and talents? Let him do what he does well and help the team.
It all comes from what, I'd argue, Evertonians detest. A manager who plays defensive minded, defend first, boring fucking percentage football. Be that Hodgson or Warnock.
Ross off the leash is gold and exciting. Ross tracking back and defending, thereby losing the golden bullet in his arsenal?
Madness, stupidity, linear thinking... crap.
Julian Wait
42
Posted 16/10/2015 at 03:43:49
@Jamie – I agree, and to me it's like watching Man Utd •ndash; and the man himself – wasting Rooney's talent, anywhere more than 35 yards from the opposition goal, and running himself into the ground in the process.
Ross, when we're defending in our half, stand on the half-way line, hands on hips, and looks asleep until we get the ball...
David Ellis
43
Posted 16/10/2015 at 05:15:53
Craig (#16) – if you remember Gascoigne in '86 it was a hallucination – he was Italia 90. We almost won it in '86 with a team stuffed full of Everton players... if only Bracewell had been fit there is no way the Hand of God would have intervened to eliminate us.
But your point is spot on. A player like Gascoigne is the difference between a team that can get to the quarter-finals of a World Cup and team that can win it. You have to play Barkley – if he is on form.
However, I care much less about the England team's fortunes than I used to... and I blame John Terry and Ashley Cole for that... just completely odious individuals.
Ian Bennett
44
Posted 16/10/2015 at 07:28:34
But he can't tackle, or mark at set pieces....Martinez is the foul for brining him back for corners, rather than Rom. This thing has to stop now. I wonder how much of this problem comes from that bad leg break, and big amount of lost playing development.
Ross does bottle big challenges, and it would be interesting if he has been advised to protect himself to protect a big pay day, whether he was always like that, or whether it's just a personal protective thing.
He's a top player, built like a tank and has great skill. Perhaps he will just be a play maker, rather than that all action Zidane/Gerrard type. Not the end of the world, but goals and assists will have to increase.
Ian Jones
45
Posted 16/10/2015 at 07:35:38
Roberto smiling as he made his comment 'I think the best position (for Ross) is on the pitch' sums it up for me. Perfect come back to Neil Warnock's comments. Assume he was sent back to Everyon after his month's loan as Warnock couldn't find a way to use Ross
Perhaps Roberto could have added 'Neil Warnock 'can't be given any responsibility when it comes to being a Manager' but that's not Roberto's way.
However, as many have said Neil Warnock does have a valid point or two about Ross.
Jim Lloyd
46
Posted 16/10/2015 at 08:41:40
I think Warnock was just giving his view on how the England manager is likely to go for "dependable" run through brick wall, automatons as first choice players....just like Neil Warnock would do!
Colin was right in saying how many top class, skillful, players have been left to rot by English managers, because our game since Alf Ramsey's time has generally been automaton mode.
I differ slightly from his view though. I think it was Bobby Robson who was the difference, not Gazzer. He wasn't afraid of playing the skillful lads who "couldn't be handed defensive responsibility."
I think Barkley does have a lot to learn but the only way to learn it is out there on the pitch (well said Roberto.)
He can't tackle for toffee and runs up blind alleys at times. His decision-making as to when to pass or when to shoot can let him down at times and he does tend to fall to the floor too easily when he sees a tackle coming.
Well, I think if I'd had my leg broken in three places when I was 16 or 17, then I'd be wary of some of the horrible scissor tackles that fly in now, which are becoming more prevalent.
As for his decision making and running into blind alleys, that's part of his growing up. Another young player who does exactly the same was bought by Man City for 㿞 million. Only Ross is better than Sterling. He can send in rocket shots with either foot, give sublime passes, as per the England goal and he can bring the ball out of defence in the blink of an eye.
He may never want to get involved in the tackling side of the game and I wouldn't blame him.
As the Gwladys Street say "We've got a Diamond"
To some numpties, he's a lump of coal.
Peter Weaver
47
Posted 16/10/2015 at 10:00:39
Of course Warnock made some accurate comments about Ross although they were in the context of his usefulness to Leeds at that time.
In doing so he expressed reservations about the lad that have appeared here ever since the lad emerged as a peculiar talent.
The difference, of course, is that he is 'our' Ross and we can speak as we find. What 'outsiders' think about him is totally irrelevant.
Robbie Shields
48
Posted 16/10/2015 at 10:02:03
All this shite about Barkley "Not making the right decision at times" is a joke. The lad completes a ridiculously high percentage of his passes, plus he's expected to do the hardest thing in football, create chances for teammates around a congested penalty box, and do it all perfectly every bloody time, AT 21!!!!! FFS.
Name one player EVER who has consistently created chances for his team, NEVER had the ball taken away in the process and always made the right decision!!!!! THEY DON'T AND HAVE NEVER EXISTED!!!!!
Martinez is the perfect manager for Barkley , he's nurturing him, letting him express himself and he's correctly building a team around him. Anyone who can't see just what Barkley brings and how Martinez is developing the team around him suffers from Warnock vision IMHO.
The comments about Messi not being able to defend are 100% accurate, that lazy git Maradona never tracked back, nor that muppet Pele. But then again, Moyes had Marcus Bent running himself into the ground like a dog chasing a frisbee, trying to catch the ball off defenders when there were 4 defenders and 1 so called striker. The only problem was that when we won the ball and needed to attack, Bent was knackered and standing still trying to get his bloody breath back, desperately hoping Arteta would win a cheap free kick as soon as someone looked at him.
Do we want that for Ross??????? I fooking don't. Thank god we have someone like Martinez and not Moyes, Woy, Allardyce, Bruce or Warnock; if we did he'd quite rightly be looking to bugger off and play football the way he wants to, just like Rooney did.
We all need to accept the fact that with creativity comes frustration and sometimes failure, but when it works it's wonderful and it's those types of players and teams built around them that win rather than not get beat.
Jay Woods
49
Posted 16/10/2015 at 10:21:43
Robbie Shields... You're the one who is talking, erm, nonsense. Barkley is infuriating in his decision-making and most of us have the eyes to see it. What are you doing when you watch him play?
Colin Williams
50
Posted 16/10/2015 at 10:37:30
Robbie#43... Well said mate. Top comments!! Glad some blues appreciate the lad and.... understand how difficult it can be trying to create/ score within the last third... Especially when teams defend this area with nine or more players.
Also, I've said many times, when the ball is lost, all players will defend during this phase... Different players will defend in various ways in different areas – depending on the manager's game plan. Please don't expect Barkley, Lukaku, Kone, etc – offensive players – to defend like Jagielka, Stones..... and vice versa during the offensive phase of game. It won't happen.

Liam Reilly
51
Posted 16/10/2015 at 10:57:41
Agree Robbie on the shite about decision making from Barkley. I'd like to see him given license to take more risks around the penalty area and make him entirely unpredictable for defenses. He'd lose the ball more often but I suspect he'll thrive on the responsibility.
Talksport; why would they even have a dinosaur like Warnock on the show? Of course he didn't fit in to his Leeds side packed with watercarriers and very little talent. The guy wants 11 defenders - says it all really.

Antony Matthews
52
Posted 16/10/2015 at 10:58:41
Warnock.... the man with a face for radio.
John Voigt
56
Posted 16/10/2015 at 12:03:51
How old is Ross Barkley??? Does he have to be an instant star and main focus... I'm all for working him in at his tender age as an impact sub... What's wrong with that??? Need a goal or play made the last 30 minutes... Put Barkley in...
Also, I see a bit of improvement on the defensive side of the ball... Not a lot but I do see Ross taking more responsibility...
As far as I'm concerned it's all good!

Steve Hopkins
57
Posted 16/10/2015 at 13:32:23
Agree or disagree with what Warnock says, his opinion is very poignant in that it reflects the views of the majority of managers in the British game including the current England manager and our ex manager David Moyes. Under Moyes, Barkley came in to the team and was just as quickly frozen out after Moyes decided that his attacking talent was outweighed by his reluctance to defend and put in a shift.
Ross should thank his lucky stars to have Martinez as manager, someone who will accept him for the player he is and not chastise him for an occasional mistake or unwillingness to defend. Apart from maybe Wenger or Guardiola I can't think of many who would allow him to play with flair, freedom and so little pressure.
William Cartwright
58
Posted 16/10/2015 at 15:18:46
I read Neil Warnock's comments more of a criticism of the British management system, and including his role in that, rather than a criticism of Ross.
Anyway, Roberto's response was top drawer. No antagonism, no tension just a simple, humorous and straight to the point dismissive.
My respect for Roberto is increasing this season big time. If we get through the next 2 games with 2 or more points the we are quietly moving towards top 4 potential, under the radar. If we achieve it then holy shit, Roberto deserves a big, big bonus and a thank you from all of us. Let's believe that sometimes the nice guys do win...
Tony Marsh
59
Posted 16/10/2015 at 17:01:17
That Ronaldo Lad at Real Madrid is a crap defender.
No way he would make the grade in England. I mean, he was shite at Man Utd, wasn't he? Ha Ha. Dickheads we have in our game.
Christine Foster
60
Posted 16/10/2015 at 20:12:55
If you build a team around Barkley, you build it to cover his deficiencies and maximize his potential. Every player is the same, every player has strengths and weaknesses as a manager you build a team for cover the shortfalls and get the best they have to offer.
Every player should NOT be the same. Run and Run faster again is NOT the ethos for success. This is a Team game, build it so that it works as a team and allows the gifted to excel. As someone said just because they will all run through a brick wall doesn't give you success. You need craft, guile and skill to unlock highly effective defences not workrate...
Andy Meighan
61
Posted 16/10/2015 at 22:08:29
Brilliant post from Jamie 36 and totally right.

As for Warnock, well he obviously knows his stuff. I mean look at the way Palace have struggled since day he left. I bet their fans are kicking themselves.
Kase Chow
62
Posted 17/10/2015 at 00:15:29
To be fair chaps:
Old Woy picked Barkley for virtually every squad last season despite being in crap form.
And at Everton we actually DO play 2 defensive midfielders behind Ross to make up for his defensive deficiencies and allow him the freedom to be class in the offensive third.
Aren't we all being a tad defensive? But, aside from that, Ross has been Boss this season.
Paul Cherrington
63
Posted 19/10/2015 at 09:27:00
The only thing I would say re Roberto's response is that you have to build a team around players like Ross, rather than fitting them in to an already fixed formation. I would totally do that as it would allow him the freedom to express himself without worrying about tracking back too much. To be fair, Roberto does do that with Barry and McCarthy behind him at Everton.
The only other thing I would say is that, although he isn't in there to track back and defend, Ross should still make the best effort he can to mark space and try to get his foot in a bit when we lose it. Even Gazza would do what he could to help the team out in that regard (with variable results... but that's another story).
Add Your Comments
In order to post a comment, you need to be logged in as a registered user of the site.
Or Sign up as a ToffeeWeb Member — it's free, takes just a few minutes and will allow you to post your comments on articles and Talking Points submissions across the site.
© ToffeeWeb