Cleverley could feature against Arsenal
by

39 Comments [Jump to last]
| 21/10/2015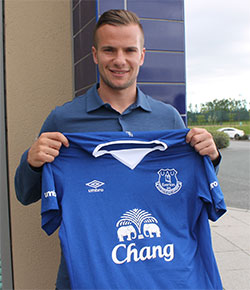 After featuring in last night's U21s game at Goodison Park, Tom Cleverley feels he is ready to play a part this the weekend if called upon by Roberto Martinez.
The midfielder, who has spent the past seven weeks on the sidelines with an ankle ligament injury, played an hour in the Premier League U21 International Cup defeat to Schalke 04 and he says he feels strong enough now to return to first-team duty.
"There's nothing like playing football in competitive matches, so it was nice to be back." he said in the Liverpool Echo.
"I came through okay, I felt quite sharp, especially in the first half, and for me, personally, it was a good hour under my belt and a big step in my rehab. It was always the plan to get 45 minutes to an hour, so I'm pleased to come through it.
"I'll see what the manager thinks, see how he feels I did tonight and hopefully I wake up in the morning, everything's fine and I'm available for Saturday if he wants to use me."
A free-transfer acquisition over the summer following the expiration of his contract at Manchester United, Cleverley had settled quickly into his new surroundings and was already winning Evertonians over with his performances against Watford, Southampton and Manchester City before a controversial tackle by Eric Dier saw him stretchered off at White Hart Lane at the end of August.
The 25-year-old is eager to get back into the side and thankful that the injury wasn't as serious as he first feared.
"I felt like I was settling in well and hit the ground running but I was quite lucky initially," he continued. "I thought it was much worse at the time, so to be back on the pitch in seven weeks, I'm delighted with. I feel lucky and hopefully I can take that final step in my rehab and get a game for the first team soon.
"I'm a naturally fit lad, so it shouldn't take me long to get my legs back and, as long as my ankle is 100 per cent, I'm confident I can get back to form and help the lads."
---
Reader Comments (39)
Note: the following content is not moderated or vetted by the site owners at the time of submission. Comments are the responsibility of the poster. Disclaimer
Denis Richardson
1
Posted 21/10/2015 at 18:11:22
Dare I say, Arsenal away is probably not the game to be bringing back a first team player who's been out for 2 months and only just played an hour in a reserve match. Stones and Coleman both came straight back into the team last weekend and it didn't exactly turn out well.
Personally I'd pick one of Mirallas or Deulofeu in the starting line up to give them something to think about. Delboy didn't do too badly the last time he played Arsenal away....
I really hope we don't start with Naismith or Lennon on Saturday.
Minik Hansen
2
Posted 21/10/2015 at 18:56:18
Denis I agree with you, though who knows if Cleverley plays, he is a naturally fit lad, he could do one hour or the last 15 mins.
Mirallas must play soon and Deulofeu must feel 100% confident against the Gunners.
Darryl Ritchie
3
Posted 21/10/2015 at 19:23:15
Start him on the bench. When we are up 3 goals, put him on and give him a bit of a run. He's been out a while. It's one thing to be fit; match fit is a another thing entirely.
Jay Harris
5
Posted 21/10/2015 at 19:44:12
The problem with Mirallas is he has now been out for so many games himself.
We should not have broken up a winning team. Players coming back from injury should be made to wait for their place unless it is critical they are put straight back in.
Barry McNally
7
Posted 21/10/2015 at 20:23:05
Good to see Luke Garbutt back playing for Fulham following his injury.
Steavey Buckley
8
Posted 21/10/2015 at 21:36:13
I maybe wrong, but Everton do appear to have too many average players. Good on their day, but don't strike fear into the opposition. I hope I am wrong. But in too many games this season, Everton looked average. And only looked good when they got at the opposition.
Yet, this type of effort does falter when players are not focused and are tired, just like against Manchester United.
Paul Thompson
9
Posted 21/10/2015 at 21:44:38
It will be too early at least to start on Saturday. But I'm glad he's back. Cleverley will make us more mobile in midfield, I suspect at the expense of the increasingly ponderous McCarthy.
Christy Ring
10
Posted 21/10/2015 at 22:25:49
Paul #9 Disagree with you completely. When fully fit I'd play Cleverly, and McCarthy as defensive midfielder and Barry on the bench.

Harold Matthews
12
Posted 22/10/2015 at 02:27:23
Might get 60 minutes out of him. At least he won't pass the ball to Arsenal every five minutes.
Will always disagree with Denis when it comes to Lennon. Nothing complicated. He doesn't like him. I do.
The Arsenal defeat taught United plenty and they put it right at Goodison. Let's hope we learnt plenty and put it right at the Emirates.
Must score first. Chasing the game against forwards with great pace is never ideal.
Denis Richardson
13
Posted 22/10/2015 at 08:28:04
True, Harold, we can agree to disagree re Lennon. Ironically for me, Lennon is more of a Moyes type signing, a lot of huff and puff but little end result.
If he could tackle, he'd be good cover for RB with his pace. I just never fancied him as a winger as the end product is weak.
Jim Bennings
14
Posted 22/10/2015 at 08:46:44
If we play like we did last Saturday then it won't matter who plays, we will quite simply get tortured by Arsenal's pace and movement.
We seem to be okay when the opponents we face posses little movement off the ball but Arsenal always seem to score plenty of goals against us because of the way they play, much like the amount of times Man Utd got in behind us on the left especially during that first half on Saturday.
I'd be very surprised if we get anything to be honest, we are not playing well enough, even before the mauling by the Mancs, to truly convince me. Add to the fact that in general Arsenal is a bogey team especially away where we haven't seen a win since 1996, then it's hard to go into this one with too much confidence.
Ray Roche
15
Posted 22/10/2015 at 08:47:19
Denis, "more of a Moyes type player"?
D'you mean like Jagielka, Stones, Coleman, Baines, Oviedo and Mirallas?
I think Lennon is getting some unfair stick on here. The sooner one of the other whipping boys, Hibbert, Osman etc., starts playing again, the better.
Denis Richardson
16
Posted 22/10/2015 at 08:57:04
No Ray, I meant more like Bent, Kilbane, McFadden, Beattie etc. I don't expect an end product from defenders.
Never fancied Lennon at Spurs and I fancy him less at Everton, especially as his best days were 2007-2012 imo. Happy for him to prove me wrong but I won't be holding my breath, put it that way.
Still I guess I'd rather Lennon started than Naismith given the choice – at least he has pace. Both starting is almost as depressing as seeing Heitinga and Neville in CM. (Okay, that's a bit harsh...)
Jim Bennings
17
Posted 22/10/2015 at 09:01:50
Agreed Ray.
It seems forgotten what Lennon did here last season, transformed a team that could have easily been relegated. On Saturday, he created the best chance for Lukaku with a neat cut-back, he's also hardly had much chance so far this season due to his late signing.
I'm not saying he's world class but people are never happy, they slate Lennon but then if Deulofeu play's and starts poorly it's "drag him off, can't play a full match" and then it's "I'd drive Mirallas to a new club, the sulky swine" if he has one selfish moment during a game.
So everyone just gets undue stick, we may as well just leave any wingers out altogether and play square pegs in round holes like Naismith, Barkley or Kone out wide.
But wouldn't that be too Moyesie??
Sam Hoare
18
Posted 22/10/2015 at 09:29:07
Truth is that none of our wingers have made themselves undroppable. Most of them have had bad moments and good ones.
Personally I think Deulofeu and Kone are the best combination at the moment as the former is our most likely to make something out of nothing and the latter seems the best at holding it up, bringing the best out of Lukaku and popping up with the odd crucial goal.
I think we have as a big a problem in the the centre where Barry and McCarthy in particular look very mid-table to me. For all of McCarthy's dynamism, it is actually Barry who covers more ground and makes more crucial defensive contributions according to the stats and I think the Irishman has been one of the weakest links in the team so far. But there's no obvious replacement as Besic seems very like-for-like with slightly less discipline. Perhaps Cleverley should drop deeper and at least offers a bit more creativity and potential goal threat than McCarthy.
If Tom Cleverley is match-fit, I think I'd like to see this team vs Arsenal, though it will be a tough ask whatever XI we put out...
Howard
Coleman Stones Jagielka Galloway
Cleverley Barry
Deulofeu Barkley Kone
Lukaku
Ray Roche
19
Posted 22/10/2015 at 09:34:28
Jim, good points. Lennon may not be a Dave Thomas etc, but he never hides, has pace and works hard. He can also beat his man and play a good ball in to, as you say, Lukaku. Far too much criticism for some players on here.
Denis, "Heitinga and Neville in CM."
Did you HAVE to mention that? I have enough trouble sleeping as it is... Still, at least you didn't mention Kroldrup, the usual default position for the anti-Moyes Brigade!
Jim Bennings
20
Posted 22/10/2015 at 10:13:27
Sam
You make a good point there about concerns over our defensive midfielders Barry/McCarthy. I said on the thread after the game on Saturday, they are not what they were two years ago. They do not do enough in my opinion to protect the defence nor do they have that same element of control over the tempo of the ball that they had in Martinez's first season.
We miss a Carsley type guy, who was truly fantastic at breaking up the play but then, he was in a very balanced midfield back then, he'd demolish opponents' attacks then give the ball to men like Arteta or Gravesen who could use it.
I think McCarthy has much more to give the team than he does st present, he should be a box-to-box player but he isn't; he barely crosses the halfway line. He's a young lad, a physical lad that should score the odd header or tap-in, but he's like Barkley in that way that he doesn't commit enough.
Clive Rogers
21
Posted 22/10/2015 at 10:48:13
Mentioning Moyes, Sociedad are one point off the bottom and have won one game out of eight. He may be available soon.
Jim Lloyd
22
Posted 22/10/2015 at 11:05:53
Agreed Sam, Jim. For whatever reason, Macca is not getting into or near the opposition box anywhere near as much as he did in his first season.
I think he had one of his worst games for us, on Saturday. I hope I'm wrong but the combination of Macca and Gareth Barry isn't working as much as it did. Especially against the fast forward play that Man City, Man Utd, have shown and almost certainly, Arsenal will show.
I think Aaron Lennon has been a good acquisition for us. He tracks back and offers Coleman some support and space, is fast and can threaten opposition defences, and he brings Lukaku good chances to score.
I looked at Naisey on Saturday and the number of times he misplaced a pass or didn't control the ball was way too many for a first team player. I love his effort, and he's got a knack of scoring goals on occasions, and sometimes he's really good at getting into goalscoring positions (the header against Liverpool).
So I think it depends on what job he's asked to do. If he was playing the second forward in a 4-4-2, I think he could get us some goals. I also think Kone could as well.
I really hope we can see Pienaar, Baines, Cleverley, Oviedo, Gibson and Besic available soon, as it gives our Manager much more scope to change his tactics.
Mirallas is a big enigma, as to why he isn't playing, at least at some stage during a match. I can only guess that there is an attitude problem with him... I hope I'm wrong as he's a potential match winner.
David Chait
23
Posted 22/10/2015 at 11:39:35
I would love to see Besic next to Barry with Cleverley back on the left.
I've gone on record often enough to say I'm not a McCarthy fan... which began the day he kept backing off Arsenal that game we were 2-0 up and allowed them to shoot and get a goal. I have watched for it and have seen it too many times now.
Long-term, I would like to see what Cleverley and Besic might do together but that might be a step too far for RM. Truth be told, breaking up the hallowed partnership of Barry and McCarthy seems beyond the realms of possible for RM.
Cleverley is our box-to-box guy going forward I think. Don't know if they will give this to Barkley one day, but that's another debate. In his short time he has shown a good football pedigree and I'm excited to have him back.

Denis Richardson
24
Posted 22/10/2015 at 11:46:34
Ray. Apologies. Should not have brought up JH and PN - those were dark days indeed.
We all have our opinions on the players I guess and Lennon was an underwhelming signing for me but at least he has pace. He's a squad player at best for me, just like Naismith.
Sam 15, I'd take that starting line-up as well. We need more attacking work from the two CDM positions otherwise we're basically starting with 6 defenders every game. It's not like we're keeping clean sheets consistently either.
Speaking of CDM, where's Gibson? He's not injured (nor in prison). Is he not pickable at the moment due to the incident?

Paul Cherrington
25
Posted 22/10/2015 at 13:01:52
I still say we only need one DM which should be McCarthy (or Besic if injured or in poor form). Barry is bang average and time has caught up with him from two seasons ago.
I always remember reading one England player saying he was like a teacher's pet and that's why he got picked cos he never rocked the boat & always sucked up to the manager.
Anthony Hawkins
26
Posted 22/10/2015 at 13:15:13
I still don't think Martinez is playing the strongest team. No idea why. Deulofeu has to be in the starting line up. Mirallas should also be:
Howard
Coleman Stones Jagielka Baines/Galloway
Cleverley
Deulofeu Barkley Mirallas
Kone Lukaku
Tom Bowers
27
Posted 22/10/2015 at 13:51:53
Getting the right starting eleven is always up for debate as so many players are of the same calibre and that is where consistency comes into play.
Whilst Everton have had a couple of really good wins and another kind of shaky one at Albion, most of the players appearing so far, even as starters, have not shown that consistency needed to get a team into the top six.
That position as support for Lukaku is always one of dispute and, although Mirallas at one time had a good partnership with him, it didn't last. Lukaku himself had a lean spell of form but Kone seemed to be playing better this season but has been left out in favour of Nessie who, despite his 3 goals against Chelski, still hasn't proved himself as a good front runner.
Deulofeu and Lennon are fighting for the right flank spot and Delboy has the edge in my book but RM seems unsure at the moment. Whilst RM has these problems to ponder over, the midfield seems to hold the key to better times.
With Cleverly and Pienaar likely to play a part in the coming weeks, the midfield competition will heat up especially with some younger players around. Hopefully Ross will continue to mature and also that Besic along with Oviedo will return to further solidify the ranks so that they won't have any more performances like the one against Man Utd.
Unfortunately they play the Gunners next and have to be on top of their game to get a result at the Emirates.
Richard Reeves
28
Posted 22/10/2015 at 14:46:53
I want to see an attacking line-up and Anthony's (#23) looks good; that's what I want to see as a starting line-up with the exception of Cleverley and keeping Galloway at left back.
I would probably go for McCarthy in midfield to offer more protection for the defense although with that you loose a bit of the link-up (forward passes) with what's in front. I don't want to see the weaker team start with the option of bringing on the stronger players late on, we need to start with the stronger team and have the likes of Naismith as subs.
Clive Rogers
29
Posted 22/10/2015 at 15:13:20
Anthony #23,
Have to disagree about Delboy. There's no doubting his ability one-on-one, but the number of times he loses possession is unacceptable. If he doesn't sort that out, he is not going to make the grade IMO. Keeping possession is paramount in the modern game.
Ray Roche
30
Posted 22/10/2015 at 15:52:13
Anthony #23,
Anthony, Deulofeu has started against Liverpool and came on against the Mancs. He was poor against the RS and anonymous when he came on against the Mancs. His total contribution was, admittedly, his contribution to the goal against the RS. At the moment I think Lennon offers much more against Premier League opposition than Del Boy.
Am I alone in thinking that we looked better with Funes Mori in the team? He isn't afraid to carry the ball out of defence as opposed to the sideways passing that ruins our chances of mounting a (by our standards) quick attack. He will prove to be a good acquisition in my opinion.
Brian Porter
31
Posted 22/10/2015 at 16:06:55
Ray Roche #27, at last someone else saying exactly what I've been thinking. We did look a much better, well balanced team with Funes Mori in the team. He is after all a full Argentine international, and seemed to be growing in confidence with each game he played while Stones was out. I hope we don't end up losing him because I'm sure he's not going to happy continually sitting on the subs bench. He's too good for that.
Jay Harris
32
Posted 22/10/2015 at 16:31:53
As with any good team, I think the right balance considering the opposition is key. It seems to me that Barkley and Lukaku both look better with Kone and Deulofeu in the team even though I like Naismith's workrate and productivity and Lennon's pace and workrate.
I am concerned with Arsenal's pace and passing ability but their Achilles heel is their defence.
I don't see us holding them out for 90 minutes so I think we should go for it and take a risk. Nothing gained... nothing lost, as we have such an awful record at their place anyway.
Jim Bennings
33
Posted 22/10/2015 at 17:33:35
I agree with Jay.
There's no way I can see us keeping a clean sheet at Arsenal, we are simply not resilient enough and are showing signs again of being too easy to score against.
I'd be sensible, not completely gung-ho, but I'd definitely be tempted to go for it and try and press their defence, granted that's not something we usually do a lot, but for me that's how to get at Arsenal and get a positive result. I watched West Ham's 2-0 win there and they harried and pressed every Arsenal player with gusto and it paid dividends.
It's not worth patting ourselves on the back for defending well for 65-70 minutes them conceding a couple of late goals and saying "Hard luck."
The better teams invariably will score if you just sit off them and keep letting them reach dangerous area's, it usually happens late to us at Chelsea, we spend the whole game on the back foot and eventually when they push and push they get that late killer blow.
I'm actually sick of reading about how awful our record is at places like Arsenal, we need to go out and banish another one of those bogey grounds this season.
If West Ham can win a trio of matches at Arsenal, Liverpool and Man City, then Christ, surely we can get one over the course of the season??
Harold Matthews
34
Posted 22/10/2015 at 17:33:58
Yes Jay, you're certainly on the right track. Martinez is not about individuals. He's all about partnerships. He goes on about it every transfer window. Players who bring out the best in one another. Which way he'll go at the Emirates is anyone's guess. I just hope he gets it right.
Ray Roche
35
Posted 22/10/2015 at 17:36:52
Brian#28,
I can see Funes Mori taking over from Jags fairly soon. I really like Jagielka but he can't stop the passage of time and at 33 his days at being a first XI player must be numbered.
As I said, I like the way Funes Mori is prepared to take the ball forward, as does Stones, and it can add another dimension to our play. I'd even go so far as to say that he or Stones could do a defensive midfielder role with their qualities as a defender and their vision and ability to pass and move the ball forward. After all, it's only what Barry does. Or should do...
Helen Mallon
36
Posted 22/10/2015 at 18:15:59
My team for Arsenal would be a 4-4-2 formation with Coleman and Oviedo as covering wingers and Mirallas just behind Lukaku. This can easily be turned to 4-5-1:
Howard
Stones
Jagielka
Funes Mori
Galloway
Coleman
McCarthy
Cleverley
Barkley
Oviedo
Lukaku
Helen Mallon
37
Posted 22/10/2015 at 18:17:44
I meant Barkley behind Lukaku.
Dan Hollingworth
38
Posted 22/10/2015 at 18:28:58
First game back for 2 months, Cleverley should be sub at best.
I would go with...
Howard (Because there is no better option)
Coleman, Jagielka, Stones, Galloway
McCarthy, Besic
Deulofeu, Barkley, Mirallas
Lukaku
Natural width offering grater shape. Please Roberto, play 1 game with 2 wingers and no Naismith and you would be surprised. Creativity there to feed the ball to Rom.
Lewis Barclay
39
Posted 23/10/2015 at 07:19:34
I'd be tempted to play a back five for 45 mins against Arsenal and encourage Galloway and Coleman to run at them, hit them on the break.
Howard
Galloway, Jagielka, Funes Mori, Stones, Coleman
McCarthy
Deulefeou, Barkley, Kone / Mirallas
Lukaku
Paul Cherrington
40
Posted 23/10/2015 at 13:27:21
Anthony @23 – I like that team and your point about Deulofeu and Mirallas is spot-on. They are two of our best players; they have to start, no question. He used to play them in tandem in his first season so no idea why he won't now.
I know both can frustrate and lose possession but that's why we have two DMs in the team who can cover them. More importantly, they have the magic (especially Deulofeu) to do something out of the blue to turn or win a game.
Andy Meighan
41
Posted 23/10/2015 at 21:08:55
Just what we need: another midfielder played out of position, just to get accommodated. I know there's posters on here that rate this lad... but sorry, I'm not one of them.
Excellent work rate etc. But creatively brings absolutely nothing to the party and, in our case, he's not alone. McCarthy, Barry etc... the squad is top heavy with wingers yet he still plays a defensive midfielder out wide. Baffled? You bet your sweet life I am!
Andy Meighan
42
Posted 23/10/2015 at 21:30:11
Just what we need: another midfielder played out of position, just to get accommodated. I know there's posters on here that rate this lad but sorry, I'm not one of them. Excellent work rate etc. But creatively brings absolutely nothing to the party.
And in our case, he's not alone. McCarthy - Barry etc the squad is top heavy with wingers yet he still plays a defensive midfielder out wide.
Baffled? You bet your sweet life I am!
Add Your Comments
In order to post a comment, you need to be logged in as a registered user of the site.
Or Sign up as a ToffeeWeb Member — it's free, takes just a few minutes and will allow you to post your comments on articles and Talking Points submissions across the site.
© ToffeeWeb