Barry's case for the defence
by

42 Comments [Jump to last]
| 02/11/2015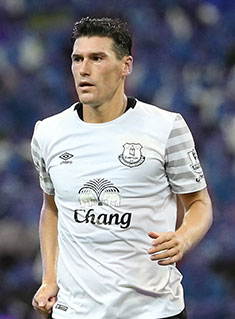 Gareth Barry says that Everton's players will enjoy their impressive win over Sunderland but won't ignore the need to tighten up at the back in the coming matches.
The Toffees briefly surrendered what looked to be a comfortable 2-0 lead against the Black Cats yesterday thanks to suspect defending and while they went on to win 6-2, the deputy captain admits that those defensive frailties need to be addressed.
"It's not often you play in a game where you score six goals, especially against a team like Sunderland and Sam Allardyce sets his teams up hard to beat," Barry said in the Liverpool Echo.
"Some of our attacking play was really good - fast attacks, fast counter-attacks - and it could've been more than six.
"We always fancy that we are going to create chances so if we can keep it tight at the other end, then we fancy our chances of nicking games.
"But defensively, throughout the week, I am sure we are going to have to look at a few things because they had chances but we are going to enjoy the win because it is not often to score six goals."
Barry skippered the side in the absence of the injured Phil Jagielka and put in an excellent personal display in central midfield but he acknowledged how letting Sunderland back into the game with a goal out of nothing in first-half injury time changed the complexion of the game at that point.
"If we go in at half-time 2-0 up then we are really comfortable and the confidence is different and their whole out-look to the second-half is different," the 34-year-old continued.
"So there are lessons to be learned there because with 30 seconds to go, we've got the ball in their half and all of a sudden it is in the back of the net.
"We should be better than that and have enough experience on the pitch to stop that happening.
"But fair play to the lads, we bounced back from conceding the second."
---
Reader Comments (42)
Note: the following content is not moderated or vetted by the site owners at the time of submission. Comments are the responsibility of the poster. Disclaimer
Helen Mallon
1
Posted 02/11/2015 at 17:19:41
Very good article well said. My MotM.
Jamie Crowley
2
Posted 02/11/2015 at 17:43:52
It would appear Gareth is reading ToffeeWeb.
Nice to see him acknowledging what so many astute contributors have been saying.
Having said that, I wouldn't mind reading 200+ posts on ToffeeWeb every week, and quotes from our captain, about how we need to do a better job defensively while pounding the opposition with 6 goals and winning by a 4 goal margin.
I truly prefer to watch a team that wants to outscore the opponent, rather than keeping a clean sheet as priority number one. Personal preference.
Michael Polley
3
Posted 02/11/2015 at 18:08:29
The defence is very shaky and nervous looking. We need to tighten up.
I wonder if Bainsey will feature this month?
Colin Glassar
4
Posted 02/11/2015 at 18:32:25
I think we can at least all agree on one point today and that was our defensive frailty rearing its ugly head again. I believe there are mitigating circumstances for this.
Coleman – He's been ill all week and he's had a punishing schedule since returning from injury. He will get better.
Stones – Had a very disruptive summer with all the speculation surrounding him and he's still trying to regain his form after returning from injury. He will get better.
Funes Mori – Still new to this league and will need to develop his partnership with JS. Despite what he says about playing in Argentina this is a different kettle of fish. I expect him to be knackered by Xmas so hopefully Jags will be back by then. He will also get better with games.
Oviedo – Poor sod. I think Roberto made a mistake by starting him. He's only come back from a long-term injury and had played 120 minutes mid-week so maybe he should've been rested today. He might never get fit again.
Galloway – What a prospect this lad is. He was a bit cagey going forward but what a talent. He will definitely get better.
The defence has been wrecked by injuries this season (again) so, fingers crossed, we will have Bainesy back soon and be able to have some stability at the back.
We will, defensively, get better as a defensive unit.
[I posted this yesterday on another thread but I still think it is pertinent on here.]
Steve Guy
5
Posted 02/11/2015 at 18:35:11
Barry is right, that's all that needs saying. Loved the attacking fluidity but was nervous every time they got near our box
Paul Jeronovich
6
Posted 02/11/2015 at 18:40:31
Well said and this was the main reason for any negative comments yesterday. We have to improve defensively but I've got a sneaky feeling we will get similar counter-attacking space against West Ham. COYB
Brent Stephens
7
Posted 02/11/2015 at 18:44:13
We looked a lot more solid once Barry dropped back between Stones and Funes.
Jamie Crowley
8
Posted 02/11/2015 at 19:01:07
Colin that post is exceedingly relevant here.
I think it's very fair to point out we need some tightening up at the back.
Where some completely lose the plot is they fail to recognize some of the factors that contribute to that "poor" defensive showing and issues.
Factors you rightly and accurately point out.
We had a sick-note, a 21-year-old, a 24-year-old new to the league, and a 19-year-old as our back four yesterday. I'd say we actually did ok back there.... and the future looks pretty damn good.
And for the minority calling for Roberto to go when Sunderland drew 2-2 (or just in general calling for him to go)...? I just think they've completely lost perspective, and frankly lost their brains.
It makes me think of Jimmy Stewart playing George Bailey in It's a Wonderful Life when he talks to Mr. Potter: "...a warped, frustrated old man...".
Sums up some people waiting in the wings almost seemingly dying for Everton to trip up so they can skin Roberto.
Yes, we need to work on some things defensively. That's it. No vitriol needed in that analysis. No torches. No pitchforks. Six to Two...
Shane Corcoran
10
Posted 02/11/2015 at 19:20:42
That Barry is a miserable git :-)
Brent Stephens
11
Posted 02/11/2015 at 19:26:46
Nice one, Shane!
Michael Penn
12
Posted 02/11/2015 at 19:29:49
Colin, while I agree that injuries have played a major part in our defensive issues, I think the biggest problem that needs to be fixed is in goal.
Howard is a good shot stopper but, as we all know, is completely incapable of dealing with crosses. I am actually surprised Sunderland didn't try to loft more balls into the box to take advantage of our biggest weakness.
Every time the ball is crossed into our box this season, we all get nervous as Howard stands transfixed on his line. It just doesn't seem "coachable" for him for some reason. Robles is a decent backup but also doesn't really exude confidence. In my opinion, our defence won't look solid until we sign a new goalkeeper who is willing to at least approach the edge of his six-yard box.
Peter Weaver
13
Posted 02/11/2015 at 19:37:27
Jamie; there will always be fans who love or hate the manager - whoever he is !
Then there will be the rest of us -the great majority - who will blow hot or cold depending on results. Happy to see him in the job for so long as we're in the top half -or therabouts. That's football.
Kim Vivian
14
Posted 02/11/2015 at 19:44:10
Sorry about this being off topic topic - unless you connect defensive frailties with Chelsea's sniffing at Stones constantly - but I had to get on here to make reference to Fat Frank on MNF analysing Chelski at the weekend and his comment about 10 minutes ago and I quote"....Chelsea is one of the biggest clubs in world football..."
I nearly threw my shoes through the telly. FFS - they really do believe that!
I thought our defence did ok under the circumstances (injuries, age, experience etc) yesterday. If the MF and front men can serve that (or even half of that) up every week I really don't care if we concede 2. But joking apart, days like yesterday make the future look bright.
Colin Glassar
15
Posted 02/11/2015 at 19:45:45
Michael, I agree that Tim doesn't inspire confidence amongst his defenders but unfortunately we are stuck with him till the summer at least.
A few years ago I recommended (on here) two young lads, one was Butland the other was Schmeichel, and I was told in no uncertain terms that both were rubbish and would never make the grade.
Rob Halligan
16
Posted 02/11/2015 at 19:52:33
Chelsea are a small club with loads of money, Kim. Same as man city.
Paul Andrews
17
Posted 02/11/2015 at 19:53:13
I think the formation of two defensive midfield players in front of the back 4 leave us exposed to counter attacks.
The full backs get forward leaving either Barry or McCarthy to cover the space on the counter. This in turn pulls one of the centre halfs wider and leaves space in central areas.
I reckon our best formation would be 4-3-3 with Barkley playing the central role, his best position in my opinion.
Michael Penn
18
Posted 02/11/2015 at 20:17:42
Colin,
I think most Evertonians would consider those two a big upgrade on Howard. I've never understood why transfers for goalkeepers seem to be a lot cheaper than other positions when it's probably the key position in the team. Cech went to Arsenal for just 㾷m (although admittedly with high wages).

But the biggest puzzle is why Howard doesn't seem to be able to sort out this aspect of his game. He's 6'-3", not small for a goalie. He's vocal, he seems confident. Surely *someone* on the coaching staff has reviewed the videos and said "Hmm.... perhaps Tim can come off his line a bit more, we don't seem to be good at that". What am I missing?

In the meantime, I agree that sadly a new goalkeeper won't come until the summer and in my opinion our defensive issues will remain until then.
Colin Glassar
19
Posted 02/11/2015 at 20:21:36
They would now Michael but back when they were championship players (I think Schmeichel was at a few clubs before Leicester) very few people seemed to rate them. Now they will cost a fortune.
Peter Weaver
20
Posted 02/11/2015 at 20:26:54
I never quite understand what makes a club big or small. Is it the trophies they've won recently or in their history, their gates, their ground, their resources or just how the media regards them?
Perhaps terms like successful, top, rich or traditional might be more accurate descriptions.
Personally, I see Everton as a GREAT club but one with a shoddy recent record.
Winston Williamson
21
Posted 02/11/2015 at 20:35:28
Peter. I'd say the media perception (since Sky's money bought football's soul) is the greatest factor in determining a size of a club.
Sky hate referring to football pre-Premier League, especially for clubs not deemed a Sky Four darling.
The only time our history (or Villa's etc) is mentioned is to beat us with it... now we're not on an equal financial footing.
Michael Penn
22
Posted 02/11/2015 at 20:37:46
Peter I don't think there's one clear definition. Factors that people normally consider are history, success, trophies and the fan base, amongst other things. Everyone weighs them differently; eg, some would argue Preston or Wolves are still big clubs because they have history even though they don't have recent success.
The big/small club debate is a bit of a waste of time in my opinion, just another tribal thing for football fans to argue about.

Ian Riley
23
Posted 02/11/2015 at 21:05:40
Barry is spot on, let's hope the manager is reading ToffeeWeb! On a macro level, the defending in the premiership is poor. That's what sells the league for sky worldwide. Fast, good strikers and poor defending equals goals!
My concern is we play with two holding players and still look nervous and susceptible to conceeding. Two strikers on the pitch is what saved us on sunday, Sunderland did not know which striker to pick up. Sadly our manager's history of defending is poor but score more than the apposition equals wins, simply.
Andre Helleur
24
Posted 02/11/2015 at 21:10:47
Today I watched a recording of the match, and around the 65th minute I counted 79 Everton passes without Sunderland touching the ball. Is this something of a record?
Trevor Lynes
25
Posted 02/11/2015 at 21:30:36
Great article which I hope is acted upon on the training ground.
I would think that against sides with bustling centre forwards we could try three centre backs with one defensive midfielder.
eg; Howard, Coleman, Jagielka, Stones, Funes Mori and Galloway/Baines with Barry or McCarthy in midfield and Kone, Barkley, Lukaku and Deulofeu/Mirallas up front.
This would make us stronger for set pieces at both ends.
Funes Mori or Stones could defend or attack alongside McCarthy or Barry.
Deulofeu, Mirallas and Barkley need to close down when we do not have the ball.
James Stewart
26
Posted 02/11/2015 at 21:35:01
Spot on, Mr Barry.
David Hallwood
27
Posted 02/11/2015 at 21:44:01
Colin(#14) I saw Butland a couple of years ago in an England game (U21 or even U18 can't remember) and he looked good then. Personally I'd break te bank to get him. 22-23 years old so we'd get a good 12 years out of him — that's if Stoke want to sell.
Onto the defence: we've conceded 20 goals in 14 games this season, which is simply not good enough, to coin my over-used cliche, but football's like hotels, clean sheets are everything, we really cannot continue starting the game a goal down, or like yesterday having to retrieve the situation from a winning position.
I would prefer to win our next 5 games 1-0, than 6-2, 5-3 etc, because all successful have to scrap sometimes; currently we seem incapable of doing that.
Danny O'Neill
28
Posted 02/11/2015 at 21:51:22
Colin Glassar, Jamie Crowley, your earlier posts were totally on the ball and put things into perspective. A young defence that is having to be changed by the week through necessity:
Coleman ill all week and clearly not right; Stones still learning his craft (I won't even mention the transfer distraction... fact is, centre-backs don't peak until early 30s so he's a long way to go); Funes Mori still aclimatising; Oviedo clearly rusty and unfortunate, replaced by an outstanding yet still raw talent in Galloway; experience like Jagielka and Baines still to come back.
Any team faced with that kind of turmoil at the back will struggle with consistency, but all is not gloom. What a way to compensate for it though!
Yes, you can argue it was Sunderland but not many teams score 6 at that level so maybe let's enjoy the excellent forward play that saw us win by 4 clear goals.
Phil Sammon
29
Posted 02/11/2015 at 22:01:53
Wouldn't it be nice to score six every week. Unfortunately we can't, and I disagree with Barry that 'we are always going to create chances.' If anything we are a team who have struggled hugely in the final third.
I think many would be much more accomodating to a slack defence if Martinez was setting his team up to attack every game. Sadly, we are usually ponderous and lacking a cutting edge. Sunday gives me optimism that with Kone, Deulofeu and Rom we do have the players to score and create goals. I'm also hopeful of Mirallas getting himself back in the mix.
It's great to see a player actually acknowledge the problems we face as a team though. I wish RM would swallow his pride and bring in a defensive coach and a new keeper. That would be a start.
Jim Lloyd
30
Posted 02/11/2015 at 22:10:40
I thought Barry was excellent yesterday, did a great job as a midfielder and a great job when he dropped deeper to join the defence. A very influential player yesterday and I guess that what he's saying isn't only for our benefit.
We have some great young lads in defence and they'll gain experience over the next couple of years; but to have a man like Gareth Barry doing the job he did yesterday, looks good to me.
I think he's a natural for the Captain's job.
Danny O'Neill
31
Posted 02/11/2015 at 22:29:49
Jim, I've been a big critic of Barry over the past year but I have to say he has been so influential. Even when he doesn't necessarily play well (and he did yesterday), I just wonder how important his presence is to what is otherwise a relatively young side. Sometimes players like that are invaluable and provide something us fans can't always see and hear. When you don't have that, the team struggles.
It kind of reminds me of Phil Neville in Moyes's teams. Ideally, and on footballing flair and ability, you would have long dispensed of him; however, his presence on the pitch provided that leadership that was needed... until his legs clearly and visibly went during "that" Wigan cup tie!
Jim Lloyd
33
Posted 02/11/2015 at 23:05:21
Yes Danny, I think Gareth Barry is extremely influential. He has said that neither him nor Martinez expected him to play in every game but last season, he had to.
It seemed to me that yesterday there was a slightly more flexible way of playing between McCarthy and Barry, and I think they were helped a lot by the work that Kone put in around the midfield area.
I though that it allowed McCarthy to have much more freedom and it culminated in that fine little reverse pass for a well worked goal.
You're right about Phil Neville, Danny. He was a leader indeed. Wot Wigan game!!!
Ciaran Duff
34
Posted 03/11/2015 at 00:49:11
I reckon Barry would make a good coach.
Jay Harris
35
Posted 03/11/2015 at 02:20:41
Colin and others,
Yes, having an unfamiliar defence doesn't help things but nothing has changed from when we had Jags and Baines in there. We saw the same mistakes and goals conceded throughout last season and the end of the "great"season.
The problem is team selection and the tactics this guy employs. It is no coincidence that Wigan were relegated with a record number of goals against.
We already have it on good authority that this manager does not believe in practicing defending free kicks, corners etc and I would also comment that, despite having two defensive mids, when we lose the ball further up the pitch, we do not chase back to win the ball (with the exception of Naismith).
Deulofeu, Kone, Barkley and Lukaku are OK against teams like Sunderland (unfortunately there aren't that many in the Premier League) but IMO Barkley and Kone need rotating depending who we are playing.
Ross has plenty of passing ability and the odd eye for goal but is dreadful when the opposition have the ball which leaves our midfield with only two players and hence weak.
In addition, we do not close down the opposition, we stand off them. I still do not know whether this is an instruction or just the players being lax but it needs addressing asap.
Peter Laverty
37
Posted 03/11/2015 at 02:52:11
If we score 4, 5 or 6 in all these up and coming winnable games, I don't care if we concede a soft goal or two, especially with Jagielka injured. Playing two strikers and scoring goals means the young defence can get game time, make the odd mistake and with a bit of luck still come away with 3 points.
Mark Andersson
38
Posted 03/11/2015 at 03:11:12
Have to disagree with David Hallwood: football is supposed to be entertainment. I really enjoyed the game, 6 good goals... 8 if you include Sunderland.
We all know that the defensive side of Everton game has gone backwards since Martinez took over. Yet he has bought well with Funes Mori, kept hold of Stones for another season, recognising potential in Galloway and Garbutt.
I wanted Martines sacked, but I think what he is building is something phenomenal haha. We are stuck with what we have, so enjoy the wins get behind whoever crosses the line in blue and get your singing voices back.
Paul Cherrington
39
Posted 03/11/2015 at 09:26:32
A good interview from Barry and he talks a lot sense – maybe he should do all the press conferences... ha ha. Trouble is, he is sort of the problem why we concede and look a bit shaky as he hasn't the pace to play where he is put every week.
I think he needs to play like Pirlo – ie, a couple of young guys to do the running and give him the ball & he just operates in a narrow field of play, spraying the passes around.
The defence is still a worry and I don't think it can be explained away as easily as not having our first choice out there. It's the same problems whoever plays (and actually the same problems as RM's Wigan team had).
Brian Porter
40
Posted 03/11/2015 at 09:43:51
In the goalkeeper front, Victor Valdes will be available in January. He has publicly stated his desire to leave Man Utd in the next window plus his agent has said he wants to stay in the Premier League. A World Cup winner going fairly cheaply, but will Martinez bother? I doubt it as he has this blind faith in Howard which appears to transcend all logic or current form, or the need to look to the future because even Martinez must realise Howard is in the twilight of his career.
Someone mentioned Chelsea's continued pursuit of John Stones earlier. All I can say to that is, if Stones still wants to play for a team struggling as they are, for a manager who appears to be on the verge of a mental breakdown with every new statement he makes (or doesn't make, as the case may be), then the lad doesn't have the brains I thought he had.
I agree, the defence needs work, but to be fair, with all the enforced changes we've had to make, then, all things considered, we are not doing too badly. Give Funes Mori time to adjust to the PL, get Seamus fully fit and Baines back, and we just might be cookin' with gas, as they say!
Jim Burns
41
Posted 03/11/2015 at 10:46:28
Brent @ 7 - spot on. From the Upper Bullens Barry looked irritated when he dropped back into the back four and immediately started talking to the two centre backs in particular. Well judged and timed - and I wondered whether it was directed from the bench or whether Barry acted on initiative. Either way it had a settling effect and seemed to give the rest of the midfield the confidence to keep counter attacking rather than hesitate and stay too deep. The rest is history.
If only Barry could lead by example as effectively when it comes to needlessly giving possession away. Having said that, a strong Captain's performance on the day followed up by sound acknowledgements... Now let's see the proof in the eating against West Ham.

Brent Stephens
42
Posted 03/11/2015 at 11:10:30
Jim #36 – I thought I saw Roberto talking to Barry on the touchline just before he dropped back between Stones and Funes Mori. Though, as you say, that could have been on the initiative of either of them.
Jack Plant
43
Posted 03/11/2015 at 11:21:04
I've been very impressed by Browning when he's played this season, mostly because unlike our other fullbacks he seems to make an effort to cut out crosses. Coleman and Baines, great players though they are, seem to stand off to prevent the player going round them, and therefore let crosses in too easily.
Max Murphy
44
Posted 03/11/2015 at 23:09:44
I believe our bad defence stems directly from our goalkeeper, Tim Howard. No matter what people say, he had a bad game on Sunday. He saved a shot with his feet – par for the course now. He never even stretched for their first goal, and the second goal he never came out to claim the cross.
When he can catch the ball he flaps at it. He will only claim crosses if there are no bodies near. Remember Dirk Kuyt's goal in the derby at Anfield about five years ago? Kuyt bullied him before the corner, and Howard bottled it. Kuyt didn't even have to jump to head the goal.
His poor goalkeeping makes our defence nervous and unsure on who's claiming the ball. That is why we shed so many goals from set pieces. We will continue to have a poor defence while Howard is in goal. Martinez cannot see this obvious weakness. In my view this reveals a weakness in Martinez, and he also should leave Everton FC.
Paul Cherrington
45
Posted 05/11/2015 at 10:03:17
I think you're right, Max and most people would agree that Tim Howard's time is up. He's been a great servant to the club but no-one can go on forever.
I think RM is scared of making the big call to drop him as Tim is such a popular figure & presence at the club. Seems like he is wanting to avoid the situation that developed with Distin last year and the effect that had on everyone.
Add Your Comments
In order to post a comment, you need to be logged in as a registered user of the site.
Or Sign up as a ToffeeWeb Member — it's free, takes just a few minutes and will allow you to post your comments on articles and Talking Points submissions across the site.
© ToffeeWeb