Martinez not fazed by interest in his top players
by

24 Comments [Jump to last]
| 09/11/2015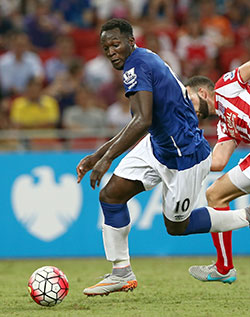 Romelu Lukaku, one goal short of 50 in the Premier League for Everton, is apparently the subject of interest from PSG
Roberto Martinez says that he isn't afraid of the inevitable speculation around the like of John Stones and Romelu Lukaku as the next transfer window approaches.
Everton were able to resist the advances of Chelsea for Stones over the summer despite a final bid reported to be as high as £38m for the 21-year-old but the struggling Champions are expected to test the Toffees' resolve in January with a fresh offer.
Stones shrugged off a brief drop in form by turning in another impressive display at West Ham on Saturday and should continue to perform at his best there is likely to be little shortage of media talk about his future.
Lukaku, meanwhile, is rumoured to be interesting Paris St Germain, with reports last week suggesting the French giants were weighing up a £45m bid for the Belgian striker.
"After today £55m," Martinez quipped about Lukaku after he had scored yet again against the Hammers.
"He is driven by landmarks and those statistics are very important. There are no complications and he is getting better. He is very receptive and for me he is a dream."
The Catalan is taking the covetous attention from other clubs in players like Stones and Lukaku in stride, however. "That is modern football," Martinez continued. "You don't fear that situation. What you fear is when you have to sell players to balance the books.
"That is the real problem as a manager when the chairman or owner of the club says we need to cash in on 2-3 players. That is not the situation at Everton.
"We have a very strong day to day running of the club. The chairman has been incredible in that respect.
"Any decision we make is for the benefit of the club and squad going forward. That does not mean we will sell every player or keep every player. We will make the right decisions that ultimately will benefit of the squad."
---
Reader Comments (24)
Note: the following content is not moderated or vetted by the site owners at the time of submission. Comments are the responsibility of the poster. Disclaimer
Duncan McDine
1
Posted 09/11/2015 at 18:02:12
Well balanced, sensible comments from Roberto.... Incredible! I can't see how anyone would want to go to Chelsea right now.
Wouldn't be surprised if he ends up at Man Utd in the coming years though.
Steve Guy
2
Posted 09/11/2015 at 18:12:08
After the way Chelsea conducted themselves this summer, I can guarantee that's the one place Stones won't be going anytime soon. I could see a bidding war next summer off the back of a good season and maybe appearances in the Euros.
Colin Glassar
3
Posted 09/11/2015 at 18:26:52
He will end up with one of the European giants next summer, I doubt we will sell him to another prem team. I can see us getting around £50m for him and that's no exaggeration.
Rennie Smith
4
Posted 09/11/2015 at 18:32:27
It is quite amazing how well he's come on. I don't think I've ever seen such a young defender so comfortable with who he is, most of the time they're bricking it and want to get rid before any mistakes are made. That's not coached, that's an in-built profile.
But sadly I think he'll go next summer, but let's make sure it's for top dollar and we spend it well.
I think a thank you to a certain Mr Moyes might be in order?
Mike Gaynes
5
Posted 09/11/2015 at 19:09:38
I think Chelsea will definitely be back in for Stones in January.
He might be able to help them avoid relegation.
Hee-hee!
Barry Lambert
6
Posted 09/11/2015 at 19:33:50
Mike, where is your compassion? Couldn't agree with you more. Great comments.
Ian Riley
7
Posted 09/11/2015 at 19:44:19
Chelsea need players and a £40 million bid for Stones will be made in January. However, only if José is still there. I wish the manager would not make a comment on potential transfers of players from Everton. The nucleus of young players at the club could lead to better things ahead but I fear money will talk.
There is a possibility that Stones and Lukaku could be sold in January for a combined fee of £85 million. Hopefully we would at least have 30 points by then!
Les Martin
8
Posted 09/11/2015 at 20:28:39
Potentially there could be a lot of money on the table in January and the perplexing question is: With possibly £80M+ for Stones and Lukaku, would you be tempted?
Pete Edwards
9
Posted 09/11/2015 at 21:48:18
No one will be sold from the main part of the squad in January.
Cheer up, Ian.
Andrew James
11
Posted 09/11/2015 at 22:34:19
It's funny but there's this natural media perpetuated assumption that Stones has been awesome this season. He hasn't. He's been injured and made some mistakes.
I don't think he would be best advised to leave us for a while. Can you imagine him going to a Sky club and being scrutinised all the time? He'd become a scapegoat just like Fellaini did.
I could see Lukaku tearing it up in La Ligue but not sure he actually wants to leave Everton. I get the feeling he likes being the main man.
Harold Matthews
12
Posted 10/11/2015 at 01:29:33
Yes Andrew, the most pleasing sight in the West Ham game was Stones moving freely for the first time in weeks.
Conor Skelly
13
Posted 10/11/2015 at 02:28:53
A compliment. A footballing compliment.
Matt Traynor
14
Posted 10/11/2015 at 02:35:27
Ian (#5), the way the media go on with hammering at something until they can eventually run the "We told you first" banner, the manager has to say something. At least he's toeing the party line and stating that we don't have to sell to balance the books.
There's very strong rumours (of course) about Lukaku and Stones both going in January. That would see the club bank the best part of £100M, and what better time to cut and run if you're an owner....
Wow, I'm making shit up.
(Sends CV to Daily Mail.)
Eric Myles
15
Posted 10/11/2015 at 03:12:23
Post #5 moots a combined fee of £85 million, and by post #9, 6 hours later it's up to £100 million.
Hyper-Inflation seems rampant in these parts.
Darren Hind
16
Posted 10/11/2015 at 06:13:51
Martinez has shown incredible courage and foresight.
For years, poorer clubs all over the world have been acting as bitches to the richer clubs by capitulating every time they have made them an offer they "couldn't refuse"... Well our boy is refusing.
Those clubs of enormous wealth have now disappeared out of sight, clubs like ours will never again be able to compete with in terms of spending power. The only way parity will ever be restored is by denying them access to all the best players.
Martinez is leading the way. He has already resisted the now customary "below market value" offers the richer clubs like to make when a player is yet to reach his prime. He has realised that, by letting a player develop, he will either reap the rewards on the pitch, or he will be able to charge top dollar when he's good and ready to sell.
I fully expect to see other managers follow Roberto's lead. The Sky windfall has ensured that nobody REALLY needs to sell. The tables are turning, the richer clubs are beginning to realise that if they want another club's player, they are the ones who will be having their trousers removed.
I doubt we will ever get a level playing field again, but Martinez is pointing the rest of football to a way that will at least redress some of the balance.
I still despair of his tactics and selections, but it's difficult not to love his defiance this summer. He's a smart guy and NOBODY will be getting Everton players on the cheap on his watch.

Paul Cherrington
17
Posted 10/11/2015 at 11:04:55
Great comments from the manager that actually make sense for once. I would 100% not sell Rom as he is a goal scorer and they are hard to find. (And expensive when you do!)
I wouldn't actively look to be selling Stones but if a silly offer came in (and I mean something like £50 million plus) I would take it. The purchase of Funes Mori shows that a fraction of that money would buy you a more than adequate replacement and leave us more to find that elusive No 10 and another back up striker. I like Stones but he's not quite as amazing as everyone makes out especially for his main job of defending.
Geoff Evans
18
Posted 10/11/2015 at 12:42:04
Both Stones and Rom still have a lot to learn, hopefully they know that.
Frank Bortoli
19
Posted 10/11/2015 at 12:57:16
Let's not get carried away with talk of big money if Lukaku and Stones were to leave replacing them would not be a walk in the park even with all that money.
Clubs in the Premier League are not short of money now and it's a sellers market with inflated prices for average players. What we need to consider is what we would be likely to get with that same amount of money. Top European players will in most cases want to be in London, I am afraid the reality of life is this is becoming more and more of an occurrence which limits our ability to attract the very best.
So let's not take that gamble, we need to be seen as not a selling club and we should keep proven players of this quality.
With ever inflated fees it goes to prove the importance of a good academy like ours where home grown players to beef up our future teams
David Harrison
20
Posted 10/11/2015 at 13:34:41
No Les (#8), not tempted in the slightest. I support Everton the football club not Everton plc.
What would we do with the 䀁 million? Direct 㿔 million replacements, boost squad numbers with 7 or 8 journeymen or ease down the debt?
The 1st is a non starter because those sort of players aren't queuing up to join us. We all know what happened over the park with strategy no 2 and no 3 isn't going to get me off my feet.
No, we must keep our young talent. At least let us keep the dream alive because at the moment dreams are pretty much all we have
Paul Cherrington
21
Posted 10/11/2015 at 13:56:16
It's a fine ideal to hang onto all our players forever and not sell anyone. However, with no billionaire backer, we need to, so we can refresh the squad each year.
I remember some people going mad when Rodwell was sold for example but looks like we got a good deal there in the end. We need to accept the reality of where we are and how we need to operate.
Harold Matthews
22
Posted 10/11/2015 at 14:24:10
Darren. Nice post mate.
Unlike many managers, Martinez appears to be in total control and is doing things his way. Actually, a bit like the Athletico Madrid way. Big money young strikers with a rising transfer value and kids like Torres and De Gea emerging from the academy. Of course, three of their biggest successed were all South American. Kun Aguero, Falcao and Diego Forlan. Bought for plenty and sold for more.
Oliver Molloy
23
Posted 10/11/2015 at 15:21:09
If Stones and Lukuku want to leave, they will do and Martinez knows this. There is absolutely no sense in keeping a player who wants away, but timing is everything in this respect.
What he is doing is sending out a clear message that, if you want them, be prepared to pay top dollar. With their long contracts, the club currently have the upper hand in any negotiations.
I hope both players stay but, unless we win something or the club is purchased by wealthy persons / person, I think we can expect the inevitable.
Dave Abrahams
24
Posted 10/11/2015 at 16:07:47
If players go, unfortunately we can do little about, so when they go, I'll wish them well with their new clubs, to be honest I'm more interested where the money is spent when they do go.
John Voigt
27
Posted 10/11/2015 at 21:30:29
Players have agents, and agents want to make fees!!! The thing about being loyal doesn't hold water when someone offers you double or triple the wages you're on...
If someone offered to double my wages I'd tell my co-workers to plan a send-off party for tomorrow!!!
That said, Martinez knows the score on this front and will extract the max. from anyone that wants either Stones or Lukaku.
Both count as home grown players and both Chelsea and Man City are short on homegrown players. I can't see Chelsea paying a big fee for Lukaku and City have a similar player in Wilfred Bony.
It will be interesting to see where they wind up. With agents and sky-high wages, I figure at least one of them won't be with the Blues next season.
Cheers.

Add Your Comments
In order to post a comment, you need to be logged in as a registered user of the site.
Or Sign up as a ToffeeWeb Member — it's free, takes just a few minutes and will allow you to post your comments on articles and Talking Points submissions across the site.
© ToffeeWeb