"Fully fit" Cleverley itching to play again
by

28 Comments [Jump to last]
| 18/11/2015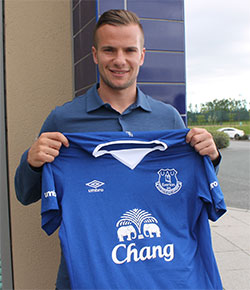 Tom Cleverley could finally complete his return from the ankle injury he sustained at Spurs in August when his old club come to town this weekend.
The 25-year-old has been out of action recovering from ligament damage ever since he was forced out of the goalless draw at White Hart Lane following a heavy challenge by Eric Dier.
He seemed to be on the cusp of returning to the side last month when he played in for Everton's U21s alongside Steven Pienaar but he has been absent from the squad in the interim after picking up an unrelated niggle in training.
"The last few months have been massively frustrating," Cleverley told evertonfc.com. "I don't think any player wants to get injured but when you are settling in at a new club and finding your feet pretty quickly – which I thought I was – then it is even more so.
"You have just got to back yourself to come back from it, work as hard as ever, and hope that, when I do get back into the team, it feels like I have never been away.
"Whenever you have a long-term injury, you are susceptible to a couple of hiccups. I just had a little one with my groin in a training session, but you have got to expect these things. It is hard coming back from a long lay-off.
"But I am as fit as ever now and raring to go."
That could put him in line to face Aston Villa on Saturday, the team he played for on loan last season as he wound down his contract with Manchester United.
It remains to be seen whether he will walk straight into the starting XI but his availability will give Roberto Martinez additional options as he aims for a second successive home victory when the Villains come to Goodison.
---
Reader Comments (28)
Note: the following content is not moderated or vetted by the site owners at the time of submission. Comments are the responsibility of the poster. Disclaimer
Ian McDowell
1
Posted 18/11/2015 at 21:25:25
I'll be really glad to see him back. He gives us another option in the midfield.
Barry McNally
2
Posted 18/11/2015 at 21:27:26
Arguably our best player up to the injury.
Harold Matthews
3
Posted 18/11/2015 at 21:50:50
Extra forward thinking intelligence on the pitch plus his late runs into the box. We'll need to learn from the Besic / Oviedo injuries and nurse him back slowly. This lad has a big future with Everton and we don't want to rush things.
Aaron Underwood
4
Posted 18/11/2015 at 21:52:46
I'll admit I was skeptical when I heard we were signing him, I thought it was just because of the fact he was free and that the board wanted to look busy. But he did look like he was really slotting into the team well. I think he will link up well with Baines when he's back as well.

I however would like to see him tried in McCarthy's position, especially in home games when we should be going for the jugular. He's a much more dynamic player than McCarthy, poses a much more attacking threat, and might create a bit of space for Barkley to burst into. All in all, glad to have him back. COYB
Paul Hewitt
5
Posted 18/11/2015 at 22:33:34
Drop Barry. Play Cleverley. Simple.
Geoff Risebrow
6
Posted 18/11/2015 at 22:38:35
I admit I didn't want us to sign the lad but I am happy to say that I am really looking forward to seeing him back in the famous blue shirt.

He gives us another option. Surely he needs to play in the middle though? Gerard, Kone, Super Kev and Lennon are all good options in the wide areas.
James Stewart
7
Posted 18/11/2015 at 22:50:41
I would like to see him play centrally in place of McCarthy. Cleverley's range of passing impressed me and his engine is excellent too.
Eddie Dunn
8
Posted 18/11/2015 at 23:08:20
Paul 5, Barry has been one of our best performers so far this season, I would rest McCarthy, like Aaron and James state.
Cleverley was doing so well before that awful Dier scissor tackle, which ironically, was similar to McCarthy's dreadful one on Payet.

Let's hope that we don't incur any more injuries, as we are papering over the cracks in some departments.

If we were to lose Rom, I fear that we would really struggle.
David Hallwood
9
Posted 18/11/2015 at 23:49:13
Agree with most posters that he should replace McCarthy or Barry, but I'm willing to put money on he'll get the Mirallas / Kone slot.
Anthony Dwyer
10
Posted 18/11/2015 at 23:59:20
When Cleverley is truly fully fit, refer to Paul Hewit @ comment 5, it couldn't be put much simpler.
James Kirrane
11
Posted 19/11/2015 at 00:04:48
Tom Cleverley gives us more attacking options. He is a midfielder who gets in the box unlike some of our midfielders who barely cross the half-way line.
Joe O'Brien
12
Posted 19/11/2015 at 00:17:38
It will be great to have him back. I have to agree with Paul and Anthony, drop Barry: replace him with Cleverley. I'd make Stones captain till Jags gets back.
I think RM missed a trick there, the armband should have gone to Stones. Might make him think about withdrawing his transfer request.
Paul Thompson
13
Posted 19/11/2015 at 00:25:07
I'm with the rest McCarthy option. Those who want to drop Barry either haven't been watching our recent games or don't let the facts get in the way of a good prejudice.
Darryl Ritchie
15
Posted 19/11/2015 at 07:03:31
Martinez will start Barry and McCarthy. They will start for the foreseeable future. RM has, I think, also settled on a starting frontline; Lukaku, Kone, Deulofeu and Barkley, so he won't get a go there either. Cleverley will join Lennon, Mirallas et al, on the bench, and get subbed on for the last 20 minutes of the odd game.
It might change when Jags comes back, but until then, RM will use Barry and McCarthy as cover for the CBs. Martinez is comfortable with the the status quo, so he won't change things up.
Geoff Risebrow
16
Posted 19/11/2015 at 09:17:36
I like Barry and McCarthy but I don't want us to ever play with two DMs. In that case, I would leave out McCarthy and start with Cleverley.
Let's really go for the opposition! We're Everton, NOT Stoke!
Abhishek Saha
17
Posted 19/11/2015 at 09:30:28
Agree with Paul (13) and for once agree on a comment in favour of good old Barry. His recent games does earn him a place in the XI simply on merit.
Geoff Evans
18
Posted 19/11/2015 at 09:48:01
A player's player, the type who brings the best out of higher profile players.
Paul Cherrington
19
Posted 19/11/2015 at 10:05:16
It will be good to see him back; I would use him in one of the two DM roles, probably instead of Macca right now to give him a rest.
Aaron Underwood
20
Posted 19/11/2015 at 11:36:27
I don't really know why people would put him in place of Barry. In a team as young as ours with Jags and Baines missing, I don't see how you can justify dropping our most experienced player, not to mention the fact that he's been great this season, arguably one of our best performers; certainly surprised me after last season.
Gareth Clark
21
Posted 19/11/2015 at 12:36:10
Give McCarthy a break, after a tough international break & give Cleverley a go in an easier fixture!
Howard
Coleman Stones Funes Mori Galloway
Cleverley Barry(c)
Deulofeu Barkley Mirallas
Lukaku
---------
Robles
Baines
Browning
McCarthy
Naismith
Lennon
Kone
Trevor Peers
22
Posted 19/11/2015 at 12:36:23
I agree, Aaron. He should only merit a place on the bench on Saturday; there must be a question over his fitness after being out so long.
Bringing him back gradually would be the best approach.
Steavey Buckley
23
Posted 19/11/2015 at 14:00:03
Any of the players who have just returned from international duty with their countries and are still half asleep, Martinez must choose players who are eager to play with their eyes open.
Another incident when Everton were comprehensively beaten, because of players' lack of sleep after returning from an international jaunt, cannot be tolerated.
Brian Harrison
24
Posted 19/11/2015 at 14:17:02
I would hope that the team is left unaltered, and we start with Kone, Lukaku and Deulofeu as the front three. I am not keen on Cleverley ever playing as part of the front three; surely he should be in competition with Barkley, Barry and McCarthy.
I daresay that at some point in the run up to the busy Xmas period he will have to give players a rest. Certainly Lukaku has played in all our competitive games this season; at some point he will need to be rested.
Paul Hewitt
25
Posted 19/11/2015 at 19:08:51
Paul@ 13. It's not prejudice, mate, just think McCarthy is a much better player.
Paul Tran
26
Posted 19/11/2015 at 19:20:44
I like Cleverley. Problem is, he's like too many players in our team; he's nearly a very good player who isn't quite top class in a variety of positions.
How about just one player in midfield who can pass a ball, has pace and awareness and can get in front of the forwards and score goals?
Les Martin
27
Posted 19/11/2015 at 19:40:55
I predict that quite a few of you will be eating humble pie at the end of the season as I see Cleverley as a key player for us; injury-free, the man is class and we got him for an absolute steal!!!
He can pick a pass make great runs and tackle, at 25 it was a superb bit of business by Martinez.
I also think he will become the first midfield pick as the Barry - McCarthy axis may well be under threat very soon. Barry has been excellent but can you really see him lasting the whole season?
I also hope that Besic can play that defensive role when he sorts out the timing of his tackles. The midfield is starting to look very strong.
Anthony Dwyer
28
Posted 20/11/2015 at 01:27:03
I'd echo the thoughts of some that Barry has been in better form than McCarthy this season, but without them miles McCarthy puts in, I think Barry will look lost in our midfield.
Barkley, Kone, Deulofeu, Barry, Lukaku and Cleverley (first game back from injury), can anyone tell me who is going to be closing down in the midfield??
Deulofeu and Kone do a job wide, Lukaku is the striker, Barkley doesn't do chasing back, Cleverley is just back off a long-term injury and unfortunately Barry runs like a pensioner. It would become irrelevant that Barry could pass as we wouldn't be able to win the ball in the first place.
Paul Cherrington
29
Posted 20/11/2015 at 10:10:01
My main thinking is that McCarthy might be tired with international duty whereas Barry hasn't had that to contend with; hence, give Macca a rest as he will need it more.
Add Your Comments
In order to post a comment, you need to be logged in as a registered user of the site.
Or Sign up as a ToffeeWeb Member — it's free, takes just a few minutes and will allow you to post your comments on articles and Talking Points submissions across the site.
© ToffeeWeb