Martinez clarifies terms of Deulofeu deal with Barcelona
by

62 Comments [Jump to last]
| 19/11/2015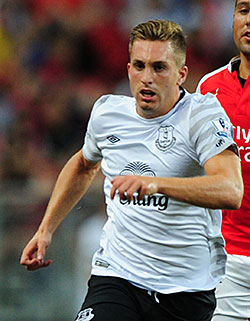 Gerard Deulofeu's form for club and country has raised the spectre for Everton that Barcelona could activate their buy-back clause for the player, a situation from which the club would profit but, Roberto Martinez admits, would be powerless to prevent.
The Blues successfully negotiated the return to Goodison Park of the mercurial winger over the summer following his largely unsuccessful loan spell with Sevilla in 2014-15 and were able to secure him for just £4.25m.
That fee is looking like it could be the bargain of the season given Deulofeu's increasingly influential performances in an Everton jersey – not to mention his sensational displays for Spain U21s – but it also underscores why Barcelona were so insistent on retaining the option of buying the 21-year-old back if they wanted to.
As speculation mounts that the Blaugrana could move to do so as soon as January, Martinez has clarified the terms of the deal and ruled out anything happening until next summer at the earliest. Barcelona would be able to exercise their right to re-purchase Deulofeu for €9m in the summer of 2015 or for €12m after that and they wouldn't be able to immediately sell the winger on for profit.
"There are certain things in the deal," the manager explained in The Guardian. "They can't take him back... in January. It can only be at the end of the season. It is €9m for the first year and €12m in the second year.
"If they take him back they can't sell him for [another] season, so he has to stay in the first-team squad for a season. At the end of that if they decide to sell him we have got first rights of getting him back or we have got a big percentage of that deal. There is nothing we can do if they activate it. That was the deal and the only way we could access the player in the terms that we wanted."
While the terms of the transfer are stacked heavily in Barca's favour, the alternative for Everton might have been not getting the player at all. Despite not being deemed ready by Luis Enrique in the summer of 2014 and his mixed fortunes at Sevilla, the Spanish giants were loathe to part with a player who was regarded as the most promising of his generation coming up through their youth ranks.
The ideal situation from their point of view would have been to send Deulofeu out in loan for a third season but the player himself refused, insisting that he wanted a permanent move this time in order to find some stability. Everton faced competition for his signature in July but were ultimately able to secure him on a cut-price deal on the proviso that Barcelona could buy him back at a profit for the Blues.
"I'm delighted with the deal," Martinez said. "[F]or us to have a player of that quality for the money we paid, if we lose him it will be on a profit financially so we would be able to use the money. And you want the player.
"You're talking about a Barcelona player who has been all through his years as the golden boy believing he is going to be at the top level at Barcelona and we got him for a very good price. I'd like to tell Barcelona that he's rubbish but they come to watch our games."
---
Reader Comments (62)
Note: the following content is not moderated or vetted by the site owners at the time of submission. Comments are the responsibility of the poster. Disclaimer
Jay Wood
2
Posted 19/11/2015 at 23:26:51
A very clear and honest presentation of the terms of the deal with Barca. Any other deal would not have seen Deulofeu return to Goodison Park at all.
Conclusion? The way he is playing for club and country, enjoy him in an Everton shirt whilst you can. He'll be back in a Barca shirt in 2 years, at best...
Dave Southword
3
Posted 19/11/2015 at 23:29:16
Well, looks like the legal team got the contract spot on. They can't get him in January, he can't be sold on or loaned, we have first refusal and a big sell on clause.
Given Barcelona would have insisted on the buyback clause, enabling the low fee, according to Roberto we have covered ourselves.
Joey Brown
4
Posted 19/11/2015 at 23:32:11
I assume the big factor in our court, is if Deulofeu could agree to terms with Barca. He knows he's first team here and plays his best seemingly in an Everton shirt. Granted, 2 years is a long time in life and football.
Jim Lloyd
5
Posted 19/11/2015 at 23:36:44
I'm not so sure he will go back to Barca, at least not while Roberto is manager of Everton. The lad loves the place, the fans and, mosty of all, the manager.
If we bring in some more youing players in the next year or two, then I think we'll see a really good Everton team being able to take on the best in England. I think Gerry would want to be part of that.
Jay Wood
6
Posted 19/11/2015 at 23:41:47
A romantic notion Jim and one I would like to believe in.
But for any professional footballer, especially a Basque raised at the club since a kid, if the choice was Everton or Barcelona... what are the odds?
Steve Jenkins
7
Posted 19/11/2015 at 23:50:37
Obviously biased and I want him to stay, but, hand on heart, I don't see any sense in him returning to Barca at the end if this season.
He's clearly developing and enjoying his football, he is yet still far from the finished article, which is what you need to be to play for Barca/Real.
It's a situation that currently suits and benefits everybody. He loves being here, is loved by the fans and loves playing for Roberto who is clearly playing a major role in developing the lad's game.
If he goes back to Barca – he isn't ready, is unlucky to start many games which will further hamper his development and likely stagnate as he he did last year.
In another two seasons, he will be a far more developed player and possibly ready for the Barca first team.
He's an exceptionally talented player, who can in time go on to be one of the World's very best. For now, he still developing and the best place for him is here, for the next two seasons at least.
Charlie Burnett
8
Posted 19/11/2015 at 00:05:38
The boy's amazing but, come on people, he isn't going to sit on the Barca bench, that's why he's been out on loan and Messi, Neymar and Ratboy aren't going anywhere for a while. Geri's good but they are world class.
Mike Prendergast
9
Posted 20/11/2015 at 00:08:57
What if Barcelona come in for him and he says No?
Peter Gorman
10
Posted 20/11/2015 at 00:13:04
Mike, that is exactly the question I was thinking of. If Geri insisted on a permanent deal rather than a loan, he could very well just refuse personal terms if he doesn't want to return to Barcelona.
Wishful thinking perhaps but the whole deal is very odd.
Anthony Dwyer
11
Posted 20/11/2015 at 00:23:28
Although the deal is majorly stacked in favour of Barcelona, we still got ourselves a top talent who we get to see for at least a season.
As well as that, we have the possibility of keeping him beyond that period and as some people have rightly put, Gerry himself may insist on staying with us until he is ready to start matches at Barcelona, which is at least two seasons away.
On top of all that, we will be in profit no matter when (or indeed if) we move Gerry on.
To me this all points to a excellent deal for both parties, with a future chance of securing similar deals with talented young Barca players.
All good in my book.
Lee Courtliff
12
Posted 20/11/2015 at 00:25:45
Like others have said, he's good but a mile away from being first pick at Barca. From the bits I've heard off Gerry, I wouldn't be surprised if he rejected Barca next summer, if they bid.
The lad clearly loves playing and seemingly has a good relationship with Martinez and the club. If we can keep him for 3/4 years I think we'll make an absolute fortune on him. He has so much potential, it's frightening. Just wish he'd stop diving, though.
Colin Glassar
13
Posted 20/11/2015 at 00:37:14
He won't be going back to Barcelona while Luis Enrique is in charge. There's no love lost there.
As a Catalan, it's obvious he'd love to play for his first love but, like Charlie Burnett said, he will still be a bench warmer at best there for the foreseeable future.
Aaron Underwood
14
Posted 20/11/2015 at 01:00:27
I know Martinez gets a lot of stick on TW, but I do think he's made a great deal here, I can't see barcelona coming back for Gerri, especially under their current management.
I also like as well that, if they decide to sell him after they've taken him back, then we get first rights to buy him. Honestly even if he goes, being paid a few million to let Gerri play for us for a couple of seasons could hardly be seen as bad deal, and if he doesn't go, well...
He's magic you knowwwwww!
Ernie Baywood
15
Posted 20/11/2015 at 01:50:47
Is it that well stacked for Barca? The way I see it they can get him relatively cheaply if he turns out to be a superstar and they want him to actually play for them.
But financially, we look pretty strong. Particularly if they then sold him on to someone else. Plus we have the player for a year or two.
I'm actually quite impressed at this bit of negotiation!
Phil Sammon
16
Posted 20/11/2015 at 03:22:47
Colin,
You may be right about Luis Enrique not fancying Deulofeu, but somebody in the Barca hierarchy clearly saw fit to add that buy-back clause in his transfer deal.
All things considered, I think Everton did very well on this one. We've also done everything we can to stop Barca buying him back and flogging him off for a fast profit... which was one concern I had.
I think one thing that is surprisingly in our favour is the young star's personality. For someone who has been lauded as a genius since he was old enough to kick a ball, he's a very grounded and likeable lad. I also think he's clever enough to know what's best for his own future when the time comes. Hopefully that's EFC!
David Ellis
17
Posted 20/11/2015 at 03:51:22
It's a good deal. Also having Barca in the background will help keep the likes of Chelsea from trying to pinch him.
Geri knows that if he stays with us and does well he does have a path back to his dream club... that must help keep him with us (somewhat paradoxically) as it will make a move to a third club less attractive.
Gavin Johnson
18
Posted 20/11/2015 at 05:44:17
Being a Catalan who has always professed his ambition to establish himself in the Barca shirt. His return there has a feeling of inevitability if his form and development continues.
He has world class potential. This season, so far, he looks on course to realise this, so my hope would be that he knows he's playing for a manager who believes in him and he stays until the end of the 2nd season.
If he helps us win the League Cup this season, that will soften the blow for me, and he'll leave with my best wishes.
Darryl Ritchie
19
Posted 20/11/2015 at 06:15:17
I've got agree with Charlie @ #7. Barca's superstar-studded attack force will not be going anywhere for at least two years, probably much longer than that. If Geri goes back, he will not start. There's a good chance that he will be farmed out on loan again. I hope whomever gives Deulofeu advice, that the advice is in his best interest, not theirs (ie, the agents).
If I was Geri, I'd stay at a club... say Everton... bide my time, hone my skills, and then, after 5 or 6 years, when I'm at the highest level, go back to Barca as the saviour, not a bench-warmer... for really, really big bucks.
Jay Woods
20
Posted 20/11/2015 at 07:49:45
@ Jay Wood: He's not a Basque, he's Catalan. (Sorry to be pedantic).
Colin Glassar
21
Posted 20/11/2015 at 08:00:41
Phil, they love him over there and his "sale" to us was hugely controversial but I think it's a great deal for all concerned. Hopefully, we will get first dibs on all of Barcelona's youngsters in the future as we become their 'special friends'.
Andrew Laird
22
Posted 20/11/2015 at 08:13:34
This guy's final ball/cross is as good as you will see and he has pace to burn, the touch of a midwife and a football brain. With Sterling, who only has pace from that list of attributes, going for £50m this deal was an absolute bargain and kudos must go to Roberto.
This fella could be one of Europe's best players if he keeps steadily improving (and starts using his left foot) because he has got everything in his locker. Enjoy him while we can because he, like Stones, Lukaku and Barkley will be amongst the most coveted youngsters in world football. I really hope we build a team around those players because their talent is frightening. So well done Bobby, just please keep them at Everton and we will win something.
Jim Lloyd
23
Posted 20/11/2015 at 09:06:23
Jay (5) I agree. I think though, that Gerry won't want top go back to Barca to sit on the bench and I'm hoping (no more than that really) that he'll wait until he is going back into their first team.
So, for the most selfish of reasons, I hope all the Barca forwards stay at the peak of their game for another 2-3 years...at least!
We are going to have trouble keeping our best young players but a cup win would go some way for them wanting to stay. Without success, we're going to lose our best players, including Gerry, I'm hoping Roberto can find that midfield general I think we need and you never know. I don't think we're far away from being a really good side.
Nick Entwistle
24
Posted 20/11/2015 at 09:09:57
When ever they take him back, with the wages they will have saved on a new deal at the Nou Camp, they come out with a profit. We will have spent about ٟm on essentially an 1- or 2-year loan fee.
So do we hope he improves but only to a level where Barca aren't interested, or if he becomes what they want, it's adios and no money made at all.
I'm sure Barca were mucho happy with the deal.
Brian Harrison
25
Posted 20/11/2015 at 09:19:44
Well very honest of RM to explain the details of the buy-back clause. I think a good deal for both clubs, and the player who seems to love playing for us. I am not one of RMs fans but I have to say the Deulofeu, Galloway and Funes Mori deals shows he can spot a player.
I think Deulofeu likes to know he feels wanted by manager and fans, something that didn't happen with his loan move to Sevilla. I think he is a special player; now we know the deal, let's enjoy him till at least the summer. Then he will have a decision to make: Does he go back if Barca invoke the buy-back clause, or might he stay for a second season?
I think a lot will depend on if he thinks he will get first team chances at Barca; after all, young guys want to play not sit on the bench for months on end. Also he could use his second season to impress Del Bosque and force his way into the Spanish squad. Then Barca would have to guarantee him first-team football.
Dave Abrahams
26
Posted 20/11/2015 at 09:26:36
I think Everton have done well out of this transfer deal.
Also isn't it the case that the buy-back clause finishes after two seasons, ie, if Barcelona don't take him back then, he is our player? Unlikely given the lad's form but isn't that the case?
Ken Buckley
27
Posted 20/11/2015 at 09:27:58
The deal looks quite straightforward unless the lad said 'I don't want to go.'
Could it turn into a human rights issue?
Brent Stephens
28
Posted 20/11/2015 at 09:38:24
To my mind, a very good deal for us. Well done EFC.
Jim Lloyd
29
Posted 20/11/2015 at 09:40:37
It looks that way Dave. It's €9m to buy him in the Summer and €12m the following Summer. So, if he doesn't go back in the Summer, we've got him for another year at least. Sounds a good deal to me.
Brin Williams
30
Posted 20/11/2015 at 09:49:32
Jay Wood (#5),
Just a small, but important, point – you said 'especially a Basque raised at the club since a kid'
He is not Basque – he is Catalan and Barcelona is also in Catalonia.
Liam Reilly
31
Posted 20/11/2015 at 09:53:39
Ultimately the boy want's to play for Barca and so if he keeps his form going, a return is inevitable at some stage. But, whoever added the clause to ensure they if they take him back he must be part of their first team set up for at least a year should be given a Christmas bonus.
If this lad is knocking on the door of the senior Spanish side in a World Cup campaign, he won't want to sit on their bench.
Jay Wood
32
Posted 20/11/2015 at 10:12:51
Oops! What a brain melt by me! Of course he is Catalan.
And I lived in Barcelona for a year! I hope none of my old Barca drinking mates see this!
Paul Mackie
33
Posted 20/11/2015 at 10:47:37
He'll play for Barca again one day, but I don't think it will be soon enough for this buy-back clause to worry us. As others have said, Suarez, Neymar and Messi are miles ahead of him at this point. Barca know this and so does Deulofeu.
If he can continue to develop at the rate he is doing though, then I think he can become truly world class one day.
Paul Kelly
34
Posted 20/11/2015 at 10:59:30
All I can say is I'm made up he's here, the only player that gets me genuinely excited in many a year, plus he's on blob (not the women type) at the moment.
Enjoy it, could be many a year before his ilk is seen again.
Oh, and credit to El Bob for this signing (and a few others too); shame about his tactics though.
Denis Richardson
35
Posted 20/11/2015 at 11:13:26
The thing in our favour for me is he's currently miles away from being anywhere near good enough for the Barca 1st team. Don't get me wrong, I love the kid and think he's got great potential but Everton and Barca are on different planets when it comes to quality on the pitch. I'll give Martinez credit here for bringing him back, though. (Yes, I actually gave the manager credit.)
The only player we currently have that could potentially make the Barca bench (nevermind first team) is Stones. Deulofeu is improving all the while but it would be a massive leap needed from him to be ready for first-team football at the Nou Camp next summer.
Personally, I think we'll have him till at least summer 2017 – before then, there's always the chance we agree on another deal with Barca whereby we pay them €Xm to keep him permanently without any clauses.
Erik Dols
36
Posted 20/11/2015 at 11:14:48
I'm sorry if I read over this, but does anybody know if there is a percentage on sell-on if Everton decide to sell him to another club negotiated? I read that it is the other way around; if Barça buy him back and sell him a year after, we get a percentage. But if we decide to sell him, do they get a percentage? I actually hope they do and here's why:
Suppose Bayern Munich offers £50 million in the summer of 2017 and Everton accept; Barcelona has a big incentive to activate their buy-back clause and buy him for a mere £12 million (euros actually but for the sake of the argument let's disregard the exact currency), even if they're not going to play him they know they can sell him after a year for a big profit. But if Barça would get say 20% on the sale, they make an easy £10 million and probably would be ok with that. £40 million remains for Everton, which obviously is better than £12 million. Both Barça and Everton will be happy financially.
Of course this is all hypothetical. What really will happen is this: Deulofeu will turn out to be the next Messi and will play for Everton for the remainder of his career. He will score the first goal in the brand new 90,000-capacity Tony Hibbert Stadium in 2025 and break Dixie's goals-in-one-season record multiple times. You've read it here first!
Paul Kelly
37
Posted 20/11/2015 at 11:24:34
Erik, I'll stick with your last paragraph:
Of course this is all hypothetical. What really will happen is this: Deulofeu will turn out to be the next Messi and will play for Everton for the remainder of his career. He will score the first goal in the brand new 90,000-capacity Tony Hibbert Stadium in 2025 and break Dixie's goals-in-one-season record multiple times. You've read it here first!
If only!
James Marshall
38
Posted 20/11/2015 at 11:35:00
Jay (#5), I thought he was Catalan not Basque? Why would a Basque be so keen to play for Barcelona?
Denis Richardson
39
Posted 20/11/2015 at 11:39:33
Eirk - if your example happens, I can't see Barca accepting £10m now when they could get £30m+ 12 months later? They would just enter into a pre-agreement with Bayern to sell the player 12 months later.
Also, if Bayern are willing to pay £50m for him now, then he would presumably be good enough for the Barca squad for those 12 months... and Barca may not even want to sell.
All hypothetical but he's here for a couple of years so let's see him develop and cross that bridge if it ever comes, I'd say.
Ray Roche
40
Posted 20/11/2015 at 11:50:05
Jay#31
We all have brain fade at one time or another......
Erik Dols
41
Posted 20/11/2015 at 12:03:40
Denis (#38), that's why it's all hypothetical.
Perhaps a better example: suppose Wolfsburg would want to pay £25 million and we would be willing to sell. Still, Barcelona could potentially make more money by buying Deulofeu for the agreed £12 million and sell him after a year, but if Deulofeu didn't play often his price would drop and the deal gets risky.
The other option is to accept the £5 million they can get risk free in this deal. We would still keep £20 million which is far better than £12 million.
It's all ifs and buts, I know.
James Thornhill
42
Posted 20/11/2015 at 12:14:32
As Roberto said...
"I'd like to tell Barcelona that he's rubbish but they come to watch our games"
If that is true, they will have more than one eye on Stones, and would not want to upset any apple cart with any potential deal there. I would put my house on Gerard Deulofeu still being here past this season. However, I think it is inevitable that we will see Stones and Deulofeu in Barca shirts over the next couple of years.
James Flynn
43
Posted 20/11/2015 at 12:14:33
Short of Messi, Neymar or Suarez losing a body part, why would he go back before the next 2 years are up?
Jay Wood
45
Posted 20/11/2015 at 12:24:54
Ray @ 39
I know Ray ... only ... mine are becoming more frequent and happening in clusters!
Denis Richardson
46
Posted 20/11/2015 at 12:35:58
Erik – I can see your point but it really depends on the price and split...
In your example, I can't see Barca accepting just £5m from a hypothetical £25m Wolfsburg offer (they could buy for £12m and sell a year later for £25m – barring injuries).
However, if we were only going to get half, say £12.5m. Then, would it be in our own interest to sell him? Probably not as we'd be losing a £25m player to get £12.5m in cash... Even if Barca were willing to split it £15m/£10m in our favour; again, we'd be losing a £25m player to get £15m cash – I'm not sure that would suit us either.
If he does turn out to be worth £25m, I can't see any result other than Barca buying him back for £12m or we offer them them around £13m to remove the clause (ie, £25m less the £12m they would have to pay to get him back). Depending on our cash situation (cough) we could probably test the water and offer them £5m-£10m next summer to take the buy-back clause out of the contract – we'd have effectively then paid £14m, still a bargain if he continues to improve...
Iain Love
47
Posted 20/11/2015 at 12:44:45
Let's be honest here, he's good and potentially very very good but he's not world class. The ٢m plus we paid is a bargain to us and if he was English would have been ten times that. But he's Spanish; he looked good at lower levels in Spain but didn't stand out at Sevilla.
I can't see Barca coming back in unless he has an unbelievable season and they have a poor one – and, if he does, surely that's good for us.
As it stands, we have a bargain and a potential match-winner. I'm happy.
Erik Dols
48
Posted 20/11/2015 at 12:46:59
Denis,
Barcelona would be taking a big risk if they buy him and don't play him for a year - it's not just injuries. He won't be worth £25 million after a year of not being played. And they would have to pay him for a year.
Taking the £5 million would be risk free for them. That's why I expect Barcelona to accept the 20% or whatever. But yes, it's all hypothetical and depending on the exact details of course.
James Stewart
49
Posted 20/11/2015 at 14:12:36
This deal was actually one of the most sensible transfers I have ever seen us complete. The clause that they can't buy him back to just sell him on is prudent on our part. He is obviously loving life here and being first name on the teamsheet for once.
Harold Matthews
50
Posted 20/11/2015 at 16:00:28
Right now, I am only interested in our free-kicks. For some unfathomable reason, Barkley thinks he is a specialist. After failing with plenty against Spain, he even attempted to take one off Rooney in the France game. Goodness knows how many he has botched for Everton. Are we letting this wasteful farce continue until he scores a goal?.. and then what? Does he try another 50?
What I'm getting at is this. I don't know the success rate of Deulofeu's free-kicks but he scored one against Reading and rocketed home a Ronaldo-type dipping beauty just 8 days ago against Georgia. The technique was even beyond the scope of Leighton Baines.
Of course none of this will cause Barkley to review his own lack of success. He will still grab the ball and tell everyone to stand aside. For someone who is not supposed to believe in himself, he doesn't do too bad at free-kick time. Heaven help us if one eventually goes in.
Thomas Surgenor
51
Posted 20/11/2015 at 16:12:20
I think it's a very fair deal.
It only works in Barce's favour if they genuinely want him to be a member of the first-team squad. I for one would be happy for the guy to live out his dream in Barce's first team and be happy in the knowledge he will always think fondly of his time at Goodison. It might even set an example to other talent and allow us to arrange similar deals.
Imagine this guy somehow fulfilled his potential and became the new Messi, yet consistently gave soundbites about his time at Goodison.
On the other hand, If they buy him back with the intention to sell, then Everton make a healthy profit twice on the deal.
Thomas Surgenor
52
Posted 20/11/2015 at 16:14:46
James (#41):
I agree, I also interpreted that line as "Barce are keeping tabs on Stones".
Ray Roche
53
Posted 20/11/2015 at 16:17:23
Harold, free kicks are a complete waste with us these days. Why we don't try anything different is beyond me. Why does it HAVE to be a shot on goal EVERY time? Why not slip the ball wide to allow a shot on goal that doesn't need to go over the wall? And, as you say, why always Ross? Even Baines attempts last season had become predictable.

I have seen Funes Mori take free kicks on YouTube and he may well be worth a try...
Dennis Ng
54
Posted 20/11/2015 at 17:10:59
I thought we would have a few more free kick experts in our current squad. Didn't Lukaku score from one some time ago? I wish they just let more players have a go, gives opposition more to think about.
The terms are less scary than I thought, so we should have an upper hand to renegotiate it out of the contract should he prove to be stellar.
Ian Robert
56
Posted 20/11/2015 at 19:00:33
Good business, well done Bill.
Joe Foster
57
Posted 20/11/2015 at 19:16:15
I understand that this was the only way we could get him but these deals stink. If they become the norm or are the norm, it's like no player is contractually obliged to anyone for any real amount of time.
If it ever happened, I would like to see a player say "No way; I am staying put." The players apparently have all the power these days. I suppose this is the reality though.
Jay Wood
58
Posted 20/11/2015 at 19:25:24
Don't discount Mirallas from free-kicks around the penalty area. He is excellent at getting the ball over the wall, on target, with pace and curl.
Andy Crooks
59
Posted 20/11/2015 at 19:37:39
Good point, Ray (#51). At present, free-kicks are like a further away penalty with a wall. Surely there is room for some innovation. The first club to try it will get goals.
Jim Jennings
60
Posted 20/11/2015 at 19:53:23
Harold,
Barkley did score one against Swansea the season before last but I agree that Deulofeu and others should take more. Don't get me started on Barkley's corners...
Geoff Risebrow
61
Posted 20/11/2015 at 19:58:44
A fantastic bit of business by the club. I love Gerard but he has got a long way to go until he is the finished article. A lot of his final passes, crosses and decision-making is poor but, on the other hand, his two through balls for Big Rom to score were outstanding. I believe he will only get better.

And I believe he will still be an Everton player after Barca's buy-back clause has expired; are people seriously saying he will be a regular in the Barca team in two years time? Barca can attract whoever they want.

I will be delighted if Gerard is still a Toffee in two years.
Ray Roche
62
Posted 20/11/2015 at 20:24:14
Jay (#55),
It'd have to be some shot from off the bench!
Andy (#56), you're right, the first club with the courage, and invention, to try something different will surely benefit.
Paul Jeronovich
63
Posted 21/11/2015 at 13:47:04
This kid is world class, those two passes alone set him apart from the rest. Quick feet, quick brain and aware of what is around him. Gutted if this buyback is activated but there you go.
Ian Riley
64
Posted 21/11/2015 at 23:48:27
A great deal for us in a financial sense. However, what about the player? Confidence is high and he's playing well.
Go back to Barcelona and prove yourself all over again. Not the finished article by a mile but you are at a club that is more forgiving and understanding.
John Tyrrell
66
Posted 22/11/2015 at 15:56:58
The thing is that he would have to agree to the move, and it was him who insisted on a permanent move. If we can keep all the good youngsters we have, why would he leave in the next couple of years unless Barca sell one of their front three?
Add Your Comments
In order to post a comment, you need to be logged in as a registered user of the site.
Or Sign up as a ToffeeWeb Member — it's free, takes just a few minutes and will allow you to post your comments on articles and Talking Points submissions across the site.
© ToffeeWeb