Everton vs Aston Villa
by

48 Comments [Jump to last]
| 20/11/2015
Match Preview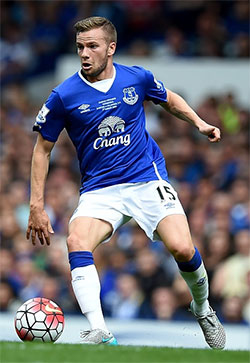 Tom Cleverley could see competitive action for the first time since the end of August
The international breaks can be annoying interruptions to the season and often prevent a team from establishing momentum in the Premier League. So it's a welcome feeling to know that, starting with this weekend's meeting with Aston Villa, Everton now have an unbroken stretch of domestic action between now and the next round of national friendlies in March to hopefully dig in and put together a run of results.
Roberto Martinez has said on a number of occasions recently that he has been pleased with the signs his players have exhibited over the first 12 games that things are coming together; the challenge, as ever, is to translate those signs into consistent performances and support the belief that this talented Everton side is capable of mounting a challenge for the top four.
From Martinez's point of view the fortnight off can be a useful pause to allow players to recover from injuries and, in this case, it's allowed Leighton Baines to take part in a friendly that gets him that much closer to fitness and also give Tom Cleverley more breathing room to prime himself for a return to action after almost three months out with an ankle injury.
Although the manager has wisely said that he won't rush Baines back into the side, he intimated in his press conference yesterday that he would make a decision on the 30-year-old after today's training session at Finch Farm. Under normal circumstances – particularly given the setback he suffered two days before the start of the season in August – Baines would probably be eased back in but Martinez has something of a selection problem at left back.
Brendan Galloway is battling the thigh problem that prevented him yet again from making his England U21 bow this past week, Bryan Oviedo is still recovering from a hamstring strain, Luke Garbutt is on loan for the season at Fulham and even Tyias Browning who has been deployed as an emergency left back before, is a doubt with himself. With Phil Jagielka out until the end of next month, there isn't even the option of moving Ramiro Funes Mori across to fullback, which more or less leaves Gareth Barry (either as a left back or as part of a back three) as the last obvious option if Baines isn't risked.
If Barry is to be the solution, the readiness of Cleverley and Muhamed Besic comes as a timely boost, with either player able to step into central midfield alongside James McCarthy. Cleverley is also a candidate to play in the left-sided attacking midfield role alongside Ross Barkley and at the expense of Kevin Mirallas, although it would also edge out one of Arouna Kone and Gerard Deulofeu, both of whom were instrumental in the 6-2 hammering of Sunderland in the last home game. With the Spaniard having added another stunning assist at Upton Patrk a forntight ago and then run riot again for Spain U21s, it's almost unthinkable that he won't start.
Villa, of course, will be playing just their second match under new manager Remi Garde, the man charged with keeping in the Premier League after joining the top flight's bottom side in the wake of Tim Sherwood's dismissal. A new appointment can often provide a "shot in the arm" to a team and Garde's first game in charge represented a solid start to his tenure – a goalless draw against Manchester City and a rare clean sheet in his first game will have given the Midlanders some confidence and they showed on their last visit to Merseyside in September, when they gave Liverpool a fright, that they're not afraid to have a go.

That indicates that they will be no pushovers despite the fact that they have only won one game sdo far this season. Everton will have to keep an eye on the aerial prowess of the likes of Rudy Gestede and keep an eye on players like Jordan Ayew but Martinez's side should have more than enough to win – particularly if they attack the way they did against Sunderland – and the Goodison faithful will be expecting nothing short of three points on Saturday. These are the kinds of game we simply must be winning if we have European aspirations.
This next phase of 12 games that Roberto has highlighted as being so crucial for signs that his team has the collective determination and the killer instinct that could be so vital in driving them on towards a sustained challenge for the top four. If there has been a feeling that the Blues have been playing within themselves somewhat this season and allowed opportunities to pick up attainable victories to pass them by in games like the ones against Tottenham, Swansea, Liverpool and West Ham then they now have the best possible conditions in which to kick on and mount an assault on the top six in the coming weeks.
Kick off: 3pm
Referee: Michael Oliver
Predicted Line-up: Howard, Coleman, Stones, Funes Mori, Baines, Barry, McCarthy, Deulofeu, Barkley, Kone, Lukaku
Quotes sourced from ToffeeWeb Match Report
---
Reader Comments (48)
Note: the following content is not moderated or vetted by the site owners at the time of submission. Comments are the responsibility of the poster. Disclaimer
Andy Meighan
1
Posted 20/11/2015 at 07:02:56
Not a prayer Villa will go gung ho, they'll be more likely to park the bus and try and hit us on the brea.

The one thing that does worry me though is the aerial threat of the lad Gestede. Obviously villa are bottom for a reason but if they get the service into him the way our keeper deals with crosses it could be worrying.

On another note, Cleverley has done OK when he has played but it'd be folly to bring him straight back into the side, especially at the expense of Kone or Deulofeu who have both been instrumental in the last couple of games.

I'm expecting a tough afternoon and no classic but I expect us to shade it. Just.
Mark Andersson
2
Posted 20/11/2015 at 07:37:10
Great report, it's a old opinion offered by more than me but we lack a real leader on the pitch to galvanise this team.
I'm not a betting man and if I was I would never bet on Everton to win or keep a clean sheet.
As you pointed out Lyndon we should be expected to win against teams like Villa but it's never that simple.
Michael Penley
3
Posted 20/11/2015 at 07:57:20
I suspect everyone will be saying this is a "must win" game, then should we fail to win those same people will realise they forgot to mention what would happen if we didn't win, and shift their expectations on to next week's game.
Derek Knox
4
Posted 20/11/2015 at 09:43:43
I am not so sure that Baines would start, Lyndon, having been out for so long, despite making a successful 'behind closed doors' appearance last week. Besides, Galloway and, although limited in appearances, Oviedo have handled that role well in his absence. I think Martinez is cautious about bringing players back too early, after an injury, having been a physio himself.
On paper, we should win this at a stroll, but playing on grass is quite often different, especially with Villa needing the points for survival, even this early in the campaign.
COYB
Jim Bennings
5
Posted 20/11/2015 at 09:44:04
One game at a time.
I'm guessing tomorrow's match against Villa will be a lot more testing than it would have been before Garde took over. If nothing else, the new manager syndrome lasts at least a few weeks and I expect a long afternoon attempting to break down a well-organised opponent.
Over the years, games against Villa have usually produced quite exciting affairs but I feel tomorrow's could be about one goal deciding it.
We really need to be aware of the threat of Rudi Gestede, one of the most dangerous headers of the ball there is and well, I don't need to go into detail about our defensive vulnerability at crosses! But we dealt well with Andy Carroll so let's hope we do more of the same.
We need to win really, people say it's "must win" because frankly in these sequences of "winnable" games we have developed a bad habit over the years of drawing too many, this the main reason why we fall short of challenging. Games against Aston Villa and Bournemouth really need to be yielding the 6 points.
Denis Richardson
8
Posted 20/11/2015 at 11:25:39
Villa will come to park the proverbial and try to nick a goal on the counter – exactly the sort of game we have been poor in as we ourselves are great on the counter and crap at breaking teams down.
If Baines is fit, he should play. Personally I'd have loved to have him come off the bench a couple of times to get match sharpness but I'd rather have him at LB than Barry, who hasn't been doing a bad job lately at DCM. Also, given Villa will look to defend first, this should mean that Baines (from a defensive point of view) should have a relatively easy game to ease back in. It would also be good to have him back in the side for his experience and free kicks.
Which then takes us to the midfield. Assuming Baines plays, Martinez will presumably stick with McCarthy - Barry in the middle and Lukaku up top. So the only question is who are the three attacking midfielders? Personally I'd start with Mirallas, Barkley and Deulofeu as we need all the creativity we can get to break down Villa. Bit harsh on Kone but we're going to have most of the possession and are not going to be playing on the counter. Barkley hasn't been playing that well but you just never know – he might belt one in from 30 yards.
Cleverley and Kone on the bench give us some options. I'd push McCarthy up and make it more of a 4-1-4-1 formation with Mirallas and Deulofeu out wide.
Either way, we should be looking for 3 points... Yes, no easy games (blah blah); at the end of the day, they are crap compared to most of the teams we've played so far – and we're at home.
Frank Sheppard
9
Posted 20/11/2015 at 12:43:50
I would settle for a straight, no drama 3 points... after not conceding the first goal in the game (a very worrying Martinez-ism of late) for a change.
Is this too much too ask for?
Trevor Lynes
10
Posted 20/11/2015 at 12:54:53
I would play Mirallas or Naismith and leave Barkley on the bench. We need goals and unfortunately Ross is not as much of a goal threat. He could come on after half time and prove to be a decent impact sub.
At present teams are concentrating on marking Lukaku as we do not seem to have the same threat from anywhere else. Barry does not have the pace to play left back and would be seen as vulnerable by any other manager. Let us hope that Baines is recovered sufficiently to play as we do not have cover for either full back at present.
Howard will need to really command the six yard box if we are to contain Villa from crosses.
Give Mirallas a break and play him up front with both Kone and Lukaku. He on one wing and Deulofeu on the other should give us more than enough attacking threat. Surely our defence and midfield can cope with Villa at Goodison.
The one plus for Naismith and Cleverley as subs is work rate if required. Both are competitive enough and Naismith may well pop a goal in.Barkley is playing too passively IMO and should be much more robust and energetic, if brought on at half time or later. I want to see this lad fulfil his potential tomorrow, it is about time !!
Jay Harris
11
Posted 20/11/2015 at 14:55:40
Agree with your analysis and team selection, Lyndon.
I wouldn't be surprised though to see Galloway make a late recovery from his injury so Baines can be eased back in.
I feel it is important that we start the game with more energy than has been evident so far this season and I would hope that Kev gets some decent time at some stage of the game.
Peter Cummings
12
Posted 20/11/2015 at 15:06:35
I don't think Villa will be the walkover some expect if they can repeat the form they showed against Man City who were expected to roll them over. We are, too often, conceding first and making life difficult for ourselves, especially against teams who 'park the bus'.
The hiding we gave Sunderland was down more to their abysmal defending than our attacking capability on the day. I believe Villa will give us a game so anyone who expects an easy three points – beware!
Again, anyone who watched Bournemouth vs Newcastle last week and saw them robbed, after they totally dominated 99% of the game, will realise there are no 'easy' points these days.

Matthew Williams
13
Posted 20/11/2015 at 15:50:37
Nailed on...draw.
Sam Hoare
14
Posted 20/11/2015 at 15:51:39
I'd like to (but won't get to) see:
Howard
Coleman, Stones, Funes Mori, Baines
McCarthy, Cleverley
Deulofeu, Barkley, Kone
Lukaku
Mirallas does better on the counterattack and I think Kone's movement and ability to hold off a man will be better suited to this game which will surely be a tight one.
Harold Matthews
15
Posted 20/11/2015 at 16:17:27
Galloway will probably play. If not, it has to be Connolly with Cleverley in front of him. Kone and Mirallas offer very little support.
Deulofeu to take the free-kicks.
Shane Corcoran
16
Posted 20/11/2015 at 16:48:16
Is there a squad listed anywhere that might show if Connolly is even being considered?
Brian Harrison
17
Posted 20/11/2015 at 17:15:34
We know that Villa will come and sit deep hoping for a goal on the break or from a set-piece. But, if we have any ideas about challenging for a top 4-6 spot, then we just have to win this game. Garde has had 2 weeks to work with his team as not many were on International duty, so that's a plus for him.
Dave Pritchard
18
Posted 20/11/2015 at 17:26:01
Excuse my ignorance but who is Connolly?
Conor Skelly
19
Posted 20/11/2015 at 17:31:57
I'd drop Ross to the bench for this one to sit beside Baines. Like someone mentioned, these won't put us under much pressure so Barry should be able to cope for an hour at LB. See how we go and, if needs be, introduce Baines & Barkley after an hour to give the team and crowd a lift.
If I were the manager, it would be:
Robles
Coleman
Stones
Funes Mori
Barry
McCarthy
Cleverley
Deulofeu
Kone
Mirallas
Lukaku
Harold Matthews
20
Posted 20/11/2015 at 17:40:01
Dave. Callum Connolly is the England U19 and Everton U21 left back. Very young but a real footballer in the Baines mould. He earned much praise for his England performance last week. He can also play midfield and score goals.
Dennis Ng
21
Posted 20/11/2015 at 17:47:29
It would be great to see fresh blood through the season from the youth ranks but I doubt that would happen that fast with other first team players available.
I did a quick read and I am equally excited for Connolly.
Andy Ellis
22
Posted 20/11/2015 at 18:01:25
I only know John Connolly, Scottish winger in the seventies!
Michael Williams
23
Posted 20/11/2015 at 18:04:24
Two types of matches I dread, other than when EFC plays a top four side:
Playing a newly-promoted side in the first few games of the season and playing a side that has a new coach. It seems in both cases those teams punch above their weight.
Jay Harris
26
Posted 20/11/2015 at 19:39:09
Why should we dread this game?
We are facing a side that has hardly had a win away in the last 3 seasons and, new manager or not, we should be sending them to another defeat.
FFS, we maligned Moyes for "knives to a gunfight"... now we should be scared of a bare-knuckle encounter!!!!
We really should view this as an opportunity for another 6 and start the game accordingly.
If we can't outscore Villa at home, then we don't deserve top 8 – never mind top 4.
Mike Hughes
27
Posted 20/11/2015 at 19:49:57
Just swallowed my blue pill ahead ahead of a weekend of proper footy so here goes...
Villa – with a new manager – getting a home draw against Man City is all well and good. But coming to Glorious Goodison Park, to the 9 times Champions, is a different kettle of fish. Villa will be cacking themselves.
Mark my words, we'll absolutely stuff them 1-0 (Baines, 89 pen).
David Greenwood
28
Posted 20/11/2015 at 20:01:26
No need to fear this game whatsoever. I can only think of Richards who would get in our squad, not the starting 11 mind.
Time to adopt an aggressive stance and get right in about them.
Kevin Elliott
29
Posted 20/11/2015 at 20:13:03
Don't know what anyone is worried about..
They're shite.
4-0 Everton.
COYB.
Tim Greeley
30
Posted 20/11/2015 at 20:24:32
Not so fast, Mike Hughes! Roberto is probably prouder of our '100% all goals from open play' statistic than he is of his daughter or his newest brown leather loafers. Even if we get an 89th minute penalty, he will sub in Mirallas and tell him to take it. That stat prevails over all, including a WIN.
Kidding of course, but it does drive home the point that we have played 14/15 matches in all competitions and have had zero penalties (not counting the shootout). About time for one, I'd say. On the flippy, I don't know if we have conceded one either.... I should've stopped before I pointed that out.
Andy Crooks
31
Posted 20/11/2015 at 20:31:14
Peter (#10), if Aston Villa repeat the form they showed against Man City we should stick six past them because, although they showed renewed spirit, they were utterly shit and City missed countless chances.
Their new coach is trying a new style and they will be vulnerable. We have better players and we must beat them if we have any ambition whatsoever. We should not be making excuses in advance; we should be taking them apart.
Ian Bennett
32
Posted 20/11/2015 at 20:42:33
Looking forward to it, as I hate the international garbage.
Robles – never Howard
Coleman
Funes Mori
Stones
Galloway – Baines ain't fit
McCarthy – not sure why
Barry – we need an old head in front of the young back 4. Set pieces are sure to be a joke again.
Mirallas
Deulofeu
Kone
Lukaku
Tony Hill
33
Posted 20/11/2015 at 21:52:02
Villa have a fair record at Goodison. I agree with those who see Gestede as the problem, though Ayew is a good player as well. I think we may win by a decent margin actually because their defence looks very weak to me.
Paul Hewitt
34
Posted 20/11/2015 at 22:01:58
Villa are in the bottom 3 for a reason. They won't beat us.
Peter Bell
35
Posted 20/11/2015 at 23:01:09
Paul, Everton lost the league in 74 due to losing home and away to Carlisle, who – guess what? – finished bottom of the league and got relegated.
Harold Matthews
36
Posted 20/11/2015 at 23:43:08
Should win but, with so many big lads in their side, we can't afford to give away cheap corners or freekicks that can be hit into the box. A clean sheet would be fantastic but crosses are our Achilles heel and I'll be amazed if they don't nod one home.
Of course, that will mean 2 goals or more at the other end past a very crowded parked bus. The slower the tempo, the more crowded the bus. I know nothing about their new coach but Martinez, backed up by ex strikers Graeme Jones and Big Dunc, seems to be full of confidence at the moment and will definitely have a plan. It has the look of a very bruising encounter and the young referee will need to be on top form.
Eddie Dunn
37
Posted 20/11/2015 at 23:52:40
We need a bit of luck early on to put this game to bed; otherwise, I see a tough afternoon, with Villa sitting deep, looking to hit us on the break.
They will all be busting a gut for their new boss, and their future, both as a team, and individually. I would take a 1-0.
Jason Pullen
38
Posted 20/11/2015 at 23:53:11
I can't understand people on this thread and others suggesting we drop Barry and retain McCarthy. If one were to make way for a more attacking option, it's McCarthy for me. Barry has been one of our better performers this season.
I'm not suggesting one has to go, but if one did it's pretty clear to me which one. Barry was average last season but this year has been more like his first season with us. Although admittedly I do question his ability to play every game this season. He will need a rest at some point, but not yet.
Lee Courtliff
39
Posted 21/11/2015 at 01:52:08
New Manager Syndrome!!
Makes me nervous every single time.
In games where we expect to dominate possession like this, I would like us to drop McCarthy and try Besic, Cleverley, etc, fitness permitting. Just something different.
James may be a good DM and the long-term successor to Barry but I find him frustrating at times. It's been said a million times but his complete lack of offensive ability (mentality?) drives me mad. Too many safe passes.
Liu Weixian
40
Posted 21/11/2015 at 06:54:58
Villa will come here for a smash and grab so we have to go right at them from the start. A couple of early goals should settle nerves and provide insurance for the inevitable set-piece goal we are expected to concede.
Harold Matthews
41
Posted 21/11/2015 at 07:35:53
Lui. Nice one. Love your sense of humour. As Eddie rightly pointed out, "We need a bit of luck early on".
Pete Edwards
43
Posted 21/11/2015 at 08:32:00
Sam, why drop Barry when he has been one of the best players so far this season, especially when Cleverley won't be fully fit.
Harold Matthews
44
Posted 21/11/2015 at 08:57:05
Trevor (#6). Your observation that Barkley is playing too passively and needs to be more robust and energetic is an echo of many recent posts. Even non-Evertonian England fans suggested that someone should shake him in order to wake him up. Interesting stuff indeed.
His quiet nature is something I have to accept. It's the way he is. Let's face it. No-one is quieter than Jags and no-one is more loved than Jags. This is because he plays with zest, passion and desire. As quiet as a mouse but as brave as a lion. Always busting a gut for his team. I guess Ross could learn a thing or two from his captain.
Dave Pritchard
45
Posted 21/11/2015 at 09:05:18
If Deulofeu and Lukaku are in form, we should win. With their new manager and a good defensive performance against Man City behind them, it will not be easy.
Scoring first would be a big advantage as it could knock their confidence. Not something we've done very often this season though. Anyone got the stat on this?
Anthony Flack
46
Posted 21/11/2015 at 09:11:24
3-1 to The Mighty Blues, definitely will happen as I dreamt it clearly last night. Second part of the dream was golden goal at 17 minutes. Unfortunately, the 7-year-old woke me before I could get to the lottery numbers....
Laurie Hartley
47
Posted 21/11/2015 at 10:13:37
No matter what, Barry must stay in midfield.
I wouldn't be surprised to see Funes Mori score his first goal for the blues tomorrow (with a header from a Deulofeu corner).
On the subject of free-kicks, anything 25 yards out and Deulofeu must take it. He has perfected the Ronaldo up-and-over toe-poke technique.
Dave Abrahams
48
Posted 21/11/2015 at 11:00:39
Anthony. (40) for the sake of betting, who scored the first and last goals?.
Anthony Flack
49
Posted 21/11/2015 at 12:22:05
James Hughes
50
Posted 21/11/2015 at 12:27:23
Laurie, I would love to that come true and Funes Mori scores. That would mean we had taken a corner kick properly.
Victor Jones
51
Posted 21/11/2015 at 12:29:23
I still don't like our possible midfield; Barkley needs to turn up. He needs to boss and control this game... Why not? He has the talent.
Should Barkley take to his shell, then what do we have? Our two reilable DMFs. Two bloody DMFs at home against the bottom team. Can Martinez not just for once, drop one, and play Cleverley or Gibson, or even Mirallas. Osman would even offer more going forward. Besic is another option. He is even more attack-minded. But no, no, no... we have to have Barry and McCarthy at all times.
Just hope today that Everton get on the front foot from the start. Give ourselves the best chance of winning this game. And not chasing a draw, with our best football late on. Our forwards and Deulofeu should have space and chances today. Let's take them. And make our chances count. Stop Villa scoring. And score a few ourselves. Fingers crossed, I'm going for 3-0 or 4-0. Why not? COYBs
Trevor Peers
52
Posted 21/11/2015 at 12:45:33
Roberto will make sure we start the match cautiously, unless he's had a tactical awakening, so unless we get the early goal, expect a slow start.
If Villa score, we will up the tempo and probably get the goals we need to win. Either way, we should have enough to take 3 points.
Harold Matthews
53
Posted 21/11/2015 at 12:58:00
5/6 Both teams to score. 12/1 Blues to win 3-1.
Add Your Comments
In order to post a comment, you need to be logged in as a registered user of the site.
Or Sign up as a ToffeeWeb Member — it's free, takes just a few minutes and will allow you to post your comments on articles and Talking Points submissions across the site.
© ToffeeWeb