Martinez hails 'complete performance'
by

52 Comments [Jump to last]
| 21/11/2015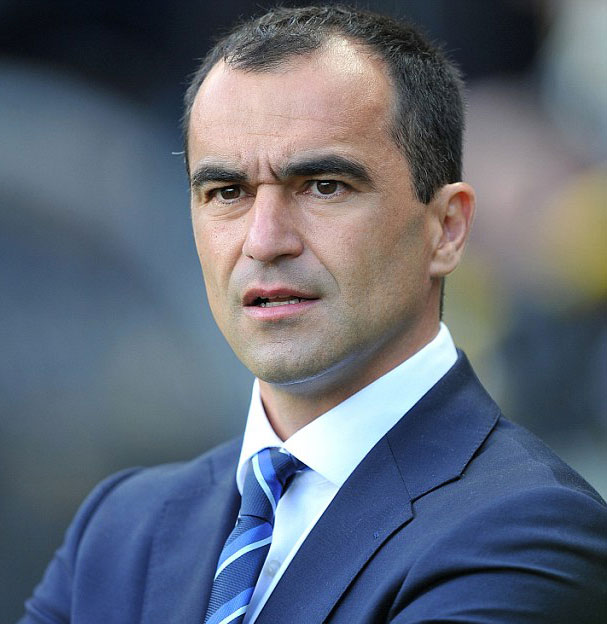 Roberto Martinez was thrilled with his team's all-round display at Goodison today as they ran out comfortable 4-0 winners over Aston Villa.
Everton surged into a 3-0 lead before half-time and added another in the second half as Romelu Lukaku notched his sixth and seventh goals in seven games and Ross Barkley grabbed a brace himself.
With Tim Howard making sure of a clean sheet with two impressive saves in the second half, the manager was full of praise for an excellent all-round display.
"In terms of our attacking play, and the way we kept a clean sheet, that was a complete performance," Martinez said on evertonfc.com. "I think it was really impressive because before the game we knew it was a tricky fixture.
"When you come back from an international break, you always feel wary as a manager to see how quickly you are going to find the tempo.
"Straight away we saw Aston Villa with a clear idea of being difficult to break down and make things very frustrating. That was a very dangerous situation because that frustration can creep into the game.
"I was delighted with the manner in which we played today and carried on the attacking threat [we showed] against Sunderland, but the work we did off the ball and getting the clean sheet was probably the key to the performance."
Everton moved up to seventh place for the time being and lie within six points of the top four with a trip to Bournemouth to follow next weekend.
---
Reader Comments (52)
Note: the following content is not moderated or vetted by the site owners at the time of submission. Comments are the responsibility of the poster. Disclaimer
Danny Broderick
1
Posted 21/11/2015 at 19:28:05
That was all about Gerry for me today. I only hope Barcelona haven't seen that performance. Cracking result.
Clarence Yurcan
2
Posted 21/11/2015 at 19:35:19
Let's not forget, their last time out Villa held mighty City to a scoreless draw... we will win the league!
Paul Mackie
3
Posted 21/11/2015 at 19:36:05
I think Martinez's comments are spot on today. Villa would have loved a boring 0-0 draw and last season they might have got one. Not today though. In Deulofeu we have someone with pace to burn who is scaring the crap out of opposition defences. Pace on it's own isn't enough however, but he's also managed to find an end product since he was last with us.
Everyone had a fantastic game today. I know people will say Villa are terrible but you can only beat what's in front of you. It was lovely to see the players having fun out there once we went 4-0 up and you get the sense that there's a real understanding forming between our attacking players. Some beautiful one-touch stuff for that first goal.
James Stewart
4
Posted 21/11/2015 at 19:51:17
Villa were awful... let's be honest, but you can only beat what is in front of you.
We have a player at the moment who is causing havoc for opposing teams in Deulofeu. Without him, I don't think we would be breaking down 'park the bus' sides so easily. Last season is evidence enough of that.
He is the first name on the team sheet now and deservedly so. Take a bow, young Geri.
Helen Mallon
5
Posted 21/11/2015 at 20:24:00
I don't think Barcelona will be to bothered after that demolition of Rafa's Real. I think he's ours for keeps.
Tony Hill
6
Posted 21/11/2015 at 20:32:48
I hope you're right, Helen, he's a joy to watch even though there'll be plenty of times when he falls on his backside.
I thought Mirallas looked sharp when he came on and would love him to stay but fear he won't. Gibson too – that pass for Kev which he volleyed was wonderful; if only it had gone in.
Jim Lloyd
7
Posted 21/11/2015 at 20:48:59
I hope you're right, Helen. He does love playing here, so we might be lucky. I couldn't go today (attack of the lurgy) but it was great to hear Ronnie Goodlass purring about some of our attacking play.
I think that now Roberto has nearly all of his squad fit, the rest of the season will perhaps give us the same style of football that we saw in the first season. It was good to hear that Mirallas had a decent run out.
Paul Andrews
8
Posted 21/11/2015 at 21:10:21
"A complete performance"
I used that phrase earlier. Outstanding today. I have had a bit of stick for my support of Martinez. I believed then and I believe now,he has a mid to long term vision for the progression of our club.

There will be sticky times when the apsquad is evolving. He will,in my opinion, develop this club to one that challenges for honours again.
Gerard Carey
9
Posted 21/11/2015 at 21:34:44
RM talking about how important clean sheets are!!!! Brilliant. Everyone knows successful teams are built on solid defences.
I thought everyone played well today, let's keep it up. I'm glad Barkley got a couple, good for his confidence.
Tony Doran
10
Posted 21/11/2015 at 22:03:05
Something I liked today was the first goal (I think) and McCarthy getting up and linking play. He's twice the player when he decides to join in and is wasted when just sitting in. For his game to flourish he must carry on like this.
Brian Garside
11
Posted 21/11/2015 at 22:17:02
RM will start rotating soon. Rom is due for a week off, as is McCarthy and Barry. He will not just use the League Cup for this. If he doesn't, then burn-out and injuries will curtail our efforts by Springtime.
Superb performance today. However, we must play like this against all teams. I have often wondered why we have so many defensive players on the pitch, especially at home.
Tony Abrahams
12
Posted 21/11/2015 at 22:31:39
Maybe the manager's starting to win because Mirallas had a much greater desire for the time he was allowed on the pitch.
Minik Hansen
13
Posted 22/11/2015 at 02:00:51
Finally beating a bottom team, we usually give it away when it's time to win. We've made progress, COYB!
Mark Andersson
14
Posted 22/11/2015 at 02:24:58
Great game well done to everyone. Great to see the players enjoying their football.
Oliver Molloy
15
Posted 22/11/2015 at 09:57:44
Another fine display from Everton, and we can all see players are full of confidence right now. McCarthy, Coleman, Gibson and even McGeady would have come back to Finch Farm buzzing from qualifying for France. I imagine the mood in training would have been very positive all week with players looking forward to the Villa game as another big opportunity to show what they are about.
However, this is Villa and we should be beating them anyway, just like Sunderland. Bournemouth next up so let's go and destroy them.
I will be convinced we are serious contenders for a top four place when we start winning against the sides above us and around us. By the way, I want us to hammer Leicester when we play them for some reason!
Eddie Dunn
16
Posted 22/11/2015 at 10:52:10
Getting the early goal was key, and the team functioned as a whole, brushing aside Villa with ease. The players look happy, and seem to know their roles well. They look well-drilled and the confidence from two big wins should help us when we have tougher nuts to crack.
I have to agree with Tony Doran (#10), that we need McCarthy to get involved, and get forward more. When he does, he creates havoc, as he is so strong and he pulls in defenders releasing space for others.
Of course, the catalyst was Geri. Boy, have we missed him: pace, trickery and a killer pass. Magical.
Victor Jones
17
Posted 22/11/2015 at 13:22:44
I think the comment about Martinez rotating could be true. He does like a little chop and change...
Victor Jones
18
Posted 22/11/2015 at 13:46:18
I just hope that Martinez does not start to rest players; the time is not right. We need to rattle up a few points over the next six weeks. When Martinez chops and changes, Everton tend to lose. A must-win game against Palace, a few seasons back, will always stick in my mind. Martinez tinkered, we lost 2-3. There have been other games.
The defence picks itself, as does the attacking four: Barkley, Kone, Lukaku and Deulofeu. I would maybe just change / split up our DMFs and be more attacking (at times). Yesterday was great, but we will not be playing a very poor Villa every week.
As for Deulofeu going back to Barcelona... not anytime soon. He should now be Martinez's first name on the teamsheet. Would he swap that to warm a bench at Barca? I don't know... hopefully not. Let's now buy out that stupid clause... or at least Martinez should keep him sweet: no rotating. One game most weeks should be manageable for this group of players.
Andy Walker
19
Posted 22/11/2015 at 18:56:49
Another nonsense statement. A 'complete performance' must include having to defend for periods against top quality attacking play. Clearly Aston Villa were not remotely capable of this; so – however well we (or any other team) had played against Villa yesterday – it was never going to be a complete performance.
Roberto, save such superlatives for dominant wins against top teams, not relegation fodder.
Patrick Murphy
20
Posted 22/11/2015 at 19:15:22
Andy (#19),
Is it the manager's job to make the players feel confident in themselves? Particularly the young players. Is it also his job to make the players feel that they are part of a special group and that they can achieve things if they fulfil their potential?
I realise that it comes across a little bit flowery at times and that it obviously upsets those of us who prefer hard-bitten soundbites rather than Roberto's romanticised method of delivery but, whatever we think of the man, he won't alter the way he speaks, he won't alter the way he sets his teams up.
So, if he ain't going to change, we'll just have to grin and bear it. Besides which, if in the end it produces a winning team and a trophy, I won't lose any sleep over Roberto's words.
Andy Walker
21
Posted 22/11/2015 at 19:26:27
Patrick, I know where you're coming from but I wouldn't want the players to be thinking that yesterday was the best they could have done. Neither Clough or Ferguson would have been so effusive after beating a frankly terrible team. It could lead to complacency in my book with Bournemouth away coming up.
As for Martinez not changing, maybe his overall overtly positive-at-all-costs approach will never change, but I think we are all glad that everything isn't 'phenomenal' this season; this is a least a move in the direction of reality.
Don't get me wrong: yesterday was excellent entertainment and a great display.
Harold Matthews
24
Posted 22/11/2015 at 21:23:07
We were terrific in what will probably be the easiest game of the season. Villa came with a poor quality team and the wrong tactics and we said thank you very much. No rough tackles, no pace, no high crosses into the box. We'll take that every week. The only mystery is how we failed to hit 6 or 7.
From the goalkeeper to the striker, I don't have a bad thing to say about any of our lads. They were all first rate. Mind you, I could do without the pathetic lower league celebrations of Kone and Lukaku. We're a big club. Let's act like one.
People have quite rightly pointed out the brilliance of Deulofeu. What a player and what an effect he is having on the whole squad. This lad doesn't know the meaning of slow tempo.
For me, the biggest bonus was the performance of Barkley. For months I have wished that he would play for Everton the way he plays for England and this is exactly what he did. He even said so later. No dawdling on the ball, no standing around watching others chase back.. He moved things on quickly all afternoon, closed down when possible and even got himself into the box. Still plenty to work on but a big step in the right direction.
Dave Southword
25
Posted 22/11/2015 at 23:33:13
Imagine if we can keep Gibson off the sauce for the rest of the season? Perfect to rotate with the middle two (in the right games), and he'd be my first choice sub when we need a new idea to get at defensive teams.
Andy Crooks
26
Posted 22/11/2015 at 23:56:35
Spot on, Harold, good points.
Anthony Dwyer
27
Posted 23/11/2015 at 00:27:40
Let's be positive, this was a very good performance. Yes, Villa were poor, but we totally dominated the game from the get-go.
One slightly worrying aspect was the first 15 minutes: during that period, we had one or two chances and all of the ball; Villa didn't manage to get out of their half, but you could still feel a slight unrest within the crowd. I must admit I was a little frustrated myself.
We knocked it around crisply but often it was sideways or backwards. This had me worried; I felt we may be in for a frustrating afternoon. Maybe it is time for all our fans to trust the players a little more; maybe they are starting to buy into what Roberto is doing with them.
I also admit I'm not a Martinez fan, but he is our gaffa so we have to get behind him and hopefully he can deliver these results more often.
We have a decent run of games now and most players are fit, there should be no reason why a decent points haul between now and mid January could see us in a position to attack the top 4 places. A continued run in the League Cup may also keep the confidence up and keep fringe players happy.
COYB
Minik Hansen
28
Posted 23/11/2015 at 01:47:25
Anthony,
About the first 15 mins, I forgot all about that possession game from last season not resulting in wins. I didn't worry at all and thought we'd score at some point and at least another one if we kept going like that, which indeed happened.
It's a whole new season and on right track at present moment. The possession game this season is slight different with Deulofeu, Gibson and Kone in form, not to mention the option with Cleverley. This makes us a lot closer to winning ways.
Let's not forget Aaron Lennon, he will cut it, I'm sure. It's like the pieces are falling into place. Bring on the next team! COYB.
Ernie Baywood
30
Posted 23/11/2015 at 04:39:19
Did Villa come with the wrong tactics? I'd like to think that if they had opened up and had a go we might have put a rugby score past them.
For a while now teams have known that the answer to playing at Goodison is to sit back and watch us have mind numbing amounts of pointless possession. Then catch us on the break when we overcommit.
Our early possession dominance against Villa was huge but it had a purpose. We moved it quickly and played direct at times also. Hitting players like Ross and Del early kills teams who want to defend at all costs because with any kind of space they can break the bank of midfielders in a second.
I'll acknowledge that Villa were crap but that game wasn't a gimme. We had to be good to break them down, and we were exceptional.
Chris Gould
31
Posted 23/11/2015 at 06:59:57
All of our good play starts from Stones. He is so comfortable on the ball. Barry was constantly making himself available for the next phase and was very forward thinking and direct with his passing.
Barry is a totally different player from last season. He seems to have taken on the added responsibility of leading the team in the absence of Jags. He's been fantastic.
Steve Pugh
32
Posted 23/11/2015 at 07:12:30
Those tactics would have earned Villa at least a point last season and shut out Man City this season, so I think it is harsh saying that they were the wrong tactics. We were very good and spoiled their plans with our play.
Paul Tran
33
Posted 23/11/2015 at 07:37:12
Before the game, there was talk on here about Villa parking the bus, new manager syndrome, etc.
Villa were very poor, we were very good. When we score first, we look comfortable and confident, we keep our shape and when we move the ball with purpose, we create chances and score goals.
The big issue is when are we going to deal with going a goal down? What's it going to take for us to attack like Saturday when the chips are down?
Until then, we will beat anyone and lose to anyone and settle for 7th/8th.
Peter Roberts
34
Posted 23/11/2015 at 13:22:49
Loving all the coments on here - its all very much "so what have the Romans done for us".
So - its fair to say that our defence isn't the "Moyes defence" anymore, we had last season to prove that - so what can we level at Martinez for that?
It seems that its because we have Deulofeu that we are doing well..... so who is that down to?
Lets say a few things that have been a big contribution:-
Kone:- he energises Lukaku, he gets what he needs and what he isn't so good at and compliments him - akin to what Heskey did for Michael Owen, except he didn't cost £11m - just the £6m that many moaned about.
Lukaku:- clearly he has had some intensive work done on his game, especially around his play with back to goal and seems to have been told that his work rate needs to be better.
Deulofeu:- Class act - say no more.
Stones:- You reckon Moyes would have held him the way Martinez did? after all wasn't it Davie who said that he would allow players to go if a big club comes calling. Stones has benefitted from RM's tolerance of mistakes made in the need to reatin the ball - Daviues would have hit melting point if Stones never hit row Z 99% of the time when he actually holds on to it
Mirallas:- By treating him as the "average player" and not Mr Superstar he has shown the squad who is boss.
In short Martinez is not getting the credit he deserves - some things he does frustrates but that goes for every manager. Now is a good time to be a blue.
Jay Wood
35
Posted 23/11/2015 at 14:07:33
The nature of forums such as this is to see extreme exaggerated claims game by game. This could have some saying we are destined for a relegation struggle ... mid-table mediocrity ... and now ... title contenders!
Quite often, particularly in defeat or a disappointing draw, the opposition are not taken into consideration. They are little more than static traffic cones Everton should pass around and score goals aplenty against. It frequently ignores any opposition also has a vested interest in the result and have worked all week on their tactics to stifle and beat Everton.
Sunderland and Villa in recent seasons are fixtures we have stumbled over. Not so this season in our last 2 home games.
That said, elevating Everton to title contenders is a tad premature. One stat at half time in the Villa game absolutely staggered me.
Villa came to GP with just 5 points from 12 games, having gone 11 games without a win. They are already in a dire situation and you would have thought they would be up for the fight.
Yet by half time they were 3-0 down and the 1st half stat that staggered me was this: number of fouls Everton 1, Villa 2. That's a shocking indictment of just how bad Villa were.
I was equally astonished at the lack of leadership both on and off the pitch. It was obvious Deulofeu was on fire and that flank needed reinforcing, but neither the players on the pitch nor the manager on the sidelines made any tactical change to address that. Ta very much!
From what I saw Saturday, there is no fight in this Villa dog and no quality since selling Benteke and Delph. As enjoyable as the performance and margin of victory was, Villa is not the yardstick by which we can truly measure ourselves.
Harold Matthews
36
Posted 23/11/2015 at 14:22:41
Okay, Ernie / Steve. Maybe "wrong tactics" should have read "not the tactics I expected".
It took their new coach 57 minutes to shove on a big guy up front. "Well, Everton have been vunerable with crosses", whispered the commentator. "Yes", replied Danny Higginbottom, "and now Villa have a focal point".
This was the set-up I had expected and slightly feared. Villa did play a little better but, truth be told, we were just too good. A team with no confidence versus a team full of confidence. No contest. They'll be busy in the January window but looked booked for the drop.
Terence Leong
37
Posted 23/11/2015 at 14:54:17
It's good not to get carried away at beating the bottom cellar club; at the same time, why should we slaughter anyone for getting on Cloud Nine?
Nothing wrong in being effusive in your praise openly through the media; as long as you keep the troops focused behind closed doors in their training and preparations.
It's a moot point to say what Clough or Ferguson would or would not have done, because they are currently not managing. While Ferguson is known to be a hard taskmaster, he was one who was always ready to evolve and change.
He has acknowledged that today's players need to be managed differently from previously. He has been out of the management circuit for 2½ years already. Who's to say he wouldn't have evolved along the way.
Tony Sullivan
38
Posted 23/11/2015 at 15:25:40
Peter Roberts (#31)
An excellent analysis of the work RM has done with the players and the team. I think you are right to say that he does not get the credit he deserves.
Perhaps, with more performances like Saturday's things will start to change and his influence will be recognised.
Paul Jeronovich
39
Posted 23/11/2015 at 15:35:31
Despite what you think of RM, we turned a team over in style and especially as they have a new manager. Over the moon!!
Well done all round, great chance at three more points at Bournemouth. COYB
Harold Matthews
40
Posted 23/11/2015 at 17:35:45
Yes Tony. Martinez can often cause me to scream but his signings have been pretty special. Lukaku, Robles, Kone, Deulofeu, McCarthy, Barry, Lennon, Funes Mori, Besic and Galloway. Not a bad little bunch.
Also, with the help of ex-strikers Graeme Jones and Big Dunc, he seems to be bringing them along very well. I've heard Mr Jones chatting about football and he doesn't miss a trick. An ideal right-hand man.
Of course, keeping everyone happy can't be easy, especially people like Mirallas who needs games in order to regain his place in the Belgium squad. He came on and played like a man possessed. Far too talented for the bench, I expect to see more of him in future games.
Peter Gorman
41
Posted 23/11/2015 at 19:51:23
Harold, just for the sake of debate and completion, I will have to question that list of yours.
Firstly, did you leave out Alcaraz and Atsu because they are no longer at the club or because they are just not special? I suspect McGeady also didn't make the cut because of the latter. That said, you forgot Cleverley who should count in the Good Signing column on current evidence.
Onto the list itself: Lukaku, McCarthy and Barry were needed by the club so I'd call them good signings for sure. Deulofeu and Galloway show all the signs of being pretty special too. I have high hopes for young Galloway and his signing will prove to be a coup I would think. With Deulofeu, we'll just have to hope that he stays for years to come as that contract might have a say in it.
Funes Mori and Besic are two players who could prove special but it is a bit too early to judge. Signs are good so far but Besic barely gets in the team when he is available.
But that's it for special, I'm afraid. Kone is enjoying good form and Lennon isn't the donkey some make him out to be. I'll cheer them while they wear the blue but their inclusion into the team has been at the expense of Mirallas and Oviedo. I wouldn't call them any more special than those two. Lastly, Robles? Stretching it a bit to include him in a not bad bunch.
All in all, the standard of signing seems to have improved since he first rocked up at the club with Alcaraz on his knee. I think he could do a little bit more though.
Colin Glassar
42
Posted 23/11/2015 at 20:22:45
Interesting points Peter and, generally, I agree with you. Atsu was a loan deal which went sour and Alcaraz was free so no major damage done there. McGeady, even at £500k, has been an unmitigated disaster and needs to move on asap.
Like most people on here, I was completely wrong about Kone. He's now showing why Martinez was so patient with him. I mention this as you finish by saying "he could do a little bit more though". In what sense? He can only do as much as he's allowed to do with the financial constraints he's under. I'm sure he wanted Shaqiri and/or Yarmolenko but, if the Board won't cough up, there's not much more he can do.
Harold Matthews
43
Posted 23/11/2015 at 20:48:10
Peter. You're being a bit fussy mate. Disappointed to have omitted Cleverley, a smart signing indeed. I've listed players I like. Maybe not special to you, which is fair enough, but definitely special to me. If you want to create your own list, go ahead. You will find that I will not try to pick holes in it.
Raymond Fox
44
Posted 23/11/2015 at 21:28:34
Andy (#21), what you see from RM when someone sticks a microphone under his nose (which is every 5 mins these days) will not be what Martinez says with the players in private! Now that's a guess on my part, I admit, but does he come across to you as a man lacking in intelligence?
My answer is he doesn't; and add to that, it appears the players want to play for him – that's good enough for me.
It's a great shame that in the long run we will not be able to keep our best young players at the club. If could retain and improve on the team that played Villa we at last would have a chance of some success. Unfortunately we simply can't afford the wages that Stones, Deulofeu (if he keeps that sort of display up) Lukaku, Barkley and probably Galloway (before not too long), can command if they move to a Champions League club.
What Martinez will make of the situation if the all or most of the above players leave I couldn't imagine!
Tony Hill
45
Posted 23/11/2015 at 21:40:50
Suddenly our 6 goals against Sunderland look more impressive.
Peter Gorman
46
Posted 23/11/2015 at 23:57:11
Colin, that's exactly what I am referring to – the special, near mythical Number 10 that almost all of us recognise we need and Martinez himself carped on about most of the summer before signing yet another winger.
Harold, no doubt I am being fussy but just thought I'd mull it over. The problem I suspect is I rate Oviedo and Mirallas quite highly but the manager clearly doesn't when he thinks Atsu, Lennon and McGeady were all signings we required. Nothing against the lads as such; I just don't think they are as good as what we already had.
Generally, things are getting better but, considering the squad he inherited, I wouldn't think Robles, Alcaraz, McGeady etc were wise choices even with the minimal layout. I hoped he'd be looking further afield, especially if Stoke can attract the likes of Bojan.
Lukaku, Deulofeu and, God willing, Galloway could be inspired signings though.
Harold Matthews
47
Posted 24/11/2015 at 12:45:59
Yes, Peter, our boss made a few dodgy signings early on but Everton was probably a bigger step up from Swansea and Wigan than he had originally envisioned. He also got carried away a bit with the success of his first full season.
The following season, as we all know, was an almost total disaster. The Europa League adventure was enjoyed by many but we were eventually outgunned by Yarmolenko and his mates. A mighty wake-up call. Okay, we were hit by one injury after another but our general standard of Premier League play was just not good enough and opposition coaches were learning ways to snuff us out.
On to this season and a more experienced, wiser man stands in those brown shoes. I don't know what goes on inside his head but his thoughts today will be dwelling in a much higher scenario than his thoughts of 12 months ago.
He'll probably be thinking of quality players playing quality football. Putting in a full shift, not making silly mistakes and all pulling together. His standards and demands will have risen.
To win a place in his first team you have to be willing and able to perform to a high level. Spurs, Leicester and our neighbours have all gone up a notch and we can't afford to stand still. The players know it. The fans know it. May our promising progress continue.
Tony Hill
49
Posted 24/11/2015 at 20:53:25
Sorry if someone else has already referenced this but there's a very interesting and complimentary piece about us in today's Guardian by Martin Laurence, considering our top 4 credentials.
I hadn't realised that we've scored more goals from open play (in fact all our goals) than any other Premier League team. It also makes the point that Villa hadn't lost by more than 2 before Saturday.
Steve Jenkins
50
Posted 24/11/2015 at 21:12:24
Harold (#37),
Good points, there seems to be an excellent set up with coaches, right through to youth level, with Joe Royle taking in a monitoring and mentoring role whilst Usworth does the coaching.
One other key man in this setup, I think, has to be (when you look at the quality of youngsters we've brought in over the last 2 years) Kevin Reeves, Martinez's chief scout.
He certainly appears to be able to spot a player.

Mike Gwyer
51
Posted 24/11/2015 at 21:37:49
Tony Hill.
Yes, fantastic piece in the Guardian, really does make you proud to be a blue. After reading the subsequent comments, regarding the article, it would seem that most non Evertonians dream of having the likes of Barkley or Lukaku in their own first eleven. However, logon to TW's live match day forum and the amount of stick either of these two players take is really, quite sad.
Paul Andrews
52
Posted 24/11/2015 at 21:46:01
Peter, not sure about the mythical Number 10.
We already have the mystical No 10 in the squad. Deulofeu is tailor-made for the position.
Anthony Dwyer
53
Posted 24/11/2015 at 23:54:52
Mike Gwyer,
Agreed, mate, spot-on. Rom and Ross do bear most of the blame if we do not perform. These are young lads who should be backed in my opinion.
Rom has had bare patches, but watching us at times has been painful, he's often been left to play alone without any chances being created for him within the 90 minutes.
Ross is not Ronaldo, Messi, Zidane or whoever else... he's Ross Barkley, he is only capable of so much and is a fantastic talent. Both Rom and Ross would get in most sides.
Look at John Stones, he is a similar age and he's an international, he makes mistakes that no-one ever mentions. Don't take me the wrong way, Stones is superb, a truly fantastic player who we have to keep and we are lucky to have but he is a player who is spared any of the stick given to the other two lads.
Everyone is all for backing Martinez, and fair play he's our manager and he needs supporting. (I for one will admit I've been heavily critical at times but I feel it was justified by bad tactics, substitutions, results etc.)
I will admit I'm enjoying watching us again, and as a season ticket holder and a dad of two boys whom I also buy season tickets for, this is why I pay the money. Long may it continue.
We do need to get results for a prolonged period though, or it's all in vain, as if we do not compete for the top 6 spots I feel we are underachieving.
Looking at our squad and especially the starting 11 we are looking a good outfit.
Barry, Howard, Jagielka, Kone and Baines are solid pros which every side needs. We also have a few mid-career players who would walk into most top sides too in McCarthy, Mirallas, Cleverley and Coleman.
But it's in the younger department we are almost envied over, players like Stones, Lukaku, Barkley, Galloway, Deulofeu, Besic, Garbutt, Browning, and Funes Mori. All provide us with the potential to become special if they are allowed to flourish and are kept together by Martinez and his board.
This season is massively important because if we are unable to look like genuine Champions League contenders, then I feel we may see the break-up of this talented squad.
Peter Roberts
55
Posted 25/11/2015 at 13:03:21
If only some people don't nail their colours to the mast so early and so vigourously they wouldn't be so reluctant to admith they were wrong about RM – loads didn't want Martinez at the beginning, they wanted the unknown Pereira who is on his 3rd club since Martinez joined.
That aside, they probably begrudgingly gave him some credit in his first season but no doubt said "but it's Moyes team" -– and yes it was, with an average age of 28 with players like Osman, Pienaar and Distin pretty much being first team regulars.
Last season was the "I told you so" for them – but fortunately for Everton it was merely a learning curve for our bright manager.
What he has done balancing the books and reducing the average age has been very impressive. People criticising players who cost next to nothing like Alcaraz and McGeady, clearly forgot the names of Kroldrup, Bilyaletdinov, Simon Davies, Van Der Meyde who not only cost a fortune in transfers but added next to nothing to our team.
Peter Gorman
56
Posted 25/11/2015 at 17:25:13
Peter, I personally don't yet see why anyone needs to admit they were wrong about Martinez. This is his 3rd season and you might be nailing your colours to the mast a bit too quick since the last two have been Jekyll and Hyde.
Nobody has forgotten Messers Kroldrup and Van der Meyde etc but you are comparing 11 years of management to less than 3. On balance, Moyes turned a team of frightening dross into European contenders and whilst no doubt you can pass a merry hour picking holes in his transfer policy over the years, you couldn't have got it more wrong about his initial purchases.
But the comparison with Moyes is not something I'd labour; Martinez should be judged on his own merits. Alcaraz, Robles and McGeady were duff choices and no amount of Kroldrups you can name-drop will change it.
Dave Abrahams
57
Posted 25/11/2015 at 18:12:36
Peter Gorman (#51), you speak a lot of sense in your posts and I find little to dispute except for your assertion that Robles has been a poor buy.
I'm not saying he will be a great goalkeeper but I honestly don't think he has been given a run long enough to make people's minds up; let's be fair and give him a chance.
Add Your Comments
In order to post a comment, you need to be logged in as a registered user of the site.
Or Sign up as a ToffeeWeb Member — it's free, takes just a few minutes and will allow you to post your comments on articles and Talking Points submissions across the site.
© ToffeeWeb