Deulofeu magic sees Blues through
by

180 Comments [Jump to last]
| 01/12/2015
Middlesbrough 0 - 2 Everton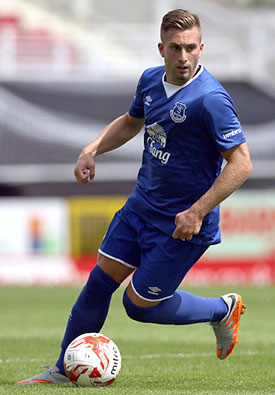 Gerard Deulofeu scored a wonderful first and served up the second for Romelu Lukaku as the Blues won comfortably at the Riverside
Everton are through to the semi-finals of the League Cup for the first time in eight years thanks to a professional display at the Riverside that was lit up by two wonderful goals, scored by Gerard Deulofeu and Romelu Lukaku.
The Spaniard whipped home a tremendous solo effort in the 20th minute to press home the Blues' early dominance and then served up a vital second goal eight minutes later for Lukaku to head home.
The annoyance at the passing up of two vital points against Bournemouth will no doubt resurface as Monday's Premier League fixture against Crystal Palace approaches but it's been replaced – and certainly diminished – in the interim by the glow of this victory and the fact that Everton's quest to end what will be a 21-year trophy drought by the time the finals of the two domestic cup competitions roll around took another step closer to glory.
The manager and supporters alike – 5,600 of whom travelled to the Riverside Stadium to raucously spur the Toffees on to the next round – demanded that the players learn from their mistakes on Saturday and Everton were handed an immediate opportunity to prove they had learned the harsh lesson as they charged into another 2-0 half-time lead.
This time they used the luxury of that two-goal advantage more wisely; the entertainment might not have been there in the second period – indeed, Everton lapsed into occasional sloppiness at times – but Martinez's players executed an effective strategy of largely controlling the ball and frustrating an opponent that was well-organised and game enough but which couldn't find the quality to reguarly break the visitors down.
Having made a raft of changes to his team in previous rounds, Martinez demonstrated how seriously he is now taking the Capital One Cup by making just two unenforced altterations to the side that had started each of the last two league games. James McCarthy was ruled out with a hip injury and was replaced by Tom Cleverley, Joel Robles deputised as expected for Tim Howard while Leon Osman was named captain and deployed in attacking midfield behind Lukaku, with Ross Barkley dropping into a more withdrawn role.
While the stand-in skipper often looked off the pace and light-weight, it was a formation that ultimately worked as the Blues' overall dominance and superior quality told after 20 minutes. They had started in composed fashion, happy to keep the ball and probe for openings, and an early chance for Seamus Coleman to cross came from a lovely pass by Deulofeu which eventually resulted in back-to-back corners that came to nothing.
A strong run by Lukaku in the 11th minute ended with an inviting square ball across the Boro box that wasn't anticipated by a Blue jersey but when the Blues got it back, Deulofeu's cross just eluded the Belgian's head in the middle.
Having been subdued by the visitors for the opening quarter of an hour, Middlesbrough began to grow in the contest and after Funes Mori had fouled Cristhian Stuani, Robles had to help Stewart Downing's free kick behind with a one-handed save. Stuani had the ball in the net from the resulting corner but he had clearly fouled the goalkeeper in the process.
The first goal was all down to Deulofeu who picked the ball up near the centre circle, surged down the middle towards Middlesbrough's area, cut inside Ben Gibson leaving the defender on his backside and then paused to size up his options before whipping a shot into the corner of the goal from 20 yards.
Everton's second was a glorious illustration of the talented attacking team that Martinez has built as more magic by Deulofeu served up a sixth goal in five games for Lukaku. Ross Barkley swept a cross-field delivery to the Spaniard for the penultimate ball in a 28-pass move that Deulofeu chested down, mesmerised Fernando Amorebieta with a number of step-overs before delivering in across from the byline that Lukaku guided smartly into the far corner from the near corner of the six-yard box.
Boro responded with what they could muster, forcing Robles to save low from Stuani's low cross-cum-shot while Kike lifted a shot dangerously close to the far post following an error by Funes Mori and Downing whistled another free kick narrowly wide. Lukaku and Barkley, meanwhile, spurned a threatening counter-attack with a poor final ball from the Belgian that might otherwise have put the England international in for a shot on goal.
Not surprisingly, Everton emerged from the half-time interval in less urgent mood and much of the first quarter of an hour in the second period was about Boro trying to probe their way through the Blues's back line. The travelling fans had their hearts in their mouths a couple of times as Deulofeu went down under Fernando Amorebieta's late tackle and John Stones stayed down following an equally heavy tackle but both players recovered to play on.
Robles, meanwhile, had to be at his best to push Downing's rasping drive over the bar a couple of minutes shy of the hour mark and the home fans were baying for a penalty a few minutes for handball on Funes Mori but referee Roger East wasn't interested a sit appeared to strike his shoulder. Stuani, unmarked, then despatched what would prove to be the home team's best chance over the bar from a right-wing cross.
With the visitors looking flat and a little leggy, changes were needed from Martinez as the game entered the final 20 minutes but it was Leighton Baines's long-awaited return to action that heralded the first substitution. He replaced Galloway in the 72nd minute and was booked almost immediately for protesting a little too vehemently at the referee's refusal to stop the game after Deulofeu was caught by an arm across the face.
Kevin Mirallas was then handed a chance to stake a claim for more playing time when he replaced Deulofeu for the last 10 minutes and he almost marked the occasion with a goal but his side-foot shot was blocked by Mejias and the most notable part of his cameo was how quickly he disappeared down the tunnel after the final whistle while his teammates applauded the massed ranks of jubiant Evertonians in the away end.
The Toffees now await tomorrow's semi-final draw in anticipation knowing that triumph over to legs in the next round would see them through to a first Wembley final since 2009. As an attacking unit, with 16 goals scored in their last five games, Everton are as exciting a team as any in the top flight at the moment and should, on this evidence, fear few opponents but it's at the back where the key to their fate may lie. If they can firm up in defence – Baines's return can only help in that regard – then cup glory is certainly within their grasp.
Full coverage: ToffeeWeb Match Report
---
Reader Comments (180)
Note: the following content is not moderated or vetted by the site owners at the time of submission. Comments are the responsibility of the poster. Disclaimer
Nigel Munford
1
Posted 01/12/2015 at 19:00:37
Mirallas must really have upset RM!! Thought he would have started tonight.
James Stewart
2
Posted 01/12/2015 at 19:02:12
I'd be putting in a transfer request if I were Mirallas.
Ian McDowell
3
Posted 01/12/2015 at 19:02:15
To be honest, as much as I'd like to see Mirallas, he hasn't done anything to warrant a starting place.
Paul Holmes
4
Posted 01/12/2015 at 19:04:03
Osman (I thought he was ready for retirement last season) ahead of Mirallas? FFS! A player who is worth nothing instead of a player worth £10 million plus! Hope it works out, Martinez, or get ready for the backlash from the more clued up fans!
Thomas Surgenor
5
Posted 01/12/2015 at 19:09:58
Gutted for Mirallas.
Shows him that Kone & Cleverley are ahead of him for a wing spot.
Bob McEvoy
6
Posted 01/12/2015 at 19:09:59
And where is Besic?
David Booth
7
Posted 01/12/2015 at 19:10:19
Ian: he hasn't had a chance this season – and we know what he can do anyway? He must have really pissed Martinez off if he can't get in tonight. You can bet your bottom dollar too that Lennon and Naismith will both get the nod ahead if him if we make any attacking substitutions.
Why the hell Martinez made such a great effort to re-sign him is mystifying. No way he will stay in January. Why on earth should he? What a stubborn waste of match-winning talent.
So that's Lukaku on his own up front again then – in a tried and failed formula. And the 'dream team' of Osman and Cleverley in the middle. How (un)exciting.
Why even replace Kone in the first place? Cleverley or Gibson for McCarthy would have been quite sufficient?.
Trevor Lynes
8
Posted 01/12/2015 at 19:11:10
Mirallas has done a hell of a lot better than Lennon, Cleverley, Osman and Gibson.
Barkley and Kone both played poorly against Bournemouth and when Mirallas was given a 15 minute cameo against Villa he had three shots which is more than any of the above managed to muster.
He is without any doubt the second biggest goal threat at the club and I cannot understand how he is not being brought on when Barkley is obviously fading. He should be the automatic first choice of sub if any of the attacking players are being substituted.
Thomas Surgenor
9
Posted 01/12/2015 at 19:11:55
Also, McGeady should realise the game is up and if he wants to play he should run with his tail between his legs to the SPL. He is only here for the inflated salary.
Strong squad now that a returning to fitness besic can't get on our bench.
Jim Bennings
10
Posted 01/12/2015 at 19:12:57
What the fuck?.
Osman looked like a granny against Villa the other week in the few minutes he was on the pitch!
Cleverley looked woefully short of fitness too.
Basically if Middlesbrough put the shackles on Deulofeu and Barkley, there goes the service to Lukaku, hence he'll have a poor game and he isn't the same player without a striker partner like Kone.
I honestly don't see how Martinez expects to hurt them with such limited attacking options on the pitch.
Ray Said
11
Posted 01/12/2015 at 19:13:39
This is a chance of progressing towards winning an actual, real, silver trophy so the FIRST team should be playing. I would take a trophy and 10th place ahead of no trophy and 5th place anytime. We used to be a club that tried to win trophies.
Eugene Kearney
12
Posted 01/12/2015 at 19:16:01
Provided that everything's going our way 65/70 minutes in, I reckon Mirallas, Baines and Naismith will be brought on for a token run out....
Tom Bowers
13
Posted 01/12/2015 at 19:18:01
I thought we had a chance tonight but, now that Osman is in, we have no chance. Obviously RM has no real interest in progressing; otherwise, better players would be in ahead of Osman.
What a let down!!!
Jim Bennings
14
Posted 01/12/2015 at 19:19:38
Begs the question whether Martinez truly wants to win a trophy or just dream that he can get this inconsistent bunch into the top 4..
What really is the story with the Robles/Howard situation?.
If Martinez really has faith in Howard as his number 1 then, as in the FA Cup Quarter Final at the Emirates last year, why in the hell would you drop him??
Is Joel really the better keeper hence why he gets picked for higher profile games and is Martinez just at war with himself over his love and blind faith for Howard in league matches??
Yet he also plays Tim Howard against Dynamo Kiev last season so why not Robles then if he's the "Cup keeper"??
Martinez, what a strange man to work out.
Stephen Brown
15
Posted 01/12/2015 at 19:23:24
Mirallas got the right to be a bit peeved by that!!
Iain Love
17
Posted 01/12/2015 at 19:28:19
Rom is so much better when Kone plays, Boro are very hard to beat and haven't conceded at home for 6 games. Not arsed about Super Kev atm; I prefer him as a super sub.
Brian Harrison
18
Posted 01/12/2015 at 19:29:35
Well, it didn't take him long to reinstate Cleverley to play wide left instead of Kone. So he really thinks that Cleverley is a better option going forward than Kone or Mirallas?
I guess it looks like goodbye to Mirallas come January, not sure he could have done more to show RM his worth than what he did against Villa, when he came on as sub.
So if Deulofeu gets injured then we have the non-scoring Lennon to fall back on. Will be interesting to see how Lukaku performs without Kone as they seem to gel. I know Kone wasn't great against Bournemouth but I would rather have him wide left than Cleverley any day of the week.
Terry Davies
19
Posted 01/12/2015 at 19:32:36
I cannot believe Mirallas is not in (Osman?). Surely Mirallas must have been given some assurance last Summer when clubs (like Spurs and others) wanted to sign him but to be left on the bench behind Osman leads me to believe there must be more than meets the eye to this.
I really wanted us to hold on to Kev last Summer and was delighted when we did. If he puts in a transfer request this January, I would be very disappointed but he would go with my blessing. He's never let us down: what's going on?
Dave Abrahams
20
Posted 01/12/2015 at 19:34:06
On a cold windy wet night in Middlesbrough he picks Osman... just doesn't make sense, not even for Martinez.
Make a fool out of me, Ossie, please. I can't see it though. A very weak team, it looks like to me; we'll see later on...
Christy Ring
22
Posted 01/12/2015 at 19:44:51
I'm disappointed Mirallas hasn't started beside Lukaku, and to start Osman, how is he in the squad ahead of Besic??

Matt Woods
23
Posted 01/12/2015 at 19:55:21
Nobody wanted to sign Mirallas in the summer that appealed to him. He re-signed... no doubt on better money, and started the first game of the season. He WAS picked on the opening day... put in a not unfamiliar no-show and then limped off with a knock.
He is a fanny of the highest order who can turn it on when he can be arsed. We can now get top dollar for him when he goes.
He will be fuming at the minute as the self-interested tit has dropped out of the Belgium squad hence energy packed cameos off the bench.
Having said all that tonight was the ideal time to give him a start.
Peter Gorman
24
Posted 01/12/2015 at 20:04:10
Matt, even if I were to agree with you that Mirallas turns it on only when he can be arsed (which I don't), surely even that is better than players who never turn it on at all.
Each to their own I guess but most of us I suspect will just sit back and wonder how many goals and points he could be contributing if it weren't for a certain clown who is unfit to manage the club.
Steve Bryant
25
Posted 01/12/2015 at 20:05:25
Can Ross Barkley please STOP TAKING CORNERS!? He can score goals – he should be in and around the box. Do we have no one else that can take corners?
And yes, I agree it's a disappointment that Mirallas isn't starting. But, it could be a long night and he could be a good weapon in extra time.
Pete Ellingham
26
Posted 01/12/2015 at 20:23:55
I am amazed at just how much stick our manager gets. He clearly isn't starting Mirallas for reason. I am not sure that we could start with Deulofeu and Mirallas and I know which one I want to see! Coyb!!!!!
Mads Kamp
28
Posted 01/12/2015 at 20:58:42
Why on Earth can't we play Mirallas alongside Rom and Deulofeu? I don't get it.
Peter Gorman
29
Posted 01/12/2015 at 21:00:20
Pete, I am amazed you think it is an either or situation between him and Del boy. It is an either or between him and pretty much every other player at the club who will start ahead of him on the wing.
If he clearly isn't starting him for a reason, can you shed light on what it might be because I haven't a clue. It is why he is getting stick and plenty of it.
Mirallas's record for our club surpasses every other attacking midfielder but people honestly ask what has he done for us lately. Mostly kept the bench warm mate.
Jim Knightley
30
Posted 01/12/2015 at 21:05:22
Some of the negativity before a ball is kicked is pretty pathetic. Barkley, Mirallas, Deulofeu and Lukaku makes us too top heavy away from home without McCarthy. Mirallas should be wide or up front, not in Barkley's slightly deeper central role. Lukaku and Deulofeu deserve to be on the team sheet instead of him at the moment. I like Mirallas a lot, but football is not as simple as sticking all the best players in at once.
If Kone was playing today, I'd understand the frustration a little more, but clearly we've gone for a slightly more pragmatic approach.
Andy Crooks
31
Posted 01/12/2015 at 21:22:36
Jim, I like the stuff you post, but surely to God Evertonians are entitled to post their views on team selection. It's not negative to have an opinion that suggests that leaving Mirallas out may be strange. Dissent is okay.
Peter McHugh
32
Posted 01/12/2015 at 21:29:22
I don't understand why Martinez is constantly getting pelters for not picking Mirallas. It's not like he should be picked for his defensive ability or leadership qualities. We're doing just fine going forward. I'm glad that we seem to have a settled team and he's not tinkering.
Mads Kamp
33
Posted 01/12/2015 at 21:32:49
Jim #26
I do not agree. I think the four of them makes a formidable and balanced strike force, both home and away!
Mads Kamp
34
Posted 01/12/2015 at 21:37:11
... Even if McCarthy does not play.
Brent Stephens
35
Posted 01/12/2015 at 21:39:17
Tom Bowers #13 "now that Osman is in we have no chance."
2-0 result says not so.
Craig Fletcher
36
Posted 01/12/2015 at 21:42:57
I love reading the pre-match fume from the "selection experts". Always good for a laugh.
Very professional performance tonight, and we closed the game out well in the second half, looks like we have learnt a thing or two from Saturday.
Deulofeu, what more can we say – class. But I still wish he would drop the over-the-top theatrics from his game.
Craig Fletcher
37
Posted 01/12/2015 at 21:44:36
Forgot to say, also great to see Bainesy get a run-out for 20 minutes. Though the referee obviously didn't appreciate his advice.... surely that must be the first time in Baines's career that he has been booked for dissent!
Jim Knightley
38
Posted 01/12/2015 at 21:46:46
Mads – even Barcelona don't play with an attacking four. It is one of the reasons we are so vulnerable at the back. There are games where we need to do things a little differently. Today we did that, and we won doing that.
And Andy – I'm allowed to have an opinion on opinions. The whining is pathetic, and I will stand by that. For example: 'Thought we had a chance tonight but now that Osman is in we have no chance' – are we really still at a stage when this forum has to descend into Osman bashing?
Talking of bashing – wonderful finish from Lukaku, who is proving his ability and improvement with every game this season. Deulofeu was wonderful, and is showing why the majority of us were so happy to see him come back. He is a £20million player.
Semi-finals next... I'm hoping for Stoke or Southampton. Man City's attacking force is frightening, and I'd rather face them once in a final than twice.
Trevor Lynes
39
Posted 01/12/2015 at 21:47:00
Mirallas is on with ten minutes to go and has a couple of shots at goal. Surely this is what the game is all about?!
Sloppy again in the 2nd half and 2 nil is not enough to let the foot off the gas. It would only have taken a deflected goal for Middlesbrough and it could have been another capitulation. I cannot understand why we fade so badly, surely 90 minutes full effort is not too much to ask.This sloppiness is becoming a habit and must be stamped out if we are going to progress.
Gavin Johnson
40
Posted 01/12/2015 at 21:47:48
Good result! I was having feelings of déjà vu in the 2nd half, but the defence held firm. It was a solid performance and we got a clean sheet.
With the team selection, I'd agree with Jim, on this one. I'd like to see Mirallas and Deulofeu both in the same side, but with the absence of McCarthy, I think Cleverley offered us a little more defensively as we had Ossie who's a little lightweight in the centre of the park.
Tony Hill
41
Posted 01/12/2015 at 21:50:07
I am delighted but I thought the second half was painful. Anyway, let's enjoy.
Paul Andrews
42
Posted 01/12/2015 at 21:51:03
We hoped that they learned from Saturday. They did.
Great performance from the lads and manager
Matthew Williams
43
Posted 01/12/2015 at 21:53:16
Dare we dream of finally ending this Cup hoodoo? Bring on the RS!
Jay Wood
44
Posted 01/12/2015 at 21:54:02
Solid. The result never in doubt. A good response after the trauma of Saturday.
Two great goals, Lukaku's goal similar to his header against Villa.
Deulofeu has the football world at his feet. What a talent. We can only hope he defies logic and stays with us beyond the 2-year Barca buy-back clause.
And I saw no theatrics from him tonight. He was clumsily crunched from behind for one foul he drew and the ref missed the clear elbow thrown for the incident Leighton got booked for protesting.
Only Boro's 3rd defeat in 32 games at home, having conceded just 2 goals on their own turf this season, but we made it look easy.
Great tackling and winning the ball back all over the park tonight, too.
Ray Roche
45
Posted 01/12/2015 at 21:57:09
Eugene Kearney (#12),
Spot-on!
Brent Stephens
46
Posted 01/12/2015 at 21:57:35
Jay (#37), theatricals from Geri when he got an arm across his mush.
Brent Stephens
47
Posted 01/12/2015 at 21:59:30
I suspect Eugene (#12) lives life in real time and we are all on time-lapse delay by a couple of hours.
Dave Ganley
48
Posted 01/12/2015 at 22:03:35
So glad we won tonight. We especially needed that after Saturday, but let's not get carried away that it was the complete professional performance.
The 2nd half mirrored the Bournemouth game in that we just stopped playing and invited Boro onto us. We were sloppy and passes went astray and it just drives me up the wall that when players receive the ball they look to play the ball backwards first before looking to go forward. If Boro had scored with that header like they should have, then it was different game.
I too have to wonder what Kevin Mirallas has done to deserve the treatment he is getting. I like Cleverley since he arrived at the club but playing on the left? Seriously? Same as Kone, he is not a wide player and obviously the writing is on the wall for Kev they way he is being treated.
As I have said, I am so pleased to be in the semi-final of a cup competition but we really need to up our 90 minute game if we are going to progress over a two-legged tie. It will have been noted by Man City, Stoke, Liverpool & Southampton how much we let up in a game so we need to show we can play for a full game.
Having said that, a closer game may make us concentrate for the full 90. Very excited for the draw tomorrow now.
Patrick Murphy
49
Posted 01/12/2015 at 22:03:52
Martinez knows nothing about football as proven by our relatively simple passage through to the semi-final stage of the competition. I do think Ossie is finished by the way and shouldn't really be ahead of the likes of Mirallas and others but the manager sees them train every single day of the week, he knows every one of them and he'll pick the team that he thinks will do the job for him.
It could have gone horribly wrong but it didn't. I'd still like to see us go on and get the third and fourth goals but 2-0 away from home will do for me. Rom has scored 49 goals in 90 appearances for the Blues.
Hasan Noor
50
Posted 01/12/2015 at 22:04:10
Great play from Deulofeu. Barkley was poor today. He looks overweight; he slows the play down.

Martinez should put Deulofou in Barkley's position and put Mirallas on the wing. Also Funes Mori looks dodgy now.
Jay Wood
51
Posted 01/12/2015 at 22:05:14
I thought so in live time also Brent, but in slow mo replay he genuinely took a deliberate forearm smash from ... Ayala, wasn't it?
Paul Olsen
52
Posted 01/12/2015 at 22:07:22
Jay.
Deulofeu was taken, sure. But, his over-reactions robbed us of a clear free kick. I´m sure he is able to look like something other than a Barcelona player if he really puts an effort into it. It just looks silly and does not reflect well on us as a club.
In all other aspects, I am fine with him looking like a Barcelona player.
Brent Stephens
53
Posted 01/12/2015 at 22:07:32
Jay, yes, a genuine arm to the throat/face. But then it was too theatrical for my liking. Hope they got the bullet out safely!
Paul Olsen
54
Posted 01/12/2015 at 22:10:29
And then there was the clumsy foul early in the second half by their left-back. Clear foul, but no need for Deulofeu to go all Pep-ish, rolling over seven times.
Jay Wood
55
Posted 01/12/2015 at 22:13:18
Dave @ 41
I can't agree with you that the 2nd half mirrored the Bournemouth game. Boro are a tidy side and they were always going to have a wee spell of dominance in the game, and so it proved.
We weathered it comfortably, keeping them at arm's length, with real bite in the tackle and no nonsense defending when necessary.
We were once again the more threatening side in the final 10-15 minutes when better decision making in the final pass could have seen us add to an already impressive scoreline.
I'm as much encouraged by tonight's performance as I was left aghast by letting 2 points slip on Saturday.
Now Everton... let's REALLY go on an 'old school' run of 4, 5, 6 or more consecutive victories...
Jamie Crowley
56
Posted 01/12/2015 at 22:13:47
Dodge Man City in the draw! I'd prefer the Redshite before them! They're living in cloud cuckoo land at Anfield and relying on a superior manager to get miracle results.
Yep, I said it... I like Klippity. Don't care... he's hard to dislike and he's one hell of a manager.
But Man City are just scary dangerous going forward and home and away I don't like our odds against City.
Stoke of course, or Southampton would be lovely.
Silverware... start to dream.
Ian Riley
57
Posted 01/12/2015 at 22:14:17
Let's enjoy the moment! Still have not forgiven them for Saturday!!!
Philip Yensen
58
Posted 01/12/2015 at 22:15:07
Shit second half again. No matter what team he picks, same pattern. Not going to rant on, but the usual fuck ups, subs, half-time talk and general play was leggy again. Forget this cup and the rest of the season while RM is in charge.
Paul Hanratty
59
Posted 01/12/2015 at 22:17:31
All the earlier posts about Super Kev? That man is not good enough to put a blue shirt on. Free kick late on tonight, he spat out his dummy because he wanted to take it and walked away because Ossie turned to Baines and said, fuck him, he's not arsed. It was right in front of me.

Final whistle goes – who's the first off the pitch without acknowledging the fans? You guessed it: Super Kev. If he really wants to play for us, he would get his head down and try to force his way back in tothe team.
Jay Wood
60
Posted 01/12/2015 at 22:17:59
No worries on the bullet, Brent ... the way he is playing, he'll out sprint it or send it into such a spin, he'll out dodge it, Matrix-style.
What a player we have in Gerald.
Mike Powell
61
Posted 01/12/2015 at 22:18:20
He is magic you know. He is pure magic that boy from Spain. COYB! The only downfall is Ossie is finished; he was woeful. But, hey, who cares? So close to Wembley. Come on, Blue men, let's win it.
Peter Bell
62
Posted 01/12/2015 at 22:21:14
Why are people saying Cleverley played on the left? He partnered Barry, with a very weak and finished Osman providing poor protection in front of Galloway.
I agree with Dave @41 a mirror image of the Bournemouth game, we got out of jail due to a poor Boro team and a goalkeeper who can command his box. Mori and Barkley were poor I thought, give possession away like that to a Premier League team in the semis and we will be finished.
Dave Ganley
63
Posted 01/12/2015 at 22:24:27
I agree Jay, that in the final 10 to 15 minutes we started to look stronger again when Boro tired but why give them a sniff at all in the 2nd half? We did go to sleep and we were often second best in the tackle and became really sloppy.
I suppose this is coming across as a bit bah humbug considering we have just reached a semi-final and I really am pleased and can't wait for the semis, but if we don't start playing for 90 minutes then the better teams will find us out.
Graham Mockford
64
Posted 01/12/2015 at 22:25:46
Just watching the highlights in my hotel. Good performance, I think the difference is we maintained energy levels in the second half.
Magic stuff from Deulofeu for both goals and another great header from Rom or otherwise known as 'the worst header of a ball to play centre forward for Everton'. You know who you are...
Roll on the semis.
Andy Crooks
65
Posted 01/12/2015 at 22:28:28
Jay Wood (#37) sums it up. I think we need something inspirational now, and I think it will be Baines.
Mark Andersson
66
Posted 01/12/2015 at 22:28:56
So glad we are in the semi. I really hope we don't have to play Klopp's team.
Enjoy the two-legged semi, Blue boys. I will cheer from the land down under.

Robert Stewart
67
Posted 01/12/2015 at 22:29:30
A good decision from Roberto to play Ossie. I didn't think so when I saw team news; however, it became apparent he was in to provide some experience to an otherwise young team, with Howard rested and Jags and Bainsey injured that would have left only Barry and possibly Seamus as senior players and so Ossie had to play.
Had the others been fit, then we may have seen Kev start instead. Avoid Man City and I'll take any of the others home and away including the shite! COYB.
Craig Fletcher
68
Posted 01/12/2015 at 22:31:22
I hate to say it coz I like Ossie, but he was average tonight. His lack of strength especially is glaring against a Championship side who don't mind a bit of rough and tumble. Too many times he was pushed off the ball.
Cleverley did okay, but I think the reason for the selection of both him and Osman tonight was Martinez going for a more pragmatic approach initially against an in-form side at home. Mirallas looked lively again on the counter-attack in the second half as the game opened up.
Overall nothing to complain about though, and looks like we came through it with no injuries apart from Gerry's smack to the face.
Brent Stephens
69
Posted 01/12/2015 at 22:32:43
Jay (#49), aye to that. Geri didn't quite do it for me last season. But this season – edge-of-seat stuff. And his covering of Coleman several times tonight – a developing part of his game.
Ian Bennett
70
Posted 01/12/2015 at 22:32:45
For the two goals, I just sat there repeating 'amazing'. Love Geri, amazing quality the last I saw from Kanchelskis.
Ammmmmmazing!
John Beesley
71
Posted 01/12/2015 at 22:33:09
Everton were quality tonight and controlled the game from start to finish, which was a very tricky tie away at a team who are playing really well and who beat Man Utd in the last round.

And for all the moaners criticising Martinez after Saturday's result, we controlled that game for 80 mins. Shit in the second half or not until a "lucky goal" went in (cos if he hit that 100 times it would have went in once) and that quite understandably rattled us.

Martinez said we will learn from this then and tonight we certainly did. I am fucking made up now. Come On You Blues!
Dave Pritchard
72
Posted 01/12/2015 at 22:38:09
Another disappointing and frustrating second half which is a mystery but happy with the win.
Charlie Burnett
73
Posted 01/12/2015 at 22:48:36
Good win. We needed it to bounce back from Saturday's nightmare. Not looking forward to Palace at all – our bogie team.

In tonight's match Osman lost it for me, just collecting a wage for being a scouser. Same as Hibbert. I would of played Cleverley in the middle. Even Gibson with Kevin/Lennon out wide, but I ain't the manager.

Baines is back. I think this will boost the team and he has to start Monday. Galloway has done well but he's still an understudy. The boss is back now, lad – your had over the number of games you expected, you should be over the moon. Baines on the free kicks, get Barkley off them and corners. He does my head in.

Everton-Liverpool semi or Everton-Liverpool final. I know the FA would want it to be a Liverpool-Man City final so we'll probably get a one in the semi. You can only beat what's in front of you, I guess.
Graham Mockford
74
Posted 01/12/2015 at 22:50:39
Big week first week of January.
Spurs at home on the Sunday
1st leg semi I guess will be Wed 6th
3rd round FA Cup the following weekend.
Peter Bell
75
Posted 01/12/2015 at 22:52:42
Graham, followed by Man City Away and Chelsea Away in the space of 4 days.
Brian Hennessy
76
Posted 01/12/2015 at 22:53:30
An incredibly professional display.
We did seem to learn from last Saturday, there was a period during the second half where we started to drift back but Stones in particular drove us forward.
Great decision making by Roberto to bring on Baines, don't get me wrong , Galloway has done brilliantly but Baines is much more comfortable on the ball and he was a better outlet for Stones and Mori playing from the back.
I though Barry had another very good game, I wrote him off after last season but am glad to admit I was wrong. Cleverley did pretty well considering his long lay-off.
Two stunning goals and a clean sheet, bring on the semi-finals...
Peter Laing
77
Posted 01/12/2015 at 22:56:23
Sheer class once again from Geri, I'm so glad that the naysayers have been forced to eat their words. I've said it once and I will say it again, one of the best players to pull on a blue shirt in the past 30 years - and that includes Rooney. Great to see Ossie rolling back the years and an all round well deserved win and professional performance.
There is one thing that Martinez has brought to the team and that is competition for places. Mirallas could be one of those players, given that he is a Moyes signing that does not figure long term in Everton's plans. If we can unload Kevin in January and fund the signing of Yarmalenko I will be very happy.
Jon Withey
78
Posted 01/12/2015 at 22:57:52
Really can't complain with 2-0 away to a decent side. We've lost to much worse in these cup games.
Martinez played as close to his strongest team as he thought he could given injuries – yes that didn't include Mirallas.
Glad Baines, Osman and Cleverley got some match practise. Kone probably needed a rest anyway, Deulofeu is ahead of Mirallas, Osman a bit of a wiser head.
If Deulofeu was suddenly injured I'm sure Mirallas would be back in the frame – but I get the feeling Martinez would sell for the right price.
Keith Monaghan
79
Posted 01/12/2015 at 23:02:27
Boro's record this season, and last season at home, suggests this was a very decent win. I understand why Deulofeu (delighted to see he's become more of a team palyer in recent games) was given MotM, but my vote would have been for Barry – he's as gifted as so, but is crucial to how we play.
I wish he was several years younger. He's consistent, in spite of a lapse after his injury last season, our best midfield player since arriving at the club.
I'm still frustrated with Ross – A typical Ross Barkley performance and we'll be in trouble – he must toughen up & stop strolling when he hasn't got the ball. And most of the time when he gets the ball, I'm expecting him to lose it. I know such as Stones & Barry give it away sometimes, but I'm always much more confident when they're in possession.
I thought Cleverley did okay – he was in for his energy – every bit as good as McCarthy, and offers more going forward. I'm still hoping to see Mirallas starting games for us!?
Expecting a very tough game on Monday; midfield will need to work hard.
Victor Johnson
80
Posted 01/12/2015 at 23:08:08
Barry was immense tonight. He held everything together & snuffed out most of the dangerous situations. Well done, lad!
Mike Iddon
81
Posted 01/12/2015 at 23:14:09
Goals for club and country by the age of 23:

Ronaldo - 127
Lukaku - 117 (with six months still to go)

Class always tells. How anyone doesn't rate him is absurd.
Les Martin
82
Posted 01/12/2015 at 23:21:18
Never had any doubts and all the fringe/returning from injury players got a run out, so a very satisfying night's work.

Special mention for Ross, did he give away one pass? I would love to know his accuracy tonight. There's a mixture of Beckenbauer/Hoddle and Gazza in there, his progress has been immense considering where he was two seasons ago.
Eddie Dunn
83
Posted 01/12/2015 at 23:22:57
Great result, although I was worried when they had the free kick that Robles saved. At that point we were poncing about at the back, with Stones guilty of overplaying on a few occasions.

Poor Osman looks as weak as a little kitten, falling over and being bullied off the ball . Strange that he was prefered to Naismith and stranger still was the absence of Kev for so long.

We need to press the game once in front, and not fanny about so much, because a good side will take advantage, gain momentum and put us to the sword. So let's get Kevin on earlier and continue our dominance in future.

Phil Hoyle
84
Posted 01/12/2015 at 23:27:59
Victor (#65) – I fully agree with you about Barry. He gets a lot of stick but personally I think he is a very clever player and allow others around him to play – unsung hero.
We were great in the first 30 mins and I understand that after being 2-0 up we were trying to control the game but we did not do it that well. Saying that, had the decision-making been better going forward, we could have scored a hatful.
I just don't know what to expect from us at present! I never feel safe at 2-0 (and that was before Bournemouth). I am enthused by how many goals we are scoring but I know we concede easily.
Bit of a crap post I know but I am delighted we are in the semis – I just want to avoid Man City. Bring on everyone else!
Dave Abrahams
85
Posted 01/12/2015 at 23:44:49
I only read what the Live Forum had to say so didn't see the game but quite a lot were dismayed at the team going backwards all the time, so if that's true, I can't understand why they play like that.
The best form of defence is to attack, and sorry about Osman, as I say I didn't see the game, did he struggle as much as though it sounded? I felt sorry for him against Villa when he came on for the last 20 minutes, he looked knackered. I've never been an Ossie basher but his best days are long gone.
Tony Hill
86
Posted 01/12/2015 at 23:45:10
I don't think your post is crap at all, Phil. It sums up how jittery many of us feel. It's a great night tonight but I think this team has the potential to be really exciting and we just need to have the confidence and courage to express ourselves for more than 30 minutes, to rip the opposition apart.
I hope and think that may all come. It's in the heads of the players and/or in the manager's head that the next crucial step needs to be made.
Anyway, a top night to be Blue.
Doug Harris
87
Posted 01/12/2015 at 23:52:22
Great display by Gerard Deulofeu. Just loved his step-overs that had their left back in a complete mesmerised state of "Where the fuck has he gone?" for the cross for our second goal.

Gareth Barry again tonight... special player we have in him, no doubt about it.

Enjoy the night, we still have work to do. We can do it though.
Colin Glassar
88
Posted 01/12/2015 at 23:55:45
After Bournemouth, Phil, I think we all feel we need a few wins to recover our confidence in the team.
Colin Malone
89
Posted 01/12/2015 at 23:58:32
Gareth Barry was excellent tonight. Most of the passing from the midfield was forward passing. No crab-like passing from McCarthy benefited us tonight.
John Daley
90
Posted 02/12/2015 at 00:03:08
".... the usual fuck-ups, subs, half-time talk and general play was leggy again. Forget this cup and the rest of the season while RM is in charge."
Go on then. Exactly what "fuck-ups" are you referring to? What was wrong with the subs he elected to use tonight? And on a scale of 1 to 10 (1 being Peter Sellers in Dr Strangelove; 10 being Scooby Doo when he's dressed as a woman), how much of a master of disguise are you if you're privy to the precise words said in the dressing room at half-time?
Mike Hughes
91
Posted 01/12/2015 at 00:04:23
Great goals, great result.
Personally I'd like an Everton v Southampton final.3-0 to us again and our first Carling / Milk / Rumbelows / League Cup.
Then the FA Cup. Then the League and European Cup.
Goodison re-developed. The shite go into liquidation. Anfield bulldozed. I drive the JCB.
John Raftery
92
Posted 01/12/2015 at 00:05:17
The second half performance tonight was very different from Saturday's. Tonight we controlled the game by playing predominantly in Boro's half. In the end the home team ran out of ideas and energy. Yes, we probably should have made it even more comfortable by scoring a third but 2-0 away from home against a decent Championship outfit is a more satisfactory outcome.

It was certainly more comfortable than any of our earlier ties in this competition. Romelu and Geri have the match winning capability to take us all the way to a much coveted piece of silverware.
Gary Heywood
93
Posted 02/12/2015 at 00:24:29
Delighted we've got to the semis.
Annoyed that we learnt nothing from the Bournemouth game. Showed our superiority in the first half with real quality attacking play and two brilliant goals. Then in the second half showed unentitled arrogance and stupidity by sitting back again on a lead which is playing to our weakness not our strength. Fortunately, Boro were not as good as Bournemouth at seizing a gift opportunity.
Robles might not be our long-term goalie solution but he's obviously so much better than Howard.
Gordon Crawford
94
Posted 02/12/2015 at 01:08:06
Played well tonight, great win.
Joel did well again tonight, but if we get to the final, will he be dropped??
Jay Harris
95
Posted 02/12/2015 at 01:10:29
Made up we are in the semis but there was so much wrong with our game tonight. It mirrored Saturday but Boro weren't lucky enough to get a goal back.
I was always a fan of Osman but FFS in a match like this...
Lukaku seemed to be less effective in the absence of a partner and like others I question What Mirallas has done to peeve Martinez. For this game he was the ideal replacement for Kone and would have given Galloway more protection than Cleverley or Osman who I thought both looked out of sorts.
Funes Mori also had a poor game – his passing in particular was not good in the last 2 games.
I thought we looked much Better with Baines and Mirallas on the pitch.
Jamie Sweet
96
Posted 02/12/2015 at 01:21:53
I'm not sure I've seen many players improve so much in a year as Deulofeu. He was fun to watch during his first spell, but he was a bit predictable and the end product was somewhat lacking.
Fast forward to now and the boy is on fire! Only Ouzil (11) has more Premier League assists this season than Geri (7) and GD has only played half the minutes that the Arsenal maestro has.
Add a couple of assists and goals in the cup and his output this season has been absolutely invaluable.
We're very lucky to have him regardless of how long we get to keep him for.
Colin Metcalfe
97
Posted 02/12/2015 at 02:02:05
Over the moon we got through and quite happy to eat humble pie after saying we would lose tonight!
I didn't see the game but a fairly comfortable win by all accounts; ye of little faith – I hang my head in shame... COYB!!
Eric Myles
98
Posted 02/12/2015 at 02:24:48
Jamie (#93), a more outstanding improvement has happened over one game. Against Bournemouth, he couldn't beat their defence with his crosses and this game they all worked for him, first half anyway – I didn't see the second.
Peter Barry
100
Posted 02/12/2015 at 02:47:01
First congratulations to the team for getting through this round 'onwards to Wembley' perhaps. But it seem that both the team and more importantly Martinez learned nothing from Saturday's debacle at Bournemouth as yet again we got a two-goal cushion then sat back.
OK, we got away with it this time but what it tells me is that this Manager is just not up to the job of managing Everton.

Harold Matthews
101
Posted 02/12/2015 at 04:37:27
Mike (#78). Rom's record is great but you're comparing a striker with a winger.
Darren Hind
102
Posted 02/12/2015 at 05:16:01
I think the decision to leave Ossie on was a good and brave one. Ossie was not 100% and definitely not having the best of games, but the current team won't stay fit and in-form all season. We will need Ossie at some point and I would prefer a Leon Osman with a few games under his belt.
If we'd have blown it again, Martinez would have been murdered for leaving him on. We didn't... so let's give a bit of credit.
I see the 'I-told-you-so's are back... it really takes the edge off a good win. I would have far more respect for somebody who challenges the "negatives" before the game if it upsets him so much, waiting to see the outcome and coming out all full of knowledge if we win is "pathetic".
I wonder if they would be happier if there was no pre-match opinion.
Darryl Ritchie
103
Posted 02/12/2015 at 06:11:10
I've only just seen the highlights. The 2 minutes I saw were pretty good. What went on for the other 90 or so, I can read about here, and other sources, but in the end the 2 minutes are all that really matter.
2-0 and on to the semifinals.
Paul Andrews
104
Posted 02/12/2015 at 06:29:43
We were in control of the game throughout,what anyone has to complain about in last nights performance is beyond me.

We passed the ball very well in one touch sessions lasting for twenty,thirty passes at times. They took the sting out of the game with this and controlled the tempo of the game.

A thoroughly mature performance from a team with six players under 24 years of age.
Andy Walker
105
Posted 02/12/2015 at 06:31:40
That was great, especially the first half. Deulofeu's goal, well I don't think I have seen an Everton player ever score a goal quite like that. It was, dare I say, Messi-like.
Second half again had a Groundhog Day feeling (Bournemouth) for the first 20 or so... but when they missed the sitter of a header, that was our let-off and we got back control.
Like many, I can't understand the Mirallas situation, he looks dangerous and an asset when he comes on – even only for the odd 10 mins.
Great to see Bainsey back too, his delivery on free kicks was just so much better. Let's hope his injury is behind him.
Duncan McDine
106
Posted 02/12/2015 at 06:32:17
I'm surprised at some of the comments calling for RM's head after this victory... The Bournemouth disaster still angers me, but I think we managed last night's game perfectly.
I initially thought that Barry and Osman were poor selections, but with that comfortable win I can't fault RM. Neither of them played really well, but they did their job.
I must also say that this is the most exciting group of players I've seen since I was a kid ('80s). Del Boy, Rom and Ross are fabulous to watch, and I never tire of seeing John Stones.
James Marshall
107
Posted 02/12/2015 at 06:55:27
I'm glad you lot don't pick the team – I like Mirallas, but he's increasingly become a luxury player who can't be relied on. He carries great attacking threat, we all know this, but he gives the ball away a lot, does nothing defensively and is extremely selfish in every way.
I like and understand the need to be selfish when you're an out-&-out attacker, but this is why he doesn't get in the team every week and sits on the bench.
It seems very simple to me. This isn't Football Manager, it's reality, and players like Ossie are extremely important for being neat & tidy in possession, whereas players like Mirallas will lose the ball and drop you in it more times than they'll win you matches.
I'm thoroughly enjoying watching us this season.
Mike Price
108
Posted 02/12/2015 at 07:05:14
Robles over Howard gives a different vibe to everything. A keeper does his own thing but then affects the structure and confidence of the defence and rest of the team.
That header, if it was on target, would have likely been tipped over by Robles, whereas Howard would have tried to time his ridiculous swipe at the ball where he inevitably misses it. Look at the 3rd goal vs Bournemouth, he's like a dozy cat trying to time a swipe at a moving object coming towards him. Just try to tip it over or block it.
I know it's the wrong thread but Howard could sabotage our season... AGAIN!
John Malone
109
Posted 02/12/2015 at 07:30:21
Duncan (#101), sorry, mate, I can't agree. Barry for me has been top draw lately he has been head and shoulders above. Everything goes through him he is the calm in the storm nothing phases him and his footballing ability, reading of the game and his work rate are second to none.
He is the 'Makalele' which allows the 'Galacticos' to do their stuff and I wish we had an attack-minded midfielder who was as experienced and assured for Barkley and Co to watch and learn off!
Great win last night; I've got a feeling we're going to draw the RedShite and show them who the best team in Merseyside is over two legs!!
Jason Pullen
110
Posted 02/12/2015 at 07:37:04
So strange to see some people posting Barkley was awful and continually gave the ball away, then someone else says he was fantastic and never gave the ball away. He really does divide opinion.
I didn't see the game so don't know whose right. Maybe somewhere in between? I'm glad he's with us anyway.
Duncan McDine
111
Posted 02/12/2015 at 07:37:16
John (#104), I agree with everything you write about Barry. I failed to say that I would have liked to see him rested, but admit that RM got it right.
Barry and Osman did lots of good stuff last night, but they also made quite a few mistakes. That's why I'd say Barry wasn't quite at his best (his standards have been very high this season apart from the Spurs game and maybe one other).
Christopher Timmins
112
Posted 02/12/2015 at 07:37:28
We were in control last night and, with Baines and hopefully Jags back for the semis, we are in with a real chance of silverware!

Colin Glassar
113
Posted 02/12/2015 at 07:57:34
I'm just chuffed that the likes of Barry, Lukaku, Ross, Kone and Robles are getting the recognition they deserve. Last season they were the target of some really vicious comments by some people (a tiny minority but very vocal) who would tear them apart after each and every game. I'm made up the manager stuck with them and he's now reaping the rewards.
Sam Hoare
114
Posted 02/12/2015 at 07:57:51
I'm not sure we were in control last night. Certainly not in the second half when our passing deteriorated and we gave them a lot of territory and possession. They were pretty mediocre offensively but if Stuani had put away that free header from 5 yards out as he should have then things may have been very different.
The result was good of course and we looked good in the first half but still there was a drop in concentration, energy and execution in the second half that was disappointing. What was more than disappointing was Martinez's refusal to do anything about it. We got away with it this time but I would prefer a manager who recognizes when his team needs a boost or change.
Still... the right result is the main thing and if we can beat Palace then we will likely be 6th or 7th and still in both cups at start of December which represents a very decent effort.
Graham Mockford
115
Posted 02/12/2015 at 07:59:35
Darren,
I'm not sure who 'they' are but I'm sure no one wants no pre-match or post-match opinion for that matter.
But when you post something as ridiculous as #13 where you claim the game is over before a ball is kicked, it's not surprising someone might come on and point out that was a ...... er ridiculous post.
Anyway I thought we established nothing could take the shine of a victory for you.
Btw I agree with your view on Osman, I certainly don't think he let anyone down and I thought that was Robles's best performance for us, more so than Norwich where he made more saves but he looked genuinely composed last night.
Ian Jones
116
Posted 02/12/2015 at 08:06:22
Was surprised that Gibson didn't start as I would like to see what he can do when fit. But the players picked did well. Second half iffy but a win is a win.
I also find it interesting how the performance of certain players divides opinions. Some say how well one played. Others how poorly etc. I suppose we all have our favourites.
With players like Barry or Osman in a team, they probably don't stand out as much as others like Barkley as they just go around the place efficiently and mostly effectively and there is not too much excitement involved in watching them. I admit I am never on the edge of my seat when Barry gets the ball, but we would probably miss him if he was out....or not!
Colin Glassar
117
Posted 02/12/2015 at 08:10:15
Graham, it would be great if you could copy and paste some of these comments. My favourite one was (I think it was on the live forum) during the Chelsea game and it went something like this, "Oh shit, Naismith is coming on. Now we are really fucked!!". Comedy gold.
Mike Iddon
118
Posted 02/12/2015 at 08:13:20
Harold (#97), I was comparing his record to one of the World's great goalscorers in his early days. Don't want the point to be about him but I don't think he's just a winger?
The point is Lukaku is showing what a player he is becoming and could become; best No 9 in the Premier League – including Vardy, Kane et al.
Oliver Molloy
119
Posted 02/12/2015 at 08:40:31
Great first half performance followed by another disappointing second half display. I was expecting more from Boro to be honest and had they scored in the second half – who knows?
Stones and Barkley were a little too cocky for my liking last night and against better opponents both will be found wanting; I hope the manager has a word.
I do hope we get a chance to put matters right and get Liverpool in the draw.
Jay Woods
120
Posted 02/12/2015 at 08:42:04
John Malone: The phrase is "top drawer", not "top draw". Sorry, for being a pedantic git, but that faux pas really grates.
As to the issue of being in control, I think we were. The biggest annoyance was Barkley, though. A move near the end typified his problem; we broke on the counter and he had options left and right, but carried the ball too far and ran into trouble. When Gerard was in those positions back in the day for the unmentionables, he almost always made the pass to the player in the better position. Can't anyone at the club coach this stupidity out of Barkley?
Christopher Wallace
121
Posted 02/12/2015 at 08:57:00
Phillip Yensen
Let me get this straight - RM deserves no credit for guiding us through to a semi-final (whilst incorporating some squad players), but he will deserve all of the blame if we fail to win the trophy? Cool logic.
Also, I'll take a 2-goal lead at half-time, followed by a shit, goalless 2nd half for the rest of the season, thanks very much!
Christopher Wallace
122
Posted 02/12/2015 at 09:04:07
Before the game, I wanted: Result, clean sheet, performance - in that order of importance.
We got: result, clean sheet, world class goals, quite solid performance (against a well organised team who won at Old Trafford recently).
Certainly room for improvement, but very happy with the boys and the manager. Fans sounded good as well. (I watched on TV.)
Craig Walker
123
Posted 02/12/2015 at 09:14:34
Super Kev is a great player and a goal threat when he's up for it but he lost my respect with the penalty debacle last season.
Ian Jones
124
Posted 02/12/2015 at 09:33:32
Hi Jay (#114):
Agree with you re Barkley's distribution and note your comparison with Gerrard. But are we talking about Gerrard in his early 20s or when he had far more experience? I don't remember how good he was at same age of Barkley.
Brian Hennessy
125
Posted 02/12/2015 at 09:39:35
Right lads, you can be sure the Barcelona scouts will be all over ToffeeWeb today checking up on Delboy, so here is my report on him.
He was terrible, absolutely terrible. His goal was a fluke and it was a miss-hit shot that found Lukaku for the second. I would have taken him off at half-time. What a waste of money, Barcelona were right all along, he will never make it...
Peter Carpenter
126
Posted 02/12/2015 at 09:44:01
Could Martinez manage the first half of games and Moyes the second?
Gavin Johnson
127
Posted 02/12/2015 at 09:59:15
I agree with Graham (#110) in that Robles did look very composed last night. I feel a lot more secure when he's in goal.
What the goalkeeper does transmits itself to the defence and the rest of the team. As Mike points out (#103), had that 2nd half header been on target, Robles looked like he would have made the save of the game. While Howard would have probably made one of those characteristic jumps (Bournemouth 3rd goal) trying to swat the ball out. They work occasionally – the save against Saints last season that was in the MotD short list for 'save of the season'. But more often and not, he does as Mike says look like a dozy cat swiping at a moving toy. Your post made me laugh there, Mike.
I think the Monday night game against Palace will be a microcosm for how this season will plays out. If we beat them, I can see us consolidating a place in the top 6.
They've been our bogey side for years ever since back in the day when we lost in that Mickey Mouse Cup final – something Data Systems Cup, whatever it was called, they've been a thorn in our side for years. They're actually a good side this season so we really need to be on our game.
Anto Byrne
128
Posted 02/12/2015 at 09:59:27
The 1977 Football League Cup Final was played between Aston Villa and Everton and required three games to decide the winner, the only time this has happened in the League Cup.
The first match took place at Wembley Stadium on 12 March and the game ended in a dull goalless draw. The first replay on 16 March was only marginally better as the teams again played out a draw, this time at Hillsborough the home of Sheffield Wednesday. Both teams at least managed a goal apiece on this occasion although both were scored by Everton players with Bob Latchford's last-minute equaliser nullifying Roger Kenyon's earlier own-goal.
The second replay took place at Old Trafford on 13 April. The game is probably best remembered for a 40-yard goal from Villa centre-half Chris Nicholl, and in a 2010 poll this was voted in the Top 25 of all-time League Cup moments. Brian Little scored his second of the match in dramatic fashion during the dying seconds of the game to give Villa a 3–2 victory. Mick Lyons and Bob Latchford scored for Everton.

Jim Hourigan
129
Posted 02/12/2015 at 10:02:29
In the cup it's the result that matters so on that score we have to be pleased. BUT ..... the selection of Osman and keeping him on the field is baffling – too slow, too weak and offers nothing other than 10-yard tippy-tappies – remind you of Martinez himself ???
We are at our best when attacking with pace, so why play Osman? Equally Cleverley may have more pace but is also a tippy-tappy player – Gibson offers more attacking options through his pass selection and is as mobile as Cleverley.
I just think Martinez has favourites and Osman and Cleverley are two of them; he has people he does not trust – Miracles and Gibson fit into that category. Good managers have to see beyond that and I just don't think Martinez is able to do that.
Tim Wardrop
130
Posted 02/12/2015 at 10:04:00
The Deulofeu - Lukaku combination is frightening. Long may it continue.
Paul Cherrington
131
Posted 02/12/2015 at 10:04:09
A great result last night, especially after the weekend – just what we needed, so well done, boys.
Deulofeu showed again that he is the one who makes the difference for us on the pitch. I really would leave him on at all times unless injured or totally out of gas. Well done to Rom too – another goal and he is playing well.
Shame to hear the second half dropped off a bit again but sounds like we controlled the game better rather than hanging on, like at Bournemouth.
Peter Lee
132
Posted 02/12/2015 at 10:06:41
I am reluctant to criticise any Everton player, especially one who is young and one of our own, but am I in a minority in my judgement of Ross Barkley?
Yes he his improving all the time and his goals this season are welcome indeed but three things frustrate me. He lacks vision in picking a pass, especially an early one after he makes an initial break. If he had the same ability to do that as Gerard Deulofeu what would we have achieved this season? Not sure you can coach vision but you can insist that he gives the ball earlier.
My second reservation is his physical involvement. It may be that the circumstances of that appalling injury he suffered continue to affect him but he doesn't respond to challenge by driving through tackles and I can't remember him making a crunching tackle himself. Has he ever been booked for any? Too often he just hangs a foot.
Finally, and this may relate to the vision thing, he doesn't track back enough for me, he is often seen in the background jogging back as the opposition race forward. The most obvious example was in the lead up to Yarmolenko's goal last season when Ross could have got to him, at least ran alongside shoulder to shoulder and made him think.
I did smile when he spoke of carrying his England form into his club games. He is the luckiest lad around to have so many international caps at this stage. He is not yet near to the player Howard Kendall was and he didn't get one.
Derek Thomas
133
Posted 02/12/2015 at 10:07:53
Peter @120; why not don't sit back and defend in the first place
Conor Skelly
134
Posted 02/12/2015 at 10:08:29
I second that, Brian (#119). Gerard wasn't at the races again tonight. You can see there is a player in there but I still think there's lots of work to be done. Just no end product. Hopefully he improves. I'd go with McGeady for the next match.
Dave Abrahams
135
Posted 02/12/2015 at 10:17:53
Christopher (#116), I understand what you are saying: "I'd take a 2-0 lead for the rest of the season with a shit second half."
Well, that would get us two cups and the European Champions League entry next season. If that's the end product, I'd be bored out of my skull and what little hair I've got would be all gone, no thanks.
Also, if we are only going to play one half, could we all get in for half price?
I really do understand what you are saying, but I'm old school and I want to be entertained – not sweating on a result that could be well settled if they played forward an awful lot more than they do.
Christopher Wallace
136
Posted 02/12/2015 at 10:20:25
Peter Lee
Perhaps a tad harsh on Ross. He has Barry and McCarthy behind him to make the crunching/cynical tackles, and alleviate te need for him to track back all the time.
He has added assists to his game, and is on track to break the 15 goal mark for the season.
His cushioned pass for Lukaku the other week was sublime, and it was his cross-field pass that put Del Boy one-on-one with amorobieta for the 2nd last night.
The fact that he is clearly not the finished article is a big plus in my book. He's 21 ffs, and has shown definite inprovement from last season. If that continues, he can become world class.
James Morgan
137
Posted 02/12/2015 at 10:20:32
Does anybody know how many goals Del has scored/assisted this season?
Brian Hennessy
138
Posted 02/12/2015 at 10:26:09
Quite right Conor (126)
I just hope Barcelona or one of the other big clubs don't see how good McGeady really is and make us an offer we can't refuse.
He would be much better suited to the Barca way of playing than Delboy any day!
Dave Abrahams
139
Posted 02/12/2015 at 10:30:21
Ian (#118), unfortunately Gerrard was an outstanding player from the minute he made his debut. More importantly, he knew how good he was: born confidence, and he never relaxed for a minute when he was on the field – especially against us.
Again unfortunately, he got better and better, he loved Liverpool and would cheat for the bastards (many, many times). All that mattered to him was that Liverpool won. I'd kill for a player like that in this present Everton team.
Michael Polley
140
Posted 02/12/2015 at 10:31:56
Games of two halves again. Great performance in the first with Deulofeu on fire. I just thought we sat back again in the 2nd, and were inviting trouble. Fortunately Boro posed little threat.
Delighted with the result though. Looking forward to the draw tonight, and hopefully 3 pts against Palace on Monday.
Kevin Tully
142
Posted 02/12/2015 at 10:43:58
Darren #98 - You say
"See the 'I-told-you-so's- are back... it really takes the edge off a good win. I would have far more respect for somebody who challenges the "negatives" before the game if it upsets him so much, waiting to see the outcome and coming out all full of knowledge if we win is "pathetic". I wonder if they would be happier if there was no pre-match opinion"
I find this part of your post really strange. You, amongst many others, have been relentless in pointing out Martinez is shite, along with most of his signings. Apart from that, I don't really see many posters saying 'I told you so.'
Secondly, how can anyone discuss how players have performed, or how the tactics will pan out before a ball is kicked?

Nitesh Kanchan
143
Posted 02/12/2015 at 10:50:29
It looks Barcelona will make us choose between Deulofeu and Stones.
Craig Walker
144
Posted 02/12/2015 at 11:01:26
I think Gerard this season has been our best wide player since Kanchelskis's first season with us.
Robles did okay last night but I still have my heart in my mouth at set pieces and I dislike how he lets the back pass run further back instead of coming to meet it. Can you imagine that Boro player bundling the ball into the net against big Nev in his prime?
I would have settled for a 2-0 win before the game. Also, I thought our away support was fantastic.
Really hoping we can get Stoke or Southampton in the semis with the home leg second. I'm not like other Blues, I don't want to face them lot at any cost. I still come out in cold sweats thinking of Distin's backpass in our last semi-final.

Brian Denton
145
Posted 02/12/2015 at 11:17:12
Is it true that the Thai bloke who missed the final black for a 147 is a Blue......emotionally he is, for sure.
Bob Parrington
148
Posted 02/12/2015 at 11:33:15
Plenty of differing views on this one! The question needs to be asked......... but correct me if I am wrong ......... why is it that we, Everton, can have really good first half performances, and then come out and play shit in the second? it was the same under Moyes. Is there a common denominator FFS? Does anybody on this thread have an answer?
Dave Rinehart
149
Posted 02/12/2015 at 11:33:18
Strong performance last night, looks like Bmouth game is in the rear view mirror. Boro made 6 subs from their last league game lineup. I think we will be seeing them promoted this season. I have a bet on them winning the championship.
If we draw the reds in the semis I'm coming to Goodison from across the pond. First time I'm rooting for them lot, sorry everyone.
Jonathan Miller
150
Posted 02/12/2015 at 11:44:06
Someone please approach Barcelona and see if they can buy out the "Buy back clause"!

With Gerri happy and party to it this is the only time to strike. Come the end of the season he will be worth 㿀-30m+

His step overs for the cross were so quick I sent my own mouth the wrong way with the beer bottle!
Tom Bowers
151
Posted 02/12/2015 at 11:52:42
Barkley still has facets of his game to work on but is still good enough to be a starter in this team. I think after one or two early moments in his career people expected him to be a world beater overnight and then he had the bad injury.

After that I think he took a while to get back and perhaps Hodgson should not have taken him to the World cup because then even more people expected great things.

The lad is coming on but don't expect him to be a great tackler(Osman never was and still got a starting role for many years).

Barkley's best role is like Delboy's, bursting through the midfield with menace and creating space for Lukaku or Kone.Given they both remain injury free and the defensive setup gets better I believe the rest of the season should be good.
Barry Pearce
152
Posted 02/12/2015 at 11:53:14
Does anybody know if Besic was injured, or was he just left out of the squad?

I personally thought he should have played last night if fit.
Simon Hermansen
153
Posted 02/12/2015 at 12:06:26
Barkely's faults seem to mainly lie in his decision making. He has the technical ability - that's obvious to see - but very often seems to freeze, or simply take the wrong choice, at the key moment.
The biggest issue for me is that when he needs to do something quickly, he takes to much time, and when he needs to take his time he does it too quickly. This also seems to depend on what part of the pitch he's having to make decisions in. In the middle of the park he could sometimes take a few more touches, get his head up, and play a more effective pass but seems obsessed with first time passing, usually toward his own goal, that doesn't add any particular value to the play. Yet when he is near the opposition goal he seems to hold onto it for too long before making the wrong choice, where as an early ball into a team mate might create a chance.
Frustrating but I think we should definately keep him in the team (but rotate him a bit more) and find the right people to advise on these limitations
Steve King
154
Posted 02/12/2015 at 12:38:31
I still don't understand the negativity around Barkley! He does make a few mistakes but nowhere near as many as he used to and he is maturing all the time.
As for his influence on the team......
For our second goal the team made 28 passes, Barkley was responsible for 6 of them, including the long diagonal switch of play to Deulofeu which finally gave us the space to run at the defence. That is what I call an influential player!
Steve Guy
155
Posted 02/12/2015 at 12:42:11
We have just qualified for the semi finals haven't we ? Thought we got beat last night based on many of the comments.
Ste Traverse
156
Posted 02/12/2015 at 13:13:50
A good professional performance away to a side who are flying in the Championship and have a formidable home record and we still have a selection of cry arsers on this thread. Unbelievable.
I'd have settled for anykind of win pre-game. Of course we wasn't perect, but getting through was what mattered most.
And what an absolute gem we have in Deulofeu. Hope Barca keep their current form up for a long time and don't ever want him back.
Tony J Williams
157
Posted 02/12/2015 at 13:18:34
Loved the way Stones gave Robles down the banks for punching away when soft lad should have just caught it.
It's amazing how many times Ossie gets stick... strangely after a game we have just won.
Simple game put to bed, now for the Redshite – it's a fucking knapp.
Brent Stephens
158
Posted 02/12/2015 at 13:19:36
I wished for a win. Satisfied – now in the semis. I wished for some good moments. Very satisfied – the Del - Rom combo especially.
Paul Cherrington
159
Posted 02/12/2015 at 13:30:54
Isn't football a funny game? A good 2-0 win to take us into a cup semi and still some people want to turn it into a reason to knock Ossie. You would have thought, seeing as the team won and he was part of that, he would get some credit. But no, some still want to use a 2-0 win as proof of how gash he supposedly is.
Ossie is and has been a loyal servant to this club and a great player. As such he deserves more respect then some give him. You don't play as many games in the PL as he has if you're that bad.
Ray Robinson
160
Posted 02/12/2015 at 13:59:10
Obviously very pleased with what was a very professional performance last night. Would have loved us to get a third though to ease any lingering nerves! Even with 10 minutes to go and no apparent danger, I kept thinking back to Bournemouth.
One aspect of the game last night that still worries me is the over-indulgence at the back, playing triangles in he penalty area, passing the ball across the penalty area and playing the ball sideways outside the box only for the fullback to have to effectively take a goal kick from a wider position (or for him to return it to the goalie only for him to have to hit it long with his wrong foot). I'm all for ball retention but in the right areas! I get the impression that we're always only a stumble, miskick or mis-control away from conceding a soft goal. It also smacks of a certain arrogance at times. Much as I think Stones is the best young centre back that I have ever seen, I think he can get a bit carried away with his own ability at times!
Perhaps a little churlish on a night when we won 2-0 but hey-ho, it's only because I want perfection!
One other point, I'd forgotten how small Baines was! He looked minute when he came on as sub. Has he shrunk?
Proud to be part of a magnificent away support yet again. Who says we're not a big club?
Andy Meighan
161
Posted 02/12/2015 at 14:26:54
The way things are shaping up at the minute no-one is going to relish playing us especially with Deulofeu, Lukaku and Barkley all looking capable of scoring at any time. What a difference Lukaku has made this season – he looks a totally different player. I called him out last season because of his work rate his attitude and his inability to read the line and also his goal record from open play but this season the lad looks a totally different prospect. And while Deulofeu and Barkley are feeding him he's going to score more than he misses that's for sure all 13 from open play and only just into December sensational.

As for the semis, no matter who we get it's going to be 2 tough games. Let's hope it's Southampton because we all know what that'll mean – only Premier League sides left in now of course and when our neighbours get there they normally only play the big guns... Walsall Cardiff Birmingham etc etc etfuckincetra. Doesn't happen to us, though. No, we have to do it the hard way. Keep going at teams with our pace and I'm quite hopeful against anyone.
Shane Corcoran
162
Posted 02/12/2015 at 14:37:27
Close the thread, we won, all the superlatives have been used and there's no grounds for finding fault once we win.
In fact, why do we have threads at all?
Brent Stephens
163
Posted 02/12/2015 at 14:54:19
Shane #147 "In fact, why do we have threads at all?"
That's off-topic, Shane. Needs a thread of its own.
Dave Southword
164
Posted 02/12/2015 at 15:11:00
Ray - there is a purpose to the back line pass the parcel. The aim is to start an attack down the wing if the opportunity presents itself, or to end up with Gareth Barry moving forward on the ball in space in between their attack and midfield. The passing keeps their players moving around and we wait for the gap to present itself. As long as there is a point, then I'm okay with it and the 30 odd pass move for the second goal demonstrates what Roberto's after.
As for Bainsey, he's always been that small, Ray - and he's a bit touchy about it. The squad turned up at Alder Hey in 2010 for Christmas and I got photos with my daughter and half the squad. When it was Leighton's turn he was next to the bed and I said, "Can you stand up Leighton?" Got a death stare!
Denis Richardson
165
Posted 02/12/2015 at 15:11:54
Cup game, only thing that matters is being in the hat for the next round. Couldn't care less about the performance thb (yes, 2nd half worrying but we're through, all that matters) - save the performances for the marathon of the league.
WE ARE IN A SEMI FINAL!!!!!
(Please let's avoid Man City and the RS next round!)
Tony Sullivan
166
Posted 02/12/2015 at 15:52:26
Colin Glassar (#108);
I could not have put it better myself. It always amazes me that the doom-sayers are never on here when we win.
Gary Reeves
167
Posted 02/12/2015 at 16:07:40
Well, Tony, I hope I don't qualify as one of your doom-sayers but I do think "We need to talk about Ross." We really... REALLY do!
Either that, or my eyes are broken!
Ray Robinson
168
Posted 02/12/2015 at 16:17:27
Dave (#169) – I'm well aware why they're doing it and it's great to see when it works but does it always work out? And when it doesn't the risks of losing possession of the ball in your own penalty area outweigh the advantages to be gained.
Playing a pass across your own penalty area is nearly always risky. As I said, we're always only a slip or a stumble away from gifting a soft goal. It happened many a time last season!
Jay Harris
169
Posted 02/12/2015 at 16:23:13
Totally agree with you Ray.
The place to start passing around is in the opponents half as in the Villa game.
If you piss around at the back it only takes a slip, misplaced pass or a gust of wind and you're in the shit.
On a positive note I thought Robles looked very assured last night and made some good saves and catches.
Andy Finigan
170
Posted 02/12/2015 at 16:40:36
Firstly, I thought Robles was superb and just needs more game time.

Secondly I hope we draw Man City as they are still in the Champions League and will possibly field a weakened team.

Lastly Barcelona are in dire trouble regarding finances and may sell the likes of Messi to reduce wages so they may be tempted to buy back Gerard.
Brian Wilkinson
171
Posted 02/12/2015 at 16:45:13
Barry must love Osman playing, give his whip marks time to heal from the local whipping lunch mob.
What is it that Ossie and Barry always have to be the scapegoats and slated before a ball has even been kicked.
We all know neither are getting younger, but experience and an old head in a young team is everything.
Barry played well and Osman scored in the previous round, both contributed to our cup run, so regardless of team selection next game, lets just wait til the match is over, before passing judgement before kick off.
Well done Everton, clean sheet and a decent two-nil win at Boro.
Graham Mockford
172
Posted 02/12/2015 at 16:56:15
Ray and Jay
You have to take it in the round. If you want a ball playing centre half who brings the ball out with composure and brings our midfield into play you have to accept that he will occasionally give away possession. I can't think of too many examples where that has led to goals but I see numerous occasions where he distributes in a manner most centre halves could only dream about. I'm sure experience will also aid this.
Of course if you want a big lump who likes to put it into Row Z you can always go and buy Shawcross or Dann.
I personally have never seen a centre half with as much potential as John Stones. The only one that comes close is when I saw Rio Ferdinand as a 19-year-old completely boss a game against us in the 90s.
Peter Mills
173
Posted 02/12/2015 at 17:06:45
John Stones is a joy to watch, he's already top class and will improve further. However, he does struggle with fairly straightforward crosses dropping over his head, as for Stuani's headed opportunity around the 75 minute mark.
Ian Jones
174
Posted 02/12/2015 at 17:47:30
Hi Peter.
Re John Stones and crosses droppin over his head, I noticed that as well. On this occasion, with Stuani's effort, he turned around and it seemed he had a go at himself or someone else. He seemed annoyed at something. Himself or lack of a call. Can't blame it on Howard not coming out to collect the cross on this occasion.
Ray Roche
175
Posted 02/12/2015 at 17:53:18
Andy Finigan #159
Andy, if Barca are in that much trouble there's little chance that they'll be able to afford Stones as some parts of the media are suggesting. OR. They'll offer to scrap the Delboy buy back clause for first refusal on Stones....
Ray Robinson
176
Posted 02/12/2015 at 17:56:40
Graham, I'm not against Stones, who I regard as a remarkable talent, bringing the ball OUT of defence.
It's the cross penalty box and triangular passes INSIDE the area that do my head in. Marginal gains with potentially disastrous consequences. And it's not just Stones who's guilty of it.
Andy Finigan
177
Posted 02/12/2015 at 18:17:59
Ray, if – or should I say 'when' – we win this cup, then just maybe they will both want to stay with us; and that goes for all our talented young players.
Darren Hind
178
Posted 02/12/2015 at 18:51:45
Kevin Tully,
I have criticised Martinez for keeping faith with his favourites even when they are stinking the place out, playing players out of position, playing players who haven't yet recovered from injury.
I have criticised him for taking the piss with his moonlighting; I have criticised him for arriving back from said moonlighting without any plans for pre-season; I have criticised poor results that ensued; I have criticised the football that had the Goodison faithful howling their derision for much of last season.
I have criticised some of the nonsense he has spouted after those games. I stand by every single bit of criticism I have ever levelled at him and I challenge you to contest any of it...
HOWEVER! I have been generous in my praise for him too. I have sung his praises over the way he handled the Stones saga, cheered his defiance, praised every performance that has ever warranted praise, told everyone on here how proud I was of him... even on this thread, I called his decision brave.
Tony Abrahams
181
Posted 02/12/2015 at 19:37:37
Darren (#168), I called it absolutely Wrong,and when I saw the team, I was made up. Thought Martinez, might make wholesale changes, and it was scaring the life out of me.
Glad I couldn't second guess the manager, but do wish he would bring on his subs a bit earlier, to keep the tempo up though.
Graham, have to agree with you about Stones. He's so calm and composed, it spreads through the team, but I thought Boro, played into our hands when they tried to press us high. Talking at half time about Woodgate, because of who we were playing. What a player he was before the injuries started, and think this is the only thing that can get in the way of Stones, becoming one of the best.
Ray Roche
184
Posted 02/12/2015 at 20:30:13
Andy#171, I hope you're right.
John Keating
185
Posted 02/12/2015 at 20:59:51
We really need to sort out this second-half tactic, if that's the word, of sitting back and letting the opposition come on to us.

If our defensive play was strong then fair enough, unfortunately one of the traits of the Martinez era is a defence that instills little confidence.

We will get away with it against Championship teams but not Premier League teams.
Paul Cherrington
192
Posted 03/12/2015 at 10:01:42
I agree, Rom looks far better this season for one main reason – desire. He has the passion and correct attitude now in his game and it's reaping the rewards.
Also re Stones – it's amazing he wants to play out from the back how he does and it adds so much to our game. But I think he does need to learn that sometimes you have to just get rid or do it ugly.
Jared Tan
193
Posted 03/12/2015 at 10:02:45
Gerri is very good and technically gifted footballer, he is very good in attacking on the wing and able to pass through defenders and one on one situation. He has work greatly to improve his team work rate and not as greedy playing as previous on loan season. I can see his much improvements which help contribute many assists and himself scoring goals. He will be the first team player week in week out.
Mirallas for me, is a great player if only he could be team player and get his attitude right.
Jim Knightley
195
Posted 03/12/2015 at 12:33:38
Darren – I don't know if that was directed at me, but if you are directing that at me, then I'm sure you aware that I've criticised things when everyone has been optimistic and positive (ie, when I put my neck out during pre-season last year and claimed we would start poorly) and have stood up for players I believe in when they've been heavily criticised (ie, Lukaku).
The point is not whether the negativity proves true or not, but the point of it in the first place. Something like: 'I thought we had a chance tonight but now that Osman is in we have no chance' is not necessary, whether we won or not. There can be a question of motive aside from the result, and claiming that we will lose because of the inclusion of one player is unnecessary. It was just as unnecessary as the years of Osman bashing, when posters would similarly bemoan the appearance of Osman (out of position) and exaggerate his deficiencies.
I also find it amusing, Darren, that you claim your own lack of bias, but then attribute set opinions to others. Clearly plenty of people have mixed opinions of Martinez. Some on here can express them clearly, others will moan and castigate after every defeat, and disappear during the good times.
Personally, I think Martinez is a positive attacking manager who can't get a team up defensively. I think we will have some wonderful games with him, and some horrible games, and I think the lack of defensive stability, despite very good defensive players, will ultimately cost us. I don't expect him ever to achieve the consistency required for top 4 (and our squad is below the standard of most of the realistic top 4 contenders), but I think Martinez is more than capable of delivering us a cup.
I don't think he is the best manager for us, but I think his positivism and his ability to develop young players is fantastic, and I don't think any of us can say for sure whether he will be a success or failure yet.
Claiming some of us have a school girl crush on Martinez, just because some look to see the positives, pretty much sums up your argument, and does yourself or those who support Martinez no justice. I think it might be time to grow up a little, or you risk your good points getting lost amidst childish insults and exaggerated representations.

Steve Brown
199
Posted 03/12/2015 at 16:25:17
Bloody hell, can everyone chill out. We've just reached the semi-finals. God help us if we make the final as it will be carnage!
Les Netherwood
202
Posted 03/12/2015 at 17:53:08
Two excellent goals and an away win... but really I have to moan again. We could have had at least four or five goals here, but instead they play the slow passing game in front of their own penalty area, some passes travel only a yard and given back immediately... so boring, I thought some of them would fall asleep any minute.
Barkley is good one minute and crap the next... he seems to pick the wrong option and gives the ball away. Funes Mori clears from the penalty area like Jagielka... straight to attacking opposition players. But how good to see Robles in goal instead of Howard (the worst keeper in the Premier League).
When will we ever see Mirallas again? He is more of a threat than Barkley going forward. What has happened to Besic?

Pity we can't say the same about Martinez... who will he pick to play Man City? Let's see if we can give them a good game... and win it too.
Andy Crooks
203
Posted 03/12/2015 at 21:31:55
Jim (#177), if Martinez "can't get a team up defensively", then, in my view, he shouldn't be managing a club at any level, never mind our club.
I know you are not blind to his shortcomings but surely you can accept that his negative approach to building from a defensive base makes success over 38 games impossible to achieve.
Add Your Comments
In order to post a comment, you need to be logged in as a registered user of the site.
Or Sign up as a ToffeeWeb Member — it's free, takes just a few minutes and will allow you to post your comments on articles and Talking Points submissions across the site.
© ToffeeWeb