Rodriguez on comeback trail after injury
by

31 Comments [Jump to last]
| 03/12/2015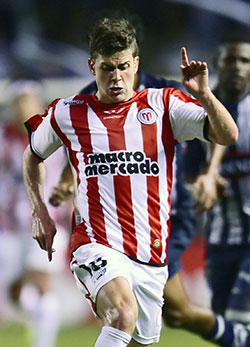 Leandro Rodriguez is hoping he will soon be in a position to start knocking on the door of Everton's first team after overcoming the injury problems that have hampered the early months of his Blues career.
Roberto Martinez's Ł500,000 summer capture from River Plate Montevideo got off to a promising start for the Under-21s side with goals in his first two appearances but he soon fell under the Finch Farm hamstring curse.
An attempt to return to David Unsworth's team in October proved to be too soon but the club's medical staff believe that he is now fully ready to start featuring for the Blues' second string in the coming weeks.
Like first-team stars Leighton Baines, Tom Cleverley and Muhamed Besic, Rodriguez will be eased back into action, though, so it's unlikely he will get anywhere near contention for the senior side until the New Year, while there are also plans to send the striker out on loan to the Football League before the end of the season.
"He is training well now," Martinez is quoted as saying by the Liverpool Echo. "He lost the best part of six weeks and that happens, when you are coming in from abroad and you haven't yet got the body to cope with the physicality and intensity of the British game.
"It has been giving him trouble but now he is back in training."
---
Reader Comments (31)
Note: the following content is not moderated or vetted by the site owners at the time of submission. Comments are the responsibility of the poster. Disclaimer
Les Martin
1
Posted 03/12/2015 at 20:02:45
I think once he acclimatises, gets strong and loaned out, he will come back as the real deal.
I have very high hopes for Leandro because I believe he is a natural finisher and poacher of goals. Whoever gets him on loan is going to win the lottery as I think he will knock goals in for fun!
Helen Mallon
2
Posted 03/12/2015 at 20:02:45
I think he is the real deal!
Colin Glassar
3
Posted 03/12/2015 at 20:14:18
Everyone at Finch Farm is very excited about him.
Thomas Surgenor
4
Posted 03/12/2015 at 21:32:40
Excited or not, there's not a chance this kid will get near the bench this season. (Barring an injury crisis)
He is probably our 5th choice striker at best. (Unless Henen is ahead of him?)
Our bench is strong now. Even with Pienaar, Jags, McCarthy out injured we still have no place for a fit again Besic.
Des Farren
5
Posted 03/12/2015 at 22:37:04
Good luck, Leandro!
Everton is a proper football club and I hope you do well here.
Colin Glassar
6
Posted 03/12/2015 at 23:42:44
Thomas, no one has said he'll be starting this season. The expectation is that he will be ready to challenge next season.
Harold Matthews
7
Posted 03/12/2015 at 23:42:59
Yes, I'm supporting Leandro who must have been very disappointed to pick up an injury in the early weeks of his big adventure. Winter in England is a dodgy time for hamstring problems and I wish him well.
Quite slim when he arrived, I hope the physios have been trying to strengthen him up without bulking him up. Barkley has pumped so much iron, he has gained bulk and strength but lost so much speed and stamina I doubt Klipperty Klopp would even have him on his bench of non-stop whippets. Browning appears to be going the same way. Looked like Mr Universe when last sighted and no longer had the pace which once enabled him to outrun and dispossess Sterling.
Martinez has often raved about Barkley's magnificent physique so when he talks about Leandro not yet having the body to cope I worry. This lad could move quickly and leap like a salmon back in Uruguay. Let's hope he stays that way. Being skinny doesn't seem to bother Jamie Vardy.
Jamie Crowley
8
Posted 04/12/2015 at 00:30:20
I hope this kid typifies the "Everton pipeline".
If we don't make Champions League, players are off.
Sell for a profit, new peg goes in hole. Repeat.
Martinez's plan. It's a good one. Anyone who can't see this needs to visit SpecSavers.
Denis Richardson
9
Posted 04/12/2015 at 00:39:34
Completely forgot about him! Hopefully rom stays fit for the rest of the season tho...
Anthony Dwyer
10
Posted 04/12/2015 at 01:32:56
It's nice to have a few youngsters to talk about, not too long ago I was very worried about our aging squad and lack of youth coming through the ranks.
How different its now looking. Well done, Blues.
Andrew Presly
11
Posted 04/12/2015 at 03:00:03
Not to be deliberately depressing but this kid ain't a kid. He's 23 so is older than Lukaku. He's a kid in the same way Conor McAleny & Adam Lallana are kids. Good luck to him nonetheless, obviously.
Courtney Duffus is the closest thing we have to Rom from the youths but he's on the way back from a serious knee injury picked up on the evening or soon after his first appearance on our bench vs Young Boys away last season.
Mark Andersson
12
Posted 04/12/2015 at 04:58:34
Harold, you make some good observations. Surely, though, the manager and personnel at Finch Farm know what they're doing. Although when I look at Ross he always looks like he's breathing heavy and looks knackered. Same goes for Rom.
Anthony Dwyer
13
Posted 04/12/2015 at 05:02:45
Andrew Presley (#11),
I can understand you saying Rodriguez is not a kid in some degree but, in terms of him being from South America, he is a novice in Europe.
As for comparisons to Adam Lallana, Lallana is 27 whereas Rodriguez is only a month into his 23rd year. Huge difference.
Brewster is another young forward we have who seems to regularly find the net along with Duffus; I thought he was worth a mention too.
Andy Meighan
14
Posted 04/12/2015 at 07:12:46
Harold ,why would you even mention Klopp in a thread related to an Everton player? Some of our fans are obsessed with 'them'.
And as for your observations about Barkley losing so much pace, that's the first time I've heard any Evertonian mention that.
When we break with pace as we have done on so many occasions this season, Barkley has been instrumental. Then again, you're probably the type who'd have a team full of Besics and McCarthys.
James Marshall
15
Posted 04/12/2015 at 07:34:46
I wondered where he'd disappeared to, and here he is injured.
Harold, you make a good point about Ross – he looks like he's bulking out way too much this season. His runs from deep have been slow and ponderous lately and maybe he's carrying too much timber.
That said, he's naturally a big guy and always has been, in the same way Rooney has always been a man amongst boys – you only have to look at the photos of Ross playing kids his own age when he was literally twice their size. I think this is another reason his development is slow, and the reason he struggles with the physical elements of the game – up until he played first team football, Ross was always bigger and stronger than anyone he played against so it was always easy for him. Now he's playing against people the same size, strength and bigger than him, he doesn't have the physicality or aggression required to cope.
Just a theory but I reckon it might hold some weight (pun entirely intended).
Mark Warner
16
Posted 04/12/2015 at 09:26:05
Harold, strange that young Barkley is slower and not as mobile this season because of his bulk yet has scored more goals and made more assists than the whole of last season already.
I think Martinez's way of doing things re strengthening does seem to work, maybe some people will never be happy though!!
Shane Corcoran
17
Posted 04/12/2015 at 10:05:04
Mark, while a goal is a goal is a goal, if you think about Barkley's goals this season he had the deflected shot against Arsenal which would not have gone in without the deflection, he had a tap in against Villa and a second scrappy, almost a tap in against Villa too and then an equally scrappy goal against Bournemouth.
His first two in the first two weeks of the season were quality strikes of course.
So maybe Ross is getting in the box a bit more this season is great but I think it's best to judge his overall performance on just that, his overall performance.
I'm delighted he's getting goals but best to have a rounded view.
Cue the usual "you're never happy" remarks.
Colin Glassar
18
Posted 04/12/2015 at 10:11:02
Spot on Mark. Since when has "bulk" affected speed? Would Usain Bolt be faster if he was skinnier? Would Mohamed Ali have been quicker if he wasn't as big ang bulky as he was? As for stamina, well he showed quite a bit of this in his long and glorious career.
Sorry Harold, you are usually spot on but on this you are wide off the mark IMO. Ross is still leaving players for dead with his turn of speed and he's certainly not running out of steam during games. I know he's not everyone's cup of tea but some of the criticism aimed at the lad is simply silly and unfounded.
Frank Wade
20
Posted 04/12/2015 at 10:23:47
Hope Leandro can come through the physical training to make it in our first team. He certainly has the ability. Getting the correct balance between strength, stamina, pace and acceleration, whilst throwing in agility is very difficult. Witness many players who come through our system looking like the next Rooney (bad physique example) ability wise, but their bodies are just not built for the stress of the level of training required.
Andy 14, Sturridge is a good example and like Harold, I am just making a point, no obsession. To play the new mega-pressing high tempo game, that Dortmund used to play under their former manager, you need Mo Farah like endurance and speed plus the sharpness of someone like Jessica Ennis. Actually, we could do worse than appoint Jess as a fitness coach.
Mark 16, I thought Ross looked a bit heavy legged on Tuesday night. I think his willingness to get into towards the 6 yard box more is the major factor in his goals this season, rather than taking up position around the edge of the penalty area, waiting for a break.
Harold Matthews
21
Posted 04/12/2015 at 11:33:33
Andy (#14). I've been a big Barkley fan since he was a kid who zipped around defenders like a rocket.
3 matches ago, against Villa, I gave him rave reviews on TW, telling everyone we were looking at the new Barkley. Playing in his England style, he chased back, closed down, passed the ball on quickly, kept things moving forward, got himself into the box and scored two goals.
Unfortunately, against Bournemouth and 'Boro he started dawdling on the ball again and looked a bit tired late on. Okay, even at half-pace, we know he can score goals and provide assists but he looks so much sharper playing for England under the critical eye of Hodgson and I keep wishing he would do the same for Everton. He managed it in the Villa game but my joy was short-lived.
As James points out, he may be a naturally heavy set lad but he seems to be increasing in size and the extra weight will definitely slow him down.
Finally Andy, this is TW. Please don't tell me what to post and what not to post. And yes... I like Besic, McCarthy, Oviedo and Galloway. They may never be stars but they are natural-born fighters who always put a shift in.
Steve Hogan
22
Posted 04/12/2015 at 12:35:22
Harold, with respect, I'm an Evertonian of long standing and a bit fed up with players 'who put a shift in'.
We've moved on a bit, I feel, from the football of the 'Moyes' days when players of lesser ability just ran their socks off and guaranteed them a first-team berth.
I've criticised Martinez on this site on many occasions but at least I like what he's trying to achieve football wise, even if he goes about it in strange and frustrating ways at times.
Chris Gould
23
Posted 04/12/2015 at 12:42:30
It's a myth and completely inaccurate to think that added muscle slows you down. Barkley is not too bulky. He's a strong lad who is physiologically in proportion. He has a great burst of speed and has been pacing his games well.
As Colin said, Olympic sprinters are more muscular than Ross. Muscles build speed, they don't slow you down.
Dave Southword
24
Posted 04/12/2015 at 12:49:48
However Chris, muscles also increase the mass that has to be moved, thus more energy is expended. Stamina must be taken into account as football is not about speed in a one-off situation, it is a series of sprints and recoveries.
Dominic Tonge
25
Posted 04/12/2015 at 12:55:39
Regarding Ross, I would not complain about him scoring scrappy or close-range goals, as it means he is following up attacking moves. I would say that the fact he is getting forward to score from close range, and had had the mentality to gamble on a rebound, and has got into the correct position to allow him to cash in indicates that he actually is fairly mobile.
He has started to really grow into this season, and I for one am really happy for us as fans as we have a core of players who have the potential to be very very good. I am happy for the club, as it's my club, our club, and I bloody love Everton. And I am happy for Ross, who incidentally had a huge injury and, since he has hit the gym, looks more confident.
Perhaps it may just be possible that Ross feels more comfortable and less worry regarding injury, enabling him to just get on with his football. Whatever it is, it's fine by me. Keep up the good work, Ross.
Brent Stephens
26
Posted 04/12/2015 at 12:58:37
Chris, Dave, does it also depend whether you're running on the flat or uphill (remember the slope at Yeovil!).
I see Chris Froome's numbers in cycling show that a big weight loss meant he was able to generate more power-to-weight going uphill but somewhat less of an increase on the flat. This all down to the reduced weight he has to move.
Maybe we should build a massive slope into our pitch and have a home team of Osmans. I can hear it now "it's Osman's fault"; "no it isn't it's Osman's fault"; etc.
Ian Jones
29
Posted 04/12/2015 at 18:49:16
On the subject of bulk and speed and the negative or positive relationship between the two. Two words spring to mind: Jonah Lomu. He wasn't bad for a big lad. Okay, different sport... but he was quite quick!
Anthony Dwyer
31
Posted 05/12/2015 at 01:11:28
Strange how we always seem to end up on Barkley or Rom on this site but seems we have I might as well add my two bob.
Ross is in the form of his life, end of; let's enjoy it.
As for his speed and size issue, trying to keep up with Kone and Deulofeu is enough to make anyone look slow!! Maybe he's just quicker-looking around Naismith and Osman! ;-)
Steve Carter
32
Posted 04/12/2015 at 02:12:05
Quite, Ian. #26. Anyone who watched the Rugby World Cup would have had the bulk = loss of pace and stamina dispelled for them. The entire All Blacks back line would be as fast as your speedier Premier League player.
As for stamina, David Pocock at 115 kg would cover more ground than most outfield Premier League players in a match (that is in addition to the small thing of contributing at the breakdown).
Peter Gorman
33
Posted 05/12/2015 at 02:40:43
Steve Hogan, with respect to you, we haven't moved on from the days when players of lesser ability just ran their socks off and guaranteed them a first-team berth. Kone, Cleverley and Naismith start ahead of Mirallas after all.
Putting a shift in is the absolute minimum required. A team is, after all, more than the sum of its parts. Do you think Leicester are one of most talented sides in the land? Do you think Vardy is world class? He has set a record precisely because he puts a shift in and then some, not because he is anything special footballing-wise.
We were frequently told than Mr Antolin Alcaraz was a classy operator but he wouldn't know how to put a shift in if his life depended upon it. Aren't you glad to have seen the back of him?
Harold Matthews
34
Posted 05/12/2015 at 03:50:23
Rugby. Different sport, different skill requirements, different initial body shape, different initial lung capacity, different initial leg speed, different training, different attitude.
Dave Williams
35
Posted 05/12/2015 at 11:05:21
James (#15) – I totally agree with you. Ross has had an enormous learning curve because he is no longer playing against lads the same age who are half his size. He is now against mature men who are as big, as strong and in some cases nasty pieces of work who probably threaten to break his leg again if he goes near them.
Whilst the likes of the peerless Alan Ball would take delight in ridiculing those types on the pitch, Ross seems a shy and introverted lad and he has to work out a change to his style which I think he is managing by starting to link possession play and time his bursts forward for when there is the space in which to run as he can't expect to barge players out of the way now.
Gerry has done something similar in that he has learned that he can't dribble all the time and that an early cross can be more effective (although he showed against Boro that he can do both).
Oh, and hands off Harold – he always talks sense and long may that continue!!
Add Your Comments
In order to post a comment, you need to be logged in as a registered user of the site.
Or Sign up as a ToffeeWeb Member — it's free, takes just a few minutes and will allow you to post your comments on articles and Talking Points submissions across the site.
© ToffeeWeb