Funes Mori admits he misses River Plate
06/12/2015

48 Comments [Jump to last]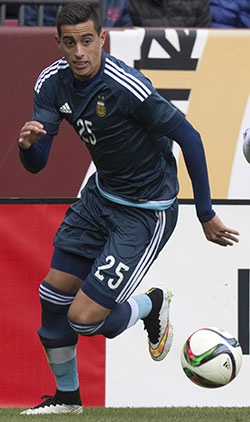 Ramiro Funes Mori says that he is homesick for Argentina and that he hopes to eventually return to his former club.
In quotes attributed to him by The Sun (they claim he was speaking exclusively to them but it appears he was taking to Argentine media), the 24-year-old defender questions the timing of his departure from River Plate and expresses how much he misses the team with which he recently won the Copa Libertadores.
"Now I realise what I had in River for many years," Funes Mori is reported to have said in the tabloid. "I won't lie about it – I miss River and being with my former team-mates. It was so nice, I miss it so much.
"Sometimes I even ask myself whether it was the right moment to leave just before playing the Club World Cup in Japan.
"Of course it will happen in the future but I'm already thinking about moving back to River."
It's not clear when the Blues' £9.5m acquisition hopes to return to his homeland as the quotes lack broader context but he acknowledges how welcome Everton's fans have made him feel since he arrived at the club in August.
"The fans have been singing my name, you know. I didn't expect it because I have just joined."
HIs manager, meanwhile, has rightly been singing Funes Mori's praises after his almost seamless transition into the Premier League in what has been impressively short order.
"We can't wait to have our captain (Phil Jagielka) back but it is great to see Ramiro enjoying his football, adapting his football to the British game," Martinez said. "It has been a massive step forward in his career but that is why we made a huge investment.
"To have John Stones at the level he is showing and the responsibility he has shown for 21 is incredible. When you have a new centre-half appearing in a new league you need guidance and John has helped him and they have developed a strong partnership."
---
Reader Comments (48)
Note: the following content is not moderated or vetted by the site owners at the time of submission. Comments are the responsibility of the poster. Disclaimer
Mike Gaynes
1
Posted 06/12/2015 at 23:44:49
Hang in there, young man. I know it's a tough adjustment, but you've made it before -- from the US to Argentina -- and as time goes on, you'll settle in and make the place more your own. And you will come to appreciate the tremendous opportunity you have at Everton.
And everybody will keep singing.
Colin Glassar
2
Posted 06/12/2015 at 23:49:50
I think he owes us an explanation. Argentinians are famous for wanting to leave their country to play, or work, abroad and once they've left they want to go back ASAP.

Maradona, Crespo, Tevez, Samuel, Veron etc... were all a bunch of whingers who never really settled down and just complained how much they missed their 'Patria'.
Patrick Carty
3
Posted 06/12/2015 at 23:53:56
The lad just needs a bit more time to settle, of course he would feel a little homesick, it is a big step in life to leave a country thousands of miles away.
He has done okay for us this season and maybe winning a trophy and challenging for a Champions League place will convince him his future lies with Everton.
Then again it was a quote from The Sun... only time will tell.
Anthony Dwyer
4
Posted 06/12/2015 at 23:59:34
I'm kinda in-between the two above comments .
As fans we can find ourselves a little guilty of a slight lack of consideration in regards to the facts of some footballers lives.
Yes they get a lot of money but come on it must be a bit of a culture shock for anyone who moves a million miles away from all they know and love.
That said, Funes Mori has handled it quite well to an extent and if he can't handle life as it is now, how would he handle a long-term injury or being left out of the team for Jags?
He should be on Cloud Nine really; he's already in the team, he's performing relatively well, and the crowd seem to have taken to him.
Jags will take his place soon and the weather isn't going to improve any time soon either so Funes Mori had best man-up or we could be in a pickle. River won't pay us £9m back!
One saving grace may be that Funes Mori is not as wealthy as Teves or Veron so he may have to put up and shut up for at least the duration of his contract.
Lyndon Lloyd
5
Posted 07/12/2015 at 00:05:33
Personally, I'd reserve full judgement until I've seen the full context of his quotes. We are talking about a gutter rag here after all...
Anthony Dwyer
6
Posted 07/12/2015 at 00:07:30
Fair point, Lyndon, I would like to think our newest recruit would have been advised against ever speaking to The Sun newspaper.
Ciaran Duff
8
Posted 07/12/2015 at 00:21:47
I think he's just realised what the English winter is like!
Peter Gorman
9
Posted 07/12/2015 at 00:46:17
If the lad is homesick, surely we can all relate to that. What I don't understand is any hint of buyer's remorse about leaving River; this was a pretty protracted transfer saga over the summer so he really ought to have had the time to think it through.
Regardless, it is The Sun... so whatever.
Kieran Kinsella
10
Posted 07/12/2015 at 00:58:15
What he's saying is completely reasonable if you've ever moved. I felt like that a few months after moving to the US but at least they spoke the same language. Doesn't mean he is in any rush to leave Everton.
Edward McBride
11
Posted 07/12/2015 at 01:00:36
This was reported in the Sun... come on lads, be real.

Craig Fletcher
12
Posted 07/12/2015 at 01:00:39
Exactly, Ciaran. It's probably just dawned on him that winter has only just started!
Brian Williams
13
Posted 07/12/2015 at 01:18:43
The Sun? The fucking Sun? Enough said.
Eugene Ruane
14
Posted 07/12/2015 at 01:38:24
Hopefully just Sun bollocks.
(but if he is miserable now, imagine the gob on him when a fit Jags goes straight back in, in his place, irrespective of form)
Jay Harris
15
Posted 07/12/2015 at 02:14:32
The rags are bad enough but c'mon, lads... this is the Sun. Do you believe anything they say or is this more media spin to upset Everton?
After all, aren't Lukaku and Coleman going to Man Utd. Geri is going back to Barcelona. Mirallas is going everywhere except Finch Farm. Etc.
William Cartwright
16
Posted 07/12/2015 at 03:07:45
Very likely he was speaking honestly about being homesick. Perfectly understandable, Give him a break. Obviously the anti-Everton gutter press will pick up and twist anything said and put a negative spin on it, and the BBC will push it to the front of their out tray for good measure.

When did you last hear a negative Liverpool FC feature via the BBC? They are too bloody busy hogging the social media pages!
Harold Matthews
17
Posted 07/12/2015 at 03:17:52
Sometime in the early 60s, the Sun featured one of my paintings along with a rather long report of things I said and did. In reality, someone had shown them the painting and the paper invented the rest.
The Mirror, Sporting Life, Channel 4 Racing and various newspapers worldwide have all quoted snippets from exclusive interviews I gave to them when, truth be told, I have never spoken to a reporter in my life. This goes on all the time. Any kind of a mention is usually good for business so you just let them get on with it.
Funes Mori is now more well known than he was last week but I'll bet he has spoken to no-one.
Matt Traynor
18
Posted 07/12/2015 at 03:19:43
Agree with Lyndon and others it's important to see the context.
I severely doubt that even allowing for UK tax he's taken a significant uplift in salary joining us. Argentina has a "progressive" tax rate up to 35%, and even though most people dodge it, it's unclear whether footballers can/do (even though Argentinian football has a level of corruption FIFA would be proud of).
He's only been here 5 minutes. His accountant, agent, family and neighbour will be telling him to trouser another couple of years worth of money before even thinking of going back.
Duncan McDine
19
Posted 07/12/2015 at 06:51:35
Not the first, and won't be the last... I remember Bainsey was missing his Scouse pies when away with England a few years back. I just hope he doesn't lend Funes Mori his Radiohead and The Smiths albums or it might tip him over the edge!
Paul Jeronovich
20
Posted 07/12/2015 at 07:07:04
No problem, we'll have that £3mil back you pocketed and you can go back to being on very low wages. I know money isn't everything but in football unfortunately it is everything!!!!
Colin Glassar
21
Posted 07/12/2015 at 07:42:30
After a few hours of meditating, I think I'll give him the benefit of the doubt. After all, it was published in The Sun. But, if it is true, like Paul, I want our brown envelope back with the money inside it.
James Joseph
22
Posted 07/12/2015 at 07:44:58
This seems to have come from an interview he gave back in Argentina where, of course, he's going to say how much he misses his homeland and his old club and mates. Doesn't mean he won't spend the next few years playing for us or even someone else outside of Argentina.
File with the rest of The Sun in the rubbish basket.
James Wong
23
Posted 07/12/2015 at 08:15:25
#2 Colin please have you been away from your home country for work? Lad says he misses Argentina doesn't mean he's going to step out on the pitch and not give 100% on the weekend.
I'm working away from home in a country (South East Asia) where I don't speak the language, or have the same culture, food, religion, quality of life. At first I thought it was a good opportunity, its only when I arrived, how much better home really is. Dude is human.
Paul Jeronovich
25
Posted 07/12/2015 at 08:49:06
He's living in Liverpool, James, or a nice little Cheshire village. He's not worrying about where his next tenner is coming from to top up his gas for the winter.
Footballers are pampered and clubs I do believe employ people to cater for their every need. They are human but they do get their arses wiped for them in fairness.
Once he's finished his career and counts his cash, he could probably buy most of Buenos Aries. Still, I like what I see of him on the pitch and will support him 100% as an Everton player.
David Hallwood
26
Posted 07/12/2015 at 08:50:53
Young guy misses home shock!!!! Anyone who's ever lived abroad things like family, friends and having a few pints with the lads before the game takes on almost magical significance.
Call it the ice cold in Alex syndrome.
Steve Jenkins
27
Posted 07/12/2015 at 08:53:14
I hope he gives it a bit of time to adjust (if the reports are true).
Really like what I've seen so far as a player, hope the fans and team mates rally around him to get him through this.
I'd be disappointed if we didn't get at least 2 seasons out of him, as well as no loss on the resale.
Colin Glassar
28
Posted 07/12/2015 at 09:18:00
He'll be fine once he sees his bank balance. I really rate him highly as a footballer and he looks like he's enjoying his football so I wouldn't be surprised if his comments were taken out of context.
I remember when Hernan Crespo complained, after he moved to Chelsea, that he had to call his agent to get some light bulbs changed in his luxury flat and he felt let down by the club. Almost as bad as Toure's birthday cake.
Ernie Baywood
30
Posted 07/12/2015 at 10:03:00
Let's hope it's taken out of context like Baines's comments were.
At the end of the day, it's not abnormal for a young man to miss home.
And if he was asked "Do you miss home, do you miss River Plate, do you think you'll ever go back to River Plate, do you wish you had waited until after the Club Cup?" these quotes would look quite diplomatic!
As long as he gives his all on the pitch, he'll do for me while he's with us.
Liam Reilly
31
Posted 07/12/2015 at 10:04:14
Must be little or no news today if this is the best we can come up with.
Young man moves away to another country for work and he misses his home - Shocker!
Of course he does. I'd spent more than half my life abroad before returning home to Ireland to start a family and in that time, I never once said anything other than I miss my home and family and hope to return there one day.
That wasn't being disrespectful; it was just being honest but it didn't mean I was anything but professional in my work.
Kieran Fitzgerald
34
Posted 07/12/2015 at 10:24:12
What is he supposed to say in this style of interview? Argentina is shit, River Plate is shit, I fucking hate everything, fuck you.
It's a puff piece on a slow news day, nothing more. If the guy is a little homesick, so what. He's proved himself so far.
Tony Dove
35
Posted 07/12/2015 at 10:25:27
Ciaran@6. If he thinks this is the English winter he will be on the first plane home when it starts.
Thomas Surgenor
36
Posted 07/12/2015 at 11:53:46
Totally acceptable comments.
Non story. The guy is human and misses home.
He will learn to adjust and adapt.
I have no worries that he will give 100% on the pitch.
I think sometimes we forget the human element of football. Only the other night Geri tweeted pics of him studying late into the night to help him learn the English language. Can't be easy for him either, on or off the pitch, as I'm pretty certain Seamus doesn't speak Spanish.
Ray Roche
37
Posted 07/12/2015 at 12:12:16
This is clearly the famous "Scotsman Syndrome" where the average Scotsman who has ventured south continues to regale us with romantic tales of mist covered glens, heather scented breezes, gallant stags silhouetted against the early morning winter sun, breath freezing in the cool clear air... but they couldn't wait out get out of the fucking place.
This also applies to professional scousers who piss off to Hertfordshire and then bang on about the place as they count their money.
Joe Rourke
38
Posted 07/12/2015 at 12:15:39
Lyndon,
As you suspected, this Sun article is a load of fabricated rubbish.
It is derived from various twitter postings that he has been making on River Plate, who are completing in the World Club Championship, in Spanish. Quite understandably, he professes to still love 'El River' and tweets on them regularly. There is no interview to be found. The supposed ''quotes", which aren't actual quotes nor even correct translations, are mainly taken from tweets, are twisted around to sound like they were given in an interview and the admission of being ''home sick" is just completely invented. He hasn't been speaking to anyone in Argentina, or anywhere else, as far as I can see.
His official twitter account is here (all in Spanish) at @FunesMori999
Essentially, this is no different to Tim Cahill or Landon Donovan being linked to a return to Everton on the basis of a few ''Go Everton!" tweets.
It is click-bait stuff really. I think there will be a lot of this silliness in store for Everton fans in the future.
What I see is where there is a language gap, like here, it is particularly easy for lazy journos to make up ''quotes" derived from text in another tongue and then spin them as real and make up a story based on it. And in addition, in the background too you have chancers like Tim Vickery trading on their ex-pat status as being automatically 'knowledgeable' and 'expert', etc, etc. So, expect rubbish like this about Funes Mori and Deulofeu, etc, etc, on a regular basis.
What has appeared recently in the Argentine media is a little report on how Everton fans have taken him to their heart already, even including little clip of the 'Funes Mori' chant from YouTube
Ste Traverse
39
Posted 07/12/2015 at 12:28:00
It's in the Sun. Hardly popular in these parts.
I'd dismiss anything that's in that rag.
Eugene Ruane
40
Posted 07/12/2015 at 12:33:59
Ray - 'This also applies to professional scousers who piss off to Hertfordshire and then bang on about the place as they count their money'
Known as 'doing a Cilla' (or 'giving it the large Tarby')
I'd actually love to hear the Argie version, but done in 'Noggsy'
"Ah juss miss 'ome lad, you know wha' am sayin'? Swear down, ah miss me corned beef mate - me frey benno bud. Does me 'ead in every time I 'ere someone say 'Falklands' lad, swear down. Not bein' funny but the beef's fuckin' shit 'ere mate." (drinks crate of Quilmes, sings something along the lines 'in me bonus-aireez home', falls over)
Etc.
Mark Boulle
41
Posted 07/12/2015 at 12:43:59
Argentina and Buenos Aires can get pretty cold and wet in the winter as well - not as bad as the UK but RFM hasn't exactly come here from Manaus or somewhere where the temperature never dips under 20 degrees...!
Nothing in this story I suspect. Of course he would miss home and his old team initially. He's only been in the UK 4 months.
Ray Roche
42
Posted 07/12/2015 at 12:53:02
Eugene. Tidy! And you can add McCartney to the list, in fact a little time Googling will no doubt throw up a whole Kop of tossers who have slipped the net.
Mark, My brother was stationed in the Embassy in Buenos Aires back in 1978 and he was also when the the World Cup was on. True, it CAN get pretty cool but he was impressed with the steaks he got. Some of them still had a hoof attached.
Dave Pritchard
43
Posted 07/12/2015 at 13:39:32
He seemed happy enough when he scored that header the other week. Quite normal to miss his home so give him a bit of slack and wait and see.
Roger Sunde
44
Posted 07/12/2015 at 15:17:44
Fans are guilty of forgetting footballers are people sometimes.
I am sure one of the reasons Lukaku's fantastic season is that his best mate Kevin De Bruyne only lives a hour away now.
Keith Monaghan
45
Posted 07/12/2015 at 15:23:55
Glad to see he misses home – suggests he's a decent normal human being.
What counts for me is how he does on the pitch for us – no complaints on that score; has made a few mistakes, but who hasn't? He shows passion and leadership potential, and better distribution than Jags (+ Distin and all of our recent centre-backs except the immaculate Stones). Expect him to replace Jags, probably next season.
A very good signing by RM on what we've seen so far; I'm very glad to have him on board.
Eivind Nyhus
46
Posted 07/12/2015 at 15:26:45
Not surprising at all. Hope he gets through it and keeps preforming. He's a good player.
Ray Robinson
47
Posted 07/12/2015 at 15:40:17
Thomas #33. I'm not certain Seamus is even speaking English half the time!
James Flynn
50
Posted 07/12/2015 at 17:36:23
Joe Rourke - Thanks.
The whole business explained.
Harold Matthews
51
Posted 07/12/2015 at 17:38:18
Ray. I was stationed in Hertfordshire during my Air Force days in the early 50s. Aged 18, I thought I'd landed in Heaven. The girls were beautiful.
Brian Denton
52
Posted 07/12/2015 at 17:41:19
Joe Rourke - excellent post. Pretty much nails it I reckon.
Jeff Armstrong
53
Posted 07/12/2015 at 18:04:06
I'm not that convinced about Funes Mori anyway; his passing out of defence can be very suspect at times. Concentration also seems to drop at times too. The pass-back against Villa springs to mind. I do think he can defend quite effectively when under pressure, he has a bit of no nonsense Row Z about him.

I think in time he will develop into a decent Premier League defender but I think some people are going a bit OTT on him at the moment.
Brent Stephens
54
Posted 07/12/2015 at 18:06:32
I wonder if News items like this on TW which are based on Sun reports might have a title which alerts us straight away to the source...
"Respected Sun Newspaper Reliably Reports That..."
or?
Nicholas Ryan
55
Posted 08/12/2015 at 03:01:13
I think Funes Mori has actually already gone home .... and we've now got his twin brother [who is also a professional footballer]!
Add Your Comments
In order to post a comment, you need to be logged in as a registered user of the site.
Or Sign up as a ToffeeWeb Member — it's free, takes just a few minutes and will allow you to post your comments on articles and Talking Points submissions across the site.
© ToffeeWeb