Norwich City vs Everton
by

32 Comments [Jump to last]
| 11/12/2015
Match Preview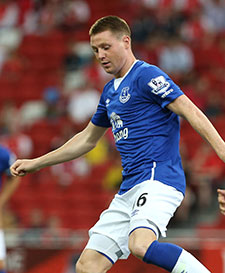 James McCarthy will undergo another fitness test to determine if he is over his hip problem
Everton return to Carrow Road this weekend, the scene of Roberto Martinez's first game in charge, to face Norwich City looking to erase the frustration of Monday evening's draw with a victory over Alex Neil's men.
The Toffees are five games into a portion of their Premier League programme that, on paper, presented an invitation to rack up the points that would propel them into the reckoning for the top four, but while Martinez's side haven't lost since the defeat at Arsenal in October, they've only won two of their five League games since. Three draws in games they either had enough or did enough to have won tell the story of why Everton sit ninth coming into week 16 rather than in fifth, on Manchester United's shoulders and knocking on the door of the top four.
The good news is that while the top flight remains so unpredictable, with no side other than surprise leaders Leicester really showing any kind of consistency, there is opportunity for a team that can string together a run of victories. With Romelu Lukaku in the form of his life, the attack gelling nicely and three of their next four fixtures against clubs below them in the table, Everton would appear to be well-placed to be that team... if they can start turning annoying draws into wins.
Despite the Blues' record against the bottom half this season – all of our five wins to date have come against teams currentlty occupying places 12 to 20, the most recent history suggests that East Anglia isn't the most likely place they will find three points. Nice memories of Pat van den Hauwe's historic title-winning goal in 1987 and a Duncan Ferguson winner in a 3-2 thriller have been made on this ground but an Everton side hasn't beaten Norwich on their patch in their last three attempts. Fittingly given the current talk of our inability to put sides away, they probably should have won on all of those last three visits, having led in each of them but ended up drawing 2-2 twice and losing the other 2-1 in David Moyes's last season in charge.
Norwich under Neil have been something of a mixed bag at home since their immediate return to the Premier League this season where they have lost to Crystal Palace, Leicester, West Brom but are unbeaten in their last two with a creditable draw against Arsenal and a win over struggling Swansea. On their travels, they have run Chelsea and Manchester City close, drawn at Liverpool and taken the Blues to penalties in the League Cup, but were also hammered 6-2 by Newcastle in mid-October, a nod to their defensive weaknesses that can hopefully be exploited this weekend.
Martinez announced in his pre-match press conference on Thursday that his squad will be the same as the one for the game against Palace last Monday pending the results of a fitness test on James McCarthy. He was forced to miss a second game with the hip injury he picked up against Bournemouth a fortnight ago but the impressive nature of Tom Cleverley's two starts in his stead will lessen the need to rush the Irishman back. Cleverley was particularly impressive on Monday evening and might have helped Everton to a win were it not for Wayne Hessessey's stunning save of his superb volley in the second half at Goodison Park.
Should McCarthy be passed fit, however, Martinez could still retain Cleverley in the side by moving him forward and to the left in place of Arouna Kone, a formation he has used already this sesason. Kone played well enough at times in his last outing but has looked sluggish towards the end of games recently and has looked less effective away from home.
Leighton Baines took another step towards match sharpness with another substitute's appearance on Monday but he looked some way short of full fitness and would therefore be an unlikely starter as his manager continues to ease him back. Brendan Galloway, who signed a new five-year deal this past week, is almost certain to continue at left back, with Baines a good bet to come on in the last half hour again.
The Canaries will not be looking forward to facing Lukaku who will be looking to score for a seventh successive game in all competitions and close the gap on Jamie Vardy at the top of the Premier League's scoring chart, nor will they fancy dealing with Gerard Deulofeu or Ross Barkley. All three have their tails up at the moment and if they're on their game then Everton should be able to score the goals needed to put them in a position to win this one. If so, then the onus will once again be on the defence and goalkeeper to retain a clean sheet, something they haven't done away from home in the League since the goalless draw at Swansea in September.
Kick-off: 12.45pm
Referee: Martin Atkinson
Predicted Line-up: Howard, Coleman, Stones, Funes Mori, Galloway, Barry, Cleverley, Deulofeu, Barkley, Kone, Lukaku
Full coverage: ToffeeWeb Match Report
---
Reader Comments (32)
Note: the following content is not moderated or vetted by the site owners at the time of submission. Comments are the responsibility of the poster. Disclaimer
Trevor Lynes
2
Posted 11/12/2015 at 19:20:52
Let us hope that whatever difference's between Mirallas and Roberto exist that they may be put aside in favour of the team. Mirallas is by far our best attacking substitute and a definite goal threat. If the lad wants away then the best way for him to attract buyers is by playing well if and when he is brought on. Bringing on Lennon before him is a joke IMO as he poses no goal threat at all.Players like Lennon are basically bench warmers at this level and using him before Mirallas or even Naismith is insulting. We need both these players until suitable replacements are found, but not before. They are both on contract and must be kept until signings are made as we will be in a bad situation if they are let go too soon.
James Stewart
3
Posted 11/12/2015 at 20:12:20
Please, no more Kone on the left wing!
Jon Cox
4
Posted 11/12/2015 at 20:18:55
We need a Baines Mirallas partnership to develop so we have an equal attacking threat on the left. Also Mirallas is about the only guy after Rom who can shoot from outside the box.
I'd also try Cleverly out so as to give some rest to JM.
Cleverly is the better attacker and his link up with Del and Seamus on the right could be used also on the left with LB and KM.
We've not really seen this tactic since the Pienaar Baines and Arteta axis. In those days we were feared because of this, so it's about time RM swatted up on recent Everton history and try out this simple but effective formation using Cleverly as the fluid fulcrum.
Tomorrow is all about three points. Bollox to any woodwork and bollox to how beautiful or intricate football we play.
Don't care if it's a boring 1-0 smash and grab.
Just come home with the points!
COYB
Len Gowing
5
Posted 11/12/2015 at 20:41:32
Impulsively, when 2 tickets came up on Wednesday for tomorrow's game I thought it would be a good idea to take my 9-year-old to his first away match.....
In hindsight, a closer game may have been the better option; I'm not relishing the 4½-hour drive.
Anyways, I can't seem to find any links anywhere for away fans, where to park, pre-match stuff going on etc... Can anyone fill me in?
Harold Matthews
6
Posted 11/12/2015 at 20:55:54
Terrific preview Lyndon. All points covered with no complaints from this old fan. I just hope Howard and his defenders manage to be more decisive than on recent East Anglian visits when 3 of the last 4 goals against were scored by yellow shirts almost on the goal-line. 2 came from set-pieces with less than 6 minutes to go. The other from Van Wolfswinkel is too vague and probably to painful to recollect.
We seem to play very well over there but allow them to nullify our impressive domination. A story which is becoming all too familiar. Dozens of set-pieces wasted, too slow in midfield, crosses not closed down and half asleep at the back.
We need to get on top and bury them. Be totally ruthless and not allow them a sniff. These canaries can bite. A glint of space sets them on fire. All avenues must be blocked by determination and fully organized concentration. We are the talk of the town at the moment. All coaches fear us. All fans fear us. Let us hit them hard early and hit them even harder later on.
Alan Bodell
7
Posted 11/12/2015 at 21:00:03
I'd like to see Besic given some game time if he's fit at least as a sub.
I realise our squad is as strong as it's ever been but this lad is a talent I'd hate to see get disillusioned warming the bench before moving on.

Laurie Hartley
8
Posted 11/12/2015 at 21:28:40
Sounds like a plan to me Harold!
They have got you stirred up at the moment haven't they?
Me too - it's great!!
Up the Blues.
Raymond Fox
9
Posted 11/12/2015 at 21:35:47
The betting is 15/8 Norwich. 9/4 the draw. 6/4 Everton. which says they think there's every chance its a draw.
It is a hard game to call, we have the best side, but is that cancelled out by their home advantage? How we haven't won the last two games, I don't know. Let's hope we can get 3 pts out of this.
I fear it might be more of the same though!
Harold Matthews
10
Posted 11/12/2015 at 23:19:12
Well Laurie, the attacking trio of Barkley, Deulofeu and Lukaku have definitely got me stirred up but it's all too tense to be great. Not surprised that Goodison is very quiet these days. Great goals at one end and soft goals at the other.
So many things to put right but not a hint that it will happen. According to Martinez, everything is perfect and going to plan but, deep inside, he'll know there are things which need to alter. His speeches are designed to keep the natives at bay while he gets through a few more windows. He almost said as much the other day when he talked about players moving out and players coming in.
Some coaches are forced to get there in a rush but not this fella. His job is safe and once every two or three years his squad will mount a challenge. This is one of those years so let's hope we can stay injury free. There are prizes to be won.
Steven Jones
11
Posted 11/12/2015 at 23:34:01
One impressive aspecrt of our play is in the first 15 mins when we are very controlled and are able to get hold of the ball, show some skills, tricks and quick passes that means the opposition have to hesitate and give half a yard of space.
This is how Gerri got all the space on Monday. As a fellow winger I was amazed at his skills and the fear he put into their defence that went backwards on him and gave him the space. We then had an outlet ball. People mistake all the balls in being bad balls, they were well defended by Palace and on a few occasions we just had no one committing themselves to the front post.
Ross is great at this gaining respect and space in the first phase of the game.
One thing is for sure that we will do the same tomorrow - thus is now a consistent trait - however the outcome, potential mistakes at the back, missed chance, poor refs decisions etc can create the negative situation for us tomorrow.
I for one will enjoy watching the evolution of Martinez Everton and the skills on display.
Surely we are going to hammer someone soon!!
Mark Andersson
12
Posted 11/12/2015 at 23:44:18
Great write up Lyndon, Harold as usual sensible and insightful posts.
I totally agree that Martinez has a job for life if he keeps doing what he is doing, Sad that the reality is we will at best knock on the door of a Europe place but more likely fall at the hurdles.
Beat Norwich and we dream for another week, get beat or draw and we scream for another week. It's all so unpredictable.
Phil Sammon
13
Posted 11/12/2015 at 23:45:01
I can understand people's frustration at Kone on the left, but at least he does get close to Lukaku which has improved the Belgian's game no end.
That said, Barkley has started to discover that he can dart into the box when the ball is out wide, and we finally have a player who will deliver crosses into the box time after time.
Deulofeu has been fabulous so far, but I actually find it a bit rich of Martinez to let him play the way he does. Last year I believe Martinez instructed Baines and Coleman not to play early crosses into the box. It completely nullified two great threats. Now he's got a tricky Spaniard doing it and all of a sudden it fits the 'philosophy'.
I'm not convinced by the Martinez rhetoric, but the football has become much more enjoyable lately which is something we were crying out for.
As for the game, well, no changes for me unless Martinez thinks Baines is ready. The biggest change I'd like to see is Martinez' use of the bench. Last game was frankly pathetic when we were chasing a goal.
Darren Hind
14
Posted 12/12/2015 at 02:44:50
I think this is an ideal opportunity to start turning performances into results. Norwich are not a strong team and if we can score early and not give them the opportunity to work up a head of steam, I think we can win this convincingly
Laurie Hartley
15
Posted 12/12/2015 at 07:12:11
Harold, I can understand your frustration but the thing that has got me excited is that I can see these young blokes taking matters into their own hands.
There is so much talent in this group it is scary. If Martinez doesn't harness it, it will be the greatest missed opportunity in Everton's Premier League history.
Most of the problems can be fixed in 3 moves but he has to be willing to take a punt and make them.
Robles for Howard
Play Mirallas on the left
Bring Lukaku back for corners
Probably won't happen but I am not going to let it stop me enjoying the good stuff being played at the moment.
Mark Tanton
16
Posted 12/12/2015 at 08:01:03
Carrow Road - where it all began for Roberto Martinez. That afternoon was probably prophetic for his reign so far; goals, defensive hesitancy and mistakes, chances at both ends. 2-2 and a feeling of points dropped. What did you predict for the Martinez reign, are you right so far or have you changed your views?
Neil Wood
17
Posted 12/12/2015 at 08:34:51
Morning all. Thinking a 3-0 win today with a Lukaku hat-trick.
We have no chance of top 4 if we don't start winning these games... We have a fantastic opportunity this year and we need to prove we can do it. Nothing short of 100% effort and a big big win will do.
COYB
Sam Hoare
19
Posted 12/12/2015 at 08:37:20
I'm pleased to have a settled team that is mostly working bar the second half at Bournemouth where complacency set in. Hopefully we won't make the same mistake this week and RM has been drilling some defensive set pieces (unlikely I know!).
No match is easy in this league, especially this season, and we've mostly done well against bottom half teams. Need 3 points today. Coyb!
Frank Sheppard
20
Posted 12/12/2015 at 08:41:11
As a blue living in Norwich I will be there. We are overdue a win at Carrow Road, so please it be today.
Looking at the likely teams we have much more of an attacking threat and inventive midfield than Norwich. They will no doubt have decent patches in the game, but please let us not conceded first, take our chances, and see it out for a welcome 3 points.
It would be nice to have a run-of-the-mill away win away to a struggling side, rather than it being a win that we let slip to a disappointing draw...
Dave Pritchard
21
Posted 12/12/2015 at 08:42:29
We have a better squad and team than them and if we play to our potential and have a fair share of luck we should win. However our concession of goals from set pieces and crosses means that you can never be confident. Also if we do get ahead we must keep going forward and not just sit back on the way we did in the second half against Bournemouth and Middlesbrough.
Kieran Fitzgerald
22
Posted 12/12/2015 at 08:55:44
Baines is definitely going to have to get support on the left side if his return is to be of any value. Whether Martinez likes it or not, it may mean playing Mirallas. Lukaku will still get the service that he needs with two proper wingers on the pitch in Mirallas and Delboy and we will pose more of an overall threat. Sometimes the return of a valued player can have the same enforced effect as an injury to a valued player in terms of having to make changes. Here's hoping.
Bobby Thomas
23
Posted 12/12/2015 at 09:17:26
We are a pretty-easy-on-the-eye mid-table side that can't defend, in a poor league.
Wow.
Neil Wood
24
Posted 12/12/2015 at 09:24:37
Bobby, that's bullshit and you know it. Yes, we have our frailties but overall, and player for player, we are one of the top sides and travelling in the right direction.
Who would you swop Lukaku with? Stones? Barkley? Deulofeu?
That's the spine of our side with an average age of 20/21???
Dave Abrahams
25
Posted 12/12/2015 at 09:40:22
Neil (21) the team plays with eleven players, and they have to play and concentrate for ninety minutes, this team, no matter who plays, doesn't.
It's about time they did, but with this man in charge it seems unlikely to me, here's hoping it does.
Bobby Thomas
26
Posted 12/12/2015 at 09:47:44
Well repeated Neil. Do you have any original thoughts of your own? I know the age of the players. Its one of the reasons we will trouser so much dollar when at least one of them (Stones) leaves this summer.
Fact is we can't defend and we have a chronic inability to defend our penalty box. It's been going on for over 18 months.
We've improved. However there's plenty more to do before I join the wankfest that followed leathering 2 abysmal sides at home before frittering away points giving away pathetic goals.
As thats the reason we are 9th & have won 5 league games.
Denis Richardson
27
Posted 12/12/2015 at 09:49:15
A lot of very excited people on this thread and given the recent past I can understand that.
However, we're 9th in the league, not because of some great injustice but because that's where we deserve to be based on our results. The standard of football has improved recently but we're still letting in silly goals that are costing us valuable points. We start every game with 7 defensive players and still cannot defend properly.
I mentioned on another thread that our current results will again see us let in 50 odd goals at the end of the season. Until we sort out the defense we can forget about top 6 never mind top 4, which lets be honest, barring a miracle, is never going to happen.
Norwich away is by no means an easy game but with 7 draws already, we really need to start getting 3 points on a regular basis (Leicester up next and they're flying...). Top 6 isn't far off we're only a couple of points away from 13th. A lot of teams bunched up between 6th and 13th and draws are not going to help break away from them.
In saying that, I think we'll have a tough game today which will probably end up as a draw..
Michael Polley
29
Posted 12/12/2015 at 10:23:23
We need to win this one. Let's get stuck in and hit them hard. Quick attacking football and some goals.
I'll start to panic if we are 2 goals up because that's the time we tend to switch off and concede possession, and please let's not concede stupid goals.
One very nervous Evertonian, and we're playing Norwich!!!
COYB
Neil Wood
30
Posted 12/12/2015 at 10:24:17
Bobby? Repeated? From whom???
Apologies I've not read all the threads so if mine is similar to someone else's post then apologies.
I don't agree with the "We can't defend" brigade as we can, we have and we have shown that. What we are struggling with are set pieces and yes this needs looking at as potentially this costs us say 6-8 points minimum.
We are a young side and one that is learning to win, learning to turn the draws into wins and I strongly believe we are very close to achieving this.
When I say "That's bullshit Bobby" it is said purely as a figure of speech and is by no way meant as a personal slur... However... "Thoughts of my own" yes... I have plenty both varied and interesting ones! But thanks for your concern. One of those thoughts that I considered (all by myself) is the fact that I often see people bickering on here and being massively negative.
WE are Everton football club and yes, discussions over the team, management and other things surrounding our great club will at times be conflicting as everyone has different views. But ultimately, we are all in this together and should respect and appreciate that.
3-0 to the blues today to take us away from that mid-table mediocrity! ;-)
Raymond Fox
31
Posted 12/12/2015 at 10:34:42
As I said earlier, its a another draw for me.
As far as the defending's concerned, its when the ball is in the air where we are weak, its the manager that always draws the criticism, while the players get off scott free, well almost.
With the exception of Mori all our defenders are poor when the ball comes the aerial route, on the ground were pretty sound.
He could change Robles for Howard but I don't think crosses are Robles strong point either and I'm struggling to think of a defender in the squad that would solve our problem.
Maybe a 6'6" centre half is the answer!

Laurie Hartley
32
Posted 12/12/2015 at 10:47:36
Bobby,
You are correct about our defending but I think it can be fixed. The performance that has given me heart was our last outing.
Yes we let in a goal from a corner again but I thought Palace came to play and are a very good outfit and they can defend. They play the game like we used to - getting the ball out of defence and up the pitch quickly.
What I can see is a bond forming between these players that wasn't there this time last year.
By February of this year I'd had enough of our manager because we looked like a bunch of strangers on the park - that is no longer the case.
He has a long way to go before he wins me back over, however he has at his disposal a squad of very good young players. I don't know whether that is by luck, planning or a bit of both, but I find it very encouraging.
One thing I do know for sure or manager is here for some time to come.
So - I am going to look on the bright side and hope this isn't another false dawn.
Paul Commons
33
Posted 12/12/2015 at 10:50:19
I'm beginning to understand that Roberto's famous 'philosophy' simply boils down to scoring more goals than you concede which, after all, was the premise on which the game was based.
I just heard LVG defending his non-scoring bores by (seeming) to say that you can't have everything and now HE has fixed his leaky defence it is up to the PLAYERS to transform all the draws into victories.
Here we have the opposite scenario. The MANAGER has got the attack performing well so perhaps its up to the PLAYERS to curb the flow of goals against. Certainly more defensive nous wouldn't go amiss – after all, that's what more than half the team are on the field for. Or are they?
Peter Barry
34
Posted 12/12/2015 at 10:54:39
Perhaps if we didn't have the 'Startled Starfish' Howard in goal we would concede less – just sayin'.
John Barnes
36
Posted 12/12/2015 at 11:52:45
In another era (long gone I'm afraid) you could look at our set up and think in a year or two this could be something really good. Yes, mistakes are being made by players and manager. Even if RM picked everyone's favourite selection there'd still be a cock up here and there. But there's some good stuff probably/ possibly in equal measures with the 'bad'
Problem is, in this day and age, do we have that year or two for it all to come together? Will the young stars prefer to sit on the bench for megabucks at the moneyed clubs, or push for glory with us?
I think we all know the answer so let's enjoy what is happening now . We are being looked at, spoken and written about in glowing terms from far and wide.
Add Your Comments
In order to post a comment, you need to be logged in as a registered user of the site.
Or Sign up as a ToffeeWeb Member — it's free, takes just a few minutes and will allow you to post your comments on articles and Talking Points submissions across the site.
© ToffeeWeb