Naismith eyes Festive fixtures for opportunities
by

42 Comments [Jump to last]
| 15/12/2015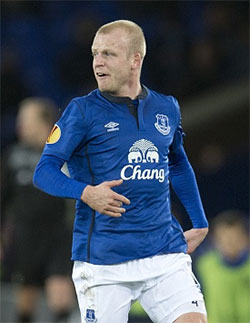 Steven Naismith is hoping to get sufficient playing time over the next month to win his place back in Everton's line-up and avoid the need for him to uproot from Merseyside to go in search of regular first-team football.
The Scottish forward has played just 15 minutes of football for the Blues since his last start against Arsenal in mid-October and has openly admitted that he may need to look for a move in January if competition for places keeps on the substitutes' bench in the coming weeks.
Roberto Martinez, who blocked a transfer of the former Rangers man to Norwich City on transfer deadline day in September, has acknowledged Naismith's frustrations and said he would not stand in the player's way this time if the Canaries or another club came in for him in January.
Naismith is settled with the Blues, loves the city of Liverpool, is keen to prove himself at Goodison Park and he sees opportunities to do so as the Blues' fixture calendar becomes more congested with the Festive programme in the League and commitments in both cup competitions.
"I'll speak to the manager and see where we're at but I am just focused on the Christmas run, there are so many games and it might be the chance I need," the 29-year-old said in the Liverpool Echo.
"Come the middle of January, I may have played every game since and it's no longer being talked about.
"But ... I am so settled in the area and I could not have picked a better football club to come to – from the way it is run, to the city being like Glasgow where I grew up.
"My family is settled here and they all love it here so it will be tough if that time comes but you never know what will happen. I have learnt in football than things can change in an instant."
Naismith, a free-transfer acquisition from Rangers in the summer of 2012, had to work hard initially to find his feet at Goodison Park after a challenging first season in which he was often played out of position in right midfield under David Moyes.
He began to prove his worth as a goal poacher, however, and was an important member of Martinez's team in his first season in charge following Moyes's departure for Manchester United when he was second-top scorer with nine goals in all competitions.
The form of Gerard Deulofeu, Arouna Kone and Ross Barkley this season has limited his opportunities, however – even though he registered a "perfect" hat-trick against reigning Champions Chelsea in September – and he admits that as wonderful as it is to watch to younger members of the team excel, it's also hard for him personally.
"We have all these young guys, they have no fear, they don't care who they are playing against and they just go and play their own game. It is amazing to see that," Naismith continued. "So if I'm not playing and I'm on the bench, I love watching these lads.
"I love watching it because I love football and I love my mates improving. They are going to be top class players. "But is hard to take when the team are winning and you are on the bench and not featuring.
"I've had a couple of bad injuries in my career and I know how frustrating and tough it can be when you're not able to play, but I'm not injured, I'm fit but can't get into the team."
Quotes sourced from Liverpool Echo
---
Reader Comments (42)
Note: the following content is not moderated or vetted by the site owners at the time of submission. Comments are the responsibility of the poster. Disclaimer
Phil Lewis
1
Posted 15/12/2015 at 17:04:45
I am appalled but not unduly surprised at the manager's continued reluctance to play Steven Naismith, even from the bench, as it confirms my belief that Mr Martinez is a stubborn man, who is determined not to be swayed from his own strategy, regardless of how overwhelming the evidence on the pitch shows his methods to be lacking.
Steven Naismith would be the first name on my team sheet: his skill, commitment, vision and ability to score goals out of nothing, make him an invaluable asset. Naismith doesn't hide, he is an honest player, his work rate is unquestionable and yet Martinez seemingly refuses to bring him off the bench even when recent victories, which Naismith could possibly have retrieved, have slipped away from us.
Fans are influenced by the press, TV and radio, sometimes regardless of performances and form; I believe this to be true regarding Ross Barkley. I sincerely hope both for the lad's sake and for the good of the club that he develops into a great player, but he has a very long way to go until he is the finished article. Comparisons with Paul Gascoigne at the same age are ludicrous. Gascoigne was world class at Barkley's age. Too many times Barkley is caught in possession, without a clue what he is going to do with the ball, when players are in position, waiting for the pass to come. Yet it seems regardless of his form, that he keeps the jersey ahead of Naismith. To my mind, that is bad management.
Similarly Kone, who has shown improved form, has visibly weakened in recent games, yet the manager refuses to replace him with Naismith. Whatever vision Mr Martinez has for the club, it is apparent it doesn't include Steven Naismith.
I believe he may rue the day he made that decision. Naismith is a thoroughly decent young man as his charity work proves, if he is to leave the club, I for one wish him every success and I would be happy to see him prove with another club his undoubted ability.
Craig Mills
2
Posted 15/12/2015 at 18:50:26
Great professional comments from Naismith. One thing you can't knock is his attitude – 1st class.
Jay Harris
3
Posted 15/12/2015 at 18:55:42
Really top man with an eye for goal and a good header of the ball.
Questionable technically but gives 100% for 90 minutes and has a great attitude.
I would love to keep him in the squad but he has to be given some time on the pitch. Our recent cup game was an example of a game he could have been given a run out.
Gerry Quinn
4
Posted 15/12/2015 at 18:56:33
Great attitude and a shining example to ALL footballers – Mirallas, are you watching, you may learn something?
Sam Hoare
5
Posted 15/12/2015 at 19:07:59
If all our players had his attitude and work rate, I reckon we'd be top of the league! The most likeable bloke in football?
Stewart Lowe
6
Posted 15/12/2015 at 19:13:40
This guy has been missed in the role where we have had Barkley playing.
Ian Jones
7
Posted 15/12/2015 at 19:41:39
Interesting to see who will post the first fully negative thing about him. I always remember a ToffeeWebber (but don't know who) commenting that a friend of his who was a Rangers fan thought that Naismith was a better buy than Jelavic. So it proved.
I wasn't a huge fan of his to begin with but he has grown on me; it's a bit of a shame that he can't get in the first team. He has some fight in him and gets in the face of some of the opposition when he has to. Imagine he is an annoying player to play against.
Glen Garrett
8
Posted 15/12/2015 at 19:42:23
Naismith is a hard worker, very loyal, a real top bloke for the club. None of them work harder than him on the pitch.
Ian Brandes
9
Posted 15/12/2015 at 19:44:32
I like him, full stop. Sometimes he can be wayward to the point of exasperation. But, if played in position, he can be game-changing.
His reading of play can be sensational, he pops up in the opposition penalty area, quite unexpectedly, and he poaches goals.
He is also tigerish, will snap back at opponents, and referees, and can be a major irritant to the opposing team, rather like a certain Jamie Vardy, who will be meeting us soon.
I am not saying Nasmith should be an automatic starter, but we certainly could have done with his never-say-die attitude in some of our recent matches.
Come on, Bobby, give the lad his chance. Oh, and by the way, we have another game-changer called Osman who should not be overlooked either!
Ian Jones
10
Posted 15/12/2015 at 19:59:17
Talking of game changers, a fit Gibson isn't too bad, but that would lead to a whole new thread.
Brian Denton
11
Posted 15/12/2015 at 20:05:36
A couple of seasons ago certain TWers were him giving the sort of bilious venom Evertonians normally reserve for local lads. Despite that, he always gave his best. I still rate him as the best finisher at the club, and in that I include Lukaku and Mirallas. His hat-trick against Chelsea was the highlight of recent seasons.
I will be sorry to see him leave. As people have pointed out, he is a good bloke, with a wider vision than just football. I wish him well if he does decide to move for regular first team football.
Garry Corgan
12
Posted 15/12/2015 at 20:11:13
Great attitude, intelligent, articulate, scores goals, always gives 100%. Exactly the kind of player we want in the dressing room regardless of whether he's quite good enough overall.
Andy Walker
13
Posted 15/12/2015 at 20:11:28
Doesn't sound like he wants to leave to me. 'Family settled'... Reckon he'll have to be pushed to go.
Stephen Brown
14
Posted 15/12/2015 at 20:19:10
I can't believe the stick he used to get in his first season. I think one game v Spurs he was being laughed at!
Takes a big man to come back from that! Whatever happens now, if he stays or goes he will be remembered very fondly by me and I'm sure most Evertonians!
Personally I hope he stays and scores lots more goals for a club he's clearly taken to his heart! Reminds me a bit of Graham Stuart (adopted Evertonian for life!)
Darryl Ritchie
15
Posted 15/12/2015 at 21:08:38
He came to the club with Jelavic, who was the "big" name. Naismith was almost an after thought. Jelavic has since moved to his second club, or is it third club, since he left us. Steven is still here!
Naismith is not the most talented player, but you cannot criticize his work rate or his attitude. He is in a tough spot. To good to sit on the bench; not good enough to start. I hope it all works out well for him.
Darren Hind
16
Posted 15/12/2015 at 21:33:03
He's not first eleven, but he's a valuable member of the squad.
The sort of character you would rather have in your camp than the oppositions.
Chris Kelly
17
Posted 15/12/2015 at 22:09:46
I too like Naismith and think he brings graft and the occasional killer pass. He also has great timing and an eye for goal. Also as Garry 11 says he is a great professional to have in the dressing room.
You only have to look at Chelsea, Newcastle, Sunderland and Villa to see how a poor dressing room and poor attitude in players can drag a team down.
I think he needs more chances, sometimes Roberto is a bit slow with the subs and Naismith is ideal to shake it up a bit. I hope he stays.
Eddie Dunn
18
Posted 15/12/2015 at 22:37:56
Naismith could be a tremendous asset, if we played him in and around the box. He is not a midfielder, or a winger. As a foil for big Rom, he could contribute given the chance.
He has a fighting spirit and some of the others could take a leaf out of his book.
Peter Mills
19
Posted 15/12/2015 at 22:38:23
It's part of a manager's job to keep characters like Naismith satisfied that he has a role to play within the club, not allow him to leave. He's a good player, a very good goalscorer, a nark, and a decent man. He should be retained if at all possible.
Sandy Brown, Alan Harper and Kevin Richardson. All players who struggled to count themselves as first-teamers, but great medal winners. Naismith fits their mould.
Mark Daley
20
Posted 15/12/2015 at 22:49:33
I want him to stay and when he can't make the team any more I want him on the coaching staff. After Our Phenomenal Manager leaves to manage Real Madrid, and Big Dunc gets the job, Naismith slots in behind Dunc; and maybe then Joel Robles will get a game...
Aye, dream on laddie.
Harold Matthews
21
Posted 15/12/2015 at 23:00:06
Good in the air, a decent finisher and works his socks off. Unfortunately, his mouth and temper are often quicker than his feet and his lack of control caused too many of our attacks to break down. Last season, when he and Lukaku were together, we couldn't keep possession for more than 5 seconds in the final third.
A valuable squad member who reacts quicker inside the box than either Lukaku or Kone, he might get a game over the holiday.
Colin Glassar
22
Posted 15/12/2015 at 23:00:22
If we get the same offer, or better, from Norwich then I say sell but ONLY if he is replaced with a younger, better player.
If not then Nessie can still play an important part for us over the Christmas period. He's a great lad who deserves to be treated with respect.
Andy Crooks
23
Posted 15/12/2015 at 23:10:06
Colin, if I was big Sam I would pay Everton £10 million for Naismith because he is exactly what Sunderland need. A clinical finisher with a brilliant attitude.A top man, who will give his all.
If only we had someone like him.
Colin Glassar
24
Posted 15/12/2015 at 23:37:56
I would sell him to Big Sam, Andy, for £5 million and that ginger headed lad Watmore...
Kevin Rowlands
25
Posted 15/12/2015 at 23:47:20
Well I'll get the good bit out of the way, fantastic fella, genuinely good human being, an absolute credit to our club, BUT, just not good enough at this level. If we can get £8 mill for him from Norwich or anyone else, we should snap their hands off.

I watched that Charlie Austin tonight bang in 2 for QPR and could have had 6, he was a real handful. He'll be a great signing for someone in January. He'd be a big upgrade on Naisy, between him and Lukaku we'd be lethal up front.
Brian Porter
26
Posted 16/12/2015 at 01:13:29
No way can we let Naisy go. His heart is pure Everton and if Rom or Kone pick up an injury in the coming months he is the best replacement we have. A proven goalscorer and quick in the box. How many players have ever scored a hat trick against Chelsea?

I'd actually prefer him to Kone any day for his tough, no nonsense ability to get in the faces of opposition defenders. His attitude on and off the pitch screams 'professional' unlike some players nowadays who are only interested in a pay packet every week. He really WANTS to play for Everton, that much is clear and I think he would be sorely missed both on and off the pitch if he left us.

If Martinez made better, earlier use of substitutions he would probably have more game time under his belt but we all know our manager seems incapable of making early enough substitutions to change a game.
Andrew Presly
27
Posted 16/12/2015 at 01:13:38
I'm really well past what these pros care about. Nais wants a run? You're not playing better than Kone in training, lad, so there must be some fundamental issues with your awareness, pace, touch, link-up play & most importantly you've probably pissed Bob off.
I like him but he wanted to go to Norwich to play. On balance let him. For £9M!
Thomas Surgenor
29
Posted 16/12/2015 at 07:42:11
I like Naismith but don't know where he fits in right now. Him & Mirallas are much much better players than Kone. However, I remember last season when him and Barkley were in the same side they kept running into the same spaces. It was infuriating to watch.
I think with Roberto's current strategy (a lopsided 4-4-2... he has said Kone role is playing 2nd striker) is limiting out options. I would prefer a different strategy where Naismith or more importantly Mirallas can get game time. But neither can do Kone's hold up job in the same way that Kone can't do their more direct job.
Jim Bennings
30
Posted 16/12/2015 at 08:03:39
We will be foolish to sell Naismith (or Mirallas) in January, without having ready made two ready made replacements for both and that, as we are continually told by Martinez, is a difficult thing to do in January transfer windows.
Both men are used to playing and scoring goals and know what it takes at Premier League level to succeed and we will take a massive risk to sell either in my opinion as knowing our luck, Lukaku will get injured and although Kone has done well of late, he's got a recent history of injury which you can never be too settled with.
I agree that if Naismith was sold, I'd be making a move for Charlie Austin, the guy simply knows where the net is and is as rough and ready as you need.
We are in my opinion a handful away of really clever signings from being a really good team, it's not easy but a quality goalkeeper, a central defender that commands his back five with leadership and is vocal, and possibly as I say Austin to eventually partner Lukaku.
Allan Barratt
31
Posted 16/12/2015 at 08:42:19
He may be a 'top bloke' & a 'grafter' but he takes 3 touches to control the ball. Enough said! I'd probably say Tony Hibbert has a better first touch.
Eddie Dunn
32
Posted 16/12/2015 at 09:19:57
Harold 21. Lukaku's hold-up play has really come on this season, so playing them together now would surely be more effective than then.
Derek Knox
34
Posted 16/12/2015 at 10:27:59
Good shout, Colin @24, regarding Watmore; I think, like you, this lad will be a regular household name before too long. I can't see Big Sam or Sunderland letting one of their assets go cheaply though, pity!
As regards Steven Naismith, I feel very sorry for him, as many have already said on here, his attitude and workrate is unmatched at our Cub.
I cannot understand that in the last three matches where we have managed to turn a dominating performance into a nail-biting finish for a draw, why he was never used as a sub, and with a decent amount of time to contribute to the game. Funny Ol' Game, mate!
Colin Glassar
35
Posted 16/12/2015 at 10:37:50
I think we might go for Embolo (Basel) using the Nessie money as a down payment. Neither Nessie, Kone or Mirallas can compare to Lukaku if he gets injured so a top quality forward is required to partner, or replace, Rom up front.
Can you imagine a front three of Embolo, Lukaku and Gerri up front? Only the Barcelona front three would be comparable.
Sam Hoare
36
Posted 16/12/2015 at 10:54:21
Well Colin, not totally sure about that. Ronaldo, Bale, Benzema? Muller, Lewandowski, Robbem? Ibrahimovic, Di Maria, Cavani? Aguero, Silva, De Bruyne?
Still, I take your point. It would be a tasty trio.
Andy Meighan
37
Posted 16/12/2015 at 10:57:23
Who's embolo never heard of him. You do like to pluck a name from mid air from time to time, don't you Colin?
As for Naismith. I think we're going to need him at least until the end of the season with the games coming thick and fast. What a likeable lad – fantastic attitude... mightn't be the the most technically gifted at the club. But I doubt there's one Evertonian who dislikes him.
As someone earlier said: "Mirallas, watch and learn."
Colin Glassar
38
Posted 16/12/2015 at 11:18:19
True Sam, but our attack would have an average age of 21, while the others you mentioned are OAPs in comparison. It won't happen but Embolo or Batsuyahi, next to Rom, would be very tasty.
Shane Corcoran
39
Posted 16/12/2015 at 11:21:40
Ironic that he doesn't moan about not getting playing time considering the amount he does when he's on the pitch.
I think he's right though. He'll get a chances over the next five weeks or so.
Michael Connelly
40
Posted 16/12/2015 at 13:12:44
Tranmere might come in with an £8M bid, and he could stay in the area with that move.
Let's be honest, his lack of pace lets him down; tidy enough footballer though.
Jon Cox
41
Posted 16/12/2015 at 18:17:41
Get him in.
Drop useless arse Barkley,
job done!
Andy Crooks
43
Posted 16/12/2015 at 19:59:19
Andrew (#27), do you think that what Martinez sees in training affects his team selection? I don't but if you're right then Tim Howard must be some trainer and Robles must be pure shit.
Brian Wilkinson
44
Posted 16/12/2015 at 22:28:36
Got the guy for nothing, gives 100 per cent everytime, scores in vital games, has netted against Chelsea on two separate occasions, scored in the derby, scored against Arsenal.
I'm miffed how he fails to get off the bench when we need changes or chasing a game.
Stick with us, Stevie, You will get your chance, and the fans are right behind you.
Chad Schofield
45
Posted 18/12/2015 at 07:18:54
He's the sort of player who would have helped us cross the line in a few of the games where we've stuttered or ran out of ideas. Not because he's a pacey skill player, but because of his pure graft and abilty to spring up in the right place at the right time.
I really hope he gets a chance, as I still rate him above and beyond Kone.
Add Your Comments
In order to post a comment, you need to be logged in as a registered user of the site.
Or Sign up as a ToffeeWeb Member — it's free, takes just a few minutes and will allow you to post your comments on articles and Talking Points submissions across the site.
© ToffeeWeb