Martinez looking forward to quartet's return
by

45 Comments [Jump to last]
| 24/12/2015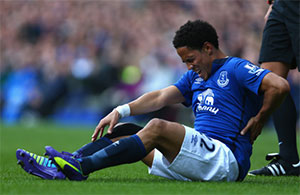 Steven Pienaar could finally make his return to first-team action in the coming days after struggling for months with injury.
The South African has played just 45 minutes for the Under-21s this season after suffering numerous set-backs in his bid to regain full fitness but Roberto Martinez says that he expects him to be fit by this weekend even if it's unlikely he will feature in the Boxing Day trip to Newcastle.
Once a mainstay in the Everton side, Pienaar made just five senior starts last season and his creativity, workrate and partnership with Leighton Baines down the Blues' left flank have been sorely missed.
Martinez will likely ease him back into the team during what will be a busy period in the coming weeks and the manager expects the 33-year-old will be joined by the gradual return of other returnees in the form of Phil Jagielka, James McCarthy and Bryan Oviedo.
"Steven is training today and I expect him to be fit for the weekend," Martinez told the press at his pre-match press conference.
"We've had a real boost with players coming back – Steven Pienaar, Phil Jagielka, Bryan Oviedo and James McCarthy – who will play some part in next seven games over three weeks. It's great to have those back.
"They are already working with the group and will be involved as long as the match fitness comes along."
Jagielka has been out of action with a knee ligament injury since October and has been pencilled in for a return in the early part of next month, while McCarthy has almost recovered from the hip injury he picked up at Bournemouth.
Bryan Oviedo, meanwhile, will be hoping he can maintain fitness to add to his five appearances so far this term. The Costa Rican has been struggling for weeks with hamstring issues.
---
Reader Comments (45)
Note: the following content is not moderated or vetted by the site owners at the time of submission. Comments are the responsibility of the poster. Disclaimer
Tony Doran
1
Posted 24/12/2015 at 16:02:07
I was his biggest fan in the day, unfortunately that may be long gone. I would be nice to see him return if only to kickstart Bainesy's form.
Realistically we need to be trimming the age and wage bill to let new crop develop.
James Kirrane
2
Posted 24/12/2015 at 16:07:58
Sorry to be negative, but I think that Pienaar is finished. He has been a great servant to the club, but now is the time to let the likes of him and Hibbert go. It also looks like Oviedo is one of those persistent crocks. A very decent player, like Gibson, but no good to the squad if always on the treatment table.
Tony Hill
3
Posted 24/12/2015 at 16:14:11
Yes, Pienaar has gone. I wouldn't write Oviedo off though.
Roger Helm
4
Posted 24/12/2015 at 16:33:25
You could say he's been a great servant (apart from when he buggered off to Spurs). Alternatively you could say EFC have provided him with many years of extremely lucrative employment.
Either way, he's over the hill. It's usually downhill from about age 28 for attacking players although defenders can carry on into their thirties. I would say trade him in for a 20-22-year-old. There must be dozens about that a half-way decent scouting operation would be aware of.
Derek Knox
5
Posted 24/12/2015 at 17:21:42
I agree with fellow TWers there, as regards Pienaar being well past his shelf life; for me, he has never been quite himself since he returned from Spurs.
What has Mirallas done to Martinez to piss him off, to the extent of playing long-term injury comebacks et al?
I think, if we get the 'right team' selection, this game is well win-able. I think we definitely need urgent changes, but not wholesale, there are some players who have consistently under-performed, and they have had many chances to prove themselves.
COYB
Nick Waters
6
Posted 24/12/2015 at 17:45:51
Why don't we wait and see what Pienaar is like on the pitch before we write him off so quickly? He's still light years ahead of most of the rest of the squad in his link-up play and eye for a pass, and he gives Baines confidence to push on knowing that there is a likelihood of keeping possession.
On the other hand, he could watch the game pass him by... but I'll give him the benefit of any doubt at this stage.
Aidy Dews
7
Posted 24/12/2015 at 17:54:01
Yeah unfortunately I think Pienaar is done for. It's a shame cos on his day I'm sure he could still be an asset down the left for us. I'd like to see him get fit and come in and make a difference but I just can't see it.
Oviedo is another. I just think he's another that won't get fit enough on a regular basis and could be moved on in the summer. We do have plenty of cover at left-back if injuries and suspensions occur.
Jim Hardin
8
Posted 24/12/2015 at 18:08:11
Geez Nick, It wouldn't be TW if people didn't overreact and proclaim people as washed up or shite without actually seeing them play would it?
Helen Mallon
9
Posted 24/12/2015 at 18:09:28
It's not Roberto's fault with Mirallas. He wants to go so he's not played him because he's scared he may get injured.
Mike Berry
10
Posted 24/12/2015 at 18:16:05
He's a really good player. We have sorely missed his creativity. Now physically he may not be up for it. but could be ideal as an impact sub.
Duncan McDine
11
Posted 24/12/2015 at 18:40:06
We have certainly missed Jags and McCarthy but I guess the other two will be making the bench at best. Pienaar was one of my faves for a long time, but that's several years ago now! If he makes it to February without more injuries, I'll be surprised.
Armando Canaj
12
Posted 24/12/2015 at 18:55:05
Kool. Love those players. Can't wait them to come back. Kevin is boss but a bit full of himself. Gerri need ls to stop being so stroppy and he'll be an amazing player.
Coyb. Let's put run together over the Xmas period. Toon Army first. I see a solid win there.We just need to keep our heads and style of play with a tighter defence.
Laurie Hartley
13
Posted 24/12/2015 at 20:30:34
Of the 4 players mentioned in the OP, if you told me I could have a fully fit version as Christmas present Stephen Pienaar would be my pick so.
He is one of the cleverest footballers I have ever seen pull on a blue shirt. He would have been good enough to play with Ray Wilson.
That is why I am hoping we see him back on the pitch for the run in. His presence would make a huge difference to this team. A left side of Baines, Besic, and Pienaar is my idea of football heaven.
Dave Abrahams
14
Posted 24/12/2015 at 20:53:42
If, and it's a big if,we could get a dozen games out of Pienaar from the rest of the season he oils make huge difference to our points tally.
I saw him or the U21's earlier in th season, he only played forty five minute( the first half) never got injured but hasn't appeared since. His brain was much quicker than anyone else on the field, and his body seemed to be okay, it was only a reserve game but did better than any Everton player on the pitch. Hope he can be of further use to th team, but time is running out for him, sadly, very sadly.
Dave Abrahams
15
Posted 24/12/2015 at 20:56:24
Sorry. (Oils should be: would
Clive Rogers
16
Posted 24/12/2015 at 21:12:39
There's no way he's coming back at 34 in March.
Shane Corcoran
17
Posted 24/12/2015 at 22:46:35
Yet again (in the case of McCarthy this time) a player who had a chance of making the game following his injury is now likely to miss............how many games?
Bobby's injury reports really aren't worth listening to.
Paul Hewitt
19
Posted 24/12/2015 at 23:51:28
Helen@ 9. Mirallas signed a new 3 year contract in the summer. It's the managers fault he isn't playing him.
Lee Courtliff
20
Posted 25/12/2015 at 00:08:58
I always thought Pienaar's strength was his movement and workrate. That's what allowed Baines to become so influential for us.
If Steven is turning 34 in March it's hard to imagine he can still perform to that level in such a physically demanding league. The man never stayed still after playing a pass, it was his best feature.
Perhaps he can be the impact sub as others have suggested. Maybe similar to Osman during Roberto's first season?
I wish him well and look forward to seeing if he can prove many of us wrong. A fine player.
Ian Smitham
21
Posted 25/12/2015 at 00:40:29
Lee, really good and appropriate words, well said, personally I believe that views less than these are disrespectful, hope KM watches a few clips of that duo and realises it is not all about him.,

Anthony Dwyer
22
Posted 25/12/2015 at 00:43:48
Pienaar back , seriously !
Come on let's be honest , Stevie was good for us for a long time , but his days are numbered.
He along with a few others should be moved on , weather they join another club or retire is there business.
Pienaar , Hibo , Osman are all dead certs.
Howard , Oviedo, Robles , Gibson ,Kone are also boarder line at least.
Naisy will probably go during January, but if not he falls into the last group of players .
We have to start to run the club a lot more like a business to improve ,as we haven't got the financial power of any of the top 4-6 clubs , and you don't see them giving out sentimental contracts.

Minik Hansen
23
Posted 25/12/2015 at 00:54:12
Steven Pienaar is a class player, and in that we are lucky to have him. I believe in him, look at Tiago Mendes from Atletico Madrid (34 - though newly injured at the moment) is still very influential to the team. If Pienaar has passion for his game, I am sure he will put doubters upside down. I wish for him a full recovery and back in form, that is just perfect inforcement for our aim for this season. COYB.
Jay Harris
25
Posted 25/12/2015 at 03:27:56
I have always liked Pienaar as a footballer but like a number of our players he cant add goals to his portfolio.
Super Kev on the other hand CAN score goals and although his link up play is nowhere near as good is much more of a match winner.
Darryl Ritchie
26
Posted 25/12/2015 at 06:12:53
It's good to hear that McCarthy, Jagielka, and Oviedo are nearly fit. Their return will strengthen us considerably.
If we can get Steven Pienaar back and playing with the creative flair that he was playing with before the injury bug hit, even if only for the rest of this season, I will be satisfied. Anything longer than that will be a bonus.
William Cartwright
27
Posted 25/12/2015 at 08:04:46
Great player and well respected within he club and without. I don't like to see the rude "best get rid quick" mantra being spewed out by lots of ToffeeWebbers regarding Pienaar, Hibbo and Ossie for example. I am sure they contribute significantly behind the scenes.

Regarding Oviedo, well he still may have a good influence on the pitch. I always admired his character for coming back from that horrendous injury at Stevenage, and perhaps he needs just a wee bit of patience from managers and supportes alike to get fully up to speed. If it is not to be, then that would be sad but let the situation be treated with good grace. Let's show a bit of appreciation, patience and class when discussing the long-term future of ageing players.
Darren Hind
28
Posted 25/12/2015 at 08:23:36
Get him fit, get him playing.
A class act and if we can get a dozen or so games out of him, he could make a difference.
Derek Thomas
29
Posted 25/12/2015 at 10:04:59
Never been the same since he cut his dreds off. Put him out with the wilted Christmas tree.
Aidy Dews
30
Posted 25/12/2015 at 11:21:48
Pienaar, IF he can stay fit, is a good player. He's never been one of the quickest but his movement and link up play has always been a threat for us, plus he puts a shift in down the left and gives Baines great protection and support going either way down the left.
But his fitness of late is a major issue!
Harold Matthews
31
Posted 25/12/2015 at 12:28:21
Yes, playing behind a fit, active Pienaar, Baines had more assists than anyone in Europe. These days he barely gets past the halfway line. I was hoping Martinez would find or develop someone to replicate the Pienaar role but it hasn't happened. Not yet anyway.
Gavin McGarvey
32
Posted 25/12/2015 at 12:41:26
Fingers crossed for Pienaar. It's tough being out injured at his age in top class football. I hope we, at least, see a bit of a swan song from him.
One of my favourite players from the Moyes era. We've missed having players like him and Arteta since he left. Closest we've got is Gibson or Osman, and Gibson's fitness issues have held him back.
So let's hope for seeing Stevie and Baines ripping teams apart down that left wing, with their almost telepathic understanding.
Jim Bennings
33
Posted 25/12/2015 at 15:08:43
I've always made my feelings very clear of how highly I've rated Pienaar as an Everton player over the last 8 year's .
I disagree with those that say he wasn't the same following his return from Spurs, he was influential (along with Jelavic and Gibson) upon arrival in January 2012, he was the creative shot in the arm that meant the team started playing some fantastic football once again and our upturn in form at the end of the 2011/12 season was evident.
Sadly though, like most it's hard to see how he's ever going to regain those years now after years of injury and he's barely featured under Martinez.
Possible stay around until the end of the season for experience but I think that will be that once May arrives.
A sad end though to one of the more gifted players of the Moyes era without doubt, and the day's of Pienaar, Baines, Cahill and Arteta working in tandem was one of the reasons for high league finishes
Merry Christmas to all.
Sam Hoare
34
Posted 25/12/2015 at 15:35:42
If playing now he would be comfortably the most intelligent player football wise in our team. Wonderfully creative and also an extremely hard worker. We have missed him a lot and that left wing berth needs to be filled by a player of similar quality which it hasn't yet (no disrespect to Kone).
Peter Cummings
35
Posted 25/12/2015 at 15:50:13
Just like to wish ALL Scousers, both Red and Blue,all the very best for the festive season, all my red and blue relatives in Kirkby and St Helens and everyone at ToffeeWeb, Lets hope the boys turn things around in 2016,
From a many year old Blue fanatic in a warm and snowless Ontario
COYB
Roman Sidey
36
Posted 25/12/2015 at 16:23:26
Agree Pienaar will struggle to recreate his best form but a few bench cameos could be the difference between losses and draws, draws and wins.
Having Oviedo back will be a boost. He wasn't a crock until he snapped his leg in half two years ago, so hopefully this is just all one big hangover from that. Baines is almost finished at the top level so a player like Bryan would be a welcome replacement.
John Keating
37
Posted 25/12/2015 at 17:36:23
Rumour Osman is off to Hibs as player coach
Andrew Laird
38
Posted 25/12/2015 at 19:05:30
It's no surprise that Pienaar is struggling with injury, he has spent most of his career being targeted by hatchet men because of his ability on the ball in close quarters and superior football brain. A fit Pienaar is definitely a player that we could do with, a calm head and intelligence is severely lacking on the teamsheet.
Stephen Brown
39
Posted 25/12/2015 at 19:08:53
Pienaar has been a great player for us over the years but over the last two years he's been as relevant as Kevin Sheedy!
I hope I'm wrong but can't see him making any contribution moving forward!
Denis Richardson
40
Posted 25/12/2015 at 22:18:29
We've been here a few times already....if he can play a few games then that'll be a bonus but I'm not going to hold my breath. May as well get something for the 60k/week he gets.
Even if fit, his contract runs out in the summer and at 34 plus his recent injury history, I would be amazed if he was given another. (Then again, we gave Howard a 5 year deal when he was 34!)
Pienaar, Gibson, Osman, Hibbert, Kone, Oviedo....all players who's contracts run out in 6 months time. Looks like there'll be a big clear out in the summer. Perfect for a new incoming manager once the new owners come in (here's hoping anyway).
James Flynn
41
Posted 25/12/2015 at 23:35:26
Denis (37) - Pienaar, like Osman and Hibbert, leaves in May.
Kone won't go, another year added to his contract based on appearances. That extension trigger might explain why Roberto kept playing him. Strange that. I wondered, and still do, why Roberto kept playing him.
Gibson and Oveido are different. For one, Gibby is "older", yet just turned 28. Seems he's fit now. Bryan still hasn't the found the balance he had before his leg was broke in two. Hate to think he can't finish this season. He's a player.
We'll see.
Harold Matthews
42
Posted 26/12/2015 at 03:22:22
Thanks James. Didn't know about this contract extension trigger business. I've long been a Kone supporter but have gone off him quite considerably of late.
Strange how decent players like Mirallis, Naismith and Gibson have been frozen out. Even when used as subs it's been too late late to make a game changing impact.
The Oviedo story is a heartbreaker. A terrific two footed player with a great fighting attitude, I pray that his hamstring problems have been finally sorted.
Phil Sammon
43
Posted 26/12/2015 at 03:39:50
Harold
You're quite correct that Oviedo has two feet...but he can only kick with one of them. I recall him scoring one with his right from a fair distance, but that strike aside I would actually say he's a very heavily left-footed player.
Certainly has a great attitude though and always has a smile despite his misfortune. I hope he still has a part to play.
Ernie Baywood
44
Posted 26/12/2015 at 04:33:18
Harold, I think we rate those players more highly the more we see of them. When Naismith gets a regular run in the team he'll always be average. Mirallas should be the exception but, disappointingly, isn't. Gibson isn't really worth worrying about as I don't see a long period of fitness being something we bed to concern ourselves with.
In my opinion Kone has done well. He's been exactly what he is - hardworking player of half decent ability.
Our best players seem to lack character, and our leaders seem to lack ability. It's up to Roberto to figure out whether he can improve on either deficiency our whether he needs an overhaul.
Jack Cross
45
Posted 26/12/2015 at 05:01:47
Pienaar was a pleasure to watch when he first came to us. And his partnership with Baines was sublime. They just had so much energy running off each other. Unmatchable really. Does anyone really believe they can get that back?
Once a player goes through injury after injury, it as to take it's toll, as well as his age being against him.
But lets see what he can do when he returns. There as got to be a place for him surely in this team. But if he just warms the bench, well he as to go.
Does anyone have any idea what as happened to Conor McAleny? Now he is a wasted talent in my mind.
Ernie Baywood
46
Posted 26/12/2015 at 05:04:35
Obviously that should have read "the less we see of them". Can't even blame my phone for that one.
Fran Mitchell
47
Posted 26/12/2015 at 11:03:15
Can't believe the negativity.
If we can get S.P. fit, then despite his age, he'll be a huge asset. 'Attackers over 28 are past it, only defenders continue into their thirties' whoever said that, you're talking bollocks. I could list names, but I can't be jibbed.
If we can get Pienaar in 10 games until the end of the season it would be a huge boost. End of.
Add Your Comments
In order to post a comment, you need to be logged in as a registered user of the site.
Or Sign up as a ToffeeWeb Member — it's free, takes just a few minutes and will allow you to post your comments on articles and Talking Points submissions across the site.
© ToffeeWeb