Newcastle United vs Everton
by

54 Comments [Jump to last]
| 26/12/2015
Match Preview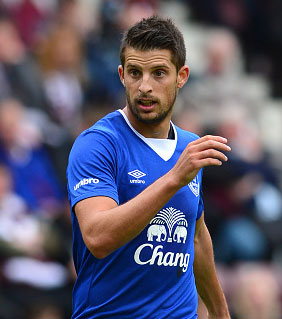 Has Kevin Mirallas done enough to earn a recall to the starting XI with his goal against Leicester?
Having enjoyed the last three Boxing Days at home, Everton have been handed a trip back to the northeast for this year's post-Christmas fixture to face improving Newcastle United at St James's Park.
The Blues have been pit against the same two teams to close out the year as in 2014 but in reverse order, with Stoke City the visitors to Goodison Park on Monday.
Roberto Martinez will, of course, be hoping for a very different outcome this time around. Last year, the defeats to the Potters and the Magpies represented the middle of an awful run of four straight defeats over the festive period that represented the real examination of the Catalan's tenure. At the time, there were fears that Everton could get sucked into a relegation dogfight but the ship was eventually righted and Martinez steered his side to an eleventh-place finish.
This year, Martinez is facing another stern test of his managerial abilities; the goal drought and dysfunction in the attacking side of his squad has been addressed with better service to Romelu Lukaku – the Belgian was dropped for this fixture last year – and a welcome return to form from the striker but defensive frailties and an inability to press home their superiority means that the Blues are under-achieving now for different reasons.
A match-up with Newcastle would have been most welcome a month ago when Steve McClaren's side were a directionless shambles but having won two of their last three since being hammered 5-1 by Crystal Palace – including wins at Tottenham and over Liverpool at home – have lifted them out of the bottom three and eased the pressure on their manager.
Despite that growing confidence, though, they remain vulnerable at the back and have a propensity to crumble under pressure which is something that Everton can target with the kind of strong start they made at Norwich. The key then, of course, will be to finish the job off by remaining tight at the back and keeping the likes of Georginio Wijnaldum, Ayoze Perez and Aleksander Mitrovic quiet. The Serb is almost certain to start given that Papisse Cisse looks likely to be ruled out with a hamstring injury.
Martinez, meanwhile, will likely name a similar side to the one that lost at Leicester last week but he could also be open to some changes as he searches for the key to turning recent performances into wins. James McCarthy should be very close to being fit again following a hip injury but in the manager's pre-match press conference, he grouped the Irishman with a quartet of returning players he expects to see come back over the next three weeks.
That might be a hint that McCarthy is still not quite ready and that Tom Cleverley will continue in defensive midfield alongside Gareth Barry. Should McCarthy make it, however, Cleverley could be moved to attacking left midfield at the expense of Arouna Kone who has struggled to reach levels he reached earlier in the campaign and looks ripe to be replaced.
Kevin Mirallas, of course, is the other player who could be named in Kone's role playing off Lukaku, something the fans would be happy to see and the Belgian certainly helped his prospects of a recall by scoring the consolation second goal in the 3-2 defeat to Leicester. Martinez has been reluctant to play two wingers in recent months, though, so if Mirallas is to feature, it could be at the expense of Gerard Deulofeu who had a frustating game against the Foxes. The Spaniard could be just the player to prey on the Toon's frail back line, though, so the team selection for this one is not as straightforward as it has been recently.
As Watford and Crystal Palace have shown, any team that can string some results together can take great strides towards the top four and it's imperative that Everton start doing that now before the fixtures become, on paper, that much more difficult again in the New Year. Back-to-back wins to finish 2015 would provide an excellent shot in the arm before the visit of Tottenham so all to play for in the next three days.
Kick off: 5.30pm
Referee: Lee Mason
Predicted line-up: Howard, Coleman, Stones, Funes Mori, Baines, Barry, Cleverley, Deulofeu, Barkley, Mirallas, Lukaku
Full coverage: ToffeeWeb Match Report
---
Reader Comments (54)
Note: the following content is not moderated or vetted by the site owners at the time of submission. Comments are the responsibility of the poster. Disclaimer
Ian McDowell
1
Posted 26/12/2015 at 08:01:28
Morning all and merry xmas. Boxing day has go to be my favourite day of the year. Racing, Cricket, Footy and Darts are all on. I'd like to see a couple of changes for today. Maybe Lennon and Mirallas in for Delufeou and Kone. Both should be itching to get a game and prove a point and surely with Stoke less than 48 hours later a little rotation is required to prevent injuries more than anything. COYB!
Neil Wood
2
Posted 26/12/2015 at 08:12:14
Good Morning all, thanks for the write up Lyndon and Merry Christmas to you all.
Onto today's game... Delefeou had a somewhat frustrating game at Foxes that I agree but imo he is undroppable. You only need to look at the assist stats to see that.
We have no one else with that natural ability to create something from nothing or one piece of genuine class.
An early goal from a Romelu volley to open the scoring today and a 3-0 victory to the blues !
Neil Wood
3
Posted 26/12/2015 at 08:13:55
My line up
HOWARD
COLEMAN STONES MORI BAINES
BARRY CLEVERLEY
DEL BARKLEY KONE
ROM
Mark Melton
4
Posted 26/12/2015 at 08:30:18
We're often blind to players from other teams. The reason Gerry was ineffective against Leicester is because Fuchs, having an amazing season, marked him out of the game in one of the best full back performances I have seen for a long time. I say keep him in for this game. He won't face that quality of opponent again this season.
Terence Tipler
5
Posted 26/12/2015 at 08:31:23
I'd like to see Kone rested today, and Mirallas given a start.
Gordon Roberts
6
Posted 26/12/2015 at 08:31:35
A must-win game today given we haven't won a single match since McCarthy went off against Bournmeouth. Interesting to see what Roberto does if we are losing with 25 minutes to go. Big period in our season about to commence.
Liu Weixian
7
Posted 26/12/2015 at 09:12:28
Is Steve McClaren bringing his umbrella, by any chance? Our gaffer may want to borrow it just in case things go tits up. I'm expecting the worst.
Colin Glassar
8
Posted 26/12/2015 at 09:21:33
The toon defence is awful so I'd like to see Gerri and Mirallas start. I know Gerri probably needs a rest but he could have a field day today. I'd also like to see Galloway given a chance next to Stonesy and Robles in goal (never going to happen I know) so my team would be:
Robles
Coleman
Stones
Galloway
Baines
Del
Macca (if fit) or Cleverley
Barry
Mirallas
Barkley
Lukaku
Neil Wood
9
Posted 26/12/2015 at 09:25:32
Interesting Colin.... I'd like to see Galloway in the middle but not sure today the right day against Mitrovic.
Jim Bennings
10
Posted 26/12/2015 at 09:27:32
I'm not too sure I'd say "having enjoyed the last few Boxing Day's at home" after losing to both Stoke and Sunderland, but I catch the drift, it's another long jaunt to the North East.
Will the match go ahead given how bad the weather is going to be up there today?
Dave Abrahams
12
Posted 26/12/2015 at 09:43:32
Martinez holds the key here, he could give us all a boost, including som of the players, by playing Robles in goal and giving Lennon and one or two others a start.
Colin I know you can't start two left footed centre backs but Mori was better than Stones last week, IMO, so why drop him.
Harold Matthews
13
Posted 26/12/2015 at 09:45:37
Can't see Toon scoring so I predict a 1-0 win.
Paul Thompson
16
Posted 26/12/2015 at 10:01:41
Harold - I can see any team scoring from a corner of free kick and Metrovic is the most likely beneficiary.
We've had some good results here in recent years. An early goal would dampen their spirits. An early Xmas present would be not playing Kone, but I suppose that's too much to hope for.
Dave Pritchard
18
Posted 26/12/2015 at 10:15:28
Wish I had your confidence about our defence Harold. Hope you're right though.
James Stewart
19
Posted 26/12/2015 at 10:16:01
@8 I like that team I'd go with it. Galloway should be given a go at centre back. He can't do any worse than Mori against Leicester. Mirallas has to start.
Mike Hayes
20
Posted 26/12/2015 at 10:32:51
Morning and merry Christmas
I prefer Colin's line-up to Neil's which is a Martinez line-up which is probably THE line-up – toon will score and if we play the same way as we did against Leicester it'll be three points given not lost. COYB
Jim Bennings
21
Posted 26/12/2015 at 10:33:22
Newcastle will almost certainly score today, it is about the usual, can we score more than them?
The Geordies have had a poor season but they've won at Tottenham and beaten Liverpool in the last few weeks, something we don't exactly do much, so there has been signs of life there.
If Mirallas and Naismith see no action over these next two games I'd safely say you've seen the last of them in Everton shirts, such a shame and as I say they will need replacing with likewise ready made Premier League experienced replacements.
Trevor Peers
22
Posted 26/12/2015 at 10:41:11
Teams must relish playing against our casual defence, we usually need three goals to secure a win. Not one of our favorite grounds for grabbing a win either, so a draw looks on the cards.
Mirallas should be given the nod over Kone who looks knackered !

Clive Rogers
23
Posted 26/12/2015 at 10:41:59
In truth, Martinez doesn't have many options as the squad is so unbalanced. Mirallas in for Kone, but I can't see other changes that would improve the team. Our MF players are all too similar and don't score goals. Lennon is a worse option than Dell. None of our defensive MF players has scored a goal yet this season. He desperately needs to strengthen next month.
Mike Keating
24
Posted 26/12/2015 at 10:43:53
I'm sure Mo Besic was declared fit and raring to go 3 weeks ago and is the natural cover for CM so what has happened to him?
Mirallas must play ahead of Kone and Lennon on for Deulofeu to run them into the ground for the last 20 mins.
Lukaku to score (from a corner) and Geordies to squelch off home with 10 minutes to go – our travelling support ringing in their ears.
Gordon Roberts
25
Posted 26/12/2015 at 10:47:13
Colin (#8). I agree with you re Galloway, play him in his natural position. Besic is a more natural replacement for McCarthy, and I would put Cleverley for Mirallas.
Bobby Thomas
26
Posted 26/12/2015 at 11:04:35
Harold #12
As much as I would like that result we just don't do clean sheets. We generally need at least 2 to win.
Could be high scoring today although with us you never know what's likely to happen.
Kim Vivian
27
Posted 26/12/2015 at 11:11:44
Merry Boxmas to one and all. Hope yesterday was good.
Another day of fixtures to look forward to and got to get my powers of diplomacy up to the mark as I work out how to quietly watch the game on my laptop while suffering at (or possibly escaping from) the in-laws. Should get a good result here but I am more nervous each week as to how the rub of the green will work out. We must be due some good luck and I reckon could go 2-0 or 2-1 today. Nerve wracking.
Would like to see Baines playing in front of Galloway pinging crosses in from the left for Rom while Del does the same from the right, and also Kev in behind Rom. Ain't going to happen but let's keep Rom scoring and take Vardy's record before the noise dies down!
Off topic but I have managed to get two tickets for the City game on the 6th and it's areal long haul up and back from Kent and I do not want to wipe my son and myself out by falling asleep on the motorway coming back. Does anyone know if Pat's guest house in Florence street is a) still operating and b) any good. Reviews look good. Other than that - does anyone know of a similar sort of place for b&b on the 6th, preferably with parking, which is in reasonable striking distance of Goodison. Any local nuggets or tips most welcome.
Cheers and COYB today. I'm really looking forward to us doing a "wWolfsburg" on City.
Barry Thompson
28
Posted 26/12/2015 at 11:21:50
"Despite that growing confidence, though, they remain vulnerable at the back and have a propensity to crumble under pressure which is something that Everton can target with the kind of strong start they made at Norwich".
McClaren will be telling his lot the very same thing. Suprisingly, given how shit Newcastle are, that if they win today they are only 3 points behind us in the table.
Tony Twist
29
Posted 26/12/2015 at 11:22:35
Merry Christmas to all. What we have to do is just not concede but I think this is beyond Martinez. I would like to see Mirallas playing with del and lukaku up front. Besic, Barry and McCarthy (else cleverley) in midfield and Coleman, stones, mori and baines at the back and Robles in goal. Barkley and Naismith to replace besic and Mirallas if all is going well. COYB.
James Marshall
30
Posted 26/12/2015 at 11:55:11
One win in ten games so we're due one today. Sadly it'll be on at 3am here and I have a flight to catch in the morning so I'm missing only my second game of the season (albeit on telly).
Keith Monaghan
31
Posted 26/12/2015 at 12:07:48
One of my biggest worries about this game is the ref LEE MASON - the worst in the league and always twists his knife in us - a real nasty piece of work!
To get anything we must have all 11 on the pitch playing for 90+ minutes - no strollers.
COYB
Steavey Buckley
32
Posted 26/12/2015 at 12:12:15
The most maddening aspect of Martinez selection is him playing proper width on the right side but then playing a centre forward Kone on the other, while an experienced winger in the shape and form of Lennon keeps keeping the substitutes bench warm.
This is one of the reasons why Everton keep drawing matches and not winning them. By all means, play Kone when Rom needs a rest during the match to save him for another day, but having him playing on the left wing when he has no pace, when he can't even fire a shot off with any confidence at the moment, does give the impression he is not even the second striker.
Ste Traverse
33
Posted 26/12/2015 at 12:29:23
Martinez deserves to be handed his p45 on the spot should he give his little favourite Kone a start ahead of Mirallas.
Kev has waited a long time for a chance and this is the perfect time to give him a run in the side. The credit Kone got for his hat-trick has long since run out and he simply is offering very little beyond hard work right now. Drop him.

Don't think we'll win this tonight. Yet another score draw I think is on the cards.
John Keating
34
Posted 26/12/2015 at 12:57:05
Listening to Soccer Saturday and them talking about Man Utd, 5th in the league by the way.
Slow boring build up play, poor defensively, playing players out of position, predictable in their play.
Their conclusion was it was unacceptable.
Don't think they've got to Everton yet but they'll probably run the same VT and just dub in Everton for Man Utd
Dave Pritchard
35
Posted 26/12/2015 at 13:13:01
I am not a big fan of Mirallas but I do think he needs to be given a start today over Kone. Can't really decide on Deleufeo. If he starts give him an hour as he always fades by then or bring him on with 30 minutes left. If he doesn't start I'd go with Lennon.
Phil Sammon
36
Posted 26/12/2015 at 13:16:40
No point even debating it. We all know what team will come trotting out the tunnel.
Dave Abrahams
37
Posted 26/12/2015 at 13:19:10
Kim (22) hope you and your boy have safe return journey when you come for the league cup semi final, great supporters, coming all that way and it is on TV.Good luck.
Brian Abbott
38
Posted 26/12/2015 at 13:23:12
Writing here from sunny Durham and its absolutely hossing down. If the match does go ahead in these conditions it might be a bit of a lottery. Re the team I would defo play Gerri and will be really miffed if Kone starts rather than Mirallas. Conditions might also suit small nippy players like Lennon.
A win today would be a real boost, but a loss would be a total kick in the balls, especially looking at the coming fixtures.
PS LVG not looking particularly pleased at Stoke. 2-0 at the moment
Paul Jeronovich
39
Posted 26/12/2015 at 13:45:56
Back to basics today, no faffing round at the back and when required just put the ball in row fucking z.
Stephen Brown
40
Posted 26/12/2015 at 13:46:50
If the team is unchanged again that will be shocking. Has a team that failed to beat the likes of Bournmouth, Norwich, Crystal Palace and Leicester remained unchanged?! It can't happen surely ?
Mike Powell
41
Posted 26/12/2015 at 13:51:10
I would go with your team Lyndon. Mirallas must start, Kone is not a winger plus he as been a passenger in the last few games. Please for the umpteen time let our season start here with a win. No more draws.
Darren Hind
42
Posted 26/12/2015 at 14:01:34
I think Lyndon has named today's team.
I'd take an ugly 0-1 right now. We need to start accumulating points.
Jack Cross
43
Posted 26/12/2015 at 14:25:06
I can't see the game getting called off. Sky dictate to the clubs, not the other way around.
I think a 2. 2. draw is on the cards. I can't see us keeping a clean sheet, especially with these conditions.
Howard, isn't commanding in his area when the sun is cracking the flags, so only god knows how his handling will be in these wet conditions.
I hope Naismith, gets a game. He's my type of player. A pain in the are in the oppositions box. He is one player that isn't scared to get stuck in. And he might just edge it. Other than that, I think were looking at a draw.
Rob Hooton
44
Posted 26/12/2015 at 15:18:08
I hope Lyndon's line up is the one we see, it's what I'd pick!
COYB! Desperately need a win no matter how it comes
Kim Vivian
45
Posted 26/12/2015 at 15:46:59
Thnks Dave. Like I said elsewhere taking the boys to the old lady entrenches the dna. They love it.
Deffo planning to stay up there on the Weds tho'.
Paul Hewitt
46
Posted 26/12/2015 at 15:49:04
Mirallas must start today. Kone been poor of late and offers nothing.
Gary Heywood
47
Posted 26/12/2015 at 15:57:31
If we play Howard, Baines, Barry and Kone we will lose.
Jay Harris
48
Posted 26/12/2015 at 15:59:33
Harold I have got to the stage where I cant see us keeping a clean sheet against anyone but we are due one so lets hope you're right.
Phil Sammon
49
Posted 26/12/2015 at 16:05:33
Gary 39
What nonsense.
Barry has been good this season and Baines is a top player coming back from a serious injury. Howard is a joke, I don't know how you can lump those two in with him.
Jim Bennings
50
Posted 26/12/2015 at 16:19:01
It's hard to imagine we'll beat such a well drilled Stoke team on Monday so you'd have to say this evenings game is bordering on must win, it's no use drawing, teams like Watford, Stoke, teams above around and even below us are WINNING.
If we are not careful, well be doing exactly the same as we did this time last year and sleepwalk into a relegation battle.
At the moment it feels likes it's only us and three or four others that actually aren't winning.
Brian Porter
51
Posted 26/12/2015 at 16:33:43
Team announced. Mirallas in but still no Naismith on the bench. Kone preferred! We need to keep Naisy in the squad so what is Martinez doing. Kone has been all but useless in the last three games.
Ste Traverse
52
Posted 26/12/2015 at 16:35:11
Everton starting XI: Howard, Baines, Funes Mori, Stones, Coleman, Barry, Cleverley, Mirallas, Barkley, Lennon, Lukaku.
No Kone thank fuck.

Jim Bennings
53
Posted 26/12/2015 at 16:37:37
Can't really argue with the changes, it's not like we have been winning so we can't argue!
Its a chance for Lennon and Mirallas to push Deulofeu for a starting berth.
Clive Rogers
54
Posted 26/12/2015 at 16:42:29
Not impressed with him selecting Lennon, but we'll see.
Clive Rogers
55
Posted 26/12/2015 at 16:43:11
Naismith must be on his way.
Sam Hoare
56
Posted 26/12/2015 at 16:50:19
2 wingers!! Goodness. Forgotten what winning feels like. Hope to remember soon.
Sam Hoare
57
Posted 26/12/2015 at 16:52:09
Ps wish we'd bought vertonghen or alderwereild (?) to add to our Belgian contingent. Spurs will get top 4 due to their tough defence this year.
Harold Matthews
58
Posted 27/12/2015 at 06:43:50
Yes, Sam, Spurs have a big strong, tough defence with a young mobile mountain, Eric Dier, in the Barry role. Saints have Fonte, Van Dyke, Wanyama and other big hardmen, all useful at set pieces.
After watching the first two televised Premier League matches I realized we were up against it. In an effort to keep things flowing, referees were turning a blind eye to much of the rough stuff. Indeed, our away game to Spurs saw them get away with murder. Cleverley was crippled by Dier and their other defenders took no prisoners.
Right now we are sitting ducks to big, strong mobile outfits and we'll need to harden up in every area. The officials will offer no help.
Add Your Comments
In order to post a comment, you need to be logged in as a registered user of the site.
Or Sign up as a ToffeeWeb Member — it's free, takes just a few minutes and will allow you to post your comments on articles and Talking Points submissions across the site.
© ToffeeWeb