Wages would prevent McGeady rejoining Celtic
by

67 Comments [Jump to last]
| 01/01/2016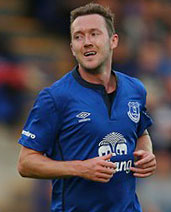 Celtic boss Ronny Deila says that it's unlikely his club will bring Aiden McGeady back to Parkhead this month amid speculation the winger will return to the Scottish Premier League.
The 29-year-old battled niggling injuries for much of 2015 and that, combined with the arrivals of Aaron Lennon and Gerard Deulofeu, has seen him drop out of the Everton side altogether.
McGeady has been linked with a move back to Celtic, the club he left to join Spartak Moscow in 2010, as he seeks first-team football ahead of the European Championships but Deila admits the Hoops would need him to drop his wages to come "home".
"We have tried before to get those types of players, but they get three times the salary at other places," he said. "It's also more interesting for them to play in England than Scotland. It's tough and you never say never, but it's a different planet when you talk salaries.
"We would not be able to pay the salary that the likes of McGeady are on. The difference is so unbelievably big that's there is no chance. The wage structure would be broken 10 times if we did that!
"Maybe with players like McGeady, who has been here before, when he reaches the end of his career he'll want to come back again. That's possible, of course. "But I haven't talked with him about that, although these types of names we are talking about."
McGeady was signed by Roberto Martinez, a player he had long admired, in January 2014 but he has made just one appearance as a substitute so far this season.
---
Reader Comments (67)
Note: the following content is not moderated or vetted by the site owners at the time of submission. Comments are the responsibility of the poster. Disclaimer
Gary Edwards
1
Posted 01/01/2016 at 18:10:10
'Tis a pity. Indicative of the state of Scottish football... a total mess.
Joe Edwards
2
Posted 01/01/2016 at 18:15:10
Can't we just give him away?
Frank Crewe
3
Posted 01/01/2016 at 18:26:46
The wages clubs pay in this country have become ridiculous. Even middling clubs like Stoke City, West Brom and Newcastle Utd can see off top European clubs because of the wages they can offer. A five-year deal at a half-decent Premier League club and you are set for life.
Of course the downside is if they turn out to be rubbish like McGeady you're stuck with them.
David Barks
4
Posted 01/01/2016 at 18:36:48
Frank,
Middling clubs like Stoke City, who are above us, and West Brom who are only 3 points behind us? The wages are dictated by the revenue generated.

Nobody around the world gives two shits about Scottish football, but the Premier League is watched around the world. That's why the wages are so much higher, there is a much higher demand and for God's sake why shouldn't the players benefit as opposed to all that TV revenue just lining the pockets of the owners?
Andrew Laird
5
Posted 01/01/2016 at 18:48:24
McGeady gets wages? That is the travesty to this story.
Fat lad will stay for his contract, why would he take a pay cut when he can turn up for training each morning, be home by 1pm and get paid 㿊k a week for the next 2½ years without ever having to actually do anything.
Giving this waster, who was training with Spartak U16s at the time, a 4½-year contract should be a sackable offence.
Matt Muzi
6
Posted 01/01/2016 at 18:53:02
Damn... I was hoping Celtic would take him back this window!!
Brian Murray
7
Posted 01/01/2016 at 18:59:35
I've been a blue 45 years, named after Labby. I'm making my debut on here and all I can add is it's in our DNA – from Bill Kenwright at the top to the arrogant yank in goal – to always be glorious failures.

We have a lifetime of bad calls selecting a boss; I feel sorry for my kids. At least we've seen a bit until them shower of shite snatched it all back. Anyway, just accept it unless you want to die screaming...

COYB
Frank Crewe
8
Posted 01/01/2016 at 19:01:55
Above or below us they are still middling clubs. We are a middling club. I think you are missing the point.
Celtic have a bigger ground than us. 60,000. We're gagging to be in the CL because we think that is where the money is yet a club that is in it every season can't afford Aidan McGeady!!
What I'm saying is non-english clubs, players and their agents see english clubs coming. It's as though english clubs can't wait to splurge their cash on just about any player we can get our hands on.
Doug Nestor
9
Posted 01/01/2016 at 19:17:58
Quite right Frank Crewe (2), the wages paid are ridiculous. The money should be spent on the infrastructure of the Club – Ground, Training Facilities etc – to ensure the Club is still here for another 100 years...
Brin Williams
10
Posted 01/01/2016 at 19:21:37
Gary Edwards 1
'Tis a pity. Indicative of the state of Scottish football ... a total mess.
'
No Gary It's indicative of the state of the Premier League – and Everton FC in particular – a total mess!
Dave Lynch
11
Posted 01/01/2016 at 19:21:39
Can't we pay half his wages for a year?
Would still save us a wedge cos he ain't gonna play again the useless twat.
Paul Tran
12
Posted 01/01/2016 at 19:38:54
It's only an issue for Scottish football because they can't match the top three English tiers for wages.

A couple of summers ago Caley Thistle were playing Fleetwood Town in a preseason friendly up here. Caley are in the SPL, Fleetwood were in what I still call the Fourth Division. The fourth tier English club had the bigger wage bill.

Frightening.....
James Stewart
14
Posted 01/01/2016 at 19:53:31
Utter waster and completely pointless signing.
Sam Hoare
15
Posted 01/01/2016 at 20:01:13
He'd get some goals or assists for the likes of Sunderland or Villa surely. Or maybe a rich Championship club? Someone has to take him and surely he will be desperate to get his place in the ROI team.
Barry Thompson
16
Posted 01/01/2016 at 20:01:51
So now we can't even sell a turkey at christmas
Martin O'Sullivan
17
Posted 01/01/2016 at 20:02:08
Mutual termination of contract just to get him off the wage bill could be an option as I can't see him ever playing for us again!!!
Steavey Buckley
18
Posted 01/01/2016 at 20:22:10
McGeady is a good impact player, who can do, without naming names, that others can't do, cross a ball to an Everton player. The amount of games this season when a good move broke down when an Everton player found the body, legs or head of the opposition defence instead of one of their own.
Ernie Baywood
19
Posted 01/01/2016 at 21:10:39
Martin, would you mutually terminate a contract with a massive salary? Me neither.
Dave Abrahams
20
Posted 01/01/2016 at 21:47:13
David (#3),
Why shouldn't the fans share in all this TV money? The players, even very average ones in the Premier League, get more than enough; fans pay through the nose to watch these players and it is time the price of tickets came down by at least 50%.
Shane Corcoran
21
Posted 01/01/2016 at 22:07:33
Andrew (#5) and James (#13), do you have any substance to your allegations or are your comments just typical of the average football fan?
Ian Riley
22
Posted 01/01/2016 at 22:07:48
Sadly not good enough for the Premier League. What the hell is his salary? Have to question the manager in buying him? The Russian league is hardly the most challenging??
Celtic can afford him but know Everton want rid!! Everton will need to pay him off or pay half the salary!!! Unbelievable salaries for doing so little!! It will end one day and owners will be begging fans to turn up!! Sky will pull the plug one day and God help us all!!!
James Stewart
23
Posted 01/01/2016 at 22:37:25
Substance to what Shane? It's common knowledge he turned down a move in the last transfer window. If he was interested in regular first team football he would have found it by now. Hasn't played regularly for years, doesn't take a genius to see why.
Shane Corcoran
24
Posted 01/01/2016 at 22:41:33
News to me, James. A move to where?
So you don't think he'll move then? His chances of playing at the Euros will be trumped by his greed/laziness or whatever it is that makes him a waster?
Andrew Laird
25
Posted 01/01/2016 at 22:45:18
The substance is out there already Shane, have a look for yourself.
Eddie Dunn
26
Posted 01/01/2016 at 23:05:17
It shows how desperate we were when we went in for him. We seem to have moved on from this kind of panic buy.
Austin at 26 is on offer for £15m, at QPR, and the left winger Phillips is still there too! Oh for some balance on the left, and a back-up for Rom,...or someone who could play off him.
Harold Matthews
28
Posted 01/01/2016 at 00:27:20
Martinez originally used The Geads to chase down quick left side subs. Something Lennon can do today and should have been doing against Stoke.
Unfortunately, this very fast Irish lad is far too careless on the ball but still remains the best crosser with either foot in the squad. Also, unlike too many of our lads, he can shoot and I never mind when we chuck him on for the last 10 minutes.
Eddie, I hope you're right about us moving on from the panic buy because, the way things are going with our paper thin squad, we could be pretty desperate come the Window. An injury to any one of Coleman, Stones, Funes Mori, Lukaku, Barkley or Barry would ring the alarm bells from lower Gwladys Street to Bills West End office.
James Ford
29
Posted 02/01/2016 at 00:27:59
Sounds like he's on a lot more than £30k a week. All for someone with absolutely no footballing brain (or ability) whatsoever... Osman gets stick on here, but at least he can pick the odd pass.

How this guy is a multi-millionaire footballer with his ability is a sad representation of the modern game. Maybe a desperate Sunderland will save us...
Mark Andersson
30
Posted 02/01/2016 at 00:56:39
Give the lad a chance to prove that Martinez is a good judge of character and has a eye for a phenomenal player.
I think he has been unfairly treated since the day he arrived overweight and looking embarrassed.
It can't be easy being a fringe player with a manager who should be wearing a white coat to go with his brown shoes.
Oh I'm sick to death about calls to buy Charlie Austin, Like he would come here even if blue Bill sanctioned the move.
On current form, we are sliding down the league.
Jim Hardin
31
Posted 02/01/2016 at 02:15:50
Bit unfair to criticize the wages of the player. Remember, that Everton was in a different position regarding striker/forward at the time McGeady was signed during the 2013-14 season. We had Naismith and Mirallas and Kone. Lukaku was on loan as were Deulofeu and Traore. Jelavic and Anichebe left so McGeady was crucial cover for the team going into the second half of that season and the summer window.
I think it is fair to say that McGeady is not of the class of either Lukaku or Deulofeu. He is not a left-sided player and is not needed with Naismith and Mirallas being better at scoring and Lennon at defensive work. However, this was not the situation at the time of the signing.
I think it also fair to say that despite his shortcomings, his presence has made it possible for Everton to not have to spend money to sign a similar player and instead look to bring in better players the last transfer window, whether successful or not. If Naismith leaves, he may well be important for playing time due to injury or suspension or because neither Lennon or Mirallas can, per RM, play two games in a very short time period due to being sprinters.
Eric Myles
32
Posted 02/01/2016 at 03:28:17
Ernie (#16), depends on the pay-off I'd get.
Mark Robson
33
Posted 02/01/2016 at 08:00:07
Can't we all have a whip round and a few buckets at the game tomorrow, there must be a way to help him on his way!

Brian Porter
34
Posted 02/01/2016 at 08:38:02
Steavey (#15), whilst I agree that he can put in a good cross, I think most people's grouse with McGeady is that he so often fails to do so. Instead, he runs the ball into the corner where he either loses it to the defender or simply runs it out of play. While Geri is adept at putting in telling early crosses, this lad wants all day to make his mind up, hence his propensity for bringing no end product to his game.

To parody an old saying from World War Two, referring to the Americans being stationed in Britain, he's overpaid, overweight and over here! I'd pay someone to take him. He is useless dead weight... 'weight' being the operative word!
Michael Penley
35
Posted 02/01/2016 at 08:47:09
I still don't understand why wages would stop him going? Can't he say "I want to play again" and go? What's stopping him from moving for other reasons than wages?
Danny Broderick
36
Posted 02/01/2016 at 09:07:26
Surely Sunderand or Villa might have a look at him? Give us a couple of million, or take him on loan? There's got to be someone who will have a look at him, and with the Euros coming up, he needs to play if he wants to go.
He was brought in as a gamble and to beef up the squad, but it hasn't worked out for him and we no longer need him...
Eddie Dunn
37
Posted 02/01/2016 at 10:00:53
Amazingly, he still features in the Irish squad, but surely, if he has any ambition, he would want first team footy to get into that Irish starting 11 at the Euros.
Brin Williams
38
Posted 02/01/2016 at 10:09:09
ED 31. So what you're saying is that he wants both £ (pounds) and Euros.

Andrew Presly
40
Posted 02/01/2016 at 10:52:29
McGeady will get into the ROI squad for the Euros regardless of whether he plays another minute for us from now until the end of the season.
They're a poor side with little to no flair and he has credit in the bank for those important qualifier goals away in Georgia or somewhere.
Ireland picked a guy who didn't even have a professional club (Paul Green?!) and played him over Gibson at the last tournament.
Mark Rimmer
41
Posted 02/01/2016 at 11:27:30
I often wonder if these type of players feel guilty about getting paid such a massive amount of money for doing absolutely nothing. I suspect the answer would be "no" as they lose a grip of reality as soon as they sign that first pro contract at 16, but I would love to hear the answer.
Jon Withey
42
Posted 02/01/2016 at 11:57:49
This is exactly why we should stop using the words 'free transfer' – wages are so high as to make transfer fees much less relevant.
You'd think a bottom Premier League club or a promotion-chasing Championship club might be interested; but, seeing as we never play him, he isn't exactly in the shop window.
The pragmatic approach is a loan at some percentage of his wages.
Tony Hogan
43
Posted 02/01/2016 at 11:59:23
Andrew Laird
Giving this waster, who was training with Spartak U16s at the time, a 4½-year contract should be a sackable offence.
Spot-on, Andrew, also this clown of a Manager paid a fee for him when he could have signed him on a free a few months later.
Jim Jennings
44
Posted 02/01/2016 at 12:22:22
Andrew (#34),
Paul Green was out of contact since the end of the previous season, ie, a few weeks previously, so it's it like he'd been without a club long term (though he should still have never got off the bench ahead of Gibson).
McGeady might make the Euro 2016 squad but won't get near the starting XI if not playing regularly. He needs a move though I'm not convinced there'll be a queue of clubs lining up to take a punt on him.
Eddie Dunn
45
Posted 02/01/2016 at 12:48:59
I remember him scoring a cracker against Leicester last season, there is no doubt that he has talent but he gave the ball away too frequently. The fact that we went back for Lennon shows what Martinez must think of him.
Despite his skill and crossing ability, he is never trusted to even have the 10 mins that Harold would give him.
John Raftery
46
Posted 02/01/2016 at 13:21:44
Well, he isn't going to take a loss of pay with any move and who can blame him? I never thought McGeady was up to Premier League standard and we are stuck with him unless a desperate club such as Villa or Sunderland take a punt on him. Possible but unlikely.
Shane Corcoran
47
Posted 02/01/2016 at 13:49:09
Andrew #22, I had a look and couldn't find anything so you might explain now or is there a series of clues?
Andrew #34, I think Jim has put your tabloid-esque sensationalist fact to bed.
Kieran Kinsella
48
Posted 02/01/2016 at 14:30:19
McGeady is in the Adebayor and Bogarde mold. Happy to get a paycheck and not pay. Like that lad from Arsenal who wound up at Spurs via Norwich a few years back. Supposed to be the new Beckham.
Can't even remember his name now but he let his contract run out then called it a day as he had plenty of money but didn't like football.
Shane Corcoran
49
Posted 02/01/2016 at 14:41:29
Kieran, as I've asked the others, where are you getting this view from?
Matt Traynor
50
Posted 02/01/2016 at 14:44:19
Kieran - 41 - Are you thinking of David Bentley? I think Spurs paid £15m for him from Blackburn. Packed up just before he turned 30 I think. Too much too soon. You can be a millionaire now before kicking a ball for the first team.
Peter Gorman
51
Posted 02/01/2016 at 15:12:29
Like Shane, I am now getting a bit curious where people are getting this view from.
One thing to think he isn't good enough for the club (as I do), quite another to call him an utter waster.
I looked up the bit about training with the Spartak kids and apparently that was for 'ignoring team orders'. How intriguing! Looked that up and according to Spartak assistant coach Boris Pozdnyakov (no less) "He (McGeady) has repeatedly issued a desire to continue his career in England,"
Should be sacked on the spot.
Dave Lynch
52
Posted 02/01/2016 at 16:18:01
He's rubbish, end of.
Jeff Armstrong
53
Posted 02/01/2016 at 17:30:17
McGeady is going nowhere. I read in the Red Echo he's one of the top earners at the club I'd guess at £60k/wk.
He'll run down his contract and then go for free. The Euros probably won't interest him: 3 games of which he might get 15 minutes per game, tops. The only way we'll get rid is to keep paying him £50k and Celtic make up the rest.
Martinez is again at fault cos he thought he was repeating the Shaun Maloney trick he pulled off at Wigan. The trouble is, Bobby no-brains, he's a DIFFERENT player... and you're a chancer.
Andrew Laird
54
Posted 02/01/2016 at 18:19:28
Shane (#43) this is from the Oxford English dictionary, obviously it was hard to find....
waster – noun
noun: waster; plural noun: wasters
1. a wasteful person or thing.
informal: a person who does little or nothing of value.
Back at you Shane, would you like to argue that McGeady does not fit any of the above?
Andrew Laird
55
Posted 02/01/2016 at 19:43:47
Peter (#48),
McGeady was so unfit in January when we signed him that he could only provide cameos until he made his first start for Everton in August (EIGHT MONTHS LATER!).
This is a man who was paid to be a professional sportsman who could not even be bothered to keep himself in shape and be available to play while still being paid handsomely.
Kieran Kinsella
56
Posted 02/01/2016 at 19:45:42
Shane and Peter, since you asked, here's the dossier of evidence against McGeady.
Darren Dea, in a summer interview, said McGeady was a problem at Celtic, getting into rows and fistfights with team mates at Celtic.

Roy Keane earlier this year said McGeady "needs to knuckle down and fight for his place at Everton". The inference being that he hasn't knuckled down and isn't fighting for his place.

RM made a fanfare about signing him. We've seen RM stubbornly select his own signings such as Alcaraz and Kone above fan preferred inherited players such as Distin and Mirallas. McGeady is the one exception. Why?
Earlier this season, he had a League Cup game to show his worth and he was terrible and described as disinterested by reporters.
Spartak consigned him to exile because he wouldn't follow orders. He happily stayed there for a few years, picking up his paycheck. Ditto at Everton. Plenty of players such as Rodwell and Sinclair of Man City have agitated for a move and taken a pay cut to get first team football.

We've heard nothing from him or his agent suggesting he is wanting a move from Everton or Spartak so we can assume he's cool with the status quo. Moreover, Celtic this week said they can't sign him because of his wage demands.

Shall I go on? Would you require me to hook him up to a lie detector?
Jim Jennings
57
Posted 02/01/2016 at 19:46:26
Andrew #50
The second of those two definitions could just as easily be applied to you based on your contribution to this thread.
Andrew Laird
58
Posted 02/01/2016 at 19:55:07
Thanks, Jim.
James Marshall
59
Posted 03/01/2016 at 01:27:33
Maybe we should have a whip-round and drive him up there.
Fraser Auld
60
Posted 03/01/2016 at 13:09:38
Reports in the papers are putting his wages at £60,000 or €60,000 a week – either way, if true, it's scandalous.
You can't realistically see anybody paying him anywhere near that a week. Unless he wants to go and get first-team football, then we might be stuck with him... sadly.
Frank Crewe
61
Posted 03/01/2016 at 13:20:52
£60,000 a week!! Unbelievable. Isn't that what we are paying Lukaku?
Fraser Auld
62
Posted 03/01/2016 at 13:34:22
Although reports are mixed, it must be Euros, he just can't be on £60,000 a week, no way.
€60,000 is still around £45,000 a week, we've been rinsed here.
Shane Corcoran
63
Posted 03/01/2016 at 13:58:31
Andrew (#51), that post is beyond pathetic but I think Jim has dealt with you on that one.
Kieran (#52), Darren O'Dea said he got into fist fights with his teammates. Not nice behaviour at all. Constitutes a waster? Don't see how. Big Dunc's a waster – or does this definition only apply when it's players on your own team?
Any sentence beginning with "Roy Keane said" shouldn't be included in any argument but it suits yours. Keane criticised Shay Given for playing in friendlies for Ireland as he saw it as just adding to his caps.
Martinez fell out with Distin, so your point about Alcaraz is irrelevant.
Your Spartak one is particularly humorous. He was sent to train with the youth team in September 2013; he joined Everton in the next window. Cracking stuff.
To answer your last question, please don't.
Stu Gore
64
Posted 03/01/2016 at 14:39:19
Typo in the headline there. It's spelt "Talent" not "wages".
Kieran Kinsella
65
Posted 04/01/2016 at 01:18:20
Shane, I'm not sure of the motives behind your strange obsession with a fat 29-year-old waster but maybe you're still missing AvdM?

As for Dunc being an example of someone who's not a waster? Not a great one. Yeah he's passionate, he scored some big goals... but he let his talent go to waste with suspensions – not to mention a spell in prison.
Shane Corcoran
66
Posted 04/01/2016 at 10:00:57
You're a hoot Kieran. No obsession with McGeady at all. I wondered when you'd stoop to that line of questioning.
I'm happy to see him go. He's adding nothing to Everton's team and he's doing his and Ireland's chances at Euro 2016 no good either.
What bothers me is how the likes of you can, continually, sit at a keyboard and insult and throw accusations at someone with little substance. Do you do this elsewhere or are you going to hit me with the fact that McGeady will get over it due to his large pay packet? This is more about people like you rather than McGeady.
If you were basing anything you've said on fact then I'd say maybe you have a right to say it as you see it.
But this name-calling based on what O'Dea and Keane said, not to mention other inaccuracies is out of order, in my opinion.
Andy Crooks
67
Posted 04/01/2016 at 21:54:02
McGeady has been unlucky with injury and now seems out of favour. I don't know a thing about his attitude or greed or negative stuff about him and I don't know how some of the posters above do.
I think he is a good player who could be galvanised by an arm round the shoulder. If I was Villa coach I'd buy Naismith and take McGeady on loan.
Jim Jennings
68
Posted 04/01/2016 at 22:18:46
Kieran,
Would you mind posting a link to these comments where O'Dea says McGeady was a negative influence by getting into punch ups in training.
A quick internet search around O'Dea, McGeady and fist fights only brings up old news about the two boys themselves and Scott Brown being attacked outside a night club by, ahem..."rival fans" (which by the way is a better indicator of why McGeady might not want to go near Glasgow again rather than anything to do with wages)
I'm genuinely curious as to what O'Dea said, since him and McGeady were, by all accounts, good mates in their Celtic days.
Kristian Boyce
69
Posted 05/01/2016 at 02:32:01
McGeady took a pay cut to join us, and made an absolute fortune tax free in Russia. He could quit now and live his life a very rich man. His general unfitness the whole time here gives the impression of someone who doesn't have the desire to play for his wages.
Sam Morrison
70
Posted 05/01/2016 at 12:48:03
Has he been unfit the whole time he's been here? I thought he'd lost a fair bit of weight after looking slightly sheepish at being paraded around Goodison.
Add Your Comments
In order to post a comment, you need to be logged in as a registered user of the site.
Or Sign up as a ToffeeWeb Member — it's free, takes just a few minutes and will allow you to post your comments on articles and Talking Points submissions across the site.
© ToffeeWeb