Martinez aware that only Champions League football can keep stars at Everton
by

119 Comments [Jump to last]
| 08/01/2016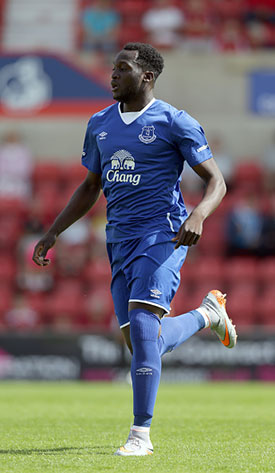 Martinez rejects the idea that there is an agreement to allow Romelu Lukaku to leave Everton this summer if the club doesn't make the Champions League
Roberto Martinez says that winning winning trophies is what Everton as a club is about but he is under no illusions that finishing in the top four and gaining access to European football's top competition is probably the only way to keep the club's best players at Goodison Park.
Speaking before Wednesday's Capital One Cup semi-final first leg in which Everton edged closer to Wembley with a 2-1 win over Manchester City, the manager denied that winning cups would be enough in the long run to hold onto players like Romelu Lukaku, John Stones and Ross Barkley.
He openly admits that Champions League football is the primary ambition of the game's best players and his stars are unlikely to be any different.
"I don't think winning a cup will keep the young players, I think qualifying for the Champions League could help to keep young players," Martínez said in The Guardian.
"I wouldn't say I don't want to win silverware, because that is what this club is about and our aim is to have that drive and ambition to do that, but the aim is to get into the top four and that is what we have set out to achieve.
"How long that is going to take I don't know, but I don't think winning a cup will help us to keep players. What will make it easier in the modern game is to fight for the top four positions in the league."
By the same token, however, while he accepts that it would be impossible to keep a player who was adamant about leaving, he rejects the notion that there are agreements in place to allow the likes of Lukaku and Stones to leave Everton this summer should the club fall short of that top-four target this season.
"That is not true, I would never do that," he said in a separate Guardian article. "I think that would be very negative. If you do that could you imagine the last two months for that player? He would never put a leg in or never challenge for the ball. I don't agree with doing that. I know you can do that to keep a player for another 12 months but if you're not going to have a player 12 months down the line you need to start replacing him to have a stronger team.
"Actions speak louder than words," he continued "We had a player that any other club would have sold last summer but we didn't. We could not have been more clear and resolute in our project. There are right moments and wrong moments to lose a player.
"I'm saying to every single Evertonian to trust we will make the right decision on football terms, it is not going to be on financial terms. It is not going to be about balancing the books. That would be very wrong, dangerous or negative.
"But, in the same way in the modern game, young players need to be in the position that they want to stay in the club. It is the only way you can have a winning team if the players want to perform. To keep them wanting to play for our football club is to achieve and to grow and to play in the best competitions.
"That doesn't mean we are going to sell them if we don't get in the Champions League, but you wouldn't want to keep a player that doesn't want to represent our shirt either. You have to be realistic."
---
Reader Comments (119)
Note: the following content is not moderated or vetted by the site owners at the time of submission. Comments are the responsibility of the poster. Disclaimer
Brian Porter
1
Posted 08/01/2016 at 08:52:17
If we don't make the top four this season, or at worst the top six, Martinez will only have himself to blame and we, the supporters will be the ones to suffer another season of mediocrity and under achievement.

How many points has calamity keeper Tim Howard cost us already this season, 6,8? Those points would have put us in a real challenging position but Martinez blindly and stubbornly refuses to drop blunderman.

At times, RMs team selections and use (or not use) of substitutions has cost us dearly, as has his constant selection of an out of form and ineffective Arouna Kone. As a result we will probably lose the goal scoring potential of Steven Naismith this month while continuing to pay Kone's wages for little or no return.

Since the Sunderland game Kone has produced nothing as a second striker with Ramiro Funes Mori scoring twice to his zero contribution. In fact I think Funes Mori has only been out-scored by Rom and Ross since the Bournemouth game! None of us want to see our best young players leave as it would leave us facing even more years in the Premier League wilderness, and even a possible relegation fight next year, but Martinez is the one who could have turned things round before Christmas if he'd acted as a good manager should and addressed the major problems in the goalkeeping position and tactics and in-game management sooner.

It was a joy to see the defence visibly relaxed and confident with Robles behind them. Were you watching Roberto, because we were? He needs to be firm, make some tough decisions. After all that's what he's paid to do. Stop playing favourites and pick form players. If that means Jags stays on the bench while Funes Mori is doing so well with his much younger legs, then so be it.

Don't just bring him back because he's fit, because you could just unbalance what is finally turning into a damn good team, albeit a little late in the day for those top six places.
Jim Bennings
2
Posted 08/01/2016 at 09:18:23
There's no 'if's and 'but's about making the top 4 this season, it's simply not going to happen now! The challenge faced with Martinez in the summer, assuming he's still Everton manager, will be to somehow convince Lukaku to stay one more year, Lukaku for me is the one player we can't afford to close, goals are a priceless commodity in football.
I always believe you can replace a defender, at the end of the day their job is just to first and foremost defend, but a 25-goal-a-season striker is gold.
I just feel though that this was the one season we HAD to really push on for the top 4, as the season as progressed it looks like being more and more a missed opportunity, nearly every candidate has been in either transition or turmoil, from Liverpool to Manchester United to Chelsea.
Sadly I believe next season these teams will all be stronger under better management with better players.
We should have been one often more settled teams playing with roughly the same group since Martinez took over, we should have been up where Tottenham and Leicester are. The reason we are not is because we have not been good enough or consistent enough at winning matches.
We should have really speculated to accumulate last summer, we should have spent more money on rectifying problem areas, instead we spent little money on squad player's, apart from Funes Mori, but even he probably would have been on the bench if Jagielka had been fit. It definitely will be looked back on as a missed opportunity.
Dave Abrahams
3
Posted 08/01/2016 at 09:23:13
John Stones has been the subject of bids over £40M and yet surprisingly is still on the same contract he signed before these bids came in. Is there a reason he hasn't been offered a new contract?
John Atkins
4
Posted 08/01/2016 at 09:24:57
No chance of us getting top 4 now but I still think we can qualify for the Europa League either via the league or winning the League Cup (if City win it then that's another place up for grabs in the league)
Whether we want Europa is another debate but it might be enough to keep the better players for at least another year. He can play Howard tomorrow for me then bring Robles back in for the big games!
I agree Brian the defence looked so much more relaxed on Wednesday night and you could even feel it with the fans.
Graham Mockford
5
Posted 08/01/2016 at 09:34:36
Dave (#3),
My understanding is that negotiations are ongoing. The sticking point is Stone's representatives wanting a release clause inserted.
He is contracted currently until 2019 so Everton agreeing to a release clause just makes us a hostage to fortune around the timing of any sale, ie it could be triggered in this transfer window.
I suspect he won't be signing a new contract and will be off in the Summer. If the club are resigned to that there is no point giving him an extra –30k a week or so for six months.
Although I would hate to see him leave it will happen, the important thing is we plan for it and have a replacement lined up.
Winston Williamson
6
Posted 08/01/2016 at 09:37:52
It's like burning the dinner and then complaining you're hungry!
Dave Abrahams
7
Posted 08/01/2016 at 09:43:07
Graham (5) yes, Graham that makes sense and I think you are right Stones will be gone in the summer.
How is Lukaku getting on with his heading?!!!!
Jakob Herd
8
Posted 08/01/2016 at 09:43:42
Lukaku will potentially score 30 goals in all competitions this season, considering he has 19 to date. Unfortunately that will be flashing lights to any Champions League club...

I will sorry to see one of Europe's most promising players depart in summer, but depart he surely will.
Jim Bennings
9
Posted 08/01/2016 at 09:50:44
John
The only way I want the Europa League next season is if it's the result of us winning a trophy.
It's not worth getting in it just to hear it become an excuse for another season of poor league form, last year too many fans were ready to make it as an excuse for our failings.
Brent Stephens
10
Posted 08/01/2016 at 09:52:51
Graham #5 - what if a new contract included a release clause which more than covered the extra £30k or so a week?
Brian Porter
11
Posted 08/01/2016 at 10:00:31
John Atkins (#4), thank you. I'm glad you saw and felt the difference in the attitude of the 1 on Wednesday. It was good for us fans not to have to hold our breath and cross our fingers every time a cross came in or a corner was taken.

If only Martinez could see what the rest of us can see things might be very different for the rest of the season but sadly, I fear his stubbornness and know-it-all mindset will keep Howard as #1 until it's too late to save our season.

It would be a sad indictment on Martinez's managerial reign if his blind faith in an ageing, over the hill error-prone goalkeeper was to lead to the collective departure of some of the finest talent we've had at the club for many years. The more time goes on the more I feel Martinez is simply proving his unsuitability to manage at Premier League level, certainly at a club like ours.
Darren Bailey
12
Posted 08/01/2016 at 10:11:16
There we go people, the first indication that we will lose players in the summer. This is something I have been saying for ages. We won't make the top 4 and I agree with both the 1st two posts above that this was a big "missed" opportunity to reach the Champions League. Chelsea out of the running and Liverpool's inconsistent form have thrown the top 4 wide open and it's Leicester and Spurs that have taken that opportunity. It should have been us as this squad (or first 11 really as I still feel the squad isn't quite there) and with the players we have we have massively underperformed.
There's no point in having this outstanding talent if it's not being used in the right way and that's down to the manager for me. It saddens me to think that we really had a great chance of building something with this group of players, something that could have lasted and built upon and it's all going to fall apart come the summer.
I can see both Stones and Rom leaving, Barkley will hopefully stay and my hope is that with the funds received from the sales it will be re-invested in the right way. My other fear here though is that, if the potential takeover doesn't happen, I don't have any faith in the current board to make the most of the incoming funds. Again this saddens me to think that as excited as I want to get that we have these great players there's that inevitability that it's not going to last.
Last summer was our opportunity to build on the potential by bringing in some quality players to challenge. Shaqiri was the big one for me and then the Yarmolenko debacle for example.
Let's hope one of these interested parties do decide to invest in our club and we are able to show these players what the future could hold for them and show ambition. Maybe even look to bring in De Boer and then invest heavily in some top quality players this summer instead of selling them. Am I asking too much? Maybe...

Eddie Dunn
13
Posted 08/01/2016 at 10:17:27
Reading between the lines, John Stones wanted to go last summer, and he must have agreed to stay for another season, and then see, whether we could get CL football, or what offers were on the table. Hence he is still, presumably on the same contract, as he is likely to be going anyway. Why pay him more for a year?
Stones may well end up a top defender, but at the moment, he has a lot to learn, and is replaceable. Lukaku, is now one of the World's top strikers, and his improvement means that naturally, he will demand CL football. Why would he stay for another season with us in mid-table. He has done his bit, he has banged in the goals and got himself fitter, and his hold-up play and touch has improved too.
Martinez is to blame for the team's underperformance, with his favouritism, poor balance, and baffling subs. A chance wasted, which may not come again for many a year.
It is a shame, as we are not far off being a really good side, as we have shown in the last two games, but it is too little too late.
Graham Mockford
14
Posted 08/01/2016 at 10:22:49
Brent,
There is no value in a release clause to Everton. It takes away our ability to sell when we want and puts an upper cap on how much we can get. A release clause only works in the players favour.
Typically you would only allow a release clause if you needed a player to sign a contract. ie a new signing or a player nearing the end of a contract. To insert it into a contract for a player with three and a half years would not make commercial sense.
In my opinion whether we pay John Stones £30k a week or £70k won't make much difference because if he is determined to move it is likely he will play for a CL team and earn £150k.
Tony Abrahams
15
Posted 08/01/2016 at 10:26:27
Much better when Martinez, just talks sense, isn't it. My own view is players will move on, simply because Everton will never be able to pay the wages, that some of the other clubs do.
We can all see the improvement, and is probably the reason for a lot of frustration, but I want our manager to become more than a youth development coach.
My own view is that a taste of silverware, would give the players a lot more confidence in their undoubted ability as a team, and might just make them think, they want to stay together for a bit longer. After all they all seem genuinely happy playing for Roberto Martinez, at the minute.
Jon Withey
16
Posted 08/01/2016 at 10:28:46
If we got £40m a piece for Stones and Lukaku, there is cash to re-invest in different youth and keep pressuring a regular 4th spot. Without somebody throwing money at Everton, I don't really see another way.
To Martinez's credit, the fact that we have youth that good/valuable is testament to having a good eye on potential and nurturing it. Plenty of other managers would spunk a lot more on rubbish. Lukaku, Besic, Galloway, McCarthy, Deulofeu, Funes Mori, Cleverly, Robles are very decent players at a good age. Lennon and Kone are reasonable squad players. Stones and Barkley have been managed well. McGeady and Alcaraz a total waste of cash unfortunately.
But I don't see us troubling top 4 – although we need to have a go to keep the complete squad for sure.
I expect we'll lose Lukaku and Stones but I want to enjoy them playing in cups and league for this season at least.
Brent Stephens
17
Posted 08/01/2016 at 10:34:54
Graham, I was thinking that if we only agreed to a release clause where the minimum release figure was high enough??
Jim Bennings
18
Posted 08/01/2016 at 10:40:39
Jon Withey,
What you forget though is how many top quality players are you going to attract to Everton once they see big names like Lukaku, Stones leaving?
You might have loads of dosh but with no Champions League to offer the best players and a reluctance to pay big wages sales of Lukaku and Stones wouldn't see the necessary team building for a top 4 challenge you imagine I'm afraid.
I can't believe anyone wants to lose Lukaku just to replace him with some untested youth player, that's what's likely to happen though.
If we think we've had it hard this season, I fear next season may try the patience even more!
Gordon Crawford
19
Posted 08/01/2016 at 10:40:55
Sadly we won't be keeping these players another year. The pull of big wages and Champions League football is just too strong. But we need to milk as much money as possible out of these two players.
If Sterling is worth £50m, then Lukaku is worth £65 million. And I wouldn't let Stones go for any less that £45m. I feel that this year is our last chance to have a winning team, before it all falls apart in the summer.
Alan Thompson
20
Posted 08/01/2016 at 10:47:48
Stones looks very good at bringing the ball out of defence which involves the bleeding obvious of running into space but he does have some defensive shortcomings which may disappear with time. However, consider the possibility of Browning, Galloway, Holgate and Foulds reaching similar levels in the very near future while Funes Mori looks closer to the finished article as an Argentinian international should.
All these players are supposed to be central defenders. How many times will we face this problem and what really is the point of contracts. It seems to me that our biggest problem in defence is that the manager has them playing zone rather than player marking, if it is not in your zone then it's not your problem. Somebody has to take responsibility for attacking the ball, preferably the best aerially between the 6-yard box and the penalty spot and the goalkeeper in the 6-yard box while the midfield look to pick up loose stuff on the edge of the area while blocking runs into the box.
May be we will lose our best strikers to Champions League participants but not everyone can play at the highest level otherwise there wouldn't be a higher level.
Jim Bennings
21
Posted 08/01/2016 at 10:51:24
Aston Villa are a prime example of how quickly a club can fall away once it loses its better players and it's club characters.
When David Moyes was here it was generally between us and Martin O'Neill's Villa side vying for a top 5 or even 4 slot .
This was a Villa team that included Ashley Young, Gareth Barry, James Collins, John Carew, Martin Laursen, Stilyan Petrov, James Milner, Brad Friedel in goal.
The list goes on but they were big characters, seasoned Premier League players that knew how to win.
Just look at the state of Aston Villa now!
Can they attract those type of players nowadays?
I'd struggle to name you the full Aston Villa team at present.
It'd just an example of how quickly it can change when you keep losing your best players, we should kniw it happened to us in the mid 90's, selling off the likes Kanchelskis, Stuart, Gary Speed, replacing them with dross like Farelly, Tyler, to name a few.
The landscape can quickly change.
Graham Mockford
22
Posted 08/01/2016 at 11:08:14
Brent
That is still in our control and we don't need to insert it into a players contract to achieve it.
The Board just say to themselves, we are not selling for less than £50m for instance, job done
Jim Bennings
23
Posted 08/01/2016 at 11:08:45
Over the next 12 months if we lose any two or three of...
Lukaku
Stones
Barkley
Deulofeu
Add to that the fact another quality international footballer in his prime Mirallas will leave, it's going to be damn hard to find the right type of experienced quality players to replace them.
That's before the squad lads like Hibbert, Osman, Pienaar, Gibson, McGeady, Oviedo – all players who just don't play anymore enough need replacing with squad players.
Then Kone is 33 this year, Jagielka 34 in August, Naismith leaving.
Yes, we have young players but you can't just field a bunch of 19-year-olds all over the pitch and the bench at once and expect them to deliver results.
The next 12 months are going to be a massive period where in my opinion we either go one way or the other.
Brent Stephens
24
Posted 08/01/2016 at 11:14:37
Graham, yes, of course.
Brian Harrison
25
Posted 08/01/2016 at 11:23:45
I think our only hope of retaining the best players is if the new owners are in place and show an intent to compete at the top end of the league. I think it goes without saying that they would also have to employ a new manager, hopefully with a track record of winning trophies.
Failure to do either of the above then the best players will leave, and who can blame them. Unfortunately the only people who will still be here is us fans, and if we lose our better players and stick with RM then I can't see us challenging the top half never mind top 4.

Let's not forget that West Ham will get greater revenue from moving to the Olympic Stadium. Spurs are also having a new stadium built and Chelsea are looking to move as well.
Graham Mockford
26
Posted 08/01/2016 at 11:23:53
Dave #7
I maintains a self imposed communication blackout on the matter........
Until he scores the next one
Andrew Clare
27
Posted 08/01/2016 at 11:24:28
It's difficult getting too excited about the team nowadays as you just know that, if the right offers come in, your star players will leave. As said above in other comments, if Lukaku and Stones go, what hope have we of attracting players of a similar quality?
I just hope that, if we get new owners, they will be ambitious and invest big money into the squad so that we can really challenge next season and the current crop of players will stay with us.
Phil Walling
28
Posted 08/01/2016 at 11:28:52
Sadly Jim, I suspect you have read it correctly. But unlike many Evertonians, I don't blame the Club for this situation. It is inevitable !
The very best players – and Stones and Lukaku are clearly in this category – will not only be sought by the glamour clubs, both home and abroad, but will wish to join them. The mouth-watering riches on offer are irresistible both to players, their families and agents – added to which is the far greater prospect of regular silverware.
The sad thing is that the years have changed what our Club can aspire to. Where mere qualification to compete in the preliminaries of Champions League is our very worthy goal, the really big clubs can offer a decent chance of competing to win it. To them "Channel Four on a Thursday night" is an insult!
So, sad that it may be, don't let's think ill of our young players for wanting away or our Board (whoever they may be) come summertime! It's just the market forces of football. The real challenge will be spending the money wisely!
Rob Halligan
29
Posted 08/01/2016 at 11:32:11
Here we go again. Talk of not finishing in the top four and everyone is off. Stones and Lukaku are contracted until July 2019, a whopping 3½ years away. The time to start worrying about these two is two years from now, if they haven't signed a contract extension or we have not progressed as we all hope we do. The only way either will go next summer is if the club accept some really obscene money for them.

With the new TV money coming soon we certainly won't sell for financial reasons. Like with Stones last summer, any transfer request can be rejected and there is nothing any player can do about it. Talk of keeping an unhappy player doesn't wash with me. They shouldn't sign such a long contract if they suddenly want to move halfway through it. I am very confident both Stones and Lukaku will still be playing for us next season.
Gary Heywood
30
Posted 08/01/2016 at 11:35:03
If Martinez can maintain and develop the level of performance of the last game and select the right players for the job a top 4 position is still possible.
We are only 9 point from 4th position. It looks like Man C and Arsenal will contest 1st position but the other top two positions are quite achievable for Everton if Martinez is now switched on and gets it.
Dave Abrahams
31
Posted 08/01/2016 at 11:36:32
Graham (#25) stop it!! Yu can't help yourself, made me smile though, only a little bit!!!
Graham Mockford
32
Posted 08/01/2016 at 11:36:42
Phil
I think you are right. I supposed the good news is that for an outlay of just over £30m in three years,that has turned into £100m+. If you throw Barkley into the mix, although I think he is the least likely to go you are at £150m. I guess a sale valuation for the club of £200m doesn't seem that wide of the mark.
That is a serious transfer pot, the risk of course as we have seen is spending it wisely as you point out.
Players come and go, it's our club that is the constant.
Sam Hoare
33
Posted 08/01/2016 at 12:06:27
The club need to start planning this properly with the realistic expectation that we won't make top 4. If we were to lose Lukaku, Stones, Barkley and Deulofeu all in the Summer then I think it would be extremely hard to replace and continue.
Better to sit down with them and try to find out what is the longest we can persuade them to stay for.
Personally I would think that whereas Stones and Lukaku might be off this Summer Barkley, Deulofeu and any others could be persuaded to stay for at least one more year. That way we will not be having to replace half the team in one go.
I wonder what sort of fee we might demand for them?
Stones- £40-50m
Lukaku- £50-60m
Barkley- £30m

All pie in the sky but potentially it could be nearly £150m for the crown jewels. Hope the scouts are finding some good targets...
James Stewart
34
Posted 08/01/2016 at 12:18:56
Martinez should keep his mouth shut about this, we will not be in the top 4 so why put it out there? Losing our best players should not be the constant rhetoric.

You don't see that lot over the park airing views of that kind in the media, we should take more pride in ourselves. If huge bids come in then so be it but let's not entice them!
Norman Jones
35
Posted 08/01/2016 at 12:31:49
My worry is that if the Yanks take over, they will see an opportunity to get all their investment back in one fell swoop. Anything else they get out of the Club will thus be a bonus.
I don't feel they are coming in for any other purpose than profit.
ps: I've been reading too much about what's happened to the Villa!
Joe Clitherow
36
Posted 08/01/2016 at 12:53:23
Step aside, then!
Thomas Lennon
37
Posted 08/01/2016 at 13:07:26
We need to get away from this idea that our future rests with two or three star players. Martinez is developing a squad of young players who will develop with us on long contracts. These can be teenagers looking for the first step into the PL or some of the many prospects who have found life in a top-top club too inhibiting of their game time/international prospects.
They should be at a high level, playing in an established system and able to step into the first team at any time. Sure some will be making more mistakes than others but we have to be ok with that as they develop.
If the team overall is doing well – and it should be challenging top 4-6 – then most will stay, a few of the most valuable can go to allow the next talented player gametime to develop. Cup wins and Europa should be achievable, in time CL and top four. Many £10s of millions will be earned (far more than when winning FA cups etc).
If however one or two players are overpaid to the extent that the rest of the squad suffers (we don't have to look too far to find examples), then we would be in a far less stable situation requiring a lot more money to fix – and we don't yet have it to waste.
Overspending on 'star' players from other clubs and hiring 'star' managers is a way to club/team instability and spending a lot of money. We stopped doing that in 2002(?). Consequently we are the ONLY British owned club without access to huge budget that has consistently finished in top half PL for a decade or more.
Scott Hall
38
Posted 08/01/2016 at 13:17:02
In other words:
"Just so you know, even if we win the Capital One Cup, Lukaku and Stones will be going. I've massively ballsed the Premier League up because, to be fair, I'm massively out of my depth. I promised them 4th place, we're not going to get it, so they'll be going."
"Oh and now that the half-season ticket sales period has finished, don't be expecting any further news about some sort of magical takeover. We fed that bull out to the media and they drank it up like a thirsty dog in the desert."
"Myself, Tim Howard, Hibbo and Ossie look forward to seeing you at Goodison again next season and for many more years to come"
"Best wishes"
– Roberto Martinez.
Brent Stephens
39
Posted 08/01/2016 at 13:23:10
I might have miscalculated but assuming the current top 4 gain points at their current rate (between 2.1 and 1.8 goals per game), we'd need to get an average of approx 2.3 points per game over our final 18 games to reach 4th. Can't see it.
Michael Polley
40
Posted 08/01/2016 at 13:31:29
I can handle losing Stones, but Lukaku would be irreplaceable. This season was our best season to progress, but sadly Martinez has blown that with inept management skills.
Our only hope is a takeover which will hopefully change the dynamic of the club (if it happens).
I'm worried that this summer could prove very damaging for our club with a mass exodus of key players, and a relegation battle on our hands.
I hope I'm proved wrong – I pray I'm wrong.
Amit Vithlani
41
Posted 08/01/2016 at 13:46:12
Of all of our young starlets, Barkley is least likely to leave simply because he plays a very niche role and might be hard to fit into a system elsewhere.
Stones and Lukaku have much more rounded abilities and hence will have multiple suitors. The good news is that should result in value maximisation. From that view point a release clause for Stones makes no sense for Everton.
It would break my heart to see Geri leave. Barca if they chose can have him back for a modest fee. If Barca will lose one of their galacticos to a Pep inspired Citteh, Geri could then get a look in. Hope to god that particular move does not happen.
Graham Mockford
42
Posted 08/01/2016 at 13:46:19
Brent,
I don't think you are far wrong. We would most likely need a minimum of 40 points and possibly as many as 45 to finish top 4.
Even at the lower end that looks something like W12 D3 L3.
We have the players to achieve that but whether we have the playing system and tactics I doubt.
Norman Jones
43
Posted 08/01/2016 at 13:48:41
'In other words' – Scott Hall:-
'The Yanks you heard about are close mates of Robert Earl who were happy to play along with the Board's games to sell half-season tickets. The search for investment goes on 24/7 but if it doesn't realize anything, the players will have to go!'
Really?
Phil Smith
44
Posted 08/01/2016 at 13:49:11
"Yes we have young players but
you can't just field a bunch of 19-year-olds all over the pitch and the bench at once and expect them to deliver results
".
Didn't Alan Hansen say something along those lines before Man Utd won the title?
John Keating
45
Posted 08/01/2016 at 13:50:36
Players come and go that is the nature of the game.
The article talks about top 4. This season is the most open at the top than it has been for years.
This season, with this squad, was the ideal time to get in the top 4 and we have blown it.
We will all look back on this season and have various opinions on why we have messed up so badly, however, ultimately, it will be down to one man and his stubborn intransigence
Kieran Kinsella
46
Posted 08/01/2016 at 14:04:51
Hate this. Reminds me of under Royle beating Soton 7-1 with Speed, Kanchelskis and Barmby dazzling but within a short time they were all gone as was Royle.

Or under Moyes when Yak had signed but before we knew it him and Jagielka got injured, Arteta went and we ended up playing Jagielka and Baxter in midfield. Every time we get close we allow the team to disintegrate.
Peter Cummings
48
Posted 08/01/2016 at 14:07:59
The biggest problem in today's game is of players and their agents reneging on contracts and/or sell on clauses, unless some way is found to make contracts binding and this blackmailing of clubs stopped, it will continue, the prime example of this was the notorious 'Sterling Saga' across the park, and of course the our own experience with a certain Man Utd player who kicked us in the goolies,
Nowadays few,if any,players are bound to their clubs or fans by 'loyalty' and when they bleat about 'winning cups and medals' as their excuse for taking off we all know that MONEY and lots of it is their only reason.
Everton unfortunately are in no position to compete on a level playing field in the Premier League or Europe with a manager as set in his ways as Martinez, and as painful as it is I can't realistically see us doing a treble over Man City in the next couple of weeks but as a loyal 'to the grave' Evertonian, I live in hope.
Jim Bennings
49
Posted 08/01/2016 at 14:20:40
Phil
United's class of 92 was a complete one-off that included greats like Ryan Giggs, David Beckham, Paul Scholes, Gary Neville, bit what Alan Hansen and perhaps you failed to mention is the backbone of the Manchester United team was..
Peter Schmeichel
Gary Pallister
Steve Bruce
Eric Cantona
Roy Keane.
I bet they helped the bunch of kids along the way, all men who were title winners and great players .
Ian McDowell
50
Posted 08/01/2016 at 14:24:57
I don't believe Champions League football is the be=all and end-all like it's made out. Maybe if the players get a chance to go to Arsenal, Man Utd, Real Madrid, Barca they will go there not because of Champions League football but the name and money and exposure.

For instance, Wijnaldum left PSV for Newcastle, preferring money over Champions League football.
Jim Bennings
51
Posted 08/01/2016 at 14:26:16
Different generation also springs to mind, football has changed a lot in that 20 years.
Don't get me wrong, I see your point, but I think we need a few years for these young players at Everton are deemed good enough for top 4 potential.
Sorry if that sounds negative but four years ago I heard fans talking about fantastic future prospects Tolis Vellios and Gueye, before that it was Matt McKay or Michael Branch and Danny Cadamarteri.
It's not worth going over the top with grand predictions too soon.
Phil Walling
52
Posted 08/01/2016 at 15:13:46
Whilst what you say is right in spirit, Jim – Stones, Lukaku, Del and Barkley are different class to the names you mention. I guess £150M for the four would be a modest return even in this window!
Contracts or not, players call all the shots and if they want to move on they will. Look where playing hardball got Brenda!
What we should do is enjoy this motherlode whilst it's ours rather than getting too emotional about what may happen to it in the future.
Denis Richardson
53
Posted 08/01/2016 at 15:31:54
Players come and go so I'm not worried if we lose one or two, provided the funds are used wisely.
However, I find it incredible that our manager is basically saying our best players can leave in the summer. We have ZERO chance of being in the top 4 come May so saying only CL will keep the likes of Rom and Stones is almost sack worthy.
I just hope the new owners materialise and we get a proper manager in this summer. A class act at the helm would be enough to keep the better players (assuming the new man wanted them...).
I'm not fussed about losing Stones. He may turn into a great defender in a couple of years time but his basic defending still needs to improve a great deal.
Eddie Dunn
54
Posted 08/01/2016 at 15:49:20
Stones is a hot property at the moment. Remember how highly Rodwell was rated, and all the talk on 5 Live about how he would become a centre-half! Potential is very valuable, and I think we should sell Stones in the summer. In another year, he may have made little progress, with regular mistakes which will be noted by the money men and his value will drop.
Cash in while the going is good. Rom is the one we should move Heaven and Earth to keep!
Steavey Buckley
55
Posted 08/01/2016 at 15:52:14
"Martinez aware that only Champions League football can keep stars at Everton."

So they must be off then – there is no chance of Champions League next season as Everton are 1 win in 9 games and 3 wins at home all season so far- that's relegation form.
Jim Bennings
56
Posted 08/01/2016 at 15:59:18
To get 4th this season or to even have a chance we'd probably have to win at least 12 of our remaining games plus hope the sides above slipped up.
We are in January and have won just 6...
Absolutely no chance!!
Mike Hayes
57
Posted 08/01/2016 at 16:01:52
Martinez already came with an inept ability to adapt in the premier league and has proved it again two seasons on the trot. He has, however, unearthed some young gems who, with a good coach will become better players and hopefully take us forward whilst a new owner and ground or revamp will take the club forward.

We all want to enjoy success that has eluded us for over 30 years and continue like man Utd did before Fergie left.
Brent Stephens
58
Posted 08/01/2016 at 16:06:06
Yes, Jim, out of 18 remaining games I make it we need to win 12 and draw 5 to get to 68 points, which is the minimum needed if the current top 4 all maintain their points / game ratio, and, as you say, that's also reliant on teams currently between top 4 and us slipping up!
No way Jose (Roberto).
Eddie Dunn
59
Posted 08/01/2016 at 17:00:30
The side is capable of beating anyone of our day, but the only "consistency" that we have managed, is to be inconsistent. Even if our current little upturn in form continues, it is unimaginable (especially with recent injuries) to foresee us putting together such a run that could launch us up the league.
It is possible to get into Europe, if not through a Cup, then the top 6. However, this is also a long shot. It is just like last season, when Roberto hoped that winning the Europa League would get us into the CL. Alas, it wasn't to be, as we malfunctioned in Kiev.
Now all hopes lie in the Cups. The tie with City is at half-time and we have a slender lead. If we progress, we will have only an evens chance of beating the RS or Stoke.
So much is at stake as, despite Martinez's comments, surely a piece of silver on the cupboard would entice the would-be superstars that something special is about to happen. The worst case scenario, is to lose the semi, or the final, and only finish 8th. It would definitely mean goodbye to 2 of our lads.
This game with City is gaining in importance... remember the Milk Cup final in '84. We lost it on a replay, but it gave us confidence, and we went on to win the FA Cup a few months later.
Teams can grow during these momentous games, and there are signs that this bunch have it in them to build on the first leg. It is the most important game in our recent history.
Jamie Barlow
60
Posted 08/01/2016 at 17:06:56
I hope you're right Rob@28. Good post.
Roger Helm
61
Posted 08/01/2016 at 17:13:11
We will not get CL football because the final league position almost always correlates perfectly with the wages spend, and we with our stadium, commercial activities and (lack of) board investment cannot compete with the wages paid by top tier clubs.
This means that sooner or later our best players will be off. It is the same with other clubs – Spurs lost Bale and now Kane is being linked with Real Madrid. You can't blame them – would you or I not move to triple our wages?
So we need to recruit well, and to be fair we have got in some excellent players pretty cheaply over the last decade. Let's hope we can continue to do so.
Dennis Ng
62
Posted 08/01/2016 at 17:35:10
Rob 28, completely agree. And personally I don't think that these players are silly enough to submit another transfer request if we improve from now on.

They can try to go to another club that already has UCL and sit on the bench but they are not at the age where doing so is good for them. That I think is what we have in keeping the team together.

But the keyword here is progress. If we digress towards the bottom, losing players is the last of our concerns.
William Cartwright
63
Posted 08/01/2016 at 17:46:54
Lots of talk about the Fab 4 and will they hang around after the end of the party.
Interesting to speculate, but it is really interesting to see the dynamic of the club changing with a more than 4 right young things lighting up the future. Stones and Lukaku may well go, or they may sense the future really does look promising as a group.
Like everyone else I have been really pleased with the recent displays of Besic and it led me thinking as to our future first team in 12 months time. A 4-3-3 set up could well be:-
Robles, Holgate, Funes Mori, Galloway, Garbutt, McCarthy, Besic Cleverley, Barkley, Toshiba, Leandro.
I would like to see McAleny in the mix too.
James Marshall
64
Posted 08/01/2016 at 18:11:37
It amazes me the way people think – we have a young, vibrant team playing some brilliant football and still everyone concentrates on the negatives. You're ell being pointed in this direction by a media hellbent on breaking up our team before it's even got close to fruition.
Bollocks to worrying about if/when players will leave – live your footballing life more in the moment and try to garner at least a little joy out of it!
Kunal Desai
65
Posted 08/01/2016 at 18:19:04
We wont get top 4 or top 6. Lets put this one to bed. We're likely to finish on around 50 points that would be somewhere between 9th-12th.
You just have to accept the fact that the likes of Stones and Lukaku have been told to give this season one more shot and then you're free to go. They WILL leave in the summer.

Phil Walling
66
Posted 08/01/2016 at 18:34:51
James, it was the manager who started this hare running hours BEFORE Wednesday's game! Having said that, it is natural that there is some concern, for – however wonderfully the lads played against Man City and however brilliant they may be – they have only won SIX games out of TWENTY in league competition this season.
Quite a paradox, that!
James Marshall
67
Posted 08/01/2016 at 18:35:07
"But, in the same way in the modern game, young players need to be in the position that they want to stay in the club. It is the only way you can have a winning team if the players want to perform. To keep them wanting to play for our football club is to achieve and to grow and to play in the best competitions.
"That doesn't mean we are going to sell them if we don't get in the Champions League, but you wouldn't want to keep a player that doesn't want to represent our shirt either. You have to be realistic."
To me he's saying – I'm trying to put together a young, dynamic team which will of course draw attention from the monied clubs in the Champions League. If any of those players show a desire to leave, and become unhappy as a result of being forced to stay at Everton (in the even of not making the Champions League) then of course we'd have to listen to offers.
This is the nature of football and nothing new or worrying. Nature of the beast.
Craig Mills
68
Posted 08/01/2016 at 18:52:05
Stones for me is replaceable given where his currently level of performance is, it's a bit like the Rooney sale in terms of his actual level when we sold him aand the potential of what he could, and in Rooney case did become, any offer upwards of £45m and I think Everton should sell,
The big problem for me is selling Lukaku, his stats will already have him as one of the hottest property strikers in Europe @ 22 years old, and a guy who is very transparent with his desire to be the best striker in the world. How do Everton come close to replacing him, the simple truth is a striker who's performance / goal scoring records that come anywhere close to Rom's would not even consider us, because they too will be looking at joining Europe's elite.
So my solution to the problem? Sell Stones and screw every last penny from the highest bidder, increase Lukaku's salary to a new level from what we are used to at Goodison - £150k a week?? and use the Stones fee to go big on a couple of top top class players, Yarmolenko? Butland? and maybe a cheeky bid to get Rooney back........
Paul Nicholls
69
Posted 08/01/2016 at 19:10:36
A thoroughly depressing read. All painfully inevitable I'm afraid. Let's enjoy Stones and Lukaku while we can, I'll be staggered if they are still with us next season (cheers Bobby).

Anyone thinking we can still make 4th is deluded, I'd suggest we'll do well to garner a point from our next two league games. Off to consume my 14 units...
Harold Matthews
70
Posted 08/01/2016 at 19:18:52
I wish he wouldn't do these interviews.All they do is create confusion. One week he's not bothered about losing players, the next week he is hoping they'll stay.
£40mil seems a lot for Stones but he's still a kid, is totally unique and will be wanted by many clubs. Lukaku is fast becoming a world-beater and everyone knows it. Definitely among the top ten strikers in Europe, he'll command a very large fee.
Whatever happens, I can only see us getting stronger. Okay, we'll miss the big fella, of course we will but we'll splash the cash on a proven goalscorer and replace the unused squad players with the likes of Rodriguez, the Grasshopper lad and one or two other fresh faces. Roll on.
Mark Daley
71
Posted 08/01/2016 at 19:20:36
Nothing escapes the gaze of our all-seeing phenomenal manager.
Regarding Lukaku and Stones, our only hope is that the Americans come on board and can persuade them that over the summer we can shore up our weaknesses to make it worthwhile them giving it another season.
Otherwise it will be déjà vu all over again.
Stephen Brown
72
Posted 08/01/2016 at 19:24:40
Quite clearly two outstanding young players who will get better who I'd love to build the side around for the next 10 seasons.
However, they are part of the side that's in 11th! Stones has made plenty of mistakes and Big Rom despite being superb could have wrapped the points up v Swansea and Norwich to name but two games! They owe us at least another crack at it I'd say!
Norman Jones
73
Posted 08/01/2016 at 19:29:58
As Evertonians, we all want the same thing – a successful team of which these four lads form the nucleus.
So, for as long as the dream lasts, let's all enjoy it together. In years to come, perhaps the younger generation will talk about 'the Man City night' just as we do 'the Oxford experience'!
Ian Brandes
74
Posted 08/01/2016 at 19:31:16
It will all be down to dosh in the end. If we are lucky enough to get minted new owners, who are in it for investment, and glory, then we may not lose anyone apart from Martinez.
If BK and Co remain at the helm, players will be sold, Martinez will stay, and very tough times will face us.
I prefer to edge towards optimism, and maybe next season, under new ownership, Everton will rise again.
Let's hope so!
Phil Walling
75
Posted 08/01/2016 at 19:45:11
The irony is, of course, that had Roberto not been at the helm, neither Lukaku nor Deulofeu would be here. And it's by no means certain that Stones and Barkley would have been given the opportunities they have received under the present regime.
Of course, I've never rated Martinez – and still don't – but credit where credit is due!
Victor Jones
76
Posted 08/01/2016 at 20:18:34
I agree totally with Rob.@29.. Why should the club let Stones and Lukaku go? We should be looking to offload McGeady, Pienaar, Howard, Hibbert, Osman, Kone and maybe Oviedo (if he cannot get fit). Hopefully we have new owners. And hopefully they provide a war chest for the manager. And of course there is more TV money available next season. We should be building a team around Stones, Funes Mori, Coleman, Galloway, Besic, Deulofeu, and Lukaku. Add about four or five quality signings (we all have different players in mind), along with Robles, Baines, Jagielka, McCarthy, Cleverley, Mirallas, Barkley, Lennon, Browning, Barry, Garbutt, Gibson. We would have one hell of a squad. Top four seems to have bypassed us for this season. But to hell with that, we can go for the league next season. We are 4 or 5 players short. Go get them for next season. Why not?
Well that's the theory. But has our board got that vision? We are long suffering Everton after all. Let's sell our best players. Show no long-term vision. Bring through more youngsters, then sell them also, when Man Utd or Man City come a calling. And also can Martinez be trusted to bring in the quality that we need to mount a title challenge. Can he find another Funes Mori or will he bring in another Alcaraz. A Deulofeu or a McGeady.
And can we win the league. Managed the right way. And with the right players. Why not. I honestly think that things are starting to level out. Get in the right quality. Take our chances. Keep our best players. Next season could be ours. Well I can dream.
Rob Halligan
77
Posted 08/01/2016 at 20:25:43
Kunal Desai (#64). What utter bollocks. You just have to accept the fact that the likes of Stones and Lukaku have been told to give this season one more shot and then they're free to go. They will leave in the summer.
And of course, you know this for a fact do you? Well, I'll tell you something, those two will still be here next season. Accept that as a fact.
Dave Abrahams
78
Posted 08/01/2016 at 20:32:59
Kunal (64) you made a lot of sense to me. I think it is a sure thing that Stones at least will be gone in the summer and more than likely Lukaku too.
Rob Halligan
79
Posted 08/01/2016 at 20:36:54
My god, we must have the agents of Stones and Lukaku who post on here. Utter crap is spouted on here.
David Greenwood
80
Posted 08/01/2016 at 20:38:01
Why is it a sure thing?
They both have more than there years left. It's going to take crazy money before they go.
They can't just walk out.
If they, or more likely their agents have a problem with that, tough.
Rob Halligan
81
Posted 08/01/2016 at 20:40:29
Well said, David. Both Stones and Lukaku have 3½ years left on their contract. If the club say next summer you're staying, then they are staying, and there is absolutely nothing they can do about it.
Paul Nicholls
82
Posted 08/01/2016 at 20:57:53
Hearts ruling heads, and we can all be guilty of that, so certainly not having a pop. But agents and money rule these days, we are kidding ourselves to think otherwise.
Do we say, "you're on a long contract, you're going nowhere, tough shit"? This summer's Stones episode notwithstanding, I don't recall too many happy endings from such a stance. Look at Berahino at West Brom.
Bobby is pretty much setting out the stall: "That doesn't mean we are going to sell them if we don't get in the Champions League, but you wouldn't want to keep a player that doesn't want to represent our shirt either. You have to be realistic."
Rob Halligan
83
Posted 08/01/2016 at 21:02:59
Agents don't rule these days, Paul (#80). Once the player has signed on the dotted line, the club rules. The player is the property of the club. All the agents do is try and negotiate the best deal for their client, prior to signing on the dotted line.
David Greenwood
84
Posted 08/01/2016 at 21:09:29
As Rob rightly says, when it gets to two years or less on a contract the dynamic changes.
However with the length of time left for both, the club are in control.
Only crazy money would see them go.
Doesn't matter a hoot how much the agents agitate, the players won't go unless the fee is very much in Evertons favour.
Kim Vivian
85
Posted 08/01/2016 at 21:11:36
Is it just me but I am reading this a bit differently to the doom and gloom on here?
A bit of reverse psychology going on here I think.
Or is just because I am an Evertonian and certified 3/4 full(!) optimist to boot?
Paul Nicholls
86
Posted 08/01/2016 at 21:11:40
Maybe Rob, we'll see.....
I'm rarely, if ever, on the same page as Roberto. But, as he says, you have to be realistic.
Anyway, enough of this speculation, let's crack on and see if he can make a silk purse out of this sow's ear of a season.

I'll get back to my beverage and the spectacle of seeing a second string RS keeper even worse on crosses than our own first-choice guardian.
David Greenwood
87
Posted 08/01/2016 at 21:15:46
Can you imagine the fume on here if/when TH let one in like that Paul?
Paul Nicholls
88
Posted 08/01/2016 at 21:18:42
Haha David, we could start a whole new thread.
Or not, let's save that for another day!
Rob Halligan
89
Posted 08/01/2016 at 21:19:54
Did you see wigans second goal last night, David. Big howler by the Gillingham goalkeeper. But of course, goalkeepers aren't allowed to make mistakes.
David Greenwood
90
Posted 08/01/2016 at 21:19:59
Hopefully he won't get the chance!
Kim Vivian
91
Posted 08/01/2016 at 21:20:29
My thoughts exactly Dave G. The ToffeeWeb server would melt down.
Colin Glassar
92
Posted 08/01/2016 at 21:23:17
They might force a move if we have an utterly crap season like the last one... but, if they see continued improvement, and the club adding quality players, they might just give us one more season.
I'd love both of them to stay and build something special but the modern footballer only seems to be interested in accruing money and a medal or two.
Paul Nicholls
93
Posted 08/01/2016 at 21:39:59
Colin, at the moment, our Capital One Cup escapade is masking what some might consider to be an utterly crap season. Decent going forward, shambolic at times defensively, we have seriously underachieved in the league. Or maybe I am still living in yester year.
Colin Glassar
94
Posted 08/01/2016 at 21:50:22
You might be right, Paul. We are only halfway through the season... so it could be a cracker or a stinker.
Phil Walling
95
Posted 08/01/2016 at 23:40:45
'CONTINUED improvement', Colin?

Have I missed something?
Ernie Baywood
96
Posted 09/01/2016 at 00:10:48
Yes Phil, you missed the other words in the sentence.
Anthony Dwyer
97
Posted 09/01/2016 at 00:36:10
A truly depressing read; fact is we have little to no chance of a Champions League finish and as a result we will lose a few of out talented youngsters.
Gutting.
Mark Andersson
98
Posted 09/01/2016 at 03:16:23
I'm depressed after reading all of that.
On a brighter note at least the players who get sold will be known as former Everton players, yes clutching at straws.
The only thing that surprised me is that a lot of fans thought we would improve on last season's, the league table tells us otherwise.
Anthony Dwyer
99
Posted 09/01/2016 at 07:58:12
I can't understand why it's taken Martinez until now to try to solid the team up. I don't know of any other manager who takes so long to see basic flaws in his own team.
Top four was a realistic target this season with the players we have and the transition of a lot of the other league sides, but our manager is not good enough to compete at that level.
Look at Vardy and Igalo, they've pushed their average sides right up the league with similar goal scoring runs as Lukaku. Managers like Kiki Sanchez and Alan Pardew have pushed their sides up the table with good management, they know what their sides are good at and maximize on it.
Spurs have Harry Kane and a solid defence and that is enough to keep them in the mixer, and Man Utd are just a solid outfit which has kept them up the right end of the table despite LVG being hammered.Even Liverpool are above us with their piss-poor team, having sacked a manager.
It's unbelievable that Martinez is now talking about players leaving if we can't deliver Champions League football; he's basically admitting that if any player goes public for a move, then they will leave... How easy is he making it???
Bobby Thomas
100
Posted 09/01/2016 at 09:06:28
Anyone who doesn't think Stones & Rom are off in the summer hasn't been paying attention to the buying and selling of players during the time they have been watching football.
The best players end up playing for the best clubs.
£50 million each. And that would be cheap.
Chris James
101
Posted 08/01/2016 at 09:15:55
We have pretty much no chance of top four this season and the reason comes down to 2 things, which are sort of connected:
i) Defensive frailty;
ii) Lack of Plan B.
Martinez's view of his approach would likely be that he ultimately has a pure football ideal that he's trying to instil (to hold the ball, keep it on the deck and keep attacking).
My view is that this is all very good if you have clear superiority in all areas over opponents (as Barca and Bayern have for instance) or are playing in a slower-paced game but is naive in the extreme considering our position, the pace and the comparable quality levels of the Premier League.
I can't think of a single team who've won the league without having a tight defence and being able to win ugly when needed. Chelsea embodied this approach and, to be honest, despite the rose-tinted claims of current fans, for large swathes of Ferguson's tenure, so did Man Utd. Yes, both sides could turn on the style and had quality, but it was married to superb keepers and back fours and the nous to know when to get behind the ball, break up play and grind out a win.

Likewise, for all of Aguero's and Silva's beautiful forward play, Man City's successes and failures can be pretty much mapped onto the fitness and form of a few key players all who have a defensive role – Hart, Kompany and Toure.

The only team in the top 4 that has tried to play a more pure version of possession / attacking football is Wenger's Arsenal and – despite some amazing attacking players and a few handy defenders – it has time and again proven to fall short. There's no coincidence in my mind that this year's uptick is down to the fact their major transfer of the summer was in bringing in a genuinely world class keeper.
Ultimately pretty much every fan can see that our defensive strategy is flawed. It's not down to the wrong players (the same back 5 under Moyes was one of the tightest in the league) or a lack of numbers (with 2 defensive mids and a back 4, with one up front should be able to shut up shop) it's the fact that these players aren't encouraged to think defence first, to sit back, double up and scrap it out and launch the ball. The less said about our organisation for corners and crosses, the better...
Obviously we don't have to play this way the whole time with this defensive mindset, but we need the ability to shift it up when needed and this is the thing that ultimately really dogs Martinez. He just seems unable to alter the flow of the game with changed tactics or clever substitutions (in timing and selection).
In his first season, I genuinely do believe there was a perfect storm of a team that had the ingrained defence-first approach and habits plus extreme fitness that Moyes had drilled into the players over 10 seasons, married with Martinez's ideology of attacking license (and a couple of inspired loan signings) plus an element of surprise in the minds of other teams who had grown used to playing Everton a certain way.
As the defensive habits and, to a degree, obsession with fitness were trained out or left to languish in favour of relentless passing, we've become increasingly a pure Martinez team. Whilst this has made us pretty great to watch for the neutral (and parts of the game at least for us) and capable of competing in every match for a period, it has ultimately come at the cost of lost points and subsequent league position.
I don't dislike Martinez as a guy and I'm not naive enough to believe we deserve to be sat in the top 4 simply because of our history or even some quality players, but equally I don't think that he's going to change and whilst his approach could easily win us a cup, it's extremely unlikely to get us any closer to a Champions League berth.
Martin Mason
102
Posted 09/01/2016 at 09:53:05
Our model in the absence of other high revenue streams is to develop and sell and I'd put my house on Stones and Lukaku going sooner than later. I'd guess that they already have assurance from the club that they will be released if the correct opportunity comes along. It's win-win for all parties too so no hard feelings. Stones is brilliant but we have many options to replace him including the option of using Besic at the back.
I really don't rate RM at all but his decision to buy Lukaku was a masterstroke. The problem is how could we ever replace him? £50 million is far too cheap for a striker with such massive talent so early in his career. There is no reason why he shouldn't eventually be an £80 million player as good as Bale or Ronaldo.
Joe Foster
103
Posted 09/01/2016 at 10:07:16
I think deep down we all would not be surprised if Rom and Stones left in the summer. They will have plenty of suitors who can afford the price tags. But Rom looks like he really respects RM. when ever he comes off the pitch you can see it in his body language when he goes over to RM. So who knows maybe that could be a factor in Rom staying a bit longer.
Rob Halligan
105
Posted 09/01/2016 at 11:27:39
I think there are people who don't understand the meaning of a contract on here. If a player asks for a transfer, and that request is turned down, the player stays. If another club bids for said player and that bid is turned down, the player stays.
In the case of Stones and Lukaku, both have 3.5 years left on their contract. In other words, any transfer is completely out of their hands, unless the club decide to let them go.
Neither player can walk in one morning and say to Martinez, "Hi, so-and-so want to sign me so I'm off, see ya!"
Martinez says, "No, sorry, John/Rom, you're contracted to this club for the next 3 years, see ya!"
It is really very easy to understand!!
Bobby Thomas
106
Posted 09/01/2016 at 11:31:37
Rob Halligan
107
Posted 09/01/2016 at 11:36:12
Yeah, Bobby, in the end, Everton accepted Man City's bid and Lescott's transfer request and let him go.

If they say to Stones and Lukaku, "No, you're staying," then they're staying. We have no reason to sell for financial reasons either.
Bobby Thomas
108
Posted 09/01/2016 at 11:46:04
Nicely predictable response Rob, that ignores the small detail of actual events re Lescott who helped to push the situation to a point where we were somewhat cornered and unable to ride the situation out as with Stones.
A player can attempt, if they wish, to back a club into a corner. We all know this. If Stones had employed the same tactics as Lescott to engineer a move, it's highly likely he wouldn't be playing for us now.
Don Alexander
109
Posted 09/01/2016 at 12:01:21
Why is he speaking to the media like this?
Is it because he's seeking to blame the "lesser" players that unless they pull their fingers out right now their/our futures will be nowhere close to rosy (not that the present is remotely acceptable to most of the fans)?
Is it because he wants to tell the present due-diligencers, whatever their motive, that there'll be a real need for player investment from them on top of ground redevelopment?
Is he telling the current set-up the same thing?
Is he trying to varnish his own obituary as and when he's dismissed after stupendously failing to achieve his own mandate with a group of players who with proper management could and should have been expected to rival the likes of Leicester City and Spurs this season?
Hopefully the last.
Rob Halligan
110
Posted 09/01/2016 at 12:13:55
Still doesn't alter the fact the club could have said NO!!
I'm not denying either player will leave in the summer, just that it's out of their, and their agents hands, to get a move.
Graham Mockford
111
Posted 09/01/2016 at 12:25:55
Rob #101
Some problems with your simplistic reasoning.
Firstly it is unlikely any team will want to hold onto a player for any length of time who has explicitly stated they want away. We have seen it time and time again. Ronaldo, Suarez, Sterling or in our case Lescott, Rooney, Fellaini. An unhappy player in the dressing room will be counter productive both to their performance and morale in the squad.
Secondly and most importantly you cannot afford to let a £50m player's contract run out. To hold on to John Stones for three and a half years would cost the club about £15m a year as he would walk away for free at the end of it.
So whilst players and clubs are bound by contractual law the reality of the situation is should a player wants to leave he will.
It is really very easy to understand.
Rob Halligan
112
Posted 09/01/2016 at 12:37:08
Read further up, Graham. I said the time to worry about Stones and Lukaku is two years from now.

I'm not saying let their contract run down. I'm not saying keep an unhappy player. What I'm saying is at the moment the club hold all the cards on these two. Explain to me why we didn't sell Stones last summer?
Graham Mockford
113
Posted 09/01/2016 at 12:55:12
Rob,
Because I'm assuming there was a conversation that went along the lines: "You are not going this season, give it a year and we will see where we are."

Of course, contractually you can do that but not in the longer term, in fact both Ronaldo and Suarez played a further season after looking for moves, but they both went.
It may also have been of course Chelsea never met our valuation.
And of course the longer you let the contract run down the more risk of teams saying, "I tell you what, I won't pay you 㿞m; I'll wait a couple of years and take him for free."
Contractual obligations do play a part but there are other factors in play. It's not as simple as you suggest that the club is completely in control.
Rob Halligan
114
Posted 09/01/2016 at 12:55:16
Ok Graham, I'll explain. Chelsea put in three bids, all rejected by the club. Stones put in a transfer request, rejected by the club. Answer: Stones still with us.
Next summer, the same scenario occurs. Stones stays.
Now THAT REALLY IS EASY TO UNDERSTAND!!
In two years time if Stones is still with us and still hasn't signed a new contract, then we sell.
Rob Halligan
115
Posted 09/01/2016 at 12:56:06
Sorry mate, never seen your last post.
Graham Mockford
116
Posted 09/01/2016 at 13:25:21
No problem Rob
Your first paragraph is a statement of fact.
Your second paragraph is to be seen, but I very much doubt that is how it will play out. We will see, of course.
Now it's time to leave for the match.
Mark Andersson
117
Posted 09/01/2016 at 17:37:14
Rob I would love to believe your logic is indeed fact, but surely Martinez has already prepared himself into selling both Stones and Rom.
Maybe it's the board saying if you don't make top 4 Bobby where selling your toys and sacking you. After all he has failed to deliver his promise and looks unlikely to turn it around now.
If indeed like most on here think that we have missed a opportunity through bad management then are the board seeing the same things. I doubt it as they will be happy with survival and making huge profits on a couple of players. We know that only a small proportion of the profit will be reinvested into replacing players. But as long as next season we can steady the ship and stay afloat for yet another mediocre season's then the merry go round of football madness will continue.
Ernie Baywood
118
Posted 09/01/2016 at 23:20:34
The same arguments as the summer and, I'm sorry, but it's weak as piss.
This month and in the summer is exactly the same as last summer. The club absolutely has the choice not to sell.
When you accept that these players are 'forcing moves' and the club has 'no choice but to sell' you're letting our owners off the hook. They do have a choice, and we should hold them accountable for making the right choices for the club.
As fans, we need to be above this Sky TV 'Boo hoo, you can't just tell a player to stay and fulfill his contract' crap. Of course you can. You've just been told you can't by the television and owners who cash a cheque for millions in return for perpetuating the myth.
Rob Hooton
119
Posted 10/01/2016 at 20:58:52
Contracts are contracts – if a player refuses to play you fine them 2 weeks wages every week and make a fortune off them (that's my la-la land opinion anyways).
Players have too much power, it's time all clubs followed Everton's example last summer and make them honour them. If a player performs badly, which top club would want to sign them?
Kunal Desai
120
Posted 11/01/2016 at 20:53:19
Rob. I'd comfortably say you have lost this one. The likes of Stones and Lukaku are not going to stick around another season at Everton after finishing the previous two seasons mid-table. They both want Champions League football and want to win things. Now they might win the Capital One Cup this season but, in the grand scheme of things, that's unlikely to make them stay longer.
Why don't we wait until the summer and see what unfolds. Quality players like Stones and Lukaku are sought after and will always get prized away sooner than you think.
Oliver Molloy
121
Posted 11/01/2016 at 23:09:46
Kunal,
In fact Stones and Lukaku would be desperate to help Everton win a cup - that way both players could bow out knowing they did their bit in delivering the first trophy in over 20 years....not a lot us Evertonians could say.
Unless the incredible one has some sort if special mind powers I would be amazed to see either player in Everton shirts after this season, money talks and if a player wants to leave that unfortunately becomes reality most of the time.
We will get top dollar for both players so it will be up to us to get the maximum fee we can....£50 million minimum each to start the bidding...

Add Your Comments
In order to post a comment, you need to be logged in as a registered user of the site.
Or Sign up as a ToffeeWeb Member — it's free, takes just a few minutes and will allow you to post your comments on articles and Talking Points submissions across the site.
© ToffeeWeb