Mirallas can earn the right to play
19/01/2016

77 Comments [Jump to last]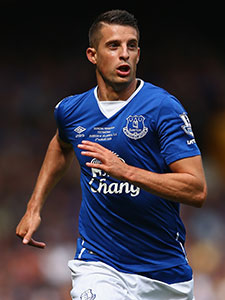 Roberto Martinez has described Kevin Mirallas's performance at Chelsea last Saturday as "outstanding" and he indicates that that kind of form will keep him in the Everton team.
Mirallas scored an impressive second-half goal that put the Blues 2-0 up at Stamford Bridge and came close to capping a fine individual display when he was foiled by his compatriot Thibault Courtois with the score at 2-2.
The Belgian has found starting opportunities limited this season and he told the press in his homeland on Sunday that his exploits against Chelsea have "proven that I am a footballer who deserves to play, or at least one who should get more playing time."
Although it contradicts somewhat his stance regarding some of the more senior players like Tim Howard whom he says he favours due to their experience, Martinez says that players like Mirallas need to be at their best to hold down a place in the side.
"I am a neutral person, I can assess every single training session and at the moment we have a very, very strong squad which means that you need to be at your best as a player in order to earn the right to play," Martinez said in the Liverpool Echo.
"That is the key for us becoming a team that can compete for everything that is in front of us.
"Kevin's performance was outstanding and that is what you want from every member of our squad so I have got no problem whatsoever with that and football is the best judge and when Kevin is at his very, very best he showed just how important he is for us."
There was speculation, fuelled by the player's own understandable frustration at being left out of the team,that Mirallas could seek a move this month, that despite only signing a new contract last summer. Martinez has, however, tipped the 28-year-old to play a key role in the second half of the season.
---
Reader Comments (77)
Note: the following content is not moderated or vetted by the site owners at the time of submission. Comments are the responsibility of the poster. Disclaimer
David Pearl
1
Posted 19/01/2016 at 17:14:12
The issue is playing both him and Deulofeu in the same side - they can both forget their defensive duties when it suits them and consistency is also a problem. He gets into the team and the next game he is AWOL. Its only his attitude that stops him. So lets see how he performs in the next match (if he keeps his place of course).
William Cartwright
2
Posted 19/01/2016 at 17:21:57
Sounds good but what about behaving consistently? Robles surely "earned the right to play" but what happened there. Is this just another of Roberto's opening salvos in a upcoming debate which will emerge next game when Mirallas is not playing against Swansea, and probably Besic also. I hope not, but his inconsistency is befuddling everyone.
James Stewart
3
Posted 19/01/2016 at 17:22:57
Utter hypocritical dogshit! Does this guy ever try listening to himself. One rule for Mirallas but Howard and Kone can stink the place out for weeks and not get dropped.
I've come to the conclusion that I will never like Martinez and have tried to just accept him as the status quo for now but he even makes that hard work with his constant flip flops. He should have been a politician.
Jason Thomas
4
Posted 19/01/2016 at 17:25:51
Rather Mirallas than Kone every day of the week, David.
Derek Knox
5
Posted 19/01/2016 at 17:26:11
Spot on there David, on his day he can be a game changer, with a great shot on him, but as you say his defensive duties are often found wanting.
However, I think there is good reason to keep him, and use him more often than he has been recently. Let's hope he gets a decent run and earns his corn.
Dean Adams
7
Posted 19/01/2016 at 17:31:19
I don't care what excuse Bobby uses, so long as Mirallas starts ahead of Kone for as long as his form allows. None of this "one bad game or one mistake and you're dropped" stuff that was more at home with OFM.
We are a better team than our league position and, if Bobby plays the right players, it will soon show in the table.
Jamie Barlow
8
Posted 19/01/2016 at 17:34:56
Sounds to me like Martinez has a problem with Mirallas' application and Is just telling him if he performs and puts in the effort as he did against Chelsea, he'll play a lot more games.
Nowt wrong with that.
David Booth
9
Posted 19/01/2016 at 17:38:20
Eu-bloody-reka!
Just look at the quality of the goals he scores – such as against Barnsley, Stoke and now Chelsea this season.
This guy is a rare matchwinner and Martinez has been cutting off this team's nose to spite its face by blatantly ignoring him. I desperately hope he stays, especially as he links so well with Barkley, Lukaku and Deulofeu.
But wouldn't blame him for telling Martinez to 'Fuck off', especially after the ignominy of signing a much-publicised contract extension, only to play second fiddle to the likes of Kone week-in week-out.

Jim Bennings
11
Posted 19/01/2016 at 17:42:44
What poor form did Mirallas show in the first place to warrant be dropped?
I thought finishing last season that Mirallas was one of the better performers if not the best along with Aaron Lennon.
Martinez does talk shite, he's happy to play his big number one Tim Howard (in his view) then snub him for what is the biggest game of the season at Manchester City next Wednesday, does Martinez understand logic?
Kone was starting games when he looked totally knackered but the manager persists with him.
What I want from Martinez is the following.
1) Start picking players on form not just favouritism.
2) Give Mirallas a fair crack of the whip, along with Lukaku he's our biggest goal threat..FACT!
3) Realise that Deulofeu is for the time being anyway, a better impact sub than starter, at least until he gets fitter.
4) Please clarify who really is our number one keeper, and if you have a number one why is he dropped for the biggest game of the season.
There is no such thing as "cup keepers" you cannot just have a private agreement and do favours for one man, your number one choice should play in all games when fit because it just makes you look silly. (We didn't win the Cup in 95 with Jason Kearton in goal did we?)
Martinez is a baffling manager at times.
David Chait
12
Posted 19/01/2016 at 17:55:13
There are 2 things that RM does that are mind boggling to me: (1) picking McCarthy and playing him 90 minutes no questions asked and (2) leaving out Mirallas like he does! I don't get it.

Not giving Besic 10 or 20 minutes a game when McCarthy was either crap or dead on his feet was criminal. Then, what the hell has Mirallas done to piss him off so much?
Jamie Barlow
13
Posted 19/01/2016 at 17:59:19
There is such a thing as a cup keeper, Jim. Robles plays every game in the League Cup. You can't drop him once the games get harder.
Didn't Mancini do that at Man City? He played Pantilimon in every FA Cup game then dropped him for Hart in the final. That didn't work out too well.
Jim Bennings
14
Posted 19/01/2016 at 18:04:07
It's a load of shite, in my opinion, Jamie.
You have a goalkeeper and regardless whether the fans agree with it, if he's fit, he plays.
We didn't drop big Neville Southall during the 95 Cup run despite fighting relegation, it's just some load of crap that I don't agree with in present day football.
If Robles has a howler next Wednesday night, he'll be criticised but basically he isn't exactly match sharp.
Jamie Barlow
15
Posted 19/01/2016 at 18:07:31
Well... it's worked so far.
Jay Harris
16
Posted 19/01/2016 at 18:14:25
We are constantly hearing these soundbytes from "Bobby Bullshit".
He promised Champions League to get the job; now, it's a long-term project based on developing youth.
Colin Glassar
17
Posted 19/01/2016 at 18:23:53
I think Roberto has never forgiven him for that penalty against WBA.
Matt Garen
18
Posted 19/01/2016 at 18:54:31
Soon as McCarthy is fit (as long as he plays them), him and Besic would give defensive cover to play Mirallas, Barkley and Lennon or Deulofeu in the same starting XI. I feel this gives us the best chance of creating goals and winning games which quite frankly we have not done in the league.
Barry is alright for 60 mins then his legs go and he gets booked. If he chooses not to, thus also not playing Mirallas, and goes with Barry and Kone. Then that'll be Martinez done for me. Last 26 league games have mustered 32 points so he is using up his chances as it is.
Gordon Crawford
19
Posted 19/01/2016 at 19:04:55
So why does this not apply to Robles? Stinks of double standards.
Mark Tanton
20
Posted 19/01/2016 at 19:07:21
Everton isn't a meritocracy unfortunately. Yes Mirallas deserves more time on the pitch, but look at some of Martinez's selections. Dropping Funes Mori for instance. Besic might be well be shoved aside for McCarthy too.
Les Martin
21
Posted 19/01/2016 at 19:12:33
Maybe Roberto is just commenting on what he sees in training, but what he has seen on the pitch warrants Mirallas's starting place, as he can be a match winner on his day who has been under utilised so far.
If we haven't got defensive cover to include him from the midfield with the likes of Barry, Besic and McCarthy then we truly are knackered!! No excuses for not playing 2 of the 3 wide players. Deulofeu, Mirallas and Lennon in the same team, and let the opposition worry about both flanks rather than just one.
As for Kone, knock it off lads, he is a centre forward who is being forced to play left side, we all know players who haven't shown their best through not played in their correct position. His hat-trick against Sunderland shows he can do it in Rom's absence. Also I would have no hesitation at playing Mirallas at centre-forward either if Rom gets injured.
Nice choices to have.
Gordon Crawford
23
Posted 19/01/2016 at 19:16:57
That's exactly what it is Mark. Roberto has his favourites. And whether they play well or not it doesn't matter. As they will still end up in the starting eleven.
Makes me sick.
Brian Harrison
25
Posted 19/01/2016 at 19:27:11
Colin (#15),
I agree that RM has never forgiven Mirallas for the penalty against West Brom. But after the game, he said that there was nothing wrong with a player who felt confident taking the penalty.
A few days later, he confirmed that any future penalties would be taken by Baines. But the next penalty we get was taken by Lukaku who scored while Baines was on the pitch.
So why didn't he comment on Lukaku taking it instead of Baines? Or maybe if Mirallas had scored like Lukaku then nothing would have been said.
Gerard Carey
26
Posted 19/01/2016 at 19:43:16
If we get over Man City in the semi-final who will RM play in goal in the final.
Anthony Flack
27
Posted 19/01/2016 at 19:47:43
Gerard – almost certainly Kone.
Tony Abrahams
28
Posted 19/01/2016 at 19:48:10
Have to agree with Jamie @7. Gerard 21, I hope it's a question that we find an answer to mate, I've been thinking the same thing since the game at the riverside.
Ste Traverse
29
Posted 19/01/2016 at 19:49:57
Would Roberto's little favourite Traffic Kone have scored the type of goal Kev scored on Saturday?
Not a chance.
He's waited a long tme now it's time he had a decent run in side.
Colin Glassar
30
Posted 19/01/2016 at 19:51:07
Brian, I think Martinez recognises Mirallas's skill but seems unable to get the best out of him and so both of them are frustrated with each other. The only solution I can see is a parting of the ways.
Victor Jones
31
Posted 19/01/2016 at 19:51:11
I think that it is clear to everyone that Mirallas is a skilled footballer. But it is also clear that something has happened between him and Martinez. Martinez has played everybody ahead of him , this season. Even in recent games Pienaar and Kone. Even Osman. How can that be? I can only think that Martinez has a problem with the attitude of Mirallas. If not, then Martinez is an idiot. But there again I always felt that Martinez never fields his best eleven Just my take on team selection and sub's usage.Just my opinion...... But there are signs recently that that is changing. He(Martinez) showed similar signs last season. He started playing players that supporters actually wanted to see play And form got slightly better . Enjoy it while it lasts. Because he will soon return to type. His favourites always win the day.
Just a small comment on Kone. I honestly thought that he was starting to show a little form. That he was actually good at linking up with and bringing the best out of Lukaku. That notion was proved to be wrong and short lived. I now don't think that Kone has much of a future at Everton. He is not the way forward. Naismith was even a bigger asset. In fact Naismith was far better than Kone. And Mirallas ( on form) is better than both of those players. Let's hope that Martinez and Mirallas have buried their differences, and made up. All speculation, I know, but something was not right. A fit and Hungary Mirallas could be a real asset for the rest of the season. And as for the notion that he doesn't defend. Leave that to our Defenders and numerous DMs. Did Stan Bowles, Rodney Marsh, George Best. Frank Worthington defend? Mirallas can be one of our three luxury attackers. Let them do their thing.
Sorry , did I say to let our defenders do the defending. Wish that they would get started. Starting against The Swans and City. COYBs.
Peter Bell
32
Posted 19/01/2016 at 19:52:01
Brian, towards the end of that season, Baines was taken off both the dead ball situations and penalty kicks, only for us to later learn he had been suffering with a long-term injury that resulted in his first operation, that's why Lukaku took up the penalties.
Gerard Carey
33
Posted 19/01/2016 at 19:52:35
I will tell you Tony, RM will play Tim Howard. Nailed on!!! (as they say).
Anthony Hawkins
34
Posted 19/01/2016 at 20:06:16
My view is that Mirallas earned the right last season. He took a chance (rightly or wrongly) in trying to galvanise the team but it back fired. Can't blame him for wanting the team to try harder.
Tony Abrahams
35
Posted 19/01/2016 at 20:25:12
I hope your right about us getting to the final Gerard, but if we did and he played Howard, I would never watch Everton again whilst he, Martinez was our manager.
Craig Mills
36
Posted 19/01/2016 at 20:27:38
Mirallas will certainly bring more goals to the team if he plays regular, I'd have him in our starting 11 everytime.
Walter Kelly
37
Posted 19/01/2016 at 20:36:44
Would this be the same 'key role' that Christian Atsu played in the second half of last season?
Jeff Armstrong
38
Posted 19/01/2016 at 22:16:32
If we get to the final, Robles will undoubtedly be in goal, just as he was when Wigan got to the FA Cup Final, after playing in each round, and Al Habsi was the Premier League goalie.
Darryl Ritchie
39
Posted 19/01/2016 at 22:27:48
If Mirallas has to play himself onto the team, what does it take to play yourself off? Kone hasn't started the last few; maybe RM's seen the light at the end of the tunnel... I hope for his sake it's not the light of onrushing train.
Ian Riley
40
Posted 19/01/2016 at 22:48:33
Don't, give a wild shite about our attacking options. It's the other end I'm worried about! I mean the defence!!!
Frank Thomas
41
Posted 19/01/2016 at 22:57:37
I think Mirallas is a fantastic player. So is Steven Naismith who can remember Martinez's inspired substitution – sorry enforced changed otherwise Naismith would not have played more than about 12 minutes in the Chelsea game at Goodison Park.
Do you remember Martinez's comments on the day? http://www.bbc.co.uk/sport/0/football/34160707 and yet today the manager sold him???? Based on Mirallas last appearance when he scored and was then "rested" until last Saturday it could go along way to explaining why players celebrate so much they are going to get a rest for 5 or 6 games.
Martinez's comments also mean that we will be selling Mirallas in the summer unless he scores better than 1 in 3 games which is his goal scoring ratio while at Everton.
QUICK QUIZ: which player has spent far more Premier League time on the pitch than Mirallas and Naismith combined this season and scored the same number of goals? Last two clues: he is older than Naismith and has a much poor goal scoring ratio than any of our strikers. Final clue: he has played the equivalent of 12 premiership games and is so effective you only have to look at his impact when on for about 90mins http://www.liverpoolecho.co.uk/sport/football/football-news/Everton-3-4-stoke-city-10659554
The answer follow the link http://www.espnfc.co.uk/club/Everton/368/blog/post/2779289/Roberto-Martinez-needs-to-end-arouna-kone-experiment - This is the player we should have sold.
Michael Polley
42
Posted 19/01/2016 at 23:42:10
I always liked Mirallas, but sometimes he goes AWOL during a game, but he seems eager and wanting to prove a point this time.
Mirallas over Kone any day. Hope he plays on Sunday. COYB
Michael Williams
43
Posted 20/01/2016 at 01:19:55
I'm hoping Mirallas plays and that he plays as great as he thinks he is.
Harold Matthews
44
Posted 20/01/2016 at 01:43:57
Mirallis needs to be up for it, on his toes and desperate to prove himself and, right now, he is anxious to impress the Belgium manager. The Euro Championship is on the horizon and he wants to be part of it. A strange guy, blessed with tremendous talent and a powerful shot in both feet, we cannot afford to leave him out.
Not sure who I'd want on the pitch if we're trying to defend a lead late on. Down to 10 men in the Cup with Cleverley, Lukaku and Deulofeu subbed and Coleman injured, Stones, Funes Mori, Baines, Barry, Besic, Barkley, Mirallis, Kone and Osman gave a grand display of possession football, something we couldn't manage on Saturday.
Gordon Crawford
45
Posted 20/01/2016 at 01:50:19
He needs to start definitely.
Also, I see we are being linked with another loan move? Bertrand Traore is meant to be on our radar. Seriously depressing.
Darren Bailey
47
Posted 20/01/2016 at 08:42:17
About fucking time! All of us have been saying this for ages. There's no doubt about it – Kevin Mirallas has to play. Kone is a waste of space and hopefully RM has now seen this as he's not featured the past few games.
I hate favouritism, it winds me up. It should be about form and ability which means Howard and Kone have to be dropped (or sold preferably)-full stop.
Our best 11 must be:-
Robles, Coleman, Stones, Jagielka, Baines, Besic, McCarthy, Deulofeu, Barkley, Mirallas & Lukaku.
With the likes of Funes Mori, Oviedo, Cleverley, Lennon and the younger players like Browning & Galloway all vying for places as well, we do have a good platform. I've not been Barry's biggest fan the past season and a bit but even I can see that he has been in good form this season but with Besic in the form he's in and McCarthy's all round play it may be time for a rest with a view to seeing out the game at the end if needed. Personally I think Gibson is a great squad player and I wouldn't have let Naismith go.
I have two concerns with regards to Mirallas:-
1. As stated before, his defensive capabilities and
2. What will happen if RM is able to bring in (let's just say) Yarmolenko? What does that then tell Mirallas? "Thanks but no thanks" is my guess.
Matt Garen
48
Posted 20/01/2016 at 09:15:08
Darren @42. I really don't think you need to be concerned about your final point.
Eddie Dunn
49
Posted 20/01/2016 at 09:28:04
Martinez is trying to keep Kevin on his toes. It's funny how he doesn't see the need to keep Howard on his toes. I suppose it's all about man-management, but there is little consistency with Martinez. You can take anything he says with a pinch of salt – all this talk of players being so important in the second half of the season etc.
The teammates must all see what happens during a game, and wonder why anyone could pick Kone over Mirallas. They must have been wondering why Besic was ignored for so long. He seems to have them all under control, as we don't hear much dissent from the dressing room – he is obviously not a man to cross.
My way or the highway!
Anthony Dwyer
50
Posted 20/01/2016 at 09:37:00
As many of you above have said, crazy how certain players need to earn the right to play, whereas some do not have that privilege (Robles) and some are played no matter how poor their form (Howard & Kone).
Other favourites are allowed certain traits that many a manager would not condone too.
Young Gerri has been a revelation since his return to the club, but his 55-minute cameos and his arm waving are very annoying. I cannot understand how he gets away with it to be honest. Surely its time to get match fit if your in the starting 11? Surly you should be told to cut out the arm waving and adopt a more teammate, sportsman-like personality? Surely he should be shown videos of some of this behaviour, along with the cringe-worthy dives he quite often performs.
Although the above comments may not sound like this, I am a huge fan of Gerri; we are a much more dangerous side with him in the team. That said, rules should apply to the whole squad if Martinez wants us to have unity.
Darren Bailey
51
Posted 20/01/2016 at 09:40:48
No Matt @43, me neither really.
Laurie Hartley
52
Posted 20/01/2016 at 10:04:45
Darren # 42
Baines and Coleman are I agree our best full back pairing.
However if you go on form and ability there is no way either Barry or Besic can be dropped from the team. So in my view if you want McCarthy to start one of the other squad members has to make way for him. (By the way I feel this midfield trio would go a long way to curtailing our defensive lapses.)
From what I have seen Funes Mori is contributing the most to the team from the centre back position so to me that means Jagielka or Stones should make way for him. That's a tough call.
That leaves us 3 more outfield positions to fill which brings us to the Mirallas dilemma.
Lukaku must start so 2 more to pick from Mirallas, Deulofeu, & Barkley. If you want Mirallas in your starting eleven, which I do going on his Chelsea performance and goal scoring ability, Barkley or Deulofeu must make way for him. Another very tough call.
When Coleman and McCarthy are available the manager has real selection head aches of the right kind.
As far as Yarmolenko is concerned I can't see it happening but if it did it would definitely signal the end for Mirallas which I think would be a mistake. We haven't had much success recruiting from Russia. Mirallas is a proven premiership performer.
As an aside, there has been much suggestion that we need a back up for Lukaku if he gets injured - I think Mirallas would prove a very viable option in that position given his goal scoring record with us and also before he came to us.
So it looks like a lay down miser to me – Mirallas must get more game time.
So it probably won't happen!
Clive Rogers
53
Posted 20/01/2016 at 10:25:51
If Martinez is picking Howard due to his greater experience, the longer he keeps picking him, the more experience he'll have. So he'll be there for ever on that logic.
David Booth
54
Posted 20/01/2016 at 12:33:41
STOP all this nonsense about Mirallas needing to defend more!!!
Jagielka and Stones aren't selected because of their attacking ability.
Mirallas scores goals, which he does very well. Full stop.
Those of you who go on (and on and on) about how useful a defender he is are as bad as Martinez.
Just get him in the starting eleven and let's make something of yet another mediocre-looking season.
Denis Richardson
55
Posted 20/01/2016 at 12:34:44
After his performance at Chelsea, the manager can't really drop him for the next game. Mirallas (thankfully) has left Martinez with little choice.
However, our issue this season (and last) has not been with the atracking part of our game. We let in 50 odd league goals last season and we're currently on course to let in even more this season! That despite playing no less than 7 defensive players from the start most games. Defensive set up, tactics, individual errors, whatever it is it's obviously not being addressed properly (or at all).
Until we sort out the defensive side, it doesn't really matter who we play up front when we let in 1.5 goals a game on average.
David Price
56
Posted 20/01/2016 at 15:35:25
Look at the difference in Arsenal now they have a keeper of class and that position is were we could have been now.
If Stones does go for £50m then splash the cash on Jack Butland and Ashley Williams. After that, all we are missing is the Andy Gray factor from 1984 to turn us from nice to nasty. For me, that person has to be Rooney with the Kiev lad in tow for some more class.
Dave Abrahams
58
Posted 20/01/2016 at 16:26:41
It is all up to Mirallas, we have all seen how great he can be,get you out of your seat with a great goal, brilliant, is he consistent? If he carries on like last Saturday he will have to be picked.
Not even his mother or his greatest fan can guarantee that he will perform consistently; he has never played that way in the past so it is up to him to provide that consistency. I'm not saying drop him after one bad game but, if he is trying in every game, then keep him in.
Tom Bowers
59
Posted 20/01/2016 at 17:19:25
Kev initially had a good understanding with Rom. which dissipated somewhat after he got knobbled by Ratboy.
However, it would seem his mouthing about moving elsewhere cost him his place but his goal last weekend was a gem and one hopes the partnership is further revived as Kone seems to have lost his early season form.
Offensively the Blues are doing better than most teams but those defensive woes are killing us.
Jim Hardin
60
Posted 20/01/2016 at 17:25:00
Dave,
Agreed... so we can drop Deeulofeu since he doesn't try after about 55 minutes? Deulofeu as the sub then allows Mirallas and Barkley and Lennon to be used behind Lukaku. Pienaar and Deulofeuas offensive subs and McCarthy and Gibson as midfield subs, and Robles, Stones and Oviedo as the other subs.
David Pearl
61
Posted 20/01/2016 at 17:25:37
I don't think we can play both Mirallas and Deulofeu in the same side. The way Martinez has us set up relies heavily on keeping the shape. When we don't and we become stretched that's when our problems kick in. Which is also why Barry will never be dropped to allow Besic and McCarthy to play together unless its against lower opposition.
It's interesting that RM has been trying Osman & Pienaar in recent weeks. Along with Cleverley... we actually have a very good squad. I wouldn't be surprised to see Cleverley and Mirallas either side of Barkley on Saturday.
Andrew Clare
62
Posted 20/01/2016 at 17:34:32
Very talented but very inconsistent. If he could play regularly like he did at Stamford Bridge, he would be in my team every time but unfortunately he doesn't.
On that performance, I would start him against Swansea.
Paul Cherrington
63
Posted 20/01/2016 at 17:35:39
He should have been playing anyway and then maybe we wouldn't be down in 11th like we are now. I don't care about his arrogance or gold Bentley – he is a matchwinner and goalscorer – even Moyes could see that & played him.
Dave Abrahams
66
Posted 20/01/2016 at 18:45:03
Jim (55),
I do not think it is a case that Deulofeu doesn't try, it is just that he is absolutely knackered after 70 minutes.
I don't know why this so but, until they sort his fitness out, he would be best used as a sub.
Tony Abrahams
67
Posted 20/01/2016 at 19:18:45
The way Martinez has us set up relies heavily on keeping the shape? When we don't and we become stretched that's when our problems kick in?
Keep your shape boys even if it is all over the place, and don't get stretched, because my shape can only cover one side!
James Marshall
68
Posted 20/01/2016 at 19:25:31
He'll play Robles if we make the final, just as he did when Wigan won the cup. I'll bet you any money you like.
John Aldridge
70
Posted 20/01/2016 at 23:08:51
So that's Kev back on the bench for the next match – behind grandpa Kone again. You're full of shit, Roberto.
Paul Kelly
71
Posted 21/01/2016 at 00:33:38
Does he like setting himself up for kicking? Is he deluded? Probably both, but why doesn't this apply to Robles, Funes Mori and IMO Besic will suffer the same fate once McCarthy is back in contention.
Mark Andersson
72
Posted 21/01/2016 at 00:48:15
David @50. Spot on, shame most on here want a Naismith work like character from every player. In the real world every player has their strengths and weaknesses.
After Mirallas scored the goal against Chelsea, the co-commentator said, "That reminded me of a Matt le Tissier type goal." Was Matt remembered as a hard-working, track-back kind of player? Hmmm, no.
Jack Cross
73
Posted 21/01/2016 at 02:34:35
Jim Bennings(# 9).
Deulofeu and his fitness problem, could you see this being the case under Moyes? Most of the team don't look fit to me, in the later stages of the game.
How many players would you say are consistently good in each match? Scratching your head are you Jim? That's why it's ludicrous to me to leave Mirallas out of any game. He's a game turner to me.
As for Howard, well you just can't put in to words why RM, prefers him. Can't be form, can it?
All this shit about Howard, keeping the dressing room alive, well, I wonder what the defenders in front of him really think?
Oh by the way Jim, whats happened to Conor McAleny? Got to better than Kone, hasn't he?

Matt Traynor
74
Posted 21/01/2016 at 04:17:01
Jack #64, if OFM were here, we'd never have signed the likes of Deulofeu or Lukaku. If OPM were pushed and OFM returned, they wouldn't hang around long either.
Anto Byrne
75
Posted 21/01/2016 at 08:12:27
I get up at 4 am to watch this Everton play...
I never bothered under Moyes.

Peter Roberts
76
Posted 21/01/2016 at 13:54:52
Funny isn't it, Kone is the stick used by many to bash Martinez with...
Sell Naismith for £8.5m – "should have sold Kone", forgetting no one is going to pay for a player who wouldn't pass a medical (his knees are beyond dodgy)
Mirallas doesn't play – when given his time on the pitch he was poor up till Chelsea, anything good Kone has done is brushed aside as people don't want him to be effective.
The reality with Mirallas – if its about talent and applying it on the pitch consistently then he is one of the first on the sheet. The problem regarding Mirallas is Mirallas himself. If he stops thinking "me, me, me" then I think he may find himself in the team a lot more.
Jack Cross
77
Posted 21/01/2016 at 17:05:08
Matt Traynor (#65).
Well that maybe true Matt, that Deulofeu and Lukaku wouldn't have been here only for RM.
But Deulofeu is in and out of games, inconsistent although he has provided Lukaku with a lot of assists.
Lukaku only came good this season as an all round player. As he want's Champions League football, he maybe off this summer. So what will RM's two great buys really have achieved for us?
11th last season and possibly a similar position this season. If your happy with that Matt, fine, but I'm not.
Brian Harrison
78
Posted 21/01/2016 at 17:24:31
Matt (#65)
You are right, OFM would not have signed Lukaku, mainly because he was never given anywhere near £28 million to spend. As for Deulofeu maybe the Spanish connection has played a big part in him coming to Everton.
But when we signed Lukaku nobody else was interested in him at £28 million, there was some speculation about Wolfsburg being interested. Now whether that was Chelsea saying that, I don't know... but either way they didn't come close to putting in a bid.
Deulofeu as I see it is no more than an elaborate loan deal. When have you ever heard a deal being agreed were the selling club can take him back after 1 or 2 seasons at a fixed price? Even RM has said that there is nothing he can do if Barca activate this option, so he is hardly our player, is he?
Phil Walling
79
Posted 21/01/2016 at 22:41:29
Strange that so many pour vitriol on Moyes although his win percentage over a lengthy stewardship was much more impressive than his successor has managed. And on only half the money the Catalan has been allowed to spend.
It's as though many Evertonians have bought into the Spaniard's view that it's performances that count rather than results.
Perhaps he's right after all. We'll have to wait and see!
Steven Jones
80
Posted 21/01/2016 at 22:56:42
RM creating the right level of competition and pressure on players keeping them on their toes.
Mirallas has not fulfilled his promise and application and focus have been an issue. Hopefully RM's man management helps create a great second half of the season.
Ian Riley
81
Posted 21/01/2016 at 23:14:15
Two managers, Martinez and Moyes have different approaches to playing football. Moyes approach was a result first and performance second. As the squad included more quality the style of football improved under Moyes with a solid defence as key.
Martinez approach of attacking and procession football is key to our performance. Defending is not part of that plan. The goals against indicates that. In the first season with Martinez we came 5th. Why? The mentality of the defence and team as a whole were still in the Moyes approach. As time has gone by Martinez has implemented his coaching methods.
My worry with Martinez is the lack of recognition that defending is a fundermental part of winning games. A top manager sees the big picture and reflects on his own methods. Up to now this is not happening. I don't see us being in a relegation scrap this season but I do in the next two to three seasons. Martinez must change direction in coaching the players in keeping a lead by closing out games.
I must say I worry more about relegation under Martinez than I did under Moyes!
Chris Leyland
82
Posted 21/01/2016 at 23:15:24
Anto Bryne, is it the prospect that we win just 3 out of 10 league games (our win rate over the last 60) that makes you get up at 4am?
Or is it the prospect of watching us blow the chance of winning games with a constant failure to close matches out through the manager's naivety?

Peter Roberts
83
Posted 22/01/2016 at 10:21:58
Quick Marty, let's jump in the De Lorean and go back to 2013 and try and keep David Moyes – everything was rosey then.... the fans were half asleep and people weren't renewing season tickets but we had Phil Neville in midfield and he did a lot of pointing when trying to defend a 1-0 lead from the 25th minute...
William Cartwright
84
Posted 22/01/2016 at 11:12:28
I think I've made this point on another thread a year ago but I think it suits this discussion.
In his first season, Roberto was still finding his feet at a new club. The existing structure in place coupled with some new initiatives worked very well.
Up to the Crystal Palace home game, when effectively the wheels came off, Roberto's press conferences were focused entirely upon Everton and Everton alone. I distinctly recall him saying that as a club we look to ourselves and not the opposition.
Then suddenly his pre-match conference style shifted to how good the opposition were and how we will have to be cautious and do this and that to counter their threats. We all know what happened and has been happening ever since.
It is as if Roberto had an epiphany and assumed a completely different persona. Did it occur at around the time his contract was upgraded? If so this may explain that he felt he had assumed control and power to tinker and mess about, without the risk of any disciplinary reaction, could have gone to his head, quite literally... I wonder?
Barry Jones
85
Posted 23/01/2016 at 01:14:00
If all of you idiots on here are correct... and sadly, I think you are, doesn't it upset you that Martinez is being paid millions to make these incredibly bad decisions in team selection? ... and not just one-offs, but consistently.
Brin Williams
86
Posted 23/01/2016 at 19:39:49
Come on, Kevin. If picked, this is your last chance to show me that you deserve a run in the team. If you can't cut the mustard against the Jacks, you need selling... like now.
Add Your Comments
In order to post a comment, you need to be logged in as a registered user of the site.
Or Sign up as a ToffeeWeb Member — it's free, takes just a few minutes and will allow you to post your comments on articles and Talking Points submissions across the site.
© ToffeeWeb