Amanda Holden signs for Everton in the Community
21/01/2016

21 Comments [Jump to last]
TV favourite Amanda Holden has been appointed an honorary patron of her football team's charity, Everton in the Community.
The Britain's Got Talent judge has accepted an ambassadorial role for the official charity of Everton Football Club, which is recognised as one of the UK's leading sporting charities and regularly acknowledged on both a national and international stage for addressing a range of issues, including dementia – a topic very close to Amanda's heart.
And during a recent visit to Liverpool for Britain's Got Talent auditions Amanda took time out of her busy filming schedule to visit Goodison and find out more about the charity's pioneering 'Pass on the Memories' programme which supports people living with dementia and their carers.
Amanda's maternal grandfather, whom she credits for her love of music, sadly lost his battle with dementia in 2007 and since then she has publically campaigned to boost volunteering, education and support for the growing number of people with the condition.
During her time at the home of the Blues, Amanda took part in a series of memory quizzes alongside some of the people who attend the programme and put her general knowledge on the 50s and 60s to the test before meeting delivery staff and finding out more about 'Pass on the Memories' and the people it supports. Rounding off her visit, Amanda spent some time looking through the reminiscence memorabilia on display at the session and viewed a large scale knitted goal net which has been produced by the programmes participants.
Delivered in partnership with Mersey Care NHS Trust, 'Pass on the Memories' uses a range of interventions, including sporting reminiscence workshops and custom-made life story memory books, to help people share important memories and create new ones.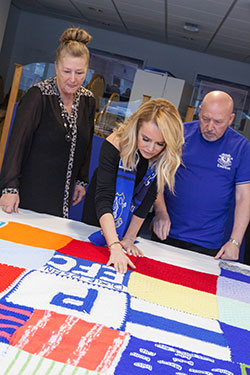 Evertonian Holden said: "I'm so proud to take on a role as patron for Everton in the Community which is such a special charity; changing and saving the lives of people all across Merseyside every day. It's an incredible charity. Everton is my club and there's an 'Everton way' and Everton in the Community embodies the values of Evertonians."
"The 'Pass on the Memories' programme is so personal to me because my own grandfather had dementia and we had to watch him slowly turn into a different person and then sadly slip away. By 2020, one million of us will be living with dementia and it is something we need to recognise, embrace and help which is exactly what this programme does. Dementia is the cruellest of illnesses and if you can come to something like this it provides a little ray of sunshine in quite a dark place. This programme gives people something to look forward to and also supports loved ones who stay strong by their side and help them live day to day."
"You are never alone when you are a part of Everton in the Community, it very much feels like a family and you are always made to feel welcome," added Amanda.
The popular actress and presenter has taken up her role at Everton in the Community with immediate effect and will use her profile to promote all of the good work the charity undertakes to tackle a host of social issues including health, employability, crime, education, poverty, youth justice and disability.
Denise Barrett-Baxendale, Everton in the Community CEO, added: "We are delighted that Amanda has joined us on the board at Everton in the Community and we look forward to working closely together to raise the profile of our fantastic charity nationally as well as enhancing the work that is done by the charity each and every day."
Established in 1988, Everton in the Community is an award-winning charity which delivers over 60 programmes to support the most vulnerable and underprivileged people in Merseyside.
In recent years, the charity has helped more than 600 local unemployed people become 'job ready' through its 'Everton 4 Employment' scheme; developed a number of programmes with Mersey Care NHS Trust to tackle mental health issues among different groups within the local community and runs the biggest football programme for people with disabilities of any club in the world with 14 teams for all ages and abilities.
Everton in the Community has also achieved an 78 percent non re-offending rate with its Safe Hands programme which helps integrate young offenders back into society and the charity even made history when it became the first associated to a Premier League football club to open a Free School, 'Everton Free School' in 2012.
---
Reader Comments (21)
Note: the following content is not moderated or vetted by the site owners at the time of submission. Comments are the responsibility of the poster. Disclaimer
Anto Byrne
2
Posted 21/01/2016 at 02:39:36
Best thing that's happened at Everton in years. Love her!
Richard Lyons
3
Posted 21/01/2016 at 06:27:09
I think I've just fallen in love with her.
Matt Traynor
4
Posted 21/01/2016 at 06:31:05
Well Richard, she likes Men Behaving Badly...
Jim Bennings
6
Posted 21/01/2016 at 07:30:02
Much rather see her up top than Kone.
And given some of Kone's performances of late, I mean that genuinely not a joke!
Phil Sammon
7
Posted 21/01/2016 at 07:38:02
A charming lady who I have nothing bad to say about. Everything is wonderful.
Colin Glassar
8
Posted 21/01/2016 at 07:54:46
Roberto should take advantage of her and use her to improve our profile.
Andrew Yates
9
Posted 21/01/2016 at 08:31:48
Would she be able to Holden down a first team spot on merit though going by RM's favourites philosophy!!?
Derek Thomas
10
Posted 21/01/2016 at 08:38:59
Does that mean we'll be playing with 2 up front, but seriously If she helps the cause what's not to like
Anthony Flack
11
Posted 21/01/2016 at 08:50:10
Sorry in advance for a lack of political correctness, I'd put her in instead of Howard, as when they get to swapping shirts at full time it will put thousands on the gate and stop many leaving early....
Kieran Fitzgerald
12
Posted 21/01/2016 at 08:59:28
Thank God for that. This may distract her from annoying me. She's constantly ringing me up asking me out on dates. It has the wife driven demented. I swear, between her and Nicole Kidman my head is wrecked.
Dave Abrahams
13
Posted 21/01/2016 at 09:35:49
How did Amanda become an Evertonian? Is she from Merseyside? Not having a go at her, just curious.
Harold Matthews
15
Posted 21/01/2016 at 10:55:23
A very caring person.
Don't know how she became an Evertonian. Wouldn't be surprised if she knew Bill Kenwrighr and Jenny Seagrove.
Derek Knox
16
Posted 21/01/2016 at 10:56:45
Dave @10&11.
I wondered that myself, but it could be that she was once married to Les Dennis, although I am not sure he was an Evertonian either?
It's maybe like Ed Stewpot Stewart, who sadly passed recently, who felt sorry for us, after a drubbing, we have had a few over the years, other than that, it would be interesting to know!
Marc Williams
17
Posted 21/01/2016 at 11:20:04
Didn't she have an affair with "Bob The Builder" ?.... Maybe she could get us a good price on the Walton Hall Park proposals!!!
Jim Hardin
20
Posted 21/01/2016 at 12:34:15
I heard West Ham made an attempt to hijack this signing also.
Sid Logan
21
Posted 21/01/2016 at 14:07:19
She became an Evertonian through Les Dennis.
Steve Green
22
Posted 21/01/2016 at 19:27:31
She took an interest in us through her current husband who is a big blue. It wasn't through Les Dennis.
When hubby brought her along to Goodison, there would be no doubt Bill greased the wheels and gave it the spiel. Good on him.
Good on her.

Kevin Gillen
23
Posted 22/01/2016 at 09:45:31
I'm chuffed about Amanda but we still need a Goalie.
Julian Wait
24
Posted 22/01/2016 at 14:37:33
It's just like a new signing!!
Brian Harrison
25
Posted 22/01/2016 at 14:45:05
Don't you just love celebrity fans? You never see them on a cold wet night at Goodison... but, if we get to a final, there they are, front seat in the Directors Box.
Having said that, if she does get involved in Everton in the Community, then good on her.
Sid Logan
26
Posted 22/01/2016 at 15:39:59
Brian,
I've seen her at the match with her daughter.
Credit to her for using her name for Everton in the Community.
Whether we like it or not the world loves celebs. And I love Amanda Holden!
Add Your Comments
In order to post a comment, you need to be logged in as a registered user of the site.
Or Sign up as a ToffeeWeb Member — it's free, takes just a few minutes and will allow you to post your comments on articles and Talking Points submissions across the site.
© ToffeeWeb