Coleman could return against Swansea
by

36 Comments [Jump to last]
| 22/01/2016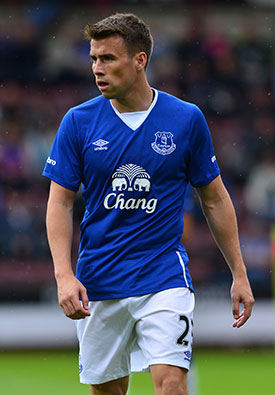 Seamus Coleman and James McCarthy have been "progressing well" in the words of Roberto Martinez following their return to full training but the manager said it was too early to tell if either will be considered for Sunday's team.
The Irish duo have been out of action with respective calf and groin problems this month but Coleman, having already been pencilled in for a return against the Swans and with two training sessions under his belt this week to McCarthy's one, is perhaps the more likely to start this weekend.
The fullback limped out of the Capital One Cup semi-final first leg against Manchester City on 6th January will the calf strain and has been deputised by Bryan Oviedo and John Stones in the interim.
Oviedo's own recovery from a scare against Chelsea last weekend, however, could allow Martinez to delay Coleman's return until the cup second leg at the Etihad Stadium next Wednesday, the second of five games in a fortnight's spell, while Tom Cleverley's availability would allow the same strategy with regard to McCarthy who aggravated his injury against Stoke in late December.
In specific reference to the Irish duo, Martinez said that he regards both as "medically fit" but that the next couple of training sessions before Sunday's match would determine whether they are sufficiently match fit to be involved.
"All three have been working well this week," Martinez said in his pre-match press conference at Finch Farm this morning. "Tom Cleverley, who made the bench against Chelsea has been working really well.
"James McCarthy has joined the group and had one session. Seamus Coleman has had two sessions now with the group and in terms of them being really close to hit the match fitness that you need we're really pleased.
"Over the next 14 days we have five games so clearly those three players will be available for that. It's still to early to say whether [Coleman and McCarthy] will be involved one way or the other but, from a medical point of view, they are available for the weekend.
"Steven Pienaar has had a really good reaction to the role that he has been playing the last few games. Bryan Oviedo is fine. He had an individual session straight after the Chelsea game and now he's worked twice with the team so he's in a very good frame of mind to be available."
---
Reader Comments (36)
Note: the following content is not moderated or vetted by the site owners at the time of submission. Comments are the responsibility of the poster. Disclaimer
Paul Setter
1
Posted 22/01/2016 at 18:05:43
After Lukaku our best 2 players recently have been Besic and Funes Mori, both I expect will be the ones making way for Coleman and the talentless McCarthy. Both deserve better and should be first names on the team sheet at moment.
Michael Williams
2
Posted 22/01/2016 at 18:12:17
It's good players are getting healthier but with two training sessions for Oviedo and Coleman it seems there are no great or sure options at RB yet. RM is going to have to play a player who is not exactly match fit, Coleman or Oviedo, or possibly play Stones at RB again.
Joe Foster
3
Posted 22/01/2016 at 18:29:51
Any one really confident we can win this game?
James Marshall
4
Posted 22/01/2016 at 18:37:39
I'm confident we can win every game, but that probably means another draw.
I'd be surprised if they beat us, but the odd thing is we're due a win, and you could also argue we're due a defeat.
Jim Bennings
5
Posted 22/01/2016 at 19:20:32
After what I have witnessed this season with this club, I'm never confident we can win any game. Sure, we can score against anyone but likewise anyone can score a sack full against us.
To be brutally honest, I'd take not winning on Sunday if it meant getting past Manchester City on Wednesday night, that for me is the season defining moment of bottle and character.
As for Coleman? If he's not fully ready then why rush it?
Alan Bodell
6
Posted 22/01/2016 at 19:46:31
Besic has quietly waited his chance to return and has been excellent considering his layoff, if he is left out when Jimmy Mac is ready then that is a sure sign that Martinez has his favourites.
I like McCarthy but, until Mo fucks up, then leave it as is please.
Geoff Williams
7
Posted 22/01/2016 at 20:00:15
Cannot understand the antipathy towards McCarthy. His drive and energy is vital to any success Everton achieve. With Barry and Besic he will form a formidable midfield. Cleverley could substitute for any of the three.
Barkley, Mirallas or Deulofeu and Lukaku further forward and Coleman and Baines bombing down the wings. With options in the centre of the defence, we have a team capable of making up for the shortcomings of our goalie. I for one welcome the return of McCarthy.
Dave Brierley
8
Posted 22/01/2016 at 20:05:40
I hate all this pessimism. Coleman to start. We're due to give someone a real slap. It's the Swans on Sunday. 6-1. Keep the faith.
Will Firstbrook
9
Posted 22/01/2016 at 20:09:46
Personally I don't hold any contempt towards McCarthy or his ability. Rather he needs to earn his spot back in the starting 11.
Besic has earned the right to start based on recent performances and has developed a good understanding with Barry. I wouldn't want to tinker with that just because McCarthy is returning to full fitness, in my opinion.
Phil Smith
10
Posted 22/01/2016 at 20:18:29
Off topic, totally, but I see that George Green has been given another chance, this time at Burnley.
I've been following him to see how much time he was playing in non-league (only 2 appearances, I think since he left Oldham, which had me worried about his future) but he seems to have been angling a return to the Football League for himself.
He just turned 20 the other day and I noticed his girl is preggers, so hopefully that has been him mature a wee bit. A return to the blues in the future, maybe?
Alan Bodell
11
Posted 22/01/2016 at 20:21:30
Geoff (#7) and Will (#9), I don't see any dislike of Jimmy Mac, he's top but Besic plays his role and it's great we have these two but if Besic gets left out then that for me sucks.
Grant Rorrison
13
Posted 22/01/2016 at 20:43:58
Coincidence that he got injured while we were 2 nil up at Bournemouth?
Christy Ring
14
Posted 22/01/2016 at 20:44:59
Paul (#1), Completely disagree with your comment that McCarthy is 'talentless'. We're a better team when he's playing, and we missed his drive, energy and protection of the back four.

Stephen Brown
15
Posted 22/01/2016 at 20:47:56
McCarthy is an excellent player! He is a huge part of our future! However after an injury Besic has taken his chance so McCarthy will have to wait his chance!
Steven Jones
16
Posted 22/01/2016 at 20:50:07
Coleman straight back in for me, with Mirallas, Deulofeu, Baines, Lukaku and Barkley in form on Sunday and a 4-1 win for me.
What an attacking line-up we have. Someone is going to get stuffed this season by us and we have had some bad luck recently... as well as looking more solid against the likes of Man City.
My pennyworth is Besic should remain and McCarthy to earn a run in the team over the next 4 weeks.
With the FA Cup as well, we have enough games to keep the squad fit and at it!
COYBs!!
Colin Metcalfe
17
Posted 22/01/2016 at 20:59:10
I don't think Swansea can hurt us to be honest so I'd quite like to see Barry rested so he is fresh for the cup game!
Macca and Besic should provide enough protection against the Swans who are a decent outfit on their day but, having seen them grind out that win against Watford, I will very surprised if we don't turn them over!!
Tom Bowers
18
Posted 22/01/2016 at 21:04:24
Macca is a must but only if fully fit so don't rush him back. Besic is improving and should get the nod ahead of any others in defensive midfield even Barry who's legs are not getting younger.
Swansea, like all Premier League teams are no pushovers for this Everton team with the defensive uncertainties. Remember Bournemouth scored three and, of all teams, Stoke scored four!!
Dave Abrahams
19
Posted 22/01/2016 at 21:10:53
Ideally it would be wise to start the game with both of them on the bench and start Oviedo if fit, if not Pennington at right back, with Jagielka and Funes Mori at centre back, resting Stones for City on Wednesday.
Hopefully if we are two up with 20 minutes to go (yes, I know) bring McCarthy and Coleman on to give them some minutes on the pitch. Then again, Bobby works in strange ways.
Ian Bennett
20
Posted 22/01/2016 at 21:27:50
Robles (fat chance)
Cleverley (or Lennon)
Stones
Jagielka
Baines
Besic
Barry
Deulofeu
Barkley
Mirallas
Lukaku

Laurie Hartley
21
Posted 22/01/2016 at 21:31:15
It is going to be an interesting week watching the team selections.
Coleman if fit must return so who makes way for him: Jagielka, Stones or Funes Mori? For me that is the biggest selection question
A midfield 3 of McCarthy, Besic, & Besic (Geoff #7) would for me bring more defensive solidity.
Lukaku starts so pick the remaining 2 from Mirallas, Deulofeu, Barkley, Lennon, Cleverley, Oviedo.
For me I will be disappointed if Besic, or Funes Mori, is dropped but I have a feeling he will start Cleverley, McCarthy and Jagielka.
Mike Iddon
22
Posted 22/01/2016 at 21:39:12
Some good points on here. Will (#9) makes a great point about Besic having earned the right to start and there is no way Barry will be dropped.

I also agree with Grant (#12) that our run of conceding and dropping points coincided with McCarthy coming off against Bournemouth, key defensive role?

Jim Bennings: do you ever say anything positive?
Jay Harris
23
Posted 22/01/2016 at 22:05:00
From another point of view, I feel that McCarthy has had a lot of absenteeism due to injury this last 12 months so with only 1 training session I would rest him for the next 2 games and continue Besic, but for the Man City game go McCarthy, Besic, Barry and leave Barkley on the bench.
As regards Coleman if he is fit he must go straight back in at the expense of Jags or Stones neither of whom has played too well the last couple of games,
Up front it is important to keep Mirallas going along with splitting game time between Lennon and Deulofeu.
Raymond Fox
24
Posted 22/01/2016 at 22:41:26
I don't think Macca will be in the team, and I'm indifferent about Coleman, not a great fan of his in defence.
We need 3 pts badly to get the monkey off our back. Swansea will come for a point though and will come to frustrate us, they will know our players are desperate for a win and suspect they could be getting anxious. Could become the same old scenario, we throw everyone forward to get a score and then get sucker punched.
That's the pessimist in me, but we are strong favs and should win. With the deflections and duff decisions together with individual mistakes that's been happening lately, who the hell knows what will happen next!
Laurie Hartley
25
Posted 22/01/2016 at 22:44:37
Jay, I see where you are coming from with McCarthy's fitness. Cleverley is also in a similar situation. Maybe we will see Oviedo in midfield?
Laurie Hartley
26
Posted 22/01/2016 at 22:48:41
Raymond,
"Who the hell knows what will happen next"? I don't that is for sure but what bemuses me on a personal level is that your question brought a smile to my face.

Colin Glassar
28
Posted 22/01/2016 at 22:54:07
Remember the days when, "2/3 of the earth is covered by water, McCarthy covers the rest" was the common thought amongst Evertonians? The lad has suffered injuries, loss of form etc.... and now he's the whipping boy for some. Why some people take a perverse delight in ripping apart our own players beggars belief.
Christy Ring
29
Posted 22/01/2016 at 23:01:29
Colin, Spot on.
Jay Harris
30
Posted 22/01/2016 at 23:02:08
With you on that Colin.
Barkley seems to be the latest.
What fans should remember is players do not pick themselves (except for TH maybe) and they cannot be at their best in every game.
Roman Sidey
32
Posted 23/01/2016 at 02:44:14
This is the first time I've said this about RM, but anything less than a win on Sunday (freak ref calls aside) should really see either the end of his tenure, or at least some serious pressure from the board.
I know this board will never do that but, if he can't get our current group of players to produce at home against that shitheap of a side, then he has truly done as much as he can.
Phil Sammon
33
Posted 23/01/2016 at 02:59:15
I really like McCarthy but I'll be very disappointed to see him displace Barry or Besic. He'll win his place back but let's make him work for it. A concept alien to Martinez, but let's see if he gets it this time around.
Roman (#30),
Martinez should have been sacked already but I feel that moment has passed. He does my head in and I've called for him to be dismissed on many occasions, but right now I'm behind him. He should, however, be ORDERED to get our defence sorted. That is a joke that has gone on long enough.
Last season, I was bored to tears and crying out for entertainment. I've actually got my wish, even though it still seems to be ending in tears. We simply have to start winning games. Starting NOW!
Sam Hoare
34
Posted 23/01/2016 at 03:43:38
I've never been McCarthy's biggest fan. He's a very solid professional player who covers a lot of ground and is capable of more. But for me that capability has not been used.
He has not pushed on from 2 or 3 years ago and though he would still be valuable to any Premier League team in the bottom half (like ourselves). I don't think he offers nearly enough to be an automatic starter as he is for Martinez.
Roman Sidey
35
Posted 23/01/2016 at 03:46:04
I agree, Phil, with everything except the moment passing. Since the end of September, the only sides we've beaten in the league currently sit 18, 19 and 20th. If we can't even add 17th place to that list, the I reckon the moment is very much still there.
Phil Walling
36
Posted 23/01/2016 at 05:45:23
There is every likelihood that RM's reputation will be restored on Sunday after a resounding win against Swansea's relegation bound team.
There will even be talk of how a surge in results will see us challenging for Europe! That's how fickle is the fan base.
With or without the likes of Coleman and McCarthy, Everton are streets better than the fading Welshmen who haven't even got a permanent manager. So we shall solidify our 11th position okay – just don't hail the win as an automatic sign that great things lie ahead. Let's see out the Mancs game before getting too carried away!
Colin Glassar
37
Posted 23/01/2016 at 11:53:02
Sam, I have to agree with you to a large extent but, I think McCarthy was brought in to be a destroyer not a creator. I think the lad has a lot more to offer but is under strict instructions to sit deep and break up the oppos play. He's the best we've had at this since Lee Carsley left.
As for replacing Besic I don't agree that Macca should just walk back in. All players should fight for their place but we all know what Roberto is like.
Peter Howard
38
Posted 23/01/2016 at 21:22:39
McCarthy is the modern Bracewell.
That'll do for me.
Alex Moore
39
Posted 23/01/2016 at 23:39:09
Where's Galloway these days? Haven't heard his name in a long time.
---
Add Your Comments
In order to post a comment, you need to be logged in as a registered user of the site.
Or Sign up as a ToffeeWeb Member — it's free, takes just a few minutes and will allow you to post your comments on articles and Talking Points submissions across the site.
© ToffeeWeb