Everton vs Swansea City
by

105 Comments [Jump to last]
| 23/01/2016
Match Preview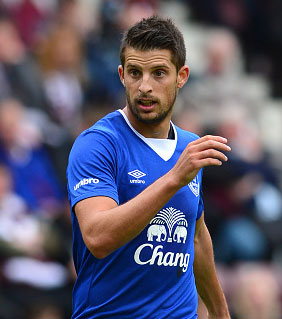 Has Kevin Mirallas earned a second successive start with his impressive performance against Chelsea?
Having enjoyed a rare full week's preparation between fixtures, Everton play the first of five games in the space of just 14 days with the visit of Swansea City to Goodison Park this Sunday.
It's a run of matches that promises to be season-defining for Roberto Martinez and his team – back to back Premier League victories over the Swans and Newcastle followed by a successful revenge mission at Stoke could vault the Blues back into European contention, while a pair of positive results in the cup could see them sidestep a potential banana skin in Carlisle and book their place in their first Wembley final in seven years.
The notion that Martinez's side could win five on the bounce – in reality, of course, a draw at the Etihad on Wednesday would do – when they have yet to win more than two in a row in all competitions this season so far might sound a little fanciful but that is essentially the reality facing Everton if they are to remain alive on all three fronts.
Adamant that his side won last Saturday's controversial game at Chelsea – the fourth good or decent result since the turn of the year – Martinez has expressed his confidence that his team is continuing to learn its lessons and, with more personnel due back from injury in the coming days, the squad is primed to go on the kind of run it needs to finally ignite the League campaign.
He could welcome Seamus Coleman back after two and a half weeks out with a calf strain to ease the selection problem at right back that was thrown up by his absence. Bryan Oviedo is fit to deputise there again if required – the Costa Rican suffered no damage to his ankle at Stamford Bridge after all despite being stretchered off – and John Stones is again another option but the manager would surely like to see his first-choice fullback start.
In midfield, Tom Cleverley should be fit enough to start and will surely be in Martinez's thinking for the left sided midfield role he has filled already this season, although he will face stern competition from Kevin Mirallas who has surely earned his place in the starting XI following his impressive display last weekend.
It's also possible that, having seen Gerard Deulofeu struggle in recent games as a starter and Aaron Lennon fail to make a significant impact himself that Martinez could deploy the Belgian on the right and Cleverley on the left.
Swansea will have new manager Francesco Guidolin in the dugout for the first time since he was appointed as the long-term successor to Gark Monk, though much of the direction will probably still come from interim boss Alan Curtis who oversaw the South Wales side's victory over Watford last time out.
That represented their first win since Boxing Day and kept them out of the relegation zone by a point coming into this weekend's games but with one win on their travels so far this season and only one win over Everton in any competition in their history, they know they will have their work cut out for them.
For Martinz and Everton, the opportunity is there to finally demonstrate that they are the kind of team that they and the fans know they can be. They will know that, with 11 draws on the board and just one home win in the Premier League since November, nothing short of victory will do.
With goals continuing to flow at the right end, doing what it takes to win the game up front should not be a problem based on recent evidence – it's retaining the defensive solidity and organisation that they showed against Spurs and Chelsea at Goodison that will be the keys to all three points.
Kick off: 1.30pm
Referee: Anthony Taylor
Predicted line-up: Howard, Coleman, Stones, Jagielka, Baines, Barry, Besic, Cleverley, Barkley, Mirallas, Lukaku
Full details: ToffeeWeb Match Report
---
Reader Comments (105)
Note: the following content is not moderated or vetted by the site owners at the time of submission. Comments are the responsibility of the poster. Disclaimer
Mark Daley
1
Posted 23/01/2016 at 08:12:52
By Sunday night we should be above the RS. Therefore:
a) We will be;
b) We let in a stupid goal from a defensive mix-up mid-way through the second half, then press relentlessly and get the equaliser in the 85th minute, while the RS win 4-0;
c) We lose 2-0, Mirallas is sent off, RM falls on his sword and Bill sells to the folk from Dallas.
Odds: (a) 4-1; (b) evens; (c) 50-1.
Anto Byrne
2
Posted 23/01/2016 at 08:16:30
I'm predicting a low score if Swansea don't come to play. City will be different as they have an away goal we have to win the game or get a score draw. Newcastle are slowly improving and I reckon Stoke will do the RedShite at Anfield. We can then roll them and do em big time at Wembley.
Carlisle... well, it's the FA Cup so we need to be at our best with a strong line up. How far away is Joe Williams from the first team squad? He looks like a good player?
Craig Mills
3
Posted 23/01/2016 at 08:40:38
A fancy a convincing 3-0 win tomorrow which will set us up nicely for the semi final on Wednesday
Joe Foster
4
Posted 23/01/2016 at 09:23:16
I know it's a bit late but all I wanted for Christmas is... 3 points.
Karl Parsons
5
Posted 23/01/2016 at 09:46:09
Martinez could get caught by the speed cameras and still get off the three points in the last minute.
Dominic Tonge
6
Posted 23/01/2016 at 09:51:43
This should be us winning two-nil, at a canter setting us up nicely for a run of results that could get the season on track.
I have a feeling that what it will be is us leading two-nil, conceding with five minutes to go from the first shot on target a turgid Swans side muster before descending into blind panic and defending like a set of divs for the remaining four minutes before yet again conceding the now obligatory last kick of the game equaliser.
Paul Goodchild
7
Posted 23/01/2016 at 10:20:10
That's a good looking team and one I really hope Martinez goes with. If he drops Besic and Mirallas for McCarthy (not sure if he is fit?) and Deulofeu/Kone and we lose then serious questions will have to be asked and the remaining goodwill left for him will be gone for sure.
7 points from the next 3 league games, a positive result at City and victory at Carlisle will set the rest of the season up for us quite nicely.
Denis Richardson
8
Posted 23/01/2016 at 10:23:03
No excuses, this has to be a home win.
Enough guff from the manager and the players. We're at home to a relegation candidate and we supposedly consider ourselves a contender for the European places. 3pts or some people can start packing bags.
Team wise, Mirallas is chomping so he's got to start. I'd bench Stones and have Jagielka and Funes Mori in. Stones as back up in case Coleman needs a rest second half.
Barry, Besic, Ross and Cleverley making up the rest of the midfield. Deulofeu for a second half appearance.
We simply have to win.
Ian Hollingworth
9
Posted 23/01/2016 at 10:34:16
Every week we are saying we have to win and we do.
However what happens if we do not yet again?
Will Jones
10
Posted 23/01/2016 at 10:45:46
With the League Cup Semi-Final coming up next, I would play a reserve team today. We have a real chance of getting to a final, let's not blow it by playing a full strength team this weekend and risk getting one of our star players injured.
To be fair, we do have strength in depth nowadays, so it will not be that radical a change! Bring on the mighty Kone and Pienaar!!
Joe Foster
11
Posted 23/01/2016 at 10:50:02
Oh yes... Konaar!!!
David Hallwood
12
Posted 23/01/2016 at 11:02:12
Will (#6), not as crazy as it sounds because we've players that need gametime and should be fresh enough to play 2 games a week. So team for tomorrow:
Tim 'the indestructible' Howard
Oviedo, Funes Mori, Jagielka, Baines
Besic, Cleverley
Lennon, Mirallas, Pienaar
Kone
Btw Mark (#1), I phoned Ladbrokes for a price and they gave me 8/11!
Paul Kennedy
13
Posted 23/01/2016 at 11:02:14
I see we've get 24 hours less time to recover before the semi-final game.
Still I would be happy with the 3 points from Sunday!!!
Paul Goodchild
14
Posted 23/01/2016 at 11:25:39
Not sure I agree, Will (#6) and David (#8). A win tomorrow is vital. Defeat will hit us badly with regard to preparation for Wednesday's game and will put us right down amongst the also-rans.
It's nearly half a week between the games and our squad is big enough to cope with any possible injuries. An injury to Lukaku would be the only one that would seriously affect our chances.
Phil Walling
15
Posted 23/01/2016 at 11:49:33
Will@6. Much as we would love a trip to Wembley, you have to be sensible about where the League Cup comes in any club's order of priorities.
Somebody posted this week that the winners of this now de-valued trophy pick up a measly £100k. When each Premier League place is worth 15 times that amount and manager and players are rewarded accordingly, you don't have to be a genius to know where priorities lie!
Colin Glassar
16
Posted 23/01/2016 at 11:56:01
Sod the League Cup, three points tomorrow has to be the priority.
A word of caution: Swansea have a new manager – we never beat new managers!!
Harold Matthews
17
Posted 23/01/2016 at 12:02:17
Agree Colin. No spreading the load. We have to go full out for this with our strongest team.
Kim Vivian
18
Posted 23/01/2016 at 12:14:06
We need to win this without picking up any crucial injuries and at the same time keep our key men as fresh as possible for Wednesday.
I'm shitting it about that game already having travelled to the first leg and with no chance getting to the second leg (unless anybody out there has a spare ticket floating about!) so will be enduring the Sky coverage in the sunny Sarf East.
Get a 2 (....no, 3 safer) goal cushion. Sub the key men, and play it out.
Mark Andersson
19
Posted 23/01/2016 at 12:16:32
I'm with Denis. Every game we play with these players is winnable, but we simply don't win no matter who we play.
Swans with new manager is odds on he gets a result from the blue charity team.
Draw or a loss can't see this team ever wining a game under this deluded excuse of a manager.
Rob Halligan
20
Posted 23/01/2016 at 12:22:25
Remi Garde, Colin?
Nick Armitage
21
Posted 23/01/2016 at 13:12:31
2-2 draw nailed on. Every excuse under the sun afterwards. Thankfully people are finally seeing through this charlatan.
Michael Williams
22
Posted 23/01/2016 at 13:27:33
We should not start Funes Mori instead of Stones and here's two reasons:
1. If we bench Stones for a period of time and Funes Mori becomes the regular partner for Jags, Stones' value will likely tumble quite a bit. We need to play a longer game here. For those of you who think Funes Mori is better, I say we need to start Stones and get full crazy value for him in the summer. Funes Mori can start next year.
2. I don't think Funes Mori is better than Stones. Remember, Funes Mori has been beaten in front of the net for goals as well. Don't get me wrong. I like Funes Mori as a player and he will deservedly get his day. We're lucky in a way to have both. Unfortunately they will make their share of youthful mistakes.
Jim Bennings
24
Posted 23/01/2016 at 14:48:35
Trouble is over the last five to ten years defending has become unsexy, it's all about looking good on the ball and not actually brightest good at defending or working as a team defensively.
Where are the modern day Dave Watson's or Tony Adams?
There are few left in that mould like Shawcross and maybe a couple over 30, Colllins at West Ham but in the main it's because we no longer school our youth to actually DEFEND or want to DEFEND.
How many players now actually enjoy just DEFENDING!
Jim Hardin
25
Posted 23/01/2016 at 15:05:52
Funes Mori should start over Stones. Yes, some goals have been scored in front of him but that is the difference. Funes Mori was at least between the player and the goal. Stones would be still up field or standing just off to the side of the player. I would "rest" Stones so his value stays up.
Colin Glassar
26
Posted 23/01/2016 at 15:16:51
I was thinking more of Joe Kinnear, Rob.
Jim 48, welcome to the 21st century. You will never see the likes of Watson or Adams again. Is that a good thing? I don't know. I tend to prefer the modern CB e.g. Stones, Maldini, Varane, Piqué, Thiago etc.....
Jim Bennings
27
Posted 23/01/2016 at 15:17:24
One of the biggest clues about defending being a dying art, whenever you see slow motion replays on TV: the amount of times you see the defender going up for a header with his eyes shut.
If you want to learn how to head the ball true with conviction, them you want the ball in the air and meet it with your eyes wide open. Tim Cahill was an expert at it, Big Dunc too!
Heading a ball is a massive part of defending and takes bravery to correct and more important, perfect, and too many lads these days just don't want to head the ball.
Re: Kinnear, if you say so, Colin.
But you'll never have a great defence with a lad walking the ball out but being unable to bully opponents or head the ball with hunger.
Colin Glassar
29
Posted 23/01/2016 at 15:28:08
Like you said, Jim, the big, bustling, traditional centre-half is a dying breed. I've always preferred brain over brawn and I'd much rather see a bit of skill and trickery rather than the aimless hoof up the field. That's just my personal opinion.
Tony Twist
30
Posted 23/01/2016 at 15:38:56
This is a must three pointer. With a free week without a game the manager will have had them doing drills from morning till night so that they can't be more prepared, they will know all of Swansea's strengths and weaknesses and know exactly how to beat them.
Christ ...I'm delusional. Wonder how many minutes will go by before Swansea score.
My team would be: Robles, Coleman, Jagielka, Funes Mori, Baines, Barry, Besic, Deulofeu, Mirallas, Barkley and Lukaku.
Terence Tyler
31
Posted 23/01/2016 at 15:48:03
Got to start putting some points on the board now, from these so called winnable games. 4-1 to the Blues.
Rob Halligan
32
Posted 23/01/2016 at 15:51:48
4-0, Terence. Lukaku hat-trick and Barkley.
Brian Porter
33
Posted 23/01/2016 at 16:07:03
Michael (#22),
You don't pick your team based on how it affects a player's value, but on who your best eleven are based on current form and on that basis I would start Funes Mori ahead of Stones for sure at present. Apart from anything else, we lose a potent goal threat without Ramiro.
Talking of goals, nice to see Steven Naismith reminding us what we've lost with a goal on his debut for Norwich – a goal Kone would never have scored, Roberto.
Back to us, and we need defenders who actually defend. How many times in recent weeks has Funes Mori been left as the last man in defence and has coped admirably, while Stones has been trying to regain his ground? I'm glad most people seem to agree with me, but of course it's not us who picks the team, but I hope Roberto reads this, and listens to the fans for once.
Terence Tyler
34
Posted 23/01/2016 at 16:09:59
Rob. Skybet 7/2 Everton win Barkley to score.
Frank Crewe
35
Posted 23/01/2016 at 17:09:59
@Tony29 From mid morning to mid afternoon with an hour off for lunch.
Jim Bennings
36
Posted 23/01/2016 at 17:13:01
Virtually all today's results have gone against us with the teams above us (except Crystal Palace) winning.
It is starting to look like the league is quickly becoming a predictable mid-table finish, four points behind 10th now and clubs like Watford having won three more games.
I'd be having all my eggs in the League Cup basket now.
I'd rather finish 11th or 12th and lift a trophy, at least that can be deemed a success and we see something at the end of it. For those who say finishing lower in the league costs us money, forget money this summer. Bill Kenwright and the board know full well they are sitting on a £90 million gold mine in Lukaku and Stones if they want to cash in.
League positions this season are irrelevant for Everton's summer coffers, unless we finish 4th, which has long vanished over the mountains.
Christopher Dover
37
Posted 23/01/2016 at 17:14:52
If results had gone our way we could have gone to 8th in the league but, after the full time scores, the best we can do is a mighty 10th; if we draw or lose, then we are in 12th place.
So to me no discussion, best possible side out and a win is a must.
Jim Bennings
39
Posted 23/01/2016 at 17:19:07
Oh to be Leicester City this season, just goes to show it's not all about mega bucks anyway!
Frank Crewe
40
Posted 23/01/2016 at 17:20:38
Jim we will already be lumbered with the Europa League again next season if we win the League Cup or FA Cup. No doubt without Lukaku and Stones who will be well gone.
So no point in knocking ourselves out trying to get into the top six. The cash we get for the two I've mentioned will more than make up for any money we lose in a mid-table finish. Would like to be above the RS though.
Jim Bennings
41
Posted 23/01/2016 at 17:36:09
You don't let next season's Europa League stop you winning a trophy Frank,
Just gives more experience for the squad kids/players.
No Europa League has hardly benefited us this season anyway, yet it's not exactly damaged Spurs, has it?
Scott Williams
42
Posted 23/01/2016 at 17:40:33
I think this should be a simple win but as we all know recently it could go either way. No matter what, this I think for us is a must win. Or we are going to massively fall behind.
Trevor Peers
43
Posted 23/01/2016 at 17:48:16
We've dropped to 12th, after today's results, so must win tomorrow I'll be going to the game to lend my support. I hope Roberto gets it right, selection wise and tactically.
Defeat is unthinkable, it would leave Swansea only 4 points behind us, and they have had a disastrous season, so it's become an important game all of a sudden.
Michael Williams
44
Posted 23/01/2016 at 18:31:47
Let's say for sake of argument that starting Funes Mori gains us two paces in the table all by itself (silly but let's say it happens). So what.
Stones losing value costs EFC about £40M (most here argue more). That's two very good players, difference-makers, even...
This is not FIFA Football. A club has to balance today with how the club is set up for tomorrow. That is why teams do not play all 29-year-olds.
Besides, even if Funes Mori is better than Stones, he's not that much better. Have we all forgotten the goals scored because of him? Again, I like Funes Mori.
Your "best 11" is not better than having Stones in and even if it was, it's not worth the price of a couple of quality players next year. Especially with Funes Mori ready to play.
BTW – Funes Mori was a Martinez signing.
Martin Mason
46
Posted 23/01/2016 at 18:54:48
Looking at today's results, it looks as though Leicester are the real thing and now perhaps confirmed as a mini-league above us? Tottenham now seem to have made the break from our level and are getting great results. Southampton had a great result today too so we have to be very careful that our ever sliding league position reflects the reality of where we are relative to the rest.

The inconsistent way that we are playing isn't early season nerves now, it may be that we have reached our level with this squad and manager. We have improved but so have everybody else and the others seem to know better how to play the modern game.

We more and more look like a one-trick pony that sides know how to beat especially at Goodison and we aren't learning anything from them. Leicester beat Stoke well today, that shows just how good they are.

Victor Jones
47
Posted 23/01/2016 at 19:01:43
Just a comment on our possible Europa League participation next season. Firstly, let's see if it actually happens. And secondly, if it does, then play the youngsters. Play a complete second string. Why not? You cannot buy that sort of experience, because as sure as Rooney is a Blue, should Martinez play his first eleven,then just watch Everton plummet down the league. Any bets that that won't happen? Last eight in the Europa League beckons.......along with 14th place in the League. Fan-dabby-fucking- dozy. Can't wait.
And yes, I want Everton to win a cup. Believe me. But I also want Everton to be challenging in the league. Not a choice between one or the other. Can Martinez deliver on both? I'm not really sure that he can. Does Martinez really rotate his squad? Or does he simply drop form players, for his favourites? If he really did understand the concept of rotating, then we might actually be in a healthier position. But when he tinkers. Everton tend to struggle. Note that I said "tinkers". Because I don't think Martinez knows how to "rotate". He just "tinkers".
Barry Pearce
48
Posted 23/01/2016 at 19:07:56
I agree with Martin (#42).

Martin Mason
49
Posted 23/01/2016 at 19:10:45
Barry, careful Tiger, that could damage your image. ;-0
Steve Carse
50
Posted 23/01/2016 at 19:17:14
What's happening at Leicester should put all other Premier League managers to shame. Particularly ours.
Raymond Fox
51
Posted 23/01/2016 at 19:33:07
Swansea have a game to nothing tomorrow, they're not expected to win, so the pressure is largely off; sure they want to win... but won't expect to.
Whereas we are all under pressure, the players, the manager and us poor buggers for a much needed win. We don't want another draw, that's for sure.
Then you can throw in the Man City game Wednesday, that's maybe another distraction for tomorrow's game in the back of the players' minds.
Just win please, no effing wonder strikes from 30 yards out and no lucky deflections from Swansea, and let's hope the officials remember their glasses.
John Keating
52
Posted 23/01/2016 at 19:36:27
I wish we could play 90 minutes plus like West Ham.
I wonder which half we play well in tomorrow and which one will be dire?
Jon Cox
53
Posted 23/01/2016 at 19:36:30
I would say that the way our defence has played of late, it could be said that they've been very consistent.
It's all about the semi v Man City now. Hopefully we'll do well in the FA Cup.
Unless there's a miracle, don't get your hopes up for the league. Not this season anyway.
Harold Matthews
54
Posted 23/01/2016 at 19:41:46
West Ham were terrific. Closed down all over the pitch and no passengers. Payet, Noble and Song governed the midfield with skill and tenacity. For Man City, Aguero was different class.
Kieran Kinsella
55
Posted 23/01/2016 at 19:52:27
This is one of the worst seasons we've ever had.
Patrick Murphy
56
Posted 23/01/2016 at 19:56:07
Not as bad as some previous seasons Kieran (50), Smith, Kendall Mk 3, Walker et al, early 1970s or way back to the 1950s when we spent three seasons in the second tier of the football league.
It hasn't 'yet' been a good season but it's certainly pretty far from being the worst season we've ever had.
Jon Cox
57
Posted 23/01/2016 at 19:58:58
I think one of the most frustrating though, Patrick, wouldn't you say?
Patrick Murphy
58
Posted 23/01/2016 at 20:02:28
Jon (#52), disappointing and frustrating, I've no doubt about it... but one of the worst? Not really.

Peter Carpenter
59
Posted 23/01/2016 at 20:08:42
Three at the back anyone? With two full backs pushing on like they used to. The more I think about it, the more I like it.
Dave Abrahams
60
Posted 23/01/2016 at 20:26:30
Steve (#45) if I was the Everton manager or one of the regular players and I looked at the league table, particular the home record, I would be more than ashamed. It is absolutely putrid, but nothing seems to bother or upset them, they just go from one game to the next without trying to rectify any faults in their play.
After last week's result and the very poor defending, you would hope they would go all out to make amends. Will they? Don't bank on it.
Brian Wilkinson
61
Posted 23/01/2016 at 20:29:43
Wonder how we would do as Moyes as number two, Martinez Barking out to attack, then Moyes yelling at at the defence to get tight.
Mike Hughes
62
Posted 23/01/2016 at 20:32:04
Brian – we'd all be manic depressives.
Dave Abrahams
63
Posted 23/01/2016 at 20:40:05
Martin (#44), Barry is agreeing with your football assessment, you have nothing to worry about there. It's when you go onto Kenwright and the board, suddenly you become Corporal Jones and go into realms of fantasy, but you are okay.
Tony Hill
64
Posted 23/01/2016 at 20:42:03
No, Dave (#55), you are considering reality. That is typical TW negativity. We must see the Deeper Martinez Truth which is that, eventually and if we are patient, it will be wonderful. It's just around the corner, but you can't see that. Which is why you are wrong.
Jim Hardin
65
Posted 23/01/2016 at 21:07:56
Colin,
Thanks for the calendar update. I will adjust mine accordingly. However, in this new century did they change the way goals are scored? If not, then I. Will take a Shawcross or Distin over Stones in this league.
Jack Cross
66
Posted 23/01/2016 at 21:36:06
Peter Carpenter 54.
I'm with you there Peter.
Kunal Desai
67
Posted 23/01/2016 at 21:42:48
Third choice keeper, Russell Griffiths, has confirmed on Instagram he's in the squad for the game tomorrow.
Could one of the keepers be on their way out or maybe just injured?
Tony Abrahams
68
Posted 23/01/2016 at 21:43:20
Anthony Fucking Taylor... Is there a good referee left in this league?
Raymond Fox
69
Posted 23/01/2016 at 21:47:00
Or conversely, Dave, they could score 3 goals and then concede a fluky deflected goal followed by goal that never was!
Dave Abrahams
70
Posted 23/01/2016 at 21:53:54
Fair enough, Raymond, then again they could score another three and still draw or get beat as they have done in three games of recent memory.
You just never know with Everton and this manager and the way he runs them, we'll see, I'm hoping for a win same as yourself.
Andy Crooks
71
Posted 23/01/2016 at 22:04:15
Martin Mason, another good post. Why don't you just stick your neck out, get off the fence and come out with what you have been thinking for some time. We need a new coach and you know it.
Ian Riley
72
Posted 23/01/2016 at 22:10:56
I don't care about entertainment or procession football. Tomorrow is about the result. A win, nothing else, nothing more. Let's start earning the right to win games. Defend as a team and concentration is key. Our performances mean nothing. The league position dosent lie.
If fans or Martinez want entertainment go to one of Mr kenwright's shows. I want wins and don't care how they come!!
Brian Keenan
75
Posted 23/01/2016 at 22:50:37
My mum says 2 - 1 Everton.
Besic to score.
Roman Sidey
76
Posted 23/01/2016 at 23:09:28
Michael Williams, I see your point but don't totally agree with it. Stones's value is not going to decrease too much if he sits out a few matches. You have to play the players who are in form, and at the moment, Funes Mori is on a bit of a roll, and Jagielka has been somewhat solid (save for a few typical Jags lapses) since his return - they seem to work quite well together. For the record, I thought Stones did quite well at right back, but also (surprise surprise) enjoyed Oviedo there too.
Your theory of making a couple of extra places up the league at the expense of the value of a player like Stones also raises another question: What if the difference in those two hypothetical places is 9th to 7th, or 8th to 6th or so on. It may not seem like it, but 7th is a hell of a lot better than 9th, and players of Lukaku's ilk may see 7th as encouraging enough to stick it out one more season.
Tony Dove
77
Posted 23/01/2016 at 23:17:42
Naismith will wake up tomorrow thinking he's still at Everton.
Christy Ring
78
Posted 23/01/2016 at 23:29:16
Still can't believe Martinez didn't try to sign Austin, for half the Naismith fee.
Chris Leyland
79
Posted 23/01/2016 at 23:47:35
Christy, I suspect the reputed £100,000 a week wages Austin is on may have detered many clubs, Everton included.
Roman Sidey
80
Posted 23/01/2016 at 23:53:46
Christy, much like the aliens theory (the best evidence that they exist is that they haven't tried to contact us), the fact that Austin is not playing for Everton suggests RM did try to sign him.

Colin Glassar
81
Posted 23/01/2016 at 23:58:38
Kunai (#62), Colorado is calling.
Chris Leyland
82
Posted 24/01/2016 at 00:03:38
Roman, maybe we have signed him and he doesn't actually play for Southampton at all?
Christy Ring
83
Posted 24/01/2016 at 00:09:49
Chris & Roman, you're probably right... but Naismith's and Kone's wages would have covered it.
Christy Ring
84
Posted 24/01/2016 at 00:16:30
All these rumours that Austin is on £75k+, he's gone to Southampton??
Karl Jones
86
Posted 24/01/2016 at 00:28:46
We'll need to score 5 tomorrow to just scrape a win by the odd goal. A nervous ninety minute guaranteed.
Don Alexander
88
Posted 24/01/2016 at 02:08:22
Colin Glassar at "25" says what I and most others think; "Yes we like cultured footballing defenders." However, those he cites played in teams where everyone in the team had the legs, know-how and desire to defend. Sadly, under Roberto Martinez, our team increasingly lack the legs and know-how parts of the equation, and the jury's out on one or two of them re desire.
It's what he's famous for folks, together with an "engaging" attitude to all things "media".
Phil Walling
89
Posted 24/01/2016 at 03:21:21
No, we offered him £100k a week, he turned us down and RM decided he wasn't right for Everton after all!
Anto Byrne
90
Posted 24/01/2016 at 03:29:31
I watched the Stoke and Leicester game and to be honest Stoke didn't turn up. They must have had an eye on the cup game. Taking nothing away from Leicester it was a good 3-0 win. They have a top class keeper who commands his whole area and seems to make it look very easy.

This gives confidence to the defenders and then they have Huth a big old fashioned yard dog that can play a bit. They also have a lot of pace in the team up front and do play on the break and have a long ball game as well.

They are direct with no pissing around holding on to the ball when they lose it they go and win it back pressing in numbers. Vardy is very much like Ian Rush and they play to his strengths.

Now this is all down to a top coach getting his team to play a certain way and you can see the confidence in their play. We have RM sadly not in the same league as Ranieri.
Harold Matthews
92
Posted 24/01/2016 at 06:36:02
Austin wanted to join Southhampton. He was also not interested in any club north of London. Fact.
Brian Porter
93
Posted 24/01/2016 at 07:14:58
Mike @58. I AM manic depressive, and still can't fathom Martinez's way of thinking.
Andy Walker
94
Posted 24/01/2016 at 07:39:58
A must-not-lose game. Lose and we are in a relegation battle... mind you, Roberto will be very comfortable in that environment.
Hugh Jenkins
95
Posted 24/01/2016 at 07:43:38
Anton (#2) - Unlikely, I know, but surely a 0-0 draw will do at Man City as, despite their away goal, 0-0 on the night will give us a 2-1 win on aggregate. Someone else may have already said this – I haven't read all the comments.

Paul Hughes
96
Posted 24/01/2016 at 08:15:14
Come on, why all the nerves? It's Swansea fucking City we are playing – not Real Madrid.
3-0... move on to the big game Wednesday.
Martin Mason
97
Posted 24/01/2016 at 09:05:07
Andy@67
I believe that RM is a well known quantity now. I don't rate him at all but he's going nowhere.
Martin Mason
98
Posted 24/01/2016 at 09:34:29
Dave @59, sorry that I don't share the views of many on how the board are doing but my opinions are genuine. I also see much of the standard criticism aimed at them as having to be challenged. I do go on a bit though, I guess.
Christopher Dover
99
Posted 24/01/2016 at 09:37:25
All sorts of things go into the mix. If we hold some of our best players back for Wednesday, we have a better chance in the cup; if we play our strongest team today, then some may be injured or heaven forbid tired to play three days later.
This season, the results for us and the whole league are not what most expected; you can plan but who says it will work? If we leave some out today for rest or value and still lose on Wednesday, then we will all be up in arms, again!
The saying is "one game at a time" and that game is Swansea today; play the best team we can, that's fair on the paying supporters, and hopefully will give us a win to boost confidence for all up-and-coming games.
Lose and the end of the world is near, or it will just feel like it. No team in this league is a cert for us to win against, so you have to play the strongest team you can; that surely is going to give us the best chance of moving in the right direction.
Eddie Dunn
100
Posted 24/01/2016 at 09:49:14
My mate is a QPR fan and he said it was common knowledge that Austin wanted to remain in or near London. If not, he would have been playing for Newcastle or Sunderland or a whole host of clubs desperate for goals.
On today's game, a win is a must. I am really getting sick of all of the excuses for our poor game-management. Also, the talk on here about Europa League etc reminds me how, last season, it was used again and again as the reason for our poor league form. There is no such excuse this term, and to see Spurs riding high despite their involvement proves that it is a lame excuse anyway.
We are playing the Swans at the wrong time, as they have had a good result under their belt and today their new boss takes the reins for the first time. They will be determined to put on a show, so we will have to play well to get the points.
Luckily their attack isn't the most mobile, so our statuesque centre-back should have an easier game than he can expect at Man City against a rejuvenated Aguero.
Ray Roche
101
Posted 24/01/2016 at 10:10:09
Austin lived in Bournemouth and played a fair amount of football on the South coast. In his interview yesterday it was clear he's not a money led mercenary and can see beyond his football career and values a quality of life on the south coast that suits him and his family. Good luck to the lad, Southampton and Hampshire is not a bad place to spend your days and bring up your family, I'm sure.
John Crawley
102
Posted 24/01/2016 at 11:04:12
Rumours flying around that Griffiths is in the squad today and Joel is fit so is Howard off or injured?
Rob Hooton
103
Posted 24/01/2016 at 11:34:00
Wish our own boy wonder would watch Delle Alli and see what he needs to do to take his game to the next level. Barkley is undoubtedly class but he shows little heart or desire and on current showing the Spurs lad is streets ahead. Come in Ross, grow a pair and be the player we all know you can be.
Mirallas must start today, he was class last week and also worked his backside off to win the ball back and close down – has the penny finally dropped?
3-1 to the blues today, will be watching from behind the sofa though!
Brent Stephens
104
Posted 24/01/2016 at 11:36:01
I hope we're not forgetting so soon some great goals Ross has scored.
Brian Harrison
105
Posted 24/01/2016 at 11:49:38
I think the main difference between Ali and Barkley is that Pochettino is a top class manager and knows how and where he wants Ali to play. Were RM has got Barkley not knowing if he is a central midfield player or a goalscoring Number 10.
I have no doubt if we had Pochettino instead of RM we would be inside the top 4 this season. I believe our squad is better than Spurs, yet we are massively under achieving. I see some of the press are starting to question why with such a talented squad we are in the bottom half . Even Merson was saying yesterday that with our defenders he couldn't understand why we are conceding so many goals.
Maybe people are now seeing past RM's media spin, and as one of the press commented last week you cant keep saying how wonderful each player when the results are not backing up those claims. So you can only draw one conclusion either the manager is over hyping his players or he is lacking in the managerial department.
Patrick Murphy
106
Posted 24/01/2016 at 11:54:00
Phil (81) I assume that you are referring to Sam Byram, are you sure that Everton FC offered the young man £100k per week? or was it Austin you were talking about? In either case if it is true then the football world has indeed gone beyond crazy.
To other posters Everton FC cannot buy every player on the market, indeed, we struggle to add people to the squad in January on most occasions. Ross Barkley is Ross Barkley, he's not Aaron Ramsey, Alli or any other likely lad, he's plain old Ross Barkley.
I wanted Eamonn O'Keefe to be more like Bryan Robson but unfortunately he proved incapable of reaching such standards as a player. When Eamonn played for Everton he received brick brats on the odd occasion but the team more often than not got the support of the crowd, such as during the cup run in 1981 and particularly against Southampton at Goodison. Perhaps as supporters we were too easily pleased during that period, but it was certainly a lot more fun than it has become these days.

Colin Glassar
107
Posted 24/01/2016 at 11:54:54
Hopefully Ross will take on board what Martinez said recently, ie, take more shots in and around the box.
Paul Tran
108
Posted 24/01/2016 at 12:07:32
Lots of interesting stuff in here. Common knowledge down south that Austin wanted a move to another club in London/South Coast. Liverpool is very south to me these days, but not south enough for Austin.
Ali is a better player than Barkley. He's got more focus, purpose and a proper eye for goal, nothing to do with Martinez or Pochettino, who to me is a better version of Moyes with a much bigger budget.
We'll probably play well today, take the lead and find a way of not winning. So I'll carry on with my standard bet of a draw, hoping that one day it will be a losing bet ....
Eddie Dunn
109
Posted 24/01/2016 at 12:35:36
Spurs players all seem to know what to do, they all know their roles. When they trailed yesterday, they didn't panic, they carried on playing the same way confident that they would get back into it. Ali is in good form and scored a great goal, but Kane was on the go all game always causing problems for Palace.
Colin Glassar
110
Posted 24/01/2016 at 12:41:04
Massive game today. COYB you owe us a convincing victory.
James Potter
111
Posted 24/01/2016 at 12:46:49
Everton XI: Howard, Baines, Stones, Funes Mori, Oviedo, Barry, Besic, Mirallas, Barkley, Deulofeu, Lukaku.
Dave Abrahams
112
Posted 24/01/2016 at 12:52:36
Martin (88) yes I believe your views are sincerley held, it's just that there has been enough said on here about the way Kenwright runs the club with his blatant lies etc. but you chose to ignore them or refuse to accept that a lot said about him has been proven.
You carry on in your own fashion, I won't be arguing the pros and cons of Kenwright and the board it's all been done to infinity, I'm getting off here.
When you talk about football I'll listen all day, even if I disagree with some of your views.
Christopher Timmins
113
Posted 24/01/2016 at 12:52:53
Great to see Oviedo genuinely was not that bad after last Saturday, you just never know withe the Everton PR machine.
Are Jags and Coleman been kept for Wednesday or is Mori first choice at this stage?
In the race for 5th the 3 points are vital, in the race for 4th they are irrelevant!
Barry Jones
114
Posted 24/01/2016 at 13:20:46
I can see us completely dominating this game. Yes , it will be a draw.
Add Your Comments
In order to post a comment, you need to be logged in as a registered user of the site.
Or Sign up as a ToffeeWeb Member — it's free, takes just a few minutes and will allow you to post your comments on articles and Talking Points submissions across the site.
© ToffeeWeb