Manchester City vs Everton
by

114 Comments [Jump to last]
| 27/01/2016
Capital One Cup SF 2nd Leg Preview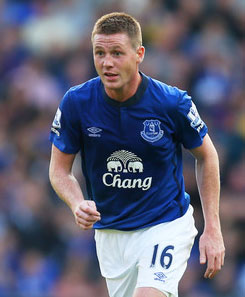 James McCarthy could return in place of the injured Muhamed Besic
Everton are back in Eastlands this evening for the second time in the space of a fortnight and the third meeting with Manchester City this month, one that carries the promise of a place at Wembley in next month's Capital One Cup final if they can get the right result.
Not just a chance to temporarily set aside his woes in the Premier League, this meeting with Manuel Pellegrini's men is almost certainly the biggest game of Roberto Martinez's tenure. More than halfway through his third season in charge, the wheels have come off Everton's tilt at finally finishing in the top four again and serious doubts about the Catalan's abiilty to take the club forward are now being raised.
It's a campaign that was rich with promise when the side he has assembled started to show signs of gelling into one of the most exciting and potent teams in England earlier this season. But a catalogue of draws, missed opportunities, late lapses, and dismal defeats like that which brought the campaign to its nadir on Sunday against Swansea have effectively ended the Champions League dream.
And yet, sitting as the Blues are just two wins from ending a 21-year trophy drought, Martinez has a shot at partial redemption with the League Cup; a potential catalyst to a campaign that, in one of the most open and unpredictable Premier League seasons thus far, can still be rescued to a degree if the team can find what appears to be an impossibly delicate balance between free-flowing attack and defensive solidity.
Everton demonstated the latter in spades at the Etihad Stadium two weeks ago when they dug in and held on for a creditable goalless draw against the most prolific attack in the top flight. Tim Howard had arguably his best game of the season, the returning Phil Jagielka was magnificent alongside Ramiro Funes Mori and while the single point they earned wasn't much use in terms of the League campaign, it served as a morale-booster in the context of this second leg of the semi-final which they come into leading 2-1.
Unfortunately, Sunday's debacle represented arguably the worst preparation possible for tonight's contest. Not only did the Blues lose to relegation-threatened Swansea with a disappointing display that underscored their defensive disorganisation and over-reliance on Romelu Lukaku, but they lost Muhamed Besic – one of the outstanding figures from the first leg three weeks ago – and Kevin Mirallas – finally showing hints of his best form in the oh-so-nearly game at Chelsea on the 16th – to injury inside half an hour.
Both players have been ruled out of this evening's match but the potential return to action of James McCarthy could soften the blow of the Bosnian's absence. The Irishman doesn't quite have the fiery, Talismanic intensity of Besic but he is more than capable of playing the disruptor role in defensive midfield that will be so important against the likes of David Silva, Raheem Sterling, Yaya Toure and Sergio Aguero. He hasn't completed a game since November, however, so Martinez would be wise to exercise caution over throwing him into such an intense fixture without McCarthy being 100% ready.
Assuming he does start, he would likely come into a midfield three rounded out by Gareth Barry and Tom Cleverley, sitting in front of a back four of Seamus Coleman, Phil Jagielka, John Stones and Leighton Baines with Joel Robles behind them. Given the scrutiny under which Stones has been in recent weeks – not least because of the late tackle on Sterling that should have earned City a last-minute penalty in the League match – there have been calls to drop him back to the bench and it would certainly be harsh to demote Funes Mori after his recent form. While he famously kept Stones out of the side for a similar second leg tie against Dynamo Kiev last March with catastrophic consequences, Martinez will probably keep faith with him this time.
On the flanks, it would normnally be a straight choice between Aaron Lennon and Gerard Deulofeu at wide right but Steven Pienaar's return to fitness has added the option of deplying him on the other flank, although it would be at the noticeable expense of pace on the counter-attack and it's hard to see the manager electing to go into this one without such an important offensive option at his disposal. Knowing that an early goal for his side would heap pressure on City with the requirement to score twice to force extra time, Martinez will surely centre his first-half strategy around hitting the hosts on the break.
Everton under Martinez have used the escapism of a cup campaign to their advantage before, most memorably in the Europa League last year where they went to the likes of Wolfsburg and came away with a handsome victory against most of the odds. They are capable of repeating that feat this evening if they can remain disciplined and take the few chances that are likely to fall their way.
If they can do it, they would slay a few demons – the club has gone into three prior second legs leading 2-1 and lost all of them – along the way and also set up the opportunity to kill off some of the biggest in an all-Merseyside final against Liverpool where they can gain revenge for 2012 and finally rid themselves of the pschological hold that the reds have had over Everton for far too long.
First things first, though – get the job done against City.
Kick off: 7.45pm
Referee: Martin Atkinson
Predicted line-up: Robles, Coleman, Stones, Jagielka, Baines, Barry, McCarthy, Cleverley, Barkley, Deulofeu, Lukaku
Full details: ToffeeWeb match page
---
Reader Comments (114)
Note: the following content is not moderated or vetted by the site owners at the time of submission. Comments are the responsibility of the poster. Disclaimer
Jim Bennings
1
Posted 27/01/2016 at 08:13:01
Defining moment for Martinez and these player's.
Its high time to start living up to the hype and achieve something.
Its no use bemoaning our injuries, Stoke won at Anfield last night and kept a clean sheet without Ryan Shawcross in defence.
Under Moyes we always pulled together and arguably got our best results with limited options available, what one or two are missing its hardly a injury crisis.
The talking now ends Roberto, let's see if these players possess the bottle, the steel, the character and the bravery to do it.
The jury has been out with most Evertonians this last 2 year's, now you can prove us wrong!
Dave Pritchard
3
Posted 27/01/2016 at 08:47:31
This is one of those days where you are nervous all the way through to kick-off. Really difficult one to predict (aren't all our games?). We could easily get a tonking, especially if they score early on and shatter our already shaky confidence.
For that reason I hope we do set up with a solid midfield. Maybe bring Lennon in for Deulofeu on the right and save Del for later. Bringing McCarthy back would be a gamble after such a long time out so stick with Barry and Cleverley with Barkley in midfield. Rom will have to work very hard up front on his own.
At the back I am guessing it will be Stones and Jags although I would replace Stones with Funes Mori as he think he is in better form. We all need a lift and getting through would provide it. IF we do then after watching the other semi last night we would have nothing to fear.
Gerard Carey
4
Posted 27/01/2016 at 08:49:41
Only changes to your team I would make would be Mori for Stones, give him a break, and Lennon to start for Deulofeu. Bring Del boy on early in second half. The other thing is if RM plays Macca I hope he is 100% fit and not rushed back.
David Hallwood
5
Posted 27/01/2016 at 08:50:41
Good report, Lyndon, and pretty much nails it. I agree with the team but I think he'll bit a bit more defensive(ha ha) and Pienaar for Gerry
Huge game and, even if we win, it won't compensate for the disappointment of the Premier League campaign.
Dominic Tonge
6
Posted 27/01/2016 at 08:51:55
I would hesitate to get on the "defines our season" / "Martinez's reign" bandwagon here. I am sorry to say our season is already defined. It's looking like a shocker. Same goes for Martinez's reign.
I just hope we can grind out a snide nil-nil to be honest. I don't fancy us to win and keep a clean sheet, and if they get one goal then I think we will capitulate (as per) . So yeah, nil-nil for me.
Paul Turner
7
Posted 27/01/2016 at 09:04:48
Robles
Coleman, Jagielka, Funes Mori, Baines
Lennon, Barry, Cleverley, Pienaar
Barkley
Lukaku
Howard, Stones, Deulofeu, Oviedo, McCarthy, Kone on the bench
Duncan Ferguson to fire them up pre-match, and "remind" them at Half-time.
COYB, you CAN do this!
Craig Walker
8
Posted 27/01/2016 at 09:19:03
Absolutely dreading this tonight. Normally I would be confident with a goal lead after the first leg but we can't hold 2 goal leads with 10 minutes to go. I can see City scoring early and us crumbling. God, I hope I'm wrong.
Why do we put ourselves through this eh? The worry, stress, frustration, anger and for very little joy.
Give us something to shout about Blues for a change.
Jim Bennings
9
Posted 27/01/2016 at 09:23:12
Recent history suggests a 2-1 first leg advantage with us means nothing at all.
We have travelled to Sporting Lisbon and Dynamo Kiev, capable sides but hardly European heavyweights, with a 2-1 first leg advantage but in both return legs away from home we've been convincingly smashed up!
Another example of whether a lot of these guys have learned anything from past experiences.
Colin Glassar
11
Posted 27/01/2016 at 09:28:52
This is his 'High Noon'. This game could make or break him and the team. Get your Walkman on Roberto and listen to, 'Do not forsake me oh my darling' and get into your Garry Cooper mode.
Bill Griffiths
12
Posted 27/01/2016 at 09:43:32
Having supported Everton for 60 odd years this game is a bit of a poisoned chalice as far as I am concerned. While I would never ever wish for Everton to lose a game whatever the reason I don't know if I could stand losing to the RS yet again in a Wembley final after suffering so much heartache at their hands. I know they are no where near the team they were but after so many let downs in the past it's hard to be positive.
As far as selection goes I would go with Funes Mori over Stones in that not only could Stones do with being taken out of the firing line for a while but Funes Mori carries much more of a goal threat when we will probably need to score at least one goal to go through.
Anyway I hope we win and worry about the RS later.
Peter Mills
13
Posted 27/01/2016 at 09:43:47
I've just noticed my ticket is in Row Z - hoping to see plenty of the ball.
Colin Battison
14
Posted 27/01/2016 at 09:46:34
I would take Stones out of the team too after Sunday's performance, he didn't look with it at all and tonight is not the night for pissing about at the back. My team would be.
Robles
Coleman, Jagielka, Funes Mori, Baines
Lennon, McCarthy, Barry, Pienaar
Barkley
Lukaku
With Deulofeu to come on early 2nd half
Come on Everton, the incentive is already there, a meeting with the stuffy RS.
Patrick Murphy
15
Posted 27/01/2016 at 09:58:36
Given the angst shown of who we will meet in the Final should we get through this tie, I wonder if it's even worth entering any competitions that the other lot are involved in.
Don't get me wrong, I fully understand and appreciate why many of us feel like that as I too have sat at Wembley and various other venues holding my head in my hands as we have been done over like a kipper no matter how well we have played or as has usually been the case, not that well to be honest.
But, and admittedly it's a big but, there has to be a day when we have our day in the sun and the other lot are left with that horrible sickly feeling that too many Evertonians have felt far too often.
Of course we have an enormous hurdle to overcome tonight both physically and psychologically before we have to concern ourselves with the other lot, but if it comes to pass, there is no earthly reason that for once in our lifetimes we can smell the sweet taste of success against our not so loveable neighbours.
Mind you, there may be a few unearthly reasons why we won't but we can't fight the forces of evil, if we don't show courage and largely concede a game even before the fixture has been rubber-stamped. Blues to win tonight and hopefully triumph at the end of February, but we'll cross that bridge when we come to it.

Si Turner
17
Posted 27/01/2016 at 10:14:37
Good write up Lyndon.
I agree the only chance we have of getting through is to score one on the counter.
We need to be tight at the back and not give them pockets to play into. Keep them wide because they don't have tall attacking players to knock headers in so we should be able to manage crosses.
I predict a nail biting 1-1 draw.
COYB
Dave Pritchard
18
Posted 27/01/2016 at 10:22:31
Peter at 9. If you do and we are level or ahead, hang on to it for as long as possible.
Jim Bennings
19
Posted 27/01/2016 at 10:22:59
I agree with Patrick.
As far as I'm concerned the cracks at them the better.
The Anfield derby was meant to take place on the date of the Cup Final so it will feel gutting not being in it but know they are.
Robert Leigh
20
Posted 27/01/2016 at 10:33:15
I'd love to see this team tonight:
Robles
Coleman, Jagielka, Funes Mori, Baines
Stones, Barry
Deulofeu, Cleverley Oviedo
Lukaku
Bench: Howard, Galloway, McCarthy, Lennon, Barkley, Pienaar, Kone.
Stones in midfield as a tackling replacement for Besic Γ'β'¬β€œ I don't want McCarthy coming off injured and disrupting the flow and Stones then has a line behind him.
Drop Ross just because I think we need more responsibility on the ball tonight which Cleverley gives us. Pace with Oviedo and creativity with Deulofeu. Ross on the bench gives us a great sub which having lost Kev I don't think we have.
Clive Rogers
21
Posted 27/01/2016 at 10:36:33
I would give Stones a rest for Funes Mori, but apart from that it's our best team at the moment.
Tony Hogan
22
Posted 27/01/2016 at 10:37:11
Interesting Comments here on our wonderful manager by ex red Stevie Nicols and others:

http://www.espnfc.co.uk/video/espn-fc-tv/86/video/2794820/extra-time-Roberto-Martinez-under-pressure
Dean Barton
23
Posted 27/01/2016 at 10:41:18
I'll be going to the game tonight and already I feel that flutter in my stomach. I'm full of excitement and dread in equal measure.
Like everyone else, our form over the season is a concern to me as are the usual suspects that plenty has been said about already. I would hope that a few members of the squad have had a good look at themselves these last 48 hours.
What id like to say is that regardless how the season has gone this game and maybe the final will live much longer in the memories of all of us. This season could be the year we can finally win the League Cup. It could be a year we quote at our rivals forever more.
With that in mind we have to treat this as a one off. Forget Swansea, Howard, Stones and RM and get behind our club. Forget all the negativity and get behind the lads who we can all agree have it in them to go there and get a result.
Today is not the day to be negative COYB
Christopher Timmins
24
Posted 27/01/2016 at 11:05:56
Folks, any merit in playing Stones in the defensive mid field slot, keeps him away from goal and protection to the central defenders.
It's going to be a long tense evening and hopefully we can see it through!
Rob Halligan
25
Posted 27/01/2016 at 11:18:06
My team would be Robles. Coleman, Jagielka, Funes Mori, Baines. Barry, Cleverly, Barkley, Pienaar, Deulofeu, Lukaku.
As Patrick says, we are due a win against them, the RS. I have seen us lose three semi-finals and three finals against them. The law of averages says we are due a win.
Look at Swansea, never beaten us in the league up until last Sunday. Stoke hadn't won at Anfield for over 50 years, until last night. I count that as a win for Stoke by the way. They won the actual match, after all.
So everybody chins up, this is definitely our year to land a trophy.
COYB. NSNO!!
John Atkins
26
Posted 27/01/2016 at 11:19:28
You dare left me down again tonight Everton and I'm finished with you! For good...... God how many times have I said this over the last few years?
Please please please give us a performance and victory to be proud of and provide us with some optimism moving forward COYB !!!
Phil Walling
27
Posted 27/01/2016 at 11:31:40
As if to prove my distaste of this manager does not extend to wishing my team to lose, I have just invested my £20 betting money on Everton to qualify for Wembley at 5/4.
With both Wigan and Everton, Martinez has established something of a reputation as a cup tactician and it says much for the man that he seems able to motivate his players for these games in the midst of a string of poor results in league competition.
Perhaps the paradox is explained by the fact that these are games in which he must accept that the RESULT means everything. So his players are excused if they dare to adopt a more pragmatic approach.
I suspect there may be one or two surprises in team selection as our man pulls out all the stops to prevent this season going completely down the drain. I hope they work.
Michael Penley
28
Posted 27/01/2016 at 11:34:08
Rob (17) - The law of averages might say we are due a win over the RS, but the law of good and evil says that evil always wins.
James Stewart
29
Posted 27/01/2016 at 11:38:35
Going to the match but I can only see one outcome, unfortunately. Losing Besic was the killer; without him, Man City wouldn't have been kept so quiet.
Niall McIlhone
30
Posted 27/01/2016 at 11:44:27
Good preview, Lyndon. My view is that we saw enough from our little magician Stevie Pienaar in his cameo against Swansea to see he is approaching a good level of fitness and, for me, he must start on the left in front of Baines.
Pienaar no longer has any pace, but then, he has never relied on it. He can, however, scrap for possession, and play an incisive forward pass, and in this type of game.
I would like to see him out left and Lennon starting on the right. This then leaves options on the bench of Kone, Deulofeu, Ovideo and Osman. Whilst Man City have star players, as a team, they can be frustrated, especially if Kun Aguero can be nullified.
Put Jimmy Mac (if fit) on Silva, and stifle him. Keep the ball out on the flanks, and let's have some crosses in to the big man. If he is on his game he will destroy their centre halves; they are dodgy without Kompany.
Good luck, Blue boys, give us something to be proud of and safe journey home to the 9000 souls making the trip.
Clive Rogers
31
Posted 27/01/2016 at 11:48:32
Christopher (#16),
That's a good suggestion if Mac is not fit. Would like to see what Stones could do there. Funes Mori does not deserve to be left out. He's our best defender in the air.
Abhishek Saha
32
Posted 27/01/2016 at 11:52:02
Having watched Stones play since he became our first team regular (not just last few games), I get that feeling he can be deployed in that defensive midfielder role, especially after seeing his time on the ball, the swagger he has and always looking to pick the right player to pass. He can be better used in the role for protecting the back four and take the ball forward. Something what Slippy G was doing for the RS towards end.
I had always thought about this but am writing this now in the wake of our need to beef up our defence today and for which the only way of doing it now seems to gamble on Macca. I am aware that this post might draw flak from the faithful, especially given the time of the year I am writing this.
Hoping that lady luck of Cup games is awake tonight. COYB!
Abhishek Saha
33
Posted 27/01/2016 at 12:01:51
Just read comments from Chris (#16) and Clive (#23). I am not the only one then.
Keep the faith!
Tony Dove
34
Posted 27/01/2016 at 12:15:14
I just hope Coleman is fit to start. The thought of the left footed Oviedo fills me with dread. I am not in the Pienaar camp for this game. He is slower than ever now and that lack of pace could prove disastrous against a team like City.
Liam Reilly
35
Posted 27/01/2016 at 12:27:11
What we need tonight is a gritty performance. An Adrian Heath, Oxford moment that becomes the catalyst for an upturn in the clubs fortune.
Actually, didn't we face the RS in 84 also if I remember correctly when the were allowed two goalkeepers. Hansen was it; punched the ball off the line and that was deemed within the rules and we went on to lose the replay.
Fran Mitchell
36
Posted 27/01/2016 at 12:29:20
Counter-attacking football needed.
Robles
Baines, Funes Mori, Jagielka, Coleman (if not fit, Stones)
Barry, Osman
Lennon, Cleverley
Deulofeu (yes, through the middle)
Lukaku
McCarthy for Osman when he tires.
Barkley for Deulofeu when he tires
And a sub for the obligatory injury.
Alan McMillan
37
Posted 27/01/2016 at 12:30:55
How many among us are afraid to think... "What if?"
We've imploded so often in recent times that it seems almost sadistic to think we can do it. It's almost inevitable we will go down to a shite decision or a piece of bad luck.
I've no faith in Martinez's ability to out-fox Pellegrini and get us to Wembley against an ordinary Liverpool team. Then again, we only need a draw. We can get this in spite of Roberto, not because of him.
Tony J Williams
38
Posted 27/01/2016 at 12:32:36
Can't watch this and won't.
Will get the missus to turn off all mobile phones/Kindles etc so I can't look at the score until after 11:00pm or might wait until tomorrow.
Probably best to wait, so I don't go to bed angry again.
Come on Blues, prove me wrong and stuff the feckers!!
Harold Matthews
39
Posted 27/01/2016 at 12:36:41
Yes, Prague, Lisbon and Kiev were not happy 2-1 first leg leads but we're due a slice of good fortune and maybe it will happen tonight.
Once we get past the first 10 minutes when the heap of complicated instructions cause us to hesitate, we should be okay so long as Jags doesn't go suicidal with the high line. Won't be surprised if Ossie plays some part. Man City fans went bonkers the way he and Barkley ran rings round Ya Ya Toure and flaked him out. Besic helped us keep the ball of course, as did Kone when we went down to 10 men.
Clichy had Deulofeu well boxed off last time but Coleman might make a difference. He looked plenty sharp the other day. On the other flank, the big hole in front of Baines is an invitation for Navas or De Bruyne and our lad will need help. Holy smoke, Aguero, Silva, De Bruyne and Ya Ya Toure. If that's not scary, nothing is. How we've managed to keep them quiet over two matches is a mystery. We couldn't even keep Swansea out.
Can't be confident but we will get 2 or 3 chances and they'll need to be converted.
John Raftery
40
Posted 27/01/2016 at 13:04:32
No excuses tonight. It does not matter how we play, just get through. Dukla Prague in 1978 was our other second leg failure after a 2-1 lead from the home leg. Tonight we have the advantage of knowing that away goals count double after extra time so we need to treat this as potentially a 120 minute game. We can expect no favours from Atkinson, indeed the opposite is the case.
Dave Ganley
41
Posted 27/01/2016 at 13:05:27
You just never know......on the day we are more than capable of getting a result tonight and as others have said, we are definitely due a win against the RS.
COYB
Brian Harrison
42
Posted 27/01/2016 at 13:14:16
I can't remember the last time I was this relaxed about a game, especially one as important as this. I think the reason is that for the first time ever I don't care what the result is. Beat City and end up playing our bogie team at Wembley, or lose and not have to go through the humiliation of losing yet another final to the other lot.
Colin Glassar
43
Posted 27/01/2016 at 13:25:24
Same here, Brian. Trust me, I'd like to go all the way but I now feel de- sensitised(?) to these types of games as Everton never fail to disappoint you. I wish the lads all the best but no more angst on my part.
James Lawler
44
Posted 27/01/2016 at 13:26:29
Martin Atkinson the ref, not a great start!
Ste Traverse
45
Posted 27/01/2016 at 13:26:56
Dismayed to read in this mornings paper Martinez saying he isn't interested in a clean sheet. FFS, a clean sheet will take us to Wembley. What a dickhead he is.
If we play an open game chances are City will kill us.

This Joker isn't learning from his mistakes whatsoever.
Jackie Barry
46
Posted 27/01/2016 at 13:28:24
I'm hearing rumours, yeah I know, that Kenwright has sold Everton!. Lose tonight and well you can guess what our supposedly new owners will do first.
Colin Glassar
47
Posted 27/01/2016 at 13:32:00
Give their fellow American an extended contract, Jackie?
Jackie Barry
48
Posted 27/01/2016 at 13:33:12
Lol, Colin you're a stickler.
Paul Hughes
49
Posted 27/01/2016 at 13:40:23
I don't know about Stones as defensive midfielder tonight... too big a game to experiment with that.
If Coleman isn't fit, Stones right back; if Coleman is fit, Stones on the bench.
Ged Simpson
50
Posted 27/01/2016 at 13:41:10
From a City Forum
"We'll go out because we've got a clueless old cretin in charge of us."
"Prepare to be disappointed."
The City fans are more optimistic about our chances than we are!
I reckon a draw and through.
Ged Simpson
51
Posted 27/01/2016 at 13:43:26
Colin/Brian....you'd like to be relaxed and avoid the angst. But you can't. Impossible. It's in your soul. Just embrace it!
Joseph Terrence
52
Posted 27/01/2016 at 13:57:10
I have a suspicion that we could see 3 at the back tonight.
Peter Carpenter
53
Posted 27/01/2016 at 14:03:07
This was in today's Independent:
"Romelu needs more goals and he needs to go to the first [near] post more," says Deulofeu, whom Lukaku calls 'my provider'.
"I always say, 'Rom, go to the first post my friend, because my crosses are dangerous'. Against Swansea, for example, we needed him at the first post."
More tactical nous there than I've heard from certain managers recently. Make Gerard the next coach.
Dave Southword
56
Posted 27/01/2016 at 14:08:34
Ged highlights an interesting point. All football managers are clueless morons. Imagine if a club, any club, appointed a manager who was smarter than the fans – they'd be unstoppable.
Neil Gribbin
57
Posted 27/01/2016 at 14:08:39
I'm in the last few days of my holiday.
I have sworn blind I won't watch tonight, but I know I will.
Don't ruin my holiday, Everton...
Harold Matthews
58
Posted 27/01/2016 at 14:09:40
True Peter. Rom needs to make an effort to get in front of his marker and gamble on the Delboy crosses.
Peter Carpenter
59
Posted 27/01/2016 at 14:11:39
He also revealed that he has a dog called Lucas. Probably a yappy little shit!
Rick Tarleton
60
Posted 27/01/2016 at 14:13:59
Like Bill Griffiths, I'm a supporter since the early fifties and like him, fearful of another Merseyside final that we lose. I hate losing to Liverpool so much, I'd almost prefer to lose to Man City.
Colin Glassar
61
Posted 27/01/2016 at 14:14:41
Ged, you are right. About 7pm the nerves will probably start kicking in. I can't help it but Everton do my head in.
Jamie Barlow
62
Posted 27/01/2016 at 14:22:19
7 o'clock this morning my nerves kicked in. It doesn't help when you work with two knobhead City fans either.
Ged Simpson
63
Posted 27/01/2016 at 14:23:46
I know Colin. I suffer 3 indoctrinations. I am a Catholic Blue from an Irish family. God I am a victim !
Jamie Crowley
64
Posted 27/01/2016 at 14:25:20
Such an important game for so many reasons.
I'm bugging out of work around 2 pm to hit Lynch's Irish Pub directly across the street from the beach in Jacksonville Beach, FL, with two other born n bred Blues to watch. Normally, this is the dream afternoon.
So why do I have knots in my stomach and why am I dreading watching?...
Fucking win. Please...
Duncan McDine
65
Posted 27/01/2016 at 14:30:00
Jamie (57), you know the answer to that mate! This is the biggest game of our season IMO
Tony Rutherford
66
Posted 27/01/2016 at 14:30:37
While gutted at recent performances, got a feeling we might actually turn up for this one. Lukaku first goal and 2-1 to Everton and the winnings will pay for my Wembley trip!
Phil Walling
67
Posted 27/01/2016 at 14:56:44
Ste @ 36: Roberto's aversion to clean sheets reminds me of the mindset of the guy who always played golf with an upturned umbrella and tennis with a frying pan. He saw this as much more of a challenge.
When asked if he applied the same approach in his sex life, he said 'Certainly, and before you ask...... standing up in a hammock !'
Boom, boom !
Colin Glassar
68
Posted 27/01/2016 at 14:58:24
It might be John, I also predicted, weeks before it happened, that Besic and Deulofeu would come as well but as I've said, several times, that source has since moved on. I still have a good contact in Barcelona though but not a peep from him lately.
Kim Vivian
69
Posted 27/01/2016 at 15:05:28
Peter #9 - Hopefully not as a result of Ross's shooting.
Peter Cummings
70
Posted 27/01/2016 at 15:05:40
I don't think Robles is the right choice for this one.
Howard will be keen to prove the critics wrong and tends to rise to the 'big' occasion. He played well in the last game v City, kept them out after they put us under siege for most of the game which, predictably, they will do tonight.
Players to beware of...?? The Whole City Squad!!!
Kim Vivian
71
Posted 27/01/2016 at 15:11:24
We need 2. Maybe something on the counter and a dodgy penalty or something. I reckon we can peg them back to 3. That takes us to Wembley.
Joe O'Brien
72
Posted 27/01/2016 at 15:19:40
I'm thinking 2-1 to us tonight. Then the announcement tomor morn that we've been taking over, and Bill is finally gone. Hopefully with the prospect of a new manager coming in ASAP. I've got a feeling that's it's a new dawn of us. COYB
Peter Carpenter
73
Posted 27/01/2016 at 15:27:18
Oh dear, I sense an 'it's the hope that kills us' post is imminent.
Dennis Ng
74
Posted 27/01/2016 at 15:56:33
I'm thinking a rare cleansheet to do the trick. Then we'll have a watershed day conceding 5 goals in our next league game. That's my gut feel against Swansea (loss) and this game (draw or win) anyway.
Brian Porter
75
Posted 27/01/2016 at 16:02:49
We all seem to agree that Funes Mori is currently our in-form defender so it's bloody obvious Martinez will bench him and leave Stones in. Being such an important game, I do feel Stones could be a liability against Man City's speed in attack and get caught upfield, leaving us badly exposed.
And yes, big gob Roberto opens his mouth and puts his four right in it... again. Not interested in keeping clean sheets when that's all we need to get to Wembley. Do we need any further proof that this man is totally unsuited to be managing us, or any Premier League team?
David Booth
76
Posted 27/01/2016 at 16:15:56
Just had my e-ticket cancelled by Man City (as have a great many others no doubt)...
Very last-minute this, but has anyone got a spare for the game please?
07711 381384
James Hughes
77
Posted 27/01/2016 at 16:21:51
Sky are really cheering me up at the moment, not won at Citeeh since 2010, never beaten them there in a cup game. lost 5 out the last 6 etc etc...
Then to improve my mood, Roberto is spouting his usual drivel, I think he was speaking Esperanto.
I am looking forward to watching this tonight and I (have to) believe we will get a draw and meet the RS in the final. Where we score a goal like we did against Newcastle, as in last kick of the game so the fuckers can't come back.
Wemberley, Wemberley we are all pissed up and going to win the cup!

Clive Mitchell
78
Posted 27/01/2016 at 16:25:14
A lot of people (media especially) seem to think this is a seminal moment tonight for RM. I can't agree. At the time it felt like a seminal moment when we were two up at Bournemouth with less than 15 minutes to go and about to take a big step forward.
Nine games later we have six points more than we would have had that day – a desperate journey that culminated against Swansea on Sunday. It's the league that counts. RM has failed the test.
Today I've seen him quoted as saying that his team can't be said to be underachieving because this group of players has never won anything. Who do you think believes that Roberto?
Dave Pritchard
79
Posted 27/01/2016 at 16:31:21
David, I don't understand about your e-ticket cancellation.
Jamie Crowley
80
Posted 27/01/2016 at 16:47:28
Definitely a game which will drive the defensive side of the ball people absolutely nuts.
We have to get an away goal. It's huge. We will not keep a clean sheet. If we set up to protect the lead we are doomed.
Surely we can knick one and find a balance??
Nah!
Ed Staunton
81
Posted 27/01/2016 at 16:51:40
Peter 65 are you mad? Howard will be keen to prove the critics wrong and tends to rise to the 'big' occasion! So when has he in past? Almost every derby he has looked like a scared child (to be fair not the only one). Robles for me.
Brian Wilkinson
82
Posted 27/01/2016 at 16:53:08
Dont worry James@72 Swansea had never beaten Everton home or away in the league, Stoke had not won at Anfield in donkeys years.
We know we have the players to hit City hard on the break, our defence has looked a little more composed with Robles behind them.
City will try to get the early goal, that could play into our hands, teams have worked us out and parked the bus, catching us on the counter attack, City have to come at us, we just have to hope that the chances we get, we put away and not rue on missed chances.
Big following there, playing better away, feeling more positive than if it had been at Goodison and 2-1 down chasing the tie.
Coyb
Jamie Crowley
83
Posted 27/01/2016 at 17:00:27
Clive @73 -
The pressure on Roberto is real. It made the radio today here in America on a satelitte "soccer station."
If people here are saying the pressure is on Roberto, they've got to be lining up with pitchforks over where you are!
Shane Corcoran
84
Posted 27/01/2016 at 17:07:34
The good news is that most of City's attacking players aren't playing well. The bad news is that the exception is Aguero.
Lukaku is off form and Otamendi will give him plenty of it tonight so Rom needs to be up for it from the start.
I'd go for FM instead of Stones. No way would I decided to try Stones out in CM in a semi-final even if it might prove a good move eventually.
I'm torn on who I'd pick in the wide areas; Pienaar to keep the ball and win soft frees and then replace with Geri when they tire. Or start Geri and try to get an away goal early.
Anyway, a morale victory losing on penalties is on the cards and words like "brave" and "gallant" will find us all giving Bobby a break...........for now.
Peter Cummings
85
Posted 27/01/2016 at 17:08:35
Ed, the site is for expressing our opinions and views – that's, what I was doing, and as a VERY old Evertonian, I wish all the lads, including Robles, the best of luck tonight.
Shane Corcoran
86
Posted 27/01/2016 at 17:09:00
Jamie, we kept a clean sheet at this ground two weeks ago.
I'd settle for a borrrrrrrrrrrrrrrrrrrring 0-0 now.
Dennis Ng
87
Posted 27/01/2016 at 17:09:01
Jamie 73, I agree. I can't see him in charge after this season, even if he wins the cup. We might be around relegation zone if not in it by game 30. So, if he doesn't win a cup...
Dave Pritchard
88
Posted 27/01/2016 at 17:12:01
Well said, Peter. You are entitled to your views on who should be in goal without being asked if you have lost your marbles.
Nick Entwistle
89
Posted 27/01/2016 at 17:12:03
Talks Sport with Durham and Goughie covering Everton's current issues at the moment.
James Marshall
90
Posted 27/01/2016 at 17:17:57
No reason to dread this game – you want to be in a final don't you? So why dread the game? Go in with confidence, and if we lose, well at least we tried (if you see what I mean!).
I can see us scoring, but they'll score too – I reckon it's gonna be tight and really is there for whoever wants it.
I'll be watching from sunny Jamaica! Up the blues!
Ed Staunton
91
Posted 27/01/2016 at 17:26:45
Peter, chill man, of course you're entitled to your opinion even if it's wrong
Barry Pearce
92
Posted 27/01/2016 at 17:36:26
To me Barkley needs to be told to do a bit more when we will inevitability be under the cosh. Not just jog about waiting for the ball.
Mark Daley
93
Posted 27/01/2016 at 17:58:45
Yes, "the escapism of a cup campaign" is well said. The Capital One Cup prize money of £100k is 5% of a single league place (£2m) plus (or minus) the much-debated benefit of a Europa Cup place; Rom's wages for a week.
Getting new owners is the key, not our success or failure tonight.
Robin Cannon
94
Posted 27/01/2016 at 17:59:49
I'm not sure I can even watch it.
Ste Traverse
95
Posted 27/01/2016 at 18:01:31
Rick Tarleton (#51)
Yours is the type of cowardly, shithouse post I can't stand. Terrified of a bit of stick off them should they do us in a final.

Why are some fans so fearful and paranoid of Liverpool FC?

Colin Glassar
96
Posted 27/01/2016 at 18:08:08
That's why it's known as the Micky Mouse Cup, Mark... but, after so many years in the wilderness, I'd take the Johnson Paint Cup right now.
Brian Wilkinson
97
Posted 27/01/2016 at 18:12:35
Barry @87, I've noticed it in a few games now, if Lukaku does a sloppy pass, there's just a slight groan from our fans; however, with Ross, unless he does a Messi special, the crowd are on his back,
Ross certainly gets it from the crowd, he needs to learn, and in time he will, but for now we should be encouraging the lad, and not shooting his confidence to bits.
Yes he needs to look up, pick out a team mate instead of the extra dribble, but all that will come with time and patience.
Colin Glassar
98
Posted 27/01/2016 at 18:17:14
After having watched the stats on Sky, I think this is going to be a 1-1 draw.
Dave Lynch
99
Posted 27/01/2016 at 18:23:13
Got the beer and big bag of kettle chips in (mature cheddar flavour).
Last time this waffle merchant won a cup, he got relegated... I hope it's not an omen.
Ray Roche
100
Posted 27/01/2016 at 18:26:22
Ste (#90),
"cowardly, shithouse"

Bit over the top that, son.
Dennis Ng
101
Posted 27/01/2016 at 18:31:19
Well, fingers crossed, but if we win the cup, we have all the games after Feb to improve our league position. A much better position than Wigan. (Still don't think he'll survive this summer though...)
Ste Traverse
102
Posted 27/01/2016 at 18:33:29
Ray #95
Nope, it isn't over the top.

Anyone who is happy for us to lose tonight so not running the risk of getting beat in a final to them and getting some grief off their fans is exactly that.
Harold Matthews
103
Posted 27/01/2016 at 18:39:29
Easy, Ste.
Ray Roche
104
Posted 27/01/2016 at 18:40:17
Ste, we must have read it differently; I read it as being from a fan of 60 years who is so pissed off at us losing to the RS as often as we do, so much so that, given a choice, he'd sooner lose to Man City and deny them of their opportunity to rub salt in our wounds.
Losing to them at Wembley was as dark as it gets.
Jack Cross
105
Posted 27/01/2016 at 18:40:39
For Fucks Sake, lets have some possitivity on here. Were one game away from Wembley. Forget last week. Forget the Premier. This is a cup and we can get through and win it.
Forget Liverpool. It's City were playing. When we see them off, then we will sort Shite out.
We say the team are not fighters. Just look at your posts and see how similar you are.
Less Negativity, if only for tonight.
COYBs.
Darren Hind
106
Posted 27/01/2016 at 18:41:44
John Daley
Yep that source has moved on . .as in - There never was one.
Difficult to believe some actually bought it

Colin Glassar
107
Posted 27/01/2016 at 18:44:50
You jealous Darren?
Paul Tran
108
Posted 27/01/2016 at 18:47:43
Darren, the only source was the sauce the Sun journalist had been drinking.
Darren Hind
109
Posted 27/01/2016 at 18:47:57
No lad
I just saw through it instantly.
Brian Wilkinson
110
Posted 27/01/2016 at 18:49:35
Jack @100, spot on, shame you are not doing the team talk tonight instead of Bobby.
I'm with you all the way, bollocks to the shite, lets get this game done and dusted, then tear a strip off the shite in the final.
Let's be positive Blues, every dog has its day, we are due one.
Darren Hind
111
Posted 27/01/2016 at 18:50:07
I know, Paul. but let him have his fun.
Ian Riley
112
Posted 27/01/2016 at 18:50:47
Let's win for Bill Kenwright. A possible take over? This could be the last chance for silverware under his tenure. Come on you Blues.
Colin Glassar
113
Posted 27/01/2016 at 18:52:32
Good for you Darren, enjoy.
Ossie starting tonight. Will he be marking Toure?
Martin Mason
114
Posted 27/01/2016 at 18:56:54
A lot of very rude comments tonight. I've always thought that Colin's information has been invariably correct.
Jason Murray
115
Posted 27/01/2016 at 19:01:55
Stones at right back and Ossie to start apparently. Come on you Blues we can do this!
Si Turner
116
Posted 27/01/2016 at 19:03:34
I cannot believe the team which he has picked!!!
Why has he started Osman?
Why is Stones at RB?
I would have played Lennon or Pienaar on the left and why isn't Seamus playing.....
Jon Cox
117
Posted 27/01/2016 at 19:05:39
Take and score from two chances and we'll be through.
Rom needs to be connecting to Del's crosses.
Come on Everton WE CAN DO THIS!!
Clive Rogers
118
Posted 27/01/2016 at 19:11:46
Wouldn't have picked Osman for this game. Too lightweight.
Glen Garrett
119
Posted 27/01/2016 at 21:23:04
Everton season is now over, Martinez has to go now.
Add Your Comments
In order to post a comment, you need to be logged in as a registered user of the site.
Or Sign up as a ToffeeWeb Member — it's free, takes just a few minutes and will allow you to post your comments on articles and Talking Points submissions across the site.
© ToffeeWeb