Loan stars from Everton's Academy earning rave reviews
by

26 Comments [Jump to last]
| 03/02/2016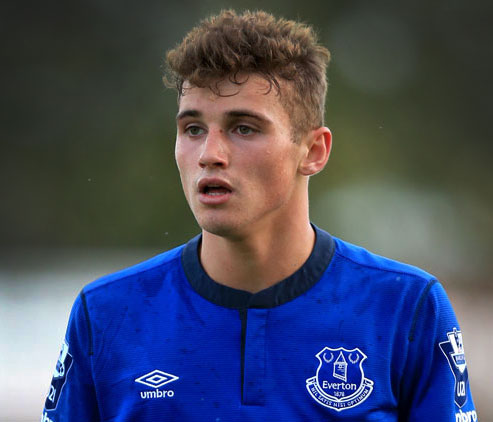 Ryan Ledson has been on loan at Cambridge United
A number of Everton's most promising Academy products have been out on loan gaining valuable experience in the lower leagues in recent months and have earned good reviews from their respective clubs.
Ryan Ledson has been on loan at Cambridge United since November and should learn this week whether his spell at the Abbey Stadium will be extended by another month. The 18-year-old has now made 12 appearances for the Us, who are 11th in League Two but just three points off the playoff spots in England's fourth tier, and their manager, Shaun Derry, spoke last month of how pleased he was with both the impact the boyhood Blue has made and also his attitude.
"Ryan has had a great loan for us and he wants to stay and continue playing for the club, which I think is great," Derry said when it was announced that Ledson would be extending his stay at Cambridge for another month on 3rd January. "But he's 18, don't forget. We knew there would be a dip in his performances, but what do you do?
"Do you try to look for that perfect performer every week? You just don't find that, so sometimes you have to take a little bit of rough as well. He hasn't played as well in the last two games as he performed perhaps four or five games ago, but his character is there and I think that's what you've got to look at as well.
"We've created a really good home for Ryan and he loves being here. We know we're not signing Ryan Ledson, of course. I think he's going to be a really good player, but for the short term he wants to be here and I'm delighted he is."
The youngster, who captained England U17s to European Championship success two years ago and made his senior Everton debut in the Europa League dead rubber against Krasnodar in December 2014, admits that it's been a valuable exercise for him so far as he looks to continue his development towards eventually pushing for gametime with the Blues' first team.
"It's a good experience for me playing League football and men's football," Ledson said last week. "It's a real test for me being a young lad and it can only help me in the future.
"My mum, dad, girlfriend and sister have all come down. My mum and dad come to every game – they even went to Plymouth away, they're mad.
"My main priority at the minute is Cambridge United. I want them to do the best they can, and I'm here to help them climb the league and push for the play-offs. There's a brilliant squad and I'm loving my time here."
Ledson has been on Everton's books since he was just five years old and he explained how he has changed roles as he has grown and describes his admiration for Roberto Martinez, the man who handed him that debut at Goodison Park – where he is still a match-going Evertonian – 14 months ago and who has demonstrated a commitment to bringing through English talent at Finch Farm.
"I started when I was young as a right winger," the Liverpool-born player continued. "When I got a bit older I don't think I was quick enough so I got moved into centre midfield, and ever since then I've stayed there.
"Growing up, I'd say watching the likes of (Zinedine) Zidane, Paul Scholes, Frank Lampard were top midfielders and you try to model yourself on them if you can."
Of Martinez, Ledson said: "He's a really top manager. He's always looking after the players and he always wants everything to be right. The FA Cup win he got with Wigan shows you what type of character he is and I love working with him.
"There are people like Luke Garbutt, Tyias Browning and Brendan Galloway, who are young English lads who have been given a chance."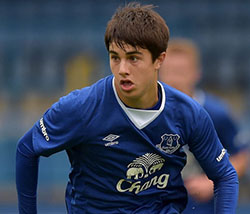 Liam Walsh
, meanwhile, joined Yeovil Town last month and if the reaction to the 18-year-old's recent displays from Glovers fans is anything to go by, he has been something of a hit already. The midfielder made his debut in the FA Cup Third Round tie against Carlisle United that the Cumbrian side won on a replay to earn, coincidentally enough, the home tie against Everton that the Blues comfortably won last Sunday. (Walsh would have been ineligible to play against his parent club had Yeovil gone through.)
Since then, Walsh, who came to Blues' fans attentions when he scored a stunning goal from the halfway line for the U18s in November, has made three more appearances for the League Two side and scored his first goal last night in a 1-1 draw at Luton Town. That led to more praise for him on social media, especially on Twitter where Yeovil fans were purring about their new loan star.
Liam Walsh is turning into 1 of the signings of the season. Great influence in the centre of the park and now he's broken the deadlock #YTFC

— Josh Wilde (@josh_wilde20) February 2, 2016
@Everton please may we have Liam Walsh off you on a permanent deal! Many thanks Yeovil Town Fc

— ⚽️Ryan Pony Moore⚓ (@PonyYTFCMoore) February 2, 2016
Is Liam Walsh our best player every week? Huge prospect

— Andy Craig (@andy_craig93) February 2, 2016
How good is Liam Walsh though!? Wow

— Mike Cleverly (@mikecleverly) February 2, 2016
Elsewhere, Conor Grant has himself been impressing in the colours of Doncaster Rovers where his penchant for spectacular strikes from outside the box has already garnered him two goals in 13 games for the League One outfit.
He missed last night's game against Walsall despite overcoming a dead leg to face Port Vale the week before but Donny fans have taken to the Blues' midfielder who was joined by his Finch Farm teammate Felipe Mattioni until the Brazilian had to return to Merseyside for treatment on his latest injury.
Few eyebrows raised when Grant initially came in but now looks imperative he stays beyond January. Classy player, given side balance. #drfc

— Paul Goodwin (@paulgoodwinDFP) December 2, 2015
We have Conor Grant until the end of the season so we've still basically won this transfer window 🙌

— Matt Walker (@Matt_Walker96) February 1, 2016
Finally, Jonjoe Kenny seems to be making short work of convincing Oxford United fans that they won't miss popular right back George Baldock too much in the coming weeks.
Baldock was recalled by MK Dons with Kenny drafted in on loan from Everton as his replacement and the changing of rthe guard was made official when the Blues' U21 regular came on as a substitute for the departing defender five minutes from the end of Saturday's FA Cup Fourth Round defeat to Blackburn.
He made his first start last night in the Johnstone's Paint Trophy southern area final second leg against Millwall, a game that the Oxfordshire club lost but earned their place at Wembley by winning 2-1 on aggregate.
Kenny, who has League One experience with Wigan, has also been earning rave reviews on the back of his full debut in which he was named the Us' man of the match.
Jonjoe Kenny was an absolute rock tonight. Hugely mature performance. Big future there. 👌🏼

— Kath Faulkner (@t3dkath) February 2, 2016
@bbcoxfordsport thought JonJoe Kenny was outstanding & very well supported by @alexmacca11 great team performance.

— Deadly the Roadie (@DeadlyTheRoadie) February 2, 2016
---
Reader Comments (26)
Note: the following content is not moderated or vetted by the site owners at the time of submission. Comments are the responsibility of the poster. Disclaimer
David Chait
1
Posted 03/02/2016 at 06:50:05
To add to this Brewster also appears to be doing very well at his club (name escapes me). For those interested GOT have a thread that tracks them and one committed gent trawls the fan sites for comments on our players and posts involvement from match threads.

Plus you can find highlights of games now and then. Of those Walsh does appear to be the stand out. Ledson has had some mixed reviews but has had very good games thrown in but seems to lack consistency. Interesting to see how Kenny does...
Jakob Herd
2
Posted 03/02/2016 at 06:57:29
3 midfielders .... Do we have our own 'Golden Generation' coming through? Hope so, but too early to tell I suppose.
Mark Wynne
3
Posted 03/02/2016 at 07:22:12
The Mrs (who is a season ticket holder at Cambridge) has been hugely impressed by Ledson's performances. One of things she often says about it him is that when he plays, he doesn't look like a raw 18-year-old and is already showing a lot of class and maturity.

He's definitely become a fans favourite down here and is improving every game. The experience of playing competitive football (albeit at a lower league level) seems to be benefiting him hugely, so I hope he gets to stay until the end of the season.
Anthony Dwyer
4
Posted 03/02/2016 at 07:29:56
Where is Brewster, David? He seemed to be banging goals for fun at our U18s. Looks an interesting prospect.
Colin Glassar
5
Posted 03/02/2016 at 07:53:15
Will we ever see any of these kids in the first team?
Tony Ateman
6
Posted 03/02/2016 at 08:06:41
A guy that nobody mentions is Joe Williams, who I have thought has always stood out ever since (I hope I have got this right) getting sent off in a U18 derby game for clattering Sterling.
David Milner
7
Posted 03/02/2016 at 08:45:29
Brewster is back at Finch Farm, his loan at Stockport County has ended.
David Chait
8
Posted 03/02/2016 at 08:45:45
Brewster is/ was at Stockport. Think he is still there.
David Chait
9
Posted 03/02/2016 at 08:48:33
Aah thanks David.
John Crawley
10
Posted 03/02/2016 at 09:00:21
Colin I've no doubt these lads have got the ability, they need to keep progressing and then it's down to having a manager who believes in playing youngsters. Jonjoe Kenny was the reason I was glad we missed out on Byram, I think he's got the potential to be a really good player for us. Fingers crossed but it looks like a good crop of youngsters.
Sam Hoare
11
Posted 03/02/2016 at 09:03:21
Henen has had some decent reviews from fleetwood too.
No-one though has yet proved themselves consistently at a high performing Championship club which is what Coleman did before making the step up to first team regular for us.
These kids have some ability (Walsh in particular) but chances are more will end up at other clubs than with the toffees. Whilst good runs with league one and two clubs bode well there's a long way to go yet and I will get more excited when I see one of our academy getting rave reviews from the likes of Derby, Middlesbrough, Burnley, QPR, Brentford.
Talking of which has anyone heard much about Garbutt at Fulham? Hoped he would be setting the Championship alight but think he's had some injury problems.
Paul Thompson
12
Posted 03/02/2016 at 09:07:43
Going out on loan is obviously now part of the development of young players, with Grant, Ledson and Walsh clearly benefiting.
From what I've read and seen, Walsh is the most talented, but he's small and may struggle unless he fills out. Grant has a good football brain and a cracking shot. Ledson has talent, but his time with us and at Doncaster indicates some inconsistency.
The fact that our Under-21s have been doing so well without these three is a testament to the talent at this level. However, the track record at Everton and elsewhere suggests scepticism about whether any of the three or others will be given a chance at senior level.
Paul Thompson
13
Posted 03/02/2016 at 09:09:51
Sorry, meant Cambridge for Ledson.
Dave Abrahams
14
Posted 03/02/2016 at 09:14:30
With these lads doing well and improving makes me think even more so now that they will progress better away from the U21 league and playing proper football even in the lower grades of the Football League.
Something needs to be done and improved at the U21 level it is just not working and young lads are just mostly stagnating at this level.
Dave Abrahams
16
Posted 03/02/2016 at 09:21:17
Paul (12), I've said it before and I'll say it again, do not worry about Liam's size, he can look after himself, he's been booked twice already in his short spell at Yeovil.
Liam has got talent with a capital T; I wish Barkley would tackle, hustle and bustle one tenth of the way this kid does.
David Chait
17
Posted 03/02/2016 at 09:23:38
Agreed Sam. These guys need a whole season playing next level football. Can't see how jumping in and out all over helps that much. Really needs to be at Championship level too to show real ability.
I do t know if size is much of an issue these days. There is so much protection and from what we hear Walsh does not stand back for anyone.
Bill Griffiths
18
Posted 03/02/2016 at 09:26:24
All the above plus the likes of Dowling and Garbutt seem to have been around for ages and have all been touted as being the next big breakthrough to the first team.
Though several of them are very young I would expect next season to see some of them getting some time in the first team squad plus some game time. Especially given Roberto's optimism regarding their abilities and work done with the Academies during his tenure. If this is not the case then he will have failed on the development side of things in additional to his struggles with the first team.
What do others think, am I expecting too much too soon from these lads?

Harold Matthews
19
Posted 03/02/2016 at 09:39:36
Think big fast Delial Brewster is with his hometown club, Southport.
Tony. Joe Williams is a favourite of the regular U21 watchers.
These kids will need a lot more loan time. Harry Kane had seven spells away from Spurs where he didn't really show much. Lucky for Tottenham I suppose. Nobody wanted to buy him but the England U21s stuck with him and he got his PL chance when others were injured or out of form.
Quick thinkers, Kenny and Walsh, have always had that extra something and are still growing into their frames. Grant has always had class and a deadly accurate left foot and is now learning to win the ball instead of waiting for it. Tough boy Ledson is rated behind Kenny and Connolly for the England U19s but will hopefully continue to progress.
Liam Reilly
20
Posted 03/02/2016 at 10:14:55
Size is no longer as important these days, as the players get more protection from officials.
Liam Walsh looks the real deal, surely if or when we have some dead rubber ties later in the season (once we're not dragged into a relegation battle); it would be a good time to blood this guy.
Brian Porter
21
Posted 03/02/2016 at 10:37:30
Once upon a time, all clubs had a 'real' Reserve team, as opposed to an Under-21 team, and the Reserves played in the old Central League.
Since the formation of the Premier League, all that has changed, and the old Central League is now known as The Final Third Development League. Ridiculous name eh? Anyway, the Final Third etc etc is nowadays restricted to Football League clubs and the so called Premier Reserve League is where our U21s appear.
Sadly, the same applies to the other Premier League clubs so the league is not as strong as it could be because you can only play a limited number of over-21s in your Under-21 side.
Years ago, I recall watching Central League games where many big-name players who, for whatever reason, were not in the first team, could be seen at reduced prices and the standard of play was damn good. If the old Central League format still existed and ran concurrently with an U21 league, there would be far greater opportunities for younger players to first step up into the Reserves and perhaps eventually the first team. It would make interminable loans less necessary and give players experience against potential top-drawer players.
Harold Matthews
22
Posted 03/02/2016 at 11:00:45
Thanks David. Stockport of course.
Peter Gorman
23
Posted 03/02/2016 at 17:39:51
Smart money has to be on Walsh, Ledson and Kenny to carve out a career for themselves at a respectable level (hopefully with us). Their attitude is just really impressive and I've long been in awe of Ledson's iron nerve for a kid his age.
Grant I was always a bit sceptical about as he seemed to lack that fire. Seems like he is turning it around at Doncaster and taking control of the game more than waiting to get involved as he seemed to do with our U21s. Long may it continue.
I am certain nothing pleases the fans more than getting a batch of youngsters through to the first team. At the moment the academy is awash with talent but for every Frank Lampard there is a Jody Morris (to pick on Chelsea). Experience would indicate that only the most committed will make it but I hope, even if they leave us, every kid goes on to have a successful career playing the beautiful game.
Gavin Johnson
24
Posted 03/02/2016 at 18:30:39
Jody Morris?! That's a name form the past. I'll never knock him. His goal against Bolton kept us up. I always thought he was a good player. He seemed to lose his way when he moved to Leeds. Ended up wasting his career like Lee Hendrie. Another player who had too much, too soon!
I think Walsh could be in the 1st team squad next season. He's that good..
Neil Shanahan
25
Posted 03/02/2016 at 23:23:37
I went to see these lads play Bohemians FC here in Dublin last summer. A few really stand out and I think three or four will make it at Everton. They may not become Rooney-level graduates but they can be Osman-level players at the least for me.
Walsh, although slight was a class act and could find space to pass and move in a cupboard.
Ledson wasn't there as he was in Asia with the first team squad. He is a battler but could be surpassed by other midfielders.
As well as Walsh and Grant, Williams and Davies are getting rave reviews The latter captaining England at his age group and being invited to train with the Senior England squad. He also looked a really good player in Dublin and is a 17-year-old man rather than a boy.
Of the forwards, I personally don't rate McAleny at Premier League level and Henen was extremely cowardly in the game I saw him play, which really put me off the lad. He doesn't seem a trier and I think will also fall short.
Kieran Dowell seems like a more likely success as a wide man although he will probably find it difficult at Premier League level too.
I agree with many of the people on here that Brewster could be the shining light as a striker. Don't think Byrne, Duffus or Dyson will cut it and I know little of Rodriguez but time is against him.
Then we have our multitude of defenders. I'm going to be hung for this but I don't see Garbutt, Pennington or Browning playing over 50 games for Everton. There are better and younger players in their potential positions such as Holgate, Kenny, Connolly converting to left-back from midfield lately and of course Galloway. At 16-17 years old there is also great hope for Broadhead and this kid Foulds and another lad called Conor Feeney (played the Under-21 Merseyside Derby a few weeks ago at centre-half and he's 16!).
Many of these are going to fall short but some other late bloomers might show their abilities in the mean time too. I think we can be hopeful of having three or four make it at our club and we should be patient on them reaching Premier League level. Many won't break through until 21-22 in today's footballing environment. Loans will be their way to develop.
Sorry for the long winded "report". Just giving my overall assessment of what I saw live and what I have read and heard since.
ps: Mateusz Hewelt looked good on the day in goal but I know nothing of the keepers overall.
Dave Abrahams
26
Posted 04/02/2016 at 21:39:46
Neil (24) I don't know how often you see the Everton youngsters but you have a good knowledge of them and how they play, particular one player you mention, Henon, you described exactly as I see him, on the others three or four have a good chance but most of them will not make Premier League level in my opinion but they could make a . decent living at the game.
Neil Shanahan
27
Posted 05/02/2016 at 21:45:00
Thanks Dave. We have similar views on our young lads by the look of it.
Add Your Comments
In order to post a comment, you need to be logged in as a registered user of the site.
Or Sign up as a ToffeeWeb Member — it's free, takes just a few minutes and will allow you to post your comments on articles and Talking Points submissions across the site.
© ToffeeWeb