Lukaku an early doubt for Stoke trip
by

80 Comments [Jump to last]
| 04/02/2016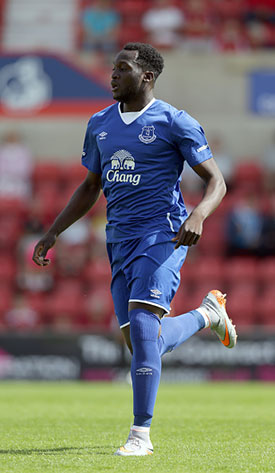 Everton may be forced to deal with the enforced absence of Romelu Lukaku for the first time this season when they travel to the Britannia Stadium this weekend.
The Belgian striker has started every Premier League game for the Toffees this season but had to be substituted at the break of last night's 3-0 win over Newcastle after being caught in the back by Fabricio Collocini's knee earlier in the first half.
Lukaku was able to play on after receiving treatment but did not re-emerge for the second half and manager Roberto Martinez said after the match that he did not know whether the 22 year-old would be fit in time to face the Potters.
John Stones, who missed the game against the Magpies altogether with a hamstring strain, is definitely ruled out of Saturday's match and will likely be joined on the sidelines by Tim Howard, another absentee from last night with a knee injury.
"Rom couldn't really walk," Martinez told evertonfc.com. "He got a knee in the back and found it painful. He tried to run it off at the end of the first half but couldn't.
"We're playing on Saturday and it's difficult to tell if he will make it, but it's not a major problem apart from the impact and the neurological reaction down into his legs."
---
Reader Comments (80)
Note: the following content is not moderated or vetted by the site owners at the time of submission. Comments are the responsibility of the poster. Disclaimer
Chris Gould
1
Posted 04/02/2016 at 07:24:06
Hopefully he'll be fit. If not, the stage is set for the introduction of Niasse!
And then we'll all be disappointed when Kone starts.
Mike Gaynes
2
Posted 04/02/2016 at 07:24:33
Paging Mr. Niasse... paging Mr. Niasse... your table is ready.
(Hope he is eligible.)
Keith Conchie
3
Posted 04/02/2016 at 07:28:01
Hopefully he is fit. We seen in the 2nd half just how SHIT Kone is at leading the line. I said before the game that I hoped to see Rodriguez on the bench instead of Kone, and I hope the same on Saturday against Stoke. He offered us nothing when he came on, and if Lukaku is out then we should start with new signing Niasse.
I'm not sure if Mirallas is going to be back in time for the weekend, he could even start upfront. Just not Kone, he's finished.
On a brighter note, Barkley was top class last night, Lennon looked really good too. And our defence looks so much more comfortable with Robles in goal, who also had a really good game.
Jamie Barlow
4
Posted 04/02/2016 at 07:37:29
I think some are going a little overboard with how shit Kone is/was. Apart from his finishing (I know that's his job) I thought he had a decent game and with a little more composure, could have scored two.
Colin Glassar
5
Posted 04/02/2016 at 07:43:57
Kone's finishing was awful but, apart from that, he played quite well. I doubt Niasse is ready to play 90 minutes so Kone will have to start as I doubt Lukaku will be ready to play.
Mike Gaynes
6
Posted 04/02/2016 at 07:44:13
Jamie #4, agreed, he actually did very well holding the ball in heavy traffic, and had some good runs. But a striker is judged by his finishing.
Keith #3, Robles had a "really good game"?? He had one routine save to make and was no more commanding in the air than Howard. And his distribution, perhaps the best part of his game, was unusually inaccurate.
Sam Hoare
7
Posted 04/02/2016 at 07:46:55
Russian football has been on winter break so would doubt that Niasse will be totally match fit. Even if he is I wonder if Stoke away is the best match for him to start.
I'd be pretty certain of Kone starting with Niasse coming off the bench at some point.
Jim Bennings
8
Posted 04/02/2016 at 08:14:50
Kone won't have a hope in hell leading the line alone against Stoke's defence.
He did ok at times last night but the lad also looks like he hopelessly lacks self belief and confidence despite scoring a few goals this season.
I don't have much faith in Saturday, Stoke away will be a different ball game to that inept showing Newcastle put up.
Its a loss with Lukaku but in truth he hasn't been the same player since he took that knock against City in the first leg s month ago, I wondered if he really has been fit?.
Also if you want a better chance of keeping a clean sheet on Saturday then you go with that same team, that includes Lennon, who works his socks off and probably offers more all round contribution to the team that Gerry in terms of work-rate.
Jamie Barlow
9
Posted 04/02/2016 at 08:15:00
He hasn't played any football for 6 weeks apparently. He can't be match fit for the Prem but he certainly seems up for it when you hear him speak. If he puts into practice what he speaks, I think this lad will become a favourite of mine.
Dave Pritchard
10
Posted 04/02/2016 at 08:28:01
Agree with those saying that Kone's general play was good. Maybe a run in the team would sharpen up his finishing. With our new man waiting in the wings Kone needs to up his game and start knocking in some goals.
Lennon deserves to stay in for Saturday. He works very hard and is showing good skills. He is another who needs to do some shooting practice though. When will Seamus start putting some good crosses in? Apart from his pull back for Lennon his delivery was bad.
Eddie Dunn
11
Posted 04/02/2016 at 08:37:39
Jim8. My thoughts too, Rom has not been the brute he was a month ago, a sure sign of playing through with a niggle ot two. Poor old Kone, he is such a likable lad, but despite his ability to hold it up and some tidy approach play, he really isn't someone you trust to score. It is the number one requirement of your main striker. Defenders won't lose any sleep knowing that they are facing him.
I hope we can build on this result, now our expectations are a little lower and put in a decent finish to this strange season. No Stones and no Howard, and no Baines....and we look much more balanced. I love Baines but he played within himself with his ankle problem for over a year, and obviously will take time to get back to his best, but Oviedo looks good in his correct role, and we really can't keep picking players on reputation or sentiment.

Keith Conchie
12
Posted 04/02/2016 at 08:51:20
Mike 6. I thought Robles had a good game, commanded his box and his distribution was actually very good, which the commentators mentioned a few times.
Anyone who thinks Kone had a decent game needs to watch it again. He can't hold the ball up like he used to. And panics in front of goal.
Dick Fearon
13
Posted 04/02/2016 at 09:03:37
Collocini got away with one when he kneed Rom in the back long before the ball was in playing distance. To me it seemed a deliberate and cynical foul.

Mark Andersson
14
Posted 04/02/2016 at 09:20:23
I agree Dick: Cheating Collicini took Rom out, plain and simple, because he knew he would have a nightmare had he stayed.
Kone does seem to lack confidence, if Mirallas is fit, he should be up top.
Anyway I'm not getting excited about last night's win; only a win at the Potters might ease the pressure off Bobby... lose and that thin ice will slowly start to crack.
Matt Traynor
15
Posted 04/02/2016 at 09:35:49
Agree with those who said "Traffic" wasn't that bad last night - the one he sliced when Barkley played him in was actually just a slightly-misplaced pass from Barkley (who was excellent).
If Niasse's work permit is through he might make the bench, but I'd start with Kone or Mirallas (if fit) at Stoke.
Nice to see those knob jockeys at the Daily Mail are still trying to unsettle our players in time for their summer moves.
- Stones - sat in the stands for no obvious reason
- Barkley - given "dogs abuse" by the home fans throughout
At least they did report that Niasse kept his home shirt on when sat watching us.
Brian Mahoney
16
Posted 04/02/2016 at 09:47:43
Aside from Collocini's sly kick in the back, Newcastle were fouling our players all over the pitch, Shelvey being the main culprit – how he got away without a booking is beyond me.
I don't see Rom making it for Saturday and Niasse has just been on Sky stating he's not fit yet... so I can only see him on the bench and maybe come on for 20 minutes or so.
As for Newcastle, they are going down. They, like Sunderland and Villa, have been hanging on for the last 3 or 4 seasons – good riddance to them.
Jim Bennings
17
Posted 04/02/2016 at 10:19:28
Well Matt, I'm sure John Stones can't wait to join one of these really rich clubs and see what truly being slaughtered in the media is all about once he has a few bad games in front of those loveable Manchester supporters who've gone from Division 2 Play-off Finals to thinking they are bigger than Barcelona in 15 years.
Barkley I don't think would want to join City either just to play second fiddle to whoever else they pay £900 million for in summer.
If I was Barkley or Stones the only big English club I'd be looking at joining knowing I could get regular games and be a key player would be Arsenal.
I wouldn't entertain Manchester City, I wouldn't bother with the fallen sideshow empire that is Manchester United now and Chelsea, well just read Manchester United.!
Failing Arsenal I'd be looking at Barcelona who would probably be even better suited to Stones style of play, ok maybe not Barkley but Johns Stones for sure.
There's too many slideshows at the rich English clubs.
Brian Porter
18
Posted 04/02/2016 at 11:48:14
Naismith, Naismith, kept saying Rom might pi k up an injury, but we let him go anyway, well RM did. No way should Kone start ever again for the first team as far as I'm concerned. He just is not and never will be, Premier League standard. We might as well wave a big white flag at Stoke if he's the best we can put out to lead the line.
I'd rather have a half fit Niasse and see what he can do. He couldn't be any slower, more ponderous or shot shy and lacking in creative ideas as Kone.
I'd even give Rodriguez,a debut if Niasse isn't up to it, but listening to him last night, he intimated he could be ready by the weekend. The guy seemed to be champing at the bit to get out there.
Andy Meighan
19
Posted 04/02/2016 at 11:58:41
Funny how quick some people are to jump on Kone's back as soon as he gets on the pitch. I'm no massive fan but credit where credit is due, he done well when he got on last night and one moment where he pulled down a long ball was pure class.
He's obviously not the answer so comparisons to Lukaku are silly. Lukaku who by the way hasn't done a tap for weeks but gets an easy ride because he is obviously carrying an injury.
The cynic in me is saying he's looking at his next move and what Champions League (yawn) club might come in for him. I go on what I see at the game and Kone done okay for me last night.
Keith Conchie
20
Posted 04/02/2016 at 12:42:26
Brian 16. Totally agree with everything you said there mate. I've said earlier in this thread, that he was useless last night. I've been saying this for a long time.
I wanted to see Rodriguez on the bench last night instead of Kone, and hopefully if Lukaku is fit for Stoke then we'll play him and have Niasse on the bench or starting on the left.
James Stewart
21
Posted 04/02/2016 at 12:46:44
The knee in the back was a disgusting challenge from a truly woeful player, highly dangerous and should have been a red. As should the late studs up tackle on Jags.
Hope Lukaku is okay... we need him.
Anto Byrne
22
Posted 04/02/2016 at 12:50:34
Rom was due a rest. Kone went out wide. Overall, he did okay... maybe a 6; if he can get on the score sheet, it can only enhance his confidence. His defensive game is weak.
Dave Pritchard
23
Posted 04/02/2016 at 13:08:08
Keith @ 12, a bit naughty suggesting those of us who have said that Kone was decent at times last night need to look at the game again. We are all entitled to our opinions.
Pete Edwards
24
Posted 04/02/2016 at 13:21:04
Naughty challenge on Lukaku, no doubt it was deliberate!
And I can't agree that Kone was shit; yes he could and probably should have scored one but his overall play was pretty good.
Ray Robinson
26
Posted 04/02/2016 at 15:18:09
Kone was fine apart from when it really matters – putting the ball in the back of the net. He is a very decent player but an awful finisher unlike Naismith whose all round game is inferior but who's quite a decent finisher.
But why do some start clamouring for Rodriguez? Has anyone actually seen him play?
David Pearl
27
Posted 04/02/2016 at 15:26:54
Brian (16) Shelvey did get a yellow card didn't he? Albeit too late.
As we sat deeper Kone found himself a bit isolated. He certainly didn't have a great game but he will get another chance on the weekend, maybe in better weather. My dad commented on the golden vision last night (he was talking Alex Young, not Kone).
Other than that he did okay... but he is not Lukaku (who once again decided to be a lazy ass and not throw himself to the ball after Barkley danced himself to the by-line in the first half, to pull it back to a stationary Lukaku – no excuse!
Steve Brown
28
Posted 04/02/2016 at 15:48:16
We should play Kone as a false number nine; unfortunately its the description that fits him perfectly and not the role.
Duncan McDine
29
Posted 04/02/2016 at 16:00:48
Steve 27, that made me chuckle! Seriously, I don't think we have any option but to play him.
Brent Stephens
30
Posted 04/02/2016 at 16:03:36
Re Niasse, Everton saying "Now the 25-year-old can't wait to make his Blues debut – potentially against Stoke City at the Britannia Stadium this Saturday."
I guess he'd only get a few minutes subs appearance at best. Unless we're 4-0 up with 30 minutes to go. Well, come on, ya never know!

Brian Porter
31
Posted 04/02/2016 at 17:07:23
Steve #27, my point exactly. Duncan #28 there are always options. Even a half fit Niaase would probably have twice the speed and four times the scoring potential of a fully fit Kone. Even up against the giants of Carlise he managed to waste two or three scoring opportunities and over 57 years watching Everton he has to be the slowest most shot shy 'striker' I've ever seen in a blue jersey.
To those who said he did ok apart from his shooting ability, can we please remember it's supposed to be a striker's job to score goals, not just now and then, but on a regular basis. Funes Mori probably has a better goals per minute ratio than Kone at present. Leandro Rodriguez is another potential option. If Niasse isn't quite ready, give Rodriguez the first half and Niasse the second.
Anything but Kone please. Stoke's defence will have him for breakfast and make us look a real laughing stock, playing such an inept and ponderous 'striker' in an important Premier League game. I said weeks ago that selling Naismith could come back and bite us on the arse if Rom got injured. I'm not particularly happy to be proved right.
Jim Hardin
32
Posted 04/02/2016 at 17:23:22
Brent,
Given Stoke's last game, it might not be too far outside the bounds of reality. Butland and the defense are looking shaky. Without Shawcross and Cameron in midfield or at center back, the defense is vulnerable. Plus, Sparky keeps playing the giraffe up front and he has no pace to worry any defenders. Just don't concede corners or free kicks near the box and his height advantage will be neutralized also.
So, if we score, I want our players to immediately retrieve the ball, sprint to midfield and place it down to hurry the restart. No extra time for celebrations and no fans on the pitch please.
Jim Hardin
33
Posted 04/02/2016 at 17:23:22
Brent,
Given Stoke's last game, it might not be too far outside the bounds of reality. Butland and the defense are looking shaky. Without Shawcross and Cameron in midfield or at center back, the defense is vulnerable. Plus, Sparky keeps playing the giraffe up front and he has no pace to worry any defenders. Just don't concede corners or free kicks near the box and his height advantage will be neutralized also.
So, if we score, I want our players to immediately retrieve the ball, sprint to midfield and place it down to hurry the restart. No extra time for celebrations and no fans on the pitch please.
Jamie Barlow
34
Posted 04/02/2016 at 17:30:19
You've no idea whether any of Rodriguez or a half fit Niasse would be better than Kone have you Brian?
I don't have to watch the game again to know that he held the ball up well, gave it simply to other players and got in decent positions to score and with a little bit more composure, he scores 2 (which he should have). He's the best we've got at the moment so if Rom is injured, he'll start against Stoke.
Steavey Buckley
35
Posted 04/02/2016 at 17:40:57
Kone is good holding up the ball, making ground and making eye watering passes; until in a goal scoring situation when he some how manages to balloon the ball anywhere near the goal.
Brian Mahoney
36
Posted 04/02/2016 at 17:47:16
David (#26), I stand corrected –; you're right. Shelvey did get booked, l'll have to be more alert at the game in future.
Ken Reece
37
Posted 04/02/2016 at 17:53:26
Stop saying Kone did ok and general play was good. He is by far the worst player ever to play for us and to make things worse, he wears the Number 9 shirt.
He can't pass, shoot straight, head the ball, never opens his legs when trying to run, shocking control he couldn't trap a bag of cement. We'd be better off with Mirallas up front.
Ray Roche
38
Posted 04/02/2016 at 18:04:55
Jim Bennings #17
Jim, I agree with your comments re Stones being best suited to Barcelona but, somehow, I don't see Barkley wanting to move anywhere just yet. In fact, the only thing that I see prompting Barkley to move are the Everton fans who can't wait to slag him off and get on his back every home game.
It's coming to something when journalists are at pains to point out the stick some of our young players are getting even if it's only in an attempt to unsettle them and make a move to the Sky 4,5,6 look more attractive.
We must be the worst fans in the League for giving our own, especially home grown, players stick. Historically I remember Young, Ball, Reid as well as our own Harvey, Whittle, Temple etc. getting loads from the terraces if they failed to produce. Why do we, collectively, do it?
Stephen Davies
39
Posted 04/02/2016 at 18:10:04
Steavey.
I agree with that. Kone may well work well with Niasse on Saturday in that respect. We maybe pleasantly suprised.
However, Niasse won't last that long due to him not playing for a while unfortunately.
Colin Glassar
41
Posted 04/02/2016 at 18:44:23
Like you say Ray, this is a historic problem with a minority of Evertonians. I remember the days of the cushions raining down on the pitch after some home games. We were a laughing stock then, now, with our treatment – by some – of Stones we are becoming an object of bemused curiosity.
Eddie Dunn
42
Posted 04/02/2016 at 18:46:55
Got to agree with James and others above that Coloccini is a dirty, cynical shithouse, and he has been up to this cowardly mischief for years.
As for Kone, he is a likable fellow but despite some good touches he lacks that killer instinct and although our leader may see worth in his general approach play, he is not a striker that scares PL defenders.
Paul Andrews
43
Posted 04/02/2016 at 19:04:58
Ray Roch, nail on the head there, mate.
We are the best fans and we can be the worse fans. Ross clearly relaxes more away from home, although he has started to express himself at home.
At Chelsea a few weeks ago the fans sang his song non-stop for around 10 minutes, during a stoppage for injury you could see him looking at the fans with amazement.
Mark my words. This boy will develop into a world class player. I hope he doesn't have to leave the club to achieve that.
Get behind him, let him develop and let him be dispossessed now and again when he is running at two and three players. He is a future skipper of this club who loves all we stand for. A boyhood Blue who used to get two busses to training when he was a child on a journey that would take him an hour and a half there and the same back.
Give the kid a chance, you will be richly rewarded.
Dave Abrahams
44
Posted 04/02/2016 at 19:15:02
Jamie (#33), I thought Kone wasn't very good at Carlisle but last night he did well, shielded the ball under pressure, had Better control than Lukaku and did plenty to keep the game flowing, should have scored a couple, but did better than I thought he would.
Since he got injured against Man City, Lukaku has struggled to have a decent game. He' s carrying an injury according to some on here, why is he being picked then? If there is no-one else, why was Naismith allowed to go?
Paul Olsen
45
Posted 04/02/2016 at 19:22:17
Win as a team, lose as a team. Koné isn't good enough to be a regular, it's plain to see. However, from what I saw, he made the effort last night, that's what should matter most. It's not like we have a lot of players that could come in and play a whole lot better after all.
Right now Koné is a squad member on merit, for those still believing we are a massive club that should not accept mediocre performances, let me tell you that we ain't. We are decent, borderline good and could be great once again.
Kim Vivian
46
Posted 04/02/2016 at 20:37:23
It's stating the obvious but the fans can be an extra man for either team so. It would be really nice to see the crowd properly getting behind the players when they are having a less than good one rather than berating them to the benefit of the opposition. Whatever these people think these are largely young and still relatively immature boys and highly impressionable.
Help them rather than handicapping them and watch what happens...
Jim Hardin
47
Posted 04/02/2016 at 20:40:52
So I just checked the Evertonfc website for injury updates for Lukaku, Mirallas, Besic, and Howard and saw this:
Injuries Injury Type Expected Return
Kevin Mirallas Tendon Unknown
Tony Hibbert Knee Unknown
Romelu Lukaku Back Unknown
Muhamed Besic Hamstring Unknown
Tyias Browning Knee Unknown
Tim Howard Knee Unknown
John Stones Hamstring Unknown
How is it possible that we do not have an expected return on a single player? What happens to our players when they are injured? More importantly, where are they being sent? Does Everton use tea leaves, bones, or a psychic to evaluate the players for fitness? I have a "Magic 8 Ball" from childhood that could provide the same information.
I can just see RM sitting in his office, brown shoes up on his desk peering at the injury report. "Should I consult the physios?" he asks himself. Instead he reaches into his desk drawer and pulls out the Magic 8 Ball.
"Magic 8 Ball, should Lukaku play against Stoke?" Shake, shake, shake . . . "ask again later." "Phenomenal, then I will just list him as return date unknown at this point," he says to himself. "Now what about Hibbo?"
I guess this gives him the wiggle room between injuries and "injuries" without having to explain anything.
Chris Wilson
48
Posted 04/02/2016 at 21:17:50
I would guess Magic 8 Ball, Jim. "Will Lukaku be out for very long? (vigorous shaking) Ask again later." Damn!
But in all seriousness, it does keep teams guessing as to whom to prepare for in any given match. But I also think the "unknown" covers Roberto with regards to recovery time. Whenever he gives a set time for a player's return; add at least a week , probably two. If Besic is out for two weeks then we won't see him again for a month. They really do need to iron out their fitness and recovery program. I mean how many hamstring injuries have we had since he took over?
Don Alexander
49
Posted 04/02/2016 at 21:46:18
I thought Kone had a reasonable game last night. Okay he should have hit the target but he was able to receive and shield the ball and what really surprised me was when he gave chase to a long ball down the right wing, starting about four yards behind the sprinting Coloccini, then passed the curly-headed muppet, fought for possession, and laid it back. I know Coloccini is what he is but I never knew Kone had that turn of speed or the inclination to chase down. He was, of course, seriously injured for a hell of a long time but if he can get close to what he did for Wigan I'd settle for that until Rom is fully fit and willing and, remember, Rom plays better when Kone is doing the graft.
It's a big "if" though. Prove me wrong please Aroune.
Jamie Barlow
50
Posted 04/02/2016 at 22:27:37
Kim, it's difficult to get behind your team when you're shitting yourself. Goodison lately is a bag of nerves. Last night however, although not "under the floodlights" loud like it can be, the crowd tried to get the players up for it a few times when they were looking a bit lost. A lot different than quite a few other times this season when it has gone deadly silent with a load of groans thrown in every now and again.
And I think it worked.
Ray Roche
51
Posted 04/02/2016 at 22:32:53
Colin#37
There used to be a wag who wrote to the Football Pink Echo who's name was "Cushion Thrower." Bring back the cushions, I say.
Paul#39.
Paul, I'd be gutted if Barkley was allowed to leave and become the World Class player he's capable of becoming. If he ever looks at Rooney's bank balance and thinks about the crap he takes from the knuckle dragger's at Goodison he'll most likely have a quiet word with his agent. And how bad would that be, watching him in sky blue instead of Royal blue.
Eddie Dunn
52
Posted 04/02/2016 at 23:40:47
Jim, Roberto actually has a pet Octopus called Bonifacio. It is this Cephalopod that is in charge of injury recovery updates. As the aforementioned creature has no Internet access, updates are lagging behind.
Even if updates were given, word in the tank is that they should be taken with a pinch of sea salt.
Tony Hill
53
Posted 04/02/2016 at 23:46:33
The weather forecast for Saturday is appalling. Stoke with high winds and heavy rain - we'll need crash helmets; after their recent poor run, and our defensive reputation, I suspect we'll see some heavy artillery launched into our penalty area. It'll be a proper test and three points there would be a major boost.
Brian Porter
54
Posted 05/02/2016 at 00:17:46
Eddie #47, I think the octopus picks the team most of the time
As for the Kone subject, and this is I promise my last word about him on this thread, Baz on Everton TV just gave his player ratings for last night. Guess who got the lowest rating of all our players against Newcastle? 'Nuff said.
Alex Moore
55
Posted 05/02/2016 at 03:07:16
I need to see the replay at some point, but I remember thinking that there's no way Rom was actually hurt. The mechanism of injury just wouldn't have lead me to believe it was anything more serious than a muscle contusion. I'll be shocked if he doesn't play.
Derek Thomas
56
Posted 05/02/2016 at 03:24:06
No way Alex, the defender led with the knee, Lukaku effectively got a full on 'dead leg' dead centre to the bottom of the back. I wouldn't expect him to play this weekend and be touch and go for the next.
Jamie Barlow
57
Posted 05/02/2016 at 04:00:30
Nuff said?
Because Baz on Everton Tv says so?
Harold Matthews
58
Posted 05/02/2016 at 04:33:52
Yes . I'll be surprised if Lukaku doesn't start but the weather forecast might put him off a bit.
Stoke beat us with clever football last time. Bojan gave Stones the complete runaround and the two wingers did the rest. Not a pretty sight.
Luckily, £18mil new signing, Giannelli Imbula, will probably not be ready yet. A strong, classy central midfielder, this lad is absolute mustard. Wish we had him.
If Rom is absent we'll go with Kone who, for all his shortcomings, has a much better first touch than the big fella and his movement is more intelligent. Seldom on the scoresheet, he has linked well in moves which led to goals from, Mirallis, Lennon and McCarthy in consecutive games against Burnley, Swansea and United last season and has scored at least three league goals this season. Against Burnley and Swansea he led the line.
Okay, we know he is only a fill-in secondary striker but Martinez is big on experience and a kid like Leandro would not get a sniff. I don't know about Niasse. He hasn't played for a while but looks a naturally fit athlete.
Darryl Ritchie
59
Posted 05/02/2016 at 06:50:24
I was watching a football news program, and they were interviewing the ManCity managing director, who used to be at Barcelona, on his thoughts of Guardiola coming in next season. He was asked if there's a chance that City could break the world record transfer fee for a single player.
The answer was a qualified " yes ". Players the caliber of Messi and Reynaldo play for quality clubs, and may not be available, but players of a slightly lesser caliber, like Lewandoski and Lukaku, could probably be had for €80,000,000.
He threw out the number...casually. Holy shit!
Darryl Ritchie
60
Posted 05/02/2016 at 06:55:21
That's 80,000,000 euros. I have no idea what "a/comma/hockey stick" is.
Philip Yensen
61
Posted 05/02/2016 at 08:20:27
This is where Naismith comes to the rescue. He could play centre forward, had pace, goal scoring abilty, outstanding energy and no slouch in the air either. Well done RM, well done.
Ray Roche
62
Posted 05/02/2016 at 09:55:15
Harold Matthews #54
Harold, Kone MAY be all the things you say but he's never where he should be; in the penalty area. It's no good having talented players doing wonderful things with the ball if there's no one in place to provide the end product. A goal. If Kone plays he'll end up where he usually does, on the wing, looking at a deserted penalty area..
Brian Porter
63
Posted 05/02/2016 at 10:17:52
Jamie, Baz is just one of many voicing similar opinions. We are all entitled to our opinions and while I respect your right to voice your own thoughts and opinions, you have to let the rest of us do the same.
Harold Matthews
64
Posted 05/02/2016 at 10:57:16
Ray.# 57. I said Kone was only a fill-in secondary striker. I didn't say he was Marco Van Basten.
Dave Pritchard
65
Posted 05/02/2016 at 11:16:12
Agree about being entitled to opinions Brian. I think it was your 'nuff said that seemed to imply the opinions of others are nullified by Baz on Everton tv
Robert Leigh
66
Posted 05/02/2016 at 11:16:31
Don't forget also that Stoke are missing their first-choice centre-back pairing. They're not the same without Shawcross or Wollsheid so chances are we can get at them.
Just a shame our big man up top won't be fit; I'd happily have Barkley in that form running at Muniesa all day long. Kone to start with Niasse and Super Kev (might be fit, I read) to come on and run at some tired legs that haven't played a lot in the last few months (Bardsley and Muniesa finished the game at Man Utd).
COYB
Jamie Barlow
67
Posted 05/02/2016 at 11:19:47
Ray, he missed two sitters against Newcastle, from inside the penalty area.
Brian, I'd never dream of stopping people having their say but give it a rest with the Baz bollocks. Just because he sits in front of a camera doesn't make him right. He's just as wrong as you, in my opinion.
Nick Page
68
Posted 05/02/2016 at 11:42:13
Bobby dancing, lol! Top man
hTTp://www.givemesport.com/705726-video-Roberto-Martinez-filmed-dancing-at-jason-derulo-concert?autoplay=on
Hopefully Herman Munster Shawcross is still injured and Niasse gets a run out. COYB
Frank Wade
69
Posted 05/02/2016 at 11:56:21
Jim 43, I usually rely on the Fantasy Premier League site to get timescales for returning injured players. For what it's worth, this morning they report Howard 25% chance of playing, Stones back 13th Feb, Besic back 20th Feb, Mirallas 75% chance, Lukaku 75% chance for Saturday. They also say Niasse is 75% due to work permit.
One thing that has always intrigued me when reading books written by ex pros is that they tend to laud themselves for declaring themselves fit to play when they are obviously not. Latest of these is the Tim Cahill book I have just finished, where he was getting injections over a long period for a plantar fasciitis problem. He says he was playing in a lot of pain. Ossie was the same. They don't seem to care that their 75% fit presence on the pitch is putting the team at a disadvantage. A slightly less skilled but fit player should always be played, giving time for the injury to heal. It makes basic financial sense, but Everton and possibly other clubs, have a history as the Michael Ball knee injury will attest.
As a post said above, Lukaku has done little since his Man City first leg injury. I would prefer a 100% fit Kone than than the half fit strolling Lukaku, if we can't have the November/December Lukaku. I am in the camp supporting Kone, appreciating his build up and general play, but lamenting his finishing. His cameo late in the first leg v City was excellent in holding the ball.
Ray Roche
70
Posted 05/02/2016 at 13:17:56
Harold#59
He's more like Van Hire than Van Basten.
Jamie, he's never looked like a natural striker to me, even so, he's got more chance IN the box than out of it, surely. As Harold has said, his first touch is better than Lukaku's and so is his hold up play, but he's not good enough for a starting place in a Premier League team.
Colin Glassar
71
Posted 05/02/2016 at 13:37:42
Sounds like Lukaku will be ok for tomorrow. Niasse still doesn't have a work permit so he won't be on the bench.
Dave Abrahams
72
Posted 05/02/2016 at 13:38:57
Dave (60) forgive my ignorance but who is Baz, on Everton tv
Fran Mitchell
73
Posted 05/02/2016 at 14:13:33
How long does it take to get a fecking work permit? Is this going to turn into another Everton fiasco? Permit failed, we sell him to China, board say 'we tried to sign, but it just didn't work out'
Dave Pritchard
74
Posted 05/02/2016 at 14:35:48
Dave A 69. Don't actually know who Baz is. See earlier comments from Brian P to see my comment in context.
Harold Matthews
75
Posted 05/02/2016 at 14:38:37
Cheers Colin.
Victor Jones
76
Posted 05/02/2016 at 14:51:10
We need our talisman big centre forward to start tomorrow. And Lukaku needs to start scoring goals again. He needs to get over this little mini slump. Start getting onto the end of a few crosses. Start chasing down everything. Start scoring. But should he not make the team, I have a funny suspicion that Kone will do OK. I don't think that Kone is as bad as everyone makes out. This lad was out injured for two bloody years. He is often played out of position. And some of Evertons better football this season coincided with Kone partnering Lukaku. I still think that Kone has a place in the Everton squad(although I would have preferred Naismith to still be around). Kone can still do a job. It is a thankless task playing up front alone. Trying to bring wingers and midfielders into the game. Kone is not first choice, but IMO he is not as bad as people make him out to be.
I think that he will score tomorrow. Infact I think that he will have a good game. Should he play, that's were my few pounds is going on. Kone to score, anytime. Tempted to back the draw......but the toffee nose in me has to go for an Everton win. Tight game. 1-0 or 2-1 to the Blues.
Jay Harris
77
Posted 05/02/2016 at 14:53:23
Dave,
There is a website called EvertonTV and Baz and his mate are the presenters.
Bit like a poor mans SoccerAM although they are two proper Evertonians with heavy scouse accents (put on for the show?).

Jay Harris
78
Posted 05/02/2016 at 14:56:53
I actually thought Lukaku looked a lot better and more determined against Newcastle until that knee in the back.
I think he either slept or was injured in the previous couple of games but looked fir enough on Wednesday.
Hopefully he will be back to goalscoring form against Stoke and Niasse permit will be through as I do not like Kone being the lone striker.
Alan Bodell
79
Posted 05/02/2016 at 15:00:45
If only Lukaku had 'anticipation' in his locker he would improve 60%, the opurtunities he misses through being flat footed for a top flight striker are a damnation of our coaches as much as anything... Duncan, wake up and get him coached ffs.
I've got my crash helmet on for the incoming.
Jim Potter
80
Posted 05/02/2016 at 15:04:10
I see Bobby was trying to sign some guy called Jason Derulo last night from Manchester? Not sure which club.
Apparently he's a central defender - and seemingly there's a video going about with our manager showing Jason Everton's defensive philosophy / drill?
Graham Pearce
81
Posted 05/02/2016 at 15:09:48
Why do people seem to forget that Naismith wasn't playing at the time of sale and we have no reason to doubt Martinez that he let him go because he knew the Niasse deal was coming off. We paid ٣m in effect, for what sounds like a late bloomer who has the attributes to play the support roles left or right and up top if Lukaku ever got injured...

Oh, guess what? Lukaku got injured. Naisy couldn't do this on a consistent basis and was just too slow and would have got slower. For once I think Martinez deserves credit. Kone and Rom have got serious competition which can only push them on to better performances.
Jim Hardin
82
Posted 05/02/2016 at 17:51:14
Darryl,
80,000 Euros, are you sure? Now I have to return all the hockey sticks I was collecting over here to get Lewandoski to Everton! Well at least the kids at the ice rink will be happy since some of them may have made less than knowing donations!
Add Your Comments
In order to post a comment, you need to be logged in as a registered user of the site.
Or Sign up as a ToffeeWeb Member — it's free, takes just a few minutes and will allow you to post your comments on articles and Talking Points submissions across the site.
© ToffeeWeb