Yarmolenko would favour games at Everton over the bench at Barca
by

56 Comments [Jump to last]
| 04/02/2016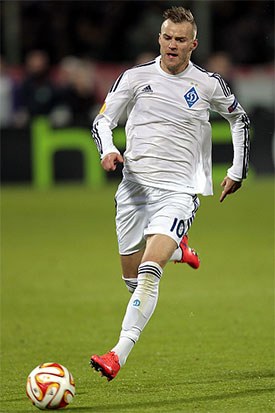 Andriy Yarmolenko says that his next move would have to be to a club where he was guaranteed to be playing week in, week out rather than making up the numbers at one of Europe's giants.
The Ukrainian international almost signed for Everton last August until Dynamo Kiev owner Igor Surkis decided instead to keep him for his club's Champions League campaign but the links with a move to Goodison persisted throughout the January transfer window.
A medial knee ligament injury might have lessened his chances of securing the move last month to "a bigger league" that Yarmolenko has been very open about pursuing – as would Dynamo's progression to the last 32 in Europe – but more good performances in the Champions League and then at Euro2016 are likely to make the 26-year-old a hot commodity in the summer.
With Barcelona and then Arsenal reportedly emerging as competition for Yarmolenko's signature in recent months, most Evertonians had probably written off their chances of landing a player who many feel could add more genuine star quality to Roberto Martinez's team.
However, the latest comments from the player himself are encouragingly down to earth and offer hope that he would still consider a move to Everton should Martinez follow up his interest with another approach for him at the end of the current season.
In an interview with Ukrainian news outlet Futbol, Yarmolenko was asked whether he would prefer to play twice a week at Goodison Park than sit on the bench at Barcelona's Camp Nou.
"It is better to play at Everton," the versatile attacking midfielder replied. "Of course you can go to Barcelona, make a cool selfie with Messi, put the images on Instagram and get a million likes and be pleased with yourself. But I'm not one of those.
"For me it is important to play matches. If I do not play twice a week, I have nowhere to throw out the emotions and energy. My family will go mad. If I play, the next day I am all calm and smile. If I missed the game and lay in the house, I immediately run into a quarrel."
---
Reader Comments (56)
Note: the following content is not moderated or vetted by the site owners at the time of submission. Comments are the responsibility of the poster. Disclaimer
Gerry Quinn
2
Posted 04/02/2016 at 18:12:46
"Of course you can go to Barcelona, make a cool selfie with Messi, put the images on Instagram and get a million likes and be pleased with yourself. But I'm not one of those."
Ha, got to love that kind of attitude – good on yer Yarmalenko – get yourself across here for a selfie with Deulofeu and Lukaku before he disappears
Colin Glassar
3
Posted 04/02/2016 at 18:16:10
Can't see this happening. Too much talk
Ged Simpson
4
Posted 04/02/2016 at 18:19:24
Col...you're the new pessimist. He's coming! Never say never.
James Stewart
5
Posted 04/02/2016 at 18:19:43
Way too much talk. We were in for him before if he was serious about us it would have happened.
To quote Don Draper "Why chase the girl that doesn't want to get caught."
Colin Glassar
7
Posted 04/02/2016 at 18:28:16
I think he, and his agent, is using us to get his dream move to Barca or Madrid. On £150k p/w and taking selfies with MENEYSU I'm sure he'll cope on their bench.
Brent Stephens
8
Posted 04/02/2016 at 18:28:34
"Yarmolenko was asked whether he would prefer to play twice a week at somewhere like Goodison Park than sit on the bench at Barcelona's Camp Nou. 'It is better to play at Everton'".
"somewhere like GP" – so not necessarily GP.

Stephen Ashton
9
Posted 04/02/2016 at 18:32:49
If we win the cup or manage to squeeze into 5th or 6th then maybe just maybe, but without European football next season no chance.
Lyndon Lloyd
10
Posted 04/02/2016 at 18:32:51
Actually Brent (6) those were my words but, in retrospect, I think he was specifically asked about Goodison because he says "It's better to play at Everton."
I've edited the original piece accordingly.
But, like Stephen says, it's all just hypothetical based on the fact that we were so close to signing him. We probably don't stand a chance of getting him if we're not in Europe – not unless he shows us the same loyalty as he has to Kiev!

David Pearl
11
Posted 04/02/2016 at 18:34:42
I'd swap Lukaku and Stones for £110M – then buy Yarmolenko. A forward line of him with Deulofeu, Barkley and Niasse/Mirallas doesn't seem so bad. Our biggest problem will be replacing Gareth Barry.
Jamie Barlow
12
Posted 04/02/2016 at 18:38:33
Sounds like he has a good attitude. No player should be guaranteed playing time though.
Sam Hoare
13
Posted 04/02/2016 at 18:40:17
I think Niasse will fill the left attacker slot that Yarmolenko would have suited. I suspect the priority in Summer will be replacing Stones and Lukaku. And Howard.
These comments solidify my good opinions of the Ukranian though.
Eugene Ruane
14
Posted 04/02/2016 at 18:44:01
'...I will immediately run into a quarrel'
With his family?
Oh yeah this is my kind of player – let's get this lad signed asap.
If he'll pick a nark with Mrs Yarmolenko and the kids when he doesn't play, just imagine the grief he'll give to teammates who don't put in a shift.
Brent Stephens
15
Posted 04/02/2016 at 18:51:54
Cheers Lyndon #8.
Harold Matthews
16
Posted 04/02/2016 at 18:59:29
He's too much the finished article for Martinez but I wish someone would buy him because I'm sick of reading his name.
Paul Jeronovich
17
Posted 04/02/2016 at 19:16:30
Sign him up !!!!!!!!
Les Martin
18
Posted 04/02/2016 at 19:44:11
I like this lad's attitude, and there's no doubting his skill and effort. I think our time to sign may have passed and he is really in the limelight now.

Come the summer we will be in pole position to sign him, although we know he will have many suitors, but if he fancies the Prem, we must be in the mix.

More likely, it's where we would accommodate him with Niasse set for the left hand birth?
Stewart Lowe
19
Posted 04/02/2016 at 19:44:50
I have always wanted this guy at Everton. Alongside Barkley and behind Lukaku it could prove to be very potent.
Gordon Crawford
20
Posted 04/02/2016 at 19:56:12
Unless we get a rich new owner, it's not going to happen.
But I do like what he had to say.
Ged Simpson
21
Posted 04/02/2016 at 19:58:22
We will get both, Gordon.
Scott Goin
22
Posted 04/02/2016 at 20:00:24
This is still probably a longshot. He'll have a lot of suitors in the summer and his price will be high. I was desperate for the guy in summer but now that Barkley has stepped up to take the attacking mid role, I'm okay with missing out on Yarmolenko.
My main worry is losing Lukaku and Stones. We'll have a ton of money to spend but that never seems to quite work out for most clubs. They usually end up with high-priced mercenaries. I'd almost rather use that money to build a new stadium.
Paul Kossoff
23
Posted 04/02/2016 at 20:00:48
We are OK in the defenders department if Stones goes, Besic to replace Barry, new keeper, I hear Begovic at Chelsea is unhappy. Yarmolenko only if he's left sided or centre mid.
Gordon Crawford
24
Posted 04/02/2016 at 20:03:15
I hope so Ged mate. :)
Graham Pearce
25
Posted 04/02/2016 at 20:09:11
I pick up from that interview that the guy gets the hump when not playing ,so more people like that who play consistently well to ensure they don't get dropped will do for me. In addition the fact that the interviewer even mentions us as the choice of club would suggest to me we are very much in the running for him.

If he was our marquee signing of the summer plus Begovic or equivalent and we'll be in a good position to push on.
Ian Brandes
26
Posted 04/02/2016 at 20:11:26
Good player, but trying to use us. Should be told to do one.
Besides our next manager might not like him.
Craig Mills
27
Posted 04/02/2016 at 20:17:19
Sell Stones, £40M; buy Yarmolenko £30M = best business we could ever do in the summer (& get rid of McGeady).
Peter Laing
28
Posted 04/02/2016 at 21:02:47
I just get the feeling on this that Yarmolenko story is the modern day version of Riquelme one of the greatest players never to play for Everton! He would be a stellar signing and a major upgrade on somebody like Mirallas, but will it happen – my gut instinct says 'no'.
Colin Glassar
29
Posted 04/02/2016 at 21:24:47
Peter, Ian, Harold et al..... I'd love to have a player of his talent but this sounds like, show me the money!!!
Frank Thomas
30
Posted 04/02/2016 at 21:29:36
This guy has good footwork, shooting ability, fast runner and a good football brain definitely worth twice as much as Naisse.
He probably has also followed us for a long time - since we became interested in buying him. It may have dawned on him that he only has another 6/7 years of high earning left in his career if he does not move to the lucrative premiership next year then it may never happen. Obviously Man Utd, Man City and Arsenal are not interested so that leaves us but for how long?
ironically because of the money in straight out attitude of our Manager we might not be able to buy him next summer.
Ian Brandes
31
Posted 04/02/2016 at 21:32:50
Colin, Spot on with your last four words.
Danny O'Neill
32
Posted 04/02/2016 at 22:03:20
Sounds like we're still in contact and he's interested. Barring a storming Euros and subsequent interest from a Euro elite club, this could still be on. Regardless and refreshingly, sounds like the lad will ultimately make a footballing decision over anything else (said naively and with hope!!).
Gavin Johnson
33
Posted 04/02/2016 at 22:28:29
The cynic in me says we're just being used to get other clubs interested. Who's betting West Ham will want him, come the summer?!
That said, he seems pretty honourable - He's stayed loyal to Kiev. He didn't have to sign a new contract, so that tells me he has something about him and he's not just about the money.
Jamie Sweet
36
Posted 05/02/2016 at 00:52:36
He's such a tease!
Anthony Dwyer
37
Posted 05/02/2016 at 00:56:01
I've never actually believed this transfer would ever happen, but after the above interview I can now see a light at the end of the tunnel.
Philip Holding
38
Posted 05/02/2016 at 01:36:06
What is the obsession with him? He scored a good goal against us and has a boss name.
He's unproven in a good league and isn't anything special in the Champions League or for Ukraine.
Get over it.
James Marshall
39
Posted 05/02/2016 at 02:27:04
A light at the end of the channel tunnel.
All I remember him doing was waltzing through as our defence parted like the red sea and dipping one in the top corner.
Barca don't even need him.
Peter Laverty
40
Posted 05/02/2016 at 05:35:04
When will people stop fucking obsessing about a transfer that is never going to happen! He's not even that good!
Get over it, for fuck's sake.
Nitesh Kanchan
41
Posted 05/02/2016 at 07:31:14
This guy can be to us like Payet is for West Ham and Mahrez for Leicester.
Steve Pugh
42
Posted 05/02/2016 at 07:43:53
Isn't he going to Arsenal?

John Daley
43
Posted 05/02/2016 at 08:06:29
Yarmolenko? More like Yawnrelento. Sick of hearing about the motherfucker.
Ernie Baywood
45
Posted 05/02/2016 at 09:31:11
You can read what you want into this. He's either a good egg for wanting playing time over money, or he's a bad 'un for suggesting he'd walk straight into our team.
I suspect the reality is that his agent is using our interest to draw out other bidders... otherwise he'd be with us by now.
Dave Lawley
46
Posted 05/02/2016 at 09:58:36
Yawnrelento.....Ha!

Tony J Williams
47
Posted 05/02/2016 at 12:15:48
I'm with Eugene on this one.
The stand out point I notices was the argument bit with the missus.
1) He has the balls to have a barny with his wife
2) He is the narky little fucker that this team is missing (I am actually hoping Besic with fill this Peter Reid shaped hole in the team)
Gordon Roberts
48
Posted 05/02/2016 at 12:53:39
Will we see Robrto revert to a 4 3 3 formation in the near future? Macarthy, Besic and Barkley supporting three pacy strikers would be interesting. Intelligent ball playing defenders and a solid dependable keeper might just bring us into the modern era. Dream on!
Victor Jones
49
Posted 05/02/2016 at 14:29:19
Will this deal ever take place? Deal or no deal? Would love to see it happen but I have to side with the No deal camp. Far too much talking, and no action. Aim the money somewhere else. Call off the talks with Dynamo Kiev then see how they react. Might be interesting.
And is our board even interested in this player? Is he even on the market? Who knows?
Danny Halsall
50
Posted 05/02/2016 at 15:05:14
It is amazing how much being an Evertonian can turn you so pessimistic. For me his an upgrade on anything we have in the wide areas. Our transfer policy obviously points towards us buying young players and developing them. However, we need to buy the odd player who can make a real difference to the first team. Hopefully Niasse can make a real impact and if we were to go in for Yarmolenko and get him in the summer, that would be a real statement, both to fans and to our other talented squad members.
I don't know why but I have a really strong feeling that we are going to get him, I know that will probably come back to bite me in the end, but for some reason I just have an inkling that something may be already agreed (e.g. some sort of gentleman's agreement with Kiev)
Gordon Roberts
51
Posted 05/02/2016 at 15:22:44
Danny Halsall #44.
I agree with you, Yarmolenko is the type of player we need in order to evolve and is a step up on what we have currently Evolution and maturity takes time, patience is a virtue and, unfortunately, in very short supply on TW at the moment.
Paul Kossoff
52
Posted 05/02/2016 at 15:58:29
Wouldn't be surprised if he ends up in China, the silly money is coming from somewhere over there and good players are favouring that over playing in the top leagues and in Europe.
Just heard Chelsea turned down £57 m for Oscar. Has the table turned on players wanting cash, not glory?
Paul Kossoff
53
Posted 05/02/2016 at 16:25:45
Alex Teixeira off to China for £38m, the red sh*te wanted him for £24m so now the English league has a new competitor for top players and it won't be long before the Sky millions go that way too.
It seems anyone and his dog are off to China, we will have to keep an eye on our players wanting Chinese takeaways.
Si Cooper
54
Posted 05/02/2016 at 18:35:48
Why have some got the knives out for Yarmalenko. The move in the summer was stymied by the mega-rich owner (net worth more than £3 billion apparently), wasn't it? All the lad has done is refuse to sulk and got on with his job.
If he fully recovers from his injury then he is still young enough that you would get 3 or 4 years from him at his peak, and he will be on sufficient wages now that he obviously isn't just looking for the last chance to provide for his retirement.
Who cares who we already have; if he is better and is happy to come then why not try to get him?
Barry Sherlock
55
Posted 05/02/2016 at 20:10:14
Honestly, we could not look at having Yarm up front with Lukaku and Naisse and putting Barklye back into a midfield! Ross cannot tackle if his life depended on it!!!
So any formation will have to have Ross as one of the attacking forwards. He just doesn't have defending of any sort on his CV. He can't even mark a man for a corner.
Tony Hill
56
Posted 05/02/2016 at 20:27:19
It's a bit of a mystery Ross's tackling or the lack of it. In one of his best ever games for us against Arsenal away in 2013-14 he absolutely crunched Wilshere in a 50-50 (I don't think that irritating player has ever forgiven him). He also dispossessed Townsend on Wednesday after chasing him back and executing a very effective tackle.
Like so much else with this fantastic young footballer (and so many other gifted players), it depends how his head is fixed at any given time. It's true though that he's never going to be a gritty tackler and thank God for that.
Gordon Roberts
58
Posted 06/02/2016 at 04:15:23
We shouldn't forget that Ross lost around 2 years of his early developmental phase as a result of the horrendous leg fractures.
If, as has been suggested by such respected posters as Harold Mathews that our manager favours the Athletico Madrid model, Lukaku will be sold for a huge profit in the near future. Could that move herald our teams evolution to a 4 3 3 system?
Philip Yensen
59
Posted 06/02/2016 at 09:56:47
I don't care if Barkley doesn't throw in a hefty tackle, he should chase back and harras the opponents. We forgive him because of his bad break.
David Hallwood
60
Posted 06/02/2016 at 13:35:59
Sorry Si (#49) but irrespective of that for some weird reason The Yarm reminds me if a girl I was chasing when I was 17(btw it wasn't a very good year) first she was keen then blank me then make it known through friends that she wanted to go with me them slam the phone down telling me not to phone again.
Even at that tender age I filed under waste of time and moved on

Si Cooper
61
Posted 06/02/2016 at 16:24:47
David (54), I'm not quite sure that analogy works.
Currently Yarmolenko can stay were he is and be guaranteed hero status, top wages and a crack at the Champions League every year, but he may be worried about Putin and giving his family a link to Western Europe by living there for a while may be an attractive option.
So if he does move he may prefer to go somewhere where he will be an important member of the starting 11 week in week out in a competitive league, and the likes of Everton who will also offer good wages have a look in. Still not an easy decision to make and you can understand why he would take his time weighing up his options.
Dennis Ng
62
Posted 08/02/2016 at 09:40:07
While it is guesswork to whether he will come, surely this is better than all that heartbreaking news of nearly getting him to get the transfer blocked. At least he can sign if we can make a successful bid and not have us frozen out by the bigwigs.
I find it also funny how people want to sell Lukaku and Stones for $110m. Why would we sell our best striker? Also, who would bid for Stones at $50m at his current form, especially when some of our own are ripping into him like there's no tomorrow? I like them both and hope they will remain at the club with Yarm joining.
Add Your Comments
In order to post a comment, you need to be logged in as a registered user of the site.
Or Sign up as a ToffeeWeb Member — it's free, takes just a few minutes and will allow you to post your comments on articles and Talking Points submissions across the site.
© ToffeeWeb