Stoke City vs Everton
by

55 Comments [Jump to last]
| 05/02/2016
Match Preview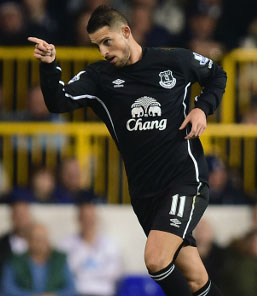 Kevin Mirallas: back in the squad after missing three games with a tendon injury
Everton hope to build on the midweek win over Newcastle when they travel to Stoke City tomorrow.
Having endured a torrid run of form in front of their own fans, the Blues managed an unusually  comfortable victory on Wednesday that can hopefully provide a springboard for the final quarter of the Premier Leage campaign.
The 3-0 score line was a fair reflection of Everton's attacking dominance and the chances they should have taken from open play; 1-0 would have been emblematic of what was a bit of a grind at times from Martinez's players as they spurned some good chances in their search for a first home win in the League since November.
Goodison Park probably could have done without the nerves that crept in as the second half wore on but a margin of victory that slender would have been greeted with plenty of relief and sufficient optimism for the next few games.
The most important thing was to win and, thanks to Aaron Lennon's persistence and both Ross Barkley's infectious direct running and his composure from the spot, the Toffees were able to drive home their superiority in the closing minutes.
It sets them up nicely for a mission of revenge and atonement against Stoke at the Britannia Stadium this weekend. If Everton's win at St James's Park hinted at Martinez's men getting back on track after a month of frustration following the events at Bournemouth in late November, the defeat to the Potters two days later at Goodison was a shot to the solar plexus.
Another blown lead and a controversial stoppage time penalty handed Stoke a 4-3 win and felt like being dumped back down to earth, with recriminations for the defence and manager from supporters.
In retrospect, the Blues made Stoke, and Xherdan Shaqiri in particular, look like world-beaters that day. Mark Hughes's side have won just once since and have looked decidedly ordinary; Shaqiri, over whom many a tantrum was thrown on social media when the Swiss "chose" the Britannia over Goodison -- in reality, Martinez and Everton were adamant they would only take him on loan where they could assess his suitability rather than splash £12m on him, a decision that looks prudent in hindsight -- hadn't scored before that game and hasn't scored since.
Encouragingly, while the Britannia is generally regarded as a tough place to go, Stoke have only won more home game than Everton this season and they've lost four of their 11 matches on their own turf.  That offers hope for a Blues team that has only lost once on the road in the League this term and is looking to improve on a record of just three away wins.
Optimistic about Romelu Lukaku's chances of being fit, Martinez will have the same squad to choose from as he did on Wednesday against the Magpies plus the fit-again Kevin Mirallss and, possibly, new signing Oumar Niasse.
The Senegal striker is awaiting international clearance to make his debut following his £13m move from Lokomotiv Moscow and he would certainly be a handy and unknown quantity to
bring off the bench, particularly if Lukaku isn't up to 90 minutes.
Martinez said in his press conference this morning that, "this morning was important in terms of getting the final step of that paperwork and we're hopeful that he will be able to be available."
The decision over the availability of Lukaku will likely be made tomorrow, although the manager hinted in his "presser" that the striker could play through any lingering pain from the blow he took to his back in midweek.
He came off at half time in the 3-0 victory with the Magpies after taking a knee to the back from Fabricio Collocini but Martinez said he was moving more freely and "looked back to himself." 
The Catalan continued: "After the game he found it very difficult to be able to walk without pain. It was a really difficult injury because all of a sudden he couldn't really feel the backs of his legs and we were a little bit worried. 
"But there's no further damage and it was then about making sure he could get the feeling back and join in training today. We'll make an assessment depending on how good he is feeling today in training."  
Martinez will still be without Muhamed Besic, John Stones and Tim Howard, however. All three are ruled out with, with the former two recovering from hamstring strains and Howard dealing with a knee problem apparently sustained in training in the early part of the week.
That means another opportunity for Joel Robles to impress between the posts. The Spaniard has been solid when handed opportunities to play in the cup competitions this season and, after Wednesday's win over Newcastle, he has four clean sheets in his last four Premier League appearances stretching back to this time last year.
Leighton Baines could return at left back after, presumably, being rested in midweek while Aaron Lennon's form makes him an almost automatic choice to start wide on the right, with Gerard Deulofeu a potential weapon from the bench in the second half.
This fixture last year marked arguably the nadir of the 2014-15 season but it has the potential to be the next stepping stone in an Everton revival this time around if the team can build on two routine victories and two clean sheets over the past 6 days.
With Ryan Shawcross missing for the Potters, there should, hopefully, be weaknesses to exploit in their back line while at the other end it's imperative that the threats posed by Marko Arnautovic and Bojan Krkic are nullified.
Kick off: 3pm
Referee: Andre Marriner
Predicted lineup: Robles, Coleman, Jagielka, Funes Mori, Baines, Barry, McCarthy, Cleverley, Lennon, Barkley, Lukaku
---
Reader Comments (55)
Note: the following content is not moderated or vetted by the site owners at the time of submission. Comments are the responsibility of the poster. Disclaimer
Paul Kossoff
1
Posted 05/02/2016 at 16:06:10
Try Mirallas as the striker if Niasse can't play, with Ross and Lennon up front. Don't want to see Kone on the field but I've a feeling RM will play his favourite.

That's if Rom isn't fit, duuh.
Brian Mahoney
3
Posted 05/02/2016 at 16:08:58
If we win tomorrow again without Stones and howard it will be interesting to see next weeks selection if they are both fit.
Duncan McDine
4
Posted 05/02/2016 at 16:25:34
I agree Paul... If Rom isn't ready then I'd much rather see Kev up top than Kone. It will certainly be a tougher test than Newcastle, but I have good vibes going into this game. COYB
Darryl Ritchie
5
Posted 05/02/2016 at 16:28:36
Paul, Kone WILL play, whether Rom is fit, Mirallas is fit or Naisse is available. Somethings will never change.
I just wish he'd score a goal once in awhile.
Rahul Sreekumar
6
Posted 05/02/2016 at 16:44:01
I love Besic and I love that we have him in our squad; BUT how many consecutive games has he played?
He'll be in his Third season with us in a couple of months but how many minutes does he have on the pitch to show for it? I hope after this recovery, that he isn't injured for a long long time (if at all).
Back to Mirallas - he's another one that I want to see succeed & score goals. He has it in him. Hoping to see him for the rest of the season, and hopefully the next one as well.
Both these players risk losing their respective spots for good if they are out for more than a couple of weeks because of the increased competition in those positions.
Jamie Barlow
7
Posted 05/02/2016 at 16:47:36
Kone put in a good enough display midweek to warrant a starting place if Lukaku is injured. If Lukaku is fit, same team.

Russell Smith
8
Posted 05/02/2016 at 16:47:45
If Lukaku is not fit then Kone will play. If we play a similar game to Wednesday then this is not as bad as some are making out. Kone is good at receiving and holding up the ball with his back to goal, allowing Barkley, Lennon and Cleverley to come onto the ball from slightly deeper, and getting between the two lines of four that Stoke will employ. Kone's finishing is poor, but Lakaku has hardly been at it since the first City cup tie. If Kone keeps getting into scoring positions he will eventually find the net. Lets hope it is tomorrow. COYB

Neil Halliwell
9
Posted 05/02/2016 at 16:56:14
Suddenly! Deulofeu is not getting a mention. Surely he should come on at some stage since he is capable of producing a bit of skill, which feeds Rom, and that is a goal.
Trevor Lynes
10
Posted 05/02/2016 at 17:03:07
Niasse still needs time and may just make the trip for getting to know his new team mates.He has not played for some time and cannot be match fit.
Good news about Mirallas though :)
Neil Halliwell
11
Posted 05/02/2016 at 17:10:46
Why is Del Boy not getting a mention? Surely he should come on at some stage. A moment of brilliance from him to feed Rom and we have a goal.
Steve Brown
12
Posted 05/02/2016 at 17:21:13
Under no circumstances whatsoever should Kone play. Call me old fashioned, but I don't think that strikers should play if they
have a phobia about shooting.
Brian Harrison
13
Posted 05/02/2016 at 17:25:42
I just hope that we start Barkley in the same position as he played against Newcastle, that is up top alongside the striker. I want to see him on the ball in and around Stokes penalty area not inter passing with our back 4, he is wasted in midfield but RM seems obsessed with playing him in midfield. I am sure Mark Hughes will be demanding more from his side than he has got from their last couple of outings, so expect a tough physical battle and if we match them in that department I think we can claim all 3 points.
I would imagine that if Lukaku is fit it will be the same team as Wednesday night. Then if he gets the paperwork through we will have Naisse, Deulofeu and Mirallas to come off the bench if necessary.
Ged Simpson
14
Posted 05/02/2016 at 17:29:33
Loving our squad,..and boss for putting it together. I see good times ahead over next 2 yrs.
Liam Reilly
15
Posted 05/02/2016 at 17:40:10
Don't.realy get all.the negativity with Kone. He actually holds the ball up pretty well, arguably better than Rom.
If he can create space.for Ross and Mirallas and soften them up for a late 20 minute assault from the new guy, that'll be good enough for.me.
Tony Hill
16
Posted 05/02/2016 at 17:44:18
Ged (10), stop with all your pessimism.
Matthew Williams
18
Posted 05/02/2016 at 18:44:24
Play the following...
Robles;
Coleman, Jagielka, Funes Mori, Galloway;
Lennon, Cleverley, Baines, Oviedo;
Barkley;
Mirallas.
4-4-1-1 should get the win,1-0 Blues!
Brent Stephens
19
Posted 05/02/2016 at 18:52:11
Roberto on the news at some gig or other doing some dance moves. "Not my best moves" he said at today's press conference. I can think of a good move.
Phil Walling
20
Posted 05/02/2016 at 18:58:43
Ged, just how 'boss' is a record of seven wins in 24 game? Another wasted season written off as you look to 'good times over the next two years'.
As for all this delight over Kone's 'hold-up play' and space creation well, who expects strikers to score regularly? Quite how his inclusion at the expense of variously Mirallas, Deulofeu, Lennon and even Naismith is justified astounds me !
Ian Brandes
21
Posted 05/02/2016 at 19:29:23
I certainly share Ged's optimism about the squad and possible good times ahead. But he needs to realise that, in two years time, his Uncle Roberto will no longer be our manager. He is certainly finished if the Yanks take over.
On the subject of tomorrow, let us hope that with all our talent, we can make Stoke look ordinary, which is what they did to us at Goodison. If every member of the team puts in a shift like Lennon, we will do it, but it won't be as easy as beating a very poor Newcastle.
On the subject of RM I loved him during the first season, although I had doubts about his pedigree following relegation.
Since then, his tenure has been disastrous. But, if his project does come together, I will be delighted because I ,like most football fans, am fickle. And I want Everton to be great again.
I want a big win tomorrow, and RM to pick in-form players, not favourites!
Alan Bodell
23
Posted 05/02/2016 at 19:34:23
That animal Shawcross being missing is a huge plus to a team that likes to play football.
Martin Mason
24
Posted 05/02/2016 at 19:45:32
Aruna Kone shouldn't be judged only on how many goals he scores as this is only one aspect of a good striker's play. I watched how he played when he came on Wednesday and as always saw a very skilful player, lovely movement and passing, mainly good first touch and the only thing he did very badly was his chance conversion rate wasn't good.
Remember though that Mark Hughes was superb but he wasn't a goal scorer and Kone's value is that while his few goals may look bad for a striker, Lukaku's 20 since Kone got into the team has been incredible. His best position is supporting the main striker from slightly deeper, not out wide where RM plays him. He's a lovely happy guy too and don't forget that we almost certainly missed the best of him because of injury.
Ged may also be right, we're on the verge of being a very good side and it just could happen.
Phil Walling
25
Posted 05/02/2016 at 19:57:11
I've been back a while, Raymond, but sadly missed our only win since November!
As far as positivity is concerned, I've read the last two results right and made a decent profit in so doing. It's amusing that over a week ago over two hundred posters wanted the manager hung, drawn and quartered but now there seems to be acknowledgement that he's good enough to get us 'eighthish, after all!
As far as the team tomorrow is concerned, don't be surprised if Lennon's recent goals spate doesn't see him back to the bench. It's happened before!
Christopher Dover
26
Posted 05/02/2016 at 20:06:02
Okay, let's have Kone, Osman up front both can hold the ball well and are lovely people, now who can we we put in to score a goal?
Chris De Costa
27
Posted 05/02/2016 at 20:14:25
Martin (#19) your right about Mark Hughes not being a "goalscorer" but he was certainly a scorer of great goals. As much as I like Kone as a character, and as you say he has good qualities in other areas, the fact remains that he is neither a goal scorer or a scorer of great goals.

Granted the guy doesn't get to spend much time as an out and out striker in our team, but you only have to watch him to know that he's never ever going to be 15-20 goal a season type of player. If he weighed in with 10-12 goals plus a good few assists then I think we would all accept it, but I'm struggling to think about exactly what he brings to the table cos it ain't enough in my opinion.
Martin Mason
28
Posted 05/02/2016 at 20:39:45
He scored a very good hat-trick this season.
Eddie Dunn
29
Posted 05/02/2016 at 20:40:06
Hey everybody, lets pick the whole team regardless of whether or not anybody can actually do the job that they're meant to.
Come on folks, Kone is supposed to score goals, and unless he is getting lots and lots of assists, or being hauled down in the box, and gaining pens, then his place in the team should be judged on that old nugget, goal scoring.
He is, I am sure, a lovely human being, and (as a pro footballer) has a decent pass at his disposal, and boy, can he lay it off! However these are things that a player should be able to do without thinking about it. He couldn't play at centre-half, he couldn't play centre-mid, and he shouldn't play on the wing ahead of actual wingers like Mirallas, Lennon or Deulofeu.
If he can't get his arse in the box and bang in shots as soon as a chance presents itself, then he should not be playing up front.
If Rom ain't fit, sling Mirallas up top, or Barkley, or Rodriguez, just someone who will look like scoring.
Colin Battison
30
Posted 05/02/2016 at 20:58:09
My team for Stoke:
Robles;
Coleman, Jagielka, Funes Mori, Oviedo;
Lennon, McCarthy, Barry, Cleverley;
Barkley;
Lukaku
Deulofeu could come on for Lennon and Mirallas for Cleverley last 30 mins depending on the state of play.
Niasse for Lukaku if clearance comes through.
Andy Crooks
31
Posted 05/02/2016 at 21:04:58
Phil, the improvement in the Martinez rating on the ToffeeWeb poll shows to some extent how little some Evertonians expect. Maybe they are right and maybe I'm entrenched in my views but it would take an unforseeable improvement in our results for me to think that he should be our coach.
Jackie Barry
32
Posted 05/02/2016 at 21:15:18
I hear Niasse isn't even clear to play, has anyone else heard anything?
James Marshall
33
Posted 05/02/2016 at 21:25:29
So much continued Kone bashing on here – the guy is a centre-forward played on the left every game, yet he get's so much stick. I agree his shooting has been somewhat erratic, but his hold up play is better than anyone else at the club, and I think he does a decent job given he's played out of position all the time.
Maybe this weekend he'll get to play up top if Lukaku is out, with 2 from Mirallas/Lennon/Deulofeu supporting, and Niasse a potential late sub if required.
I've play Kone up front – the guy can finish given the right service.
Dave Abrahams
34
Posted 05/02/2016 at 21:37:52
Andy (#28),
Don't think you are wrong in your viewpoint, I could understand the change in the voting for Martinez if we had beaten two decent teams; the two teams we beat – especially Carlisle – was something that would've been expected and Newcastle were chronic.
We need to carry on and beat the better teams starting at Stoke tomorrow before we can be really confident that we are moving forward.
Darryl Ritchie
35
Posted 05/02/2016 at 21:42:19
I kind of like Lyndon's lineup, with the possible exception of Mirallas instead of Cleverley. Although not to disappointed either way.
Tony Hill
36
Posted 05/02/2016 at 21:53:05
It's a sadness that we never saw the best of Kone because of injury. I agree with those who say he still has something to offer and he does indeed bring others into play effectively. He is not a first choice now but he has my support if he's picked.
I fancy us tomorrow though I agree with Andy Crooks (28). I'd play Galloway at left back.
Jay Harris
37
Posted 05/02/2016 at 21:54:09
We have only beaten Southampton and West Brom away so far so we are either due a win or we're not as good as we think.
The result tomorrow will go a long way in suggesting which it is.
Irrespective of that I am totally with Andy Crooks.
RM has to go.
Ian Smitham
38
Posted 05/02/2016 at 22:12:51
Jay, can you have a quick look at the other thread we have been posting on, the one regarding the AGM and wondered when you can help me understand the figures you quoted.
Gary Edwards
39
Posted 05/02/2016 at 22:27:27
Liking the calls for Mirallas up front if Lukaku is not available. He's a far better option than Kone up the middle or on the left.
Regardless of who plays up front, the defence still needs sorting .. that is the biggest problem and the reason we have not won many games this season.
Martinez seems to be making more reasoned choices recently, it will be interesting if he maintains this run ... or reverts to type.
Mike Connolly
40
Posted 05/02/2016 at 22:28:44
Alan Bodell
41
Posted 05/02/2016 at 22:29:55
If that animal Shawcross isn't playing maybe our footballers can play football but I'm pretty sure Hughes will design another way to break our game.
Peter Cummings
42
Posted 05/02/2016 at 23:35:55
I see another of our 'favourite' refs will be in charge tomorrow, Marriner ranks along with Atkinson Clattenburg etc who like to give us a hard time so expect yellows and a possible red at Stoke.
Steven Jones
43
Posted 05/02/2016 at 23:40:21
My Team for tomorrow ...
Think RM will go this way ..
Robles;
Coleman, Jagielka, Funes Mori, Baines;
McCarthy, Barry;
Deulofeu, Barkley, Mirallas;
Lukaku.
Tony Hill
44
Posted 05/02/2016 at 23:51:26
He did give us the Baines pen a couple of years ago there Peter, I think, though it was an obvious one.
Gavin Johnson
46
Posted 06/02/2016 at 01:40:00
There's a brilliant story in today's Telegraph where Steve McClaren compares Newcastle to Wigan. Apparently Martinez told McClaren - You lot remind me of Wigan and McClaren agrees an even going as far as referring to Wigan as an inspiration. Talk about taking one to know one. I bet the Geordie fans are seething.
Laurie Hartley
47
Posted 06/02/2016 at 04:33:26
Colin # 27 - I like your team. Oviedo has done enough to keep his place but if Baines comes back in don't be surprised if Pienaar is called on later in the game.
If Lukaku doesn't start I would prefer Kone to Mirallas against Stoke.
Who knows what to expect for this one. Three years ago I would have settled for a point at Stoke. Now despite my misgivings about the manager I am hoping for a win. This is certainly a roller coaster season.
I think the 3 points against Newcastle dispelled any looming worries about the "R" word so perhaps the anxiety levels on and off the pitch will drop and we will start seeing the best from our players. I hope so - it's the hope that keeps you alive!
Up the Blues.
Amit Vithlani
48
Posted 06/02/2016 at 05:14:16
I remember Mirallas played upfront in 2013-2014 in a game where Lukaku was injured and he was frankly shite. Could not hold the ball up and constantly wandered offside. In the end Nais got the role (he may have been unavailable too, whilst Kone was definitely out at the time).
Kone for all his faults is the best fit for the job if Rom has to drop out. I would start with him and if we are behind with 15 mins throw on Niasse and go 4-4-2.
Mirallas has no space in starting XI at this point for me. Lennon deserves to keep his place on the right side, Barks in the centre. On the left, Cleverly an inferior player but away against Stoke we need his work rate as Johnson plays like a winger when they are at home. Plus if Shaqiri plays he will try and exploit our left side the last time.
So its Kone for Rom, otherwise unchanged for me...
Anto Byrne
49
Posted 06/02/2016 at 05:53:35
Plays the No 9 and scores at Carlisle, had a few chances with Newcastle and fluffed his lines but importantly got into positions to give himself a chance. I would like to see him a bit more direct and use his pace to attack defences.
I reckon it's confidence and the crowd has been on his back when they should be looking at his contribution. Perhaps a few easy tap-ins and a header or two will restore some confidence. Is Vardy that good?
Harold Matthews
50
Posted 06/02/2016 at 09:21:57
We missed Jags in the last Stoke match. Stones was carrying a leg injury and Bojan ran him ragged.
The team against Newcastle was probably our best balanced all season. Cleverley and McCarthy either side of Barry. No holes, no exposed fullbacks. Okay, it left us a bit short up front where Lukaku took a hammering but once we got that important first goal they had to open up and we enjoyed the extra space.
Geoff Evans
51
Posted 06/02/2016 at 09:41:52
Same team as Wednesday if possible.
Darren Hind
52
Posted 06/02/2016 at 10:39:52
Yep, I'd be happy for Roberto to name an unchanged team.
Philip Yensen
53
Posted 06/02/2016 at 11:16:13
It's not who he plays, it's how he instructs them to play. Also certain individuals to stand up and be counted. If we graft for 90-odd minutes plus our undoubted skills, we will win. Only a match official will stop us.
John Malone
54
Posted 06/02/2016 at 11:46:04
Why not play Lennon up top with Delboy on the right?
Barca have done it, Chelsea have done it and the rs have done it and got results, I've been really impressed with Lennon's attitude, work rate, first touch and eye for goal lately also the fact that him and Delboy are quick and nimble could make the perfect recipe to run at the giant clumsy Stoke back four and draw fouls and create chances!
We owe these big style for that late pen and for them being so abysmal and letting the rs get to a final!
Phil Sammon
55
Posted 06/02/2016 at 12:09:27
John Malone
Worst idea ever.
Amit Vithlani
56
Posted 06/02/2016 at 12:14:24
Lennon should only be a front man if its in a tribute band
James Marshall
57
Posted 06/02/2016 at 12:16:26
He'd make a great John Lennon.
Aidy Dews
58
Posted 06/02/2016 at 13:27:04
Think we'll go with a similar team to Wednesday with Baines probably coming in for Oviedo. I felt the team on Wednesday was more workman like than a team full of flair like in recent times with Deulofeu & Mirallas in. Think we're going to have to work for everything we get today!
I'm not so keen on Cleverley being out on the left but he will put a shift in and work back, as will Lennon, although he gives us pace on the break. But we are going to have to graft today to keep their attacking players as quiet as we possibly can and not let them take control of the game.
Hopefully Lukaku will be fit to start and Niasse will be available to take a place on the bench.
Stoke are struggling a bit at CB at the moment with both Shawcross & Wilson out and there being a doubt Wollschied and his fitness today so IF those 3 are out, we could have some joy if we get at them and try being a bit more direct than usual into Rom?!
Trevor Peers
59
Posted 06/02/2016 at 13:58:13
Our last 4 EPL wins have been against the bottom three teams in the league, so let's see if we really are improving by beating Stoke today. Fingers crossed.
Add Your Comments
In order to post a comment, you need to be logged in as a registered user of the site.
Or Sign up as a ToffeeWeb Member — it's free, takes just a few minutes and will allow you to post your comments on articles and Talking Points submissions across the site.
© ToffeeWeb