Martinez: Whatever happens, the future is bright
by

27 Comments [Jump to last]
| 09/02/2016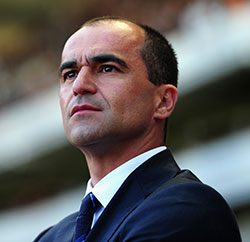 Roberto Martinez wouldn't be drawn on the speculation regarding a potentially imminent takeover at Everton but he is confident that, whatever happens, Bill Kenwright will make the right decision.
The manager spoke with Alan Brazil on talkSPORT this morning to discuss, among other things, his team's current form and the futures of Ross Barkley and John Stones but he was asked to comment on the reports of a move by former San Diego Padres owner John Moores to buy the club.
"I've been a bit surprised that there's been a lot of talk about this. There's nothing to mention.
"Clearly, what I could add – and it's something that every Everton needs to know – is that our chairman loves Everton [and] I don't think there are many owners with such an attachment to their football club.
"I can guarantee to you that anything that happens is going to be good for our football club because we've got a chairman who I don't think gets the credit that he deserves.
"He's been running the club under very difficult circumstances and now I can guarantee to you that whatever is going to happen, the future is very bright for Everton.
"I don't think you'd ever see at Everton a decision based on finances. I think it will be,if anything, to allow the football club to go onto the next level and fulfil the big projects that we have because we've got big aspirations.
"At the moment all of us would love the Chairman to stay at the football club for another hundred years. Believe me, there is nobody who's got that passion and the understanding of Everton to guide us to the next level.
"That's why I know that I can tell very strongly every Everton fan that the future will be very, very bright in the hands of our Chairman and any decision that comes from that."
---
Reader Comments (27)
Note: the following content is not moderated or vetted by the site owners at the time of submission. Comments are the responsibility of the poster. Disclaimer
Keith Conchie
1
Posted 09/02/2016 at 18:48:48
Hmmmm it sounds like he knows but obviously can't let on. But then he says that the future will be very very bright in the hands of our chairman, so does that mean Bill is sticking around takeover or not?
The sooner this is sorted out and announced to the fans the better. It feels like it's been dragging on forever now
Darren Hind
2
Posted 09/02/2016 at 18:58:29
I don't have a scooby, but I can guarantee you the future is bright.
Vintage Bobby
Colin Glassar
3
Posted 09/02/2016 at 19:11:38
"Whatever happens, the future is bright" Is this the name of Roberto's new song with Jason Derulo?
Nick Entwistle
4
Posted 09/02/2016 at 19:13:13
"He's been running the club under very difficult circumstances"... of his own making.
Minik Hansen
5
Posted 09/02/2016 at 19:16:48
Keith, I believe by saying in the hands of the chairman, he means the decision he makes in this takeover, so eventually he steps out of it. Sticking around? Blue like he is, he certainly is and always welcome to open doors.
Andy Crooks
6
Posted 09/02/2016 at 19:22:01
Whatever one thinks of Roberto he says the right stuff.
Michael Penley
7
Posted 09/02/2016 at 19:49:44
"I don't think you'd ever see at Everton a decision based on finances."
Nothing? What about ticket prices? Taxes? Sponsorship? Does that mean we can go in for a £50m keeper in summer?
Tony Abrahams
8
Posted 09/02/2016 at 20:00:00
With all due respect Roberto, stop making sense.
Nick Entwistle
9
Posted 09/02/2016 at 20:09:07
Minik, for you to use translate the google you are?
Paul Tran
10
Posted 09/02/2016 at 20:38:13
Spoken like the good employee he is. Just wish there was a bit about the present now and again. Funny how he tends to talk sense about club matters and can go a bit doolally when talking about players and tactics.
Helen Mallon
11
Posted 09/02/2016 at 21:41:14
To be fair, Paul Tran, I listened and he did speak well about Stones and Barkley. I think it just might be sinking in.
Graham Mockford
12
Posted 09/02/2016 at 22:02:06
Nick #4
I suspect he is referring to Bill's health.
Danny O'Neill
13
Posted 10/02/2016 at 03:17:22
Possibly a bit of that Graham, but despite a lot of people's frustration with Bill, I personally don't think he gets enough credit considering what he inherited; lets face it, not many were banging Goodison's doors down to demand the right to buy out Peter Johnson in the late 90s. Has he clung on too long? Was it out of stubbornness or his own genuine belief to not let the club go to just anyone with money? Has Bill's "Evertonian-ness" held us back? Was it because he cynically lied about promises of investment or because of misplaced good intention and blind hope / faith that didn't materialise? Who really knows the answer to those questions? I try to avoid the off-field politics as I'm a purist (romantically misguided by blue-tinted glasses at times I appreciate). All I know, without claiming to really understand any of the behind-the-scenes goings on, is that Everton on the pitch are potentially the best they've been in 30 years and since the early 2000s, barring the odd rollercoaster dip we are periodically accustomed to, have been steadily improving over that period. Personal opinion, but perhaps an inability (or willingness for whatever reason) to attract investment shouldn't be confused with mismanagement because we are increasingly recognised as being well managed from the outside. Could we do better? Who couldn't? Let's just hope that we finally get the investment to take us to the next level, don't lose our soul as a club in the process and become one of those rarer examples of buy outs being a smooth transition to progress rather than the more common examples of being an early honeymoon period followed buy turbulence, dissatisfaction with the new regime and inevitable decline (Aston Villa). Cake and eat it....yes please!
Harold Matthews
14
Posted 10/02/2016 at 03:24:33
Sounds like it's all done and dusted.
Ron Marr
15
Posted 10/02/2016 at 03:27:24
The future is bright, I gotta wear shades
Paul Ferry
16
Posted 10/02/2016 at 04:09:21
Looking at the lovely Sky 4-5-6, the message in the main is that the way to join the club is foreign ownership and money. You might fluctuate but you are there. Paul McCartney would be preferable but take your pick; in reality, these days, it is Russian, Middle East, USA – and soon China.
In all seriousness, we need to be bought by overseas buyers to do what we all wish for. Respect to Leicester City but it's like that horse winning the Grand National when all the other nags fell down.
Success now, damn it – means tradition and culture being exposed to harsh brutal commercialism. Fingers crossed it works but Luvvie Kenwright is tradition and culture and that is no longer enough unless you want to be... erm... I don't know... Burnley? Integrity is no longer enough.
Look at the new Padres stadium. At least the Padres (our?) owners incorporated some historical building into the new stadium they built I heard (am I wrong?) with their investment.
I prefer Sir John picking up blue hitch-hikers in his Rolls... but then, Sir John had commercial nous that no EFC chairman after him has had.
We need these Americans (or their ilk) to succeed, people – and, without them, we will always be... "plucky" also-rans.
Ian Jones
17
Posted 10/02/2016 at 08:05:48
Hi Paul. Bit harsh on Leicester :)
They have done well so far. As you say respect to them and certainly wouldn't have minded Everton being in the same position at this stage of the season with all the other nags falling down.
Seems we have been falling down on the final run in for nearly 30 years leaving other teams to pip us at the post. Beginning to sound like a Liverpool supporter now!
Ray Roche
18
Posted 10/02/2016 at 08:15:47
Paul#16
The horse you refer to was Foinavon in the 1967 Grand National, also on that day we lost an FA Cup Quarter Final away at Notts Forest 3-2. Ian Storey Moore scored a hat trick for them and Jimmy Husband a brace for us.(We'd beaten the RS 1-0 the round before in the match that was televised with the big screen at Anfield) After the loooong drive home in we which we'd heard about the National fiasco, on TV we saw Sandie Shaw win the Eurovision Song Contest with Puppet On A String.......no wonder I can't remember what I had for my tea when my brain is full of all that crap.
Nick Entwistle
19
Posted 10/02/2016 at 10:35:26
Don't you mean Mon Mome in 2009 at 100-1? Had 50p each way on that. "That's my horse!" I shouted at the Elbow when his name gets mentioned for the first time. What a moment.
Geoff Evans
20
Posted 10/02/2016 at 13:19:36
Just watched American businessman from Iowa.
Get well soon, Bill and stay where you are.

John Daley
21
Posted 10/02/2016 at 13:40:30
"....all of us would love the Chairman to stay at the football club for another hundred years"
Err..what? Can you imagine???
EXT: L4. The year 2116.
Think... the beginning of Blade Runner.
Flying cars.
A birds eye view of a bustling futuristic cityscape.
Gigantic gleaming skyscrapers, modelled after the Mayan temples, piercing the clouds.
Artificial waterfalls for no apparent reason.
Fucking loads of giant, wafer-thin, flat screen TVs just floating in the air and automatically adjusting their advertising output according to the needs of individual passers by... ("Hey pal! Hey Jim! Jim Janouski!! Not heard of new nonce inhibiting nano bots yet?") 
Fat birds dressed like Barbarella. 
Skinny blokes dressed like Brendan Rodgers on a night out at Garlands. 
Talking gorillas with machine guns acting as 'undercover' security guards at Morrisons.
CUT TO:
[Ext] GOODISON PARK. 
Exactly the fucking same as it is today, apart from two rust-ridden, clapped out Robots (as much cellotape as they are circuitry)... that look like rejects from those 'Mash means Smash' adverts... slapping a couple of paint brushes back and forth.
Ronnie: "Goodison's gonna look good as new for the new season."
Rodney: "Oh aye. As always. I don't care what they say about him. Not many chairman would have had the foresight to stock up on absolutely fucking shitloads of blue paint well before the worldwide Dulux drought of 2057. And the ungrateful bastards still have the barefaced cheek to say "Where's the Arteta money Bill?" "
Ronnie: "I know, kid. To think he mortgaged his own gaff to ensure this place had a glorious future as well"
Rodney: "He used to go in the boy's pen as well y'know. Way back like. Before the dark times"
Ronnie: "Aye, and he sent his own dad back in time to protect his not knocked up yet mother from a cybernetic killing machine from the future that someone like the Blue Union probably cobbled together. Fucking big brutal bastard it was. Then, years later, he reprogrammed the exact same model and sent that one back to protect his younger self from an even more technologically advanced murdering twat who wanted to mess with Everton via the malleable medium of time travel. That was when he came up with his catchphrase 'Hasta La Vista Baby'."
Rodney: "Wasn't that John Connor? From those arl' Terminator films?"
Ronnie: "Nah, Bill Kenwright that, kid."
Rodney: "Brilliant."
Ronnie: " Can your CPU even begin to imagine what sort of state we'd be in if he hadn't stuck it out for so long?"
Ian Hollingworth
22
Posted 10/02/2016 at 20:51:56
Slays me why the media give RM so much coverage given the utter tripe that spews from his gob. Mind you, they love the whole Bill thing anyway.
Sadly it sums up how we are viewed by the football world. Poor little Everton are so lucky to have a fan as a chairman.
Gerry Quinn
23
Posted 10/02/2016 at 23:02:49
Are we sure our Manager is Catalan?
A Nebraska man pleaded guilty and received two consecutive life sentences on Wednesday for the murders of his mother and 4-year-old half-brother.
Roberto Martinez also had faced a kidnap charge for allegedly throwing his 11-month-old half-brother in a dumpster. That charge was dropped and he pleaded guilty to two counts of first-degree murder ....
Ernie Baywood
24
Posted 10/02/2016 at 23:14:39
Our Roberto never pleads guilty to anything.
Harold Matthews
25
Posted 11/02/2016 at 05:23:30
JD. # 21. Thanks for reminding me of the Sean Young replicant. She was my perfect woman. Think I glimpsed her sitting beside Roman Abramovich during the Chelski / United game.
There again, is Roman also a replicant? He sits next to many beautiful women but never looks interested.......and what about Klopp, Guardiola, Simeone. Wenger, Mourinho and Martinez? The silver tongued figures gradually taking control of key clubs in the world of football. Don't tell me these people are real. Big Sam and Uncle Ranieri are real. The other bunch are scary reptilian-like creatures who communicate through verbal riddles and it has been said that Klopp can catch a football with his mouth and Martinez can lace his shoes with his tongue. "The future looks bright". Is this message for us or the Aliens?
Duncan Lennard
26
Posted 11/02/2016 at 15:31:37
"Believe me, there is nobody who's got that passion and the understanding of Everton to guide us to the next level."
Yes, that's why it hasn't happened in 17 years.
Don Alexander
27
Posted 12/02/2016 at 01:39:18
"Whatever happens, the future is bright......."
Was the rest of the sentence, ".....cos I've handed in me notice."
Please?
Add Your Comments
In order to post a comment, you need to be logged in as a registered user of the site.
Or Sign up as a ToffeeWeb Member — it's free, takes just a few minutes and will allow you to post your comments on articles and Talking Points submissions across the site.
© ToffeeWeb