Boss hopeful over Howard and Stones
by

82 Comments [Jump to last]
| 09/02/2016
Early Team News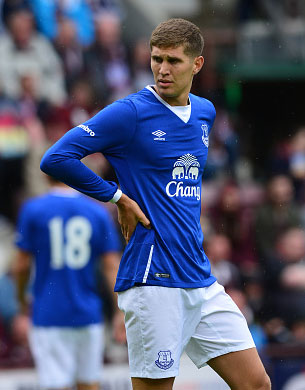 John Stones has missed the last two games with a hamstring problem
Roberto Martinez is optimistic about Tim Howard and John Stones's prospects of being fit for this weekend's Premier League match against West Bromwich Albion.
Both players have sat out the last two Premier League games with respective knee and hamstring injuries but they have resumed full training with the rest of the first team this week and Martinez expects them to both be back either by the weekend or the FA Cup tie against Bournemouth on 20th February.
"Yesterday we had a very productive day in respect [of injuries]," the manager told evertonfc.com. "John had a really good feeling after his work and we are hoping that he can join the group this week leading up to the West Brom game.
"Tim Howard is very similar. He had a very good session on a one-to-one basis.
"We knew that they were problems that could be managed and treated in a short-term and conservative manner. We are very pleased with how their bodies have reacted.
"Now it's about taking it step-by-step, introducing them to the group and seeing how they react. Hopefully they will be available for the West Brom game, if not at the maximum Bournemouth."
Th return to fitness of both players will present Martinez with a selection headache given the team's form during their absence.
Goalkeeper Joel Robles has recorded three consecutive clean sheets behind the central defensive pairing of Phil Jagelka and Ramiro Funes Mori. So, while Howard and Stones have been automatic first-choice selections for much of this season, the manager has to decide whether or not to break up what has been a watertight back line since the Blues' 3-1 defeat to Manchester City in the Capital One Cup on 27th January.
Martinez insists that he doesn't have favourites in that regard, telling the Liverpool Echo that, "As a manager I have the great advantage of being neutral. What that means is I don't have any favourites."
The Catalan has come under scrutiny over the past year for his continued selection of Howard, in particular, despite evidence that his form has been slipping since the 2014 World Cup and of a deteriorating relationship with some fans in the Gwladys Street end.
He recalled the American immediately following injury last season despite Robles's form in his absence and Howard has been preferred in all of Everton's Premier League games this season until he picked up a knee problem in training last month.
"I think there are reasons for it," Martinez continued in reference to the 36-year-old 'keeper's selection. "Sometimes as a manager you consider the partnerships and understanding of certain players, what they bring into a side. We are a very young team that sometimes needs a cool head.
"It's been very, very important for us to create a strong team and I want to be in that position as a manager.
"I am in an advantageous position because first I can be neutral, and second I work with these players every day so I know what moments of form they have. How they are feeling and what they can bring at the weekend.
"I have to make the best decisions for the team and that's what I really enjoy."
Martinez stopped short of confirming, however, that Howard would be selected again to face the Baggies if passed fit on Saturday. "At the moment, Tim is injured so it would be ridiculous for me to mention that," he concluded. "What we want is for Tim to be fit and Tim to be feeling himself and fighting for his position and at that moment I am sure it will be very easy to make the right call."
---
Reader Comments (82)
Note: the following content is not moderated or vetted by the site owners at the time of submission. Comments are the responsibility of the poster. Disclaimer
Mark Gardiner
1
Posted 09/02/2016 at 19:03:24
If Martinez brings them both straight back in then he should just leave.
Three three nil wins in a row. You simply don't change a winning team. Okay, so our last three opponents haven't been great but wins are wins.
If he does bring them both straight back then he will prove that he is simply not fit to manage a football club.
Anybody know if the new lad has his paperwork yet? It's gone very quiet on that front. Ought we to be worried?
Ian Bennett
2
Posted 09/02/2016 at 19:03:26
You don't change a winning team - end of story. Make them fight for the blue jersey.
Colin Glassar
4
Posted 09/02/2016 at 19:06:42
Agree with the above, you don't change a winning team
Lyndon Lloyd
5
Posted 09/02/2016 at 19:07:54
Yes, Mark (1). His paperwork came through in time for Stoke but Martinez felt his fitness wasn't quite there enough to put him in the matchday squad.
Keith Conchie
6
Posted 09/02/2016 at 19:08:36
Never wished an injury on any player, but in this case I wish Howard had a really bad injury to keep him out for a while.
You can't replace Robles with the way he's been playing. Simple as that
Eric Holland
7
Posted 09/02/2016 at 19:09:32
Only 6 points behind United we must keep the same winning team.
What sort of message does it send out to the players who would be dropped?
We have two very winnable games coming up so no slip ups this time.
Tommy Coleman
8
Posted 09/02/2016 at 19:09:55
Ready for the bench.

Roger Helm
9
Posted 09/02/2016 at 19:10:33
Put them on the bench but how the hell can he consider changing after three 3-0 wins? Robles has I think nine clean sheets in ten games.
Never change a winning team; always change a losing team. Didn't do the All Blacks much harm.
Dan Dorrington
10
Posted 09/02/2016 at 19:16:20
If Howard walks straight back into the starting line up then this club is being held to ransom and it is a joke.
Brian Williams
11
Posted 09/02/2016 at 19:18:20
Calm down all. Nobody's, said they'll walk straight back into the team. If they do....then go apeshit.
Andy Crooks
13
Posted 09/02/2016 at 19:19:40
Exactly, Dan. If Howard starts our next game Martinez should never be allowed to destroy another club. I should be the end of him.
John Audsley
14
Posted 09/02/2016 at 19:20:25
Howard and Stones on the bench, if they come back in it proves Martinez has favourites regardless of form. The team needs to stay as it is.
Lennon has been superb since he came back in, his non stop effort is what we need all over the pitch. If we had 11 players like him we would be challenging for the top.
Peter Carpenter
16
Posted 09/02/2016 at 19:27:30
Well pencil them out again.
Joe O'Brien
17
Posted 09/02/2016 at 19:32:39
A big decision to make RM, this is his big test. You should not tinker with a winning team. 3 clean sheets. If both are fit and start on sat then he will fail miserably. I think there is a good manager in him, but if Howard/Stones starts then he's not good enough for us.
Denis Richardson
18
Posted 09/02/2016 at 19:52:44
Weekend will be interesting but I expect a 'not match fit' excuse to keep both out of the starting 11.
Bournemouth game after will be one to keep a close eye on.
Brian Mahoney
20
Posted 09/02/2016 at 19:58:14
Like everyone's saying on here, you don't change a winning team. I can see Stones making the bench but I really do fear that Howard will be back in goal and that is worrying because our next two games are key to us either battling for a European spot or mid-table mediocrity again.
Tony Doran
21
Posted 09/02/2016 at 19:59:05
No way would he dare drop anyone for Stones or Howard.
Saying that... someone may get a very convenient 'minor knock' and need a rest...
Frank Wade
22
Posted 09/02/2016 at 20:02:40
"What we want is for Tim to be fit and Tim to be feeling himself and fighting for his position and at that moment I am sure it will be very easy to make the right call."
That says it all. The Live Forum will be lively on Saturday. For me at this moment it's very easy to make the right call. Robles In.
Paul Kossoff
23
Posted 09/02/2016 at 20:09:00
Please God, RM go on form of players and results, you can't put players in just on favouritism, there again, if the supposed new owners go on form, Roberto,s time will be up.
Frank Wade
24
Posted 09/02/2016 at 20:14:27
Apologies for the look of the pasted quotation marks just above and have pasted a quote from our Dear Leader in today's Echo when talking about Bryan Oviedo.
"You want players who work hard to get an opportunity, they wait patiently for an opportunity and when they get that opportunity, they need to be given the chance to keep that place."
Why does he talk such nonsense? I often wonder just how stupid he thinks the fans are. Does he think we believe what he says?
Jim Jennings
25
Posted 09/02/2016 at 20:15:52
Yes Andy #13
Some people like Jim have blind spots when it comes to their compatriots. How's Shane Duffy getting on these days? Shouldn't it have been the end of Moyes too for daring to leave him out?
Bill Gall
26
Posted 09/02/2016 at 20:22:10
I suppose as our managers says it will depend if they have a "moment" in training that will decide whether he will play them, and if he does, it will not only show how stubborn he is, but that he does not learn anything about the team.
Jamie Sweet
27
Posted 09/02/2016 at 20:24:56
"We are a very young team that sometimes needs a cool head".
From what I have seen, Joel seems to have a much much cooler head than old flappy Howard.
Plus West Brom already know how to score past Howard. Didn't Dawson score a free header from 2 yards out at The Hawthorns while our Tim was busy doing star jumps?
Armando Canaj
29
Posted 09/02/2016 at 20:28:47
Oh my lord, don't shoot yourself in the foot and let them both play! We need to continue with our composed play.
Mark Tanton
30
Posted 09/02/2016 at 20:34:28
Surely Martinez isn't so thick skilled to pick Howard? Out of self preservation, to keep his job, he must realise he has to leave him out. There will be poisonous atmosphere if he picks Howard. He'll lose the fans for good.
Andy Crooks
31
Posted 09/02/2016 at 20:35:40
Ouch! Jim. Talk about putting the boot in. Anyway, Shane has had an injury but has been excellent for Blackburn this according to a friend.I would still like him to be at Everton and believe he should not have been sold.
However, I get your point and believe me I know exactly where Jim is coming from. I love to see Irish lads do well at our club and, however how silly that is, I make no apology for it.
Paul Kossoff
32
Posted 09/02/2016 at 20:35:56
Mark 1, the new lads paper work is done, RM said that on Saturday, but he,s not played for a while so possible bench maybe.
Tony Cheek
33
Posted 09/02/2016 at 20:40:51
Ian /Colin #2#3...You don't change a winning team would be my philosophy too.but it has never been Martinez or Moyes! Drives me mad! Must be the simplest rule in football, but we never heed it!
Phil Walling
34
Posted 09/02/2016 at 20:48:56
I note Dominic King was floating the story that talks were in process to provide TIm with a free passage to MSL come May. That may well enable RM to keep Robles in the team for the rest of the season.
I think he will ease Stones back in via the sub's bench. Or alternate between Jags and FM as did Moyes with Jobo and Weir at one stage.
Brin Williams
35
Posted 09/02/2016 at 20:54:08
I'm getting totally confused here, in fact it's starting to do my head in - Paul (26) says Jim is Mrs Harding's son.
OK. But who the fuck is Mrs Harding when she's at home??
You have to larff don't you!!
Peter McCann
36
Posted 09/02/2016 at 20:54:20
It would be total madness to change a winning team. Martinez has been strong enough to leave Baines on the bench and the same should now be done with these two. Sends out the right message to the whole team and the fans.
Max Murphy
37
Posted 09/02/2016 at 21:01:11
Of course Martinez will select Howard if the Yank is fit. He's done it before, and he'll do it again. This is why he cannot be the Everton manager any longer. He is brain-dead
Peter McHugh
38
Posted 09/02/2016 at 21:04:28
Martinez has taken a lot of stick this season, a lot of it understand ale rightly that questions are asked.
However, when it comes to Howard I think some people saw it a bit black and white and Roberto was give undue criticism.
I understand why people wanted Robles last season but to be fair Howard came back in and performed well after his injury. Last season a judgment call and I think as in Europe he backed Howard - fair enough.
This season a different kettle of fish. Howard's been poor. However, we had Galloway at left back, Mori playing, Browing at right back at times and young John Stones being asked to be the leader. I can understand why Martinez kept Howard and gave him a vote of confidence. I actually agreed with if and would have been very risky, perhaps unfair, on the team and Robles to then drop Howard and put Robles under that pressure.
I have no doubts Robles will keep his place now in the league unless he has poor performance(s). What will be interesting is when Tim is fully fit, who will play in the cup games?
Personally, I just hope Robles plays in all games whilst he is performing and long may it continue. Clean sheets bring massive confidence to the entire team.
Ciaran Duff
39
Posted 09/02/2016 at 21:25:33
Calm down lads and let's wait for the team sheet.
Jay Harris
40
Posted 09/02/2016 at 21:27:20
Brin
As already pointed out Jim Hardin is Mrs Hardin's son but he is also an American toffee and a staunch defender of Tim Howard.
I am sure he will introduce himself to you at some point.
Jay Harris
41
Posted 09/02/2016 at 21:29:58
Frank #22,
Spot on.
The man talks in riddles.
He explains leaving Bainesy out by saying how well Oviedo played when covering for Bainesy injury and no doubt he will put his other hat on when he wants to bring Howard and JS back in.
Brian Porter
42
Posted 09/02/2016 at 21:38:03
If Martinez brings Stones and Howard back and disrupts the team that has won three games in a row by 3-0 each time I will seriously not watch another game while this clown remains our manager. Robles has brought some much needed stability to the goalkeeping position and Jags and Funes Mori have been excellent together in central defence. Changing a winning team never has been and never will be a sensible move especially for a manager whose future is in serious doubt. If Martinez has a death wish then changing the current line up is a sure fire way to push the self destruct button. Can he really be that stupid?
Brian Mahoney
43
Posted 09/02/2016 at 22:01:27
Mark (28), you're right. If he picks Howard on Saturday it will put the majority of the crowd on a downer from the off. Then when not if he makes a cock-up that leads to a goal the atmosphere will turn poisonous.
Helen Mallon
44
Posted 09/02/2016 at 22:03:01
Just off topic a little bit (but it has some relevance also). The RedShite walk out has caused lots of people to take note of how expensive the Premier League is and how we fans are ripped off. It's even being talked about in Parliament.
Well, that's what should happen if Howard and Stones walk back into the team... walk out! I'm going on Saturday and I will walk if he does it.
Kevin Jones
45
Posted 09/02/2016 at 22:41:38
No brainer for me, Joel must stay in. Just look at the two keepers, Joels about 6ft 5 or 6, and with the florescent flourescent fourcresents, fuck it, bright green kit on, it looks like he fills the goal. Your a striker in on goal who would you rather face ? A man mountain or Tim doing star jumps like a frog on a hotplate.
John Hughes
46
Posted 09/02/2016 at 23:10:59
Maybe if he brings Howard straight back for the WBA game we all leave the ground on 24 minutes? What do you think? I'll get my coat.
Iain Johnston
47
Posted 09/02/2016 at 23:23:03
"We have a very, very young team"
Really? Have you checked the birth certificates of Jags, Baines, Coleman, Barry, Mirallas, Lennon & Kone?
Last time I looked they're all over 25 and most if not all have kids...
You do talk shite Martinez.
Charlie Burnett
48
Posted 10/02/2016 at 00:10:18
Robles in goal for the rest of the season, let Howard do the cup run. Mind you, the FA Cup is quite important now the red shite are out.

Would like to see same 11, hopefully we're winning and around 60 minutes we bring on Geri for Lennon and Niasse for Cleverley or give Barry a rest. Who knows, try a Baines or even Stones in that role. Anyone know when Besic is back?
Derek Thomas
49
Posted 10/02/2016 at 00:18:07
There seem to be probable 3 options;
1) Keep with the same starting 11 - include them on the bench, along with Baines if he's good to go.
2) Play 1 or both from Howard and Stones...and pray to all the gods past present and future it doesn't bite you in the bum.
3) Give them a run out Vs Bournemouth
3a) Does that then make Howard the 'Cup Keeper' and Robles starts in the next League game?
All eyes will be on option 2 if it is chosen.
Teddy Bertin
50
Posted 10/02/2016 at 00:50:27
#1 Mark, so what if he brings them back in and we keep a clean sheet and win? Should he still leave?
I really couldn't care less as long as we win. Jags and Howard have been playing together for years, and are well capable of shutting teams out on their day. Howard is petrified in front of the home fans, he won't get over that being on the bench will he?
I'd go with Robles next match but I hope Howard comes back and puts in a few of his virtuoso performances before the end of the season, so that he can leave Everton ( a club he loves) on a high and with some pride.
Who cares as long as we win and keep momentum. We want the confidence of every player back up to what it was during Martinez's first season (especially at home) then we'll get a run together and get ourselves back up the table
Peter Barry
54
Posted 10/02/2016 at 03:09:08
Everton have just recorded three 3 - 0 wins on the trot so what sort of idiot changes a winning team that is bringing those type of results???
If he does bring Howard and Stones back in, then he'd better be damn certain we are going to win the next few games because, if we don't, all hell will deservedly break loose.
Rob Hooton
59
Posted 10/02/2016 at 08:15:12
I love your comments Jim and am glad we have many friends and fellow supporters over the water, I still think Howsrd should keep the bench warm so that Robles can show us if he's got it over a long run of games.
A chance to make it four 3-0 wins in a row against the woeful baggies? Stick with a winning formula, we have such a strong attacking bench to change things if required.
Gotta love the RS falling apart at the seams too!
John Crawley
60
Posted 10/02/2016 at 09:21:17
I'm a big fan of Stones and he'd be in my first choice starting 11. But you've got to pick players on current form, if players are playing well and the teams winning you shouldn't change it.
As for Howard it was a disgrace when he was brought back in last season (he wasn't even fit when brought back) and if he's brought back now then, well words fail me!
Dave Roberts
63
Posted 10/02/2016 at 10:49:17
There is a need to look at this from Robles' point of view as well. As a member of the goalie's union he will be well aware of how shite Howard has been for most of last season and this. Given how well Robles has done since coming into the team for premiership games I would imagine he would be pretty pissed off if Howard walked back in as soon as he was deemed fit.
I'm not suggesting that Robles is a great goalkeeper, we just don't really know because we haven't seen enough of him but there is no doubting he has done very well over the last few games and deserves to be replaced only when Howard can be reasonably assessed to be playing better than him at any given time.
Two things are beginning to annoy me about Martinez.
Firstly, his tendency to tell supporters in so many words that he sees players in training whereas supporters do not and that accordingly he knows better when to pick or drop a player. Maybe that's fine in theory but training is not the same as playing a game, under pressure, in front of 39000. 'Under pressure' are the operative words here, because that's when Howard lets you down.
Secondly, he (Martinez) seems to suggest that Howard has a 'cool' head and is a boon in the dressing room as well as on the pitch. Well, from what I see game in and game out is that cool-headedness is the last thing you could accuse Howard of.
To be fair, I have never liked Howard. To me he flatters to deceive because he has far too many weaknesses as a goalkeeper to be reliable.
I'm not too bothered about Stones. The lad is class and he will come good again. He just needs to clear his head of the hype around him and remember that it doesn't matter how good some journo thinks you are, it's what you do on the pitch that counts and that it is not his job to show everybody how technically good he is but to stop the ball hitting the back of our net as regularly as it has been doing until recently. He needs to think about how 3 goals at the moment mean we win easily. Three goals a few weeks ago could still mean we drop points! And some of that was down to him.
Charles Brewer
64
Posted 10/02/2016 at 11:01:23
It would be very odd to change what has been easily the most successful formation this season. I'd be very happy to see Stones back on the bench, probably coming back on for 15 mins at the end when we are 4 up.
Stones' problem is that his confidence is shot and, being a very skillful and arrogant player, it's hit him harder than it would say a Coleman, who appears to take the more phlegmatic view that sometimes you aren't as good as at others, but hard work will go a considerable way to make up for a bit of poor form.
Alan Peake
65
Posted 10/02/2016 at 11:32:59
Teddy Bertin, you state "Jags and Howard have been playing together for years, and are well capable of shutting teams out on their day. Howard is petrified in front of the home fans, he won't get over that being on the bench will he?"
Well, we saw for Chelsea's first goal recently how they are capable of shutting teams out, when that idiot came charging out of his goal in a panic after Jags let the ball go over him. As for Howard being petrified in front of the home fans, he's not half as petrified as the fans when they see him in goal.
You seem to think that the fans have made Howard some sort of scapegoat for the poor results, but the fact is the man is not good enough to keep goal. He has no positional sense, no anticipation and most of all he is terrified of getting into a situation where he might get hurt. I find it disgusting that you name Jags, who has been a tremendous servant to Everton in the same sentence as that useless bigheaded clown.
Ian Burns
66
Posted 10/02/2016 at 11:39:18
Don't panic all - it will be an unchanged team with Howard; Stones; Baines; Niasse; Mirralas; Geri and Galloway/Kone on the bench. Come to think of it - that is not a bad bench!

Geoff Evans
67
Posted 10/02/2016 at 11:57:50
Good to hear their fully fit, they'll need to be to fight to get their places back. Unfortunately for them the team has improved massively since they've been out.
Things move on, at the moment neither are good enough to start.
Dave Burke
68
Posted 10/02/2016 at 12:05:32
The team picks itself this weekend. Start with the same 11 that has done the job in previous weeks and have a strong bench. Players earn a starting berth on performances and the last two games have been good. I can't see any reason why you would change a winning 11.
Matthew Salem
69
Posted 10/02/2016 at 13:39:58
Fuck off, Martinez. I don't know what more Robles can do than keep 3 clean sheets. Maybe he needs to score a hat-trick as well? Howard has been dog-shite straight from a dog's arse and does not deserve to be the preferred choice .
Andy King
71
Posted 10/02/2016 at 13:53:46
Normally when fans are shouting to keep the same team week in, week out I disagree. Under the two most recent managers we have had Plan A, and well, Plan A again. It didn't matter if we were playing Man Utd at Old Trafford or Dagenham and Redbridge at home; the same team, with the same formation and the same tactics would be trotted out. Sometimes it worked, but more often than not a manager with any commonsense would prepare his team to manage how he knew we would play and we'd come up short.
This is very different though. Howard has been a disaster waiting to happen for a good while now. I realise the opposition Robles has faced have been pretty limited but so were Swansea and Nowrich and Bournemouth... A clean sheet is a clean sheet and Robles is delivering them while Howard is not. I don't know if I'm projecting my own feeling on the situation but the defence seems so much more calm with Robles.
Stones should also be made to work for his place, if we allow him to stroll back into the team while he's been performing as he has then we'll be paying for this for a while. It's likely he would take Funes Mori's position (unfairly in my opinion) to go alongside Jags. All well and good for the short term but what if Stones disappears in the summer?
Funes Mori is likely to think he's second choice and would have missed out on half a season's experience. He's a fantastic player in the making Stones but anyone who understands picking a team means you don't necessarily pick your best eleven players. Sometimes you overlook a better player if you know a partnership between two is greater than the sum of the parts. At the minute the two young lads need Jags alongside them to guide them through the game

David Connor
72
Posted 10/02/2016 at 14:56:53
For the sake of the club and the fans I hope Martinez picks neither Stones or Howard to start on Saturday. Put them on the bench if they are both passed fit by all means. If Howard and Stones both start it sends out the wrong signals to the players who have taken there places. And dare I say it we lose this game the knives will really be out for Roberto,and I for one will be one of them.

No player should be guaranteed an automatic place at any club. They have both bin absolute shite of late especially Tim Howard. Never change a winning team they say. Pick them both and he will feel the wrath of the crowd. And rightly so.
James Hughes
74
Posted 10/02/2016 at 16:06:59
Jim nice words Sir, I also wouldn't worry too much about the English comments as A hell of a lot of us natives herald from a Celtic bloodline and are deemed English by default only.
I too express the wish that Timothy joins the mighty Columbus Crew and I will start a crowd -funding website to pay for his airfare so he can get there sooner rather than later.
Keep it up Pal as I always enjoy meeting a Yank whom has developed a sense of humour as it as rare as rocking horse shit :)
Jim Hardin
75
Posted 10/02/2016 at 16:43:01
James, thanks for the kind words. I cannot elevate the Crew to mighty yet, until we dominate the MLS year in and out. We have a couple of players in the current USMNT camp so we are getting there. That is why Baines needs to come too, as his crossing ability will leave our league's defenders and GKs looking rather helpless. Besides, he is small enough to pass as Tim's son, so can't you guys work a discount for his ticket too?
Brendan Fox
76
Posted 10/02/2016 at 18:10:05
As many other posters have said no changes to a winning 11 as it would just send the wrong message to the whole squad and the youth teams that favourites will get picked ahead of form players regardless.
If Roberto has no favourites WTF is traffic Kone doing anywhere near the squad let alone first team as he for all his effort and hold up play he's scored only 5 goals all season and that includes his hat-trick against Sunderland.
Peter Jansson
77
Posted 10/02/2016 at 18:18:21
You know you have a bad manager when you get saved by injuries. I thought when Moyes left we would not see that again...so wrong you can be.
If Martinez put out Stones and Howard now he is a complete moron and a totally useless manager.
Darren Hind
78
Posted 10/02/2016 at 18:48:22
Jim
I'm fully aware that you guys over there leap like a dog to catch any scraps coming from the EPL table, but you need to keep your expectations real.
Baines would not touch your "crew" with a shitty stick, You might wanna take a look at Joey Barton or maybe even Phil Neville, he should be available soon . .Him and spoonfeet get on like a house on fire
Geoff Evans
79
Posted 10/02/2016 at 18:51:02
I think that RM has stumbled on his best 11 by accident, if he's got any sense he'd leave well alone and pretend he did it on purpose.
Matt Muzi
80
Posted 10/02/2016 at 19:02:41
Please, please, please Roberto don't change a winning team!!!!
Ian Riley
81
Posted 10/02/2016 at 20:28:51
Two wins, six goals, and,two clean sheets. Easy one for you Reberto, leave well alone. Bring them back and what message does that send to all the players and fans!
Jim Hardin
83
Posted 11/02/2016 at 00:11:59
Darren,
A little caustic perhaps? Besides, we don't need Barton and his phony French accent over here. We already have the original Pepe Le Pew.
What happens when the Americans buy Everton and also start the MLS franchise in San Diego? What if young Everton players are then sent over here to learn how to play the game of soccer properly before being returned to the mother ship? Think how much better Stones would be if this system already was in place.
BTW, I was only joking about Baines coming over, unless you know people who know people who might be able to get it done on your end?
James Stewart
84
Posted 11/02/2016 at 00:32:36
Don't change a winning team simple as that. Certainly not when we have only just put back to back wins together for the first time all season.
Peter Barry
86
Posted 11/02/2016 at 02:31:06
Jim Hardin says 'What if the players were sent over to America to learn how to play the game properly'.

What planet do you live on Jim 'cos it's not this one. The USA a world football power house it is not.

Darren Hind
87
Posted 11/02/2016 at 02:40:01
Look Jim
We need these Americans, if ever a club needed sweeping with a new broom, its ours.
If - and it still is an "If" - they are successful in this bid, then I'm already on side, because they will have gone where many have feared to tread.
It gonna takes balls and a clear vision to put us back where we belong and by stumping up 200m I think they will have passed the first test.
I just think you have an over inflated opinion of the standard over there. Americans have hardly taken football (the real football) to their hearts, sure you have many who are passionate about the beautiful game, but you are very much in the minority. This is reflected in the standard of play and players.
I really don't see how anybody could "learn how to play the game properly" in a league which would really struggle to reach Division one standards over here.
Look forward to our new owners making a load of dosh, because that would almost certainly mean they have made a good fist of it here. However, my support and trust will be tested to the limit f they start sending any of our young lads over there to learn how to play the game.
James Flynn
90
Posted 11/02/2016 at 03:54:08
Darren (83) - "I really don't see how anybody could "learn how to play the game properly" in a league which would really struggle to reach Division one standards over here." Hahaha. Is that so?
Send the 3 clubs going up the end of this season or the 3 going down and send them to MLS next season, instead of the Prem or the Championship. MLS is, indisputably, a minor league, no doubt of it. The 3 going up or down will fit right in over here. Minor league.
Good fellow, Darren. I love a blowhard proving it. Unless I'm wrong because you were born in England. No, no credit in that accident of birth. You're just a blowhard.
The minor leagues are the minor leagues for a reason, the players aren't good enough for the Bigs. All around the world. For instance, a random choice, the horseshit Championship in England's professional game.
Darren Hind
91
Posted 11/02/2016 at 04:01:50
Jimmy
Who said I was born in England ?
Paul Ferry
92
Posted 11/02/2016 at 05:11:34
Wow, James Flynn (86) you have an admirable optimistic impression of MLS that I for ten years or so drift into and out of - depending on who is on on the box and which mid-30s past sell date former European league player is playing - to watch teams that would struggle in England's championship.
When - if ever - an MLS team buys - like China - a top Euro player in their 20s (they do the 30's too) I might take notice.

But when, Jaysus, the current shipwreck that is 36 year old Howard is - am I wrong, I'm not sure how this works - the first pick going to Colorado then sorry, get real.
Paul Ferry
93
Posted 11/02/2016 at 05:18:53
Darren (87) you're getting more devious in those (Martinez) brown brogues and cream trousers that are now your dress of choice mate. Jimmy (86) don't listen to him, Darren lives on Boundary Road in Kirkdale, the same road where Dave Watson was born and where, in a memorable piece of Hind prose that I will never forget, Darren spoke about our '95 skipper walking up and down Boundary Road with the cup showing it off to the Boundary Road people. Love that.
David Chait
94
Posted 11/02/2016 at 10:03:12
Stones plays when fit.
Brian Williams
95
Posted 11/02/2016 at 10:16:51
We'll see ;-)
Dave Abrahams
99
Posted 11/02/2016 at 11:24:26
Jim (49) very good post, didn't know that side of you, keep it up, very funny, to me anyway.
Dave Abrahams
105
Posted 11/02/2016 at 21:46:20
John (98) agree with you there, nobody could make a bad film out of an Elmore Leonard book, what a great writer,with brilliant dialogue from every character in each book. The only disappointing thing about an Elmore Leonard book was the last page and you knew you had finished the story.
Tony Abrahams
106
Posted 11/02/2016 at 22:12:43
Dave if you would have took those books back to the library, maybe people could decide if he was really that good!
Simon Jones
109
Posted 12/02/2016 at 09:29:27
I see that 88% would prefer to see Stones on the bench if he is fit. Personally I voted to see him play, but imagine how much more assured he would look with Robles behind him. Robles moves the ball quicker and distributes faster. With a better ball player like Stones, he might suddenly look world class again.
Simon Jones
110
Posted 12/02/2016 at 09:35:09
I see that 88% would prefer to see Stones on the bench if he is fit. Personally I voted to see him play, but imagine how much more assured he would look with Robles behind him. Robles moves the ball quicker and distributes faster. With a better ball player like Stones, he might suddenly look world class again.
Phil Walling
111
Posted 12/02/2016 at 09:44:48
Simon, I once did some work for a non league club where 'the committee' picked the team, player by player, on a show of hands. They lost the first 14 games of the season before appointing the window cleaner as manager . He totally changed their fortunes and kept the job for 40 years !
Leave it to the experts, I say !
Dave Abrahams
116
Posted 12/02/2016 at 12:44:53
Phil(106 yeh, he turned out to be a very good manager as well, didn't do the corners when he cleaned the windows though.!!!!
Add Your Comments
In order to post a comment, you need to be logged in as a registered user of the site.
Or Sign up as a ToffeeWeb Member — it's free, takes just a few minutes and will allow you to post your comments on articles and Talking Points submissions across the site.
© ToffeeWeb