Martinez not thinking about Howard's future
by

39 Comments [Jump to last]
| 18/02/2016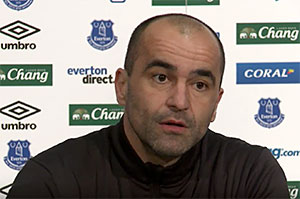 Roberto Martinez has confirmed that Joel Robles will start in Saturday's FA Cup tie at Bournemouth but would not be drawn into any substantive discussion over Tim Howard's future.
The manager was asked once more to comment on talk linking Everton to Asmir Begovic and Howard with a move back to the United States at the end of the season but he offered his usual response to such speculation.
"At the moment there is nothing to comment [on]," Martinez said with respect to both the American and the Chelsea 'keeper. "Of course I think Tim is one of those foreign footballers that has brought so much to the Premier League. It is not normal for a foreign player to get so attached to a club, especially in the modern game. To have 10 seasons like Tim has had now is an incredible contribution.
"All I'm focusing on now is that Tim gets back to his best level and being able to finish the season strong. Whatever happens in the future, I don't think now this is the right moment to speak about it."
Robles will be retain the starting role at Dean Court, however, as the Blues look to take another step towards Wembley by beating Bournemouth in this weekend's Fifth Round tie.
Martinez insists that he does not need Everton to lift the trophy in order to save the season but there are many supporters who feel as though it is the last chance to achieve any measurable success from another disappointing campaign.
"[Joel will continue in goal] because it's been a really consistent period for him and the back four," the manager continued, hinting perhaps that the rest of the defence could remain unchanged as well. "I think defensively, when you're looking at the performance against West Brom it was exactly what expected [in terms of] what we were going to face – a team that was going to defend with a lot numbers.
"But the amount of time we created threat and we only conceded one corner, one shot on target and, unfortunately, that went in. I think it was more of a freak result, a result that never reflected what happened on the pitch.
"We should look at the way we defended and to have three clean sheets before that is something we can build on."
---
Reader Comments (39)
Note: the following content is not moderated or vetted by the site owners at the time of submission. Comments are the responsibility of the poster. Disclaimer
Garry Corgan
2
Posted 18/02/2016 at 20:35:23
Translation: Looks like he'll be going at the end of the season because he's gone shit.
Jordan Maloney
3
Posted 18/02/2016 at 21:45:53
So according to Bobby, Tim Howard has brought so much to this league?? Ok, here is a few things I can think that he has brought......
Someone who always gets beat at his near post.
Someone who never commands his area, stands still on his line and watches the ball fly over him.
Someone who never saves pens.
Someone who gets credit for stopping shots that are right at him. (That a simple thing to do)
Someone who does these daft star jumps.
Someone who never, ever speaks to his defence. (I sit few rows up in Park End so can hear, sorry can't hear anything from him)
Someone who has the worst decision making ever.
James Stewart
5
Posted 19/02/2016 at 01:38:51
To be fair he has had some inspired games for us the problem is they happened once or twice a season and the rest of the time he just doesn't command his area.
Surprising Moyes stuck with him for so long. He will be moving on come the summer.
Andrew Presly
6
Posted 19/02/2016 at 02:33:52
It's gone way beyond analysis regarding Howard. He's done.
It's Martinez's future on the line now after the 18 month lapse of judgement in playing him.
Begovic would be a great signing to compete with Joel.
Eric Myles
7
Posted 19/02/2016 at 04:18:11
I don't see Begovic being happy to sit on the bench behind Robles and equally don't see Robles being too happy to remain second choice if Howard goes.
If we get Begovic then for his own sake Robles needs to go somewhere he will get a game.
Liam Reilly
8
Posted 19/02/2016 at 11:05:07
This is Robles chance to shine which if he wants to be considered more than a back up for next season then he needs to take it with both hands.
The defense has been more solid but I also don't recall any brilliant saves either since he's been in. But that could be down to marshaling the defense better - only time will tell.
With TH certain to go in he summer, we'll need a top quality keeper either to challenge Robles or to start. The remainder of the season might be interesting in this position, because if we continue to leak goals, the chance of keeping Rom, Ross, Del boy and Stones will diminish with each underwhelming result.
Pete Edwards
9
Posted 19/02/2016 at 13:08:36
Jordan, I know we all have opinions but don't make things up please to suit an agenda.
I agree with some of what you say but to say he doesn't save penalties is a bit off the mark. A quick search would suggest in his Everton career he has saved 11 out of 30 pens faced, not a bad record at all. Correct me if I'm wrong (I'll hold my hands up and scamper in to the corner happily).
Jim Hardin
11
Posted 19/02/2016 at 15:03:06
If only, Everton could get Begovic, it would be great. Only problem is, even Begovic can't cover for defensively poor teams, as we have seen at Chelsea. However, since Stones looks likely to be gone, the team defense should be better at defending in the box, so maybe that problem takes care of itself.
As for Robles, he has been second or third best always. Heck, he isn't even first at being a goalkeeper named Robles.
Nick Page
12
Posted 19/02/2016 at 19:10:25
Robles gets chance. Takes it. Martinez realises (finally) and says he's now Number 1. Isn't this what we've been asking for?
Certainly dispels some of the cronyism debate. Well done, Roberto, I say.
Bobby Thomas
13
Posted 20/02/2016 at 11:18:16
We need better than Begovic.
Danny Broderick
14
Posted 20/02/2016 at 11:46:37
I hope he gives Robles a chance to establish himself as number 1 between now and the end of the season. If he does well, the shirt can be his. If not, I would happily have either of Arsenal's reserve keepers – Ospina, who has kept a high number of clean sheets in the Prem, or Szczesny, who is a decent keeper with his best years in front of him.
Howard should play the last home game of the season, and we should give him a good send off for his 10 years loyal service.
Fran Mitchell
15
Posted 20/02/2016 at 11:48:07
Jordan Maloney: totally absurd comment.
In the last 18 months, Howard has certainly lost his way, and had been slowly declining in Moyes's last couple of seasons, while remaining a solid keeper.
For a long time he was one of the top 6 keepers in the league; while never world class, he has been good and one of the reasons for our defensive solidity under Moyes.
After Southall left, we had an awful time: Gerrard, Simonsen, Myhre, Wright... None of them fit to tie Howard's laces.
For one wonderful season, we were graced with Martyn. Apart from that, Tim has been our best keeper since Southall.
Has he left a legacy? No. Of course Martinez is over-doing it, no trophies nor any real tangible success. Yet, he was keeper during our best period in the Premier League.
For a long time, he was one of the areas that didn't need replacing. We had Howard so for keeper we were OK; midfielders and strikers always remaining priorities.
Now that has changed, we need a new keeper. This is unanimous, but to go over the top and call a decent servant to the club 'useless' is unfair.
All keepers make mistakes, even Neuer. Southall made his share of clangers but it is the consistent solidity that a keeper is judged by. Howard has been a decent keeper for us, but his time is up.
Jim Hardin
16
Posted 20/02/2016 at 14:29:43
Danny,
Ospina? Really? Yet another back-up keeper.
Szczesny? It is not hard to find a long list of his mistakes and points cost. Where is he playing now? Several here claim Howard was crap that is why Man Utd got rid of him (Not the version from SAF when asked last year while over here). Howard was a young keeper about Robles age and certainly about Szczesny's age when that happened.
Szczesny was benched and then loaned out because of his errors and form, so why would you want him for Everton when that is exactly what some hold against Howard?
Dave Abrahams
17
Posted 20/02/2016 at 14:52:42
Jim (13),
Out of interest, when Howard eventually leaves Everton, will you give up your interest in the club?
Eugene Ruane
18
Posted 20/02/2016 at 14:53:40
Just seen Hull's
second-choice
keeper, Jakapovic keep a clean sheet at Arsenal - stopped everything and look very cool about it.
That said, he also had a defence that put body and soul into keeping Arsenal out.
Jim Hardin
19
Posted 20/02/2016 at 16:59:02
Dave, If you had read my previous posts, Howard is neither my favorite American nor EPL keeper (Rimando and Begovic). Further, I started following Everton because of another American player several seasons before Howard.
I didn't take a break between the two and don't intend on doing so now. I wonder, if the Americans buy the club if, with the respect I feel you are due given your comment, whether you will though?
Dennis Stevens
20
Posted 20/02/2016 at 19:52:26
Fran (#12) – It's all opinions really, I agree with most of your list but thought Myhre was better than Howard & felt we got rid of him too soon – the opposite of what's happened with Howard.
Fran Mitchell
21
Posted 21/02/2016 at 13:23:22
Myhre was decent, Until he slipped in the bath, got injured and never was the same. Heck, somehow even Paul Gerrard was keeping him out the team.
Peter Gorman
23
Posted 21/02/2016 at 14:23:06
Tim Howard used to be a pretty decent keeper and I for one have been grateful for his presence during the majority of the Moyes years.
He is not very good now but to dismiss his entire career is just embarrassing to the fans in all honesty.
Ray Robinson
24
Posted 21/02/2016 at 14:36:35
Howard has been the fourth best keeper that I've seen at Everton behind Southall, West, Martyn in that order. We have had some truly dodgy keepers in that period David Lawson, Dai Davies, Jim McDonagh, Jim Arnold, Richard Wright, Paul Gerrard, Steve Simonsen, Stefan Wessels, and Jason Kearton to name a few.
Andy Rankin, George Wood, Bobby Mimms, Thomas Myhre were all good but no world-beaters.
So for me, Tim Howard has been a loyal servant, a very good (but flawed) keeper but who has declined noticeably over the last two years. I will remember him fondly. It's not his fault that the manager has continued to pick him when his current limitations are there for all to see.
Even the greatest of them all, Big Nev, played on a season or two too long but nobody dwells too much on those dodgy seasons. It should be the same with Howard. Remember him for when he was at his best. Let's move on with Robles or whoever without disparaging Howard.
Phil Walling
25
Posted 21/02/2016 at 14:57:45
Great post, Ray, I would endorse both your lists although going back into antiquity, I would include the name of Albert Dunlop in the 'dodgy' category.
Tim certainly deserves more respect than he has been afforded by some fans on ToffeeWeb although I do think Roberto has not helped by prolonging his tolerance of clear inadequacy.

Paul Ellam
26
Posted 21/02/2016 at 15:21:07
I have supported Everton since the early '80s and for me Howard has been the 3rd best keeper I've seen play for Everton behind Southall and (briefly) Martyn. Not bad really in nearly 35 years I reckon.
He's obviously lost his way the last year or so and in the summer he should be moved on. However, I will not hold any bitterness towards him; he gave us plenty of years of stability and for that I am thankful. I wish him well, wherever he goes.
ps: Let's keep Robles and go for one of the many decent and young German keepers that are around at the moment instead of Begovic. Then let them scrap it out for the Number 1 spot!

Dave Abrahams
27
Posted 21/02/2016 at 15:27:39
Jim (#16) there has only ever been one club for me and could only ever be one. Although, to be honest, just before I snuff it (die to you, Jim), I will become a Liverpool fan, because I'd rather a Liverpudlian died than an Evertonian.
Ray Robinson
28
Posted 21/02/2016 at 15:28:03
Phil, I only saw Dunlop about 3 or 4 times so I couldn't really form an opinion on him. I do remember him as being a relative midget though (with cap?) but I once saw him save a penalty by sitting on the ball as it was about to pass through his legs!
Brent Stephens
29
Posted 21/02/2016 at 15:34:43
Dave (#24), that's a cracking line. First time I came across it was in relation to a proddy dog intending to convert to become a left footer just before meeting his maker.
Was that a line in Boys from the Blackstuff?
Jim Hardin
30
Posted 22/02/2016 at 21:03:46
Dave, I will hope for that ending for you many years from now. BTW, I will still be rooting for Everton. My apologies in advance for the discomfort it might cause you knowing that.
Gavin Johnson
31
Posted 22/02/2016 at 21:24:54
Jim,
Out of interest who was the American player who turned you onto supporting Everton, Jim? Was it Brian McBride, Joe Max-Moore or Landon Donovan.
I see you're a Begovic fan. Interesting choice. I think he's a great goalkeeper on his day and strangely kind of like Tim Howard in a lot of ways in that his errors are his undoing. If the rumours are true and we went in for him this summer, I still think he'd be an upgrade on Howard, even though there's a few keepers I'd want ahead of him.
Jim Hardin
32
Posted 23/02/2016 at 04:29:04
Gavin,
I had heard of Everton before and seen a couple of games. My oldest son's parent/coach was an Irish Evertonian supporter and he educated me as to Everton When Moore left MLS to go there, I started tuning in, so my real interest started in 2000. Evertonians could have seen him with two good knees, I think he would have been a favorite at Goodison Park.
As to Begovic, yes, I like him as a goalkeeper. If I had my choice, I would put Rimando in his prime into any goal for any team I was managing. Great with his hands and his feet and came for everything. A better field player than his defenders and mids on most of his teams. He was too small to get a good look internationally or even on the USMNT with Keller and Brad and Howard.
I always wondered if his hispanic background counted against him with some of our coaches. Incredibly, he was never an MLS keeper of the year but not because of his stats. Heard Ray Hudson waxing eloquently about him several times as he coached him in Florida.
Also, I do like Robles, but the one who plays for New York.
Mike Price
33
Posted 23/02/2016 at 04:52:10
Sorry, I'm bored with this trans Atlantic banter!
Anyone who puts Howard in any positive top 5 list is clueless. He was in the right place at the right time to make a very nice career for himself. Can't blame anyone for doing that, but he is just a shockingly poor keeper, and at his very best was below average.
Even comparing him to some of our previous shockers like Wright and Gerrard is uncomfortable. They had short stints, but at their best I'd pick them every time over the starfish.
Darren Hind
34
Posted 23/02/2016 at 06:34:39
"I would put Rimando in his prime into any goal for any team I was managing"
"He was too small to get a look internationally or even on the USMNT"
Recognising the contradiction here Jim ?
"Better field player than his defenders and Mids on most of his teams"
Look Jim, despite the nonsense you regularly spout on here, I know you are a keen coach, so I refuse to accept that you will never get this footy lark.
He's a suggestion, if the guy is too short to play in goal, but is better in defence and midfield than everyone else... Stop putting the little fucker in goal!
Danny Broderick
35
Posted 23/02/2016 at 07:02:19
Jim,
I think the 2 Arsenal reserve keepers are good keepers. There's no shame in being kept out by Peter Cech.
To be honest, Howard has been a good keeper for us, and he was in a similar position at Man Utd when we bought him. He was a good keeper for around 8 of the 10 years we have had him, but unfortunately the stats from the last 2 years tell you his time is up.
I think Ospina or Szczesny would be a big improvement on Howard at present, but then again so would Begovic. I think the Arsenal keepers just edge Begovic, but then that's just my opinion.
Sam Hoare
36
Posted 23/02/2016 at 08:00:04
Jim@13, Schezeny is now playing at Roma, unlike Begovic who is back up at Chelsea, the same stick you use to beat Ospina with!
Both Begovic and Schezeny are guilty of high profile errors. As are most goalkeepers to be honest. I think Ospina may be the best of the three and had comfortably the best stats in the Premier League when he had a good run in Arsenal's team last season, he is keen to leave and at £5m or so is great value.
I hope Robles continues to improve with time and growing confidence. He is big and young, with excellent distribution normally. The rest of the season will be a great trial for him to see if he's really up to being our Number 1.
Colin Glassar
37
Posted 23/02/2016 at 08:37:45
I see humble Tim wants a 4-year, multi-million dollar contract before he signs for Colorado. What an ego!!
Tony Abrahams
38
Posted 23/02/2016 at 09:09:38
Why Colin? If Steven Gerard can go across the pond, and get it, why can't Tim? He's an all American hero, and even friends with the President!
Jim, nothing wrong with defending Howard, for his past, but surely if you want Everton to win, you have to acknowledge we have more chance, with Tim, sitting on the sidelines.
Not just Howard here, but every player. The money is fucking obscene in football, I wonder how many players are prepared to even put a little bit back?
Colin Glassar
39
Posted 23/02/2016 at 09:14:22
I want him to go, Tony, but it sounds like the Yanks aren't too happy with his £14m contract demands. Maybe the Chinese will make him an attractive offer he can't turn down.
Gavin Johnson
40
Posted 23/02/2016 at 14:50:19
Jim,
I think Brain McBride would have been an excellent signing in his prime. He went on for a few more seasons with Fulham after his loan with us so it makes you wonder what could have been if we'd have picked him up in his mid-20s. He did a good job for us, as did Donovan who would have been another great signing if we'd have turned the loan into a signing after the first loan period.
I also thought Joe-Max Moore was a decent signing by Walter Smith. I think he only cost about £300k and he scored a few goals. I think Joe-Max Moore was the last Everton player to score in 4 consecutive games until Rom went on his goal run this season.
I think there was still a bit of stigma about American players being good enough when we signed Moore in 2000. They were still seen as a bit of a novelty and the only other player at that point who had made the grade was John Harkes at Sheffield Wednesday.
Nick Entwistle
41
Posted 23/02/2016 at 15:25:25
Don't forget Roy Wegerly, Gavin!
https://www.youtube.com/watch?v=CDhRFm_fmnc
Go to 55 seconds, or earlier to see Kenny Sansom have a stinker, or Ray Wilkins looking spritely.
Gavin Johnson
42
Posted 23/02/2016 at 15:36:00
Forgot all about him, Nick. He was very good at QPR.
Dave Abrahams
43
Posted 23/02/2016 at 21:52:13
Jim (26),
You continuing to support the Blues will not upset me one little bit, I may very seldom agree with you but you are still one of us and the more the merrier.
Add Your Comments
In order to post a comment, you need to be logged in as a registered user of the site.
Or Sign up as a ToffeeWeb Member — it's free, takes just a few minutes and will allow you to post your comments on articles and Talking Points submissions across the site.
© ToffeeWeb