Bournemouth vs Everton
by

66 Comments [Jump to last]
| 20/02/2016
FA Cup Fifth Round Preview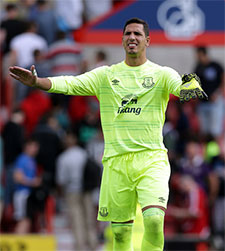 Roberto Martinez has confirmed that Joel Robles will start in goal
Many people have traced the derailment of Everton's season back to the events in stoppage time at the end of the Toffees' Premier League game at Dean Court at the tail end of November. Pegged back to 2-2 having been 2-0 up and coasting against Bournemouth, Roberto Martinez's side reclaimed the lead through Ross Barkley and were a couple of minutes of disciplined, tight defending away from earning three important points.
What followed, of course, was a third Cherries goal scored in the minutes presumably added on for the time it took to clear the pitch of jubilant Evertonians who had spilled out of the stands to celebrate with the players. It came like a punch to the solar plexus; instead of a second successive win that would have lifted them into 6th, Everton dropped back to 9th and took the psychological effects with them on the long trip back to Merseyside.
Martinez suggested in the latter half of last season that similar failures to hold onto leads against Leicester and Arsenal at the start of 2014-15 had left mental scars that debilitated his team for months afterwards; if that was the case again this term, it manifested itself in the further cession of precious advantages against Norwich, Stoke, Tottenham and Chelsea in the League and, painfully, Manchester City in the Capital One Cup.
That 3-3 draw at Stamford Bridge, which played out in infuriatingly similar circumstances to the one at the Vitality Stadium, was the opportunity to demonstrate that the players had learned from what happened against Bournemouth, one they unfortunately failed to grasp. Their return to the south coast this weekend offers a shot at partial redemption.
Martinez brushed off the notion that Everton need to win the FA Cup in order to "save" this season but he is on record from only a few weeks ago saying that his team had to achieve this season given the quality of the squad at his disposal. At the time, definition of "achieve" was assumed to be "win a trophy" or "finish in the top four" but the avenues for success have narrowed considerably in the interim and this competition without question represents the best chance of a positive conclusion to 2015-16.
Not only would it finally end a 21-year trophy drought but it would also put the Blues back in Europe. It wouldn't mask the failings in the Premier League, particularly if the team isn't able to improve much on its current mid-table berth — indeed, it would surely complicate the debate on Martinez's future — but it would provide a bright spot in an otherwise maddening season.
The manager surely knows this and that could be reflected in a starting XI featuring few changes despite last week's defeat to West Bromwich Albion. Martinez has confirmed that Joel Robles will be in goal; if his desire for continuity in the back line that has conceded just once in four games holds, then it's hard to see him deviating from a defence consisting of Seamus Coleman, Phil Jagielka, Ramiro Funes Mori and Bryan Oviedo.
There have been calls for Leighton Baines to be recalled, however, and, given that he is still the superior fullback, it makes sense that he should return to the starting XI after spending those last four games getting plenty of rest. It would not be a surprise therefore if the England international is selected even though the Costa Rican has done well recently.
John Stones's return to fitness, meanwhile, throws up another potential selection conundrum, although the apparent strength of the Ramiro Funes Mori - Phil Jagielka partnership and the fact that the 21-year-old has been going through a disappointing patch of form should tip things in the Argentine's favour and mean Stones coming back into the squad as a substitute.
In midfield, any inclination on Martinez's part to use the cup as an opportunity to rotate his players could hand opportunities to one or both of Kevin Mirallas and Gerard Deulofeu, possibly at the expense of Aaron Lennon or Tom Cleverley. Fans will be hoping to catch a glimpse of Oumar Niasse but, if he is able to play despite his wrist injury, it will likely be off the bench.
The importance of this game might not match that of the League Cup semi-final second leg against Manchester City in terms of its immediate connotations — namely a place at Wembley for a major final — but a definitive result either way would have significant ramifications for the remainder of Everton's season.
Lose and 2015-16 could effectively be over with a little under a third of the campaign to go. A top-six berth is still possible but Everton haven't shown themselves capable thus far of being able to put the kind of run together that would be required to achieve it. Win and it's one step closer to a shot at glory and a big psychological boost in the quest for the form it would take to finish in the kind of League position that the talent at the club suggests should be a minimum. It being a cup tie, though — with Martin Atkinson in the middle to boot — anything is possible.
Kick-off: 5:15pm
Referee: Martin Atkinson
Predicted line-up: Robles, Coleman, Jagielka, Funes Mori, Baines, Barry, McCarthy, Cleverley, Lennon, Barkley, Lukaku 
Quotes sourced from ToffeeWeb match page
---
Reader Comments (66)
Note: the following content is not moderated or vetted by the site owners at the time of submission. Comments are the responsibility of the poster. Disclaimer
Terry Murphy
1
Posted 20/02/2016 at 01:05:57
It's a sad reflection of the season so far that I find myself scrolling down to see who the referee is.
James Flynn
2
Posted 20/02/2016 at 01:41:17
COYB
Jakob Herd
3
Posted 20/02/2016 at 01:55:57
Any day now Martinez will say, "We are already planning for next season."
Paul Kossoff
5
Posted 20/02/2016 at 01:59:01
Terry, let's hope scrolling down is not a reflection of our season to see where we are in the league come May.
Hopefully no Kone on the pitch today. I hope Mirallas starts and rips Bournemouth a new one. Coyb.
Victor Jones
6
Posted 20/02/2016 at 02:22:11
Bad feeling about this match. But that means nothing, as my predictions concerning this current Everton team are all over the place. Who knows what will happen? Who can really predict how Everton will play. Who knows who will even play. Considering that this is now our only chance of silverware, I hope that Martinez goes strong. No tinkering. We are (with a little luck) and a positive approach, within touching distance of another semifinal. The luck part would be a decent quarter final draw. Beat Bournemouth first. Then who knows.
I would go for the same team that started against WBA.. As suggested in the article. They did after all win three games by that 3-0 scoreline. But change things early should things not be going our way. And no more Osman or Kone nonsense. Mirallas now needs to feature. Talk about shooting yourself in the foot. Does Martinez really want to give this Everton team a proper chance of winning football matches. Cause he sure as hell is going a strange way about doing so. Anyhow, and against the fact that I have a bad feeling about these early evening kick offs. I think that Everton prepare all wrong for these matches. Just basing that on past results, which have been poor. I want Everton to win. Get this over with at the first attempt. So its 2-0 to Everton. Hopefully. COYBs
Darryl Ritchie
7
Posted 20/02/2016 at 04:35:11
As much as I like Cleverly, I agree with Paul that Mirallas should get the nod.
Jason Davenport
8
Posted 20/02/2016 at 05:38:09
Martin Atkinson – we will lose now for sure.
Craig Fletcher
9
Posted 20/02/2016 at 06:39:04
Terry (1) it's a reflection of this season that I'm confident going into this match because we're away from home.
Peter McHugh
10
Posted 20/02/2016 at 06:42:28
Should be an exciting tie. COYB
Nigel Munford
11
Posted 20/02/2016 at 07:18:17
Are there any odds for Jags getting sent off by Atkinson this evening? He should never be allowed to officiate on any of our matches anymore after the Man City debacle.
Steve Pugh
12
Posted 20/02/2016 at 08:02:01
More proof that Lawro knows nothing about football. He predicts a draw in this game with us winning the replay at Goodison......
.....as if we have a hope of winning at Goodison.

Paul Andrews
13
Posted 20/02/2016 at 08:24:55
Good summation of the importance of today's game, Lyndon. A massive game with,as you rightly say, a major impact on the rest of the season.

I believe as we are playing week to week it should be the same 11 as the last couple of weeks.

No need for rotation at this point. Mirallas and Deulofeu on if needed.
Ernie Baywood
14
Posted 20/02/2016 at 08:41:26
Why is it on at 5:15 if it's not on TV?
John Malone
15
Posted 20/02/2016 at 08:43:21
I'd play the team that won three on the bounce that started last week but swap Baines for Oviedo, I'd keep Deulofeu and Mirallas as subs for if/when needed. For me that team is our best 'away' team for its hard-working and counter attack qualities!
Barkley looks a better player away from home where he has the opportunities to break with speed on the counter. For me it showed naïvety again by Martinez last week for keeping Barry and McCarthy on together for so long when we needed a goal and leaving Barkley in a number ten role when its a tight game he's showed time and time again he is not yet that intricate disguise passes to slide ball's in between defenders or play quick one-twos he is much better a bit deeper where he can pick the ball up and dictate play and surge forward between the lines!
I think the diagonal ball over Lukaku's head will be the key today after watching the Arsenal game, Bournemouth pack the centre of the pitch and give up the wide areas so playing quality early ball's into the box before the space is gone should be the tactic for me!
Up the Toffees!
Ernie Baywood
16
Posted 20/02/2016 at 08:47:17
Just seen it's on BBC so strange that ESPN don't seem to have been bothered to show it in Australia. Will just have to find some dodgy Kodi stream.
Kevin Elliott
17
Posted 20/02/2016 at 08:51:30
It's on BBC, Ernie.
Derek Thomas
18
Posted 20/02/2016 at 08:54:27
Re ESPN; they don't see us as relevant compared to Arsenal, Chelsea and Man City??
Brin Williams
19
Posted 20/02/2016 at 09:03:26
"Leighton Baines ...... is still the superior fullback."
Nothing 'superior' about him these days – he used to be superior as he had virtually go contention apart from Oviedo – who had a broken leg!
Not bad, pretty good at times..but 'superior'? I don't think so.
And whatever Martinez has brought about over the past few windows is competition for places – yea, yea he still has his favourites and you'll always get that. Pity that he's still playing Kone tho' and Mirallas left in limbo.

Derek Thomas
20
Posted 20/02/2016 at 09:16:55
Used to be; 6th Round? – anybody at home will do... now it's more like – anybody away will do.
Semi 'Away'
Final 'Away'
Have I just put the mockers on us?
Andy Veitch
21
Posted 20/02/2016 at 09:19:54
I feel with Atkinson in charge, we will get a big decision going our way.

He daren't make another mistake against us. Dare he?!
Phil Walling
22
Posted 20/02/2016 at 09:21:36
Everton showing at 6/5 to win today – Bournemouth 13/5 and draw at same price. My money is on it finishing all-square but I'm only risking a tenner!
Mike Green
23
Posted 20/02/2016 at 09:26:47
I'm going for an Everton / Arsenal double Phil, pays just under 2/1.....
Paul Conway
24
Posted 20/02/2016 at 09:29:48
I've just clicked on this poll, "Is Roberto Martinez the right man for Everton?"
I clicked 'No' and as I tap the poll reveals 78% No!
That's enough! The telling statistic which shows why Everton must consider Martinez's position HITC 09:13
James Marshall
25
Posted 20/02/2016 at 09:56:57
Ernie, just watch it on the BBC website – install Hola on your computer and you can watch via a proxy as though you're in the UK (the BBC site will ask you for a postcode, just make one up).
James Marshall
26
Posted 20/02/2016 at 09:58:36
I reckon Kone will start – why? Well aside from the obvious nod to favouritism, Kone has scored in every round for us I believe, so on that alone RM will start him – I also think he's scored all his goals in the first half.
Lewis Roll
27
Posted 20/02/2016 at 10:18:08
Ernie, you can try – www.zattoo.com I use it in Switzerland and you can get BBC channels on it, no need for a proxy.
Dave Abrahams
28
Posted 20/02/2016 at 11:00:49
I hope Phil Jagielka and the team play for the fans today. Listen to what we've been saying all season, have a go, attack and concentrate...
Let's be honest, listening to Martinez hasn't done the team much good, so you'll have plenty of support down there today; play for them, you'll get backed all the way.
Amit Vithlani
29
Posted 20/02/2016 at 11:35:16
Could this end up being Martinez's Oxford moment, sparking a cup run which leads to a golden period of domination?
Or will it be his equivalent of Walter's last stand away to Boro?
Lenny Kingman
30
Posted 20/02/2016 at 11:35:25
I think Everton's tradition in the FA Cup and obvious superiority in historical terms against Bournemouth, and their inability
ever
to have reached the 6th round of this world famous event may be enough. Martinez may be that lucky manager, oft talked about on TW, and get us that overdue trophy. Hope so.
It's a long road after today's win, with teams that have stuck the knife into the Blues cruelly in this competition over the years waiting to ambush the Toffees once more. West Ham look a big danger with Bilic working his stuff at eventide at Upton Park. Memories of Lampard senior's dance round the corner flag in 1980 have stayed with me a long time...
Chelsea taking us out in 2009 on our last big day out, and their recent return to something like they can play makes them a warm favourite and I think they will give another potential winner, Man City, a good spanking tomorrow. Would prefer neither of the aforementioned, till the Final anyway.
Who else? Arsenal perhaps... but I think their hat-trick attempt at the once revered trophy may fail this time round – and if it is us that puts them to the sword, well, so be it.
So it's a West Ham v Everton final for me if the balls rise from the glass bowl in the manner required.
Helen Mallon
31
Posted 20/02/2016 at 11:39:54
Just a quick comment: I hope it's not that predicted line-up, I would like to see Baines in front of Oviedo with Barkley on the bench, Deulofeu given Barkley's role, and Barry dropped for Cleverley.
Team:
Robles
Coleman
Jagielka
Funes Mori
Oviedo
Lennon
McCarthy
Cleverley
Baines
Deulofeu
Lukaku.

Charlie Burnett
32
Posted 20/02/2016 at 11:50:31
Helen for Toffees Manager – that's what we want to see: a change, an experiment. I want to see Baines or Stones play that Barry position but it will never happen.
Jon Cox
33
Posted 20/02/2016 at 11:53:01
And to Mr Atkinson,
We'll be watching you intensely. In fact your every decision will be scrutinized.
You didn't think that you could say what you said to Jags and it would all be forgotten did you?
You will be under the Royal Blue spotlight today, sir... so take heed!
Brian Harrison
34
Posted 20/02/2016 at 12:02:28
Well the good thing is that we are away, and our record this season shows our results away are infinitely better than our home results. I think this team is set up to play away were the home teams are compelled to try and attack in front of there own supporters. That gives us the space behind to exploit, whereas at home when teams sit deep we fail to create many chances.

I guess he will start with the team that started against West Brom, I just hope his substitutions are better than in that game. I would like to see Baines start, why doesnt he take free kicks anymore, he is better than both Barkley and Lukaku but hardly seems to get a look in for free kicks in and around the box.

Let's hope Lukaku is back to his best today, the last couple of games he has looked a bit jaded.
Phil Walling
35
Posted 20/02/2016 at 12:08:08
Amit, we have awaited 'Oxford moments' for so long the record has stuck ! Give it a rest will you !
Tony Graham
36
Posted 20/02/2016 at 12:26:39
After last weeks DOWN on the old roller-coaster, it's our weekend for an UP. I think we'll perform and beat 'em. I will watch in hope...

Eric Myles
37
Posted 20/02/2016 at 12:42:04
James #20, no need to make up postcodes, which they will suss anyway, I'm sure everyone knows L4 4EL
Eric Myles
38
Posted 20/02/2016 at 12:44:12
ps: Betternet is a good VPN also, I often use it along with Hola.
Peter Bell
39
Posted 20/02/2016 at 13:00:18
Oxford moment...? I fucking hate it when people bring that up.
The only Oxford moment that ever springs to mind with me, was a year later, when Lineker forgot his boots, missed three one-on-ones and they scored in the last minute to hand the other lot the league,
I cannot stand being reminded of going to Oxford.
Ernie Baywood
40
Posted 20/02/2016 at 13:22:32
Thanks for the tips but just tried out Hola and iPlayer seems to have it sussed.
The game's on all over the world so I'm sure I'll get a kodi channel going.
Eric Myles
41
Posted 20/02/2016 at 13:29:00
I sometimes get iPlayer to work on Hola Ernie but it's hit & miss. Give Betternet a try, although I've never tried using it for BBC I might just have to tonight if it's not on BeIn Sports.
Dave Pritchard
42
Posted 20/02/2016 at 13:30:01
Jon 26. Atkinson will be brickking it now.
Darren Hind
43
Posted 20/02/2016 at 13:47:26
Phil @18
The shrewder punter will be taking Corals offer (introductory offer for new customers only) 8/1 for Everton to win today EIGHT TO FUCKING ONE ?
Got to investigate further – seems far too good to be true...
Colin Malone
44
Posted 20/02/2016 at 13:50:02
As much as I love Ross Barkley, I would love to see Deulofeu play in the number 10 role and Barkley playing along side Gareth Barry, especially at home when teams park the bus.

Barkley for he's vision and Deulofeu for he's attacking approach as soon as he gets the ball.
Matt Traynor
45
Posted 20/02/2016 at 13:51:40
Eric, if you search the Interweb, there's various articles about why you shouldn't use Hola as a VPN. Essentially you become a VPN endpoint, and having realised they've created a 9-million strong botnet, have started selling access through a subsidiary company called Luminati which allows buyers to essentially browse the web through your internet connection. Any nefarious activity conducted would look like it came from your hardware and you can't really prove otherwise. Even if you can, you don't want the hassle.
Of course it'll suck your bandwidth as well.
Darren Hind
46
Posted 20/02/2016 at 14:00:21
Yep
8/1 for new customers. Unfortunately, max bet only a fiver... but you also get a free fiver bet if you lose.

Eric Myles
47
Posted 20/02/2016 at 14:00:32
That only applies to PCs as far as I've read Matt, not to tablets or 'phones.
Lenny Kingman
48
Posted 20/02/2016 at 14:10:56
Been over to Corals to avail myself of that 8-1 offer and its gone as far as I can see. Must have been knocked over in the rush. Even from Bournemouth fans. The new punter bet has now switched to Chelsea at 10-1 or City at 12s.
Amit Vithlani
50
Posted 20/02/2016 at 14:16:19
Phil/Peter my humblest apologies for dredging up the past.
It just would not feel like a cup week end for me unless I spent a few moments contemplating epoch defining moments in our recent history. Oxford ofcourse is the stuff of legend whilst our defeat at Boro ushered in the era of the Ginger one, arguably the most divisive, marmite like figure in our recent history.
Paul Conway
51
Posted 20/02/2016 at 14:18:56
Eric Myles, that sounds tasty! With the free fiver bet, it could bring you rich pickings! – If you invest it in EFC to win their last 12 PL matches!
Nothing ventured, nothing gained!
Denis Richardson
52
Posted 20/02/2016 at 14:21:03
Darren - I contacted Corals and they say they never had an 8/1 Everton offer, according to them it was for Arsenal and not Everton.....
Paul Setter
53
Posted 20/02/2016 at 14:44:11
I've got to the point where I'm not fussed how we do, as if we do well in the cup great but then end up with the worst Premier League manager ever for longer. Get beat and hopefully it's a step towards getting him sacked. So, for me, I would sacrifice short-term glory for the best of this club.
Tom Bowers
54
Posted 20/02/2016 at 14:46:47
Whilst I do agree referees have a difficult task it's hard to understand why they make some of the most boneheaded decisions at times. Atkinson and Dean are two of the top rated officials which says very little for the rest of them.
Usually we like to say that bad decisions against all teams even themselves out over the season but sometimes I wonder when the big money sides are involved.
Dean was again negligent in the Arsenal game today and a bad linesman decision almost presented Hull with a totally undeserved win. Here's hoping Everton do not run afoul of Atkinson today.
James Marshall
55
Posted 20/02/2016 at 14:57:01
I notice we have the cutting insight of Messrs Shearer, Moyes and Harry Redknapp to look forward to on the BBC later.
Paul Kossoff
56
Posted 20/02/2016 at 15:08:04
Moyes ex Everton, Redknap ex Bournmouth, Shearer current dick. 'Isn't that a cake?'.
Darren Hind
57
Posted 20/02/2016 at 15:17:23
It's Everton, Denis.
Mrs got an email from EFC... Deffo 8/1 for new customers. Perhaps you can only do it through EFC link

Darren Hind
58
Posted 20/02/2016 at 15:22:21
Denis and Lenny
Log on to the OS the type in Coral in the search box, it will take you to a set of odds offered by them.
Still 8/1....
James Marshall
59
Posted 20/02/2016 at 15:28:56
In other news, TunnelBear seems to work rather well as a non peer to peer encrypted VPN for anyone that needs to know. I've removed Hola - thanks Matt
Eric Holland
61
Posted 20/02/2016 at 15:37:36
Link on website not working for me, anyone else got the same problem?
Andy Walker
63
Posted 20/02/2016 at 15:54:58
Amit 45, you're right about Moyes being a very decisive character. Some fans didn't like his ginger hair, others couldn't give a fuck about what colour hair our manager has.
Today, I expect the players to raise their game – remember the farce of the last match and win? Let's hope the fans don't invade the pitch though, so embarrassing against Bournemouth. Not exactly Barcelona, are they?
James Marshall
64
Posted 20/02/2016 at 15:57:00
Eric – you mean the BBC1 live feed?
Fine for me – Athletics at the moment.
Brian Wilkinson
65
Posted 20/02/2016 at 16:08:43
Betfair offering 7/1 Everton, new customer: max 㾶.
If your bet wins, you get your 㾶 back in cash and 㿲 in free bets; if bet goes down, you get a 㾶 free bet.
Eric Holland
66
Posted 20/02/2016 at 16:19:48
No James the Coral link on official site offering 8-1 for new customers for Everton win.

Niall McIlhone
67
Posted 20/02/2016 at 16:30:52
Brian, #59, I did a "walk in" bet at my local Betfred for the Man City away leg , with odds of 8-1 EFC to win the tie,the odds advertised in the window in two foot letters. When I went to the desk to lay the bet, the guy mumbled something about the odds changing and gave me 15-2 instead, I was so giddy about our chances I took it (mug!)
We lost anyway, but it led me to ponder why it's legal for betting companies to advertise one price in shop windows, then an inferior price when a punter actually goes in and tries to lay the bet? Not having a go at Betfred, just curious if this is normal, given I'm only an occasional punter?
Brian Porter
68
Posted 20/02/2016 at 16:32:12
I see Reading have put two past the invincible West Brom defence!
Lenny Kingman
69
Posted 20/02/2016 at 16:49:09
Thanks Brian just opened up an account, secretly, at Betfair. Now, all that's got to happen is a win. Confident, maybe 3-0 or 3-1.
Any free bets I receive will be spent on a Chelsea win and some final round golf bets in California tomorrow evening
Eric Myles
70
Posted 21/02/2016 at 11:34:39
Just realized I should have mentioned Filmon (dot) tv which doesn't need a vpn and provides live streaming of all UK channels (and others)
Add Your Comments
In order to post a comment, you need to be logged in as a registered user of the site.
Or Sign up as a ToffeeWeb Member — it's free, takes just a few minutes and will allow you to post your comments on articles and Talking Points submissions across the site.
© ToffeeWeb