McAleny still has Goodison future
by

38 Comments [Jump to last]
| 22/02/2016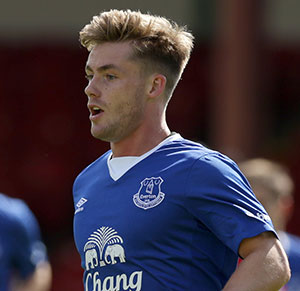 Roberto Martinez insists that despite the fact that he has been sent out on loan again this season, Conor McAleny is part of his long-term plans.
Having had spells with Scunthorpe United, Brentford, Cardiff City, and Charlton, the 23-year-old is now on his fifth loan assignment in four injury-disrupted years at Wigan Athletic where he is off to an excellent start with two goals in hjs first three starts.
McAleny joined the Latics at the start of this month after returning to Finch Farm from a difficult spell at the Valley where instability has plagued Charlton all season.
Having made just three senior appearances to his name since 2011 and failed to make the breakthrough into the first team last summer despite some impressive showings in pre-season, many have wondered whether the Whiston-born forward's opportunity at Goodison Park has passed. His manager insists, however, that after seeing his development disrupted by injury, McAleny has a future with the Blues.
"Of course, he has," Martinez said in the Liverpool Echo. "Conor, like any other youngster, needs to go out on loan and experience different dressing rooms, different ways of being managed and different ways of playing.
"[He] had a really difficult experience at Charlton with three different managers so, now, we are looking for some stability going to Wigan."
"They are looking to achieve promotion, something he has not experienced yet, and Conor, after the work he's done in the last two months, has earned the opportunity to go on another loan and finish the season really, really strongly.
"I've got real satisfaction at the way he's reacted to the situation at Charlton and we're looking forward to seeing how he does at Wigan, in order to see what is the next step for him in pre-season."
---
Reader Comments (38)
Note: the following content is not moderated or vetted by the site owners at the time of submission. Comments are the responsibility of the poster. Disclaimer
Mike Corcoran
1
Posted 22/02/2016 at 18:51:19
Cracking goal for Wigan!
Denis Richardson
2
Posted 22/02/2016 at 18:57:54
To be honest, I cannot see McAleny ever being a regular. I like the way RM still calls him a 'youngster' even though he's 23 and made his senior debut about 5 years ago. He's older than half our first team, ffs.

At 23 he's not even good enough for a place in the squad. A shame but I see him being moved on in the summer.
Winston Williamson
3
Posted 22/02/2016 at 19:10:25
How many wrote Osman off when he went out on loan in his early twenties?
The experience will do him good, toughen him up and we'll see. We have a number of players leaving in the summer so a spot may open up for him.
David Hallwood
4
Posted 22/02/2016 at 19:23:33
I think Conor is a victim of the latest footballing fashion of playing with 1 up front; he's tailor made for a big man-little man partnership. Jermain Defoe and our own Nessie have similar problems of being either played out of position or being overlooked in favour of a target man.
Victor Jones
5
Posted 22/02/2016 at 19:32:38
Cannot see him ever featuring for Everton. Sorry. Where would he play? The main striking role is covered. Niasse and Kone are the cover. We have a number of wingers. And how many other young strikers have been brought into the club in recent years?
Forgive me, I'm not sure on the names, but did we not bring in an Argentinian... a young lad from the Swiss league... and a young Belgian player.
I cannot see were McAleny will fit in. But again, who knows what might happen if he keeps scoring goals.
John Dean
7
Posted 22/02/2016 at 19:53:38
He was a regular goalscorer for the U21s, mostly playing in the No 10 position, but he has been used on the left-wing for the last season and he has been consistently good, creating goals by surging runs and clever crosses.
Would he have done better than Kone or Mirallas – yes.
Jon Withey
8
Posted 22/02/2016 at 20:28:47
More than anything, great to see that he hasn't given up.
Sam Hoare
9
Posted 22/02/2016 at 20:36:34
Pleased for him and always thought he had something about. Goals from nothing are a good gift to bring to the table.
This Summer will surely see a long overdue overhaul with lots of older players and probably one or two of the jewels heading off. If Conor can excel on his loan and in pre-season then perhaps he can get in or around the first team. Will be a tall order for him but best of luck.
Gavin Johnson
10
Posted 22/02/2016 at 20:53:49
How is he going to make it in the 1st team?? He's 23 and had hit and miss loan spells in the lower leagues. People refer to Ossie breaking into the 1st team in his early 20s after injuries and loans in his early career but our current squad is a million miles away from the team Osman broke into. Look how strong the bench was against Bournemouth on Saturday.
Liam Reilly
11
Posted 22/02/2016 at 21:16:33
We might not have that same bench or first team in the summer Gavin, especially if we don't qualify for Europe and I seem to recall Barkley didn't have great spells at Leeds or Wednesday.
I dunno if he'll make it at Goodison or not but it's good to see that at 23, he applies himself well and seems a down-to-earth lad.
Gavin Johnson
12
Posted 22/02/2016 at 21:35:52
I hope he makes it, Liam. He must have something about him for him to still to be at the club at 23. My worry is that we have a lot of other exciting players emerging who are younger. I just can't see him in the set-up.
I also agree with David #4. I think he's a victim of being a short man in a modern game that seems to favour a big man playing as a single striker. I know McAleny can play in other positions but I think that might also hinder him because we don't even know what the lad's best position is.
Stephen Scofield
13
Posted 22/02/2016 at 21:46:27
I really hope Martinez is not just stringing him along. Sometimes it's best to let go and let the player get on with his career. From what I've seen of him he could do a good job from the bench. But if I was being honest, to get where I want Everton to get, I cannot see him being a regular or even the bench.
Ian Jones
14
Posted 22/02/2016 at 22:09:35
Well Vardy springs to mind. Given a chance later in life and he hasn't done too badly.
Would be great to see some of the younger players get a chance. It's the only way to find out.
Villa's U21s beat a 'strong' (okay, I know) Villa first team 3-0. I expect the U21s will take up some of the first team places in their game vs us.
Jack Cross
15
Posted 22/02/2016 at 22:49:01
I've always rated Conor. He definitely has it. But needs to be given a chance. And I'm not basing that on the two Wigan goals.
He has been at the club since he was 11. He had a brilliant pre-season. So I don't know what a player has to do to at least be in the squad.
I think RM demoralises young players.
Mind you, I suppose if your face doesn't fit under this guy, you're fucked.
Paul Thompson
16
Posted 22/02/2016 at 22:49:25
I am a little baffled as to why he hasn't been given a run. The lad is clearly a natural goalscorer in the Defoe mould (not saying he's that good, but I'd rather have seen him given a chance on the bench or instead of Kone. This is absolutely the last season he can be farmed out. Give him a go or let him go.
Kevin Elliott
17
Posted 22/02/2016 at 22:58:52
The goal for Wigan was as good if not better than we have seen from our first teamers this season.
And pre-season he was brilliant. So how does Kone get in, in front of him?
Steven Jones
18
Posted 22/02/2016 at 23:54:28
Jack, yes... RM demoralises young players...
Like Garbutt,
Like Galloway,
Like Oviedo,
Like Stones,
Like Barkley,
Like Duelofeu,
Like Lukaku...
Not much value in the market there then - all basket cases after RM's man-management techniques ...
John Crawley
19
Posted 22/02/2016 at 23:56:14
Kevin,
Well we saw what happened with Robles v Howard and I've still no idea how Martinez kept picking Howard.
Jimmy Sørheim
20
Posted 23/02/2016 at 00:13:22
McAleny looks to be a Vardy type player, he had a great pre-season, and should have gotten some game time by now. Martinez is not giving youngsters a chance this season, and that irks me very much.
I would rather see Dowell and McAleny than Osman and Kone.
Harold Matthews
21
Posted 23/02/2016 at 03:35:44
Harry Kane didn't learn to play football at Spurs. He was loaned out seven times before he made it.
McAleny has come on a ton in the last few months. Now looks a class above when he plays for the U21s and clubs will want him.
Marlan Govender
22
Posted 23/02/2016 at 04:21:17
If we look at Conor McAleny, then why not Ledson and Kenny...?? Something a little different, Bob.
Phil Sammon
23
Posted 23/02/2016 at 06:30:51
I really like McAleny. He's a very gifted footballer and has a top notch attitude to the game. He's also a seriously smart player... which seems to be an underrated trait these days.
His pre-season warranted first team selection... but failing that I think a loan was a decent move.
However, it's very frustrating... surely we should be getting these talented youngsters on the bench rather than players who are coming to the end of their careers.
Jon Withey
24
Posted 23/02/2016 at 06:50:04
You can't complain about bad game management and fill the team with youngsters. We all get excited by potential but managers like to know what they can expect too – Barry being a great example of providing maturity.
I agree we could see more youth this season but Barkley, Deulofeu, Robles, Besic, Lukaku & Stones aren't exactly old.
Phil Sammon
25
Posted 23/02/2016 at 07:31:39
No, they're not, Jon. But what are Osman and Kone doing on the bench? Neither are going to come on and win you a game these days...and I've been a big Ossie fan over the years.
McAleny was probably our best player pre-season and Martinez rewarded him by completely freezing him out. The same goes with Robles when he came in, did great, only to be dropped.
Every manager's most desired scenario is competition for places. It ensures no First Team player rests on their laurels and gives every other player hope that their hard work and application will pay off, regardless of the name on the back of their shirt.
Why would any manager toss that away?
Ajay Gopal
26
Posted 23/02/2016 at 08:36:36
It certainly looks difficult for this lad to break-through in the present set-up:
Lukaku (if he stays)
Niasse
Kone
Tarashaj (the guy we signed from Grasshopper)
Leandro
McAleny
Dowell (did you see the goal he scored for the U-18s last week?)
Having said that, this season will probably be the last for Howard, Hibbert, Osman, Pienaar, and Gibson, possibly with Mirallas on his way out? Who knows about Lukaku and Barkley?
Maybe, next season will be when guys like McAleny, Henen, Ledson, Garbutt, Browning, Holgate, Galloway (again) etc get their chance to show what they can do?
For all those abusing Martinez for not playing McAleny, how would the same lot have reacted if the club had come out with an announcement in January like "The Club made a £10.5 million bid for the highest scorer in the Russian League, but having realised that we have McAleny in the books, decided to call off the deal"? You can't have it both ways.
By the way, I rate McAleny very highly, I think he has been unlucky with injuries – he can strike the football.
Les Martin
27
Posted 23/02/2016 at 08:51:41
Martinez is doing the right thing with the loans as he will prove nothing at Everton bench warming. Next season will be very interesting as I think there will be a clear-out at the age top end during the summer.
Foolish to move him on as he could still have a future, it's just how he fits into the squad with there being so much competition.
Barry Pearce
28
Posted 23/02/2016 at 09:52:37
Talented player, never given a fair crack of the whip. What did he do wrong pre-season?
Let's hope he stays fit, and he can still be a useful player for us.
Kevin Gillen
29
Posted 23/02/2016 at 11:32:00
McAleny has done really well these last few weeks, scoring twice for Wigan in a competitive League and excelling in providing assists in his appearances for the U21s.
Not all young men grow to their full potential at the same time and the club have been guilty on several occasions of letting personnel go before they mature (Mustafi, Jagielka, McManaman, Baines).
I hope this lad makes it, he could be a Vardy or a Harry Kane.
Mike Gaynes
30
Posted 23/02/2016 at 18:22:08
Rom will be gone if we really do get that £65M bid. Hard to imagine Kone and Mirallas staying through the summer. Tarashaj and Leandro are still unknown entities and unlikely to be ready for first-team duty next season.
Therefore, all it would take would be one significant injury for McAleny to get his chance next season.
Andy Crooks
31
Posted 23/02/2016 at 22:08:59
Steven (#17), let's have a look at your list:
Garbutt, on loan.
Galloway, dropped as soon as he was NOT the only option.
Oviedo, not a young player and fuck all to do with Martinez.
Stones, fuck all to do with Martinez but my late gran would pick him.
Barkley, likewise.
Deulofeu, currently being demoralized.
Lukaku, yes you got that one right. Martinez has stuck his neck out by selecting a £28 million striker.
The notion that Martinez gives youth a chance is an utter fucking myth. Name one player from the youth team that he has given a chance to? One player that he had anything to do with bringing forward?

Michael Williams
32
Posted 23/02/2016 at 23:31:31
I hope McAleny makes it to Goodison as a regular. It's the best when you get to root for home-grown player. Unfortunately he can't stay healthy and has not gotten the experience/proven himself at the lower levels. Hopefully his talent make it happen.
Loan History:
2011-2012 – 3 appearances for Scunthorpe before he injured a knee.
2013-2014 – 4 appearances for Brentford then broke his leg.
2015 – Went on loan to Cardiff in February and made 8 appearances.
September 2015 Charlton – 6 appearances – loan ended.
2016 – 3 appearances at Wigan – reported to be playing well.

Michael Williams
33
Posted 23/02/2016 at 23:44:03
This is just some info - not really related to McAleny. No one in the Premier League is really playing players under the age of 21 -– at least compared to the other leagues. Of the U-21 players in the top 5 European Leagues, only a few in the Premier League make the top ten in minutes played.
Forwards – Only 1 forward in the Premier League is in the top ten in minutes played compared to other U-21 forwards in the 5 Euro leagues. (Martial)
Attacking Midfielders – Only 1 in the Premier League (Alli)
Defensive Midfielders – 0 players, none in the Premier League
Full-Backs – 5 in the Premier League (including Galloway)
Centre-Backs – 0
Goalies – 0
The nature of the Premier League is that players are older when they do finally make it and I would not be surprised if there are actually less home-grown players who graduate to first teams in this league than the other top 4 Euro leagues.
Michael Williams
34
Posted 23/02/2016 at 23:44:45
Link for my comment above - sorry.
http://www.football-observatory.com/IMG/sites/b5wp/2015/138/en/
Mike Gaynes
35
Posted 24/02/2016 at 05:28:22
Andy Crooks #30, regarding "Deulofeu, currently being demoralized"...
Not by Martinez, he's not. Lennon has clearly been our best player since the first of the year, and he has legitimately beaten Geri out of his spot. If you're suggesting Roberto should leave out the better player just to boost the kid's morale, you're talking rot.
As for Galloway being left out, he was injured around the time Oviedo and Baines were ready to return. Bad break for the lad, but would you put him back in now?
And as for Garbutt being on loan, thank god he is. We've not had to watch his career come apart, just hear about it. He was pulled after 52 minutes against Leeds on Tuesday after his humiliating 34-minute pulloff against Rovers last week and a reportedly adequate 90 minutes on Saturday. Guess somebody is "demoralizing" him too... or just exposing his inadequacies.
David Price
36
Posted 24/02/2016 at 15:44:39
Heard a whisper that Geri being left out of the team is to keep him off the Barcelona radar so as the value in the clause goes up in the summer. Likewise there was a similar agreement in the Joel Robles deal from Atletico Madrid which expired in January. Cue the Howard injury and Joel keeps his place.
Just a whisper but funny how things fall into place...
David Pearl
37
Posted 25/02/2016 at 03:14:15
Garbutt looked great, classy with the ball at his feet. I can remember him getting skinned when I saw him play a few times... couldn't remember a single tackle though! BUT he is out on loan for a reason, and that's to get experience.
I'd like to see Galloway go out on loan now. He needs to be playing and to build his experience.
Andy Crooks. What do expect? That RM should change nappies, bottle feed them, and rear them all the way through to the first team? He gave Barkley a chance to make his mistakes and grow on the pitch, same with Deulofeu and Lukaku... and Stones too. He has taken Galloway out of the limelight for now. Perhaps that was harsh or perhaps that was wise but in any case he is not a left back.
Lennon is playing in place of Deulofeu on merit. Same as Robles, Mori and perhaps Oviedo too. I can't remember us ever having a bench as strong as the one we had vs Bournemouth last Saturday. Credit where it's due I think. Of course his treatment this year of Mirallas and our home record is mystifying (makes me angry). My patience has been wearing thin with RM and our young but maturing team have a bit of making up to do. An FA Cup win and not losing another home game will be start.
Ben Mackenzie
38
Posted 25/02/2016 at 08:38:42
Well Gary Lineker reckons we will be in the mix for the title next season if we keep our squad together. I agree. We're not far away. Small margins an' all that.
Raymond Fox
39
Posted 26/02/2016 at 17:03:36
Like many I like the lad, he has that natural pace off the mark that defenders don't like, he'll make his mark somewhere that's for sure.
Difficult for Premier League managers to play the likes of McAleny though, big risk in the League, I suppose games in the Cup matches are possibles, but then again they're probably our only chance of success!
Kone is almost at the end of his career, so if Conor continues to improve and shine on loan, he has a chance to come in.
Add Your Comments
In order to post a comment, you need to be logged in as a registered user of the site.
Or Sign up as a ToffeeWeb Member — it's free, takes just a few minutes and will allow you to post your comments on articles and Talking Points submissions across the site.
© ToffeeWeb