Dowell strengthening his case for first-team involvement
23/02/2016

48 Comments [Jump to last]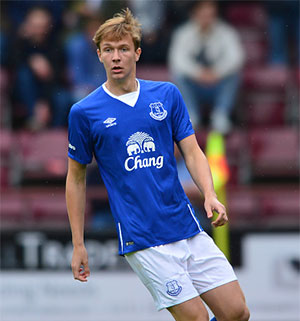 Mark Runnacles/Getty Images
Everton youngster Kieran Dowell is progressing well with the Under-21s and could soon be pushing for another appearance for the senior side.
The 18-year-old made his one and only appearance for Roberto Martinez's first team as a substitute in the Europa League dead rubber against Krasnodar in December 2014 and didn't look out of place against the Russian side.
Since then he has signed a professional deal with the Blues, featured in some of the Blues' pre-season outings last summer and was quietly improving in the U21s under David Unsworth until his 40-yard wonder-goal last week against Southampton.
That sublime effort offered a reminder of the talent the midfielder possesses and brought Dowell's name back to the fore among the players waiting in the wings at Finch Farm to seize their chance at the top level.
"You don't get players like Kieran in the British game," Martinez said of the Ormskirk-born player on the Everton Show last Friday. "He's a player who appreciates space, enjoys playing in between lines and the technical ability he has is a natural gift.
"We need to allow him to develop but clearly he has got a role with the first team after that.
"He is a really humble person and strong mentally. It was a shame that he had an injury earlier in the season but he's starting to get good rhythm and good match fitness, so I think we are going to see a lot more from him."
---
Reader Comments (48)
Note: the following content is not moderated or vetted by the site owners at the time of submission. Comments are the responsibility of the poster. Disclaimer
Mike Corcoran
1
Posted 23/02/2016 at 19:23:37
Decent left peg.
Brent Stephens
2
Posted 23/02/2016 at 19:26:44
Like this guy, very skillful and gets stuck in.
Michael Winstanley
3
Posted 23/02/2016 at 19:55:20
Player.
Jon Withey
4
Posted 23/02/2016 at 19:56:34
Got something special has Dowell – fingers-crossed for him.
Dave Abrahams
5
Posted 23/02/2016 at 20:09:08
Brent (2) Keiran is very skilfull as you say but in the past when I have seen him including a second half appearance in the youth team this season, the one thing he doesn't do is get stuck in, he waits for the ball to come to him, never fights for the ball, but when he gets the ball he certainly knows how to use it.
This is meant as constructive criticism; Keiran has grown quite a bit and is six foot or more and a good 12 stone or so but always looks to me to be reluctant to put his foot in and make a tackle, maybe they are sorting this out at Finch Farm.
Phil Sammon
6
Posted 23/02/2016 at 20:09:46
High praise from the manager... tainted only by the fact that he would probably say the exact same thing about any player, coach or even the tea lady.
Let's see him on the bench instead of Osman or Kone, then I might believe Martinez.
Barry Pearce
7
Posted 23/02/2016 at 20:38:25
I believe we have a crop of good prospects. Just hope they are given a chance. Like Phil (#6) has said, put then in the match day squad. They can't do any worse then Kone or Osman.
I see Liam Walsh is getting good reviews at Yeovil, and this lad does like to put his foot in.
Dave Abrahams
8
Posted 23/02/2016 at 20:43:55
Barry (#7), yes putting them on the bench will help them, even if they don't get on they can learn from watching and gaining confidence from just being around some of the senior players.
Tony Hill
9
Posted 23/02/2016 at 21:16:19
I think this lad is the most gifted young player below the first team and is potentially a very serious talent indeed. Another instinctive player like Barkley but he has a particular elegance and balance. Fingers crossed.
John Raftery
10
Posted 23/02/2016 at 22:16:10
The manager is not overstating this lad's potential. I saw Dowell play for the Under-21s when he was 16. He is the most talented player I have seen at that age since Rooney. He can shoot with either foot which is a big plus. His best position is likely to be as a Number 10.
Declan Campbell
11
Posted 23/02/2016 at 23:26:09
That old cherry again, can't do worse than Kone or Osman, would surely do better than Kone. That has been used to describe practically every novice and teenager at Everton this season.

Best I saw was on another thread today, when someone said McAleny would have done better on the left this season than Mirallas, pure fantasist bollocks!!
Anthony Dwyer
12
Posted 23/02/2016 at 23:56:08
We seem to be doing well in the games involving U21s and U18s etc, as suggested, it would be nice to see a couple of the young lads put on the bench with a serious view to getting a few minutes here and there when the chance arises.
I wouldn't expect Roberto to throw the youngsters into a position were it could backfire, but there are games were some of the youngsters could gain invaluable experience.
Good luck to Kieran Dowell for the remainder of the season.
Phil Walling
13
Posted 24/02/2016 at 00:33:30
These kids are being trained to play for Brentford not Everton. But the next Barkley is only five years away !
Gavin Johnson
14
Posted 24/02/2016 at 01:21:17
I wouldn't be surprised if he comes on from the bench on one of the remaining fixtures. This kid looks an exceptional talent and due to his position I think his development could be more rapid than we saw with Ross. Wingers and attacking players have a bit more licence to make mistakes than the responsibility of playing centre midfield.
Malcolm Kitchen
15
Posted 24/02/2016 at 03:40:49
As Anthony & Gavin said, it would be good to see Dowell come on late in games when we are ahead 3-0 say. I've wanted this for 2 years, let's see our young talent be given more chances; Evans is another bright talent, good eye for goal, also Broadhead scored a hat-trick v Derby recently.
Ian Jones
16
Posted 24/02/2016 at 08:56:17
Malcolm @15. Not sure whether your comment about Dowell coming on late in the game when 3 nil up was slightly sarcastic. He wouldn't get that much of a chance!
But yes I would love to see more of the younger talent get there chance and that applies to all clubs as well.

Winston Williamson
17
Posted 24/02/2016 at 11:27:26
There's a few at EFC who could possibly make the grade: Dowell, Kenny, Walsh, Evans and Williams.
It's the transition from 18-20 (something I agree with RM about) which is vital. It's rare you get a player ready to step right up into the first team at 16-18...
It's easier for clubs without top 6 aspirations or worries about relegation to blood one or two 16-18 year olds.
In Dowell's case it would be prudent and aid development if he made the bench at some point this season...
Harold Matthews
18
Posted 24/02/2016 at 12:32:09
He's not a Wayne Rooney. He needs to go out on loan and learn what real competitive football is all about.
Ian Bishop, an Everton youngster in the Kendall era who went on to be a legend at West Ham and City, reckoned he learnt all his football during his four early years with Carlisle United.
Unsy and Joe Royle keep a close eye on all our loanees who all return stronger and hopefully more mentally mature. Some, like Jonjoe Kenny, have an old head on young shoulders and take everthing in their stride. Some, like Lundstram and Browning, are overwhelmed when they mix with seniors and take a while to get there.
Phil Walling
19
Posted 24/02/2016 at 12:40:21
Or don't get there..... as is the norm!
Dave Abrahams
20
Posted 24/02/2016 at 12:51:47
I keep saying it but these young lads will improve better by going on loan, as Michael Ball. Said the other week they are playing development football in the U21s league. They have to get away, on loan, to play real football. Most of the young lads know this, it also helps them to grow up quicker, living on their own.
To give Martinez his due, he has repeatedly pointed out that something needs to be done to bridge the gap between the ages of 18 and 21 with young players. The FA and senior clubs are doing very little if anything to help these young players.
Anthony Dwyer
21
Posted 24/02/2016 at 12:59:09
We have to be realistic, we won't finish top 4 but we could still push for a Europa League place. Getting into the Europa League would actually benefit the younger lads more than a few 5 minute cameos, as I'm sure they would be given a chance to play more minutes in the Europa League group stages.
If we lose a few more games, the chance of Europa League football will diminish. IMO, we should then seriously consider blooding youngsters as it will have been proven over the past two seasons that the current first team squad is in need of revamping.
The main players are all vital; it's more the likes of Osman, Hibbert, Pienaar, Howard, Kone and probably Mirallas too, who I am myself a fan of but is worth a half-decent sum as a transfer and is clearly not part of Martinez's plans.
Signings like Cleverley and Besic are real value to us as our transfer budget won't be big and replacing up to 6 players plus trying to strengthen will be difficult.
We could do with a free, a bargain (Besic, Arteta, Cahill style), a breakthrough for one or two (Galloway style) enough to be a bench player each week, and a main signing who will push the first team on. Ideally, Dowell would be a great option to be the breakthrough as it is much harder to find an attacking player capable of being good enough for the Premier League, than it is to find a full back.
If we still have Martinez as our manager next season (which I'd guess we will), I'd imagine Lukaku, Stones and Barkley to continue to grow, whilst the likes of Deulofeu, Robles and Funes Mori could really step up and kick us on too.
Hopefully, here's to a bright future.
Gerry Quinn
22
Posted 24/02/2016 at 13:07:55
Whilst on the "youthful" subject, well done to our young blue boys – let's hope we see as many of you as we can in a first team Everton shirt...
Premier League National Futsal Finals 2016
Under-9s
Winners Everton. Runners-up Derby County. Plate winners Liverpool.
Under-10s
Winners Manchester City. Runners-up Aston Villa. Plate winners Derby County.
Under-11s
Winners Tottenham Hotspur. Runners-up Chelsea. Plate winners Newcastle United.
Under-12s
Winners Everton. Runners-up Norwich City. Plate winners Chelsea.
Futsal is a five-a-side game that helps develop close control, on-pitch intelligence and movement off the ball, and it has become an important part of the Premier League's Youth Development programme since the League's Elite Player Performance Plan (EPPP) was introduced in 2012.
Dave Abrahams
23
Posted 24/02/2016 at 13:25:10
Gerry (#22) do they play with a different type of ball in Futsal competitions?
Steve Hogan
24
Posted 24/02/2016 at 13:36:50
Harold (18), Ian Bishop a legend?? Maybe in the discerning eyes of West Ham and Man City fans, and whatever division they played in at the time. Not sure what constitutes a 'legend' these days actually.
I always believed players in the calibre of Ball, Kendall, Harvey, Southall, Reid etc were true legends in my lifetime, but Ian Bishop...nah..
Andy Meighan
25
Posted 24/02/2016 at 14:11:04
Throw him on at Anfield when we are 4-0 up with 30 mins to play – he might get the 5th.
Hang on... is that a pig I've just seen cruising past my living-room window???
Phil Walling
26
Posted 24/02/2016 at 14:56:04
Galloway, like others before him, will soon become dispirited with bench-sitting but who of us would choose either of them over the present first team incumbents?
Everton are as fastidious in their development of young players as any other club but, in this age of a world-wide transfer market, what chance has any of them of gaining a regular first-team place? I mean, when you can get a star striker like Kone for £6M or so, why would you want to risk McAleny?
The old Reserve leagues – Central League and Football Combination – were abandoned because 'star' players refused to appear 'in the stiffs' – even though the games provided a platform for them to get back to form or fitness. The age group competitions are just an extension of youth team football.
The irony of all this is that today, kids are better off learning their trade 'down the leagues' and then getting a transfer to the Premier League like Stones, Alli and Byrom, than starting at the top and then working their way down the pyramid. The whole system is fooked!
Fran Mitchell
27
Posted 24/02/2016 at 14:57:40
Dowell certainly seems to have the talent to make it, and I think it would do no harm putting him in the squad from now until the end of the season, with the likes of Osman, Barry and Pienaar about to give advice, he could certainly learn a lot. And surely he will off more than Kone as a sub.
Walsh is another who looks a real talent.
The likes of Williams, Ledson, Kenny and Grant all seem to have potential, but like many before them (Lundstram springs to mind) could turn out to be lower-league players rather than top-end Premier League ones (or may need many years before becoming top-end Premier League players). Personally, I'd use them all next season to find out.
Tony Abrahams
28
Posted 24/02/2016 at 15:21:48
Phil, it's an irony that hasn't really changed except for the changing of the system for the worse with the abandoning of the old Central League.
I'm not sure it was for the reasons you say, Phil, but I have to agree that this Under-21s football does appear to be shite though, and doesn't seem to offer anything near competitive enough football.
It seems that most of the kids who come through the lower leagues have a bit more fire in their bellies, which is definitely something Under-21 football doesn't teach.
Gerry Quinn
29
Posted 24/02/2016 at 16:03:12
Dave (23), don't think so - the ball may be a bit smaller and lighter, not sure...
http://www.premierleague.com/en-gb/news/news/2015-16/feb/240216-premier-league-futsal-finals-Everton-man-city-spurs.html?
Dave Abrahams
30
Posted 24/02/2016 at 16:24:04
Gerry (29) just had a chat to my grandson who has played in Futsal competitions, the game is played on a hard court surface with a smaller ball that much less bounce than the usual ball.
Futsal is a five a side game, as you said, and it mainly used to encourage skill.
Liam Reilly
31
Posted 24/02/2016 at 16:52:20
Unfortunately, there's millions of reasons why these kids will take some time to blood in the Premier League; so, unless the points are in the bag or it's a dead rubber, we won't be seeing them anytime soon.
http://www.totalsportek.com/football/premier-league-prize-money-table-2015/
Harold Matthews
32
Posted 24/02/2016 at 17:16:20
Steve (#24). When I read the story it said "West Ham legend and cult figure".
Michael Kenrick
33
Posted 24/02/2016 at 17:20:15
Apologies if I'm being over-zealous here but John Lundstram is no longer with us, despite the many accolades and "one-for-the-future" nominations he collected over five seasons of grooming for the big-time, which included five separate loan spells, and three seasons on the 'roster' with his own shirt number. But no official appearances for the senior side.
When his contract expired at Goodison in the summer of 2015, Everton offered him a six-month deal but he said No:
"I didn't feel it was worth wasting any more time, so I just wanted to get out there and start playing first-team football regularly – and not on loan for once. It definitely makes a difference being permanent. You just feel much more part of things."
Gavin Johnson
35
Posted 24/02/2016 at 18:07:19
I think Ian Bishop was a fantastic player. For me, his only weakness – and what stopped him making it at Everton – was his lack of pace.
Michael Kenrick
36
Posted 24/02/2016 at 20:02:05
The Old Farts Club is bemoaning the loss of the Central League as a major part of the problem – one even claiming that "The FA and senior clubs are doing very little if anything to help these young players."
To make games more competitive for the Under-21s, who are in effect the renamed 'Reserves' of yore, the FA and senior clubs have added a lot more knockout games (Everton are playing in both the Liverpool Senior Cup and Lancashire Senior Cup – they usually give at least one a miss each season) and have introduced the International Cup competition to have them play against direct European counterparts, as well as introducing their own League Cup competition.
Will these efforts make a difference? Only time will tell. For the cynic, nothing really seems to work and the continued decline of English Youth football, much bemoaned on here and elsewhere, seems set to continue relentlessly...
And personally, looking at the loan system, I am not at all convinced this makes a blind bit of difference. But they are trying, and to say they aren't is I think somewhat disingenuous.
I am convinced the free movement of foreign players (irrespective of some needing work permits – how many if any are refused?) is the overwhelming problem that has changed the sport we all once loved. Seems only the election of Donald Trump could change that...
David Ellis
37
Posted 25/02/2016 at 03:13:26
Yes Michael free movement of players is one of the reasons the Premier League is the best in the world and why the standards are now so high. It's the high standards which stop top youngsters from breaking into the first team. I don't think restricting foreign players (or foreign talent in any industry) is the way to happiness... quite the opposite.
I agree we need another avenue to develop young players from 18 to 22 – but I don't think lowering overall standards in the Premier League is the appropriate approach. "Slegehammer... nut" springs to mind. The FA did suggest Premier League B teams being allowed to play in lower leagues but the Football League did not like the idea (and I can't honestly blame them for that).
Kieran Fitzgerald
38
Posted 25/02/2016 at 07:11:39
Something I've said before, and Tony @28 said it again, is that young players we sign from the lower leagues are better prepared for first team football at Premier League level than our own academy players. Galloway was already playing first team football for MK Dons when we signed him. Stones was already playing first team football for Barnsley when we signed him.
As Tony said, it could be they are hungrier than the Premier League Academy players. With an Academy player, he thinks he's the business at 15 or 16. He gets released at 18 and a lot of the time he disappears from the game altogether. Players from lower league clubs seem to have the heart to keep going.
It could be to do with the fact that the lower league isn't as pressurised an environment. As a young player, you will get the time to get games under your belt at your own club. This is a much bigger incentive and opportunity to develop than being sent out on loan to the other end of the country to a club you feel nothing for. At 18 in the Premier League, if you're not the next Rooney or Barkley, you're not getting a game.
Paul Andrews
39
Posted 25/02/2016 at 07:47:37
Tony & Kieran.
Very good points. The best way to develop promising young players is to get them out on loan to lower division clubs. A season of being involved in the physicality of the lower leagues will toughen them up.
Also, opponents in the Premier League stand off more and allow you to play. After playing in the lower leagues, they appreciate more space... even if it is a yard or two quicker.
Dave Abrahams
40
Posted 25/02/2016 at 09:37:03
Michael (35) I understand what you are saying about the extra competitions for the age group 18 to 22 but it is how the game is played in these games; it is a boring experience to watch them, never mind play in them; it is practically a non-contact game, different completely to when these players go on loan.
I would love to get the viewpoints of these players when they come back after being on loan; I bet they don't want to play in these U21 games.
I think Paul (38) has got it right along with us old farts.
Kieran Fitzgerald
41
Posted 25/02/2016 at 10:47:14
Dave, good point about coming back from loan. Dowell is playing very well at present by the sounds of things. He may come back a better player for the experience. However, he comes back from a decent loan spell and will be banished back to the U21 team to kick his heels.
Jamie Barlow
42
Posted 25/02/2016 at 11:45:58
When these young lads go out on loan, they play against men who have played the game for years. They have to grow up quick in these lower leagues. There's a huge difference to playing lads of the same age and experience in the Under 18/21s.
Phil Walling
43
Posted 25/02/2016 at 15:40:40
As one of Michael's Old Farts ( funny how the insults flow if he doesn't agree with you!), I was merely making the point that the U 21/ Reserve league which replaced the Central (north) and Comb (south) has hardly had the effect of improving the 'finishing school' process.
It has also limited the opportunity for established players to gain match fitness after absence / omission from first team activity. Is all.
Brian Harrison
44
Posted 25/02/2016 at 16:37:36
I think it is very difficult to asses how good the U21 set up is for producing young players. Take our own club apart from Barkley who else has progressed from the U21 set up to become a regular. RM is still talking of McAleny still making the first team squad, the boy is 23 and how many times has he been included in the first team squad, never mind come off the bench.
When you look at most of the clubs in the Premier League, they seem to produce very few who go on to become regular first team players.
So, is the system fit for purpose which is to produce first team regulars? Looking around the league... apparently not.
Ray Roche
45
Posted 25/02/2016 at 16:58:04
One thing that the old Central League DID have in it's favour was that the senior players who were coming back from injury or just off form would be playing in a real competitive game against other pros, not young lads in a none contact match.
I recall LFC being famous for having a reserve team that mirrored the first team so any new signings played there for some time to get to know the "Liverpool way" before they made their first team debut. Terry McDermott claims he wasn't too happy about it but appreciated the system once he'd got his first game behind him because his "promotion" was seamless.
Michael Kenrick
46
Posted 25/02/2016 at 21:28:19
If we could show that the loaning out of academy players to lower leagues helps them develop into future Premier League players, I'd have to believe it. I acknowledge the benefits that should accrue, and people will point to Osman and Barkley as examples, but the rarity of hen's teeth comes to mind... I suspect it is merely part of the winnowing process.
Interesting point about players like Galloway, Stones, etc whom we have bought in some time before they make it to the first team; by my recollection, I don't think they go out on loan, or very rarely (Henen?). I think the loan system is more trial by fire and allows the club to make the cut with a little more confidence, for the 95% who simply ain't gonna make it.
I hear what you say, Dave, about the boring play in the U21 games, and I believe it. Even adding these sudden-death games, and higher-profile Euro clashes at Goodison probably hasn't changed their fundamental approach to playing the game. How you maintain the drive and ambition as young Academy players through years and years and years of meaningless lower-level footy that is such a huge contrast to the cut-and-thrust of senior games... well, that just defies my comprehension. So indeed the ones who make it have to be incredibly dedicated and committed.
I'm not convinced, Phil, that what you describe has actually happened. If you look back, I don't think the Central League was really that much more competitive than the current system, which also provides ample opportunity for recovering seniors to get a run-out as 'allowable' over-21s – So I don't believe the opportunity is limited in any way... although very, very few seem to take advantage of it. Why is that, I wonder?
I think Brian is reflecting the same feelings I have about the system, which you have to judge by results. The dropout rate is absolutely huge as the number of players going through the Academy system is huge (I'd guess at 10 to 15 'new' U18 players each year). Is that only to be expected? – that only a very small number will ever make it? Or is there something more fundamental at fault with the system?
I hate talking about Liverpool, Ray, they get far too much attention as it is, and I know nothing of that psychological trick to upgrade their reserves; I suspect this was a rarity, again falling into the Fond Memories of Olde category.
Nick Entwistle
47
Posted 25/02/2016 at 21:45:29
Michael, of course very few will make it. Clubs are restricted to a catchment area yet Premier League players are the pick from all over the world. Best of the best. Well, at least those who Madrid, Barca and Bayern don't want.
Either you can try your best with local talent, where few will come through to first team, or go down the unsavory Chelsea, Man City, Arsenal route of farming kids from all over the world just to make profit on their loan fees... and still, few will come through to the first team.
Tony Hill
48
Posted 25/02/2016 at 21:52:51
Coleman at Blackpool was another success though, of course, he wasn't homegrown. I think some people may not realise how good this young man Dowell is and I think Martinez is downplaying him, quite rightly.
The old reserve games were fun but that league was another type of holding pen.
I suspect we have a really good set of young players coming through, actually, and quite a few of them brought up in our system. A good number will fall away, it is true, but we may be in for some pleasant surprises.
Bill Gall
49
Posted 25/02/2016 at 23:30:46
How many players at 18 who show real promise actually make it into the first team? Supporters on here are talking of about 4 or 5 players who look like they are ready to step up to the first team for next season, but as supporters we expect a club like Everton to go out and buy players to bring us through the mythical glass ceiling into the Championship League rather than risk using youth players.
If we take a look over the last 10 seasons and use the figure of 3 young players that were ready to step up to the senior team. how many of the 30 have made it?
The major problem with young players coming through the age groups, is they play with players around their own age groups and it is only the exceptional ones (Rooney, Barkley) that can still use their talent against the older experienced players.
The major problem is "money". Clubs and supporters demand success and that means that the Clubs with the most money are more interested in buying experienced players than giving their youth players a chance unless they are exceptional.
Everton have constantly had a good youth set up but there seems very few of them that can produce 3 -4 players for the first team.
Add Your Comments
In order to post a comment, you need to be logged in as a registered user of the site.
Or Sign up as a ToffeeWeb Member — it's free, takes just a few minutes and will allow you to post your comments on articles and Talking Points submissions across the site.
© ToffeeWeb