Martinez looking for in-form Everton to push on
by

94 Comments [Jump to last]
| 02/03/2016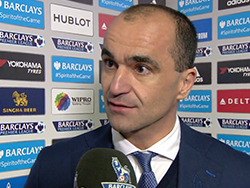 Roberto Martinez expressed his satisfaction with last evening's 3-1 win at Aston Villa which represented Everton's fifth win in six games in all competitions.
An early header off a corner by the Blues' outstanding player on the night, Ramiro Funes Mori, set them on their way to a comfortable if unspectacular victory over seemingly doomed Aston Villa that was completed by another goal from Aaron Lennon and a Premier League record-setting strike by Romelu Lukaku.
"I'm really pleased because, obviously, the start of the game was really good [from our point of view]," the manager said after the match. "We expected a really tense game. I think when you get to this stage of the season, every point matters and playing way from home you're going to get to adapt to that intensity that the home side brings.
"I thought we started really, really well and from that point on, at times we had to defend well and I thought Aston Villa pushed us a lot with a new formation [that had] a lot of width and [they put] a lot of balls in the box.
"Throughout, we defended really well and it was well worth an important win for us.
"You always want to be perfect," he continued when asked if he felt his team could have scored more than the three they managed. "I thought the goal we conceded was a little soft. We had a player off the pitch and we almost allowed them to have a bit too much space in the box but we took [our] goals really well, we were really   clinical, ruthless, in that respect and then we created other chances.
"Of course you want to score more but I thought, overall, we managed the game well enough when we were ahead. It's always difficult when you're away from home to get composure throughout the 90 minutes and I thought we had that.
Asked if he felt that a top-six finish was a realistic possibility, Martinez suggested, in not so many words, that that was the goal and that his side were now well placed to push up the table, particularly if they can sort out their home form.
"I feel the squad is in a really good moment," he continued. "We've got really good competition for places [and] we've been very consistent over the past six games, even if we lost one of those [against West Brom]. So the consistency of our performances have been very good, we're in a good vein of form, we're enjoying our football with a lot of confidence and it's just [about] making sure that we go game by game with the understanding that every point will get us closer to where we want to get.
"Now we want to get wins at Goodison in front of our fans. That's probably where we've not been as good as we can this season.
---
Reader Comments (94)
Note: the following content is not moderated or vetted by the site owners at the time of submission. Comments are the responsibility of the poster. Disclaimer
Kevin Elliott
1
Posted 02/03/2016 at 18:20:44
"Now we want to get wins at Goodison in front of our fans. That's probably where we've not been as good as we can this season."

No 'probably' about it, sunshine...
Eric Holland
2
Posted 02/03/2016 at 18:33:32
Who was the so called South American football expert that said Mori would not cut it in the Premier League??
Got loads of that pie here for him to eat.
Mark Gardiner
3
Posted 02/03/2016 at 18:39:17
Has it taken him this long into the season to figure that out? Didn't he know that last season as well?
Dave Abrahams
4
Posted 02/03/2016 at 18:48:37
Mark (#3) best to try and ignore his after match talks. If they gave university degrees for talking rubbish, Roberto would pass with honours. I hope we don't have to hear them next season.
Paul Andrews
5
Posted 02/03/2016 at 18:50:38
Eric,
Expert? Haha
Martinez has unearthed a gem in Funes Mori, and he can only get better with experience. Hopefully he gets on the free kicks around the box soon.
David Greenwood
6
Posted 02/03/2016 at 18:54:59
Tim Vickery, I think it was, Eric. Pops up on TalkShite and the BBC regularly.
Gavin Johnson
7
Posted 02/03/2016 at 18:56:27
If we get a couple of home wins and move away from sitting between 10th and 12th in the table... then... we can say we're in-form. At this point, it just sounds like crowing about another false dawn.
Eric Holland
8
Posted 02/03/2016 at 19:02:58
That's him, David, Tim Vickery.... Ha ha! I would love to pull him up on TalkShite but they only have Cockney RedShite on.

John Keating
9
Posted 02/03/2016 at 19:04:30
Does Martinez know who we've actually played against the last 6 games ??
Bloody megateam Carlisle and Bournemouth reserves in the Cup;
The inform top of the league clubs Newcastle and Villa;
Top club in the Midlands, West Brom who BEAT us at home Roberto!!!
And okay, I accept a bit of a turn up winning at Stoke.
All in all I don't think we are in a "good moment".
His bullshit is getting worse.
David Pearl
10
Posted 02/03/2016 at 19:05:17
It's the same going back to Moyes days that if we lack intensity it's just not Everton. I think we have to find a way to use this possession type game but have the quality in midfield to control it properly so we can play higher up and more compact.
I'm still of the opinion that Besic offers us much more than McCarthy. RM should of by now got us knitted together better. We have played much better and gotten nothing, so to play so-so and get 3...
Here's hoping we can kick on and get an actual win at Goodison on the weekend... because our home form is beyond embarrassing.
Andrew James
11
Posted 02/03/2016 at 19:06:00
Tim Vickery was someone I used to respect but he seemed to go out of his way to knock Funes Mori before he'd even kicked a ball.
6 months later and we have a composed defender, good in the air and with attacking play to his game.
How many goals is it he's scored now? 4? Not a regular either so that's the most prolific centre-half we've had since a certain Joleon Lescott wore blue.
Eddie Dunn
12
Posted 02/03/2016 at 19:06:12
Yes Tim (know-all) Vickery, he has an easy ride really, as we never hear from anyone else regarding South American football.

Well done, Funes Mori, for a super start to his English career.
Ian Burns
13
Posted 02/03/2016 at 19:08:10
Eric - Tim Vickery is the prat you are thinking of.
Ray Smith
14
Posted 02/03/2016 at 19:12:18
The thing is, he actually believes it.
Hopefully someone will sit him down and talk him through the bull he spouts and ask him to explain what it is he is actually saying.
One response I was taught when having no intention of answering the question is to respond by saying "that's a very good question, but before I answer it, I would just like to say" followed by the diatribe he comes out with.
He never seems to be challenged on his views. Perhaps his questioners are fed up asking?
Dennis Ng
15
Posted 02/03/2016 at 19:12:27
We need a cartoon with Vickery and a bird drops or pie all over his face LOL
Duncan McDine
16
Posted 02/03/2016 at 19:16:07
I was watching Funes Mori at Reading earlier in the season, cacking myself every time the ball came near him. I was slagging him off on the way home, but I have to say, he's probably first choice centre-half right now.
I'm hopeful that Stones's drop in form/confidence is short-lived, but I'd like to see Jags and Funes Mori continue like this till the end of season.
Paul Andrews
17
Posted 02/03/2016 at 19:18:19
Hear, hear, Duncan.
Clive Rogers
18
Posted 02/03/2016 at 19:26:46
Vickery did admit he'd got it wrong regarding Funes Mori, to be fair.
Eric Myles
19
Posted 02/03/2016 at 19:36:48
We're in form?? When Villa were the better team for parts of the game and our defence was still a mess!
Les Martin
20
Posted 02/03/2016 at 19:41:56
Saturday's homer against West Ham will be a defining game of our season. If we cant take the 3 points at home yet again, then I think the Europa League place has gone.

We have the talent and there's no denying El Bob and his scouting staff can pick a player, eg, Funes Mori. Any early criticism of him was ludicrous as he was finding his feet in the most intense league in the world. He has now settled, and he is showing just what a good player he is. Another who will be circled by the vultures before long.
Ray Smith
21
Posted 02/03/2016 at 19:43:57
Duncan #15
I was at the Reading game and echo your views that night.
I also agree with your assessment of Funes Mori since.
Thomas Newton
22
Posted 02/03/2016 at 19:49:08
In form, last night was a mess and as bad as anything we served up last season. Slow and sloppy in possession, lacking desire, and basically looked like they couldn't give a toss.
Yes, we scored 3 and could've scored more but much of the game second best to an abject side beyond the Abyss.
I thankfully passed on attending last night, first time in about 10 years I've not gone to Villa away... maybe a while before I get back there again.
John Graham
23
Posted 02/03/2016 at 20:05:27
Yes, Tim Vickery has already admitted he got it totally wrong about Funes Mori. He did look like he was terrified of the ball coming near him in his early days but has come on leaps and bounds. Seems to be a very fast learner.

Besic is a much better attacking option than McCarthy, who seems to relish in stopping people play more than creating anything for our attacking players.

If Martinez has any ambition of finishing in the European positions, then maybe it would help if we only played one defensive midfielder at home and tried to get the ball forward quicker.
Scott Bosworth
24
Posted 02/03/2016 at 20:20:50
To everyone having a go at Vickery in this column, consider taking a step back a little bit, just maybe.
1. When Funes Mori showed up on our radar, Vickery chimed in to say that he'd seen him play and wasn't impressed at all. Vickery again repeated his opinion that Funes Mori wasn't very good and especially not for the price we were paying. (Remember that Funes Mori was WAY more expensive than we all originally thought.)
2. After Funes Mori's early performances were quite good, Vickery was THE FIRST GUY to stand up and write a lengthy column admitting how utterly, completely, and hilariously wrong he'd been.
Good gracious, imagine how much better the footballing world would be if every journalist or pundit had the balls to 1) give a straight opinion, even if it's not popular, and 2) admit openly when that prediction/opinion proves to be incorrect. The moral of the story here isn't that Vickery is an idiot – it's that he's a frickin' hero by journalistic standards.
Don Alexander
25
Posted 02/03/2016 at 20:20:54
As Dave Abrahams infers, Martinez + microphone = bullshit.
By saying "....playing way from home you're going to get to adapt to that intensity that the home side brings" Martinez wins the Basil Fawlty prize for stating the bleedin' obvious but is he even aware that teams visiting Goodison largely don't have that problem due to his own repeatedly inept "tactics"? How deluded can he be?
Joe Foster
27
Posted 02/03/2016 at 21:42:51
Really RM? Yawn...
Tony Hill
28
Posted 02/03/2016 at 21:48:56
We might as well give up now anyway. There is a gathering conviction that Liverpool can still make top 4, as is only right and fair.
Andy Crooks
29
Posted 02/03/2016 at 21:58:18
Scott (#21), a really good post. Vickery talks a lot of sense and when he gets it wrong he owns up. I can actually see his point on this one. Funes Mori has made a step up that is utterly incredible and I believe he is an asset of the order of Stones and Barkley. I bow to no-one in my disdain for Roberto Martinez but this signing was superb and the coach deserves credit for it.

Eric Holland
30
Posted 02/03/2016 at 22:05:48
"How utterly, completely, and hilariously wrong he'd been."
Sorry about that Scott I must have missed that one.
Any links please?
Sid Logan
31
Posted 02/03/2016 at 22:14:27
Saturday's game against West Ham will tell us much about whether Martinez can become the manager he thinks he is.
Personally despite the result there was quite a bit about last night's game that was unconvincing.
We've now got 3 home games to demonstrate we mean business.
Harold Matthews
32
Posted 02/03/2016 at 22:20:16
Watched West Ham tonight. They had a real hard game.
Besic is fit to play but I was hoping for Cleverley in front of Baines.
Eric Holland
34
Posted 02/03/2016 at 22:23:39
West Ham, Chelsea and Arsenal all at home. Three season-defining games for Everton! Are we capable of winning all three?
Colin Glassar
35
Posted 02/03/2016 at 22:26:51
Don't punish yourself, Sid, our season ended after the WBA & Swansea games. All we can hope for now is a top 10 finish and a decent cup run.
Martinez will be judged by the new man in the close season to see if he can take this talented (and soon to be improved) squad forward. if not, he will be replaced.
So let's try and enjoy the rest of the season without too much anguish and look forward, hopefully, to a more productive and enjoyable season.
Kieran Kinsella
36
Posted 02/03/2016 at 22:29:23
Shame that joker Niasse turned out to be a dud.
Gordon Crawford
37
Posted 02/03/2016 at 22:32:11
Did Niasse get much game time? And how did he get on?
Jeff Armstrong
38
Posted 02/03/2016 at 22:35:35
Kieran, you are joking, aren't you?
He's had 17 minutes!!!
Sid Logan
39
Posted 02/03/2016 at 22:40:04
Colin, after so much frustration these last 2 seasons and with the inherent dislike of Martinez's approach I've developed, I'm really in a wait-and-see mode.
Deep down, I know what I expect to happen but to be honest I suspect, like many of us, I'm sick of talking about the ongoing question of will he/won't he learn, change, listen or whatever.
The next 3 games may be key in answering those questions but I've already written the answers and placed them in a sealed envelope which I've fed to the dog!
Ciaran Duff
40
Posted 02/03/2016 at 22:50:41
Gordon – Niasse came on for the last 10 mins when we were trying to close out the game. So hard to judge him. He did chase back and put in a few tackles. Looks to have a good attitude to me.
West Ham will be a tough test on Saturday which is good in a way. We seem to struggle at home against weaker teams. Having said that, Swans beat Arsenal away and WBA have had good results since playing us. Crazy league this year.
Mike T Jones
41
Posted 02/03/2016 at 22:50:52
Last on MotD.
Colin Glassar
42
Posted 02/03/2016 at 22:55:03
I'd love to win all our remaining games, Sid, but I know it's not going to happen. I'll try and enjoy the rest of this season (another wasted, frustrating one) and hope to see some signs of consistency... but I won't be holding my breath.
Scott Bosworth
43
Posted 02/03/2016 at 23:01:51
Eric Holland (27)--
You can read his article, which is very lengthy, at the link below. The money quote, though, is this one:
"A frequent self-defence mechanism is to proclaim any player who puts together a sequence of solid games as some kind of phenomenon. It was not going to fool me! Perhaps, subconsciously, I was a little jaded by being exposed to an excess of mediocre South American club football, and I took this feeling out on one of the players.

So when I watched Funes Mori I was blind to his improvement. I only saw the bad side because that is all I was looking for.

I nodded sagely at his mistakes. They confirmed my pre-conceived view that had been formed in different circumstances, when he was still finding his feet and playing for a coach who was clearly not his biggest fan.

Every time he was beaten for pace, played a poor pass out of defence or went to ground to tackle, I chalked it up as a moment that was representative of the player, while ignoring all the good things he was doing. Because it lacked the flexibility to take account of his development, my evaluation of him was unfair, and, as it has proved, unwise."
Full article here: http://theworldgame.sbs.com.au/blog/2015/11/08/my-funes-mori-faux-pas

Eric Holland
44
Posted 02/03/2016 at 23:12:02
So this expert investigative journalist did not even know he could speak English from his time Spent in Texas!!
His preconceived ideas where based on the fact that Bobby s last signing from South America was Shite! " utterly, completely, and hilariously wrong"
Did not see any reference to this in the article. Just a lazy so called journalist who never done his homework properly then tried to talk his way out of his misguided judgment by quoting other failures from South America.
Priceless...

Gordon Crawford
45
Posted 02/03/2016 at 23:29:58
Thanks Ciaran for the update. :)
Great to hear that he was chasing back and making tackles. Can't wait to see more of him on the pitch.
West Ham is going to be difficult game. But I believe we will win this Saturday.
Colin Hughes
46
Posted 02/03/2016 at 23:43:06
We are back down to 11th now and after West Ham on Saturday the next two league games are Arsenal (never beat them) and Man Utd Away (1 win in 25 years).
The only way we can push on this season is if we win the FA Cup as a woeful December and January cost us achieving anything in the Premier League. We can push on but he can push off.
Kieran Kinsella
47
Posted 02/03/2016 at 23:57:03
Ciaran/Gordon
10 mins? Traore would've scored a hat trick in that time. Next
Frank Thomas
48
Posted 02/03/2016 at 23:58:42
I agree with Colin (31) I really thought we could still gain CL qualification until the defeat against WBA and their subsequent thrashing by 3 goals in their next game.
Now it does not matter what we do because Man Utd, Liverpool, Chelsea and West Ham are all full of confidence and starting to play much better and we are 9 points away from a CL position and possibly playing worse than against WBA.
I hope our new investor asks him why with our GD did we not finish in the top 4? With the best 3 centre backs and the quality of our full backs coupled with all your published comments Roberto on the great play of all the players why did we not win more games?
Roberto's only chance of survival to 2018 now is 'to lose' Stones and Rom in the summer and he will need 2 or 3 more seasons to rebuild.
Victor Jones
49
Posted 02/03/2016 at 00:07:35
So now we are going to finish strong and get into a Europa League spot. And there is actually still a small chance that that could actually happen. Crazy. It could happen because the league is nuts this season. Had Martinez approached the first game(Watford) with that attitude, and then carried on like that.......well who knows were Everton would be. Persisting with Howard and playing two DMFs every game, has IMO stifled Evertons chances of doing something special. And also , not keeping Stones in check. Playing a poor mans tippy tappy. ...But we all know the downfalls. They have been there for around 18 months. But now we are going to win our next three games. Now we are going to finish strong. As I have said.......crazy.
There are around five teams that have under performed in the premier league so far this season. Five teams that have not really played great. Five teams that EFC supporters usually call shite. Those five teams(Liverpool...Man Utd...Chelsea.....Southampton....Man City). are all above us in the league. Add an under performing Arsenal also to that list. FFS..Stoke city and West Ham are above us.... My point is that....we are now going to push these teams. We couldn't push them when they are playing badly. We need to get our own house in order first. We need to start beating teams above us. A win against West Ham would be a start. Hopefully.
As stated ....this season has been crazy. Leicester City have taken advantage of that. We haven't. Lucky for Everton that they had the beating of three very poor teams( Villa..Sunderland and Newcastle). We would be really up shit creek, if the worst teams in the league were Palace..West Brom and Swansea and not those other three.
The evidence of the last 18 months is there for all to see. For most of that we have been poor. So sadly , I cannot see Everton pushing for a top six place. And do we really need a Europa Cup place? It stretched our squad last season. And you just know that league form next season would suffer. Martinez seems to throw everything at one cup at a time. The league form suffers, and midtable beckons.
So for me , just keep playing, pick up as many league points as possible. Get ideas and tactics in place for next season. Regroup and hopefully hit the ground running right from august. But also give this years FA cup a right old rattle. We can beat Chelsea. Arsenal and Man Utd can be beaten. We can win this cup. Martinez talks bollocks. But bring home the FA cup.......and I forgave him.........for now...
Victor Jones
50
Posted 03/03/2016 at 01:04:58
Just another small point. The last two times I heard that Martinez said that Everton were now in"a good place" to push on. We played Swansea and then West Brom. Talk about putting pressure on his players for the up coming West Ham game. Getting fed up now, with all that Martinez is promising. Just wish that he would hurry up and do it. If he can....
Don Alexander
51
Posted 03/03/2016 at 01:35:00
Funes Mori is a welcome addition to the club and his attitude is on a par with another South American who always bust a gut in our cause, the unforgettable Denis "The Menace" Stracqualursi (and I am 100% genuine on that folks!)
James Power
52
Posted 03/03/2016 at 02:24:21
A moment refers to something in the present. How on earth can we all be in a good moment? I hate this bullshit about the moment but I suppose it explains how we can be good one 'moment ' and fucking predictably shit the next, because we are never just 'good' or 'doing well', we are just whatever we are in 'the moment '.
Jay Harris
53
Posted 03/03/2016 at 04:57:26
We are in a phenomenal moment guys and have no fear we will turn the miserly 3 wins at home all season into 4 before the end of the season and if that's not sufficient to get us in the top 5 there is always next season because we can make the future phenomenal it's just the present we have a problem with.
Gary Russell
54
Posted 03/03/2016 at 06:48:42
He is excruciatingly painful, the shite he keeps sprouting. "We've got really good competition for places...." He doesn't come remotely close to utilizing his squad to the max.
Is he good enough and has he shown he is good enough? My opinion is NO!
All these 'great' signings mean nothing. Someone in an earlier post called him The Incredible Incapable One. Sounds about right.
Nick Armitage
55
Posted 03/03/2016 at 07:53:16
Besic v McCarthy. Only one winner.
I simply can't see what people see in McCarthy. I have never seen a midfielder so incapable of any attacking intent, he just blunts the team, he is sleuth like in possession and allows opposition time to get organised defensively.
He typifies the Martinez way of taking an extra touch before telegraphing a pass (normally sideways). Besic plays instinctively with a single touch like Speed, Whiteside and Pienaar all did. It is the speed of movement that hurts teams. Spurs offered£20m for McCarthy to go and warm their bench, big mistake not taking it.
Jim Bennings
56
Posted 03/03/2016 at 08:04:56
Nick
McCarthy was outstanding at the holding midfield role in his first season barely putting a foot wrong but I do agree it's not happening for him and hasn't happened for him for a good year at least.

Possibly some of that has been down to the persistent niggly hamstring injuries, it could be playing on his mind that as soon as he sprints too much his muscle is going to fail again, if you recall his first season I don't think he missed a single game, he was an incredibly fit lad.
Besic looked like he was starting to show some real promise but again, the one thing that keeps coming into your mind is the injuries, he's spent an awful lot of time out this season with recurring injuries, I just hope he's not going to be another player in that mould, for some reason it just happens to certain player's, Gibson a classic example.
Alan Newton
57
Posted 03/03/2016 at 08:50:11
From what I saw of Niasse, I don't think he's ready for any serious game time yet. He looked quite unsure of himself dealing with balls pumped up to him from the back. I recall him just standing and looking at one that bounced about 2 yards from him. The look of Rom's face was one of bemusement but encouragement.
Christopher Dover
58
Posted 03/03/2016 at 08:56:38
Look at this way if we have won 3 home games this season and can win one more we will have improved by 33% that in someones eyes will be phenomenal!!
Tony Hill
59
Posted 03/03/2016 at 09:03:24
The thing about McCarthy is that when he plays I think we tend to get better results and to concede fewer goals (I haven't checked that but it's my impression). Our slump this year was when he was out and he was hampered with injury for much of last season.
I suspect he plays to orders in passing backwards and sideways. I still think he's crucial for us but agree that it would be great to see him running beyond and being more incisive, he is more than capable of it.
James Stewart
60
Posted 03/03/2016 at 09:22:14
We shall see; I can't see us getting any change out of West Ham – they were outstanding last night and deservedly beat a very good Spurs side.
Andrew Ellams
61
Posted 03/03/2016 at 09:30:55
Play fair Christopher, we've won 4 home games. Chelsea, Villa, Sunderland and Newcastle.
Tony Hill
62
Posted 03/03/2016 at 09:43:10
West Ham may have injuries to Collins and Ogbonna which would help our cause.
Christopher Dover
63
Posted 03/03/2016 at 10:38:54
Sorry Andrew, so if we make it 5 still 25% improvement and would think it still called phenomenal moment in the season.
Jim Bennings
64
Posted 03/03/2016 at 10:46:12
Slaven Bilic is a clever man, really clued up about football and tactics, he did a sound job as Croatia manager and Besiktas, I'm just slightly rueful we didn't get in there before West Ham did.
The improvement in the West Ham team this season has been immense, extremely well organised, big strong physical unit but can play attractive football with pace and flair, as seen in wins away to Liverpool, Arsenal and Manchester City and hard fought wins like last night against Spurs, yes Tottenham weren't at it but the Hammers really stopped them playing.
It will rank as our best win of the season if we were to turn them over on Saturday but as someone posted earlier, it will need a vastly improved performance from Tuesday and more importantly a vastly improved home performance from the dross we have witnessed at Goodison this past year.
Harold Matthews
65
Posted 03/03/2016 at 11:27:24
Yes, since returning from injury, Coleman has been very careful not to overstretch himself. However, with the warm weather training behind him, he did cover more ground and show a wee bit of aggression against Villa. He even hit two decent forward passes with his left foot. A rare sight indeed.
He does not possess the attacking skills of Besic or Cleverley but Martinez will probably use him to combat the strong West Ham midfield.
Rob Hooton
66
Posted 03/03/2016 at 11:29:24
I reckon McCarthy would suit the Lee Carsley role in being the sole DMF which would allow the team to be more expansive. Barry has been great again this year but we are just too rigid with the pair of them there.
Ray Smith
67
Posted 03/03/2016 at 11:38:58
What's the difference between Martinez and Ranieri?
Ranieri has moulded good and average players into a team.
Martinez has a far better squad but cannot mould them into a team.
Farhad Moshiri surely won't let this continue past the end of the season. Saturday may well seal his fate!
Dan Nulty
68
Posted 03/03/2016 at 11:52:12
I'm a massive McCarthy fan. I think the issue is Barry being too slow and lethargic – he's been better this year than last but he is past it now. I genuinely think with Besic in there beside McCarthy we'd see more attacking from Jimmy Mc.
We need a goalie in the summer – of that there is no question. I think Stones - Funes Mori is the partnership with Coleman and Baines/Oviedo. Besic and McCarthy in front with a three of Barkley Deulofeu and Lennon. Lukaku up top. If we can keep all these, spend big on Butland or Forster, and keep everyone fit then we can challenge.
But, on to the article – I'm not sure we can challenge with Roberto at the helm. I love the attacking mindset we have at times and we definitely play with more flair. He does get on my nerves with this "really good moment" nonsense he keeps spouting about players and the team and the club. Tactically though, I question his substitutions and selections as sometimes baffling. He can definitely scout a player, though, and ones that don't appear to be on everyone's radar.
Charles McCann
70
Posted 03/03/2016 at 12:22:12
Well said, Dan (#63). Totally agree with your view on Barry and yes we would see more from McCarthy if he didn't have to cover so much for Gareth Barry and his lack of pace. Besic and McCarthy are the future.
I also would like to see Gibson get some game time as he is such a lovely passer of the ball. However with Martinez having his favourites and his reluctance to rotate players I doubt if Gibson gets another chance.
Shane Corcoran
71
Posted 03/03/2016 at 12:39:18
Dan & Charles, there is nothing to suggest, from his career to date, that there is more to come from McCarthy in an attacking sense.
From the little I saw of him at Wigan and the much more I saw of him for Ireland he was/is as anonymous when his team are in possession as he is now.
I foresee little change, especially if Martinez (his long time mentor at this stage) is happy with what he currently sees.
Ste Traverse
72
Posted 03/03/2016 at 12:41:08
Slightly off topic, but when the hell are the Premier League going to rearrange the Anfield derby?? It's been nearly 6 weeks since the original date was postponed and it seems we're still no closer to knowing when the game will be played.
Ian Burns
74
Posted 03/03/2016 at 12:42:19
I believe we are going to have a phenomenal moment on Saturday and beat West Ham 2-1. I just hope he gives Mirallas another start and Ross is instructed to play a little further upfield that he was the other night against Villa, after all he has Barry & McCarthy looking after his back.
Oh, I also hope he gives Niasse some quality minutes so we can really see what he is made of.
Peter Bell
76
Posted 03/03/2016 at 12:49:00
Ste, it is going to be difficult to reschedule the date for the Derby whilst the RS remain in Europe.
All imminent midweeks are either scheduled for Europe or International friendlies.
James Marshall
77
Posted 03/03/2016 at 13:00:15
His English is a lot better than my Spanish so I tend to forgive him quite a bit in interviews – he's steadfastly positive which isn't a bad thing either. Would you prefer him to come out and be as damning as a lot of people on here are?
I'm not sure that would go down too well either.
Cut the bloke some slack – he has to give interviews, and it must be difficult to come out with something new every few days that people haven't hear before – especially in a foreign language.
Andrew Ellams
78
Posted 03/03/2016 at 13:36:56
We need to reschedule our trip to Sunderland now too due to our involvement in the FA Cup next week, and hopefully we'll need to reschedule another game in April due to our continued involvement in the FA Cup. Oh the price of success.

Colin Gee
79
Posted 03/03/2016 at 13:47:14
Sure I read it somewhere that the the dates for the re-arranged games would be announced sometime around the beginning of March.
Simon Jones
80
Posted 03/03/2016 at 14:13:41
2 points dropped away at Bournemouth
2 points dropped away at Chelsea
3 points missed at home West Brom
Free gift goals given to Leicester City...
I could go on, but our problem has not been being "in" or "out" of form, rather consistency. We could have won three of those games and have 7 points more than we have. Having beaten (a poor) Villa side away, I fully expect us to choke at home against West Ham, not because I'm being negative, rather that my experience of this season tells me that we will struggle at home all over again. The buck stops with the manager and while my expectations of this squad were not sky high this season, I expected better than I have seen so far.
7 more points so far would see us a point behind West Ham and actually breathing down the neck of a Champions League place as the top 4 are not streaking away. Coming into the form being talked about at this stage of the season could mean a chance of the top four. Based on what I have seen we will be lucky to finish in the top half.
Roberto Martinez, you have the opportunity to really achieve something with this magnificent football club, but you have to break out of your Wigan inflected mindset and get this team to perform with consistency. Nil satis nisi optimum!
James Stewart
81
Posted 03/03/2016 at 14:33:29
@74 you can add the Stoke at home debacle to that list. Turned the game round to 3-2 and end up losing 3-4. Shambolic.
Andy Meighan
83
Posted 03/03/2016 at 14:59:51
Yes we're in a good moment. And then... er... we have to play at home against a side well above us. I don't mean to sound negative or defeatist but our home form is really nothing to write home about, is it Roberto? The way we've been at home, I wouldn't expect us to beat anyone there – even Norwich who I predict will be relegated by then.
Who's left? West Ham – we've got a great record against them but they're a different animal under Bilic. Southampton and Bournemouth are both unpredictable; Norwich, as I've said... and Arsenal. I don't fancy that with them still in the title hunt.
Our home form is what has let us down all season and I don't think it's going to change unless the manager changes his tactics... which we all know he won't.
Tom Bowers
84
Posted 03/03/2016 at 15:02:13
We cannot forget some of the shambolic performances this season mainly due to the poor defensive displays and on can only point the finger at RM and the coaching staff who set up the defensive plans especially when getting their noses in front. Offensively, Everton are in the top five and would be contending for Champions League but for the defending.
As I have said before they have some talented defenders but cannot tighten up when necessary. I always cross my fingers when any opposition get into Everton's half as they always look like getting a shot at goal. Pushing on would be nice but just when we expect that something drags us back again.
West Ham on Saturday could be a real test. They have some very dangerous players and are playing well but have one or two injuries at the back which may help Everton's cause but the defense has to play top notch to get the three points.
Denis Richardson
85
Posted 03/03/2016 at 15:17:59
Let's wait and see what 'moment' we're in come the weekend. Our home form isn't great and west ham have beaten three of the current top four this season....away.
Make no mistake, the weekend will be a much tougher match than we've had in at least two months.
If we win it will be great but I feel all the crap being spouted now about heading up the league needs to be put on hold. Fact is we're flipping 11th with 3/4 of the season gone! How about just the standard one game at a time? We're in no position to start talking about qualifying for Europe when we struggle to win at home.
We may 'only' be 8 points behind 6th but we'd have to overtake 5 teams to get there, i.e. hope those five don't also pick up points, assuming we do. That's the crux. Until we start beating teams above us, we can forget about moving meanfully up the table.
Onto West Ham.
Jamie Barlow
86
Posted 03/03/2016 at 15:29:15
63 & 64. I can't agree with that. Barry would be the first name on the team sheet for me. Fantastic player.
Sam Hoare
87
Posted 03/03/2016 at 16:19:32
I used to think McCarthy and Besic was the dream pair. Not so sure anymore. Barry has been our best midfielder this season with the possible exception of Ross. He breaks up a huge amount and also moves the ball quickly and effectively. He also covers a lot more ground than people give him credit for. He may not be fast but he is certainly fit.
He's also got more assists this year than I think McCarthy has in his entire time for us (slightly made that up but anyone know the real stats?).
McCarthy for me is still trading on potential. Yes, he gets around a lot and does some great defensive work buts that surely the minimum we should expect. He does not use the ball well enough and rarely if ever takes a game by the scruff of the neck as we have seen Besic do on occasion recently.
The Irishman is a solid 6 or 7 out of 10 every week player but I think we need a little bit better if we are to push on to the promised land of top 4....
Eric Holland
88
Posted 03/03/2016 at 19:53:32
Ray (#64) why would it have anything to do with Funes Mori?
Brent Stephens
89
Posted 03/03/2016 at 20:03:11
Eric - FM as in Farhad Moshiri?
Iain Love
90
Posted 03/03/2016 at 20:47:24
Sam (#81), I was saying the same thing on another post – not slagging McCarthy off but we do need more from him. In reality that's not his game. Better we move Cleverley to that position and use Super Kev or Del Boy wide. .
Paul Montgomery
91
Posted 03/03/2016 at 20:58:09
Win 4 out of the last 5, mostly with some style – yet manager's future dependent on next result?
I despair....
James Stewart
92
Posted 03/03/2016 at 21:11:57
Barry and Besic is the best pairing in the middle by a long way. McCarthy is about as much use as a third nipple in the opposition half and recently he hasn't even been anywhere near his best defensively.
I think we will see Barry, Besic, Barkley as a 3. Martinez has consistently picked that trio against the better sides when he has had the option.
Trevor Peers
93
Posted 03/03/2016 at 21:16:15
Paul, look at our home record under Roberto, and most of us despair. Are you satisfied with that?
Surely that is what the manager's future is dependant on and rightly so.
Oliver Molloy
94
Posted 03/03/2016 at 21:30:53
Jim @ 61,
Agree Bilic has got West Ham organised and the whole team battle well.
In saying that, we are better I think and if Rom can't score (providing he gets the service) against a bog standard centre half like Collins then I don't know.
This is indeed a big test for Martinez and one I feel he will pass on this occasion (I don't know why, I just feel it).
I would like to see our new signing getting some decent time on the pitch on Saturday.
John Davies
95
Posted 03/03/2016 at 22:00:42
OMG! Goodison Park is "probably where we've not been as good as we can this season". Fuck me, Roberto – you really ARE a genius in disguise.
So still the scientific bullshit spouts forth from the deluded Spaniard's mouth. I just can't stand listening to it any more. Please God, or Mr Kenwright, or the new investor... will someone please SACK this fucking idiot?
Don Alexander
96
Posted 04/03/2016 at 02:03:15
Simon Jones at #75 says it well. But if we just go on about the dropped points against Bournemouth, Chelsea and Stoke we're deluding ourselves. We all know that football means your team can get poor results they don't deserve on the day. We can all live with that to some extent, providing the team visibly try to adopt tactics during a match to win.
What does my crust in is getting poor results week after week (and I say this because we're still in the bottom half), month after month, season after season as it is now with Martinez, with no perceptible change of tactics, ever, from what he spouts on about as his "philosophy".
The scary thing is that he has zero history in the Premier League of being anything but a failure.
I admit that this season has been a marginal improvement on last season though, but there are some, and nobody more than Martinez when he eventually said it to excuse his own shortcomings, who will say that last season we were beset with the Europa Cup as an additional burden.
So let's look at this season;
In August we won 5 points from the 12 available, in September 7 from 9, October was 1 from 9, November 8 from 12 (Villa and Sunderland being the two victories), December 5 from 15, January 3 from 12, and February 6 from 9 (Newcastle being one of the two victories).
And some people still contend this charlatan as a credible manager for anyone at all in the Premier League, never mind us.
??????????????????
Simon Jones
97
Posted 04/03/2016 at 09:43:02
Don,
I agree that all teams are capable of an off day and lose when they should have won, but my argument is that a greater level of consistency across the season would have seen us achieve more points. The "form" is misleading as we showed good form in the games I mentioned, including the home game against Stoke.
It was the consistency that was missing and that is the bit that I believe the manager is responsible for. Can you imagine David Moyes allowing the left-back to take throw-ins level with the opposition 18 yard box when 3-2 up against Stoke? It is those sort of decisions that lead to poor results and an inconsistent performance.
Don Alexander
98
Posted 04/03/2016 at 14:02:29
I 100% agree Simon, but in doing so I'm not indicating a wish for Moyes to return. We need better but the usual suspects currently out of work seem to me to be out of work for good reason.
Brian Harrison
99
Posted 04/03/2016 at 14:38:11
The problem with RMs philosophy is much the same problem that affects both LVG and Wenger. All 3 believe in a possession based game, but even Wenger when asked why did he think that teams who had poor possession stats were winning more games than those with the best possession stats. Said that he was puzzled by it.
Maybe because its more important what you do with possession than just relying on possession getting you the right result.
SAF was often quoted as saying possession without penetration was worthless. Maybe RM needs to look at Leicester they are one of the worst sides at retaining possession yet are clear at the top. Ranieri was quoted as saying that his team was not equipped to play a possession based game. But he said we utilise the pace we have in the team.
So RM instead of having a one style fits all philosophy you might be better served if you adopt Ranieris philosophy, adopt a style that suits your players.
Just look at Guardiola Bayern play a high tempo game like Barca but Bayern are a lot more direct than Barca and rely on pacy wingers. Were Barca play through midfield a lot more than Bayern.
Bob Parrington
100
Posted 04/03/2016 at 18:19:20
Since I'm travelling with limited wi-fi chances, it's taken a while for me to get my head around this but....
Kieran Kinsella (#34) must have been taking the piss out of others as nobody can be capable of judging Niasse on the basis of the minuscule game time he has had so far. Example: rightly picking Funes Mori – at first he looked quite ordinary (well, maybe OK).
Give the guy a chance to show what he can do! Kieran, not many picked up on the piss take but it was a good try!
In regards to RM... Here, in Jaca, Spain, watching a div of the Women's World Cup Ice Hockey reminds me of the American (in particular) system in the Ice game. That is that every player should be in exactly the right (prescribed) position at exactly the right time ...... no room for special talent???
I don't see RM using quite this rigid system for football. Hopefully, this will never occur either. I think RM likes to see entertaining, exciting football. Perhaps what he also needs to have on his coaching team is a defence expert also. This would seem to be the opposite of the Moyes era when defence was king and fuck the attack.
A bit of a ramble but I think you'll get the thought process!!??
Add Your Comments
In order to post a comment, you need to be logged in as a registered user of the site.
Or Sign up as a ToffeeWeb Member — it's free, takes just a few minutes and will allow you to post your comments on articles and Talking Points submissions across the site.
© ToffeeWeb