Martinez feels no extra pressure from Moshiri's arrival
by

166 Comments [Jump to last]
| 06/03/2016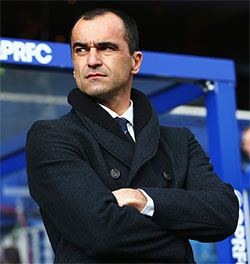 Roberto Martinez says that just being in the Premier League provides enough intensity and that the arrival of fresh investment from Farhad Moshiri has not increased the pressure on him to succeed.
The manager is under mounting scrutiny from supporters, however, following Everton's seventh home defeat of 2015-16 that saw them lose precious ground on the top six and fall to 12th in the table behind West Bromwich Albion.
A 3-2 defeat to West Ham yesterday, the 10th time the Blues have dropped points from a winning position this term, marked a new low for the campaign and that has prompted people to wonder whether the Catalan can survive amid what are surely heightened expectations at Goodison Park following Moshiri's arrival.
"I don't think you need a new investor [to prove yourself]," he told the Liverpool Echo. "We are in the Premier League, it is the most ruthless league in world football and we all know that.
"Fortunately I have got seven years of experience in this league and I know what it takes. When I look at the players and the team that we have and it is a really strong squad. We can't wait to get good wins, good performances and build something special."
Martinez has defended the way his team approached the second half of the loss to the Hammers, pointing to the fact that they doubled their lead through Aaron Lennon and then won a penalty that would, with a better finish from his leading scorer, have made it 3-0 on the day.
He has also deflected criticism for his decision to withdraw Lennon in favour of a striker, Oumar Niasse, with a quarter of an hour to go.
"I thought tactically we were outstanding. If you look at the way we got set up in the second half, we were the better side and I think we showed an incredible tactical understanding and character.
"There's no such thing as anticipating things in a negative manner. Rom emptied himself so we had some fresh legs.
"The same with Aaron Lennon. I think the tactical understanding that we showed gave us the advantage in the game, not the other way.
"If you played the game 20 times those last 12 minutes we would have won probably 19."
Regardless of Martinez's typically positive outlook on what was another hugely demoralising day for Everton's supporters and he acknowledged once again that his team's record on home turf has not been good enough.
"Seven defeats at home is not good enough," he admitted. "That is where we feel so hard done by because you look at the attitude of the players, the talent of the players and the desire of wanting to please our fans at Goodison is incredible.
"With the seven defeats we can analyse every single one and, apart from Manchester United, in every one we performed in an incredible manner and deserved a lot more.
"Are we good enough? Do we do things right enough? The away form tells us that we do.
"It is just we need to make sure we find a way to change the little bit of a difference between performing well and not getting the wins at home."
---
Reader Comments (166)
Note: the following content is not moderated or vetted by the site owners at the time of submission. Comments are the responsibility of the poster. Disclaimer
Oliver Molloy
1
Posted 06/03/2016 at 23:30:08
More of what we have come to expect from Martinez. Talk talk talk talk.
I hope he's in for a shock if he's not worried
" I have got seven years experience in this league and know what it takes ". - really Roberto?
Unbelievable crap...
Ajay Timothy
2
Posted 06/03/2016 at 23:33:52
I know I am in the minority but I do feel that we are very close to being a top 4 side even with Martinez. You make your own luck and the substitution was bizarre but we have been unlucky in so many games.
Look at the RedShite today. Even when they went down to ten men, the Palace goalkeeper makes a mistake and in the 94th minute they make an unnecessary challenge to earn a disputed penalty which wins the game.
We on the other hand miss a penalty which would put us I an insurmountable position and lose the game. Fine margins like this mean the difference between mid-table and top 6.
Oliver Molloy
3
Posted 06/03/2016 at 23:38:06
Klopp knows what he's doing – Martinez doesn't.
Paul Columb
4
Posted 06/03/2016 at 23:43:03
Roberto is losing/has lost the crowd. The first step to any form of redemption and to easing some of the pressure on the players is some humility on his behalf.
His post match interviews have simply added fuel to the fire of discontent amongst the fanbase and perhaps added to players' loosing faith in his system.
The crowd was right behind the side yesterday despite Mirallas's acts of cheating and stupidity and so RM cannot further lean on the theory of a negative Goodison vibe affecting the players. The catastrophe rests solely with him/them and the stats relative to leads-lost and goals conceded are damning. The system and coaching deficiencies are at fault.
Nice bloke, incomplete manager. Without humility, the latter will not change. Why should Everton suffer what is becoming increasingly evident as a flaw in his character.
Your move, Kenwright, Woods & Moshiri.
Iain Johnston
5
Posted 06/03/2016 at 23:45:13
Martinez, please don't remind us that you have 7 years experience in this league.
It just makes you look even more incompetent.
Joe Clitherow
6
Posted 06/03/2016 at 23:46:10
Words really do fail me...
Chris Leyland
7
Posted 06/03/2016 at 23:50:02
Ajay - it isn't luck at all, it is incompetence.
We have thrown away winning positions 10 times this season.
We have thrown away a 2 goal lead 7 times.
We have managed 4 home wins all season, 3 of these against Villa, Newcastle and Sunderland.
We are miles away from the top 4 and you are quite frankly living in cloud cuckoo land if you think otherwise.
Unless and until we rid ourselves of the great pretender who is currently occupying the manager's office, we will continue to under perform, under achieve and criminally throw away winning leads.
The apologists should stop their empty excuses and appeasment of the chronic failure that is unfortunately still our manager and instead join the throngs of Evertonians who are disgusted and embarrassed that Martinez is still anything to do with our club.
Andrew James
8
Posted 06/03/2016 at 00:01:42
Ok RM I have some sympathy with you at Wigan. 3 seasons escaping relegation with an ever decreasing budget before winning the FA Cup and getting relegated probably because you started believing your own hype.
But to take a club like us from being regulars in the Top 7 to being 11th is plain pathetic. Our centre forward is one of the most prolific strikers in the division. Our back four used to be in the top 3 defences of league.
Yes, I think Kev's first yellow was harsh and yes, Carroll fouled Jags for the second goal but too often we surrender a lead because of you Roberto. Why not bring on Geri in place of Lukaku? He would have given them something to be fearful of and pushed them back.
Personally I think you were being a smart Alec in hoping the new boy would score a third on the break and you could be shown as a tactical genius by beating a side in the top half 3 nothing with 10 men.
Instead we got narrowly beaten once again by a team who man for man we are superior to.
Peter Carpenter
9
Posted 07/03/2016 at 00:16:25
Does he know we lost?
Andrew Laird
10
Posted 07/03/2016 at 00:21:02
More egotistical guff from Roberto "tomorrow" Martinez, why is this "really strong squad" currently behind West Bromwich in the table after nearly 3 years of his experience?
The man is a fuckwit who spurned another opportunity to hold his hands up and say he got it wrong. What the fuck must the players think of this charlatan?
Tony Byrne
11
Posted 07/03/2016 at 00:22:26
Chris @ 7
Bang on.
"Fortunately I have got seven years of experience in this league and I know what it takes. When I look at the players and the team that we have and it is a really strong squad. We can't wait to get good wins, good performances and build something special."
This was RM's quote yesterday, he is a complete tool.
I really can't believe that we have any fans left who can defend this utter fraudster.
The new owner must act sooner rather than later to remove RM from our club. Please just go Roberto you are an embarrassment.

Ron Marr
12
Posted 07/03/2016 at 00:31:56
He's so naive. He's had a free pass under BK... probably told BK he's in the middle of a 5 year plan, and the bumps (or more like sinkholes) in the road are to be expected with young players....
The only way I can see him keeping his job for next season (assuming new ownership) is if the team beats Chelsea in the Cup, and wins at Anfield and/or Old Trafford.
David Connor
13
Posted 07/03/2016 at 00:39:08
What a deluded arsehole this man is..The vast majority if Everton fans have had enough of his bullshit talk. Hopefully this season will be his last in charge of our great club. We deserve better & demand better.
Dan Davies
14
Posted 07/03/2016 at 00:41:22
Ha ha he's only fooling himself! Phenomenal. What a joke
Ajay Timothy
15
Posted 07/03/2016 at 00:46:57
Sitting here in Chicago airport after traveling for 12 hours still angry after yesterday but still feel that we will have a Kevin Brock moment that will transform our season and bring a cup win.
Ron, I do feel that we will put in a first leg performance similar to the City win and dispense of Chelsea and win the FA Cup. If so We will forget the home defeats and the semi final defeat. Evertonians are a forgiving bunch and if he brings home a cup then we can look forward with optimism for next season.
Christian Hoff
16
Posted 07/03/2016 at 00:53:25
If Martinez use the word "incredible" once more, I think I'll get sick!! And to tell everyone that he has seven years of experience... he must feel that he is on the verge of being sacked! Please Mr. Kenwright, Mr Moshiri... NSNO – do it!!
Ron Marr
17
Posted 07/03/2016 at 01:00:39
Ajay, I think he also needs to win at Anfield or Old Trafford.
I also think the Brian Viner article was the tipping point for RM vis a vis the owners, they can avoid the local media, but it's much harder to avoid national media, especially if the writer is a fan of the team.
Jason Heng
18
Posted 07/03/2016 at 01:05:24
"If you played the game 20 times those last 12 minutes we would have won probably 19."
Has he been following our own matches and results?
Jack Mason
19
Posted 07/03/2016 at 01:06:23
Ajay @ 15, I admire your optimism I really do, but Martinez has passed the point of rescue. His quotes are symptomatic of a man who just will not take responsibility. He's lost the the goodwill of the majority of Evertonians and there's only one way to go after that. I actually believe we will beat Chelsea and it wouldn't surprise me in the least if we went on to win the the Cup. However, just like with Wigan I think his cup record is the worst thing that could have happened to Martinez. It's appears to have reinforced his philosophy, whereas it would have been rejected long ago based on his league record.
For a club of Everton's history, a cup win is always welcome but it's the league were we have always measured ourselves. Unless Roberto Martinez has a road to Damascus moment, I really can't see him competing with managers who adopt a more pragmatic approach to the game.
Barry Jones
20
Posted 07/03/2016 at 01:36:58
RM Quote:
"Fortunately I have got seven years of experience in this league and I know what it takes."
Then it should read; "It took me four years to relegate Wigan and I am positive I can do the same for Everton".
Robin Cannon
22
Posted 07/03/2016 at 01:38:53
"We can't wait to get good wins, good performances and build something special."
Well, presumably you can wait, otherwise you'd have started already.
Barry Jones
23
Posted 07/03/2016 at 01:45:27
....and what did he mean by "Rom emptied himself"? Did anyone see him change his shorts?
Peter Barry
24
Posted 07/03/2016 at 01:57:36
Martinez feels no pressure because where there is no sense there is no feeling.
Craig Fletcher
26
Posted 07/03/2016 at 02:57:54
I think the high point of arrogance in this is RM's line "I have got seven years of experience in this league and I know what it takes"
Experience in what, exactly? Trying to avoid relegation? In the league, aside from his first season in charge of us, that is essentially all he has managed to do, and he even failed that once with Wigan.
I can kinda understand what Martinez is doing in press conferences, remaining confident, upbeat and never admitting an error so the players, staff, Moshiri, Bill et al retain some form of confidence in him.... but to the general fanbase he comes across as some sort of deluded muppet.
Anto Byrne
27
Posted 07/03/2016 at 03:06:33
The litany of excuses keep rolling on. The missed penalty has to be my favourite for losing a game you are leading 2-0. Two nil at Chelsea and Bournemouth, another 2-0 lead in the semi-final of the League Cup at Man City, solidly beaten at home by Man Utd and Man City and beaten by no marks Swansea and WBA, crap against Leicester City conceding three very cheap goals and four against Stoke City at home against non existing defending.

I can't remember beating a team when they were above us in the league. At one-nil and having lost Mirallas, it should have been a case of "That's it, let's just have the points today and most if not all Evertonians would be applauding that decision as we went 4-4-1 and looked very solid, as per usual a gross act of stupidity and he goes 4-3-2 and loses control of the game. 12 minutes of madness sums up Martinez and this team that cant play 90 minutes.
James Byrne
28
Posted 07/03/2016 at 03:36:48
We are some of the most passionate and most intelligent football fans in the Premier League. It makes it that more painful when this gobshite opens his mouth and talks utter shite after another defeat.
Why on earth is this complete fucking clown still in charge of this club.
The new owner must surely have the football savvy to see through this phony.
Harold Matthews
29
Posted 07/03/2016 at 04:48:46
This is almost beyond belief. He still sees himself as the No 1 man at Everton FC. Mr Moshiri is just "a new investor".
Rahul Sreekumar
30
Posted 07/03/2016 at 04:57:10
I had mentioned this point on another thread a couple of weeks ago.
You don't get to say that we would have won that game 19 out of 20 times after having lost from being 2-0 up five or six times this season. You just don't!! That's not how statistics work! And people stop believing you after the third time you use that excuse....
Mark Daley
31
Posted 07/03/2016 at 05:40:42
Beyond parody.
Richard Lyons
32
Posted 07/03/2016 at 06:33:30
"I know what it takes?"
The best word to describe this man is, as Andrew (@11) says, "charlatan".
Sean Kelly
33
Posted 07/03/2016 at 06:35:55
Oh, Jesus wept... what a deluded fool.
Ian Brandes
34
Posted 07/03/2016 at 06:45:05
As deluded as Hitler in his Berlin bunker! This latest outpouring of drivel really does beggar belief. Can we please get rid?
Kunal Desai
35
Posted 07/03/2016 at 06:55:59
He's in denial. I think he knows he's on his bike in the summer.
Sam Hoare
36
Posted 07/03/2016 at 07:15:26
Does not help himself with these sound bites.
Nigel Munford
37
Posted 07/03/2016 at 07:17:33
Pure arrogance, I can't stand listening to the man anymore.
Duncan McDine
38
Posted 07/03/2016 at 07:29:27
Rahul, that was my first thought when reading his bullshit comments. It seems his maths skills are at the same level as his management.
He must be replaced in the summer.
Mike Green
39
Posted 07/03/2016 at 07:39:22
Awful.
"I know what it takes...."
"We can't wait to get good wins, good performances and build something special."Ă'Âť
"I thought tactically we were outstanding..."
"the attitude of the players, the talent of the players and the desire of wanting to please our fans at Goodison is incredible...."
"If you played the game 20 times those last 12 minutes we would have won probably 19"
"we performed in an incredible manner and deserved a lot more."
"Are we good enough? Do we do things right enough? The away form tells us that we do."
You can pick any of those statements to pieces, talk about smoke and mirrors! To say that after another capitulation is either arrogance, ignorance or sheer stupidity. It's the talk of a very worried man that's for sure.
I'll be amazed if Moshiri isn't on the look out for his man, Martinez will hopefully last now only as long as his cup run.
John Audsley
40
Posted 07/03/2016 at 07:42:03
Let him go at the end of the season.
With the squad we have and hopefully some extra transfer cash we need a top manager.
Martinez just sounds like an idiot when he talks like this.
Mr Moshiri will have learnt a lot from Saturday.
Paul Smith
41
Posted 07/03/2016 at 07:44:57
Never been a fan of RM. in fact I have never watched one of his pressers, can't stand his inane ramblings.
He is a cunning linguist no doubt, thing is he seems incapable of change. like has been said umpteen times on these boards, he has one game plan, no matter how the play is unfolding.
Saturday afternoon is becoming painful.
Ian Burns
43
Posted 07/03/2016 at 07:50:30
The problem is the man can make these comments knowing his job is safe. He has sucked up to BK for long, he knows what to say and how to say it. He will have sold his long term plan to the new investor-in-waiting and for sure he will be here for the start of next season.
I strongly protested on TW when he was appointed, I have protested ever since and I will protest until he goes.... but – like the rest of us – I will just have to suffer into season number 4.
James Byrne
44
Posted 07/03/2016 at 07:55:10
He's just a Spanish Brendan Rodgers.........................!
Colin Glassar
45
Posted 07/03/2016 at 07:57:05
Not a peep from the media regarding his future. Like I've said before, as long as BK's still around he's safe.
Kevin Elliott
46
Posted 07/03/2016 at 08:00:43
I said last season that I think he is mentally unstable... He actually believes all the shit he is spouting.
Reminds me of Inspector Clouseau.
Ged Simpson
47
Posted 07/03/2016 at 08:10:21
Hitler...mentally unstable...
As long as perspective remains!
Tony Graham
48
Posted 07/03/2016 at 08:13:13
While ever you all keep turning up, and filling Goodison Park, this incompetent manager will be encouraged to carry on making us a laughing stock. He has to be shown you won't accept his failings, before we sink even lower... Others do it.
Jamie Barlow
49
Posted 07/03/2016 at 08:15:13
I thought the Brendan Rogers one was the most offensive, Ged.
Jim Bennings
50
Posted 07/03/2016 at 08:17:00
Shut up and start winning some frigging game's man!
Stop the superlatives of player's who are not producing the goods on a regular basis.
They are not the best young talent in Europe.
How does he know what talent clubs in Spain or Germany or anywhere else have?
The best young talent in Europe yet we are being outperformed by team's with other young talent, what does that tell you Roberto?
The man is a spinner of bullshit!
The fan's have been exceptionally patient, after some of the horrific results last season such as walloping's in Hull, Southampton and Kiev, you were a lucky man to still be in a job!
This season you have overseen the worst home record in my memory.
Fair enough we've been solid away from home but once a few away defeats start totting up, then what?
Apart from Stoke, we haven't exactly beaten anyone of any note away from home anyway.
You should be fearful of keeping your job in the summer Roberto.
This club has to show it will not stand for going backwards or mediocrity.
Ged Simpson
51
Posted 07/03/2016 at 08:49:43
Very good point Jamie B !
Phil Walling
52
Posted 07/03/2016 at 09:03:34
The very antithesis of Jackson Browne's song 'These days'- Don't confront me with my failures, I have not forgotten them.'
Roberto's song would go 'Don't confront me with my failures, I have none !'
Darren Bailey
53
Posted 07/03/2016 at 09:06:43
On borrowed time, surely? It must only be the FA Cup that's keeping the man in a job. The time to go has long since past and I for one am getting sick and tired of these types of performances and subsequent crap and drivel that comes out of his mouth. Not once has the man actually come out and said he got it wrong, or even say that a certain player or the team weren't good enough.
Like or loath him but Alan Pardew's post match interview yesterday showed passion, self blame, player blame and genuine anger at the result. He was also very rude to the interviewer but that shows how passionate he was about the performance and resulting score line.
Please, please, Mr Moshiri, have the footballing savvy to know that this isn't the man to give £100m to in the summer. I implore your to seek out a new manager that will bring out the best, both offensively and defensively, in this great bunch of players we have at the club.
1. Sack Martinez and bring in De Boer, Blanc or Rijkard.
2. Convince Stones, Ross, Geri, Rom this is the place for them.
3. Clear out the deadwood.
4. Bring in a few top quality players to mount a challenge.
These should be your top priorities from now through the summer.
Tony Abrahams
54
Posted 07/03/2016 at 09:06:55
If you play that game again 20 times, in the last 12 minutes we would probably win 19? What a quote, I'm looking at it thinking, yes. Then I think of the sub standard sub, he made on Saturday, and wonder why, he hasn't done the same himself, before speaking.
It's the players that worry me though, surely the senior players have got to be saying something behind the scenes at finch/farm?
Jagielka said that Lukaku's penalty came back to haunt us, and that's true, but it can't be the first time in his career, that one of his players have missed a penalty.
I bet you it's the first time he's played in a team, where the manager, takes off a midfielder, and brings on a forward, to protect a two goal lead though. Especially considering his team were down to ten men.
That's why your statement in winning 19 out of 20, is ridiculous though Roberto, because everybody knows, you don't close out a game of football, in this way.
The fact that you don't understand your own players, just makes matters worse. We were lucky to have a player like Lennon, on the pitch, because of his fantastic work-rate. It enabled us to stay on top, and let us keep attacking. But once he had to go off, surely you're tactics should have changed accordingly?
Dan Hollingworth
55
Posted 07/03/2016 at 09:12:03
He should be feeling the pressure. The natives are restless! This isn't Wigan Roberto. We don't just take finishing 13th and it's all okay because we passed the ball around. I saw a tweet last night from a Wigan fan from June 2013 it said "I hope Everton fans are ready for the excuses, my favourite is it's not the result that counts but the performance." It's a results business. He needs to start getting some, especially at home.
I did like him, he comes across as a likable guy. I wanted it to work for him, but hes shown he is not up to the job and if we are getting more cash, go and get someone who is up to the job.
I have tooed and throwed with him season. Games like the Norwich game, were okay, we never got the result but the first half performance was that good I thought he was on the verge of something. There has been some good football played at times. But the man has to go now. No other club would stand for it!

Paul Washington
56
Posted 07/03/2016 at 09:12:43
Peter Carpenter @ 9
That comment sums everything up!!!
Les Martin
57
Posted 07/03/2016 at 09:13:56
He could sell sand to the Arabs not not anyone called Moshiri! This pouting rubbish will not wash, always amazing deflection rather than admitting his failings.
The good news is that he has done it too often and the faithful have seen through him. Saturday will define his Everton future!
Phil Walling
58
Posted 07/03/2016 at 09:15:41
Colin, Brasil and Murphy spoke of Everton's Saturday surrender for all of 20 seconds this morning.
They both agreed Roberto was 'doing a great job' and although the team was down in 12th should be 5th or 6th!
So there you have it . They must know what they are talking about....... Don't they ?
Peter Carpenter
59
Posted 07/03/2016 at 09:18:36
He's right.
"If you played the game 20 times those last 12 minutes we would have won probably 19."
If you asked all 20 PL managers to play out those last 12 minutes, 19 of them would have won 2-0. He is the one who wouldn't.
Don Alexander
60
Posted 07/03/2016 at 09:21:20
He'd no doubt claim credit in this most unexpected of league seasons for maintaining HIS consistency of performance as a fucking hopeless manager!
Denis Richardson
61
Posted 07/03/2016 at 09:22:57
For those at the game, were there any 'Martinz out' chants or 'you don't know what you're doing'?
Other than a bit of booing I can't remembe any real discontent to get this guy gone.

Nick Wall
62
Posted 07/03/2016 at 09:24:22
Saturday felt like a watershed moment, the day when quite a few who'd been backing Martinez couldn't defend him any more. Martinez has to stay till the end of the season, we're safe from relegation, and this is not the time to get a replacement. But come May the question will be asked, and will be asked loudly.
And if Martinez can't deliver a top 10 finish and show real improvement at an absolute minimum with the players he has available, regardless of whether or not we make it to Wembley, the writing will be on the wall.
Trevor Peers
63
Posted 07/03/2016 at 09:27:10
Does it really matter what Roberto says anymore? He will be judged on results as all manager's are, especially at GP, where home advantage should be just that.
He obviously has a problem getting wins at home, he has done for the past two season now, but he has no idea how to put it right. He had similar problems at Wigan.
That can't be allowed to carry on next season no matter what he says. Admittedly it's very annoying, that he talks so much shite.

Scott Hamilton
64
Posted 07/03/2016 at 09:30:11
Nick (62) - You're right, it's been a watershed moment for me.
I think Saturday's performance, coupled with the likelihood of more cash this Summer, has pushed me firmly into the "Martinez out" camp.
If we can't defend a 2-0 lead for less than 15 minutes to at least end up with a draw then God help us!
Dave Abrahams
65
Posted 07/03/2016 at 09:30:32
Can't add anything to what's been said on here, he is just not up to the task of managing Everton FC, he has to go and take ALL of his nodding dog coaches with him, and I hope we beat Chelsea on Saturday but the longer he stays the more harm he does.
Nick Wall
66
Posted 07/03/2016 at 09:31:19
#61 Denis if you'd listened to the Radio Merseyside phone-in after the game every caller laid the blame for the defeat squarely on Martinez and they all said this has happened too often now, enough's enough. It's been the same elsewhere.
Tony Abrahams
67
Posted 07/03/2016 at 09:32:28
Dennis, it was like the 77th minute, at Anfield the other week.The players deserved a standing ovation, but were left with an half empty stadium.
I think if we go out the cup on Saturday, Goodison will be like this for the rest of the season. Let's hope we win!
Brian Mahoney
68
Posted 07/03/2016 at 09:38:07
I have to admit last season I gave him the benefit of doubt with the Europa league excuse, injuries etc. This season gave me a bit of hope the way we were performing away from home but since November it has been a recurring event i.e. a win or draw away building everyone's expectations up only to go to Goodison Park the following match to see us get beat.
After Saturday Its the straw that broke the camels back with me.I now want this fraud out but its not going to happen until the end of the season.
Even if we get to the Final it's not good enough as shown in previous seasons when a poor sides like Villa, Stoke and Wigan got there.
Phil Sammon
69
Posted 07/03/2016 at 09:56:05
I think it's time the fans made their voices heard. Enough really is enough...but the only way he's getting his P45 is through fan pressure.
Ged Simpson
71
Posted 07/03/2016 at 10:20:19
It all rests on the cup game, like it or not. We get through, so does he. We fail badly... so does he. Big issues so often come down to small moments.
Brian Porter
72
Posted 07/03/2016 at 10:29:59
How deluded can his man get? He talks of 'the tactical awareness we showed." Er, would that be the tactical awareness that saw him take Lennon off and replace him with a totally unproven Niasse instead of going with the proven ability of Deulofeu? Or his withdrawal of Lukaku in a cowardly attempt to try to snatch a draw from the jaws of victory?

His continued lack of holding anyone accountable, including himself, for our wretched performances beggars belief. The only things he blames are as usual poor refereeing, a missed penalty (we still held a two goal lead with twelve mins to go, you buffoon), and of course, his perennial favourite excuse, bad luck.

Winners make their own luck Martinez, as Bilic did with his own match winning substitutions. When he threw two attackers on, knowing we were tiring. At that point he should have sent Barry on and given the defence some support but did he? Oh no, not Roberto.

I've supported Everton for 57 years and have never witnessed such crass ineptitude from a manager as Martinez displays almost every week in his in-game management, his refusal to try to close games out, and his continuous brain numbing outpourings at each and every press conference. Does he seriously believe the crap he keeps spouting? If he foes then he should not only be immediately removed as manager, but an appointment should be made with a psychiatrist as soon as possible for treatment of his seriously delusional state of mind.
Brian Harrison
73
Posted 07/03/2016 at 10:36:46
Phil
I totally agree that in most cases it is fan pressure that gets a manager the sack. The home results have been especially poor and you would think that would have effected the home attendances. But it seems the poor results are having no effect every time I arrive at the ground and look around at kick off the place is practically full.
Now I know we are a pretty loyal group of supporters, but will the board think the attendances are not down and there have been no real protest from the fans. Yes there has been a few boos at the end of some games but no real anti-Martinez shouts.
Now the club have just announced season ticket sales will be reduced by 5% so I imagine although most are not happy with the performances we will all be renewing our tickets. I would just say what a good gesture by our board with this move, and they I believe are the first Premiership club to reduce prices.
So if season ticket sales go up and I think they might, maybe this will persuade the board to give him another season. Everyone I speak to wants him sacked so its a real conundrum, and I fear if season tickets fly out as I think they will then we will have RM for another season.
Mark Williams
74
Posted 07/03/2016 at 10:37:23
Nothing that this guy says surprises me any more, but to say, "I know what it takes............", is an insult and just fuels the fire of his own ineptitude.
The quicker the media latch on to the fact that this guy is a clown, the better.
Ray Smith
75
Posted 07/03/2016 at 10:59:58
Martinez may have been a Premier League manager for 7 years. However, he does not have 7 years' experience!
I would suggest he has 1 year's experience 7 times. A lot of difference from his view of his experience!!!
Jim Bennings
76
Posted 07/03/2016 at 11:00:41
I can't say I want Everton to lose to Chelsea in the Cup on Saturday regardless of thinking Martinez is not up to the job.
I want to win that game and see Everton Football Club at Wembley with a chance to achieve something.
I'm sick of seeing Everton fail on every big occasion these days, that's why I so badly want to beat Chelsea Saturday evening.
Do I think Martinez will go if we get knocked out? ... No I don't.
Do I think Martinez SHOULD go if we get knocked out? ... Yes, what else are we waiting around to achieve this season?
Personally I see Saturday being a draw and Chelsea doing us over down at the Bridge this time in a replay.
So either way, it's still elimination.
Ged Simpson
77
Posted 07/03/2016 at 11:07:00
Just to piss many off....we will win. The Blues !
Liam Reilly
78
Posted 07/03/2016 at 11:12:16
With the riches coming in from next season we can afford a quality , experienced manager who can get this team playing.
No other club that can supposedly challenge for Europe or the top 4 would put up with this sequence of dropping points from winning positions.
James Marshall
79
Posted 07/03/2016 at 11:19:56
"Fortunately I have got seven years of experience in this league and I know what it takes. When I look at the players and the team that we have and it is a really strong squad. We can't wait to get good wins, good performances and build something special." – No you don't – you've proven over and over again that you're a good manager until a match starts; then you're an amateur.
"I thought tactically we were outstanding. If you look at the way we got set up in the second half, we were the better side and I think we showed an incredible tactical understanding and character." – Yes, you were setup nicely but then you changed it and ruined that setup. Idiot.
"There's no such thing as anticipating things in a negative manner. Rom emptied himself so we had some fresh legs." – What does that even mean?!
"The same with Aaron Lennon. I think the tactical understanding that we showed gave us the advantage in the game, not the other way." – No it didn't – you took Lennon off and changed the game in West Ham's favour, you moron.
"If you played the game 20 times those last 12 minutes we would have won probably 19." – Seriously? Is this what he's lowered himself to now, crystal-ball type reflections on lost games?
I've been pretty positive about him up till now, but I've had enough of this shite as well.
Patrick Murphy
80
Posted 07/03/2016 at 11:29:22
James (79) I don't know whether you or anyone else noticed Bilic's face when he realised that it was Lennon who was coming off, he knew immediately that his team were given an opportunity to salvage something from the match, although he probably didn't believe they would score 3 in 12 minutes.
Shane Corcoran
81
Posted 07/03/2016 at 11:40:24
Between the predictable collapses and endless bullshit from Martinez I think I need to take a break from ToffeeWeb.
I mean it's the football business he's in, not comedy right?
Craig Walker
82
Posted 07/03/2016 at 11:52:53
He keeps going on about "character". In my opinion, a team showing character is one that is 2-0 down with 12 minutes to play and gets something from the game. "Lack of bottle" or "choking" are terms I would use for a team who repeatedly does the opposite.
I don't like seeing players celebrating because they've been awarded a penalty. Celebrate by all means when the taker puts it in the back of the net but not before. I also don't like seeing any Everton players diving and it's becoming more common. Ross, McCarthy, Deulofeu, Mirallas have all been guilty of it. I don't want to see that from Everton players. I expect better.
Are there any fellow TW readers who didn't think that once West Ham got one back, they wouldn't go on to at least get a draw? It's absolutely sickening how we can fight to get a two goal lead against a very good West Ham side with 10 men and then capitulate. There are far less talented Everton teams down the years which would have won that game on Saturday in that position. Contrast our fortune with that of the RS yesterday. 1-0 down with ten men and their goalkeeper gifts them an equaliser. Then the £32 million pudding of a striker earns a fortuitous penalty, awarded by the linesman, not the referee. These two games encapsulate what it is to support Everton and the RS for me.
Linda Morrison
83
Posted 07/03/2016 at 11:54:21
I think Martinez will be in for a shock as I can't see the new major shareholder allowing Martinez to spend pots of money when he already has a team that should be in the top 4 now.
In today's Guardian, Bilic put the issue better than any of us could. Everton have one of the best teams in the league, yet they are way off Europe. Why? Because we have a manager who refuses to recognise that you win from the back.
Only Aston Villa have let in more goals than Everton at home this season what does that say? He fails to teach them the Shankly motto about football being a game that ends with the whistle, all of their throwaways have been after 70 minutes they switch off as they think the game is won.
I was prepared to give Martinez a chance but he has been with us 3 seasons now and even if he bought Messi I still think we would be way off next season.
He has to go and I think he will sooner rather than later. Who to bring in? Not sure but there are plenty of managers who would get the best out of the players we have. I can't be bothered watching Saturday's game, I'll be surprised if we don't get stuffed!;
James Marshall
84
Posted 07/03/2016 at 11:56:00
Patrick@80 - absolutely. At the time I thought, "nice one Bilic" applauding one of our players off, but later realised he was applauding our manager for handing them the advantage!
James Marshall
85
Posted 07/03/2016 at 12:06:22
Ray@75
I would suggest he has 1 years experience 7 times.
Haha! Brilliant.
Stephen Ashton
86
Posted 07/03/2016 at 12:08:24
Did you know that if our games ended on 75 mins we would be second?
Jon Withey
87
Posted 07/03/2016 at 12:10:44
Have we hit 40 points yet?
Not a Garth Crooks fan, and the guy clearly doesn't rate Martinez, but he's about right :
"If you're having to score three goals at home to get a point, I'm not sure you're in the right league."
Steve Pugh
88
Posted 07/03/2016 at 12:15:38
Nick #62, and everyone else who has said similar things. Why is this not the time to replace the manager? When is the time?
If we replace the manager now, and I mean properly replace not just get rid and stick a caretaker in, the new man has a few games to judge the playing squad in a proper competitive environment. He can then decide who needs replacing and who just needs a kick up the backside and some proper coaching. Then when the transfer window opens he can target new players from a position of knowledge.
If we wait until the season is over the new manager will not be able to make educated purchases until the end of the window, anything beforehand will be based on pre-season and hearsay. That instantly puts us behind.
Paul Olsen
89
Posted 07/03/2016 at 12:16:43
#86 Fact? If so, that is shocking.
Jon Withey
90
Posted 07/03/2016 at 12:20:30
There's no point in sacking Martinez if nobody better is available by the way.
Assuming most of the decent ones are currently battling for cups, league places and even the Euros, we'd be better off planning for a summer handover.
James Marshall
91
Posted 07/03/2016 at 12:23:46
Managers looking for work currently:
Benitez
Lucien Favre
Di Matteo
Harry Redknapp
Paolo Di Canio
Hiddink
Ian Dowie
Pick one.
Dave Abrahams
92
Posted 07/03/2016 at 12:31:02
James (91) I'd cross off Redknapp, Di Canio and how Ian Dowie got on the list is a mystery... don't you like Everton, James!!!!!
Derek Thomas
93
Posted 07/03/2016 at 12:32:39
Steve @88; I think you may be right, sooner the better. If they wait until the end of June or early July. Not only will the new guy be coming in 'cold'.
Half the squad and many of the potential targets will be at the Euro's, then Holiday. Which could leave 4 or 5 weeks of the window left and he hasn't seen a ball kicked in anger by anybody of note.
Martin Mason
94
Posted 07/03/2016 at 12:33:56
Agreed on everything apart from the concept that we'll be having a change of manager. I don't believe that Everton will do it.
Jim Bennings
96
Posted 07/03/2016 at 12:42:17
Craig
As soon as we missed that penalty, even though there was only 22 minutes left, I turned to the guy in front and said
"Why do I get that familiar feeling we'll be hanging on at the end."
As it was going into injury time we were 2-3 behind, quite how we collapsed so quickly is unbelievable.
That is now Bournemouth, Chelsea and West Ham who have all scored THREE goals against us in the last 25 minutes of games since November.
Craig Walker
97
Posted 07/03/2016 at 12:43:45
James #91 - David Moyes and Brendan Rodgers too.
Gary Mortimer
98
Posted 07/03/2016 at 12:45:00
We have a top 6 squad and a bottom 3 manager.
The fact he can't see that by subbing Lennon with Niasse totally disrupted the balance of the team is proof that he is not up to the job.
If we have any chance of persuading our young guns to stay in the summer we have to get rid as soon as possible.
Jim Hardin
99
Posted 07/03/2016 at 12:45:31
Paul,
There are a couple of excellent sites for team statistics which break down when goals are conceded in matches over the course of a season. While it is not uncommon for the percentage of goals conceded in the last 15 minutes to be higher than for other 15 minute periods of the game, RM's historical percentages for his teams conceding after 70 minutes are shocking. the last ten minutes and extra time percentages are more so.
It either indicates the possible lack of fitness, lack of proper defending kno- how, and poor substitutions are to blame, or one, two, or all three. Regardless, of which of these it is, it all tracks back squarely to the manager.
At this point, I am not sure who is more inept as a game manager, RM or McClaren. I actually feel sorry for Remi Garde because I do think he knows how to manage but he clearly does not have the players that are good enough at this point to win.
Sadly, for Everton, we do and we are not, so time to go RM. Your three years are up at the end of the season. RM could be an invaluable asset as an evaluator of talent but that is where his input should be contained.

James Marshall
100
Posted 07/03/2016 at 12:48:05
Dave@92
I was having a laugh with a few of them!
Steve McLaren soon too.
Maybe Brenda?
Maureen?
Pippo Inzaghi?
Seedorf?
Options all over the place.
Frank McGregor
101
Posted 07/03/2016 at 12:49:07
James, you can add Nigel Pearson to that list he put together the current Leicester city team.
By the way, I reckon Gary Rowett, currently managing Birmingham City, would be worth a try.
Kim Vivian
102
Posted 07/03/2016 at 12:52:35
I've said elsewhere, I'm not sure it's just RM. I think it is as much those no-marks who he has brought with him. Don't know that much about them but do that Jones guy and Steve Lawrence or whatever his fucking name is have any worthwhile credentials?
I think RM with the right people around him could do well.
Unless his real personality makes him so unapproachable.
Dave Abrahams
103
Posted 07/03/2016 at 12:53:15
James (100) yes I knew you were, James... so joining in why not see what Mike Walker, Gordon Lee, Walter Smith and Billy Bingham are doing?
James Marshall
104
Posted 07/03/2016 at 12:55:58
Mike Walker and Ian Dowie – the Dreamteam.
Steve Pugh
105
Posted 07/03/2016 at 12:56:11
James, don't forget our former striker.... what Ferguson? Not James Beattie of course.
Patrick Murphy
106
Posted 07/03/2016 at 13:03:44
Everton need a manager and staff who have experienced playing football at the highest level. Most of Everton's previous managers have played the game at a high level, Harvey, Kendall, Catterick, Royle, Bingham, Lee all had experience playing in the top-flight, most of those won things at Goodison as players. Walker, Moyes and Martinez were all lower league players with lower league expectations and even Walter Smith knew what managing a large club was like virtue of his days as Glasgow Rangers boss.
If we are to remove Roberto from his position and I personally think we should – please no more Eddie Howe or similar types, we need a manager who has tasted the big-time as a player and preferably one who has managed teams who have been in the mix for titles in whichever top European division they have been involved. Anything less than that and we may as well stick with Roberto, it's not up to us, but surely if the club believes that it now has the necessary financials in place it cannot continue to behave like a newly promoted club.

David Price
107
Posted 07/03/2016 at 13:05:42
I think of Leicester this time last year. On motd I'd say, how unlucky have they been, every game something went against them. The 2-2 at our place. We stole a point. Then it changed and survived. However rather than blame bad luck they got rid of a manager who worked a miracle.
We have to learn from this. Our miracle could be winning the cup. If we do then it'll be down to the players in a one off gun fight.
To then keep the manager as thanks for the trophy will be a big mistake. Leicester saw the big picture and acted. We have to do the same, keep saying Koeman on here for me. He breathes total football from his first class career, he will get our lad's fit and add grit to the mentality.
The Stoke and West Ham games have been the most entertaining I've seen but I'm not a neutral and I'm sick of hearing away fans singing all the way down priory road...
Thanks for the thrills Roberto but my grandad told me how Dixie fought for this club with every breath to win a game. That is being an Evertonian.
James Marshall
108
Posted 07/03/2016 at 13:09:47
Per Krøldrup – defensive coach?
Ste Traverse
109
Posted 07/03/2016 at 13:29:20
The man is an arrogant buffoon. He doesn't feel under extra pressure? He fucking should do.
He committed tactical suicide with that change of formation after the Lennon sub. Why suddenly go to 4-3-2 when 4-4-1 was working just fine?
No way was the missed penalty the turning point. His fannying around was.
Hopefully our new investor will see straight through the bullshit this bloke spouts and book him a taxi asap.
Patrick Murphy
110
Posted 07/03/2016 at 13:41:51
This describes our manager perfectly courtesy of Patrick Boyland of the Guardian:
The Catalan (Guardiola and Martinez) duo are pursuing idealism: a steadfast belief in or pursuance of ideals, the tendency to represent things in their ideal forms, rather than as they are. Their aesthetic principles are of supreme importance, and are practically non-negotiable. Furthermore, there's a pervading sense from Guardiola and Martinez that, at its best, with top quality players who are all well versed in their duties, this possession-centric brand of football is approaching unbeatable.
http://www.theguardian.com/football/these-football-times/2016/mar/07/Roberto-Martinez-brendan-rodgers-pep-guardiola-Everton-liverpool
http://www.theguardian.com/football/these-football-times/2016/mar/07/Roberto-Martinez-brendan-rodgers-pep-guardiola-Everton-liverpool
Winston Williamson
111
Posted 07/03/2016 at 13:47:44
"You're just a Spanish Rogers, you don't know what you're doing"
Class...
That's got to be the chant to oust this fraud..
Harold Matthews
113
Posted 07/03/2016 at 15:08:06
Stephen #86 and Jon #87. Thanks lads. Your posts are real gems.
Michael Winstanley
114
Posted 07/03/2016 at 15:46:29
There's no way Moshiri will find these results acceptable, so here's hoping Bobby is on his way sooner rather than later.
Who's next, Pellegrini, Hiddink or Koeman?

Jack Mason
115
Posted 07/03/2016 at 15:54:41
The list of managers available at present isn't bad. Come summer, when other managers become available, the list becomes impressive. With managers who have a real track record of winning points and trophies consistently.
With the squad available, increased income from investment, from TV money or both. The club is an attractive proposition. Everton for the first time in perhaps thirty years have a chance to not only compete for top 4 but actually challenge for the league. This summer really is a golden opportunity to wake from our slumber. Our board must seize their chance.
Stephen Ashton
116
Posted 07/03/2016 at 15:59:11
I know RM is still in a job and being EFC we are unlikely to sack him (it's 14 years ago next week since our last sacking) but we should seriously consider Dennis Bergkamp, wonderful player, has served a long apprenticeship as Frank De Boer's assistant, has had international experience as Dutch under 21 coach and is a name that would surely attract the very best players we could afford.
Ray Smith
117
Posted 07/03/2016 at 16:06:57
When are the press going to get on his case?
Why can't they put some of the comments on TW to him and insist on a response, and then probe that response, instead of letting him off the hook.
Steve McClaren gets almost a page and a half (Daily Mail) on his future, but nothing on Martinez (other than his constantly laying the blame elsewhere).
Is Martinez a 'protected species' as far as the press/media are concerned?
Jay Wood
118
Posted 07/03/2016 at 16:07:04
Thanks for the link to the Guardian article Patrick. Just yesterday on the Brian Viner post I wrote in similar terms, describing Roberto as an idealist when, in many situations, he simply needs to be more pragmatic.
Monomania! I like it...
'Call me Ishmael.'
David Price
119
Posted 07/03/2016 at 16:22:45
Cheers Patrick excellent read.
History tells us when a species doesn't change then it doesn't survive. Roberto refuses to develop, he has so many things right, the young talent, the different age groups performing well and an eye for a player. We know his failings unfortunately Roberto does not.
Monomania. Great we have a Bond villian for a boss...
Brian Harrison
120
Posted 07/03/2016 at 16:29:28
Patrick
I think Patrick Boyland is way off the mark putting Guardiola and Martinez in the same category. Not only is Guardiola at the very peak of his trade; unlike Martinez, he works with what he has.
At Barcelona, Guardiola had in Inniesta and Xavi, probably two of the best midfielder players in world football. Then added to that was the genius that is Messi. So Guardiola naturally played a possession-based game with everything going through the centre of midfield.
Rather than taking the easy option of staying at Barcelona, he decides to move to another country and joins Bayern. There he uses the pace of Ribery and Robben to open teams up and plays less through the centre of midfield.
The only similarity between Guardiola and Martinez is they are both Catalans. One is out of his depth in the Premier League; the other is a class act.
The other big difference is that, at both Barcelona and Bayern, he plays a high tempo game, and to do that your players have got to be very fit. Martinez plays a slow build up, were fitness is less of an issue.
Dennis Ng
121
Posted 07/03/2016 at 16:31:47
Ray, I think the media is getting on his case. Merely the fact someone asked him about pressure after West Ham, it seems like there would be some rumblings already. I do not remember this much fanfare outside EFC (regarding manager doing a poor job) since, I don't know, 14 years ago?
Barry Jones
122
Posted 07/03/2016 at 16:38:14
Ray, I assume that the answer is that there is no vibe coming from the club's boardroom so the press have nothing to pick up. This would make sense as BK is just like RM in that they are both egotists. It is more important for them that their decisions are vindicated, regardless of the welfare of the club.
Patrick Murphy
123
Posted 07/03/2016 at 16:45:00
Roberto har-martenein-ez? I was trying to find terms relating to fatal flaw and came across the following: -
Harmartia arose from the Greek verb hamartanein, meaning "to miss the mark" or "to err." Aristotle introduced the term in the Poetics to describe the error of judgment which ultimately brings about the tragic hero's downfall. As you can imagine, the word is most often found in literary criticism. However, news writers occasionally employ the word when discussing the unexplainable misfortune or missteps of uber-celebrities regarded as immortal gods and goddesses before being felled by their own shortcomings.
Hamartia is a morally neutral non-normative term, derived from the verb hamartano, meaning 'to miss the mark,' 'to fall short of an objective.' And by extension: to reach one destination rather than the intended one; to make a mistake, not in the sense of a moral failure, but in the nonjudgmental sense of taking one thing for another, taking something for its opposite. Hamartia may betoken an error of discernment due to ignorance, to the lack of an essential piece of information. Finally, hamartia may be viewed simply as an act which, for whatever reason, ends in failure rather than success."
Brian Harrison
124
Posted 07/03/2016 at 16:45:39
I don't know whether it just shows that not many Evertonians visit the BBC sport site, or we are just apathetic.
The BBC have just carried out a poll on who should be the next manager sacked. The poll result was 71% McClaren, 7% LVG and Remi Garde, nobody else polled 3%.
Patrick Murphy
125
Posted 07/03/2016 at 16:50:26
Brian (124) I try to avoid any RS supporting sites so your first idea would seem to be on the money. I don't think Evertonians have ever been apathetic, well not all of the time anyway!
Ian Jones
126
Posted 07/03/2016 at 16:51:35
Hi Brian
Are you sure it wasnt a poll on who will be the next one sacked. Makes a difference.
John Keating
127
Posted 07/03/2016 at 16:56:22
Whoever replaces Martinez he only has the close season to get this shower fit both mentally and physically.
The most unfit mob in the Premier League.
Ray Roche
128
Posted 07/03/2016 at 16:56:43
in 1993-94 we lost nine home games in a league when we played 42 games a season, ending with the Wimbledon game. Arguably our worst ever season without being relegated.
This season we have lost seven home games with four games still to play in a 38 game season..... he can still do it.
In fact, those nine defeats are our worst since promotion in 54-55, and a couple of seasons when we lost eight at home.
Frightening.
Dennis Ng
129
Posted 07/03/2016 at 17:08:28
John, I don't think that would be a problem IF we get a new manager. I don't expect any of the UK nations to make it far into the European Championships, so most of them should be back early.
Patrick Murphy
130
Posted 07/03/2016 at 17:09:44
Ray (128) Yes he can :)
John (127) If the club does honour Roberto's contract, he has that all too well utilised excuse of a major tournament (2016 Euros) interfering with his pre-season. The team will have at least one major excuse for not flying out of the blocks as the season begins.
As Everton head into November and still without a victory on home soil RM will bleat "We lost key players in the summer, through no fault of our own making.....we had xx number of players involved in the Euro's" – although in reality most of them were on the first plane home as their national sides were not good enough to progress past the first stage of the tournament.
But worry not, fellow Evertonians, we will be in a good moment, we can rely on the bravery and character of our players to turn things around and all the players and back-room staff are fully focussed on getting Everton to the next level... I for one would actually believe him, however, the next level down is the Championship!

Jay Griffiths
131
Posted 07/03/2016 at 17:26:40
Martinez chats. That's it. He chats!
Saturday, he initiates a system of 4-4-1. The system works. In fact it works really well. Well done Bobby. Our keeper isn't over stretched nor our defence in constant panic mode. Until.... the sub. Takes off Lennon. Okay, fair enough. Brings on Niasse. Okay, let's see. Niasse up top with Rom! He hasn't changed a player only. He's changed the system. The system that worked. The system that he chose. His decision. It left us bereft in the midfield.
After match interview. If Rom had scored penalty we'd of won says Bobby. One buck passed. Wish he'd of had enough about him to say "l made a poor decision, it backfired, I'll learn from it". But Bobby chats. Not worried for his job? I think he's chatting. After all Bobby chats, a lot!
Ralph Basnett
133
Posted 07/03/2016 at 17:42:12
He knows what it is like to succeed?
Like when exactly?
Barry Stevens
136
Posted 07/03/2016 at 18:40:26
The guy is a nutter. That comment about winning 19 out of 20. What's he basing that on. All the other times this season it's worked out like that.
There's a bloke on here Phil Walling I think. I might be wrong. He had him worked out right from the start, but caught up in the 1st year fluke mostly everybody ignored him.
Usman Khan
137
Posted 07/03/2016 at 18:44:33
The only positive I took from Saturday is that it was such an abject reversal so soon after a change of ownership that Moshiri will be on the lookout for a new manager as part of a broader summer overhaul.

Sad to say it but I am finally joining those asking for a change. I think we should actually thank RM for helping to build a more exciting attacking force than that we have seen in many years if not decades, but the standards in the league and in management are now a step above that he can reach.

Darren Hind
138
Posted 07/03/2016 at 19:05:45
Tony A #54
Agreed the senior players should have stepped in by now. I just don't understand why they are allowing this to go on.
I read your post and envisaged you sitting there with a big clump of your own hair in each hand.
I share your frustration mate.
David Barks
139
Posted 07/03/2016 at 19:08:31
He sounds like Donald Trump: "Trust me, I know what it takes. I know how to win. I'll get us winning." But there's absolutely zero evidence to suggest that is true. In fact, he has shown he knows how to take a team backward, to relegation, jump ship and take a solid team backward again.
Bobby Trump is just "phenomenal", "outstanding", "very close to special".
Allan Board
140
Posted 07/03/2016 at 19:16:17
See he still has a job then! The powers that be are truly gutless. Just stop going to the games and they will have no alternative but to ditch him.
Patrick Murphy
141
Posted 07/03/2016 at 19:23:14
A blog written by a member of staff of
Nil Satis Nisi Optimum
website wrote:
in a piece entitled
Saturday was a turning point for me with Martinez
"
"It amazes me when people say next season we will turn it all around and do a Ă‹Ĺ"Leicester, but where is the evidence of this? We have been playing the same predictable football for three seasons, why would it suddenly click into place? I spoke to a former player a few weeks ago, and he said he spoken to Graham Jones and asked Ă‹Ĺ"What if Plan A doesn't work? What is the Plan B? he was told there is no plan B, if it doesn't work then we will lose the game!....
I'm sorry but that is a ridiculous statement by Jones and is wholly unacceptable for any professional to not have any contingency plans for the random events that can occur on a football pitch at all levels.
Kevin Johnson
142
Posted 07/03/2016 at 19:30:02
I was talking to Andy Carroll while he was waiting for a lift in the car park. Andy said Slaven briefed all the West Ham players to pound the Everton penalty area, as they are shite at dealing with crosses. He said if we get 1 they will fold.

I replied, he's no genius Andy, it's the story of our season. Andy left me with this: he said Everton are a top 5 side, it's your manager. He's clueless.
Colin Glassar
143
Posted 07/03/2016 at 19:32:45
Every day now, when I get home, I log on to TW to see if the manager has been sacked or if Mr Moshiri's cheque has cleared but no, we are no closer to finding out what the hell is going to happen to the club in the near future.
I suppose both issues will drag on into the summer then we'll all be distracted by the euros. Come May, both messrs Kenwright and Martinez will still be in charge and saying, "Oh, that Moshiri chappie? Nah, he was full of it. Didn't even know what the Boys Pen was!!".
Joe Foster
144
Posted 07/03/2016 at 19:38:09
Has he gone yet? There must be some rumour or anything that his position is under threat.
Phil Sammon
145
Posted 07/03/2016 at 19:48:57
I do the same thing, Colin.
I actually can't fathom how there doesn't even seem to be that much pressure on RM despite what's going on. The results speak for themselves. That alone should be enough for the press and the board to be questioning how long he can stay in the job. Add to that the ridiculous manner in which we have repeatedly dropped points and I really can't see any case for him not to be sacked.
We are a fucking mess! Why isn't anyone doing anything about it?
Frank Crewe
146
Posted 07/03/2016 at 19:55:47
"Fortunately I have got seven years of experience in this league and I know what it takes."
Four of those seven were spent dodging a relegation bullet which caught up with him in the forth year. Not to worry he just jumped ship to another bunch of suckers. US!!.
I would also point out that under Rogers the RS tried to buy many big name players but they signed for other clubs. Rogers didn't have the prestige to convince them to sign. Martinez is in the same boat.
If Moshiri wants to make a big investment in the players he's going to need a well-known manager, especially in Europe, to convince the type of player he wants. Especially since we will have no European football to offer them. Martinez is not that manager.
Colin Glassar
147
Posted 07/03/2016 at 19:55:51
I personally don't think he's under any pressure. If this is indeed to be BK's final season in control (I'll believe it when I see it) then I very much doubt he will end his reign by sacking HIS appointed manager.
Frank Crewe
148
Posted 07/03/2016 at 20:01:28
Colin, he'll wait until the end of the season and let Moshiri do it.
Dennis Ng
149
Posted 07/03/2016 at 20:04:17
Colin, Phil, I was just telling a pal I'm doing the exact same thing too. It goes to show how much we have digressed.
No one's saying anything because no one wants to own up to the problems. Least of all Martinez.
The only good thing for us is perhaps that its being discussed by ESPN LOL And they are supposed to hate us so much.
Trevor Peers
150
Posted 07/03/2016 at 20:20:43
The reason Roberto is getting away with it this season is the relegation slots are already filled for this season, and he is under no scrutiny from the press. Unbelievably there are three worse teams than us this season, although if you went by home form alone we would certainly be in the bottom three.
I've always said Roberto has the luck of the devil at vital times, plus the total support of BK, and that's why it as been so hard to get rid of him.
James Flynn
151
Posted 07/03/2016 at 20:22:03
Once the sale of shares deal is formally approved, I doubt Mr 49.9% will be taking any orders from Mr 13%. If he wants Roberto to start next season as our manager, Roberto will. If he wants a new guy after this season, he'll go get one.
Darren Hind
152
Posted 07/03/2016 at 20:32:46
"He sounds like Donald Trump."
Imagine having Martinez as your Manager and Trump as your President?
Na... couldn't happen... could it ?
Oliver Molloy
153
Posted 07/03/2016 at 20:37:25
I had lunch today with two friends, like me, keen football fans following Leeds & Chelsea.
I was ranting and raving in the pub about how stupid this man is we have in charge of our club – I've had it with him, I could do better etc etc... anyway, you get the picture.
Both of them agreed that Martinez seems to be a stubborn man, that he has signed some great players, that he has Everton playing football the way most of the league can only dream about and he will turn things around.
My response was "Are you two fucking serious? Do you know how many times we have let 2-goal leads turn into defeats inside 15 fucking minutes – are you blind and thick?" I asked.
Basically, they reckon we play brilliant football, and surely we would want a guy like Martinez over the likes of Moyes now that we are coming into a bit of money.
Everything I threw at them stat wise, league position this season, last season, the guy's arrogance, his refusal to take stuff on board – they threw it back at me. "That is what makes this guy so special - his positivity. All the great managers totally believe they are right."
"Great?" I said, "what the fuck is great about a manager who is incapable of learning?"
They asked me, "Have Everton had dodgy decisions go against them? Is Martinez right about referees refusing to give us blatant decisions and the likes, while everything and anything seems to go against us?"
"Well, I suppose we have had our share of bad luck, but it's not all about luck and bad referring ALL the time," I replied.
In general, they reckon, "Yes, it is hard being an Everton fan right now, but wait until Martinez gets it right and sorts the problems we have at the back and we will be challenging for the title. The changes he has made in the whole youth and Under -21 set up at Everton will bear fruit in the years ahead," they said; "All these young players want to play football the way Martinez teaches / coaches them."
Lunch ended with my Chelsea mucker saying he reckoned we would turn them over in the cup! "Who's the Everton fan?" I was asking myself.
Am I missing something, lads, or what? They nearly had me back on side again with Martinez. I don't get it, the love for this guy...
Colin Glassar
154
Posted 07/03/2016 at 20:40:05
Anything can happen at Everton, Phil. Krusty the Clown has been in charge for almost 20 years so who's to say he won't be in charge next season?
Helen Mallon
155
Posted 07/03/2016 at 20:49:39
He will only be kicked out if the fans kick him out so protest.
Patrick Murphy
156
Posted 07/03/2016 at 20:51:25
Oliver (#153),
Your story so much echoes what many non-Evertonians see; they may have a point and if RM remains in charge we all hope that they are right and we are wrong.
However, I'm sure, if Chelsea or Leeds or whichever club they supported were obtaining similar results, their passion for their club wouldn't allow them to constantly look for jam tomorrow whilst their team slipped down the table, despite having played some really good attacking football, only for it all to be undermined by abject defending and a manager who doesn't mind losing because he feels ultimately it will pay off for him and the team.
It's also necessary to take into account that Evertonians have shown bags of patience with different managers in the last 20 years and, as of yet, have had very very little to celebrate during that period. For fans of my age group, I don't want to wait another two, three, five or ten years for success, I want it now whilst I'm still young enough (just) to enjoy it.

Peter Askins
157
Posted 07/03/2016 at 21:12:03
And maybe you've accidentally stumbled across the truth, Patrick (156) – we all want success now, no matter how old we are.
Forget that Martinez has turned a skinny, raw-boned youth into the top-rated young defender in Europe, worth 㿔 million-plus (Stones).
Forget that Martinez has rebuilt the confidence of a local lad, treated very harshly by our last manager, and now talked of as a starter for England in the 2016 Euros, also worth £40 million-plus (Barkley).
Forget that Martinez has silenced the opinions of practically all "experts" on Lukaku, and his apparent waste of £28 million may easily be doubled if he leaves this summer.
Forget the astute signings, still on a budget, until very recently the Premier League's "not got a pot to piss in" champions.
Unfortunately, we are all now buying into the instant success syndrome that 24-hour rolling football news feeds off. The minutae of every 90 minutes is over-analysed to death, and the bigger picture is lost.
It says more for our greedy, selfish nature perhaps, that we cannot tolerate anything other than instant gratification via our football club's success.
Me ? I'm proud to be a blue, think Martinez is on the right track, and the future is bright.
Martin Mason
159
Posted 07/03/2016 at 21:18:09
A random word generator would make more sense than the verbal diarrhea that this idiot comes out with. If he doesn't feel extra pressure from a major new influence in the club then he is a disgrace because he should. That single sentence damns him for his arrogance and intransigence. A new investor of this magnitude will expect improvement from everybody especially the manager to make the step up that this club needs and its fans deserve so much.
We deserve better than a poor championship class manager and he should get no credit for the squad that we've assembled as it wasn't assembled by him. He is head coach and should be same at Accrington Stanley or Tranmere at best not Everton. He wasn't good enough for Wigan.
Patrick Murphy
160
Posted 07/03/2016 at 21:21:24
Peter (#157),
No, mate, I'm not having that for one minute. Evertonians are hardly greedy selfish and seekers of instant gratification. The current boss has had THREE years to iron out the problems and to help Everton FC win football matches in the most competitive but (in my opinion) the weakest Premier League ever.

We are achieving less than we ought to be, and the fact that Bournemouth (for example) are only three points behind us – they could be level come Saturday – doesn't fill me with much hope that Roberto's methods will pay off in the short or long term.
I honestly hope I'm totally wide of the mark but, having witnessed all the highs and lows of Everton FC in the last 40 years, I would say we are very far away from having a team that can challenge for the Premier League... And we will be until either the manager alters some of his basic ideas or he is removed from his position – the latter is more likely.

Tony Abrahams
161
Posted 07/03/2016 at 21:23:25
Darren 138, football and its players have changed for the worse. It's very rare to see players of the same team, really have a go at each other anymore. Never mind the manager!
I honestly wasn't frustrated on Saturday, because I'm only worried about the cup, this season. I just had a vision, that hopefully the despair will turn to joy, after the next game at Goodison, this Saturday.
Another reason I never let it bother me that much, was the final confirmation that we have to change the manager. I have been worried about players wanting to leave, if Martinez, goes, but now I just feel, that he's holding everyone back.
There was positives on Saturday. The biggest was the proof, that it's been the style and system,that has strangled the crowd for nearly two years now at Goodison. We played on the front foot, and it was so much better to watch.
The only things I didn't enjoy on Saturday, was the stupid sub, and the poor excuses that came afterwards!!!
Ian Hollingworth
162
Posted 07/03/2016 at 21:35:45
OMG – this article is the reason we should be afraid my fellow Evertonians, very afraid.
Nice to see Roberto's mum commenting on here under the alias of Peter at 157...

Steve Pugh
163
Posted 07/03/2016 at 21:46:39
Oliver #153
We see a shambolic defence giving away loads of chances and, unfortunately lots of goals. Whilst at the other end of the pitch we have a group of attackers prepared to run at people but regularly missing the final pass and scoring lots of, but not quite enough, goals.
Non Evertonians see lots of chances for both sides, lots of goals going in at both ends, people running at people, loads of goalmouth action as the crosses flow in and nail biting finishes. They don't care who wins they just know that football matches featuring the Martinez Everton are for more interesting than the dull and boring 1-0 Everton wins they had to endure on MotD when Moyes was in charge
Ian Hollingworth
164
Posted 07/03/2016 at 21:47:17
Kevin (142) please everyone read Kevin's post and if that does not frighten you then nothing will. That is absolute confirmation from inside the football world that the opinions of most on here about Martinez are correct.
But don't worry, say some, wait till he gets it right.
Dennis Ng
165
Posted 07/03/2016 at 21:48:38
Oliver, did you ask your Chelsea fan whether he adored Mourinho? That would explain a lot.
Ian Riley
166
Posted 07/03/2016 at 21:51:29
I don't think there should be extra pressure on Martinez because a new owner strolls in. Three home wins all season, giving away leads and bottom half of the table. Even Mr kenwright will have to really convince the new owner to keep you on. I do think Martinez will be given another season. I don't think Martinez will worry if he was sacked. A payoff, pundit, and another club.
Martinez has a philosophy of how football should be played. The problem is it's a results business. I remember under Moyes we would turn out some dross but sneaked a one-nil. Happy days down the motorway or train journey home. I don't care how we play – just win!!
Oliver Molloy
167
Posted 07/03/2016 at 21:58:27
Ha ha, Denis,
He did love Mourinho and I actually said I would like him at Everton because he now has a something to prove and I'm convinced he would win something for us... my friend reckoned he would ruin us!
Dennis Ng
168
Posted 07/03/2016 at 22:15:51
LOL Look how he ruined Chelsea after winning them every title in England. Where are they now? Championship? No, Champions League. That's quite some way to ruin a club,
If he wasn't a 3 year manager, I probably would love him here too. We need a manager who can be here for the long haul, much like Wenger was to Arsenal. Clearly, we got the wrong one 3 years ago and its way past expiry date.
Steve Pugh
169
Posted 07/03/2016 at 22:19:34
I know a lot of people are impressed by stats, a fair few would like an english manager and a lot would like a young up and coming manager so I did some digging and give you.......
(drum roll)
Adam Reekie
Currently available and an average of 3 points per game for his last club. 34 years old born in Folkestone he holds his A licence and is educated to degree level. He has also won league titles with a previous club.
Okay, so his previous 'title winning' club was actually the Syracuse University Golden Griffins Womens team (in 2010) and his average of 3 points per game came in the Phillipines as manager of Kaya FC during February of 2015. Yes he was only actually in charge for three games. But they did win them all scoring 10 goals in the process and not conceding any.
I'm sure Bill would be interested....wouldn't he? I reckon he'd be cheap.
Mike Hughes
170
Posted 07/03/2016 at 22:24:35
Regarding some earlier posts about checking on TW to see if RM has been sacked, I felt like that about a year ago.
Now I just can't be arsed. Unfortunately, I now think EFC are so rooted in mediocrity that it's in our DNA.
Why do I feel like this?
There are still factions of the fanbase that think what we've witnessed this past year is acceptable.
They argue that RM should be given more time (with a load of ifs and buts thrown in).
If he wins the FA Cup, they argue, that is a sign of better things to come in the league. (Utter crap).
Those in control of the club appear (to me) to lack any real ambition or sense of urgency.
I hope that changes with this Moshiri character and that he does a root and branch job on EFC, cutting out the deadwood 'management' team.
Interesting football debate on R5L tonight.
Chris Sutton said RM was taking us backwards and talks crap. Is he a TW reader? Andy Townsend said we're not a top 5 team / squad.

Trevor Peers
171
Posted 07/03/2016 at 22:54:37
Good post Mike, I think most of us gave up hope last season that we could change things, or see a change of manager. Nothing has happened, the new ownership may be a way forward but it still hasn't happened so far.
Your right in getting the feeling that we get what we deserve because of our lack of ambition, we're far to happy to just sit back and watch other teams become winners. It's not the supporters fault though.
What role have Leicester supporters had in their success this season? very little. But the owner has ambition and had the balls to make a change of manager, he took a chance on a guy with some European experience and look what's happened.
BK never looks further than the northwest for his new managers.
Ian Smitham
172
Posted 07/03/2016 at 22:56:59
Kevin #142, thanks for sharing that. I strongly recommend that each and every poster on here reads the post and reflects on how Everton are viewed by fellow professionals
Patrick Murphy
173
Posted 08/03/2016 at 00:21:34
Having read yet another Blog from an Evertonian who saw Saturday's game as the final straw and believe me there are lots of similar blogs and articles to choose from, I had an idea, not a life-changing or Damascus moment, but a simple idea: If I was Mr Moshiri and I had his sort of money to invest in Everton FC, I would ask Mr Martinez to sit next to me in the Directors box at least for part of the game and ask him to talk me through his thinking and observations as the game developed, that would give me an insight into how the manager reacts to certain situations and may even expand my knowledge of the game.
What happened to the Manager's sitting next to the Chairmen of the club for some if not all of a game? Has it gone out of fashion? Do the Directors now believe that they should remain aloof of their employees? Are managers worried that Directors would learn too much about them in a match situation. Are there any Premier League managers who sit next to their directors or Chairmen?
Phil Sammon
174
Posted 08/03/2016 at 01:29:59
Patrick Murphy
That is an interesting one, Patrick. My alternative would be manager and chairman watching a playback of the game on video (perhaps DVD if this Moshiri is splashing the cash) and they discuss exactly what tactics were employed, why and how they affected the game.
If this happened I truly believe Martinez would be out of a job. After 10 minutes of the game any sane person would see right through Martinez' and his rhetoric. He could talk for 10 solid minutes without ever saying anything. The occasional times he does make a point, it is normally so wide of the mark that you'd think he was watching another game.
I think that's just one more thing that is so galling about this whole affair. It's not just the poor results and performances...it's the denial and delusion from Martinez. How can you solve a problem when you genuinely believe there isn't one?
As if it needed saying...Martinez Out!
Brian Porter
176
Posted 08/03/2016 at 06:31:03
Everywhere you look now, either various threads on TW or numerous blogs on the net, over 90% of responders are speaking out against Martinez. On one blog NSNO 100% are in favour of sacking him now. Why are the media, supposedly those with their fingers on the pulse of the latest trends and developments in the game, not catching on to this groundswell of mounting public opinion against Martinez?
Perhaps the only way they will start to understand the feelings of our supporters is if at long last we begin to make our feelings known at Goodison Park, and not just in the last ten/fifteen minutes of games when things have turned sour. We have to start showing our feelings from start to finish, to let the world hear and see that we've had enough. Then and only then might we see the back pages turning up the heat on our charlatan of a manager.
As long as we keep packing the ground every game and as long as all we do is give Martinez an easy ride, as we're doing at present, the press will continue to believe he has the backing of the majority of the fans and he will continue to be their darling of the positive soundbite, the epitome of the 'good loser ' who takes the positives from the most appalling displays of capitulation I've seen from an Everton team in my 56 years of following this great club.
Or should I now be saying "once-great club" because any lingering greatness that still existed when Martinez took over has been systematically strangled out of us by this quack and his so called management team of well qualified losers? He has turned us into a perennial bottom half club with relegation a distinct possibility if he is allowed another season to kill us off forever as a force in the Premier League.
Mr Moshiri, someone, anyone, please put him out of our misery right now and find us a manager who can actually manage!
Gary Russell
177
Posted 08/03/2016 at 15:44:41
Why is the Moshiri deal taking so long? It has gone very quiet...
Add Your Comments
In order to post a comment, you need to be logged in as a registered user of the site.
Or Sign up as a ToffeeWeb Member — it's free, takes just a few minutes and will allow you to post your comments on articles and Talking Points submissions across the site.
© ToffeeWeb