Elstone: Young fans critical to Everton's future
by

28 Comments [Jump to last]
| 08/03/2016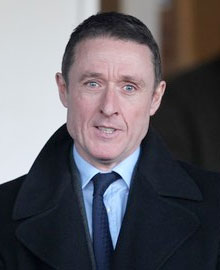 Roberto Elstone says it felt right to give back to the fans and help make watching Everton more affordable to fans under the age of 22 by reducing season ticket prices for 2016-17.
The topic of ticket prices has been a hot one in English football in recent weeks and was brought to the fore last month when Liverpool FC announced plans to hike the cost of their most expensive match tickets.
Many observers had expected Everton to freeze season ticket prices for next season but the club made the roundly applauded move of bringing them down.
The club's Chief Executive said it was important to put the fans first in this respect and he points to Everton's recent track record of trying to keep costs down and for catering to young fans.
"Having one of four Season Ticket holders in Goodison under the age of 22 has to be great news for Everton," Elstone told evertonfc.com. "The loyalty and longevity of our young fans is critical to the future of the Club and something we've said for a long time is that we genuinely feel like custodians of the Football Club. It's up to us to nurture it, to grow it, to build loyalty and to expand the Everton fanbase.
"If we can do that at a young age by making our ticket prices affordable, then come the day we hand it on to the next custodians of our Football Club we should be in a very, very strong position.
"The feedback we've received [since the announcement] has been really positive and it's good to get that because it wasn't an easy decision.
"I don't think many clubs, if any, have done it but it was definitely the right decision for our fans."
---
Reader Comments (28)
Note: the following content is not moderated or vetted by the site owners at the time of submission. Comments are the responsibility of the poster. Disclaimer
Ian Glassey
1
Posted 08/03/2016 at 17:15:09
They will be sorry if they keep Roberto, the ground will be half empty.
Michael Coury
2
Posted 08/03/2016 at 17:34:14
That is a bold, hot take on the effects of keeping the costs of attendance down, Ian; full marks for effort.
Kevin Johnson
3
Posted 08/03/2016 at 17:56:43
What does it matter to you, Mr Elstone? Come the end of this season, you'll be sharing the same gallows as your clueless manager.
Spin doctor...
Andy Meighan
4
Posted 08/03/2016 at 18:09:26
This statement from Elstone wouldn't have seen the light of day if Liverppol fans hadn't have walked out in the 77th minute of the Sunderland game. We obviously hate them but I admire them for making a stand.

And, anyway, they should be giving free season tickets away next season at Goodison, having to witness what we've endured on the pitch this season.
Rob Hooton
5
Posted 08/03/2016 at 18:22:02
A very astute move by the club, after all who can afford to go and watch the other lot! It's crucial to allow the next generation to attend and Bobby's right, who else has done this?
Everton showing we really are the People's Club once again.
COYB!
Danny Broderick
6
Posted 08/03/2016 at 18:28:46
Great move by the club. Well done.
Ken Buckley
7
Posted 08/03/2016 at 18:46:53
Great move by the club. Making the tickets more affordable for youngsters should ensure they become life long Evertonians but they must bear in mind that it needs to be tight on the pitch. Youngsters have a tendency to want to see their team win. Losing games at home as we are now can easily dissolution them.
Perhaps one Bobby can have a word with the other Bobby and encourage him to ensure a good matchday experience for our younger fans.
UP THE BLUES.
Ged Simpson
8
Posted 08/03/2016 at 19:09:59
Good move by the club.
Eugene Ruane
9
Posted 08/03/2016 at 19:15:22
Yes the cheaper the tickets, the better (obviously).
That said, I would be delighted if our new major shareholder gave smirking Bob his marching orders.
In fact I'd love to do it personally.
Bob: "Why!?"
Me: (smiling) "Well Robert...or maybe you prefer Bob? Well anyway Robbie, not to put too fine a point on things, or to beat around the bush...or go all round the houses, to be perfectly frank...and earnest, it was felt at this particular juncture, or point in time, that a different direction might be beneficial to the general well-being of the club and to the Everton brand, in a 'moving forward' type scenario. We have of course taken on-board many different views and opinions and listened to arguments both for and against, but felt that for real organic, tangible growth and lasting development, the most helpful and profitable solution would be to not have a shifty twat like you at the club"
Kevin Johnson
10
Posted 08/03/2016 at 19:30:51
Eugene (#9) – love it. very funny!!
Martin Mason
11
Posted 08/03/2016 at 19:33:59
Great gesture and absolutely correct as the share of revenue from watching fans decreases in relative importance. I don't believe that what happened at Anfield had any relevance.
Jimmy Salt
12
Posted 08/03/2016 at 20:07:30
I agree Martin.
John Roberts
13
Posted 08/03/2016 at 21:52:57
Basic Keynsian economics – cost is related to supply and demand – supply will be the same next season but with the tosh served up this season demand will be at a huge low!!
Anthony Dwyer
14
Posted 09/03/2016 at 00:22:42
I don't like to turn a positive into a negative, but we have 4 season tickets, one each for myself, my dad and my two sons (age 7-9).
The problem I have is, although my boys love Everton and football, unfortunately my boys are starting to miss the odd game here and there for things they would never have considered missing games over.
My cousin goes to the game with his 7-year-old and he's having the same issue.
All these boys have both Saturday and Sunday football teams, my two play 4 nights a week too. They clearly love football.
I'm worrying a lot about the simple fact that Martinez isn't just boring the shit out of me, but he's managing to bore the kids who can see his poor management, even at a young age.
Unless we fix our management problem, we will soon be unable to give kids season tickets away.
Harold Matthews
15
Posted 09/03/2016 at 07:22:22
Lovely post, Anthony. Plenty to ponder.
Brian Porter
18
Posted 09/03/2016 at 09:14:56
Great post and great sentiments but I have a feeling this has been well timed in the knowledge that season ticket sales are about to undergo a dramatic slump as long as fans see Martinez continuing in charge. If the current playing trend and results continue much longer I can seriously see our fans voting in the only way they can, with their feet, leaving the team to play at a half empty Goodison Park in protest at Martinez's tenure.
A number of season ticket holders have already stated their intention not to renew their tickets as long as RM remains in charge. If results continue in the current vein with no sign of the manager seeking to put right his own failings, it won't be long I fear, until a trickle turns into a flood and season ticket sales hit an all-time low.
Craig Walker
19
Posted 09/03/2016 at 09:16:23
There are a lot of things to moan about being an Evertonian at the minute but the news that they are reducing the cost of season tickets isn't one of them. Fair play to the club for doing this.
Helen Mallon
20
Posted 09/03/2016 at 09:48:22
Anthony Dwyer spot on
Patrick Murphy
21
Posted 09/03/2016 at 14:08:09
Premier League Clubs have unanimously agreed that for the next three seasons away fans will be able to attend Premier League matches and pay no more than £30 for each of their tickets.
Sid Logan
22
Posted 09/03/2016 at 14:18:33
Eugene,
Delicately and sympathetically put. There's clearly something about Martinez's smug arrogance and complacency that drives is all mad. We'd all love to scream some home truths in to his face but he'd probably smile back the smile of someone who knows better.
It is a positive thing to reduce prices for kids but it would be a whole lot better if you have the something they really wanted. Of course what they really want is what we all want: goals, wins, attacking pace, do or die defending and players with steel coursing through their veins – not much to ask really!
One thing is certain: Martinez is not the man to deliver it!
Colin Glassar
23
Posted 09/03/2016 at 14:31:48
Anthony Dwyer, luckily when I was a boy I was able to watch The Holy Trinity in all their pomp so I guess I was spoiled at such a tender age.
When I became a teenager I had to suffer all the shite football of Catterick (last seasons), Bingham (until he bought Duncan Mckenzie and Bruce Rioch) and the frustrating Lee years. Then came Howard Kendal (glory, glory years) followed by..........well, you get my drift don't you? Fantastic years followed by barren decades.
My suggestion to you is that you tell these young 'uns that being disappointed and being served up dollops of shite by EFC is part and parcel of being an Evertonian. If they want to continue on this tortuous path then they are going to have to man up and be prepared to suffer. It's what we do.
John Hughes
24
Posted 09/03/2016 at 14:42:53
Andy Meighan(4) if Liverpool had been top of the league do you think there would have been any walkout.
Joe Duffin
25
Posted 09/03/2016 at 16:17:05
Anthony (14),
I remember as a kid wanting to play more than anything (though less on TV back then) – so maybe they just like playing more than watching.
However if they find it boring, I suspect its maybe the influence of others – at 7, 9 age, they very much look up to those around them . And just to be clear, I am not saying you are providing this influence, but there is a general malaise around Goodison these days and at times potentially intimidating for younger children?
BTW, I've seen a rumour in the rags on why Mourinho would see Everton as more appealing – any thoughts?

Shane Corcoran
26
Posted 09/03/2016 at 16:31:16
So this is in addition to the reduction in away ticket prices? Happy days for all you Blues that go to the games.
Just on the point of Martinez's reign driving fans away, there were 39,000 at GP on Saturday. Does anyone feel that the crowds will keep coming, to some extent, despite poor-average results, if the games are exciting and produce lots of goals?
Patrick Murphy
27
Posted 09/03/2016 at 16:48:38
Everton FC were isolated and shunned by the so called bigger clubs including our neighbours when it advocated a price ceiling for away fans – or was that a spurious report I read earlier in the year?
James Marshall
28
Posted 09/03/2016 at 18:55:09
Roberto Elstone?
Just one more reason to hate him....
Andy Meighan
29
Posted 09/03/2016 at 19:37:29
John (#24),
I can't answer that it's irrelevant; what I do know is the walkout against Sunderland seems to have had the desired effect as it made the so-called powers that be sit up and take notice. Love them or hate them – and I personally hate them – it seems to have had a massive effect. Hence the £30 away ticket cap.
Anthony Dwyer
31
Posted 10/03/2016 at 01:35:09
Thanks for responses to my post.
Colin, what you have put to me is what I've relayed to my boys, I have explained that we can't expect to win or be fantastic, we can watch Barcelona, Madrid, Bayern etc for that.
Hopefully our glory days can return as for me I believe this will help with the younger generation of fans.
How do I explain to my kids that the eldest was born in 2006 and he has to look back to 1995 to hear about our last trophy, especially when the fooks across the park seemingly arrive at finals most seasons, even with a bog standard team.
Who knows, maybe Martinez will win the FA Cup, consequently getting us into the Europa twice out of his three years and giving us our first bit of silver wear in over two decades.
Can't see it like, but it's strange to think it could happen and I'd still be unhappy.
He must be doing something wrong!
Add Your Comments
In order to post a comment, you need to be logged in as a registered user of the site.
Or Sign up as a ToffeeWeb Member — it's free, takes just a few minutes and will allow you to post your comments on articles and Talking Points submissions across the site.
© ToffeeWeb