Moshiri pledges transfer funds in introductory message
11/03/2016

128 Comments [Jump to last]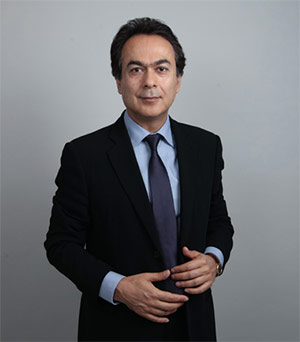 Farhad Moshiri will introduce himself to Everton's supporters with a message in the matchday programme for tomorrow's FA Cup Quarter Final clash with Chelsea.
The Iranian-born billionaire will take his seat at Goodison Park for the first time when the Blues take on the reigning Premier League champions looking to secure a place in the final four after his purchase of a 49.9% stake in Everton was ratified by the Premier League this week.
Moshiri, a former shareholder in Arsenal Football Club, is not expected to make any high-profile television appearances in connection with his arrival at Everton so his introduction in the programme will be his first indication of his plans for the club now that he is in place as majority stakeholder.
As expected, he pledges to back an expanded transfer fund this summer for adding to the team while also committing to examine Everton's options with regard to the stadium issue and Goodison Park.
I am delighted to join you here today at Goodison Park for my first match as a shareholder in Everton Football Club. I also felt it was fitting that my first message was in the matchday programme, with Everton being the first ever club to regularly produce one for home games. Indeed, it is this strong sense of tradition which appealed to me as I discussed the opportunity with Bill Kenwright.

It is testament to the enduring quality and consistency of the Club that Everton has remained in the top flight of English football since 1954. In more recent times this has been achieved under the stewardship of Bill, Robert Elstone and all the team behind the scenes at the Club.

I am here to support them as required to ensure that the Club recaptures the glory days of the past and builds sustained success in the future.

I know a lot of you want to know what my plans are. There is much to be done and things for me to learn, but I can confirm that I have committed to providing additional funds for transfers and retaining our key players to ensure that we have a strong core to build on for the future.

We will also be looking at options in relation to our stadium. Goodison Park has served the Club extremely well but we need to make sure the Club has a suitable stage to perform on for the future. We will review the best options and how to finance, especially as it is likely to costs a little more than the £3,000 it apparently did back in 1892.

Finally, and most importantly, Everton is about great football and winning matches. Good luck to Roberto and the boys against Chelsea today.
Quotes sourced from Everton FC matchday programme
---
Reader Comments (128)
Note: the following content is not moderated or vetted by the site owners at the time of submission. Comments are the responsibility of the poster. Disclaimer
Jay Wood
1
Posted 11/03/2016 at 14:43:51
And Patrick ... thanks for the heads up on Farhad Moshri's comments.
The first sniff of what he is bringing to the table ...
* A desire to recapture the glory days of the past ...
* Build sustained success for the future ...
* A commitment to provide funds for transfers and to retain key players ...
* A need to ensure the club has a suitable stage to perform on and a review of the best options and how to finance a stadium ...
And - as you mentioned - "Everton is about great football and WINNING football matches!"
Reading his opening, he will be at the game tomorrow. Let's make it a memorable one!
Mark Tanton
3
Posted 11/03/2016 at 15:12:50
Moshiri's programme notes are beautifully judged. He makes two or three references to the history of our great club. He is the right man, and kudos to Bill for getting it right here.
Sharabi Singh
4
Posted 11/03/2016 at 15:20:22
Awesome and great first statement. I hope I speak for everyone in saying that is just what we want to hear.
No more excuses now Bob you have everything you need..

Mike Green
5
Posted 11/03/2016 at 15:23:43
Nice, measured statement.
Though he says he's here to support Bill etc his 'I know a lot of you want to know what my plans are..." says one thing only -
"I'm the boss..."
Good luck Mr Moshiri.
Jim Lloyd
6
Posted 11/03/2016 at 15:23:58
Well, he has written a positive piece and a slight view of the future he's aiming for.
I don't think he'll do anything in a rush unless he has to. Lots of ifs; but if we win tomorrow, then what a boost for the club. If we go on to win the FA Cup, then what a massive boost.
I think though, that Mr Moshiri will have already given a lot of thought and gone some way to making his mind up regarding the manager's position.
Before we start buying players, he would want to hold a number of in depth discussions with Martinez and possibly set targets. So my view is that Roberto Martinez is more than likely to stay until at least the end of the season. But I also think he will be asked to explain in great detail, his plans for reducing the number of goals we've shipped and the points that we've dropped. And his plans for getting us into the top six...at least!
As for tomorrow, I'll be like most in the crowd (I sincerely hope!) Roaring our team on till me voice goes
Chris Corn
7
Posted 11/03/2016 at 15:28:58
Nice and simple. Like it.
Paul Holmes
9
Posted 11/03/2016 at 15:38:51
His first priority for next season is to give Everton Football Club a top class manager!
Liverpool have Klopp,
Man City have Guardiola,
Spurs have Pochettino,
Man Utd will get Mourinho
Newcastle have just got Benitez!
Martinez has proven that his first season in charge was a fluke; last season and this season are a true level of his Wigan managerial skills (relegated). Please, Mr Moshiri, keep the players and replace the manager.
Jim Bailey
10
Posted 11/03/2016 at 15:42:23
Excellent.
Jay Harris
11
Posted 11/03/2016 at 15:46:19
At last, someone with brains, commitment and a vision.
Welcome Mr Moshiri.
Jack Mason
12
Posted 11/03/2016 at 15:47:01
It's promising for sure. It will be refreshing if we can get to the stage were we can concentrate on talking about matters on the pitch than off it.
Michael McCarthy
13
Posted 11/03/2016 at 15:52:23
A few well chosen words. No waffle.
Dan Davies
14
Posted 11/03/2016 at 16:06:53
Welcome, Mr Moshiri. A new era.
Bring it on... starting with Chelsea Saturday. COYB
Stewart Lowe
15
Posted 11/03/2016 at 16:14:09
Paul Holmes (#9), You took the words out of my mouth. Martinez is a first class scout but out of his depth as a manager. My shout is either Frank De Boar or Unai Emery.
Brent Stephens
16
Posted 11/03/2016 at 16:14:31
"In more recent times this has been achieved under the stewardship of Bill, Robert Elstone and all the team behind the scenes at the Club." No mention of El Señor in that sentence, then.
Now I'm excited again, after a miserable week at GP and on TW. As Homer (Simpson, not the original one) might say, "Life goes up, life goes down; life goes up, life goes down; life goes up, life goes down".
Liam Reilly
17
Posted 11/03/2016 at 16:15:35
There's been a lot of false dawns but am I wrong to begin to believe? Bring on Chelski...
Kevin Tully
18
Posted 11/03/2016 at 16:16:47
Finally, someone to take this club kicking & screaming into the 21st century!! We will see a phased transition of all aspects of the club and a DELIVERABLE plan regarding the stadium, commercial performance, worldwide profile of the club and availability of merchandise. Genuinely excited about the possibilities under new ownership, this historic club & it's fans deserve success and a bright future.
I only hope we can now give the new man the welcome he deserves with a resounding victory tomorrow, and a trip to Wembley for our loyal fans.
John Crawley
19
Posted 11/03/2016 at 16:18:01
Positive first statement and nice that he's made it in the programme.
I hope Lyndon's not put a photocopy of the actual programme notes because there is an 'e' missing before ver!
Jim Potter
20
Posted 11/03/2016 at 16:18:11
The 'additional funds' bit might now stop those doubters who think he's just a back room shareholder.
The 'Roberto' bit to me means Bobby's definitely staying until the end of the season and maybe beyond. I think if he had the knife out already it would have been a good luck to 'Mr Martinez'.
The vagaries of the English language are of course open to lots of interpretations. Perhaps he's a ruthless bastard and smiles as he plunges it into the spine?
Brian Murphy
21
Posted 11/03/2016 at 16:21:33
Really good news and the last comments says it all for me: "Finally Everton is about winning football matches, Good luck to the boys against Chelsea tomorrow."
This really is great news... in other words, Bobby, you win games as that's what's needed at this club, you keep your job; if not, me thinks Bobby will be out the door...
Darryl Ritchie
22
Posted 11/03/2016 at 16:22:11
As Ricky said to Lucy, "There's gonna be a few changes 'roun here." It's all good.
Jim Potter
23
Posted 11/03/2016 at 16:27:01
Rereading it though - perhaps he'll only stump up £3,001?
Dennis Ng
24
Posted 11/03/2016 at 16:30:21
Jim, yea, after he finishes his time machine
John Hughes
25
Posted 11/03/2016 at 16:32:25
Get Tom Hughes quick, he has the knowhow and plans for a new Goodison Park get in there as soon as Tom!
Keith Glazzard
26
Posted 11/03/2016 at 16:35:56
Goodison? I have a feeling that what he will push for might not be too popular with a few people round here.
But very, very early days. A good opening statement, and a welcome development for our club.
Jim Lloyd
27
Posted 11/03/2016 at 16:40:52
Darryl, are you on about "I Love Lucy?" If so, spot on.
I can still hardly believe that we've got a major shareholder who has a fair old pot of lolly!... but also comes here an says
"I am here to support them as required, to recapture the glory days of the past and build sustained success in the future."
Ooh Ooh Ooh, I love it!
David Hallwood
28
Posted 11/03/2016 at 16:51:18
At least he didn't say. We've got. Phenomenal, phenomenal future ahead. I'm more cautious than cautiously optimistic
Shane Corcoran
29
Posted 11/03/2016 at 16:52:23
How is this man going to converse with Martinez with his seeming distaste for bullshit?
Lee Whitehead
30
Posted 11/03/2016 at 16:53:10
All sounds good !!!!!!!!!!!!!!!!!!!!!
COYB
Sam Hoare
31
Posted 11/03/2016 at 16:57:12
Very well-judged introduction I hope though as we have found out this season words are the easy part.
Tony Hill
32
Posted 11/03/2016 at 16:57:29
Yes, that last bit about winning matches is good to hear.
Mike Green
33
Posted 11/03/2016 at 17:00:21
John (#19) – should be 'cost' not 'costs' right near the end too....
Dennis Stevens
34
Posted 11/03/2016 at 17:21:01
So far, so good.
Gerard Carey
35
Posted 11/03/2016 at 17:22:52
Finally, a light at the end of the tunnel.
Let's hope for a win tomorrow and that feel good factor.
Andy Meighan
36
Posted 11/03/2016 at 17:24:17
No good hoping that he sacks him because, while Kenwright is still lurking in the shadows, that won't happen. Regardless of what happens between now and the end of the season, he looks like he's here for the long haul.
I sincerely hope we work it up Chelsea tomorrow but the realist in me says otherwise. I don't fancy us against anyone at home these days... Hopefully Mr Moshiri is one ruthless bastard and sees what we are seeing but I'm not holding my breath.
Eugene Ruane
37
Posted 11/03/2016 at 17:25:06
Well I'm stunned, I was expecting more of a..
"Everton's history? - Hoc-THOOO! - I spit on your history! And by the way, it is now my history as I own it and you don't. As for my plans, haven't given it much thought. I might not make any plans and just be a dead rich, big mad boss-type who does stuff as the mood takes me, because I can. I might throw cakes at supporters as they come through the turnstiles, or ban Z-Cars because the tune is similar to 'My Well Has Run Dry', a 1970s Iranian pop song that gets on my tits. So just..y'know...watch it!"
I jest of course, it's a carefully-worded, considered introduction that says the right things (ie: the things we want to hear).
He'll (obviously) need to be given time to make real change but with any luck, interesting (and hopefully exciting) times are ahead.
Let's hope five years from now, he'll be known as 'Farhad Moshiri, The King Of Buttered Parsnips,'
Brian Harrison
38
Posted 11/03/2016 at 17:26:10
I would just add that everybody who takes over football clubs always puts a rosy spin on things. Mike Ashley, Vincent Tam, Hicks and Gillette all promised a bright new future. But, like managers, let's judge them over 3/5 year period. I am sure after RMs first season there would have been few casting any doubts over his ability to win us things, and we are seeing what has happened over the last 2 years.
But, like everyone else, I hope that he is the man to lead us to bigger and better things. The plus points are he has been involved with another top flight club, where non of the above had any knowledge of the workings of a Premier League club.
So good luck, Mr Moshiri, and we hope your tenure turns out to be happy and successful.
Joe Foster
39
Posted 11/03/2016 at 17:32:41
So Farhad... so good!
Paul Jones
40
Posted 11/03/2016 at 17:39:46
I'm as desparate for change in the leadership of our club as anyone is, but I can't understand why so many posters have greeted his comments with such unbridled optimism.
I have read and re-read the above but it doesn't move beyond a general lukewarm introduction to the fans. I'm not bemoaning anything he's come out with but I wonder if some people are so desperate for progress that they're weaving in a lot of their own wishes into what has been said (or not said!).
Onwards and upwards!
Jack Mason
41
Posted 11/03/2016 at 17:54:43
@ 40 Paul, he's promised increased transfer funds, to "retain key players", a determination to get the stadium project off the ground and Everton is all about "great football and
winning
matches".
I guess you could argue it could of come from anyone new coming into a club. But considering we haven't heard from the board for quite awhile, I think the optimism is justified. Delivering it, becomes the next step.
Ged Simpson
42
Posted 11/03/2016 at 17:58:28
This is the stop post. From here on everyone doubts it all after their first few Friday ales!
Seriously... sounds like what we wanted. To moan now would just be churlish or evidence of mental health problems!
Phil Walling
43
Posted 11/03/2016 at 18:02:33
Probably the last we shall hear from him until Romelu and Stones move on!
Tony McNulty
44
Posted 11/03/2016 at 18:04:35
This man does not sound like he is going to be happy with underperformance. mid-table mediocrity, or inventive excuses.
The whistle has just been blown, and I trust those who have ears to hear are listening.
Denis Richardson
47
Posted 11/03/2016 at 18:10:43
Phil, I think Stones may well still be here next season as the interest in him has gone really cold recently.
There certainly won't be anymore £37m bids for him!
Joe Foster
48
Posted 11/03/2016 at 18:12:27
Ah to have optimism for a change about our club. It feels good it feels great. RS supporters seem slightly concerned which is good enough for me in this moment.
Dave Older
49
Posted 11/03/2016 at 18:15:16
This guy sounds great to me...No "phenomenals" or "incredibles" in his opening statement so that is refreshing........ I am encouraged by his introduction to our great old club, but I think we all feel a tad cautious about him at this early stage.
However, we all have to give this guy our full support and be optimistic that he can get us a new stadium, some top quality players and get us back to where we should be.
We have a great squad of players that just need some proper direction, whether that is by RM or the next man. I welcome Mr Moshiri with open arms and look forward to EFC's fortunes turning for the better. COYB!!!
Steve Davies
50
Posted 11/03/2016 at 18:15:51
No waffle, to the point, addresses the facts... learn from him, Bobby.
I noticed again RM tried to deflect criticism from himself from the West Ham substitution debacle by insinuating it was "trauma of a young team" whatever that means... A complete excuse merchant... sack him at the end of the season.
Jim Lloyd
51
Posted 11/03/2016 at 18:15:52
I'll have a bit of optimism thanks very much.
Mind you, we could go back to Cosy Ken's corner caff and be safe in our drudgery. I'm not expecting him to slap as much cash down, or anything like it, as Abramovitch or the feller at City. Nor supply a brand spanking new stadium like Arsenal have got, in the next couple of years. We might end up staying at Goodison (that'd do for me).
He has laid out a vey basic vision of what he sees needs doing and how to go about doing it, that's a decent start as far as I'm concerned.
We've been stuck in the £ Store for God knows how long. It seems reasonable to think he means what he says.
And if he looks across the park and sees what the other lot have achieved, admittedly from higher starting point, and begins to emulate their progress, that'd be great.
He's said in a few words, what he's aiming for, in broad outline. He'll need time to achieve anything like all what he wants to do. But, for now, it looks good for starters.
James Marshall
52
Posted 11/03/2016 at 18:15:54
A nice piece of PR – no doubt written with a few aides leaning over his shoulder. Of course it was going to a positive introduction, you wouldn't expect anything else – the proof of the sholeh zard is of course in the eating.
Martin Mason
53
Posted 11/03/2016 at 18:17:54
Denis, there's still massive interest in Stones because buyers can see his absolute class and know that while he's made mistakes under RM's tutelage but he will be superb under a good coach.
My guess is that he already knows where he's going and when.
Brent Stephens
54
Posted 11/03/2016 at 18:22:40
Nicely understated. Measured.
Ian Jones
55
Posted 11/03/2016 at 18:23:19
A couple of things or three.
Seems like a good general hello. There is none of the big headed 'I am' that you get from some who buy into or own clubs which is good.
Also. Like most managers who take on senior roles at clubs, his hair has already changed... Grey on one pic; black on another.
:)
Phil Walling
56
Posted 11/03/2016 at 18:25:06
James, obviously penned by a club hack. Just what I expected, not what I hoped for. Then, this is Everton.
Dennis Ng
57
Posted 11/03/2016 at 18:26:29
Phil, what were you expecting then?
Brent Stephens
58
Posted 11/03/2016 at 18:28:38
"Everybody who takes over football clubs always puts a rosy spin on things."
Maybe he should have said we're currently crap and he intends to learn from that, push on and at least maintain the same level of crapness, or ideally increase the crapness. What do we want? Litotes!

John Otway
59
Posted 11/03/2016 at 18:31:36
So what were you hoping for, Phil Walling?
Reading your postings sucks the very life out of me.
Paul Conway
60
Posted 11/03/2016 at 18:31:49
However, Chelsea have never won an FA Cup game at Goodison Park (L1, D2). After defeats to WBA. Swansea and WHU, can the ' phenominal one' upset the formbook yet again?
Great intro to our club by Mr Moshiri, hope you don't witness what we have all season! and not wanting to sound too much like Hughie Green, but, 'I mean that sincerely.'
COYB!
Steve Davies
61
Posted 11/03/2016 at 18:32:22
Stones will be off to one of the Manchester clubs at the end of the season. I predict that Rooney may move back to the Blues. May not be a bad thing as we need a new captain who gets in the referee's face occasionally.
Brent Stephens
62
Posted 11/03/2016 at 18:33:02
Phil, serious question, what did you hope for?
Phil Walling
63
Posted 11/03/2016 at 18:33:25
A brave new start, Dennis. Something to get the pulse racing. This is pure Elstone, same old, same old.
Brent Stephens
64
Posted 11/03/2016 at 18:34:41
He'd get salted (slated) by some if he promised the world (or Champion's League).
Daniel A Johnson
65
Posted 11/03/2016 at 18:35:41
Have to agree with Paul Holmes (#9)
We need a class manager. Other clubs are shuffling their packs and recruiting the best we can't miss the boat this time.
Its imperative Martinez is moved on.
But there is something about Moshiri he oozes class and he know what he's talking about. I just hope he has the bottle to make the correct decision in moving Martinez on to pastures new.
Dennis Ng
66
Posted 11/03/2016 at 18:42:27
Phil, well I can see that but I think given how crappy we are right now, such a signal would unsettle our squad, at least because that means he's dead man walking.
Steve, I hope not, since Mos (can I call him Mos?) has said retaining our top stars as his priority. I still think his best place to be is here. He will benefit from a coach who can juggle defence and offence better than our current mess.
Jim Lloyd
67
Posted 11/03/2016 at 18:49:10
Phil, what would you see as exciting. I'm curious, as he's said he'd ensure additional funding for players, he'll be looking at what options are available for redevelopment or new ground. He wants to see us winning back our glory days.
What would you see as exciting?
Patrick Murphy
68
Posted 11/03/2016 at 18:49:21
Honestly where would some of the posters on this site be without Everton FC? If there is a black side to be taken it is often always taken by some Blues. I'm mostly pessimistic about the Toffees chances out on the pitch, regardless who owns, runs or manages the club, but come on, this guy's barely been here five minutes and according to some he's just yet another sound-bite guy who is telling us what we want to hear.
To me the difference is, that, he has the wherewithal to achieve some of the goals that he sets out to achieve, without having to go cap in hand to A.N.Other. I have been trying to find out what Bluer than Blue Mr Kenwright said when he took the reigns of the club, but as yet I'm struggling to find anything, because of time pressures it will have to wait for now - but I will endeavour to find it at a later date.
Besides which as we all know to our cost, statements of intent are meaningless, it's what is actually done that counts, but my gut reaction is that this man will progress us further in the next 16 months than we have seen for the past 16 years, that may not be such a difficult achievement but it's far better than lurching from one year to the next, keeping the wolf from the door and being unable to progress off the field in any meaningful way.
The opportunity is here if this man truly wants to see a successful football club, if he puts his money where his mouth is and appoints the right people in the right positions, there is no reason he can't achieve his aims with and for Everton FC, If it all goes pear-shaped we can do nothing about it, but let's at least enjoy the moment before putting the black caps on.
Ged Simpson
70
Posted 11/03/2016 at 18:50:32
Phil W... grow up. It is a good reasonable statement. Whoever wrote it, he agreed it. I can hear you crying at home 'But mummy, I wanted the title now? No, I don't want tea.... ever!'
Ian Burns
71
Posted 11/03/2016 at 18:52:57
First class opening statement; first class appointment, I am loving it. Now for a first class manager.
Ray Smith
72
Posted 11/03/2016 at 18:53:40
For me the fact he hasn't mentioned the manager is deafening.
If I was Martinez I would be somewhat concerned.
It sounds like (guessing) they haven't had a meeting yet. You would think that that would be a priority!
Not getting carried away, but – Bye-Bye, Martinez!!!
Richard Dodd
73
Posted 11/03/2016 at 18:56:44
Phil, I hope I wont get put back in the stocks for saying it, but you are a miserable bugger who always sees the worst in every situation.
Yes, you MAY have been right about Bobbie... but I think Moshiri is a man of substance as well as substantial wealth. At least give him some time, please!
Mark Daley
74
Posted 11/03/2016 at 19:01:14
I agree Patrick (68), this is a meaningless statement from a spin doctor, and the proof of the pudding is in the eating. By September we will have something to go on.
I just hope he recruits a bastard manager and a bastard centre half or midfielder: someone like Terry or Gerrard, or – going back a bit – Ron Yeats or Jack Charlton... I can't remember many of these, apart from Duncan of course.
Jay Wood
75
Posted 11/03/2016 at 19:02:18
Patrick @ 68 ... let me help you out with what BK said back in January 2000 on buying out the Hamper Man:
"Acquiring Peter Johnson's shares is only the first step to restoring a great club to where it belongs – to where it should be. If you are going to run a successful football club you need two qualities: you need to be realistic and you need a plan. I'm realistic and I have a plan."
16 years on and the plan is finally revealed ...
Martin Mason
76
Posted 11/03/2016 at 19:04:18
This type of financial involvement is almost unheard of in recent years and that it has happened to Everton is a minor miracle for us. That anybody can see a negative side to this in any way other than RM not being fired yet is beyond all belief. I'm an atheist but if there really is a God he's been good to us but why not? We've suffered enough.
His statement was a diplomatic masterpiece and a massive statement of intent, why must some even find negativity in this where none exists. On the face of it we are a perfect match and if we can achieve our potential as a team with a couple of good buys and increase revenue organically, we may get our new stadium and Mr Moshiri may make from his investment. Heady days indeed, all he needs to do now is relocate the club to West London and life would be perfect. :-)
Thomas Lennon
77
Posted 11/03/2016 at 19:06:52
Use of the word 'ensure' rather than 'hope' in the context of this statement is powerful. Welcome.

Martin Mason
78
Posted 11/03/2016 at 19:09:56
I really think TW should lobby for that statue of Bill Kenwright.
Dennis Ng
79
Posted 11/03/2016 at 19:12:54
Martin, that statue will surely see many good and bad days much like BK himself.
Patrick Murphy
80
Posted 11/03/2016 at 19:13:43
Jay (76) thanks for that mate, however, realistic is the key word in Bill's statement, as we have had to endure a huge dose of that over decade or so.
The planning was hardly realistic when it came to improving the ground or building a new stadium. More castles in the air than anything else, but that's what happens when you don't have much dosh – big dreams and low expectations.

Darren Hind
81
Posted 11/03/2016 at 19:15:32
Knock yourself out, Martin.
Adam Smith
82
Posted 11/03/2016 at 19:17:51
Well someone's been at the old Berlusconi brand hair dye. More 'other operating costs' - FFS Bill!!!
Here's hoping our new man keeps his word and ushers in a new era. Exciting times ahead!
John Malone
83
Posted 11/03/2016 at 19:25:53
The school of science is on it's way back!

Martin Mason
84
Posted 11/03/2016 at 19:28:42
I've started a business making "I love Bill Kenwright" badges, scarves and mugs. I'm going to be a millionaire. Wait on though, I already am.
Jackie Barry
85
Posted 11/03/2016 at 19:30:41
The best thing he makes clear in his statement is that "I'm in charge and will be making the decisions." Great to hear.
Tamhas Woods
86
Posted 11/03/2016 at 19:32:33
Game's up, Berto – for once in your charmed life as a manager, you will face the consequences of your sins.
Moshiri, when Chelsea knock us out tomorrow – please lay the smackdown on RM and get your reign off to the best start.
Andy Riley
87
Posted 11/03/2016 at 19:33:29
Is the ground being laid for the second coming of the Moyesiah? Very positive interview with him just published in the Daily Mail speaking of loving to have had extra funds to take Everton to the next level and Newcastle haven't employed him today!
Chris Jones [Burton]
88
Posted 11/03/2016 at 19:35:41
I take it as a positive the he chose to make his opening address to US, the fans, rather than the media. That shows us the respect we're due (and which we should reciprocate). Happily this doesn't seem like the act of a man who has bought us as a vanity project – that sort would have been straight to the meejah, draped in a scarf etc. as soon as the ink was on the contract.
We're moving in the right direction.
Patrick Murphy
89
Posted 11/03/2016 at 19:37:07
Andy (88) I wouldn't rule it out, but not sure that would be the best course of action and might actually split the fan-base right down the middle again. If we are going to let Roberto go, we need a fresh start with a man who is new to the club and not a re-tread, it very rarely works out.

Phil Walling
90
Posted 11/03/2016 at 19:37:50
Which statement are you reading then, Jackie. The one above these comments talks only about 'supporting (Bill & Co) as and when required'. Nothing there about 'leading, being in charge and making decisions'.
But just hope your imagination in better tuned than mine!
Andy Riley
92
Posted 11/03/2016 at 19:42:04
Patrick (#90) – I don't think it's a good idea for DM to return but I think the tone and timing of the Mail article may be significant taken together with him not ruling himself out of a return by taking another job.
Dennis Ng
93
Posted 11/03/2016 at 19:53:17
OFM's odds have been highest even pre-takeover. I would say that should have changed given the man deciding would be Moshiri and not BK. I don't like the idea, especially given the quality of managers available now or come season end, but it's not the worst thing that could happen (that being RM taking us down in 2 seasons' time after spending all of Mosh's dosh).
Phil, I'm expecting Moshiri to be the silent arm twisting type. Surely he won't spell out all his intentions right away given his seat isn't even warm yet.
Paul Andrews
94
Posted 11/03/2016 at 19:54:16
Denis 47, you are right. As clubs become aware of John's poor defensive displays the price will go down.
I posted in January I would take the money for him.
He may develop into a top class defender, at the moment he is the third best centre half at Everton.
Colin Gee
95
Posted 11/03/2016 at 20:00:43
I really hope we don't go back in for Moyes.
Be like going back to an ex-girlfriend after she fired you off for supposedly someone better which didn't work out which you took great delight in and she has been around the block a bit now, offering herself to anyone who'll take the slightest bit of interest and is now on her own, wishing she hadn't fired you off and she just happens to keep turning up everywhere you go....
Joe O'Brien
96
Posted 11/03/2016 at 20:12:59
Great to hear from him. Very positive statement without going overboard.
I definitely do not want Moyes back. Way too negative for us. His motto seemed to be try and not lose as opposed to try to win. Dennis (#94) – what managers are you thinking when you say the quality of managers out there at the moment?
I would love to find a gem like what Spurs found, also, it would be class to tempt Simone from Atletico Madrid... tall order, tho...
Colin Glassar
97
Posted 11/03/2016 at 20:13:06
Am I the only one who thinks this guy looks a bit shifty? Maybe it's just that weird looking photo.
Jackie Barry
98
Posted 11/03/2016 at 20:17:29
From the Daily Post article, Phil... just depends on how you interpret things. Blimey I can have an opinion you know.
Plato Stavrinos
100
Posted 11/03/2016 at 20:40:54
I hope he sticks with Martinez for at least one more season. Without him, we would not have the squad we have. We would still be watching Anichebe and Jelavic leading our front line. He has made mistakes but we have also had bad luck. One more season for me.
As for the new boss, welcome. Nothing but the best is good enough.
COYB
Joe O'Brien
101
Posted 11/03/2016 at 20:53:41
One more season Plato with RM and we'll be regulated to the Championship for sure. Without Rom's goals this season, we'd be in the bottom 3 now. RM needs to be relieved from his duties without any doubt.
Plato Stavrinos
102
Posted 11/03/2016 at 20:55:40
Without Martinez we would not have Lukaku, Deulofeu and Lennon.
Joe O'Brien
103
Posted 11/03/2016 at 21:07:58
He's good with recruitment without a doubt but he cannot manage the team... again, without a doubt.
Lewis Barclay
104
Posted 11/03/2016 at 21:12:57
Martinez Ying – Moshiri Yang
What a breath of fresh air.
Kevin Tully
105
Posted 11/03/2016 at 21:23:41
Had to do a double take there, thought the headline read; "Moshiri pledges transfer funds and introductory massage."
I suppose it's one way of getting the doubters on board.
Tom Bowers
106
Posted 11/03/2016 at 21:29:04
Now most of us will have high expectations for next season, and with good reason, but with or without RM. Whilst he has done some good things, they have been far outweighed particularly this season by ineptitude.
After three seasons, does he inspire confidence that he will be able to reverse the poor trend of inept defence in this squad, even if the new guy's money allows him to buy new players?
It will remain interesting to see what happens after tomorrow's game.
Patrick Murphy
107
Posted 11/03/2016 at 21:31:29
Kevin (106) That may have been true if a Thai had bought the majority share-holding.
Winston Williamson
109
Posted 11/03/2016 at 21:38:30
There are plenty of managers out there who could be tempted to take the reins:
Bernd Schuster
Marcelino Garcia Toral
Unai Emery
André Breitenreiter
To name just four... why not aim big? The commercial benefits of a manager like Mourinho are obvious, plus he's a winner. The circus that follows him is dubious though. I could take his comments over RM any day of the week though!
In terms of Moshiri, think this is a positive opening statement. We can only wait and see if he follows up with his intent, but the signs are good. There can only be positives to take so far...
Dennis Ng
110
Posted 11/03/2016 at 21:50:38
Colin, I thought all billionaires look like that... LOL
Steven Jones
112
Posted 11/03/2016 at 22:43:43
Considered, regal and firm statement. Three things have changed for Everton over recent times:
First, the squad has been renewed with youthful talent by Moyes and then Martinez; also the management investment in youth has been done with guile and class.
Second is the search for a solid investor with respect to continuity, history and success.
Third is the Premier League surge in finances spread evenly.
We as fans now need to get behind the club and with a 5:30pm kick off, with a few bevvies and an afternoon of build-up and a dirty enemy arriving and a Wembley visit as the prize – Goodison should rock... or we don't deserve all this. COYBs!!
Phil Sammon
113
Posted 11/03/2016 at 22:45:30
I notice in his statement that he doesn't explicitly back the manager. That is the most wonderful thing about it, for me.
Tony Dove
114
Posted 11/03/2016 at 22:52:39
Not sure where the Moyes is coming back comes from. Hopefully just the usual rubbish rumour. We must move on – not back. Just think of the second and third comings of HK if you are not convinced – and Moyes couldn't hold a candle to HK.
As for Moshiri, the proof of the pudding will be in the eating. He has said nothing so far that promises any actual financial commitment.
Tomorrow, we're all part of Bobby's army and that will do me for the moment.
Ernie Baywood
115
Posted 11/03/2016 at 23:19:00
Very carefully worded intro. The references to the transfer plans, retaining players and looking at a ground move are kind of obvious but good to hear.
The references to our history smacks of going to a job interview and showing that you have read up on the company.
Bill and now Moshiri have gone to great lengths to say that we will continue to hold our history dear and keep to our principles.
In reality there's nothing too ground-breaking in this to say we should expect a step change. But it's early days and most of us would have treated grand promises with a dose of skepticism anyway!
Tony Williams
116
Posted 11/03/2016 at 23:36:18
Cautiously optimistic, he is saying what everybody wants to hear as do politicians do at times but they don't deliver, be cautious. Only time will tell. Really hope all our optimism is fulfilled.
Ever Blue,
Ever True,
EVERTON.
Michael Williams
117
Posted 11/03/2016 at 23:42:47
I agree with those who wrote the statement said a lot of the right things – good spin-docotoring someone mentioned. However, the concrete commitment to increase player funds is more than nice words.
I get the feeling that Moshiri is not in this just to be an owner of a football club. He comes across as a winner and I think the club will be held to higher standards once he gets his feet under him.
As far as RM goes, I hope he gets one more year. He's built a nice team and I'd like to give him a chance to manage these players in their second year together. Then the results be the judge.
Gordon Crawford
118
Posted 11/03/2016 at 23:45:40
Think it's all very positive. COYB. :)
Mike Keating
119
Posted 11/03/2016 at 23:58:15
Tony @ 115
With regard to your claim that Moshiri will be judged according to the old adage "the proof of the pudding is in the eating of it", I should point out that these things are not as easy to assess as they seem.
Before being incarcerated in a mental institution for murdering his wife, the Marxist philosopher, Louis Althusser, attacked such empiricist defences of Engels' work with the retort "How do I know I'm eating a pudding and not a poached baby elephant?"
This was the moment in time (1970s) when I gave up reading Das Kapital and started to take an obsessive interest in conspiracy theories – a perspective given credibility by attending Main Road in 1977
http://ToffeeWeb.com/season/12-13/comment/mailbag/21793.html
Let's just hope that tomorrow history does not repeat itself... Marx had something to say about that too.
Laurie Hartley
120
Posted 11/03/2016 at 00:10:04
If he brings half the leadership to the Everton board that John Moores did in 1960 that will do me.
Phil (#56) – Farhad Moshiri does not strike me as the sort of businessman who would let anyone write anything on his behalf and rubber stamp it. Just can't see it.
I feel change is in the air.
I hope Farhad Moshiri gets a warm welcome today at Goodison and that the team give the fans something to roar about.
Up the Blues!!!

Mark Andersson
121
Posted 12/03/2016 at 02:12:49
Nothing too exciting there, love the way people read between the lines and see what they want.
Anyone going to the match today should welcome our new half-owner but voice your dissatisfaction about Martinez.
No thanks to a return of Moyes, if this new guy understands our history, he will know that Moyes is not a winner.
John Atkins
122
Posted 12/03/2016 at 07:19:00
I like it that the RS seem to be a little concerned with our new (part) owner, usually they would be taking the piss but a little quiet and pretending not to have an interest...
Welcome, sir, and please deliver.
Got a feeling his presence this evening will give all at the club a boost, players and fans alike, and I can see his next statement reading "I enjoyed my first visit to Goodison, the atmosphere was terrific and I'm looking forward to Wembley."
COYB
Colin Glassar
123
Posted 12/03/2016 at 08:18:16
If Moshiri is serious about really moving us forward then may I suggest some of the following players?
GK - Butland or Forster
MF - Gundogan or Goetze
In attack, Griezman or Embolo
Three of these lads would cost between £50-60m but it would be a huge statement of intent.
Brian Porter
124
Posted 12/03/2016 at 08:43:54
Nice to read a statement that is directed more to the fans than the media, unlike those of our manager who rarely 'talks' to the fans but is happy to waffle on ad nauseum to the press at every opportunity, defending the indefensible.
I hope there's some significance in the fact that Mr Moshiri makes no mention of Martinez in his article apart from wishing him and the team good luck for tonight as you would expect.
Surely he can't be blind to the growing fan resentment against Martinez, his 'non-tactics' as stated in his latest diatribe, his ineffective game management, senseless substitutions, and his totally inadequate coaching skills which now sees us with only three wins more than Newcastle who just sacked their manager. I'm pretty sure that two more home defeats would make this our worst ever home campaign since we were relegated in the early fifties. And Roberto still won't admit we have any problems?
If he (Moshiri) really wants to make a massive statement of his intent to make Everton great once more, he should take Martinez aside after tonight's game and either dispense with his services immediately or at the very least, inform him he will not be required after the season ends. He's had almost three years and is taking us down, down, down.
McClaren got nine months at Newcastle, they saw it wasn't working and acted. Everton being Everton, we've allowed the ship to drift helplessly towards the rocks with a Captain Ahab style of leader in charge, so obsessed with his own deluded 'mission' that he simply won't change course, even to save his sinking ship.
Man Utd got rid of Moyes after nine months, even though they were in the top six at the time, and that lot across the park dispensed with Brenda while still in the top half at the time.
In the collective words of the House of Commons to Neville Chamberlain as he tried to appease Hitler and made us false promises of 'peace in our time', For God's sake go, go now" or something like that. He did, Churchill took over, and the rest, as they say, is history.


Alec Smith
125
Posted 12/03/2016 at 09:01:07
Colin, Of course the guy is shifty. He's a Billionaire. You don't get there without knowing how to screw someone over.
But with regard to us, I think the man has plans. Plans he was frustrated that he couldn't implement at Arsenal and now he's motivated to succeed at Everton so he can stick two fingers up at the Arsenal lot and say "You should have listened to me....DOH!"
Ok.....he might not say the 'DOH!' bit.

Martin Mason
126
Posted 12/03/2016 at 09:31:08
Where does this myth come from that we only have certain good players because of RM?
Andy Meighan
127
Posted 12/03/2016 at 09:37:34
Mourinho... Simeone... am I reading this right here? Do you honestly think managers of that calibre would touch Everton while there is no carrot of the Champions League or even the Europa League to dangle? Not a prayer...
Yes, this new guy might throw some money at it but, believe me, it won't be enough to tempt the likes of them. Now I know Man Utd and Chelsea probably won't be in the Champions League but, whoever goes in, them jobs are getting serious cash to rebuild.
No, we 'll be in for the likes of Koeman or his ilk. Still, it's nice to dream....
Kunal Desai
128
Posted 12/03/2016 at 10:11:41
Once Everton has touched you, it's forever with you.
Tony Dove
129
Posted 12/03/2016 at 10:27:37
Mike@119. Great post but too intellectual for me.
Brian Porter
130
Posted 12/03/2016 at 10:32:41
Michael @117. I would disagree with your assertion that RM deserves another year because 'he has built a nice team'. The point is, he has assembled a talented group of players, no argument there, but he has singularly failed to mould them into a 'team' that plays together, fights for each other and understands each other.
There's more to being a 'team' than just putting eleven talented players on a football pitch. As we have witnessed so often under RM we lack that cohesion that a true 'team' possesses, with little leadership on the pitch and a collective lack of responsibility in situations like last Saturday and many others.
It may sound cruel but also, I don't want people to see Everton as a 'nice team,' as neutrals do at present. I want to see Everton as a tough, hard to beat team of winners, with a ruthless streak and the will to win every ball, every game. Nice teams might be good to watch but in general, they sure as hell don't win anything as a rule.
Another year of RM's inept and flawed leadership might just make us the 'nicest' team ever to be relegated from the Premier League. After supporting this great club for 57 years that is not a scenario I relish or a risk I want to see us taking.
We need a quality manager with the ability to get these talented players of ours actually playing 'as a team' and not as a collection of decent players without true direction or strong leadership, a manager who has not only a Plan A and a Plan B, but maybe even a Plan C, and the ability to think on his feet and make game-changing substitutions that actually help to win games rather than lose them.
Neil Madden
131
Posted 12/03/2016 at 10:42:41
Brian Harrison #38. Spot on with your post. I am very excited about this guy and the new era we are entering . Nice to know we have a billionaire in charge who is good at his day job.
Yet, ultimately, he will be judged by the same criteria as Kenwright. Trophies, infrastructure and commercial deals. BK was a failure in all 3 departments. We are playing catch up left, right and centre.
I suspect Moshiri will hit the ground running. I'd like to think we will have made up a lot of lost ground within about 3 years. But, as with all these things, time will tell.
Up The Toffees!
Ray Roche
132
Posted 12/03/2016 at 10:43:08
Mike Keating ~119
This Marx bloke.... was he something to do with Marx and Spencers?
.
.
.
.
.
.
.
This is ToffeeWeb FFS. You're here to slag Hibbert and Osman off, not pontificate on Marxist philosophy ;-)
Daniel A Johnson
133
Posted 12/03/2016 at 11:48:02
Dont know if its hearsay but rumourville is that we have been checking out Aitor Karanka.
I hope not as it will be moving from one unproven manager to another.
Tony Dove
134
Posted 12/03/2016 at 12:06:16
Mike @119 – As I said, too intellectual for me... but I can see why the expression 'the proof of the baby elephant is in the eating of it" never took off.
Andy Walker
135
Posted 12/03/2016 at 12:17:49
Been an interesting year hasn't it? Lots of narratives have been clarified.
'Be careful what you wish for' relating to wanting Moyes to go has turned out to be a wise statement. We are now far less competitive in the league, a Martinez trait.
'Martinez will be good for us because he's a winner unlike Moyes' Afraid not, see above.
'Bill will never sell'. Nope.
'Bill won't find a billionaire' Wrong.
'Moshiri has only bought shares it means nothing'. Moshiri's statement shoots that down too.
In summary Moyes was a good manager (there are better out there though) certainly better than the gambler we have in charge now. Bill delivered what he promised and as a consequence we are now in the best position we have been in for 40 years in terms of potential. Martinez will obviously be let go (never should have been appointed) and hopefully under Moshiri's leadership we will get a class manager in, Koemann, Laudrup, Pellegrini? That will help retain players and attract new ones.
Next 6 months will be very exciting I suspect, as things will change. Expect further equity to be purchased by Moshiri so he becomes the major shareholder, probably via a placing, maybe other new significant shareholders to come in too. Can't believe what's happening, this is massive.
Mark Gardiner
136
Posted 12/03/2016 at 13:18:36
I like the bit about winning games.
This may be some spurious speculation on my part but could this be a thinly veiled message to our Catalan Clown? Seeing as Martinez seems to believe that possession and style matters more than wins, could the new fella's words be a warning to the manager that he had better start winning?
I would certainly like to think so at least. Remember the club's motto: Nothing but the best is good enough. Now ask yourself if Martinez fits in with that moto. He has to go.
Bill Rodgers
137
Posted 12/03/2016 at 22:39:30
Just registered myself to comment after reading a week of "Martinez Out" posts. What a relief to shut that up for the rest of the season.
Don't get me wrong, I'm as sick as anyone of having the weekend ruined by throwing it away – but we have the best squad for 30 years, at least 4 players who should be in the Premier league Team of the Season, and we play more football in an hour than Moyes's teams did in 11 years.
Can we now relax and recognise that Roberto Martinez is building a squad and a team for the long-term and there are bound to be teething troubles? Yes, I know he's had 2½ seasons – and look at the difference – we have a team that can beat anyone, a squad with cover in every position and we play attacking football that everyone can be proud of. And Martinez built it.
Let's hope he ignores the short-termists and finishes the job.
Add Your Comments
In order to post a comment, you need to be logged in as a registered user of the site.
Or Sign up as a ToffeeWeb Member — it's free, takes just a few minutes and will allow you to post your comments on articles and Talking Points submissions across the site.
© ToffeeWeb